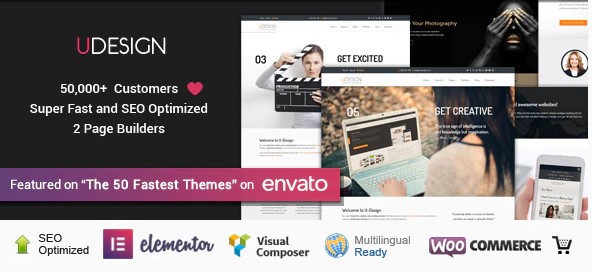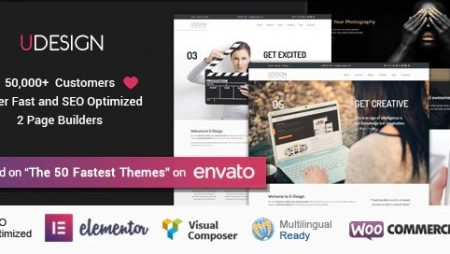 Heads up: Our content is reader-supported. This page includes affiliate links. If you click and purchase, I may receive a small commission at no extra cost to you.
More info / Download
Demo
Get Hosting
U-Design Template makes it easy to create a World-class website with a unique style and clear focused message. The slider revolution is responsive in this theme With WordPress Plugin compatibility which is an incredibly versatile and flexible slider. This theme has also the support of
jQuery Cycle Slider with an image, text, and button with slide controls available such as pause, resume, jump to a specific slide. jQuery Cycle Slider With sliding images and sliding text with slide controls available such as pause, resume, jump to a specific slide. The practical aspect of this slider is that it allows you to create a dynamic interactive look of three sliding layers.
Features of design:
the design provides you over 2000 fonts with unlimited combinations of colors with background Images where you could also upload background images on a per section basis instead of solid background color if you wish. Custom Widgets are also supported in this theme. In design you can view recent posts where it displays the most recent posts with teaser text, author, and date info, you also have the option to offset the displayed recent posts from the most recent one, use this to omit the first 2 or 3 latest posts for example.
In addition to that, the widget allows you to select a specific category and all its descendants respectively. Limit the number of words to show from each post. Auto generates thumbnails and optionally shows thumbnail frame shadow. The Thumbnails can have any width or height. Also, I have provided a shortcode version of this widget so that it can be used anywhere in the content, not just widget areas.
U-Design also provides you a login form that displays a login in the sidebar. Users can log in and log out directly from the sidebar without being redirected to the default WP login page. It also provides a custom category widget that allows you to display a single category and all of its descendant categories respectively. This comes in handy for sections of the website such as the Portfolio or Blog/News, where you might want to narrow the categories displayed in the sidebar for the current section to be more relevant.
It also assists you through Google Map where you can copy and paste your Google map code to display a Google Map in the sidebar and also have subpages that display current pages' children pages. The parent is displayed as the title. This widget is handy if you have a lot of pages that would normally take up too much room in the sidebar, so you could use this widget to display a much shorter version of the menu in the sidebar showing just the descendant pages of the current page.
There are 11 widget areas. They are designed in such a way to span the width of the page dynamically, e.g. if one column is deactivated, then the remaining columns will re-size to span the full width of the page, if let's say only one column is active then it will span the full width of the page, etc.
It has Pre-formatted Business Contact Fields that could be entered directly from the theme's Options page. This feature can be enabled/disabled from the Option's page as well. The Business Contact Fields provide a way to better display additional contact information such as Company Name, Address, Phone, etc.
Price of design:
The price of the Regular License for uDesign is $56. This theme can be used by you or one client, in a single end product for which end users are not charged for. The total price includes the item price and a buyer fee.
The Extended License for this theme can be bought for $1800.
The services included in the regular license are; Quality checked by Envato; Future updates; Theme hosting offer; 6 months support from AndonDesign. The support can be extended up to 12 months for $16.50 and save up to $22.