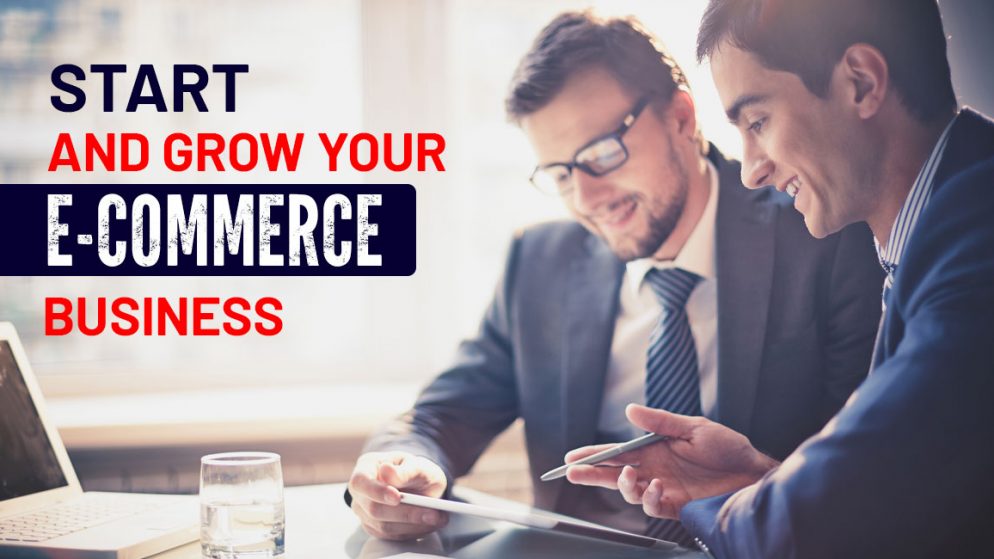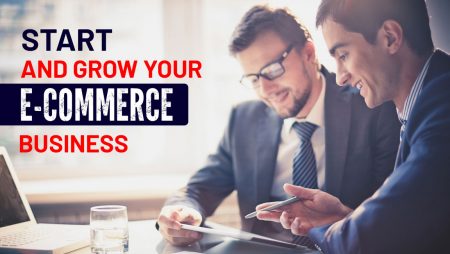 Heads up: Our content is reader-supported. This page includes affiliate links. If you click and purchase, I may receive a small commission at no extra cost to you.
Having eCommerce as the main source of revenue means seeking aid from a platform that offers amazing eCommerce features, customer support, intuitive drag-and-drop, and a lot more. Shopify is one of the best platforms that will take you on the best eCommerce adventure.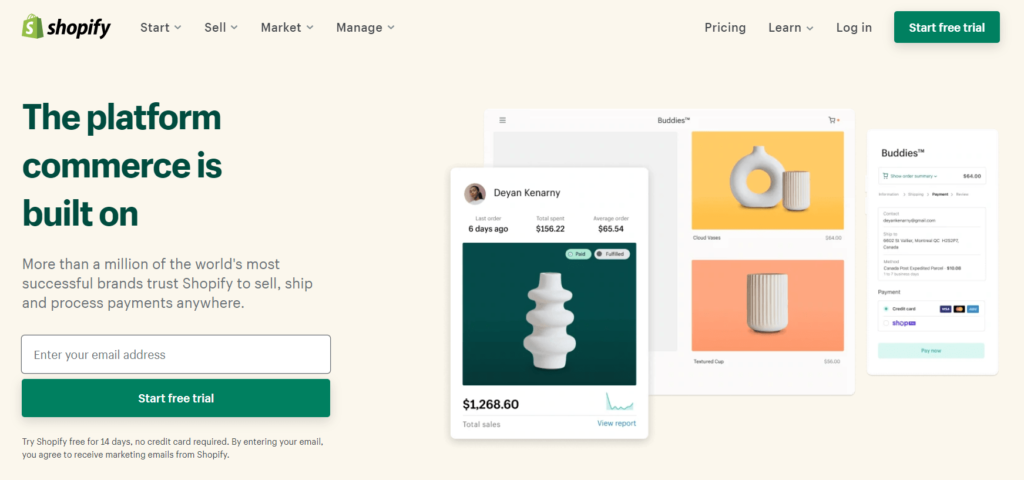 Shop Now At Shopify
Shopify is deemed the gold standard by many. Thousands of ecommerce businesses swear by it, and we're no different. After testing and researching a dozen ecommerce builders, we found it best for users that want peace of mind knowing there's a 24/7 support team ready to jump in at a moment's notice. Are there cheaper options out there? Yes. Are there simpler, more beginner-friendly tools? Absolutely. But Shopify's customer service is second to none—with four ways to get in touch and the most in-depth guides, tutorials, and free resources we've seen, you won't find this level of support anywhere else.
If you want something simple, beginner-friendly, or more budget-friendly and are willing to sacrifice concierge-level support, you may be better off using something else. If that sounds like you, see all of our top picks to learn about our scoring methodology, when it makes sense to invest, and an in-depth review of all of our favorite ecommerce builders on the market.
Benefits of Shopify
Discounts – Shopify users can offer amazing discounts to their customers. They can promote sales on various products, automatic discounts can be set, and discount codes can be made.
Sales channels – This feature allows the users to download outside sales channels like Instagram, Facebook, Messenger, etc. These channels can also be integrated via the app store of Shopify.
Shopify point of sale – This feature uses physical hardware as well as computer software to combine storefront locations with online stores. However, for third-party sites, the use of the 'buy button' can be used to turn the website into an online store.
Experts marketplace – The platform allows users to hire third-party agencies as well as freelancers to operate the business when it comes to store setup, branding, content writing, etc.
Support – The platform offers customer support via phone, chat, email, as well as Twitter. There is also an option for an FAQ page, help forum, etc.
Product types – The platform has various features as well as settings depending on whether the user is selling physical products or digital ones. This allows the users to manage to ship, complete the orders, etc.
Various payment options – There are many payment options offered by the platform like credit cards, Apple Pay, PayPal, cryptocurrency, etc. It also allows selecting third-party payment providers. Also, users can use Shopify payments to bypass fees.
Reporting and analytics – The users can check the sales, marketing, as well as information of the customers. The analytical tools of the platform allow insight into business activities. This allows checking the business growth as well as site traffic.
Abandoned cart recovery – This feature is a great way to direct the users back to the shopping site. It helps in retargeting them back through email.
Drawbacks
Total monthly price – Shopify plans can be expensive as users not only need to pay for the subscription but need to pay additional fees if they opt for a third-party payment processor including costs for apps as well as plugins.
Difficulty in transition – Moving an online store to a new platform can be problematic. The platform removes the online store data and makes it hard to switch.
Zero blogging abilities – The platform doesn't give importance to content marketing and this feature is very basic and unsatisfactory.
Shopify: Plans & Pricing

There are various pricing plans offered by Shopify and users can also try t for 14 days without paying any cost.
Here are the pricing plans by Shopify:

Shop Now At Shopify
Basic Shopify – This is a great plan to start with Shopify. It offers two staff members along with admin privileges. Also, users can get an eCommerce site, and blog, and can sell unlimited products on social media and other online platforms. The users can also assign inventory for around 4 warehouses, retail stores, etc. which includes discounted shipping rates. There are many other features included like free SSL certificates, gift cards, discount codes, fraud analysis, etc. Also, users need to pay a 2% fee if using any third-party payment provider and global businesses can sell in 133 currencies. It is priced at $29
Shopify – This plan is for growing businesses. It allows five admins and users can assign inventory for 5 locations. Plus, it has 88% discounted shipping and a 1% fee for third-party payment providers. The plan is priced at $79.
Advanced plan – This plan is for the growing business that has two retail stores. It has everything that is offered in the basic Shopify plan. The fee for using third-party payment provide reduces by 0.5%. It is priced at $299/month.
Shopify Plus – This plan is for enterprise-level solutions. Shopify Plus's shop pay offers 60% faster check-out as well as 18% better conversion rates. The plan uses modern technology like 3D media, built-in AR, etc. including robust automation, integration tools, etc. The plan is priced at $2000/month.
Shopify Lite – This is for users who have a site or merchants that want to sell in-person. The plan comes with marketing tips for free as well as the podcast, 24/7 customer support, etc. However, the plan doesn't offer to build an online store. But one can turn the existing site into an online store. Also, it involved a POS app and other features like gift cards, customer profiles, order management, etc. It is priced at $9/month.
Shopify POS
This allows owners to get a card reader, cash drawers, receipt printer, etc. Also, it involves a mobile app as well as connecting the physical location with the online store.
However, Shopify POS lite is included for free with all Shopify plans. It invokes one year warranty on hardware as well as accepts payment methods like Visa, American Express, etc. Users can even buy Shopify POS Pro for $89/month.
Shop Now At Shopify
 Endnote
Choosing the right eCommerce platform is highly essential. Shopify offers great features but if you want to focus on content marketing then you should avoid it.