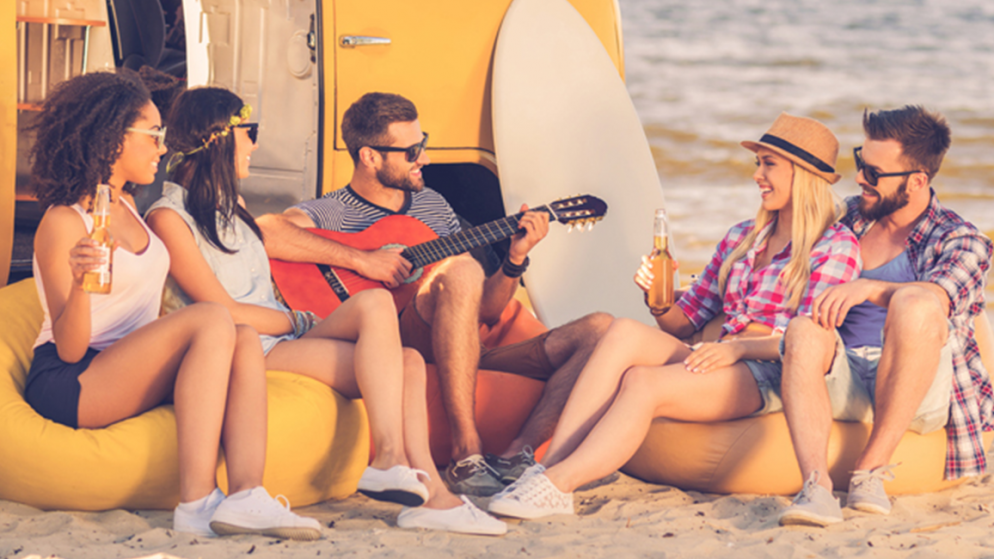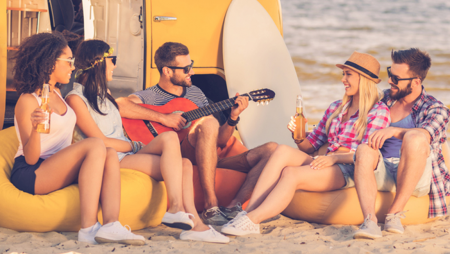 Heads up: Our content is reader-supported. This page includes affiliate links. If you click and purchase, I may receive a small commission at no extra cost to you.
Thinking about renting an RV and wondering if RVshare is a good company?
In this RVshare review, we look at everything from their available rentals and insurance policies to costs, customer reviews & more!
See the table of contents below or keep scrolling!
Let's dive in.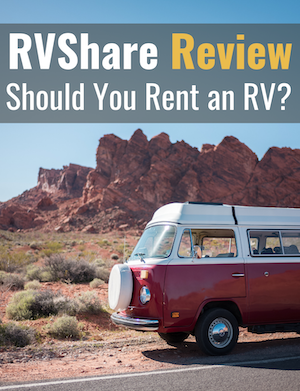 About the Company
In 2012, co-founder Mark and his wife, Rachel, decided to RV across the country for their honeymoon.
They fell in love with the freedom and wanted to share this feeling with others. After their honeymoon, they decided to rent their RV to couples who were interested in the lifestyle, but weren't sure if it was right for them.
That's when Mark realized there wasn't an ideal platform to support the idea of renting RVs (at the time).

RVshare became the first peer-to-peer RV rental company and is currently one of the largest rental companies there is.
Take a look at the video below to learn more about RVshare:
RVshare is an online peer-to-peer RV rental company. It's like the Airbnb of the RV world. Anyone who owns an RV can list their RV for rent on RVshare and make some extra money from their rentals.
Whether you're an RV owner or a renter, the site can work for you. RVshare provides a platform for owners to list their RVs for rent and for prospective renters to browse listings. Owners and renters both have profiles complete with reviews written by people they've rented to or from.
However, unlike other peer-to-peer rental companies like Outdoorsy, there is little emphasis on these profiles. Many users neglect to fill them out, and finding them is a bit difficult. I had to scroll all the way down the page to find the RV owner, and the only thing I could do was contact them (not see their information).

They do, however, offer a private chat to contact the owner and a secure payment system so you're not handing cash or credit card details to strangers.
For RV owners, listing with RVshare is akin to a landlord hiring a property manager. Owners set their rates and availability, then communicate with interested renters, but RVshare handles the screening and payment collection, for a fee.3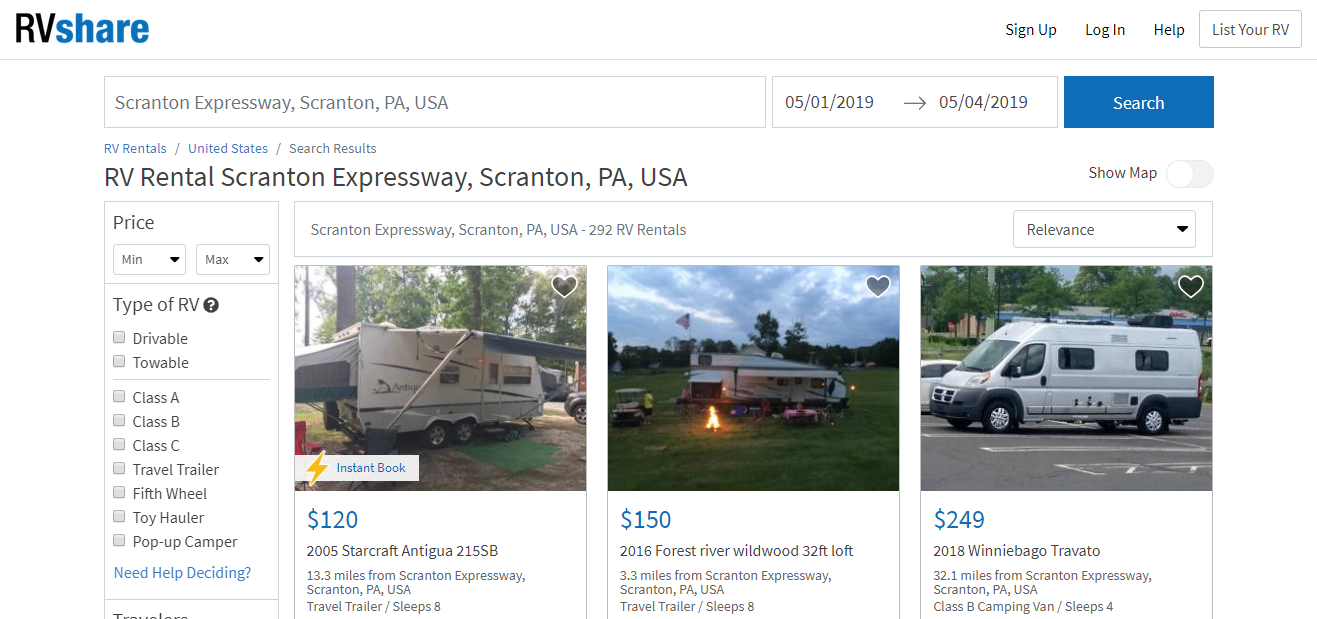 RVshare offers everything from Class A, B, and C RV rentals, as well as toy haulers, fifth wheels, pop-up campers, travel trailers, and more. Click here to figure out which RV rental is perfect for you!
If you want to rent an RV from RVshare's thousands of listings, first you need to create a renter's profile.
Some requirements include being at least 25 years old, having a valid driver's license, having at least 3 years of driving history, and passing a DMV check.
The DMV check is quick and automated. As long as your record doesn't reveal the following red flags, you'll pass:
A suspended license
A recent DUI
Two 20 mph speeding tickets in the past 12 months
Two negligent collisions in the past 12 months
You can browse RV listings through the RVshare platform by date and location. You'll only see cities and states, not street addresses.When you find an RV you like, contact the owner through the built-in messaging system if you have questions. If you're good to go, just click "Request to Book" and wait for the owner to approve your request (or not, it's their call).
However, because the RVs are for rent by owner (RVshare doesn't own the RVs themselves), some rural areas may be lacking in available rigs.
If you ask me, rental insurance is just as important as the RV you pick (if not more important).
When you rent an RV through RVshare, the renters insurance price is included. However, it differs depending on what type of RV you choose…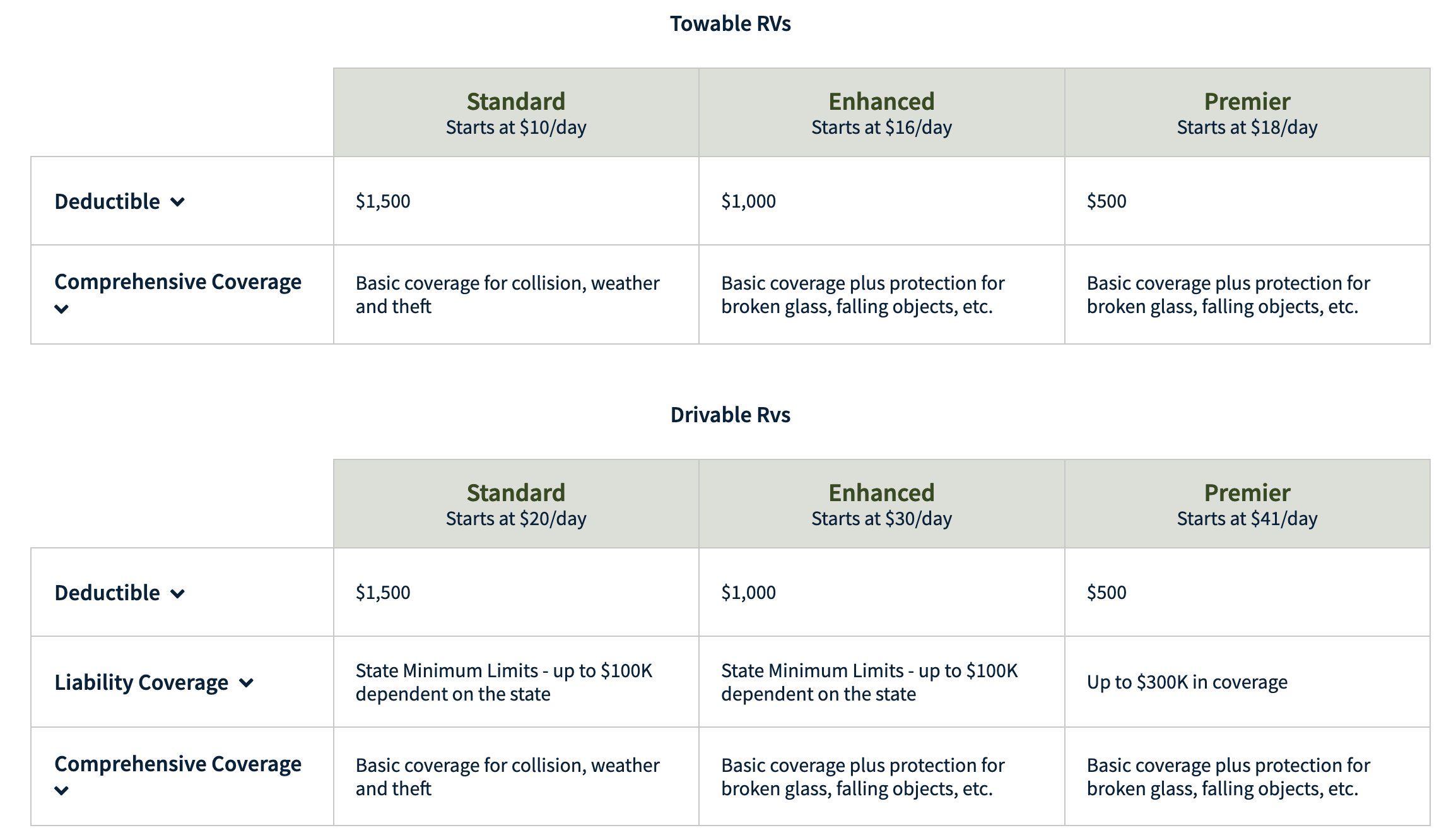 It's important to note that those prices are without sales tax and that all RVs that are 36' in length or longer will include a $5.99 upcharge.
The rental insurance covers pretty much everything, though. Take a look at the image below for a handful of things that it covers (that you might not even be thinking of):

In my opinion, RVshare's rental insurance is great!
I do, however, feel uncomfortable that they don't share which RV insurance company they've partnered with.
They simply say "We've partnered exclusively with the most experienced RV rental insurance company in the world and an A-rated underwriter to provide world class rental insurance to both domestic and international travelers."
Maybe it's because I'm anal about these things, but I want to know which company is providing the insurance when I rent an RV (I'd especially want to know before listing an RV, too).
On the plus side, standard coverage of motorhome rentals includes:
Up to $200,000 in comprehensive and collision coverage based on the value of the RV
Free 24/7 roadside assistance and free towing and tire service
State statutory limits of liability
Standard coverage of trailer rentals includes:
Up to $200,000 in comprehensive and collision coverage based on the value of the RV
Free 24/7 roadside assistance and free towing and tire service
Each and every RV rental from RVshare comes with 24/7 roadside assistance.
Here's what you get:

Towing and tire service is super important, of course, but the emergency supply delivery?
That's freaking awesome! Imagine being stuck on the side of the road with no gas, water, oil, or food but knowing that help was on the way… with everything!
The lockout service is great, too! Bill and I have locked ourselves out of our home, car, and RV more times than we care to recall!
Like all RV companies, the rates will change depending on which RV you choose to rent. Click here to see the average RV rental prices across the board.
Here's a quick list of things that contribute to the prices:
Make
Model
Year
Whether you want pets to come
How long you plan on renting for
Whether you're picking up the RV or having it delivered
There are plenty of things that go into the cost of renting an RV – and each company differs.
Before we dive into this section, I want to clearly state that these are my opinions – you may have a different viewpoint than I do, and that's perfectly okay!
With that out of the way, let's dive in to the pros and cons to using RVshare!
RVshare customers get a 5% cash back on future trips
RV owners using RVshare receive up to $1 million for protection and insurance purposes
Up to $200,000 in comprehensive and collision coverage based on the value to the RV
Renters can opt for extra set up and delivery for a fee
Free 24/7 roadside assistance
No membership fees and free to join for RV owners
Not a lot of options in less populated areas
Doesn't require renters to have yearly DMV checkups for their RV
Doesn't list which insurance company they're partnered with
Insurance fee can range anywhere from $10-$40
BBB rating: A+, however the negative reviews reflect the company and not the renting process itself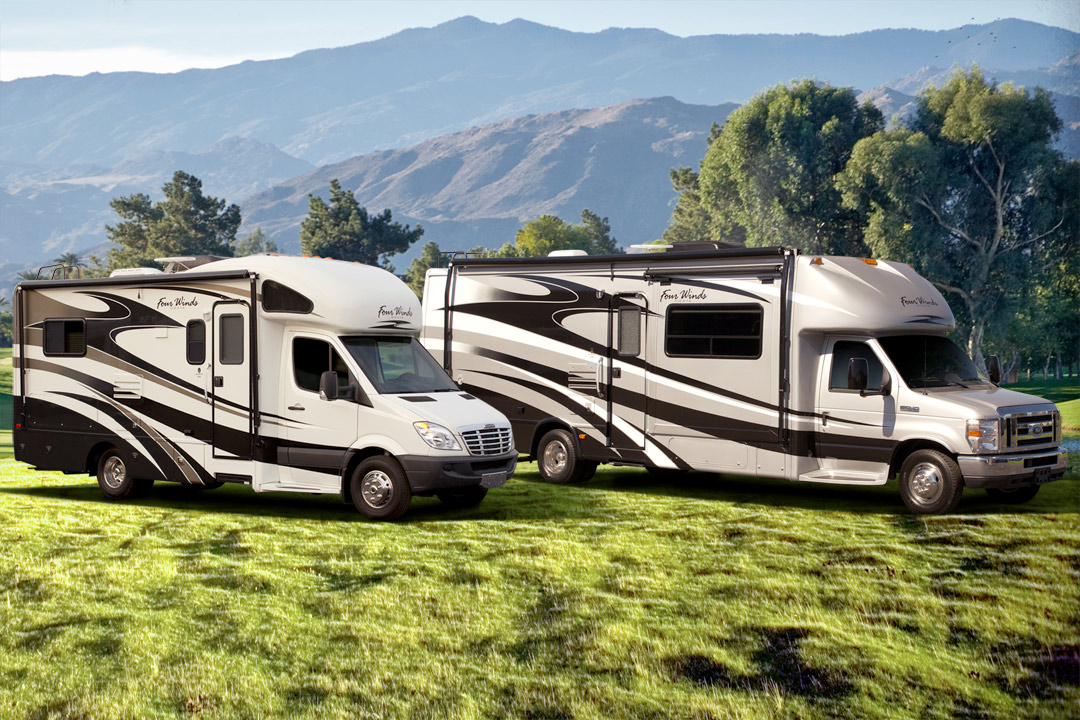 If you own an RV, listing your RV on RVshare can be a great way to make some extra money.
Don't limit yourself — You can list your RV for rent on Outdoorsy in addition to RVshare to get more bookings! Learn more here.
Getting started is easy. Just write up the details of your listing, upload pictures, and name your price. You'll also need to decide if (and how much) you want to charge as a security deposit.
The security deposit covers damages that wouldn't be covered by insurance (like damage to the interior). You'd also use it to cover mileage overages, if applicable. As long as your RV is returned in the same condition it left in, the renter gets their security deposit back seven days after the booking ends.
You and the renter will communicate directly to go over ground rules, add-ons, and to arrange pickup. When they show up, you'll both have to go through the RV Departure Form so you both agree on the condition of the vehicle. (It's similar to going through damages when you rent a car.) You'll go through the RV Return Form again when they bring your rig back.
RVshare handles the transactions, so all you have to do is wait for the money to hit your bank account. Once the renter picks up your RV, the money is released within 24 hours.
Check out our complete guide to starting an RV rental business for more info.
RVshare has it's perks and it's downfalls like many rental companies.
If I were looking into renting an RV and had never looked at a peer-to-peer rental company before, I'd consider RVshare – however, we prefer Outdoorsy when it comes to RV rentals (see our Outdoorsy review here).
Who's Best? – Wondering why we prefer Outdoorsy? Click here to read our Outdoorsy vs RVshare overview.
There's a new contender in the camper rental space as well: RVezy! Check out our RVezy reviews here.