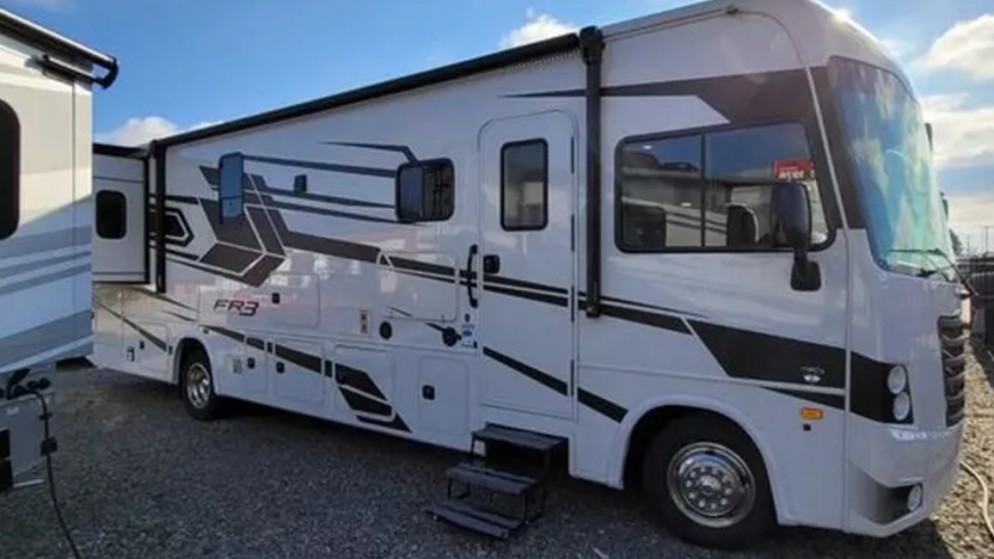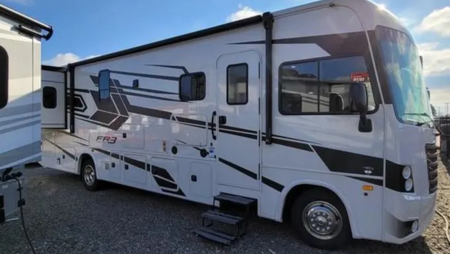 Heads up: Our content is reader-supported. This page includes affiliate links. If you click and purchase, I may receive a small commission at no extra cost to you.
Whether you want to rent your RVs for a passive income or find rental RVs for your next vacation, you use RVShare for your tasks. But, is it worth your time? Read this review to find out.
Who wouldn't want to explore beautiful natural terrains and destinations from the comfort of their homes? It does sound impossible, but the recent RV trend has made that possible.
Now, you can travel with your family to any destination you like without compromising your comfort.
Besides that, RVs are inexpensive travel accommodation options compared to hotels and rental apartments.
However, RVs' significant drawback is the tedious booking process and finding the right RV that fits your needs. With the increasing options available online, it is easy to get confused as a beginner.
If you're concerned about choosing the right RV or want to make money by listing your RV, RVShare is the ultimate online hub for all these tasks.
Check out my detailed RVShare review to get all the information you need.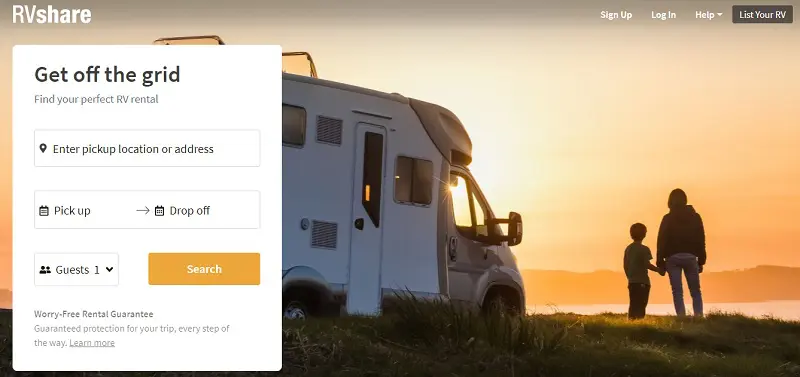 The internet is full of positive reviews for RVShare. If you check on well-known online review sites, you will find that RVShare reviews have no less than four stars out of 5 from every customer.
Trustpilot displays a 4.4 rating with more than 4500 reviews of the platform, giving it an 'excellent overall grading.
Similarly, the Better Business Bureau gives it an A+ rating based on more than 700 reviews.
But, you cannot depend entirely on these RVShare reviews. It is possible that what works for other customers may be huge turn-offs for you.
So, whether you intend to rent RVs through the platform or display your RVs for renters, you should check every aspect of the site before jumping right in. That's precisely what my RVShare review does for you.
In this comprehensive review, I have discussed each aspect of the platform in detail for renters and RV listers alike. Once you've read through the review, you will know the,
The basic operation of the platform
Pricing policies
Benefits and additional features
Without further ado, let's get started so you can plan your next RV trip right away.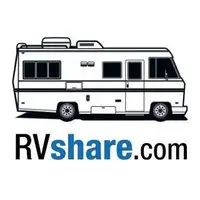 If you haven't heard about RVShare before, it is an online marketplace that connects RV users with owners to benefit from each other's assets.
Imagine you buy an RV to go on a perfect vacation with your loved one. You spend the best days of your life, moving across brilliant destinations from the comfort of your luxury rig.
But, after you're back home, you can't help but think, now what?
You wouldn't want to sell off the RV you bought with such passion, and it is a pain to see the majestic beauty collecting dust in your garage. This is the exact situation the co-founder of RVShare, Mark Jenney, faced with his wife after their eventful honeymoon.
They desperately wanted a profitable way to rent out their RV online but couldn't find a reliable option online.
So, what did they do? They simply created one.
RVShare focuses on letting willing renters find high-quality RVs based on their needs and budgets and lets RV owners earn a passive income from their property.
Today, the platform is also known as Airbnb for RVs.
From the outlook, the working process of RVShare seems relatively straightforward. Although the process is easy and accessible for users, it can get complicated on the operative end.
Mainly, the platform works as a middle person between renters and RV listers and lets them find what they're looking for. However, why would people choose RVShare and not look for customers and rental RVs by themselves?
That's where the platform gets complicated.
RVShare offers a wide array of features and benefits that makes the transaction hassle-free on both ends. Some of its salient features include its insurance policy and roadside security.
Consequently, the platform charges a premium from both sides for the facilities and management services they provide.
While that's the general working process, I have described how RVShare works for renters and listers individually in this RVShare review to give you a clear depiction of the platform.
For RV rentals, RVShare works by presenting the available RVs listed by owners in a neatly categorized format.
As a renter, you don't have to settle for any available RV.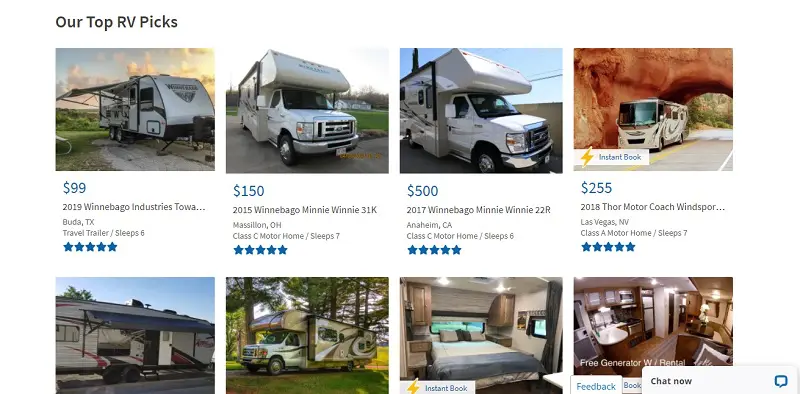 Instead, you can choose from a wide array of options include Class A, B, and C RVs, along with fifth wheelers, campers, travel trailers, and much more.
To start browsing through the long list of options, you will have to create your profile on the platform.
To become a member, you should be at least 25 years old and own a valid driving license. Besides that, you'll have to pass a DMV check. Don't worry; the complete process takes only a few minutes if you have all your documents in order.
RVShare only lets in users that don't have any red flags on their driving record. This way, they can ensure the safety of the vehicles rented out by their listers.
That's why you won't be able to enter the platform if,
Your license is suspended
You have more than two speeding tickets in the last 12 months
You have two or more collisions in the previous 12 months
If your record is clear from these three aspects, you'll quickly become a member of RVShare as an RV renter.
Here's what you need to do if you have met all the criteria for being a renter on the platform.
Verify your information
RVshare transmits encrypted messages to your phone and no software is needed to verify your identity. The rest of the verification is to be done via the mobile phone.
It may need an extra second to check the status of your login to my account. On successful completion of this form you will get a confirmation by e-mail from RVshare.
You can choose to use the driver's card for verification or a passport for verification. Its servers are also used in ways RVshare has defended against evasion by helping reduce fraud and increase privacy claims.
It's easy to upload this info via an encrypted photograph of your phone.
Search RV Rental Listings
Some RV owners will have a feature in RVshare called Instant Book which means that your reservations request will be automatically booked against the application process.
We read the material and examined the photos in numerous RV rentals in Colorado Springs to come up with our top three choices.
The RVs you can rent include those of private individuals who own an RV or simply a small business that operates a fleet of vehicles. The advertised price was $185 per night, but when we inquired about booking the RV rental it increased.
RVShare is a great place to explore the US and Canada when you have your own RV.
Just enter your destination in one of these two countries, decide on the duration of your trip, and leave the rest to us.
After you're a member, you can search through the lists for the ideal RV for yourself.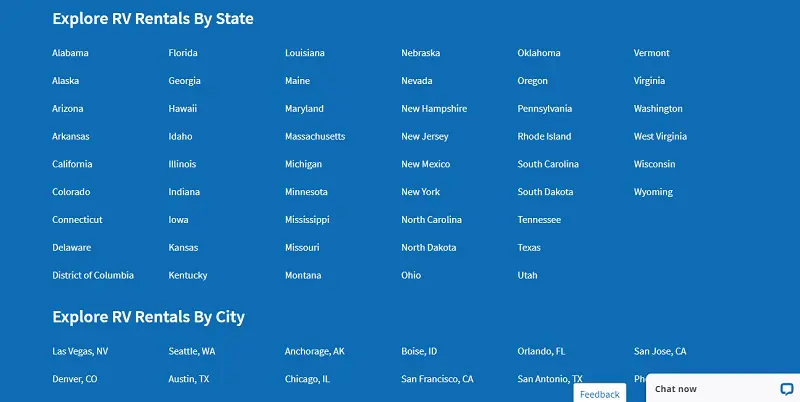 You can search by cities and states, but the site will not display the street address initially. If you like an RV, you can send a request to the owner through the in-built messaging system.
Now, you just have to wait for the owner to accept your request and plan your much-awaited RV trip.
If you're in a hurry, make sure to turn on the Instant Book feature to process your requests immediately.
Confirm and Pay for your RV Rental
After you've finished the online booking, you'll submit payment and receive your reservation confirmation. The final stage is to confirm and pay for your RV stay. To make a payment, you must supply your credit card information and billing address. Before making an RV reservation, be sure to study and comprehend these terms and conditions.
You must read the regulations carefully only is RVShare a unique opportunity to rent an RV from private owners, it's also a great chance for those who want to make a little more money on the side by renting their RVs on the platform.
The only thing you have to do is find 7-8 individuals who are willing to go in with you on costs and put money only, but when you list your RV on RVShare, you may also cover expenses like as gasoline expenses and general wear & tear.
There are no hidden costs on this site, so all transactions will be accountable.
Note: We found that the first RV we inquired about was not available. As a result, we rented a different RV.
The one you picked is not available in the United Kingdom. If you wish to rent this RV, please complete the form below or contact us for further assistance.
Wait for the confirmation of the owner
If you request to book an RV rental on the RVshare platform, it might take 24 hours for the RV owner to reply. It's critical that you contact RVshare's owner via your RVshare account.
Do not eliminate the conversation from the RVshare system until both parties have confirmed it to the other person.
We had only one response from the RVowner after we called the account's owner.
Tell the owner about your trip
The next step in renting an RV is selecting the appropriate upgrade for your rental. Some modifications include water being dumped, the tanks being refilled and the outside of the RV being washed.
The RV owner will do this to you so you don't have to do it. However it can get pricey. The RV owner we leased charged the additional $400 for "easy living package". We paid $400 for a tank of water and needed some of the refill charges charged by our RvShare owner.
More information you share regarding yourself and your guest, your reasons for the trip, anything you need. Tell the owner what your location is.
Want to learn more? Read our full RVShare vs Outdoorsy comparison.
If you want to list an RV you own on RVShare and earn some passive income, the operating process is slightly different for you.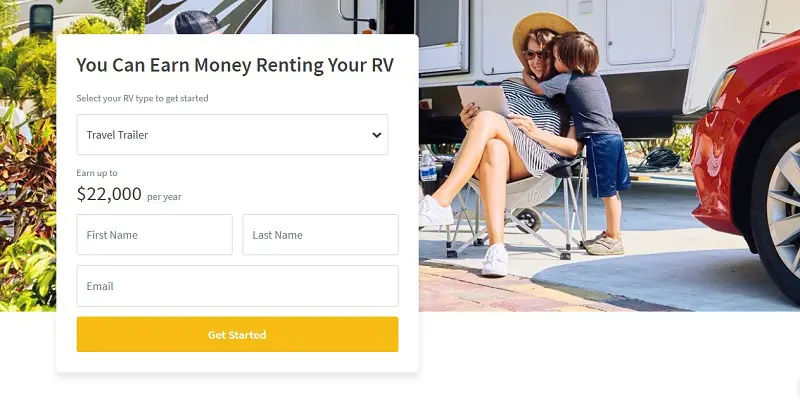 Your first step while getting started is to set up your RV account and give out all the details about your rig. Make sure to upload clear pictures in this section to give a clear representation to prospective renters.
The best part is, you can set your price yourself without any intervention from the platform. If renters agree to the price you've set, you can easily charge the money without any hassle.
Besides that, you will also need to identify a security deposit amount. This deposit creates an extra level of security for your rig along with the insurance policy.
The security deposit will cover the aspects not covered by your insurance, such as interior damage and extra mileage miles.
If the renter leaves your rig in the ideal condition, you'll have to return the security deposit within seven days of the return.
Another appealing feature of RVShare is that it lets you communicate directly with your potential and existing RV renters. This way, you can discuss the rules yourself and decide how to arrange pick-up and drop-off for your rig.

What RVShare does for you is to take care of the transactions. The renter pays through the platform, so you'll get your amount transferred hassle-free into your account.
Another aspect I love about RVShare is its easy-to-use website. The site is designed with a user-intuitive interface so you can easily navigate your way around even as a beginner.
Whether you want to sign-up as a renter or list your RV, you can find clear options on the front page. If you choose to sign-up as a renter, you'll have to provide your basic details and the necessary documentation that I mentioned above.
On the other hand, if you choose to list your RV, you'll start by identifying a price range and the type of your RV and move forward by providing further details.
In both cases, you will receive a verification email after the website has evaluated your information. After that, you can access your user dashboard on the website and check your rental details and on-site transactions..
After jotting down the essential details about RVShare in this RVShare review, I have listed the benefits at a glance in this section.
Reliable Community
RVShare has a friendly and reliable community where owners are experienced in RV operation that ensures a smooth journey for renters.
Great Customer Support
Imagine renting out your beloved RV to a horrible renter, and the website just doesn't respond. That's not the case with RVShare.
It has prompt and productive customer care service for both sides of the deal so that you can solve your concerns in no time.
Profitable Passive Income Source for Listers
Rather than letting your RV stay parked in your garage and accumulate dust, RV owners can earn a good rental income through the platform.
Not only can you pay off the cost of your RV, but you also earn around $40,000 annually.
Free Listing and Renting
Initially, you can sign-up as a lister or a renter on RVShare for free. You can use its features and communicate with other dealers on the platform.
You only have to pay some service fees when you confirm your booking and conduct a transaction through the platform.
Secure Payment Gateways
The website uses Stripe as a primary payment gateway to process your transactions on the site.
Cheap and Time-Saving Opportunity for Renters
If you want to go on an RV vacation, you no longer have to spend thousands of dollars on your RV.
Just rent one according to your budget and enjoy it with your family.
There are a few downsides of RVShare as well, which I have listed below.
Inefficient Mobile App
The web app can become quite frustrating to use at times when you're handling multiple rental deals.
Listers Have To Do Their Work
If you're listing your RV on RVShare, the website is only a middleman. You will have to maintain, market, and manage your vehicle yourself.
Limited Options For Renters
If you're looking for RVs for rent, you'll find only limited options in each city and state. Some rural areas might not have RV options at all.
You Can Either Rent or List
You can't list your RV and rent another one on RVShare. However, you can do it by going through the hassle of creating two accounts.
Key Features
Here are some essential features you'll need to know about RVShare when you sign-up.
As a lister, you will have to pay a service fee every time you receive your renters' payments. The commission depends on the type of your RV and your location but is generally between 10%-25% of the rent you charge.
On the other hand, renters have to pay a service fee to the platform and the rent amount. The service fee pays for the roadside assistance facilities you receive from the site.
Similarly, you may incur an additional payable fee as a renter, such as cleaning, dumping, and post-trip fee.
RVshare's rental insurance policy provides excellent insurance coverage for renters.
The rental insurance includes a comprehensive and collision coverage policy within you rental agreement. If damages are incurred on the RV due to natural disasters, a falling tree, stealth, or fire, the site will cover the damages.

The best part is, the company is transparent about its insurance policy and covers a wide range of events. This promotes honesty between renters and owners and ensures smooth transactions.
As far as insurance claims goes, the insurance company will pay the insurance claim as soon as it receives a reasonable proof of damage.
The company also encourages both parties to settle any disputes on their own before making a complaint. Having reliable RV insurance is an important consideration as RVs are very expensive
Another excellent feature for renters on RVShare is roadside assistance.
Many events can occur while you're operating a rental RV, and luckily, RVShare is always there to help you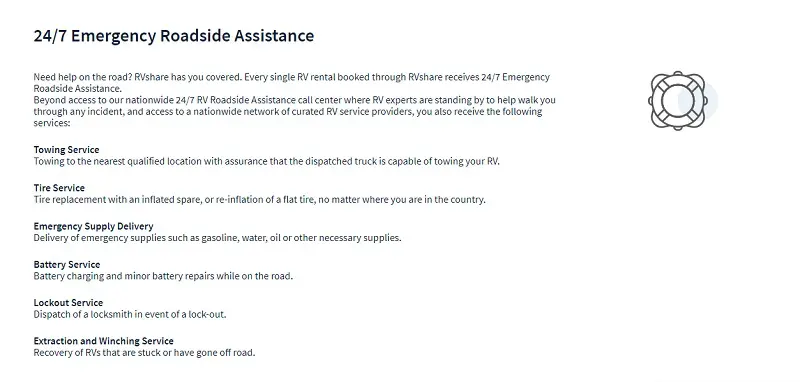 For a worry free rental experience, you can simply call their helpline and receive immediate roadside assistance such as towing service, battery service, tire service, emergency supplies, extraction, and even lockout assistance.
This way, you can enjoy your vacation concern-free and ask for help whenever you need it. This is even backed by RVshare worry free rental guarantee.
Most RV owners love this feature as well. I mean what RV owner wouldn't want their vehicle back to its home?
Customer Service
RVShare offers impeccable customer service. You can contact their representatives on the phone number provided or discuss your query on their live chat option.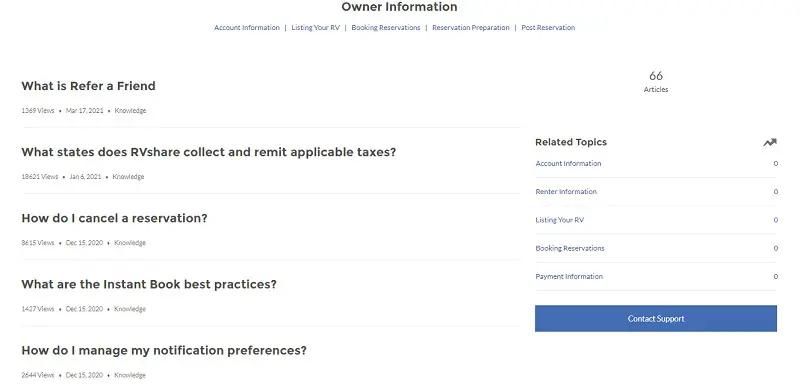 If you're having trouble navigating the site, you can search for solutions to your problems on their well-organized FAQ page.
Similarly, they have an exciting blog with weekly updates about RV trends and crucial information about RV operations.
RVshare currently has 66,000 active listings in the United States and millions of happy customers. RVshare is a well-renowned provider of RV rental services with a 4.8 out of 5 star rating on TrustPilot.
RVshare is a transparent and user-friendly platform that connects RV owners with people looking to rent an RV.
They also have 6,000 active listings in the United States. RVshare's success is probably the best proof of its success over other RV rental companies, which makes it one of the most reliable websites for RV rentals and RV listings for owners to make extra money.
Reddit Reviews
You've always trusted Reddit for unfiltered comments on RVshare. Each platform has had a different experience. The greatest way to avoid unpleasant situations is to be fully informed about everything from all requirements to conditions.
Overall, RVShare is one of the most prominent marketplaces for recreational vehicles. It allows everyone to have a great time on their trip while also making some extra cash.
Therefore, if you're willing to rent your RV or look for an RV rental service near you, get yourself registered on RVShare today!
Better Business Bureau Reviews
RVshare has over 700 customer reviews with a 4-star average. This website received an A grade.
With just a couple of clicks, you may find an RV rental instantly or communicate with an RV owner about renting the right RV for your trip.
It's a low-cost alternative to regular RV rental companies like Cruise America (I discovered several travel trailers on the RVshare website that is significantly less expensive than the competition).
In concluding my comprehensive RVShare review, it is time to answer the final question. Is RVShare worth it for RV renters and RV owners?
Well, it is a legit platform with superb facilities for both renters and owners.
However, whether it is worth your time totally depends on your personal needs. If you want a website that takes care of your RV rentals as a lister and doesn't mind paying the booking service fee, the site is worth it for you.
Similarly, if you're a renter who wants to go out on an RV trip once in a while with his family, the website offers a vast selection of affordable vehicles for you.
Whether you're an RV renter or RV owner, make sure to conduct thorough due diligence during the booking process and only complete transactions through the website to avoid inconveniences.
RVshare is a legit RV rental company that is an RV rental service that does not require buyers to own an RV.
RVshare's website states that it is a "hassle-free experience" and that people looking for RV rentals do not need to own an RV before using its services. They're ready to help the community by making it extremely easy to start renting RVs so people around the world can find those beautiful destinations no matter their budget.
Is RVShare worth it? Is it safe? These are some common questions asked.
RVshare has made its own investment in getting rental insurance for all of its customers, and it can provide rental insurance coverage up to $2 million during rentals is a real company, with real locations that are hiring.
RVshare is run by the same people who run ShareGrid which is a peer-to-peer rental site just for camera equipment.
It's never been easier to rent an RV thanks to the RVshare rental and owner listing process
RVshare is one of the largest RV rental marketplaces and they make it easy to find an RV rental that fits your needs. As an RV owner, you can use the RV share platform to turn your Class C motorhome, camper vans, or travel trailers into passive income.
We rented an RV through RVshare because we believe it offered the most value, customer support, free towing services, and the RVshare's rental insurance gave confidence that everything would be in good hands.
We heard so much about how renting an RV is a fantastic way for the whole family to spend some quality time together. Here is our overall rating for both an RV rental and RV owner perspective:
Overall Rating
Ease of Use – 4 / 5
Features – 5 / 5
Customer Service – 5 / 5
Value for Money – 4 / 5
Frequently Asked Questions (FAQ)
Outdoorsy and RVshare are both platforms for RV renting and ownership. Fundamentally, they're very similar services – but different.
Outdoorsy is a larger RV rental platform and features industry-leading insurance coverage whereas the RVshare platform offers excellent customer support and free initial listing for RV owners.
RVShare is safe. With RVshare allows users the chance to rent the RV of their choice, ride in style, and have a wonderful time exploring all that nature has to offer without having to break the bank in doing so.