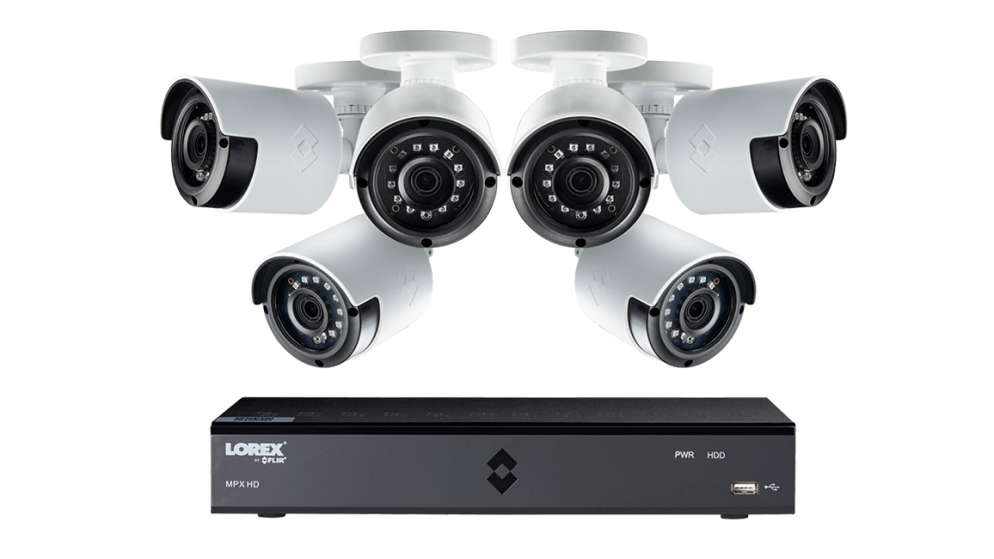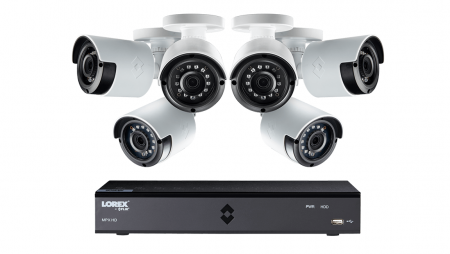 Our content is reader-supported. If you click on our links, we may earn a commission.
What We Like
No Required Monthly Fees: This was a huge pro for us, as we didn't want to worry about long-term contracts or fees. The only costs associated with this security system were the initial cost of the equipment or a fee for premium cloud storage, which was an optional add-on feature.
High Video Quality: The video quality is 4K, which is among the best of the best for security cameras.
People and Vehicle Detection: With advanced motion detectors, we were alerted when there was movement on our property. But we didn't get false notifications like if a branch moved, as our system had artificial intelligent features to detect only people and vehicles. Because we monitored the system on our phones, this feature was wonderful in eliminating unnecessary push notifications.
What We Don't Like
Installation: The installation process was left entirely to us and there was no option for professional installation through Lorex. If we didn't want to do the installation ourselves, it was our responsibility to hire a professional installer through a third party.
No Professional Monitoring: This is a system that we had to monitor completely on our own using the Lorex App. There was no option for 24/7 monitoring from professionals. That wasn't a deal-breaker for us, but it's important to note that without 24/7 professional monitoring, we were the ones responsible for calling for help in the event of an emergency.
Customer Service: Customer service was open Monday through Saturday from 11:00 AM until 10:00 PM EST. That means that if we had a problem with our system outside of those working hours, we were out of luck.
Bottom Line
Lorex makes good, solid cameras. Period. With video resolutions ranging from 1080p to 4K HD, superb night vision, and on-location video storage through DVRs and NVRs, you'll enjoy professional-grade home security equipment without the high monthly fees.
We usually see Lorex cameras guarding malls and other commercial establishments, but did you know that the brand's cameras can protect homes, too? Not only are Lorex cameras viable for home security, they're also quite affordable. The subject of this review, the 4K Ultra HD Lorex camera pictured below, cost us only $119 per camera and that's way below the $150 to $200 cost of mid-range outdoor cameras.
Of course, our main interest is the quality of the cameras. Is Lorex really a high-end brand? Does it have the necessary features to protect your home? We'll answer those questions and more as we review the Lorex 4K Ultra HD camera.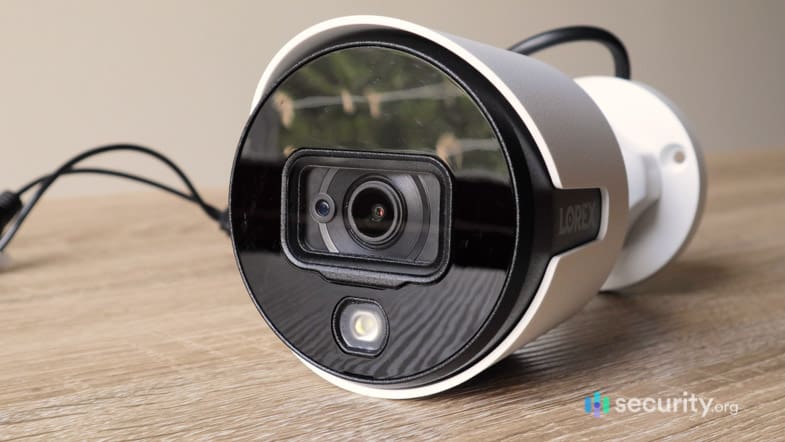 Our Video Review
Of course, writing about a cameras video and audio doesnt really do it justice. For this reason, we made a video review of the lorex 4k camera system, showcasing its video display throughout the day and night as well as its audio, smart platform integrations and more.
Check out another camera system from Lorex; this one shoots in 2K instead of 4K.

The Beginning of Our Process
Lorex had a ton of security system options on the home page, which is why we felt a bit overwhelmed right off the bat. But eventually, we found our footing and located the "Beginner's Guide To Lorex" in the middle of the homepage, which was extremely useful; we recommend starting the process there. Lorex is always offering specials so we decided to go with the deal of the day, which at the time of our purchase was the 4K Ultra HD 8-Channel security system. This deal really does change daily, so keep an eye on that as you peruse their website.
Ultimately, we decided to order online directly from the Lorex website which was incredibly easy. Because the system we ordered was in stock, it shipped out in one business day and arrived at our home about a week later. When we got our package, we immediately opened the box which included:
A One TB Hard Drive
Four 4K Cameras
Four 60 Foot BNC Cables
Four Mounting Kits
Five Power Adapters
One Ethernet Cable
One HDMI Cable
One Mouse
One Security Decal
One Quick Start Guide.
We unboxed and tested it out, and here's what we thought of the system's features.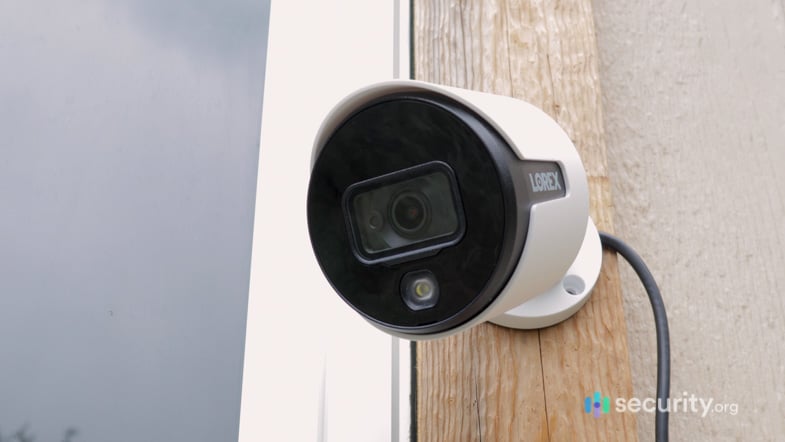 Storage With The One TB Hard Drive
Our system was centered around the dvr, which housed a one tb hard drive that can hold approximately 500 hours of video. That is more than enough for us, but if you want more storage, you can actually expand the dvr by hooking up three more hard drives. Does 2,000 hours of video sound good enough? Great! Take note, though, that hard drives dont come cheap, so if youre planning to expand the dvr, factor in the cost of additional hard drives. Lorexs pricing alone can be on the higher end of the spectrum, especially if you factor in the cost of the dvr which can be in the $100 to $500 range, so expect to invest a large sum.
Aside from expanding the storage, you can also connect more cameras to the system. Ours came with four cameras, but since the dvr has eight channels, we could add four more to make it eight. If thats not enough, though, there are 16-channel systems available, as well. Just remember to check the camera and the dvrs compatibility, and also, that dvrs with more channels typically cost more.
4K Video
4k video is all the hype these days, and lorex is riding the wave. Of all the brands weve reviewed, lorex seems to have the widest selection of 4k ultra hd cameras. But what exactly does having 4k cameras mean to consumers like us?
Well, the most obvious significance of 4k cameras has to do with their video quality. Images from a typical 1080p hd camera consist of about two million pixels, while with a 4k camera, that figure quadruples to about eight million. Usually, more pixels equals greater picture quality.
From a security perspective, a better image quality results in more detailed videos. You know how in movies they can zoom in a cameras feed and read license plates of fast-moving getaway cars? Its kind of like that with lorex. Since the 4k camera contains more pixels, you can digitally zoom in several times and still identify smaller details. Weve proven that in our tests, as you can see in the sample image below.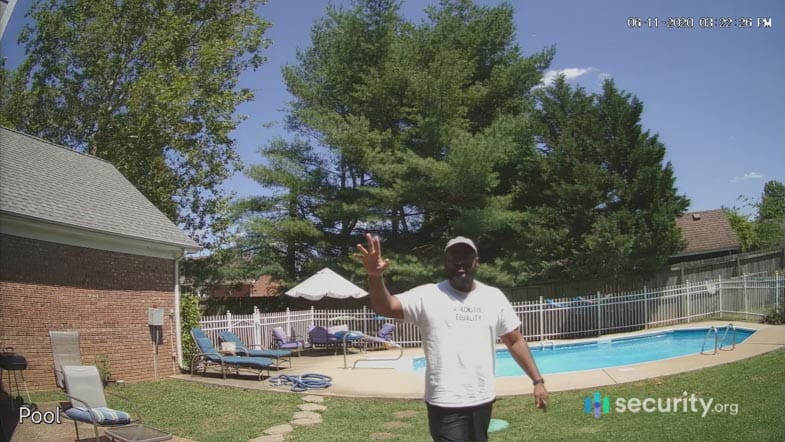 Additional Features
We've been singing the praises of Lorex. Now it's time for a little bad news. There was really no way to get these security cameras to blend in with our home. While that didn't bother us, it is important to note the design of these cameras was very bulky; think street corner or storefront cameras. That's typical with Lorex security cameras, but there are quite a few with nicer aesthetics. We suggest looking at Lorex Wi-Fi cameras if design matters to you.
One good thing about the cameras we bought, though, was that they could withstand harsh outdoor weather elements, working in temperatures anywhere from -40 to 131 degrees Fahrenheit. Basically, they could work in the coldest of winters and hottest of summers, which was a great feature for us since we wanted eyes on our entire property throughout the seasons. We don't ever have to worry about bringing the cameras indoors even during rain or snow, as they were completely protected from dust and water jets. When we got our system we sprayed it with our power washer to test this feature out. To our satisfaction, it held up perfectly!
Some of our other favorite features of the cameras were:
Smart Home Integration: Our security system was compatible with both Alexa and Google Assistant. This meant we could access our security system with voice control. We were also able to activate camera features and access live or recorded video on our smart TV. For those without a smart TV, the security system was also compatible with Apple TV, which could be hooked up to any kind of television. But in order to use a smart TV or Apple TV, first we had to install the Lorex Secure App, which is free on the Apple and Google Play stores.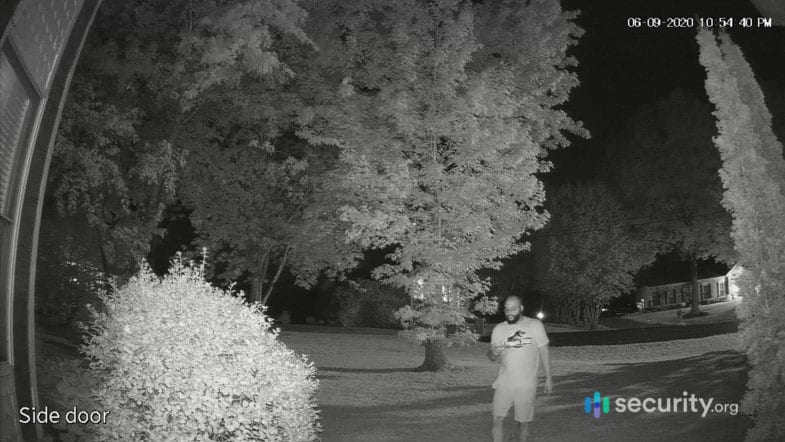 Night vision: the night vision on these cameras was amazing and we could see clearly outdoors at all times. Color night vision allowed sensors within the camera to record colored video in low-light settings, which meant we could see the branch outside our home as the sun was setting. This was made possible by the powerful image sensor built into the cameras. But its important to mention the system needs to be set up near ambient light for this feature to work, so we set up one of our cameras facing a street light. If there was no ambient light, the infrared led lights around the lense kicked in, which allowed an automatic shift to black and white light. Being able to clearly see in color or in black and white was a unique feature, since many systems such as simplisafe only have black and white night video.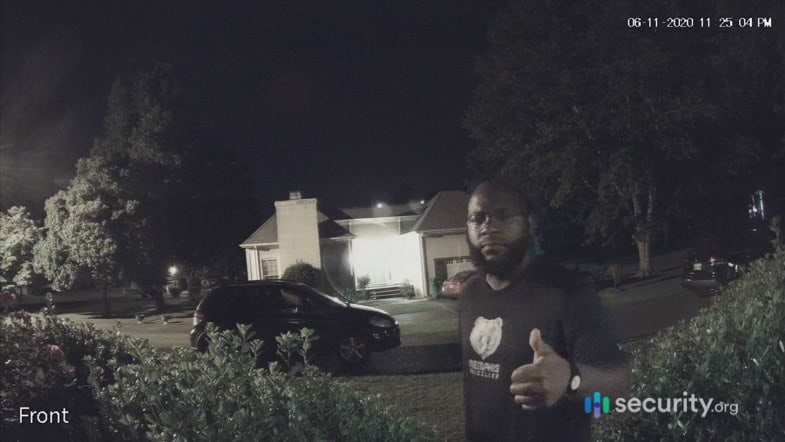 Storage: We liked being able to store video on the hard drive and on the cloud. The free cloud storage plan included up to 10 GB of video, which was about two days worth of rolling footage. When set to record just movements, it can last about a week. If that's not enough storage, the premium plan provided unlimited cloud storage, but that would have been an extra $35 a year. That price is pretty normal; Arlo for example, charges anywhere between $35 and $180 a year depending on the system and the amount of cloud storage the user wants.
Motion Detection: Lorex offered something called RapidRecap, an easy way to locate motion from the camera. Essentially, this was our event history compiled into a quick and easy time-stamped video. The fact Lorex provided RapidRecap made it incredibly easy to sift through cloud history and saved us a ton of time when we were looking for specific movement within videos, like one time when a friend from out of town arrived on our doorstep unexpectedly.
Installing Our System
One thing to keep in mind if youre planning to buy a lorex camera system is that the installation process can be challenging and time-consuming. Its doable, but youll need a little patience, and heres why.
Lets start with the dvr. The dvr is essentially a computer box that needed to be placed near our router. So first, we had to free up some space on our shelf. But once we booted up the dvr, it started up nice and smooth.
Next, we have the cameras. All four cameras we received were indoor/outdoor types, but we decided to keep them all outdoors for perimeter security. After all, they looked too bulky to fit into our not-so-spacious living space. The main challenge was figuring out how to manage the wires. Each camera had two wires: one going to the dvr, and another going to a wall outlet. We had to get creative, which meant drilling, snaking wires through the ceiling, and using an all-important tool of the trade tool to keep the wires out of our way: duct tape.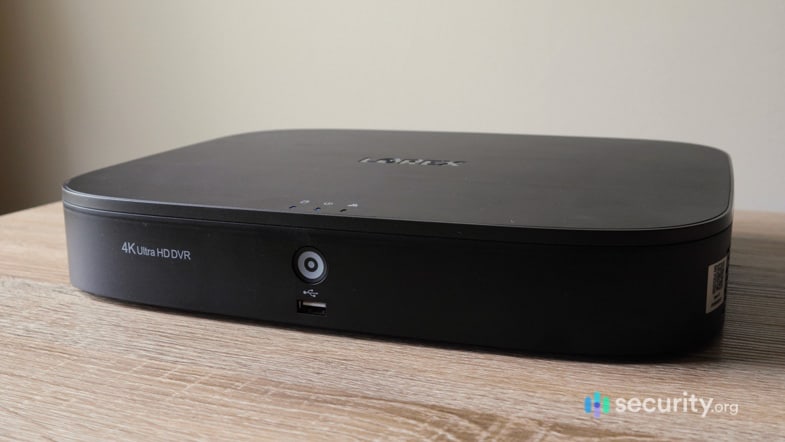 Eventually, we got things done but after installing the cameras and the dvr, we still had questions about how to connect our system to the app. That was when we decided to call customer support. We also had the option of live chatting with a customer service rep on the lorex website, but we felt that would be more time consuming. We were hopeful our representative would answer our questions, but honestly, we didnt get the kind of service we expected. The representative we spoke with was a bit short and didnt seem interested in helping. He did eventually help us set our system up, but it wasnt the most professional experience weve ever had.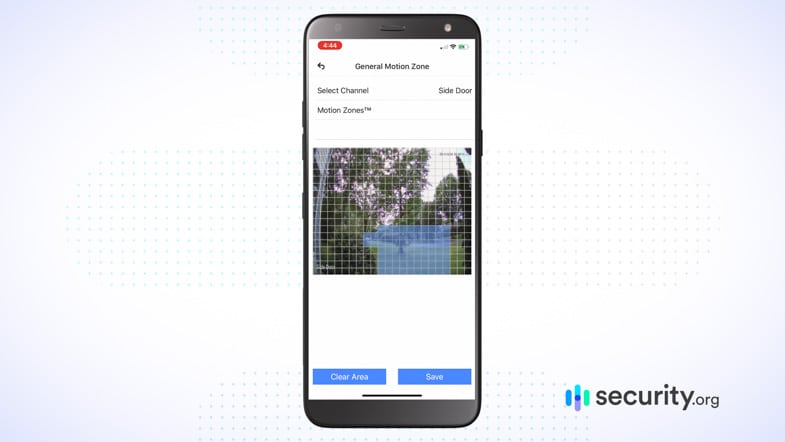 The Lorex Secure App
Because our lorex system was self-monitored, having a decent app was key, since thats where we viewed our livestream and received notifications. The lorex app worked on all devices, which was great because we used both apple and android products in our household. Once we downloaded the app, we got push notifications, saw both live and recorded video and grouped cameras together. For example, we grouped together our outdoor front cameras and outdoor back cameras which made it possible to livestream multiple cameras at one time. This made the self-monitoring portion simple when live streaming because we had eyes on multiple places simultaneously.
Let's Talk Money
Weve all heard the saying you get what you pay for and thats the case with lorex. Because of the wide variety of systems, there are a wide variety of prices. Our system was on sale for $387.99 but normally costs $699.99.
One of our favorite things about lorex was there was no mandatory monthly fee. While the initial investment may feel like shelling out a large chunk of change at one time, many other security companies require long-term contracts and monthly fees even after the initial equipment costs. Some dont even store footage unless you pay for a cloud subscription. The ring cameras we reviewed, for example, require a $10 monthly fee to store videos from the entire camera system. But not lorex; once we paid for the product we were done. Of course, that wouldnt be the case if we sprung for the unlimited cloud storage, which broke down to $3.49 a month, but we opted out.
Our Final Thoughts
Lorex was a good option for us. We loved the clear video and lack of lengthy contracts and monthly fees. But because there was no professional monitoring option, this systems best for someone who lives in a gated community, an apartment with a doorman or somewhere with other security measures in place. Otherwise, you may get stuck in a situation where youre unable to call the police for whatever reason, but for someone looking to avoid monthly fees, lorex is a great option.