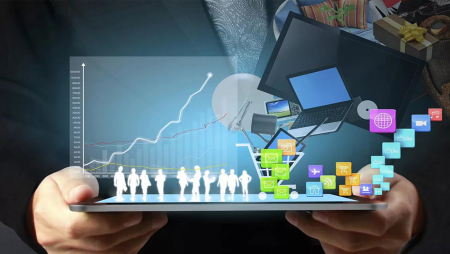 Heads up: Our content is reader-supported. This page includes affiliate links. If you click and purchase, I may receive a small commission at no extra cost to you.
A Website Builder For Web Designers
Webflow is a responsive website builder that's been attracting a lot of attention. But how good is it really? Who is it designed for? And how much does it cost? We'll answer all these questions and more – but first, let's start with the basics.
A website builder is an online platform that allows anyone to create their own website, without having to use code.
A few years back, traditional platforms like wordpress and drupal were commonly used by web developers to build websites for clients. These days though, website builders like wix, weebly, and squarespace have opened web creation up to anyone and everyone.
Given webflow's clear credentials, we thought we'd take a look at it and see what all the fuss was about.
Webflow sits somewhere in between the traditional and the modern. It's a website builder, but carries with it a level of customization and power usually reserved for the likes of wordpress.
For this reason, webflow tends to be used by web designers. It's ideal for users who don't want to bother with all the nitty gritty code, but need a platform that's fully customizable.
Ease of Use
As soon as you sign up to webflow, the platform does a really good job of onboarding you. If you're feeling confident, you can dive straight into the design process, but we'd recommend webflow's tutorial to any first-time users.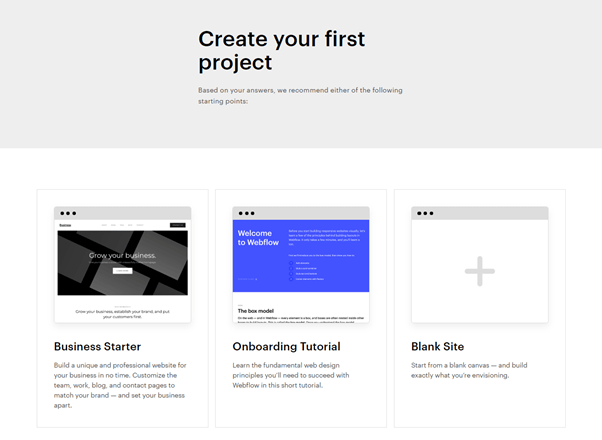 Webflow Editor
After you've completed your tutorial and picked a template, you'll enter the editor. Don't be alarmed if you think your computer has opened Photoshop by accident – Webflow's editor just happens to look scarily similar.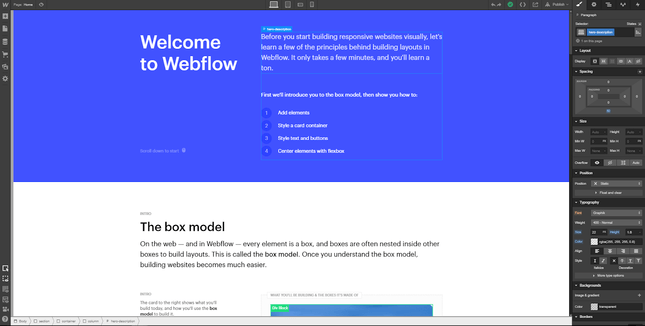 And just like photoshop, there are many design options to choose from. While web designers will feel like kids in a candy shop, regular folk may well be intimidated.
There's a lot to take in, and even with the onboarding tutorial, it isn't immediately obvious how to do a lot of things. As webflow itself explains, though, it's best to think of your website as a series of boxes.
'the box model', as webflow calls it, is the process of creating a box for every element of your site and overlaying them on top of one another. Image boxes, text boxes, and button boxes all add up to form the layout of your site.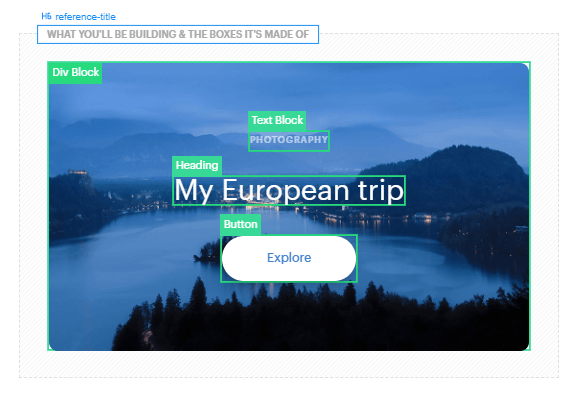 Thinking of your website in this way makes it easier to visualize what you want, but the editing can still be tricky. If you're new to website building, we'd recommend setting aside a couple of hours to get to grips with Webflow before you start creating your website.
Template Design
Webflow has over 100 templates in total for you to choose from, including 40 free ones.
You can filter templates by industry, free/premium, or ecommerce. This makes it really simple to find a template that suits your needs. You can even preview the designs before making your decision, and see which ones support dynamic content.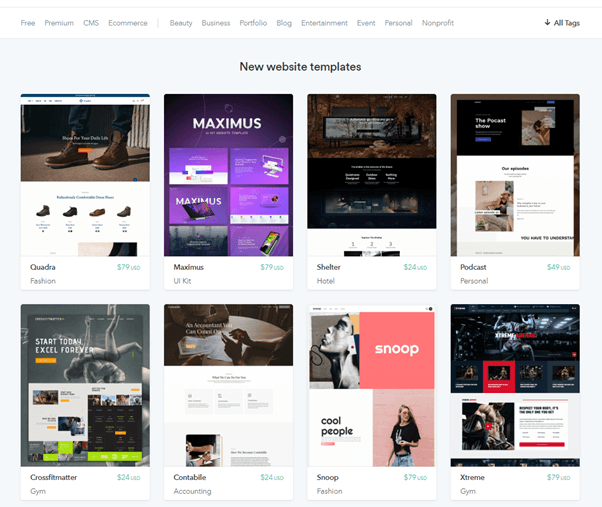 All of webflow's templates are responsive, meaning they automatically adapt to fit different screen sizes, depending on the device your site's visitors are browsing with.
Each template also comes with a brief description which tells you what type of site it's best for and what your design options are. Most website builders have responsive templates and let you preview their designs, but webflow's extended template descriptions are a nice touch.
Premium templates range in price from $19 to $149. Most tend to cost either $49 or $79, which may sound steep, but as a one-off cost, you should see it more as an investment.
Webflow's templates are generally well put together, and can hold their own against market leader squarespace in terms of quality of design. They're clean, responsive, and fully customizable.
Features
Features is generally where webflow falls down in comparison to other website builders on the market. While the likes of wix, weebly, and squarespace have a wide range of features, webflow's options are pretty frustrating.
Social media integration is a prime example. While you can link out to facebook and twitter pages with ease, embedding a live feed or linking to instagram proves to be fairly difficult.
It's worth taking a look in webflow's help center – called webflow university – to see what is and isn't possible. This will save you time trying to find a feature you think should be really simple to locate.
Many of the more advanced things you can do on webflow aren't built-in. Instead, they come as integrations you can add into your site

Most top website builders have their own app stores. Webflow integrations are similar, but its addons are made by third parties, not Webflow directly.
Let's examine some of the key built-in features Webflow does give you, whether you're building a regular website or an online store.
Webflow's Core Features
Parallax Scrolling, Animations and Interactions
Design is something Webflow clearly values a lot. In keeping with modern web trends, there's a whole bunch of quirky movements you can add. Parallax scrolling, multi-step animations, and microinteractions are just a few of the cool things you can create with Webflow.
Backups and Security
On a slightly more boring (but very important) note, security is something Webflow also takes very seriously. Alongside providing you with automatic backups – so you can restore your site to the last save point, should something go wrong – it also comes with a free SSL certificate. This helps protect your site, and shows visitors your site can be trusted with their personal information.
Advanced SEO Control
Search engine optimization (SEO) is the process of tweaking your site's content to help it appear higher in the results pages of Google and Bing. Most platforms let you add/edit metadata, create image alt text, and target keywords. Webflow goes one step further, offering automatically generated sitemaps and customizable 301 redirects.
Webflow's Ecommerce Features
Multiple Payment Options
As well as accepting standard credit and debit card payments through Stripe, Webflow also lets you accept Apple Pay and PayPal.
Automatic Tax Calculations
Once a customer gets to your checkout, Webflow will automatically calculate the sales tax and VAT owed and add it on. This can save you hours of time inputting different tax brackets and amending VAT costs.
Facebook and Instagram Integration
Sync products to your Facebook store and Instagram shop. Not only does this let you cross-sell between your website and social channels, it also allows you to run smarter marketing campaigns.
Help and Support
Webflow has some really helpful tutorials and guides, but the level of personal support leaves a lot to be desired.
Let's start with the good stuff. Webflow's own help center, webflow university, is an online resource where you can find guides on everything from how to use the platform to how specific integrations work. It's well presented, easy to search, and should generally be the first place you look if you get stuck.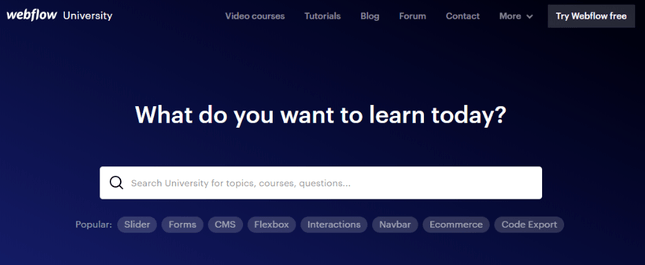 Failing that, you can always hit up webflow's community forum, where users get together to discuss the platform and share their experiences and difficulties. If you need help with something, it's fairly safe to say someone else will have encountered the same problem.
It's not all rosy, though. If you want to actually contact webflow directly, it can be a bit of a hassle. Webflow currently doesn't provide a phone or live chat service, meaning the only way to get in touch is via email.
Webflow's response team are on-hand 6am – 6pm pt, monday – friday, and you can expect a personal reply within 24-48 hours. You can leave a message and attach files to show exactly what the problem is.
Pricing
Pricing is another aspect of Webflow that may put people off – it can get pretty expensive!  
Because Webflow markets itself as a more sophisticated website builder that offers users greater creative control, it's only natural that its prices reflect that. The problem is that the average user may not need, want, or know how to use half the things they're paying for…

While you can build a website for free, the cheapest you can actually publish it online for is $12/month on webflow's 'basic' plan. This is suitable for simple sites that just need a few standard elements, like image galleries, contact forms, or menus.
The cms plan focuses on blogs and content-driven sites, while the business plan is, unsurprisingly, for businesses looking to market and scale.
Webflow's ecommerce plans range from selling a few products on the side (standard plan) to selling efficiently in bulk (plus plan), to marketing and managing your products in front of a global audience (advanced plan).
There's also webflow for enterprise, which is available on a quote-by-quote basis. This is where webflow will actually help build your site for you, and support you through the entire process. This is a great service, but only really suitable if you're a large business.
Webflow Review: Conclusion
So there you have it – a full webflow review. As you can see, it's a website builder with a very specific target audience, and one with clear strengths and weaknesses.
Despite not being the cheapest or easiest platform to use, webflow does stand tall when it comes to design. You can customize all sorts, without having to know code, making it feel very advanced without feeling inaccessible.
Templates are well-designed, mobile optimized, and cover a range of industries. Webflow's features, however, are rather limited, and you may well have to make use of its third party integrations.
We recommend Webflow if…
…you are a web designer who's looking for a way to build clients a detailed website, using a platform that doesn't require coding knowledge. Alternatively, webflow works for people who have previously used a builder like wix or weebly, but want more control over the look and feel of their site.
Because of its complex nature, Webflow is not suitable for beginners. If you want an intuitive, easy-to-use website builder that still allows you to be creative, we'd recommend trying Wix or Squarespace.
Wix comes with a free plan, so you can create and publish your website without spending a penny! However, you will have to upgrade to a premium plan if you want to get rid of wix branding, have your own domain name, and/or sell online.
Squarespace, meanwhile, is a classy website builder that's more in line with webflow in terms of design, but much easier to use. It offers a 14-day free trial, so you can see what squarespace is all about before deciding whether it's worth paying for.
Whatever platform you end up choosing, be sure you're confident with it, and understand how it works before upgrading to a paid plan. After that, you're ready to create your dream site – best of luck!
Webflow Review: FAQs
Is Webflow better than WordPress?
It's more a case of which one suits you best, as opposed to one being better than the other. WordPress is an open-source platform where you can create pretty much anything, but you will need to know advanced coding. Webflow takes that need away, so it's certainly the easier option.
Is Webflow good value for money?
Not really. Webflow is a website builder at the top-end of the market, but there are other platforms of similar quality that are much more reasonably priced. Wix, for example, is much cheaper, with prices between $11-$35/month. Webflow, by contrast, charges up to $212/month for its top plan.
Do you have to pay for hosting with Webflow?
No. Webflow, like every website builder, hosts your website for you. This means that the cost of things like web hosting and security are covered under your one monthly fee.
If you use a self-hosted platform like WordPress, you'll need to pay for hosting separately. You can learn more about the best web hosts here.