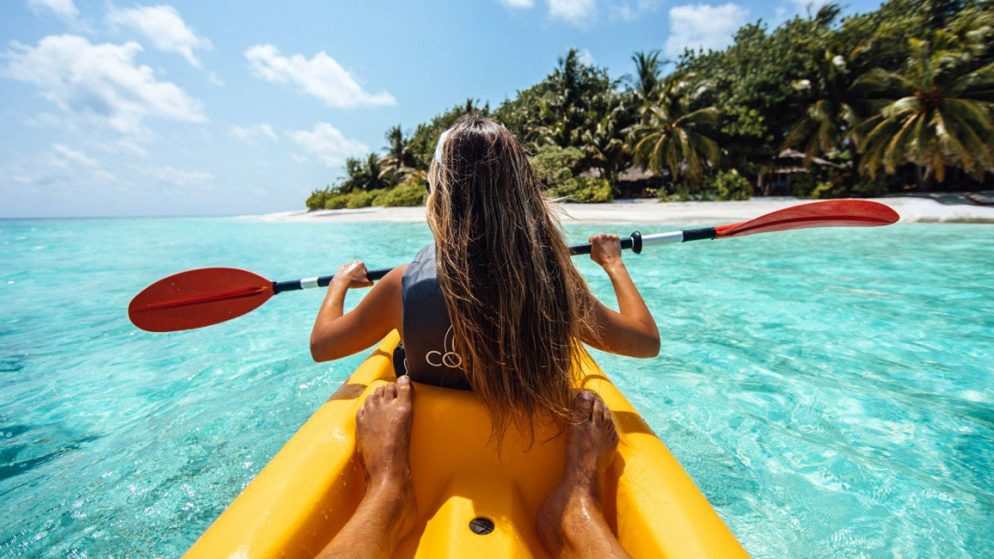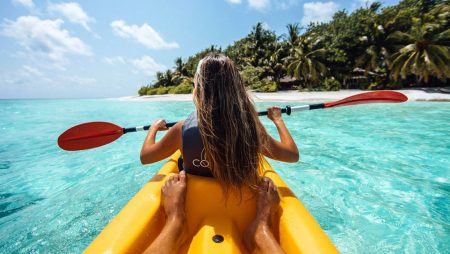 Our content is reader-supported. If you click on our links, we may earn a commission.
What's the top platform for booking travel excursions, activities, and sightseeing adventures? Many experienced and novice travelers turn to Viator, a global tour and attraction booking company headquartered in San Francisco. While Viator is not the only booking site available, it offers distinct advantages that appeal to numerous travelers.
For those venturing to new destinations for the first time, utilizing a booking company like Viator is an excellent way to travel with ease and without stress. Viator streamlines the process of planning and embarking on trips, whether you're traveling solo, with a partner, or as a family.
Regardless of your level of travel experience, Viator boasts an extensive marketplace of global tours designed to satisfy every adventurer's preference.
Before making your decision on which travel booking site to use, thorough research is essential. In this review, we present an honest assessment of Viator to help travelers determine whether to opt for their services on their upcoming journeys.
What is Viator?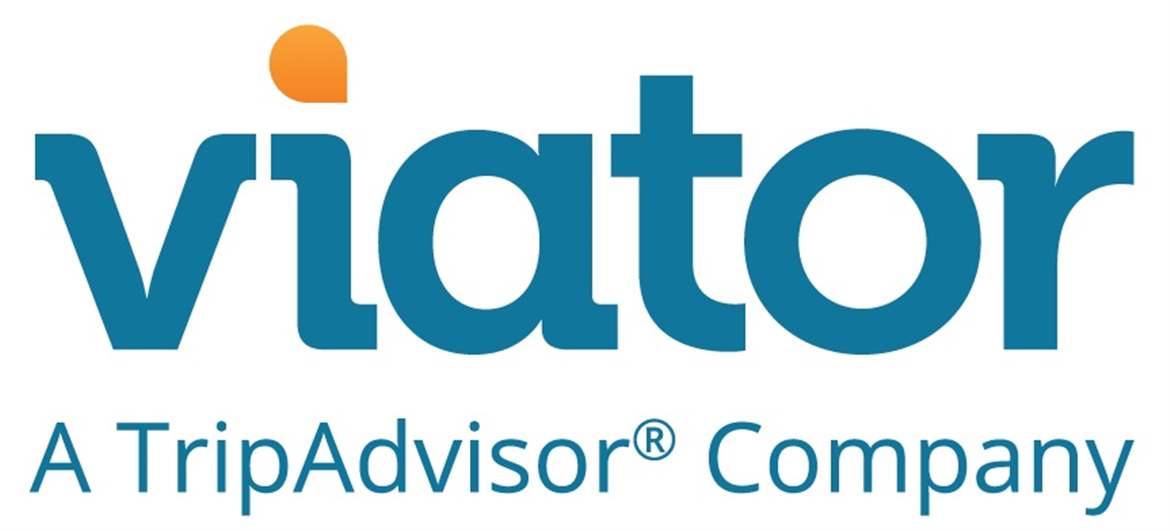 Viator, a subsidiary of TripAdvisor, is dedicated to assisting travelers in planning and booking tours worldwide. With an extensive selection of options, customers can choose from over 300,000 city tours, day tours, sightseeing excursions, and more.
The primary goal of Viator is to offer its users the most captivating, educational, and distinctive tours in various cities around the world. The booking platform caters to both spontaneous travelers and those who prefer to plan well in advance, accommodating diverse preferences and itineraries.
From the business perspective, Viator collaborates with local tour guides, connecting them with individuals planning trips to their respective regions. This partnership helps small, local businesses attract customers without the need for extensive digital marketing efforts to promote their services.
How Does Viator Work?
Instead of individually researching tour companies in unfamiliar cities, travelers can conveniently explore and book various attractions directly at their destination.
The Viator website offers users the opportunity to browse through a wide range of sightseeing tours, tickets to museums, historical sites, and various experiences listed by local tour companies. This allows travelers to easily find and book the attractions that pique their interest.
How to Book Tours on Viator
Booking tours on Viator is a straightforward process, thanks to its user-friendly website. Travelers can easily search for their destination and input their travel dates, whether they are tentative or fixed.
Upon searching, users will find a vast array of available tours, particularly in popular areas. To streamline their options, they can use filters to refine their search based on tour type, attractions, and nearby locations.
Each tour or activity comes with a detailed description, providing valuable insights into what participants can expect, including the sights, sounds, and places the tour will visit throughout the day. Additionally, users can filter their search based on party size, travel dates, and desired budget.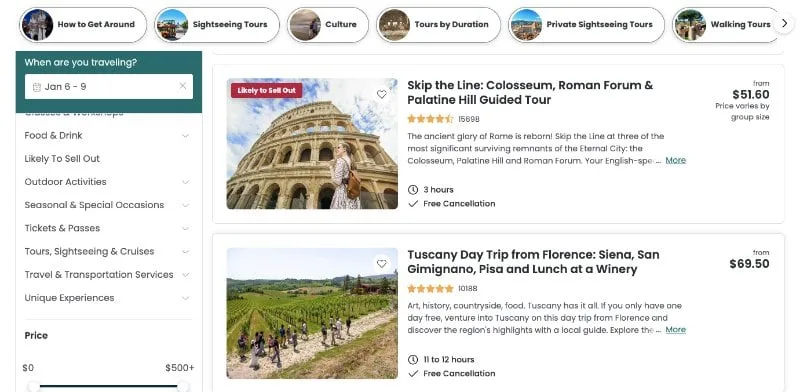 The search results page displays essential information for each tour, such as price, duration, and a brief overview.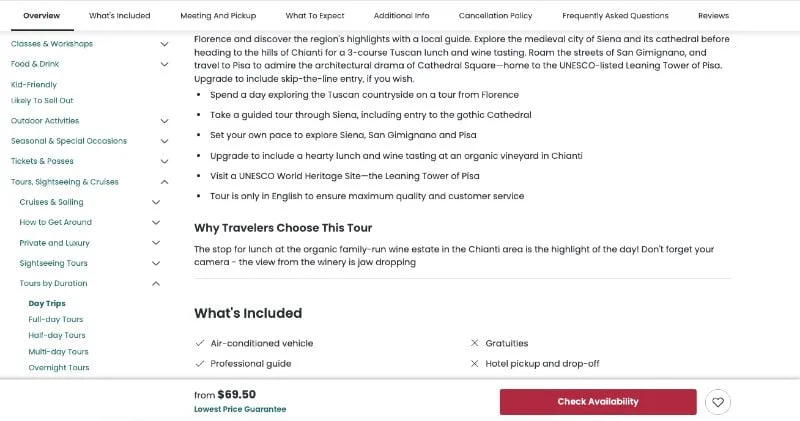 Clicking on a specific tour takes users to a dedicated page containing comprehensive details, photos, and expectations for the tour. It includes information about what's included, the tour guide or company name, departure and arrival specifics, and more. Additionally, users can review the tour's cancellation policy and other refund details.
For those interested in recent reviews, scrolling further down the page provides access to the latest feedback from previous tour participants.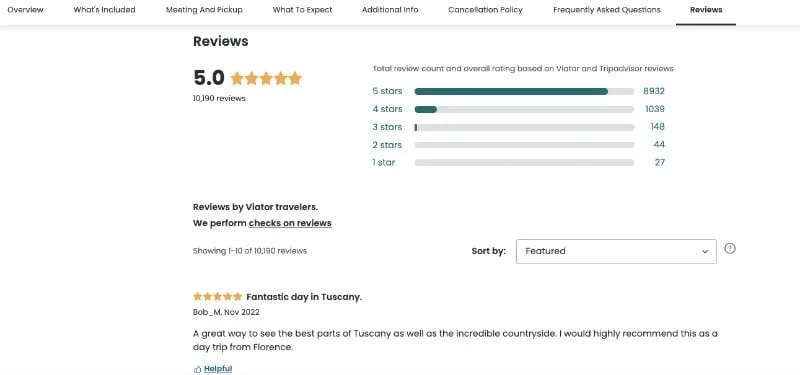 At the top of the page, users can input their travel dates and party size to check the tour's availability. Selecting the desired date and time and clicking "Check Availability" will direct users to the checkout page or allow them to choose from the available tours, some of which may offer optional add-ons.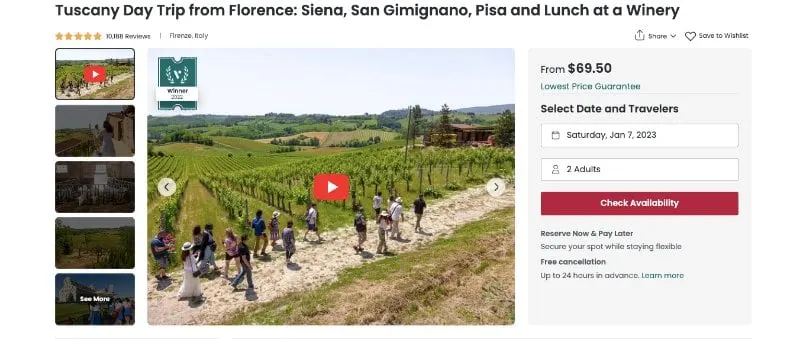 Viator Review: Key Features
Viator stands out from its competitors due to its distinctive features, which include advanced filters, efficient search functionality, and personalized tour suggestions based on traveler interests.
These essential elements assist travelers in discovering tours that enhance their overall trip, offering them exceptional experiences in cities they may not have explored otherwise due to lack of resources or knowledge.
Let's delve into the key features of Viator that continually entice travelers to book their tours through this platform, time and time again.
Tours & Information
Viator boasts an impressive selection of over 300,000 tours available in various cities worldwide. Whether exploring iconic landmarks like the Colosseum, indulging in a private tour of Stonehenge and Windsor Castle, savoring a delightful dinner cruise in Paris, or experiencing the thrill of swimming with turtles in the Caribbean's azure waters, travelers can choose from a diverse range of unique tours that cater to different destinations and budget constraints.
The detailed information provided for each excursion and activity listed on the Viator website is a significant draw for many users. Unlike other travel booking platforms, Viator goes above and beyond in delivering comprehensive insights into each tour. When clicking on a specific excursion, travelers are presented with a comprehensive overview of the trip, including the complete day itinerary, tour guide details, meeting and endpoint locations, meal inclusions, additional expenses, an informative FAQ section, reviews from other travelers, and more. This level of detail empowers travelers to make well-informed decisions and ensures a truly enriching and fulfilling travel experience.
Fellow Traveler Reviews
Viator boasts an extensive collection of over 100,000 reviews, providing travelers with a comprehensive understanding of what to anticipate when booking a tour through the platform. This abundance of reviews empowers travelers to take control of their decisions, as they no longer need to solely rely on the suggestions of travel agents, often without sufficient knowledge about the tours or excursions they are investing in.
What sets Viator apart is its commitment to transparency, evident in the availability of brutally honest reviews from fellow travelers. These reviews leave no stone unturned, candidly detailing both positive and negative experiences, including any disappointments or aspects of the trip that were less than ideal.
For those new to a particular destination, these candid reviews prove immensely valuable, offering valuable insights into what to expect. By taking these honest reviews into account, travelers can confidently choose tours that align with their preferences and avoid wasting money on experiences that may not meet their expectations.
Filter & Browsing Options
Viator's impressive array of filter and browsing options unveils a wealth of possibilities for travelers exploring their chosen destinations. Using Naples, Italy, as an example, let's delve into the versatility and effectiveness of Viator's filters.
Upon typing "Naples" into Viator's search bar, travelers are presented with an extensive search results page, brimming with enticing things to do, attractions, and excursions. While this is a great starting point, Viator's true strength lies in its diverse filters, the site's secret weapon.

At the top of the Naples page, clickable options for various types of tours in the city are readily available. These options vary based on each city and country, effectively helping travelers prioritize activities that hold significance for them during their travels.
In the case of Naples, enticing tour options encompass Walking Tours, Cruises & Sailing, Shore Excursions, Cooking Classes, Bus Tours, Historical and Food Tours, Underground Tours, Archaeology, Ports of Call, and more.
Clicking on any of these options takes users to the highest-rated tours within each category, allowing them to peruse a wide selection of activities and make well-informed decisions.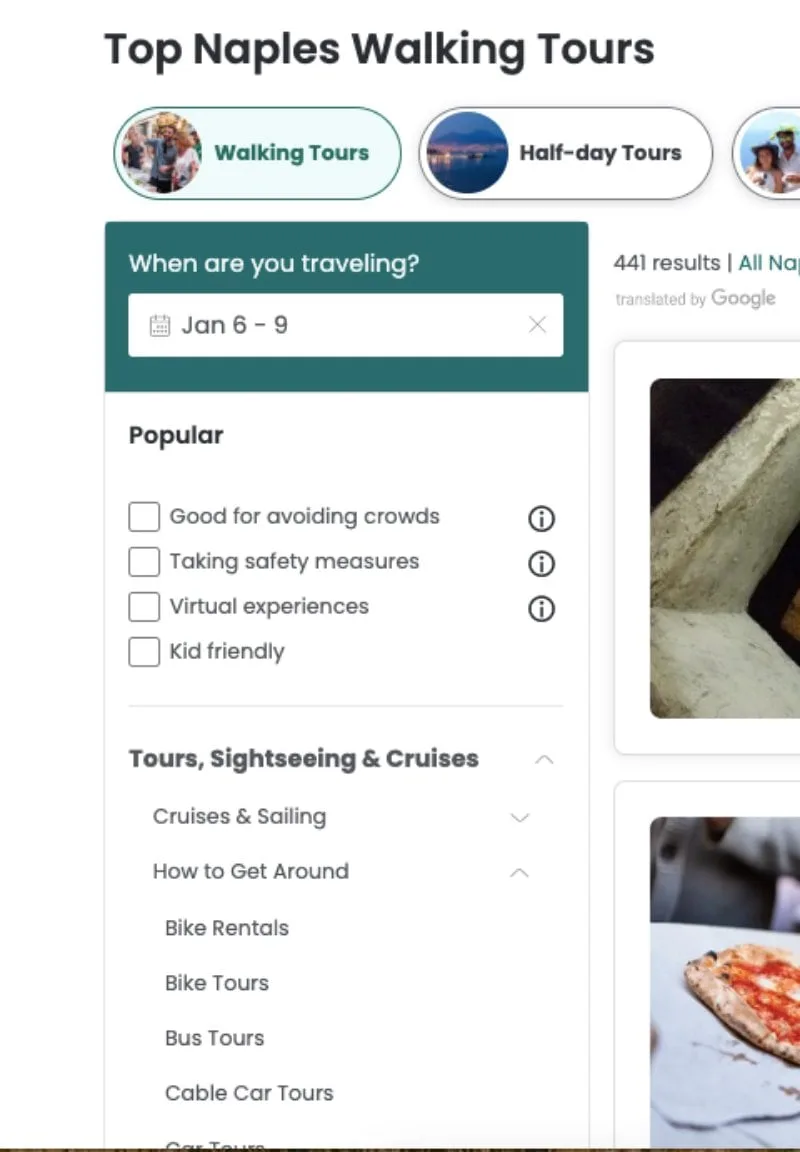 Moreover, travelers can explore popular filtered options, such as tours with limited interaction with other people, kid-friendly tours, and experiences featuring enhanced health and safety measures.

Viator further facilitates the search process by enabling filtering and organization of tours based on price, ranging from high to low-priced activities and budget-friendly options. By filtering out activities outside their designated price range, travelers can focus on those within their budgetary considerations, whether they wish to indulge or save.
The platform also offers the ability to view tours and attractions with deals or discounts, ensuring travelers secure the best value for their money.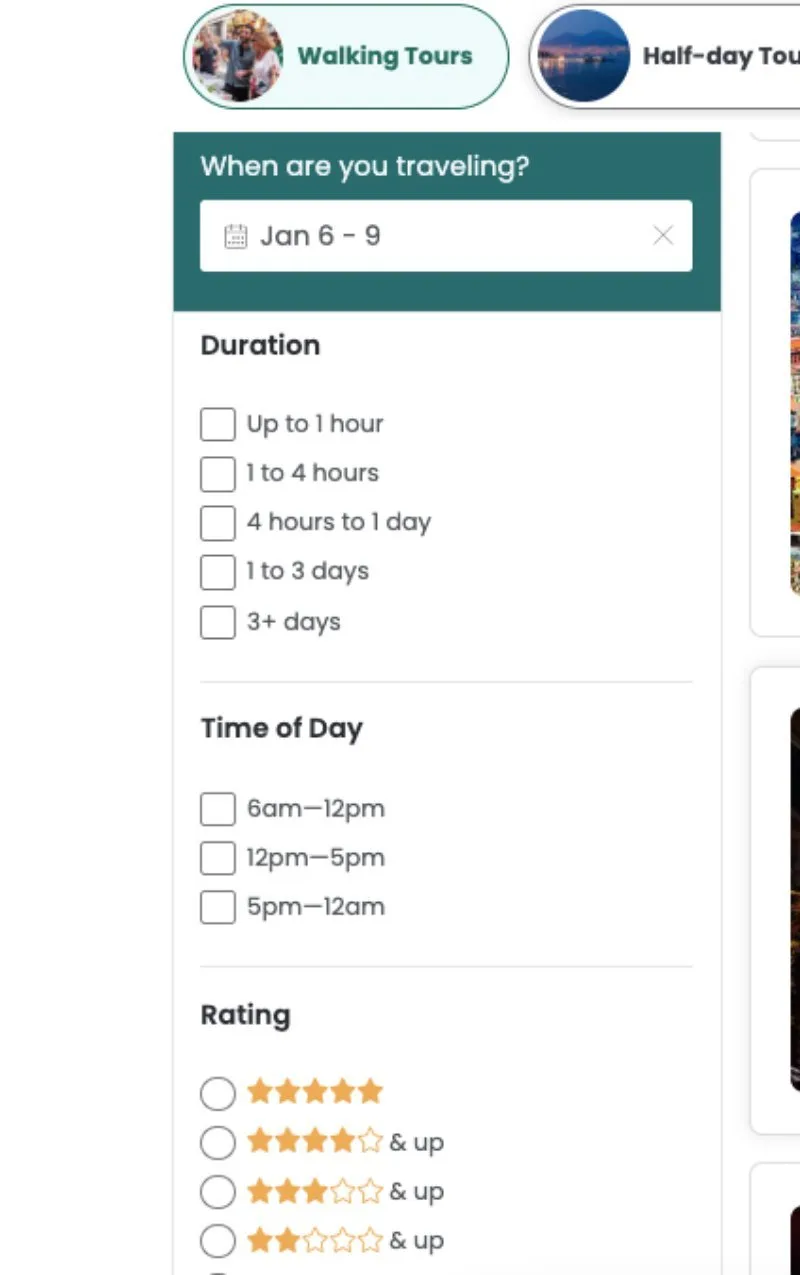 For those with specific preferences or constraints, Viator's filters accommodate time constraints by allowing travelers to find tours that fit their desired duration, whether for 1 to 4 hours, 4 hours to a day trip, 1 to 3-day tours, or extended 3+ days.
Travelers can also book tours according to the time of day, whether morning, mid-day, or evening tours, accommodating their travel needs and helping them adjust to any jet lag experienced while abroad.
Finally, for those who heavily rely on user reviews, Viator offers the option to filter Naples travel activities based on fellow traveler reviews, whether positive or negative. This provides invaluable insights into what people loved or found unsatisfactory about each tour, guiding travelers to experiences that align with their preferences and expectations.
Viator Deals & Offers
Here are some of the current Viator deals and offers:
10% off your first booking: If you're a new customer, you can get 10% off your first booking by signing up for the Viator newsletter.
20% off select tours: Viator often offers discounts on select tours, especially for last-minute bookings.
Free cancellation: Many Viator tours offer free cancellation up to 24 hours before the tour starts.
Special offers: Viator sometimes offers special offers, such as free upgrades or discounts on other tours.
Partnerships: Viator partners with a variety of tour operators, which gives you access to a wider selection of tours.
Gift cards: You can purchase Viator gift cards, which make a great gift for the travel enthusiast in your life.
Viator: Pros and Cons
Pros:
Extensive Tours and Activities: Viator offers an impressive selection of tours and activities in various destinations worldwide. Whether you're looking for cultural experiences, adventure activities, or sightseeing tours, Viator has a diverse range of options to choose from.
User-Friendly Website and App: Viator's website and mobile app are well-designed and easy to navigate. Users can search for activities, read reviews, and make bookings with ease, enhancing the overall user experience.
Verified Customer Reviews: Viator provides verified customer reviews for each tour or activity, which helps potential travelers make informed decisions based on the experiences of others.
Instant Booking Confirmations: After making a reservation, Viator provides instant booking confirmations, giving travelers peace of mind and assurance that their spot is secured.
24/7 Customer Support: Viator offers customer support around the clock, ensuring that travelers can get assistance with their bookings or inquiries at any time.
Flexibility in Booking Options: Viator offers both individual and group bookings, allowing solo travelers and large groups alike to find suitable options for their travel preferences.
Price Guarantee: Viator's Best Price Guarantee promises customers that they will receive the best available price for a tour or activity. If they find a lower price elsewhere, Viator will refund the difference.
Cons:
High Booking Fees: Viator is known for its added booking fees, which can increase the overall cost of the tour or activity. These fees are not always transparent during the booking process, leading to surprise costs for travelers.
Limited Refund Policy: Viator's refund policy can be restrictive, especially for last-minute cancellations or changes to bookings. Some travelers have faced challenges in getting full refunds or rescheduling their activities.
Varying Quality of Tours: While Viator offers a vast selection of tours, the quality can vary significantly between different providers. Some travelers have reported experiencing subpar tours or unprofessional guides.
Hidden Costs: In certain cases, travelers have encountered hidden costs or additional expenses not clearly mentioned in the initial booking information.
Limited Customization Options: Viator's tours and activities are pre-packaged, and there might be limited opportunities for customization or tailoring to specific preferences.
Language Barriers: For tours conducted in non-English speaking countries, some travelers have faced language barriers with guides or tour operators.
Occasional Availability Issues: While Viator offers a wide range of options, certain tours or activities may not be available on specific dates or during peak seasons, leading to limited availability.
Viator Ratings
Viator has a mixed reputation, with some people rating it highly and others complaining about customer service issues.
On Trustpilot, Viator has a rating of 4.3 out of 5 stars, based on over 1,000 reviews. However, on Sitejabber, Viator has a rating of 1.25 out of 5 stars, based on over 120 reviews.
Travelers' decision to use a booking service is primarily influenced by key factors such as user-friendliness, available features, customer service quality, and the perceived value for money. Now, let's examine how Viator fares in meeting these criteria.
Ease of Use
Viator offers seamless search functionality, whether accessed via a computer or mobile app. Users can effortlessly look up destinations and apply various filters, such as personal preferences, budget, and time of day, among other factors. The booking process is straightforward, allowing travelers to easily make reservations and providing the flexibility to cancel or modify trips if needed due to changing plans.
Features
Viator provides an excellent customer experience as a travel booking site. It allows users to easily filter search results based on their preferred destination and the type of tours they wish to embark on. Moreover, customers can benefit from reading numerous reviews from fellow travelers, helping them choose the perfect excursion that suits their preferences and group.
Customer Service
Viator's customer service is an aspect that appears to require significant improvement. While some users have had positive interactions with their customer service department, the majority of negative reviews revolve around unsatisfactory customer service experiences. Complaints range from encounters with rude and unhelpful representatives to a lack of proactive measures in resolving booking, refund, and tour-related issues. Enhancing their customer service can be a pivotal opportunity for Viator to elevate the overall customer experience and address these concerns effectively.
Value for Money
Viator stands out among other booking sites by providing an extensive range of tours catering to diverse budgets. Whether seeking simple self-guided walking tours in a city or extravagant private tours for couples, Viator ensures there's an excursion or tour suited for every traveler's preferences.
Moreover, Viator offers attractive discounts and deals on select tours, depending on the booking time and destination. This enables customers to enjoy cost savings while securing their desired experiences at their chosen destinations.
The Final Verdict: Is Viator Worth It?
Both novice explorers and seasoned adventurers will find Viator a valuable platform to discover exhilarating tours across the globe. However, travelers should exercise caution by conducting thorough research, carefully reading the fine print, and ensuring they are content and at ease with the tour's terms and conditions before proceeding with the booking.
By conducting due diligence, reading reviews (keeping in mind that some situations may be circumstantial and beyond Viator's control), and understanding the tour's details and inclusions, travelers can confidently assert that Viator offers a worthwhile experience worth considering.
FAQ
What is Viator?
Viator is an online platform that offers a wide selection of tours, activities, and experiences in various destinations around the world.
How do I book a tour on Viator?
To book a tour on Viator, you can visit their website or use their mobile app. Search for your desired destination and activity, choose a tour that suits your preferences, select the date and number of participants, and proceed to the checkout process to complete your booking.
What types of tours and activities does Viator offer?
Viator provides a diverse range of tours and activities, including sightseeing tours, cultural experiences, adventure activities, culinary tours, day trips, and more.
Can I cancel or modify my booking?
Cancellation and modification policies may vary depending on the specific tour or activity you booked. Viator's website or customer support will provide information on the cancellation and modification options available to you.
How do I contact Viator's customer support?
Viator typically offers customer support through various channels, including phone, email, and live chat. The contact details can usually be found on their website.
Is my payment secure on Viator?
Viator employs secure payment processing methods to protect your financial information. They often use encryption and other security measures to ensure a safe and reliable payment experience.
Can I book tours last minute on Viator?
Viator allows last-minute bookings for some tours and activities, subject to availability. However, it's recommended to book in advance to secure your spot, especially during peak travel seasons.
Are the reviews on Viator reliable?
Viator provides customer reviews for each tour or activity. While these reviews are helpful, it's essential to consider that individual experiences may vary and to read multiple reviews for a more comprehensive understanding.