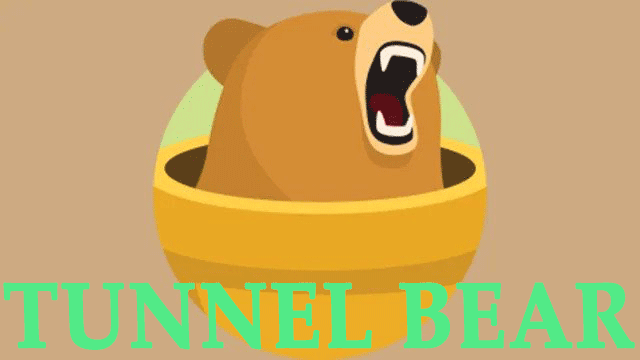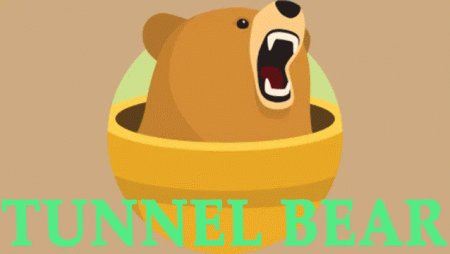 Our content is reader-supported. If you click on our links, we may earn a commission.
Virtual Private Network has now become the most useful part of Internet surfing. If you are using Interservice, then a VPN has become mandatory to keep your data secure and away from the hands of hackers.
VPN just does not provide you a safe and the most secure gateway to reach the destination but also allows you to access the restricted domain without anyone tracing your browsing history or identity.
So, here you understand the benefits of using a VPN while surfing on the internet. Now your next move will be getting the most powerful, protective, and fastest VPN to enjoy uninterrupted internet surfing with the best shields. Here we will be helping you best to get the most suitable VPN for you and that is Tunnel Bear.
Tunnel Bear is one of the most reliable VPN with amazing features and security protocols. Here we will be discussing all of its major features of the tunnel Bear and concluding it's proficiency.
What is Tunnel Bear?
Tunnel Bear creates a more secure way to browse the web since it encrypts your internet connection to keep your online activity private on any network.
This is an easy-to-use app for all your devices and can be easily accessed from any of your devices due to its compatibility.
All you need to do is just open the TunnelBear app, select a country, and flip the switch. Once you're connected, TunnelBear will work quietly in the background to keep your data secure.
Major benefits of using TunnelBear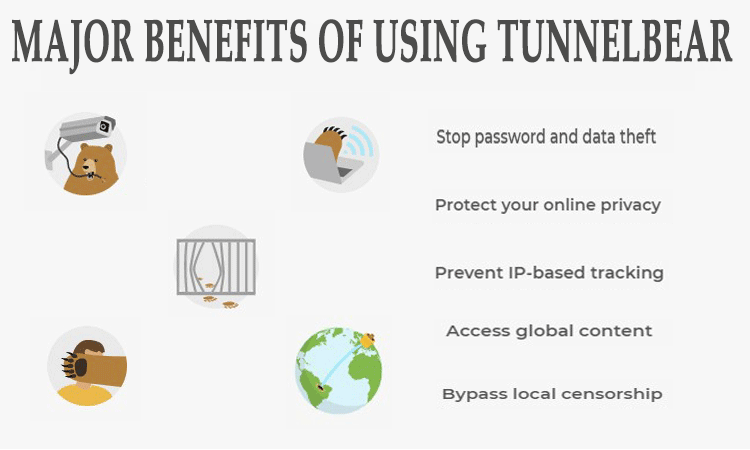 Let us check out the major benefits that you can avail from the TunnelBear:
It prevents password and data theft.
Hackers can steal passwords and data over insecure public WiFi this is why TunnelBear blocks them to keep you secure.
You can also access global content because some content is only available in certain regions. TunnelBear changes your virtual location so you can see it anywhere.
Some governments block popular websites and apps which TunnelBear unblocks by changing your virtual location so you can access them.
Network owners and internet providers can see everything you do online which can leak your privacy but withTunnelBear on, they can't see a thing.
You can also prevent IP-based tracking. This is because Ad services use your IP address to track your behavior across sites and TunnelBear stops them by assigning you a new IP.
So TunnelBear is a perfect platform where you can freely play on new game servers, prevent speed throttling, and unblock apps and websites on school and work networks.
Why use TunnelBear?
Whenever you choose any product for yourself, at the beginning you always try to find the reasons for what it would be useful to you. Why you should use it and what would be the potential benefits? So, here we will be discussing the major reasons why you should use TunnelBear.
With the help of TunnelBear, you can change your device's location to access websites, services, and apps that are blocked in your country or location.
TunnelBear is best at maintaining your privacy since it keeps your browsing and physical location private from hackers, ISPs, and third parties.
TunnelBear works best at keeping you secure so that you can get peace of mind when you're working, shopping, or banking online.
TunnelBear gives you lightning-fast speeds with its award-winning service.
TunnelBear follows the no-logging policy and thus it does not log the activity of users connected to our service.
TunnelBear is the most trusted VPN service. This is why it has earned the respect of over 21 million people around the world.
TunnelBear is engineered for speed and thus its global server network is optimized to let you surf and stream quickly. You will never face any kinds of throttling, buffering, or fuss.
TunnelBear provides you the best security that you can rely on.
TunnelBear is the only VPN in the world to publish regular, independent security audits of our apps.
TunnelBear uses strong AES 256-bit encryption by default.
You must be wondering that why TunnelBear has become the most trustworthy platform for the maximum users. This is all because TunnelBear respects user's privacy. They never monitor, log, or sell any of the user's browsing activity. It is the only VPN in the industry to perform annual, independent security audits, you can trust us to keep your connection secure.
Features of TunnelBear
TunnelBear is featured with many important services and tools that together work to give you the most secure and fastest VPN experience. So the major features of the TunnelBear that attracts the users towards itself are as follows:
Privacy: Vigilant Mode
Privacy is gonna be the most prior thing over here. This is why if your connection gets disrupted for any reason, TunnelBear will block all unsecured traffic until it's safely reconnected.
Closest Tunnel
If you are confused about the selection of the country that you could select for the connection that you can be helped by the closest tunnel for easy security.
Always On
Once you set it to launch at startup, you stay connected and you don't have to worry about re-connecting on restart.
No Logging
TunnelBear does NOT log any activity of customers connected to the service.  Here your privacy is paramount. You can find out all the grizzly details in the award-winning privacy policy.
Performance
TunnelBear provides connectivity at lightning-fast speeds. Thus, you get lightning-fast speeds with TunnelBear's award-winning service.
Safe WiFi Protection
Through TunnelBear you can browse with confidence while you're connected to public wifi and other untrusted networks.
Support
TunnelBear provides your knowledge base with commonly asked questions and dedicated support staff are always available.
Worldwide Network
You can connect to the fastest servers in 23+ countries on TunnelBear's virtual private network.
Strong Encryption
TunnelBear uses strong AES 256-bit encryption by default. The weaker encryption isn't even an option of the TunnelBear.
500MB Free
In the beginning, you can enjoy TunnelBear for free with 500MB of data. Also, you can get further extra 1GB by tweeting.
GhostBear
You can defeat VPN blocking with the help of GhostBear. You can make your encrypted VPN data less detectable to governments, businesses, and ISPs.
Multiple Devices
You can add up to 5 devices to cover your whole device network and be secure across all of them.
TunnelBear for Android
You do everything on your phone and tablet. This is the reason why you get a TunnelBear for your phone and keep your browsing and location private with a VPN.
Features for android version:
Always On
It automatically connects and stays connected. TunnelBear will keep your data secure 24/7.
Simple Design
You will get a simple on, off, it's that easy. An app designed to be so simple a bear could use it and it has a user-friendly interface.
Beautiful Map
You can also visualize your encrypted data tunneling around the globe.
Strong Encryption
TunnelBear uses strong AES 256-bit encryption by default. Weaker encryption isn't even an option.
Android Widget
You can choose a country or connect in a tap with a handy widget for your home screen.
Independently audited
TunnelBear takes your security seriously. TunnelBear is the only VPN in the world to publish regular, independent security audits.
Pricing and Plans of TunnelBear

TunnelBear has amazing plans at affordable prices, not only this it does have a free policy that helps you to avail of the best services without paying for it. But some of the features are only available in the paid programs. Let's have a look on it's all the features:
The first plan of the TunnelBear is free. This plan includes the following features:
-It has testing and limited usage.
-You can avail 500MB of secure browsing.
The next plan also better known as the unlimited plan will finally help you to gain all-day security and peace of mind. The major features of this plan are:
-This plan will cost you up to $3.33/mo.
-You can avail unlimited secure browsing.
-You get altogether 5 connected devices.
-This plan consists of priority customer service.
This third plan also known as the "Teams" is majorly meant for securing your business. Some of the major features of this plan are:
-For 2+ users it will cost $5.75/user per month.
-You can avail unlimited secure browsing.
-5 connected devices per user.
-Dedicated account manager.
-Centralized team billing and management.
Student discount
TunnelBear provides a very unique and good opportunity for the students who are nowadays spending their maximum data on the internet.
So, TunnelBear allows a student discount of a total of 70%.
Thus, a student can easily surf online at TunnelBear saving 70% off and a two-year unlimited subscription for TunnelBear VPN.
To unlock this amazing feature available for the students, you need to verify your student status. Thus, you need to simply register with Student Beans to verify your student status and get your student discount today.
Final Lines for TunnelBear
Thus, TunnelBear is the ultimate privacy platform for you. Here you not only get the most extraordinary features but also you can use its features for free as per the most basic plan and then as per your reliability you can upgrade to other plans.
Moreover, it makes sure to follow all the required protocols to best save your data and privacy information, and even browsing history. Also, no one can even recognize your identity or location. You can also access the blocked content without anyone knowing about it.