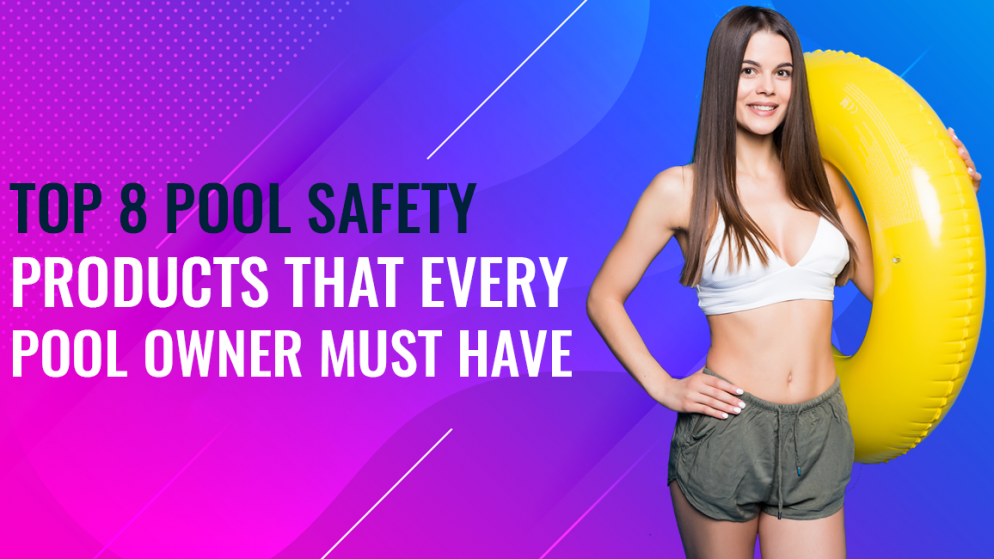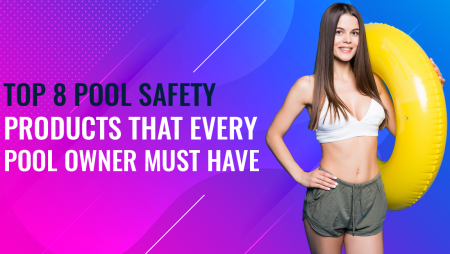 Our content is reader-supported. If you click on our links, we may earn a commission.
Be it a commercial or residential pool, it requires proper maintenance and protection to avoid any mishap or damages. After all, it's the best way to rejuvenate with family and friends, and to beat the scorching sun in the summer. To avoid any nightmare or bad experience, it's better to follow all the preventive measures to keep your pool and its area safe, protected, and maintained. It's always a good idea to invest in good pool safety products.
A pool full of crystal-clear water often attracts kids and they don't think twice about the consequences before hitting the pool. Kids in the age group of 1 to 4 years are more prone to drowning and accidental death. Thus, it's also important to keep your children safe by investing in effective pool safety products.
Hence, to prevent unfortunate accidents and prevent damages to your pool it's better to invest in pool safety products. We bring to you the top 8 pool safety products that will enhance the safety of your kids and pool to keep you stress-free.
Top 8 Pool Safety Products That Every Pool Owner Must Have
Pool covers
A high-quality pool cover offers the optimum level of protection to your pool from all kinds of damages. Modern pool owners consider pool covers during the winter season, or when it's not in use. A pool cover keeps leaves, dirt, petals, and other foreign elements away from your pool.
These safety covers are designed to keep your kids away from the water inside the pool. Hence, they won't get slipped into the pool. However, you have to ensure that it covers the entire pool in a secure manner. Investing in an automatic pool cover will be a better option as it seals the pool from all sides. And due to its lightweight and convenient usage, you don't need to make much effort while using it.
Pool Nets
If you can't spend much money on pool covers then it's better to get your hands on pool nets. It is a good alternative to an expensive pool cover. A pool net is lightweight and convenient to place over the pool without making much effort. However, it will not protect your pool from dirt and debris. But it will surely restrain your kids from taking a dip in the pool.
Pool Fence
If you want to give complete protection to your pool or keep everyone away from the pool then the pool fence is meant for you. It comes in permanent as well as temporary options. Make sure to pick a fence with a minimum height of four feet so that it can cover the pool effectively from all four sides. The fence is hard to climb, thus, offers complete protection from neighbors and animals. But make sure that the vertical slats must be lesser than 4 inches apart and a pool latch must be 54 inches away from the ground. This will make it difficult for kids to access the pool in your absence.
Pool Alarms
It is an indispensable pool safety device that every pool owner must-have. If you have kids in your home then the pool alarm will act as a savior for your kids. It will help you to know that your child is trying to get inside the pool. Thus, it will help you to escape drowning incidents and any severe mishap to your kids. There is a wide range of pool alarms available in the market that work according to the pool's setup and security requirements.
However, the two most common pool alarms are:
Threshold alarms: It is usually attached to a fence, door, gate, or window that takes you to the pool. The device rings an alarm when it detects that the door to the pool is opened. The best part is that only adults can put an alarm to the silent mode as the button is mounted at a height and it comes with a code. Hence, kids can't get their hands on it.
Wall-mounted alarms: It is yet another popular pool safety alarm that can be mounted to the pool fence, wall, or decking. It comes with screws and fixed permanently. It comes with some futuristic features such as detecting waves on the water surface, underwater movements, and an alarm notification if someone enters the pool.
Motion detectors
It is an underwater motion detector that has become very famous among pool owners recently. It actually uses sonar to detect any object, person, or pet under the water surface. They are very sensitive in nature and can pick over 15 pounds easily.
Floating sensors
It is a floating sensor that floats on the surface of the pool water. If you don't want to get a wall-mounted sensor for your pool then get your hands on it. It also works in a very effective and efficient manner by detecting a pet or a child enters into the pool. It is very compact and convenient. In fact, you can also carry it in your purse for a vacation.
Personal Detectors
If you want to keep an eye on your kids rather than the pool then get your hands on personal detectors. You can tie them on your kid's wrist as a wristband to keep an eye on his activities. If it gets wet then it starts ringing an alarm. It will help you to know your kid's activities especially related to the pool.
Endnote
Before taking the plunge, make sure to have a look at the pool safety and security regulations in your region. The law agency may not approve of any special pool alarm or safety product. Also, make sure to impart swim lessons to everyone in your family to make them self-reliant and confident.
To read more about- Checkout the Van Life Essentials List! Prep up before you step-up