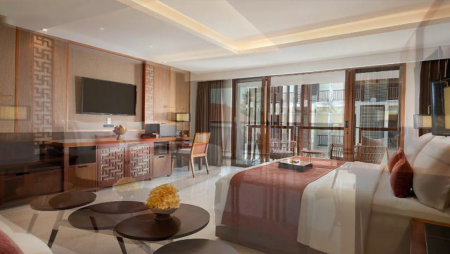 Heads up: Our content is reader-supported. This page includes affiliate links. If you click and purchase, I may receive a small commission at no extra cost to you.
If you like the idea of using a travel agent to ensure you're getting the best hotel deal, but hate the idea of contacting one and waiting for their search to end, SnapTravel may be the site you've been waiting for. It's a half-bot, half-human hotel booking service that can secure some of the lowest negotiated hotel deals around, and it sends them right to your Facebook Messenger inbox.
SnapTravel is an online search engine that sends hotel deals catered to your needs almost instantaneously. The secret to its speed is a bot, much like the ones that now send shipping details and boarding passes via Facebook Messenger. But the secret to SnapTravel's ease is that it also uses actual people to guide the process and even to get you an upgrade.
How SnapTravel Works
SnapTravel does the hotel searching for you based on your travel dates and desired location, and sends you the three best deals. It also shows you just how much you're saving compared to big-name search sites like Booking .com, and displays the hotel's TripAdvisor rating if you view results on the site.
How does SnapTravel secure deals? It apparently all comes down to the private messaging feature.
"Hotels sell unsold inventory to Priceline and Hotwire because these prices are too low to show publicly," the SnapTravel website states. "SnapTravel lets you book these same great rates without having to guess the hotel's name because your discounted price is not displayed publicly when you book over private 1-1 chat."
After taking SnapTravel for a test drive and comparing prices elsewhere along the way, I can say with confidence that its users are finding some of the lowest hotel rates around, especially in cities. If you're booking a hotel in a highly populated area, chances are SnapTravel will have a deal for you.
Using SnapTravel
To use SnapTravel, enter your dates and location in the site's search tool, and choose a contact method: Facebook Messenger, SMS, or Slack. The best user experience is currently on Messenger, according to SnapTravel's founder, Hussein Fazal.
Moments after entering your information, the results will come through, and you can add in special requests (like preferred hotels or rewards programs, necessary amenities, and your budget) directly through the chat window—or click "Filter Results" to refine your needs and view a map of the hotels. Start a new search or conversation with one of SnapTravel's agents (who are available 24/7) in Messenger by sending "New Booking." Here's a demonstration:
Deals and Upgrades through SnapTravel
The prices are surprisingly low. I searched several destinations and found some of the best savings in large cities like London and New York. For example, the cheapest New York hotel SnapTravel gave me was less than half the price that it was being offered for on Kayak and on Hotels .com. The prices I found are below, including SnapTravel's top three options (left) and their counterpart prices on Kayak (right).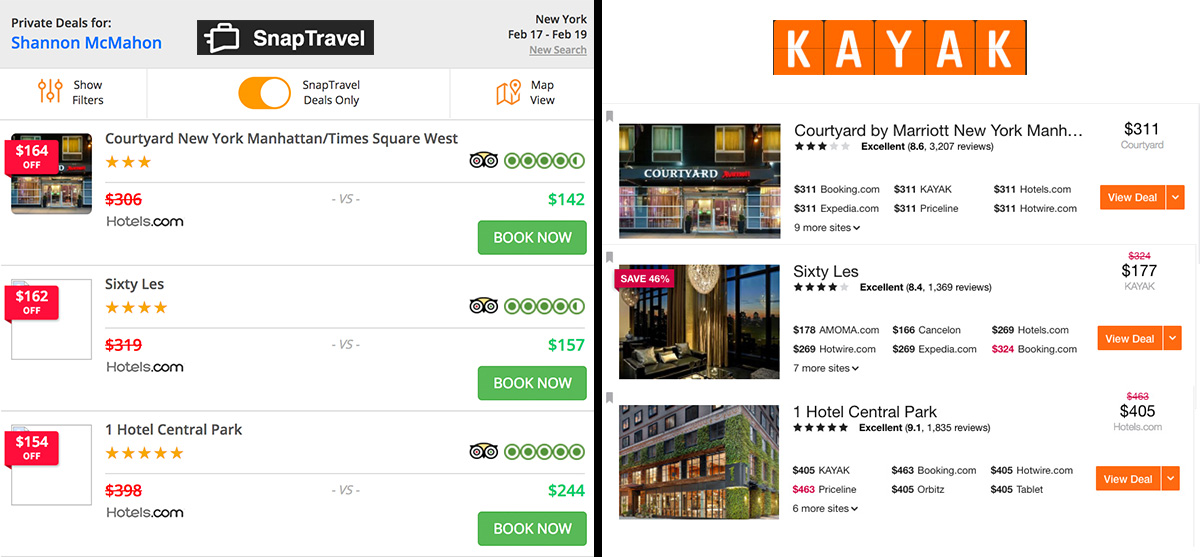 Travel With Snap Travel
London yielded similar results, with some of the cheapest central hotels costing $43 less than the nightly Booking .com price, which was being pushed as a 32 percent off "deal" (see prices below the SnapTravel map). Los Angeles hotels were all well over $100 cheaper on SnapTravel.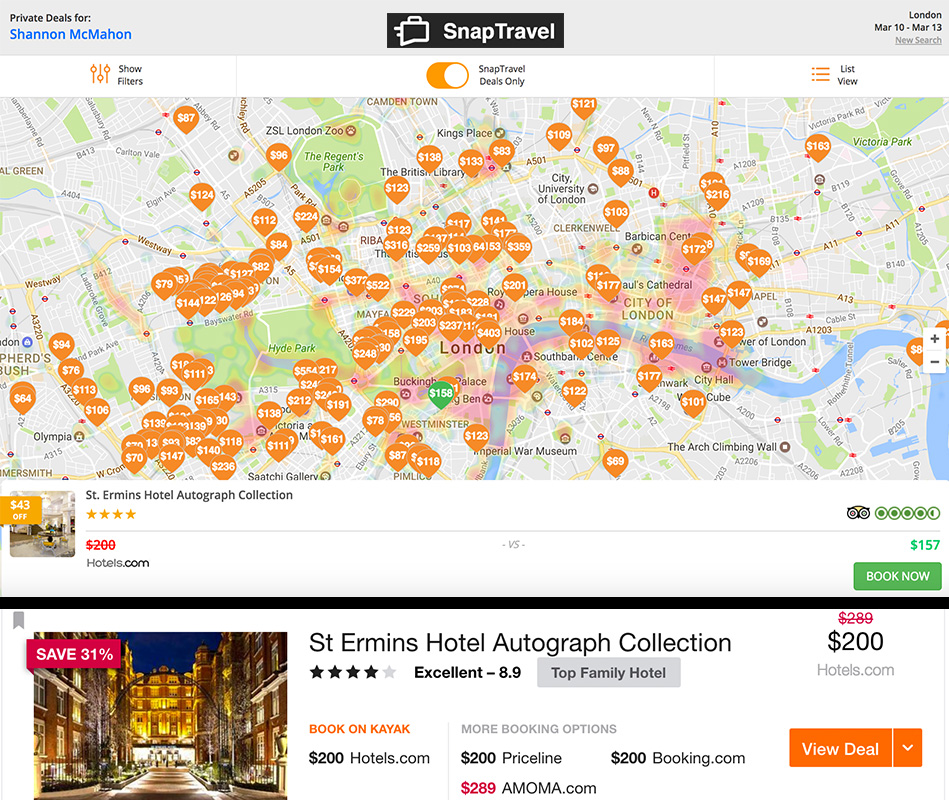 Even for smaller cities, SnapTravel had cheaper prices than the most popular booking sites. Galway, Ireland, hotels were on average $20 cheaper per night, and Boston hotels were up to $70 less per night in my tests. Those aren't small savings, and the options are by no means budget hotels. Most of their ratings are above a four on TripAdvisor.
Unlike many sites, SnapTravel isn't simply a bot that takes commands. "Our humans actually serve a good purpose beyond just trying to find you a hotel," Fazal told me. An agent stays on top of your reservation after you've booked, not only confirming all your needs are met, but oftentimes getting you an upgrade. About 30 percent of the time an upgrade is secured, and 60 percent of bookings can at least get bumped to a higher floor. That means only about 10 percent of bookings don't get something extra from using SnapTravel.
If you've ever wanted a virtual personal assistant for hotel bookings, here's your chance.
Top Summer Hotel Deals from SnapTravel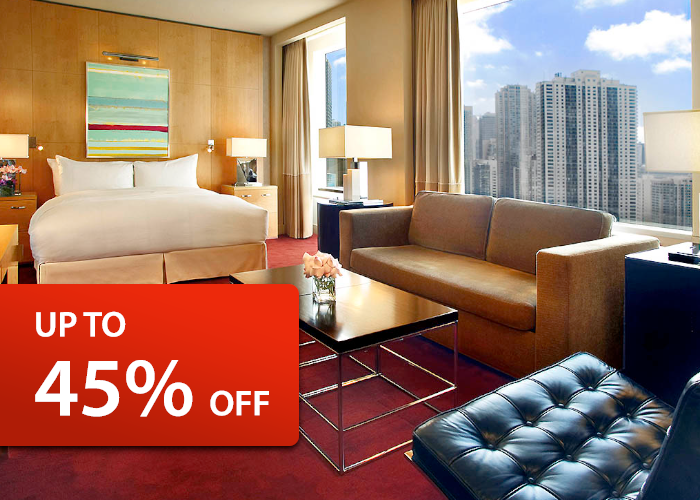 Sofitel Chicago Magnificent Mile, Chicago
The best place to stay in Chicago this summer is the Magnificent Mile, a popular district that's home to excellent shopping, historical landmarks, and some of the city's best eateries. The Navy Pier (with beautiful Lake Michigan views), the John Hancock Center (home to the 360 Observatory), and Field Museum are all within easy walking distance.
The highly rated Sofitel Chicago Magnificent Mile is a luxurious oasis in the middle of the bustling neighborhood. This 415-room hotel offers panoramic views of Lake Michigan and the Chicago Skyline, a signature "SoBed" sleep system, and a gourmet restaurant with a gorgeous terrace.
More from SmarterTravel:
We hand-pick everything we recommend and select items through testing and reviews. Some products are sent to us free of charge with no incentive to offer a favorable review. We offer our unbiased opinions and do not accept compensation to review products. All items are in stock and prices are accurate at the time of publication.