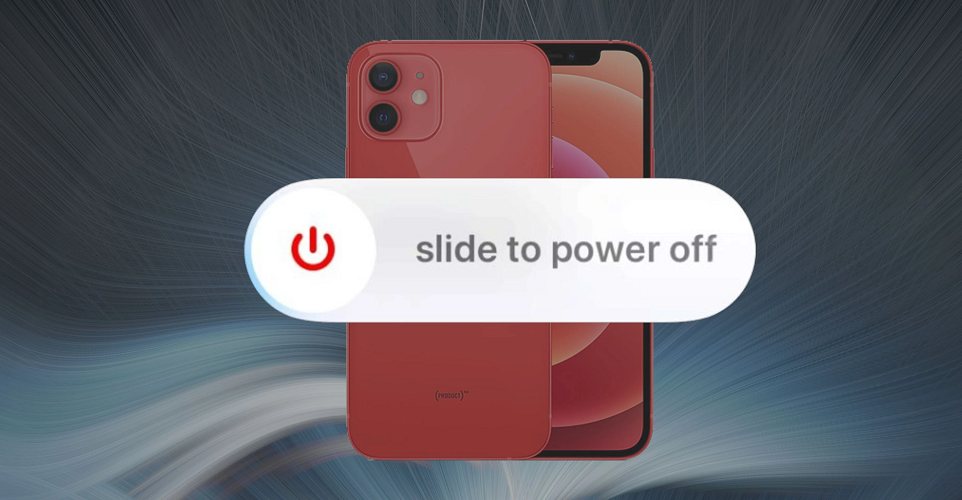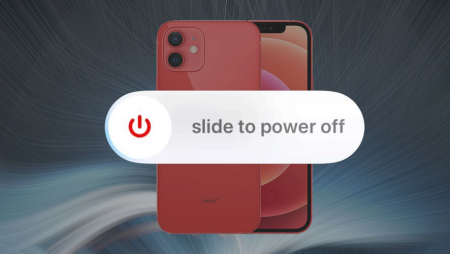 Heads up: Our content is reader-supported. This page includes affiliate links. If you click and purchase, I may receive a small commission at no extra cost to you.
Apple iPhones are very popular among smartphone users. They are indeed the most unique smartphones in the market today. Be it an innovative design, lag-free user interface, seamless software, and technology-driven features they offer to make your day-to-day task easier. However, operating an iPhone is quite a daunting task if you are a new user. Although iPhones are very user-friendly, due to the iOS one doesn't get many options, unlike Android. You need to rely only on the handful of the options and features that are given by the iOS. However, the brand new design and range of iPhones have come up with a series of user-friendly and exciting features that will enhance your user experience tenfold. Here, we are talking about smart way to switch off or reboot your iPhone 12, iPhone 11, and iPhone X.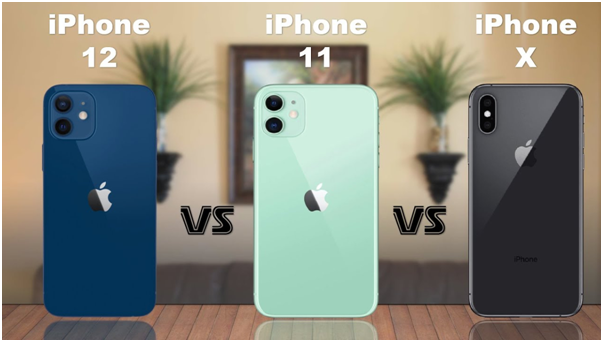 Apple has gifted its a new line-up of iPhones with a new way to turn off and reboot. In older iPhones, you used to press the Power button to turn off your device. But, the same button activates Siri on iPhone 12, 11, and all the higher versions.
So, what are the new ways to switch off or reboot your iPhone 12, 11, X or other new versions ?
There are two new ways that you can now use to switch off your new iPhones via buttons.
First way: Turn off while using the buttons
Here you need to press Volume Buttons, either Up or Down along with the Side button together until the screen shows the Slide to Power Off option. However, you need to long-press both the buttons else it's going to take a screenshot.
.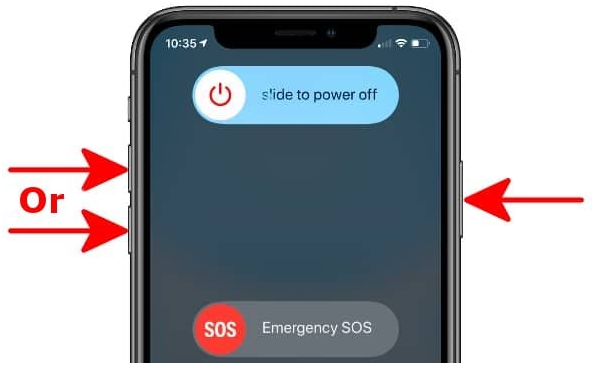 However, if you are reluctant or fearful about triggering the SOS slider while using the above option, then you can simply press Volume Up and Down buttons while press and hold the Side button to trigger the Slide to Power Off option. While using this option you don't need to worry about triggering the SOS 911 call.
In case, you have to abort any of the options above then simply press the Cancel button right at the bottom in order to enter the passcode to get access to your phone.
Second way: Turn off via Settings
If you find using buttons a bit difficult to turn off your new iPhones then use this option. Here, you need to visit your iPhone's settings to turn it off effortlessly.
Go to the Settings
Tap on General
Tap on the Shut Down option that you can see right at the bottom of the screen
Once you tap the option you will get an option Slider to Power Off to switch off your iPhone.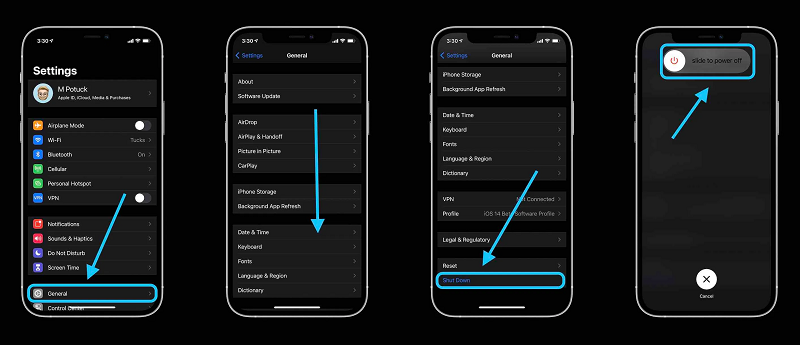 How about turning on your iPhone?
Well, the process to switch on the iPhone is still the same. You just need to press and hold the Side button to turn on your device. You can see the Apple logo on the screen when it turns on.
How to Restart your iPhone?
Well, to restart your new iPhones you get a couple of options.
Restart via Buttons
Well, restarting your iPhone is quite similar to the method to turn off the phone.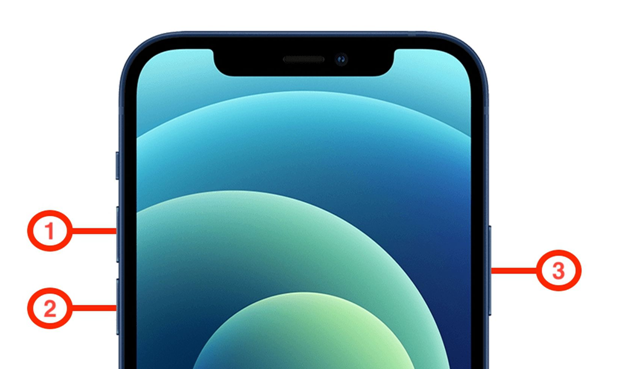 First off, press the Volume Up button
Secondly, press and hold the Side button. You have to keep holding it down even after getting the Slide to Power Off option. Once you see the Apple logo on the screen then leave the button. Make sure to press the Volume Up button to avoid triggering the SOS emergency service.
Restart via Assistive Touch
If you are slightly uncomfortable using the buttons to restart your iPhone then you can use the Assistive Touch method. Every iPhone comes with one assistive touch button that keeps rotating on the screen. All you need to do is to trigger it via Settings. It is nothing short of a helpful feature that helps you to perform multiple tasks without using buttons.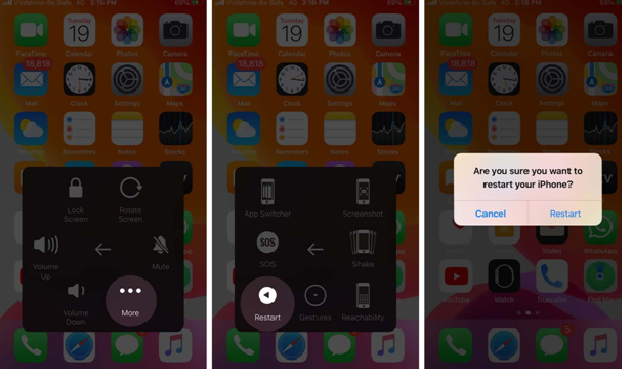 How to enable it?
Go to the Settings
Tap on the Accessibility option
Select option Touch
Then tap on Assistive Touch
Now you just need to turn the slider to make it green.
Now add a Restart option to the Assistive Touch menu via tapping on the Customize Top Level Menu. The Customize option will help you to add your favourite options to the menu. You can easily add or delete any option.
Now scroll down to check the Restart option.
Once it's added, click on it to restart your iPhone effortlessly.
You can also see the Assistive Touch button on your screen when it restarts.
Restart via Voice Control
If your iPhone has Ios13 then you can also restart your device via Voice Control without using your hands. This is yet another useful accessibility feature added to brand new iPhones with Ios13.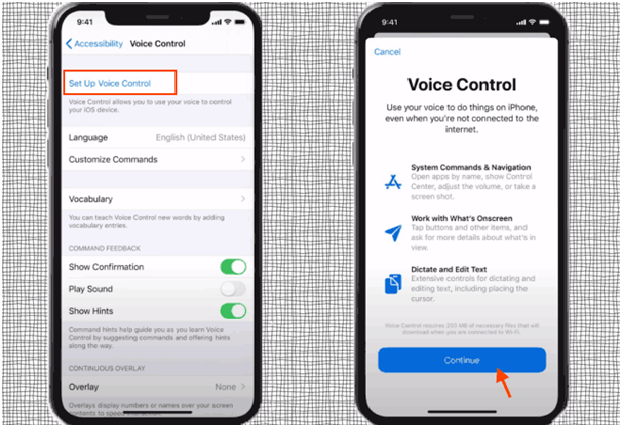 Go to Settings
Tap on Accessibility
Now tap on Voice Control
Once you click on Voice Control you can see an option Set Up Voice Control with a complete guide.
Now tap on Continue
Now you can see a screen that gives you complete detail and options that you can use to give commands via Voice Control.
Once you enable the Voice Control option with your voice command, the blue and white microphone icon pops up on the upper left of the screen.
Once it's set up you can enable Siri and ask Siri to turn off your iPhone. You just need to say, 'Hey Siri Turn on Voice Control'. Now make use of the 'Restart' command via Voice Control and tap on Restart.
Conclusion
Thus, with all the above-mentioned methods you can switch off and restart or reboot your iPhone 12, iPhone 11, and all the other new versions easily.
To Read more about: Top announcements from Apple's Spring Loaded Event 2021 Click Here