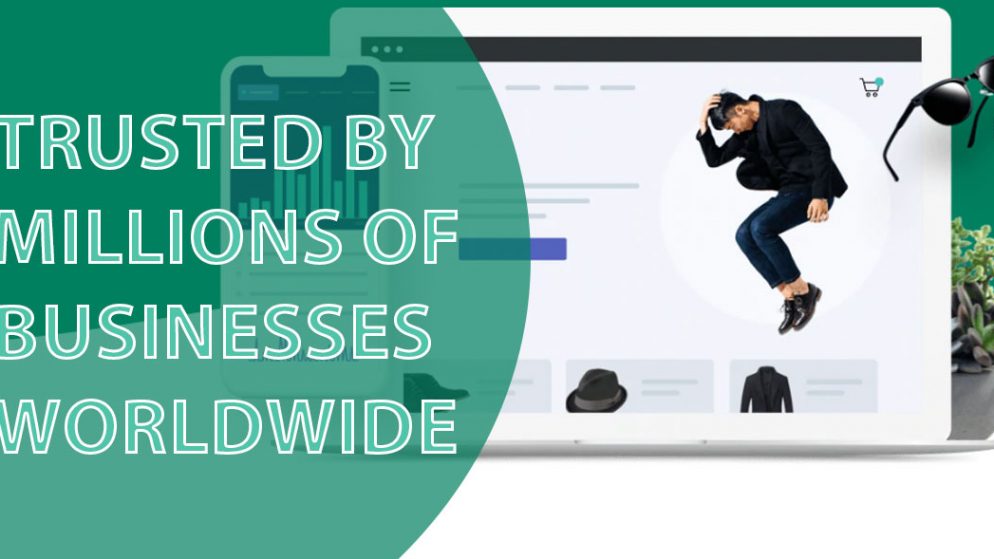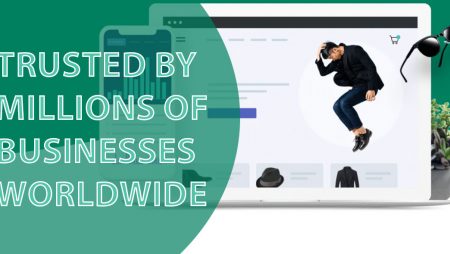 Shopify offers an excellent e-commerce content management system complete with many exciting features, such as selling on Pinterest, Facebook, and Instagram. It's a pretty good choice for entrepreneurs looking to launch an online store quickly.
Shopify is built around e-commerce principles and designed to make launching an online store very straightforward.
Created for business owners and not web developers, Shopify's setup is easy to understand, and no coding or backend knowledge is required. It especially shines when you are trying to build a brand, with a wide selection of templates to choose from and easy-to-follow themes.
Shopify is built for business owners of all sizes who are ready to sell without worrying about setup time and technical problems.
Shopify has ingrained features to make selling easier. It is fully hosted, so you have a built-in domain and hosting platform, meaning you are set up to launch right away. And, if taking the time to set up your own store or start your own business isn't for you, Shopify has solutions akin to the physical world, in terms of buying and taking over established businesses through their exchange marketplace.
With over 3,000 fully functional stores available to buy, you can purchase an operational and profitable store as an excellent investment opportunity, all without the risk of having to come up with a business idea yourself.
This e-commerce web solution also has built-in analytics so you can track sales, inventory, and various KPI successes. Inventory management is a breeze, and even customer management, as you can view customer information and shopping habits right on the backend.

Shopify even integrates with other e-commerce email marketing software so that you can touch base with customers along the sales journey. It also lets you link to and sell through social media, providing a complete e-commerce marketing package.
Shopify is competitively priced, starting at around $29 a month, and is easy to use, making it an excellent solution for a variety of online shops.
In order to build a booming e-commerce business, you need an easy-to-use website with a manageable content strategy. Fortunately, one of the kings of e-commerce is the Shopify website builder, making it simple and easy to launch your online store and manage your site.
With clickable builds and preloaded templates, your primary focus can be on building sales, meaning you need no technical or design background. The features that come standard with this software focus on efficient sales and boosting revenue — as well as managing the customer journey.
Who is Shopify for?
Shopify is entirely built for the e-commerce world (seriously, there are thousands of Shopify stores out there), so it's a pretty good choice for someone looking to launch an online store. As a site builder, it's designed for entrepreneurs and business owners and requires no coding knowledge.
The average Shopify customer is trying to sell wares and build a brand, not code for hours and build a custom interface, and Shopify's ease of use reflects that.
It's built for business owners who are ready to launch their online store without worrying about setup time and technical headaches.
Shopify's features
There are a plethora of Shopify tools to help you build your very best shop. Each one is created with an e-commerce slant, so even content management and page-building come second to sales. However, the simplification means you can focus on e-commerce activity.
Hosting
One of the best things about Shopify is that it's a fully hosted solution. You don't need to stress about buying and managing extra external software, paying for hosting, or hiring a developer to wade through the building and domain stuff for you.
Shopify's a very "out of the box" solution, streamlining your work from the very start.
Exchange marketplace
There's a whole microcosm of pre-built possibilities that are exclusive to Shopify via the Shopify Exchange.
If building a store from the ground up is not your strong suit, or you simply don't have time to start a business from scratch, there's an entire marketplace of already-built Shopify stores available for purchase. Generally, the Exchange offers over 3,000 sites available at any given time.
The entire process is run as a part of Shopify itself, too, so it's not some shady, black-market deal. You can opt to purchase a successful business from the start if you have the cash.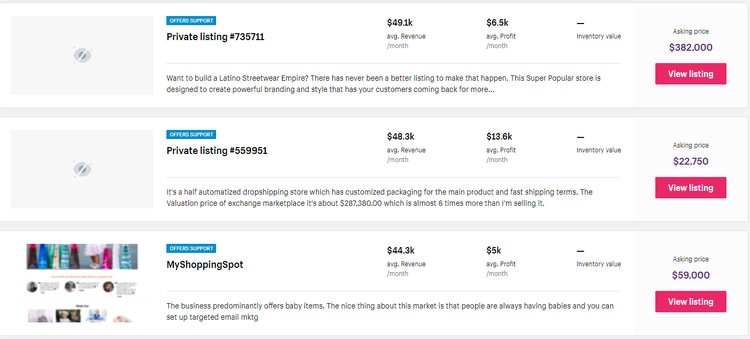 You can buy starter stores for relatively cheap, or purchase a thriving e-commerce site. Depending on your criteria, buying a shop can cost as little as $50 for a brand-new one, or the price can climb to over $1 million for established, successful pages.
Think of this as if you were buying or taking over a physical store. The concept is the same in that you are taking ownership of a proven, thriving business without the financial risk of starting from scratch.
Rather than creating your own business from the ground up, the Exchange allows you to buy out another business, essentially taking the brick-and-mortar concept of a store being "under new management" to the online world.
If you have the cash to purchase a fully operational and profitable store, you have an excellent investment opportunity, all without having to come up with the products yourself. You get a working store, an established brand, a loyal customer base, etc., and all you need to do is purchase it, as you take ownership the same day.
Plus, Shopify provides the accurate stats and metrics of the store, so you have full transparency into sales and other valuable data.
You can also purchase a functional store that is perhaps not hugely successful but starting out. This still saves you from having to kickstart a brand from nothing, while allowing you to continue and develop it in your own way.
Analytics integrations
What's really cool about Shopify is that you have the option to integrate with Google Analytics as well as take advantage of Shopify's built-in platform.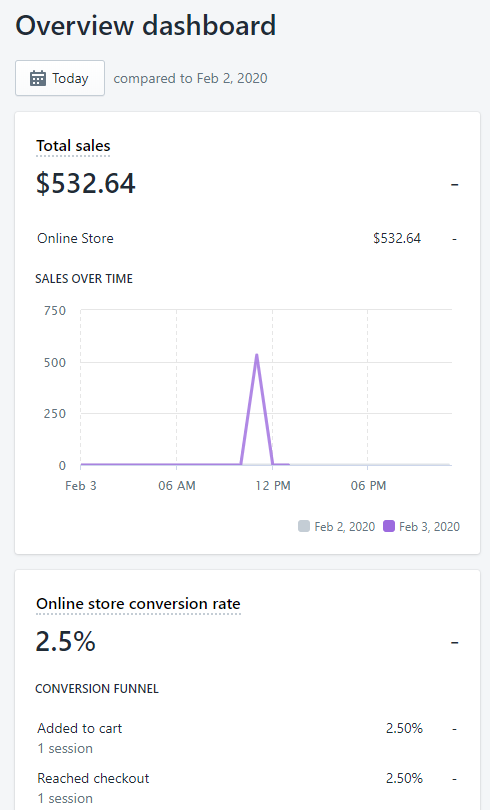 Since Shopify is an e-commerce beast, it prioritizes your ability to track your store's success. You can break down views of sales by month, week, day, or even by hour chunks during a single day. Important marketing metrics such as conversion rates, add-to-cart data, abandoned carts, and completed checkouts are shown at a glance.
Easy product management
Uploading products and maintaining your inventory is very easy. You can publish posts that tie into product offerings and link your content plans to your actual sales goals.

When you sell on Shopify, you're given a window into streamlined inventory management. By syncing your inventory items with Shopify (a.k.a. the point of sale), you're assured of accurate pars (minimum in-stock inventory) based on sales. Plus, completing inventory checks is made easier because products are displayed in a simple list, with par levels and descriptions clearly shown.
Not only does this make it easier for your customers to buy items, it makes your back-end management much less hectic, too.
Marketing integrations
With Shopify, you have access to a slew of additional applications. Shopify also specifically highlights marketing add-ons to help you organize your content and integrate your marketing plans.
Outside of the primary inclusions, which are helpful, you can up your marketing game with advanced social media integrations (such as advertising on Snapchat), fine-tune your marketing automation email process, personalized sales emails, and much more.
Integrated email
Shopify leads the way with e-commerce email marketing by having the email feature integrated right into it. Based on actions your customers take when interacting with your storefront, you can use Shopify Email to base campaigns on those behaviors all from one platform.
Without the need for a secondary software, you can run campaigns, set up automated follow-up emails, and advertised sales with minimal setup, which is a blessing when you have more important things to do.
Shopify themes
As with any of the best e-commerce software, there are several Shopify themes available for your site.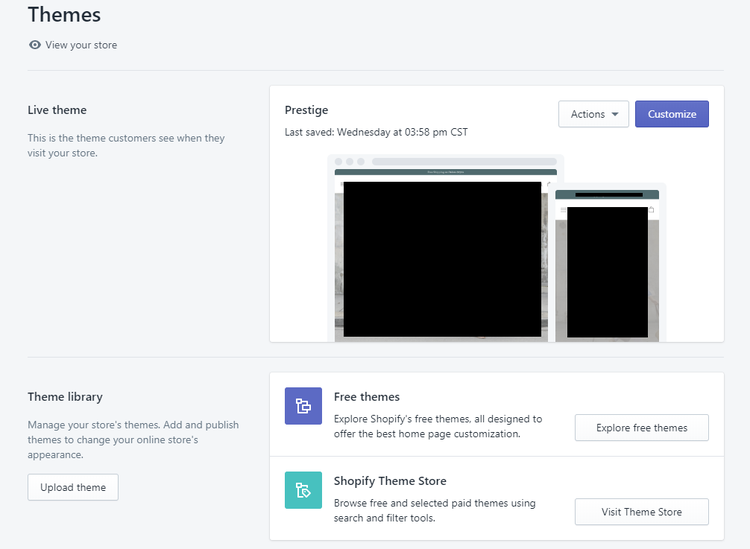 Picking a theme is easy: You can browse through options and further customize each possibility by changing the default colors to those of your brand, uploading your company logo, and determining what's displayed on the homepage.
Customer tracking
It's easy to manage the lifecycle of a customer because, as an e-commerce website, Shopify is designed to track that behavior closely.

Having this information available makes it easier to set up marketing campaigns that target the right people, predict inventory needs, and plan sales.
Order tracking
It's not just people you can track. With Shopify's integrated shipping tracker, you can see and manage the status of placed and shipped orders. With a few simple clicks in your settings, you can turn on tracking update emails for customers, and you can keep an eye on order statuses yourself.
Shopify's ease of use
"Easy to use" can be somewhat subjective, but Shopify manages to nail all of the basic requirements. It's a system anyone can understand even if you've never built a website, but it doesn't sacrifice on capabilities.
Right from purchase, you can have an already-working online store, meaning you aren't building a shop brick by brick, so to speak, but rather adjusting and fine-tuning the existing design to suit you better.
Ready-made templates ensure seamless designs and are automatically responsive and optimized for multiple devices. Shopify's dashboards and toolbars are easy to understand.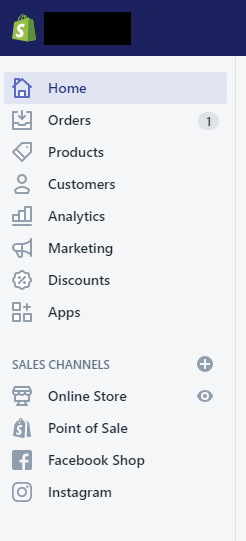 A common worry in e-commerce is the sensitivity of payment information, but Shopify handles online payments for you, alleviating the stress of storing private customer information. Your products and inventory are easy to manage, and social media sales integrations are only a click away.
Shopify's pricing
Though there are no free plans available, the pricing tiers for Shopify are reasonable. You can opt for monthly or annual billing and choose from three plans: Shopify Basic, Shopify, or Shopify Advanced.
Fees for the basic option start at $29 per month (but go down to the equivalent of $26.10 per month when you opt for annual billing), while Shopify Advanced hovers between $269.10 per month and $299 per month.
The Shopify Basic plan offers a lot of features, and depending on your needs, you might not need to upgrade for a while. The basic plan offers full access to the online store model, the POS system for collecting payments offline, and Facebook and Pinterest integrated selling. It also includes the ability to add a custom Shopify "buy" button to pages that aren't necessarily part of your online store, allowing for increased sales opportunities.
Keep in mind, though, that if you're not using the Shopify Payments feature, you do get charged a transaction fee for every order placed.
Shopify's support
Shopify's support is top tier. Not only are there a multitude of online resources, step-by-step instructions, and video tutorials, Shopify also offers access to a customer representative 24/7. You can call toll-free, or start by submitting a ticket online through the support portal.
Shopify representatives have a reputation for being quick to respond and helpful with their answers, and I found that to be true when contacting support via an online request.
There's also a very large customer base of Shopify users, so the community forums are a bastion of support.
Benefits of Shopify
If e-commerce is your primary focus, Shopify is one of the best options available today. The pricing is generally affordable, with the Basic plan coming in at less than $30 per month, so the risk is lower.
The ease-of-use factor can't be overstated, either, as you're presented with a working e-commerce platform directly at purchase. All you need to do is the non-technical tweaking to make it match your business, which means you're never in danger of building a non-working site or setting yourself up for a frustrating experience.
If you're stuck, there are a plethora of support options to solve almost any problem. You're never alone with an issue, and security is top-notch, too.
Shopify is an e-commerce mainstay for a reason
Though there are certainly pros and cons to Shopify, if your main focus is e-commerce, it's one of the best options available. For online storefronts, you need a site builder and content manager that understands selling and inventory management first, along with a user-friendly setup.
Shopify makes growing sales and managing an e-commerce site about as easy as it can ever be.