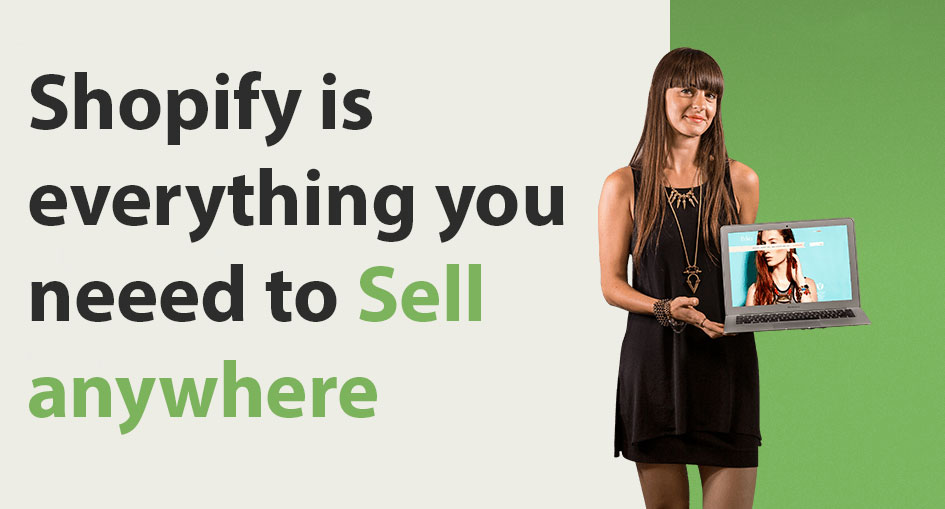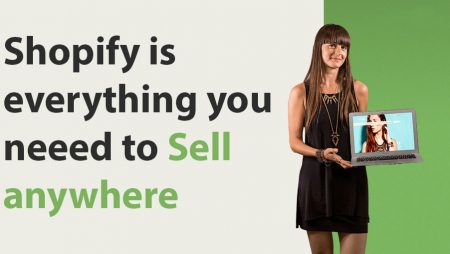 When to Use Shopify
Shopify is our top pick for the best ecommerce platforms, scoring a 4.68 out of 5 based on our evaluation. We have personally found that Shopify is one of the easiest solutions to use, allowing you to create an online store with a full-blown website and sell on multiple channels. Shopify is also one of the top software that we would personally recommend as retail experts.
Based on our reviews, Shopify is best for:
Businesses with online sales as a profit driver: Shopify's website builder, sales tools, and inventory management features are powerful and allow you to scale your business effectively. Shopify is a solution that will grow with your business, and it makes our list of the best POS inventory systems as it can handle large and complex product assortments across multiple channels.
Online stores that would like to sell on social media: Shopify enables you to do business through other platforms such as Facebook, Facebook Messenger, Amazon, Pinterest, and Instagram. While most ecommerce platforms offer social media integrations, Shopify is at the forefront as it has exclusive partnerships with companies like Facebook, Instagram, and TikTok to allow in-app purchases.
Entrepreneurs wanting to try a dropshipping model: Shopify connects to hundreds of dropshippers via plug-and-play options found in the Shopify App Store.
Multichannel retailers: Shopify tops our recommended multichannel POS system as it offers a world-class POS and ecommerce system that connect seamlessly for omnichannel sales like buy online, pickup in-store and browse in-store, buy online.
When Shopify Would Not Be a Good Fit
Brick-and-mortar stores needing an online ordering solution: If you run a brick-and-mortar store and would like to add an online component for pickup or local delivery sales, then Square Online is your best option. It lets you build a full website or a simple one-page site for free.
Restaurants and online food ordering: If you need an online ordering system for your restaurant, Tock to Go is a user-friendly and economical option specifically designed for restaurants. Also, Toast is an all-in-one POS system with integrated online ordering for pickup and delivery.
Enterprise ecommerce businesses looking to save on transaction fees: If you have high-volume sales, you might be losing a lot of money with Shopify's payment processing fees. You might be better off using BigCommerce, which lets you choose your own payment processor so you can shop around for low rates. BigCommerce offers special low rates for PayPal payment processing, and, unlike Shopify, it does not charge a fee or markup for connecting an outside payment processor.
If selling is not the main focus of your small business site: If you need a small business website, Squarespace is our recommended website builder for a user-friendly, all-in-one solution.
If you need a fully customized website and online store on your own servers: WooCommerce and PrestaShop are better options. These are open-sourced platforms primarily geared toward developers.
If you already have an existing WordPress website and would like to build or add an online store: A WordPress ecommerce plugin, such as WooCommerce, would be a better option. It has robust features similar to those of Shopify and has the advantage of being as customizable as WordPress.
If you want an ecommerce website and a content website: We recommend Squarespace. Shopify is great for ecommerce, but it's not as fluid when it comes to maintaining content—the WYSIWYG editor isn't as user-friendly and powerful as Squarespace's drag-and-drop page editor.
Shopify Overview
PROS
User-friendly and intuitive interface
Scalable platform
24/7 support
Print discounted postage straight from Shopify
Powerful reporting tells you which items are most likely to sell
Access to hundreds of additional features and integrations via Shopify app store
CONS
Costs at least $29/month for a full ecommerce store
No low-stock alerts without upgrade
Shipping calculator requires an annual plan
Shopify themes are not that customizable
Third-party apps can be pricey
Advanced features like reports, fraud analysis, gift cards, and real-time shipping rates only available on higher-tier plans
Shopify Store Examples
We looked for retail stores that use Shopify's platform to give you an idea of how you can utilize it as your whole site, a store extension, or as part of your social media channel.
Package Free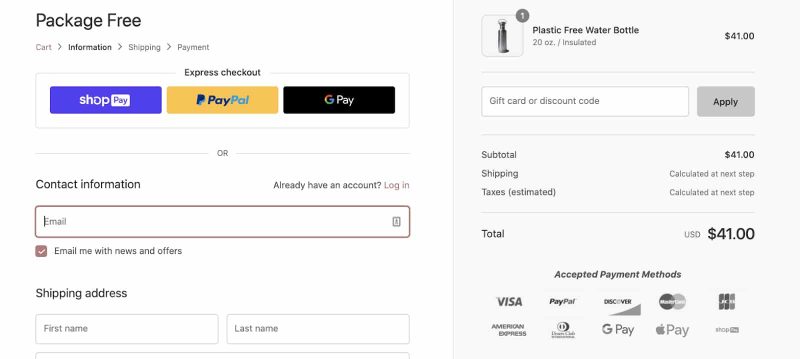 Package Free sells beauty and household items that come package-free, drawing inspiration from its founder Lauren Singer's mission to create less wasteful consumer behaviors. Its product pages utilize product reviews, social media share buttons, and product variants.
Allbirds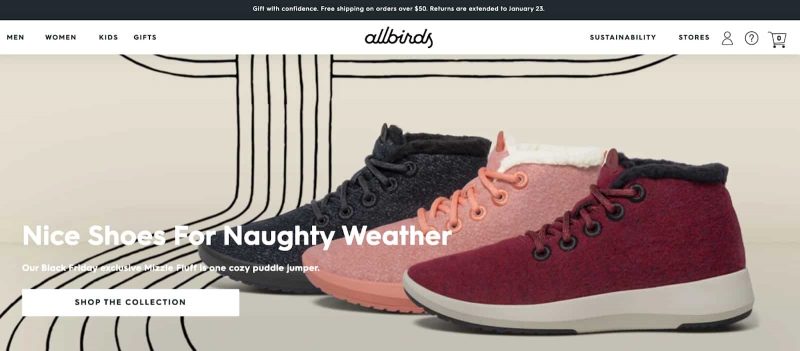 Allbirds is a footwear company that offers products from threads made from wool and eucalyptus, simple designs, and packaging made from 90% post-consumer recycled cardboard. Aside from its online store, it uses Shopify to sell on its Facebook page.
Simply Quinoa
Simply Quinoa's website uses Squarespace, as it has more content, but it uses Shopify for its shop. The design transition and integration are seamless. Its product page features related products, an image gallery, product reviews, and social media share buttons.
Shopify Pricing
Shopify pricing plans come in four tiers, with all plans providing unlimited and free website bandwidth and a "Buy Button" that you can add to your social media channels. All subscriptions also come with the following features:
Unlimited products
Sell in 133 currencies
Shopify POS
Gift cards
Online sales channels
Fraud analysis (when using Shopify Payments)
Manual order creation
Discount codes (i.e., welcome codes for new customers or exclusive discounts to your social media followers)
Customer support (24/7 live chat and phone support in English; 24/7 email support in multiple languages)
Shopify Lite is startup-friendly and ideal for sellers who want to: 1) add products to their existing blog or standard website; and 2) sell on Facebook or in-person using a mobile device. It also allows you to send invoices and accept online payments, but it does not let you build an online store. Basic Shopify, meanwhile, lets you build your own online store, market your website with its blogging functionality, and sell on other channels (e.g., Amazon, Facebook, and Pinterest).
The Shopify plan includes all of the features in Basic, plus advanced capabilities—like cart recovery, gift cards, and expanded reporting capabilities. With this plan, sellers who use Shopify Payments to process credit cards pay a lower processing fee; if you sell more than $25,000 per month, this package may be for you.
On the other hand, Advanced Shopify is designed for high-volume sellers who use all of the capabilities of the Shopify plan but still need additional features—such as real-time shipping rates and customizable reporting. If you sell more than $110,000 per month, this plan is most ideal.
As your business grows and your needs go beyond what's offered in Advanced Shopify, you can contact the provider for a customized ecommerce package through Shopify Plus, the company's enterprise solution. This starts at $2,000 per month and includes custom discounted processing fees.
Shopify Features
Shopify makes it easy for you to start building your online store by offering a 14-day free trial. Signing up is an easy process, with Shopify only asking for an email address and store name. You are then taken to a step-by-step guide for setting up your store.