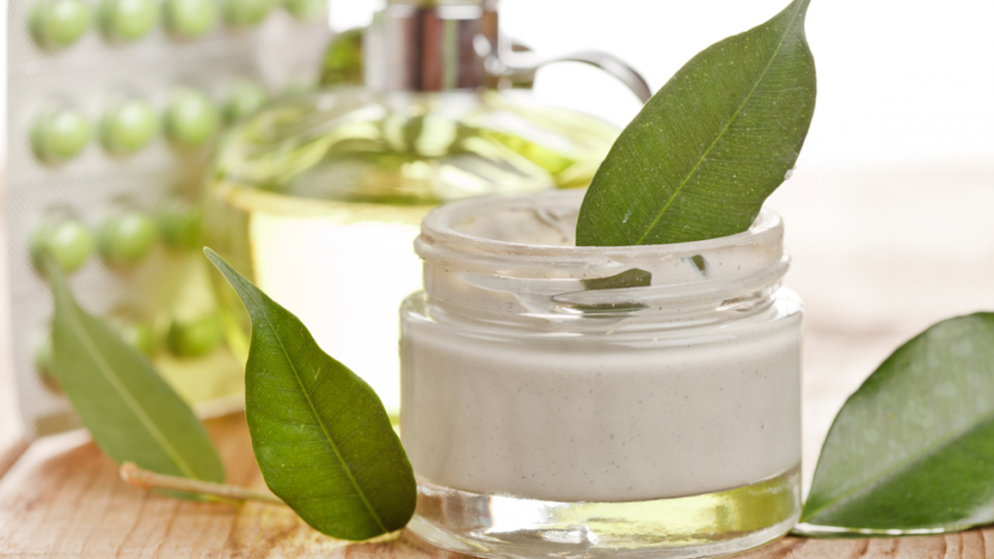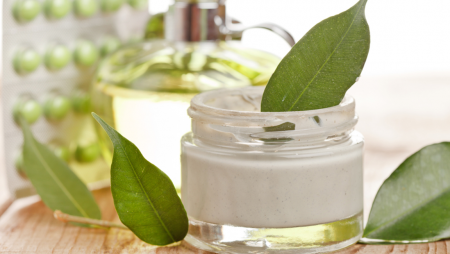 Our content is reader-supported. If you click on our links, we may earn a commission.
The story behind Lancôme
Lancôme has been in the beauty industry for over 80 years, offering skin care, fragrances, and cosmetics inspired by French elegance. In 1935, when the brand was introduced, Lancôme launched five unique fragrances. Just one year later, the brand's first skin care product, a multi-tasking repair cream called Nutrix, was released. As the company continued to rapidly grow, so did the Lancôme skin care line; eventually expanding into anti-aging creams, eye creams, and more. About thirty years after its founding, the company was sold to the global manufacturer, L'Oreal. Today, Lancôme is a leading name in the luxury fragrance and beauty industry, and has been represented by actresses, global supermodels, and makeup artists through the years.

What are the best selling Lancôme skin care products?
Since Lancôme offers so many skin care products to treat a variety of concerns, you may be wondering: what are the best selling Lancôme skin care products? To help you out, we'll discuss three of the most popular Lancôme skin care products below, including: Advanced Genifique Youth Activating Serum, Tonique Confort Rehydrating Comforting Toner with Acacia Honey, and Bi-Facil Double Action Eye Makeup Remover.
Advanced Genifique Youth Activating Serum is an anti-aging facial serum for all skin types that is said to instantly make skin feel hydrated, smooth, and soft. It is also claimed to reveal more radiant skin in as little as seven days.
Lancôme's iconic milky-pink toning lotion, Tonique Confort Rehydrating Comforting Toner with Acacia Honey, is a soothing and moisturizing toner that is said to gently purify and rehydrate dry skin and sensitive skin.
Bi-Facil Double Action Eye Makeup Remover is a liquid eye makeup remover with two phases: a lipid phase and water phase. The lipid phase lifts eye makeup off, while the water phase uses unique emollients to leave skin feeling clean and fresh. It is said to instantly and effortlessly remove eye makeup residues, even longwear and waterproof makeup.
What are the key ingredients used in Lancôme products?
The best selling Lancôme skin care products we introduced in the previous section certainly sound like they could be a great addition to your skin care routine. But here at The Derm Review we like to take things a step further by really diving into the product formulations to see exactly how the ingredients are going to affect your skin. Below we'll discuss the key ingredients used in each of the best selling Lancôme skin care products mentioned above.
Advanced Genifique Youth Activating Serum features 10% Bifida ferment lysate as an active ingredient. Bifida ferment lysate is a probiotic strain obtained from the fermentation of Bifidobacteria, a gram positive anaerobic bacteria. Restoring the skin's microbiome with probiotics helps to keep your skin hydrated and balanced, as well as prevent infection, breakouts, and irritation.
Unfortunately, Advanced Genifique Youth Activating Serum contains a high concentration of denatured alcohol. Denatured alcohol is well known to cause skin dryness, irritation, and even disruption of the skin barrier, especially when used in high concentrations. The combination of denatured alcohol with glycerin and dimethicone in this serum will temporarily reduce the look of fine lines and wrinkles. This is because alcohol tightens the skin, glycerin hydrates the skin and thereby plumps skin, and dimethicone forms a thin, invisible film that can help disguise signs of aging. However, these effects are temporary and will disappear once you wash off the product.
The key ingredients in Tonique Confort Rehydrating Comforting Toner with Acacia Honey are said to be acacia honey and sweet almond oil. However, only a very tiny amount (less than 1%) of each of these ingredients can be found in this formula. We know this by looking at the ingredient list (which is in order of descending concentrations). Both of these "key" ingredients are listed after the preservative phenoxyethanol, which cannot be used in concentrations more than 1%. So you may be wondering: what ingredients actually make up the majority of this toner? If we look at the ingredient list, water, butylene glycol, glycerin, and a silicone make up 99% of the Tonique Confort Rehydrating Comforting Toner with Acacia Honey formula.
The key ingredients in the Bi-Facil Double Action Eye Makeup Remover are cyclopentasiloxane and isohexadecane. Cyclopentasiloxane is a type of silicone that imparts a silky, smooth skin feel and improves the spreadability of the product. Isohexadecane is an emollient and solvent that helps to cleanse the skin while still leaving a light silky feeling on the skin. Of note, this makeup remover does contain synthetic fragrance ingredients (parfum/fragrance, citronellol, and geraniol), which can potentially irritate the delicate skin around the eyes.
Where are Lancôme products sold?
Lancôme skin care products are sold online through the company website and third party e-commerce sites. In addition, you can find Lancôme products at beauty stores and beauty counters at department stores around the world.
What is the Lancôme return policy?
The Lancôme return policy states, "If for any reason you are not completely satisfied with your Lancôme purchase you may return the purchased products within thirty (30) days of the delivery."
Is Lancôme cruelty free?
Wondering if Lancôme is cruelty free? Here is what the brand has to say about their stance on animal testing, "We at Lancôme do not conduct animal testing on our products or ingredients, nor ask others to test on our behalf, except when required by law. As we continue to expand globally and reach our customers around the world, it is our practice to do our part towards advancing the science of safety and validated alternative methods that eliminate the need or requirement for any animal testing globally."
Lancôme expands on this by explaining L'Oreal's stance on animal testing, "In 1989, our parent company, L'Oreal voluntarily stopped using animal testing for the evaluation of its entire range of finished products. The company has invested more than $1 billion over the last 25 years to develop innovative, alternative methods to animal testing, particularly in the area of reconstructed tissue development. L'Oreal and Lancôme are totally committed to a future without tests on animals."
Lancôme Reviews
Lancôme reviews on the brand's website are overall very positive, with each of the best selling products mentioned above receiving an average of at least 4.5 out of 5 stars.
After an impressive 17,462 customer reviews, Advanced Genifique Youth Activating Serum has received an average of 4.5 out of 5 stars. Many Lancôme reviews for this product say that it does produce a noticeable difference, helping the skin to appear more youthful. However, there are quite a few negative reviews for this serum, many of them saying that it caused skin dryness and irritation. In fact, one customer actually noticed how much denatured alcohol is used in this serum in her review: "The great disadvantage for me is the smell of the serum….it very alcoholic. "
Tonique Confort Rehydrating Comforting Toner with Acacia Honey has received an average of 4.8 out of 5 stars after nearly one thousand customer reviews. Many of the positive reviews for this product report that it helps the skin to feel soft and smooth. Negative reviews for this toner say that it burns after application and that the scent is very strong.
After almost 2,000 Lancôme reviews, the Bi-Facil Double Action Eye Makeup Remover has received an average of 4.9 out of 5 stars. Many of the positive removes confirm that this product effectively removes eye makeup while still leaving the skin soft and smooth. However, there are a handful of negative reviews that actually say the opposite. For example, one customer says, "This is the only Lancome product that I do not care for. It does not remove my waterproof mascara or my daughters (We use different brands of mascara) Needs a lot of rubbing and repeated applications to work…that's not good for the skin."
What are some alternatives to Lancôme?
Even though Lancôme is one of the leading names in the luxury beauty industry, a few of the Lancôme skin care product formulations have some issues. All of their skin care products contain synthetic fragrances, which can potentially cause skin irritation and sensitization. Not to mention that "key" ingredients in some of the Lancôme skin care products are only used in very low concentrations. If you're looking for an alternative to Lancôme after reading this, we'd like to recommend Formulyst. Formulyst is a skin care brand that maximizes the use of active ingredients while minimizing the ingredients that might make you smell and feel nice, but don't actually work.
For example, instead of using Lancôme's Advanced Genifique Youth Activating Serum, we recommend Formulyst's Anti-Aging Concentrate. Similar to Lancôme's serum, the Anti-Aging Concentrate features Bifida ferment lysate to help balance the skin's microbiome. But this concentrate definitely does not contain drying denatured alcohol like Lancôme's serum. Rather, Formulyst's Anti-Aging Concentrate provides your skin with potent antioxidants, like green tea, vitamin C, and vitamin E, as well as peptides to help restore and maintain the skin's youthful appearance. Overall, Formulyst Anti-Aging Concentrate is a multi-tasking serum that can help promote the five signs of youth – radiance, elasticity, firmness, skin tone and smoothness.
There's no need to compromise when it comes to finding skincare that is effective and safe. Carrot & Stick takes a tough love approach to skincare, perfectly balancing the power of plants with cutting edge science. Not only is Carrot & Stick good for your skin, it is also good for the environment as the formulas skip harmful chemicals commonly found in skin care products.
Our lancome Prodcuts
ADVANCED GÉNIFIQUE FACE SERUM
WHAT IT IS
This serum strengthens the skin's moisture barrier in one drop. A strong skin moisture barrier helps to lock in hydration and defend against external aggressors including pollution, cold, and dry weather. Formulated with 10% Bifidus Prebiotic, Hyaluronic Acid, and Vitamin Cg this anti-aging serum helps to improve the look of dull skin and the signs of aging for visibly glowing skin.
WHAT IT DOES
Advanced Génifique Serum improves elasticity and improves the appearance of fine lines caused by dehydration or due to thinning skin, which can eventually deepen into wrinkles. Used morning and night, Advanced Génifique serum visibly hydrates, plumps and evens tone to restore healthy, younger-looking skin in just 7 days*.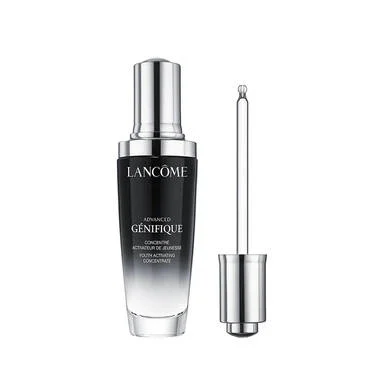 LA VIE EST BELLE EAU DE PARFUM SPRAY
La vie est belle," a French expression meaning "life is beautiful," is about choosing your own path to happiness and inspiring others. Joyous femininity is expressed through this energizing women's perfume.
La Vie Est Belle has fragrance notes of iris spring flowers and the intoxicating earthiness of patchouli. These are layered alongside perfume notes of delicious spun sugar and sensual warm vanilla. Plus, like a bright blooming bouquet, it also has other flowery hints of exotic Arabian jasmine sambac and sparkling Tunisian orange blossom.
Complex and modern, it is a unique take on a warm and spicy fragrance with a twist of florals, and sweet gourmand.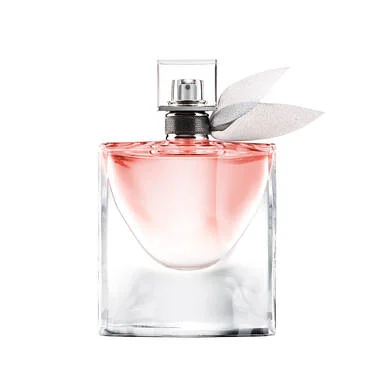 ABSOLUE REVITALIZING & BRIGHTENING SOFT CREAM
WHAT IT IS
A soft cream facial moisturizer with a unique, transforming texture that visibly reduces fine lines and wrinkles, while rejuvenating skin with firmness, radiance and 24-hour hydration.
WHAT ELSE YOU NEED TO KNOW
Made with an exclusive blend of Grand Rose Extracts, this indulgent cream visibly revitalizes skin with moisture, firmness and plumpness. Its unique texture creates a sensorial journey as it transforms ‒ from a thick hydrating cream, to a thin serum-like lotion, to a thick layer plumping skin with moisture. Wrinkles and fine lines appear diminished for younger-looking, smooth skin that is brighter, radiant, toned and more even. Skin surface cell renewal is improved and skin's moisture barrier is protected.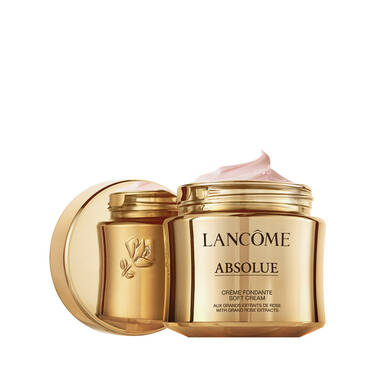 DRAMATIC LASH KIT
This limited edition value set pairs two of our lash favorites for a dramatic and conditioned lash look:
FULL-SIZE Cils Booster XL Mascara Primer (0.18 fl. oz.)
FULL-SIZE Hypnôse Drama Mascara (0.22 fl. oz.)
Plush, voluminous, healthy lashes can be yours with just a sweep of Cils Booster XL mascara primer. Gliding on smoothly and evenly, each coat creates an even surface layer to maximize the results of your favorite mascara. With a conditioning formula for visible performance, infused with micro-fibers, Vitamin B5 and Vitamin E, lashes appear longer and fuller. This revitalizing lash primer will improve lash results, thickness and curl over time.
White in color, Cils Booster XL leaves lashes feeling luxurious and soft, while allowing the pigment of your favorite mascara to stand out, thus, creating an intense and rich false-lash look.
Get instant lash drama and volume in one coat with Hypnôse Drama Mascara. Hypnôse Drama Mascara comes in an intense black pigment with a triple coating system that delivers a fluid and creamy application to quickly and easily build big, battable lashes that won't clump or flake throughout the day.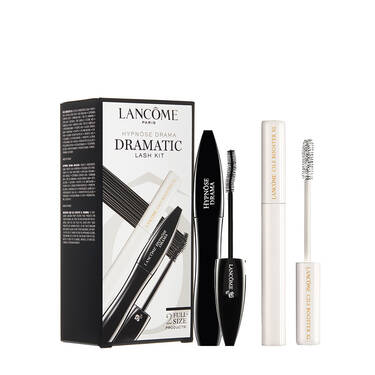 RÉNERGIE LIFT MULTI-ACTION ULTRA FACE CREAM WITH SPF 30
A multi-tasking face moisturizer that visibly reduces dark spots, lifts, and firms.
Rénergie Lift Multi-Action Ultra Cream, with Linseed exact and LHA (Lipo Hydroxy Acid), acts on the key visible signs of aging linked to the loss of collagen*: fine lines, wrinkles, elasticity and firmness, while visibly reducing the appearance of dark spots.
To help prevent future facial skin damage caused by the sun, this breakthrough SPF 30 face cream carries the Skin Cancer Foundation seal of approval as an effective broad-spectrum sunscreen.
The innovative texture, with a unique blend of jojoba, sunflower, and mimosa flower waxes, melts onto skin delivering 24-hour hydration.
Finally, a lightweight and breathable SPF 30 face cream that doesn't leave the skin sticky or greasy**.
– 97% of women agree the product does not pill.
– 88% of women agree the product is fresh.
– 88% of women agree the product does not leave the skin sticky.
– 83% of women agree the product does not leave the skin greasy.
*Based on a clinical study of 40 women in an eight-week test.
**Based on a consumer self-assessment of 40 after one-week.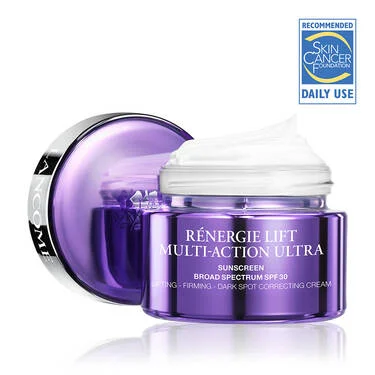 NEVER ENOUGH UV EXPERT SPF 50 BUNDLE
ONLINE EXCLUSIVE.
Your skin's weightless armor to provide invisible sun protection. A three-in-one primer, moisturizer, and SPF 50.
WHAT IT DOES
Made with antioxidant-rich Vitamin E, Moringa seed extract, and Edelweiss, this lightweight moisturizer with SPF 50 works as a facial sunscreen and makeup primer to hydrate, prime, and help protect skin in one easy step. It hydrates and comforts the skin, leaving it with a healthy-looking glow.
WHAT ELSE YOU NEED TO KNOW
The technology behind UV Expert combines broad spectrum SPF 50 sunscreen protection with a breathable, quickly-absorbed texture – acting as a weightless armor for your skin:
Sun Protection: Harmful UV rays are present all year round and can penetrate through windows when you are not outside, leaving your skin vulnerable to damage caused by UV. UV Expert provides SPF 50 protection that helps prevent sunburn and decreases the risk of skin cancer and early skin aging caused by the sun*