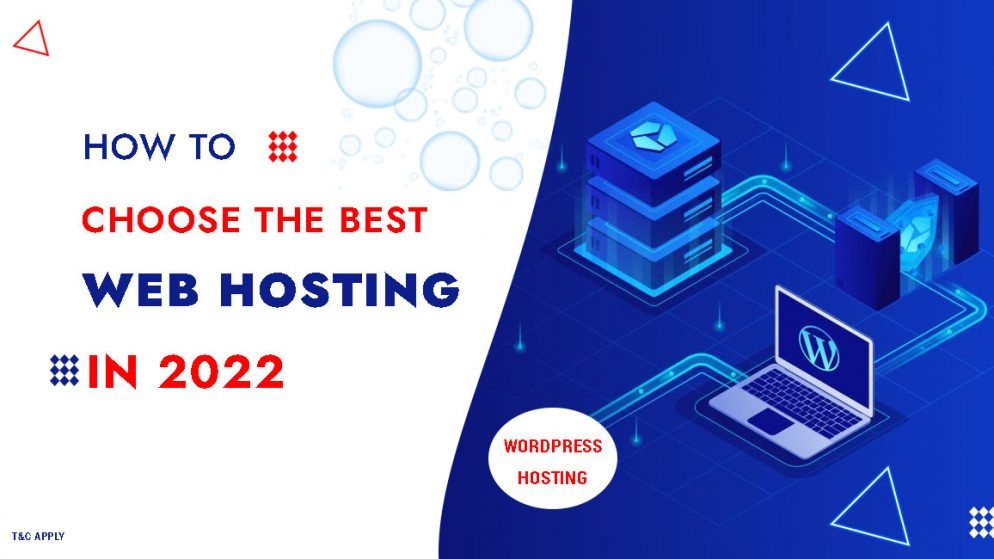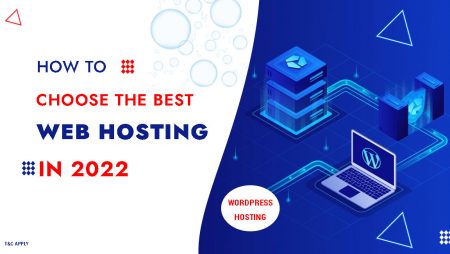 Our content is reader-supported. If you click on our links, we may earn a commission.
When it comes to managed WordPress hosting, 2 hosts come up – WP Engine and Kinsta. They cost similar amounts, but Kinsta is arguably more scalable, developer-friendly, and straightforward to use.
That's not to say that WP Engine doesn't have strengths of its own (it's a great host), but in this review, we'll be focusing on what Kinsta has to offer, and what makes it unique as a host.
A Real WordPress Specialist
Kinsta is a managed hosting provider specializing in WordPress-hosted sites. In the land of managed WordPress hosting, it came after WP Engine.
It is based in Los Angeles and London that stresses performance and reliability. The company touts some major corporate clients: including Ubisoft, GE, Ricoh, and Intuit.


Try Kinsta For WordPress Hosting
Kinsta Plans
The company offers tiered pricing for smaller businesses and enterprise.
What's unique to Kinsta is that the features are the same across all of its service plans. You won't need to upgrade just to get access to a certain feature.
The main differences among the plans are that the storage space increases with each level of service, as well as the number of WordPress sites users can host.
Range of Plans
You can host one website on the Starter Plan. You can host 100 sites or more on the enterprise-level plans. Customers who need even greater options can request custom quotes.
Each plan is priced according to how many monthly visitors it supports, not by bandwidth. If you go over your visitor limit, your service continues normally, but you'll be charged $1.00 for every 1,000 visits you go over.
Just so you can put this into perspective, we have created an example table for you.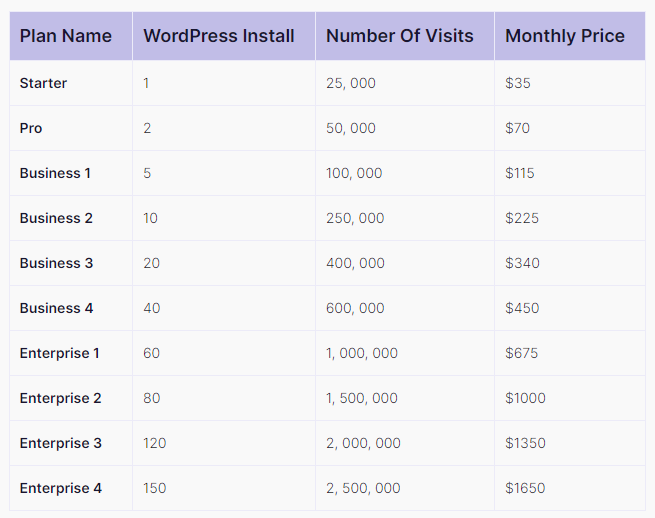 Try Kinsta For WordPress Hosting
If you're not careful, these numbers can bundle up. This can of course all be avoided.
Services and Specializations
Kinsta runs its hosting on top of Google Cloud Engine, with the tagline "WordPress at the speed of Google."
When you add a site to your Kinsta account, you can choose your datacenter: any one of the 20+ global data centers. Each site can be hosted at a different location.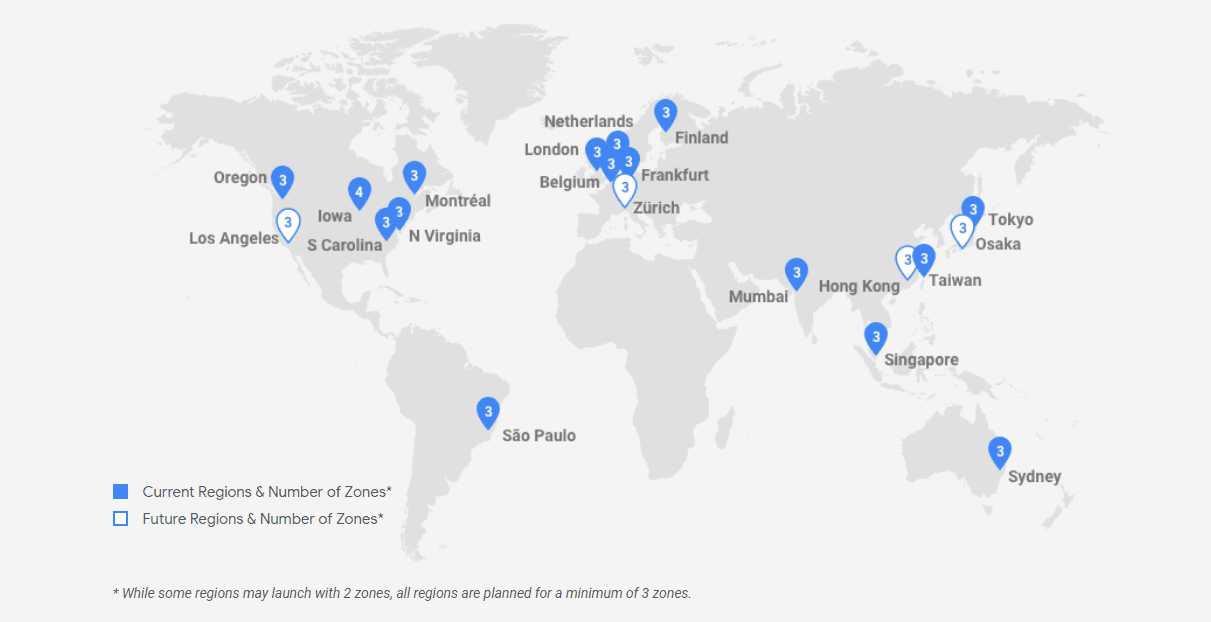 Try Kinsta For WordPress Hosting
As with WP Engine, Kinsta specializes in hosting WordPress sites. The company makes use of containers to isolate deployments and offers a staging site so customers can test sites before deploying them.
What Makes Kinsta a Standout WordPress Host?
Kinsta has a lot of great hosting features that would be good for any site, regardless of using WordPress.
But instead of being a general host, Kinsta decided to specialize further and become the best WordPress host they could.
Here are the most important WordPress-specific features that Kinsta plans offer:
Specialized WordPress Support Team
Optimized WordPress Stack
Extensive Security Measures
Caching Optimized for Popular Plugins
Many of Kinsta's core features also benefit WordPress sites, but they would also benefit any other type of site.
Specialized WordPress Support Team
Kinsta's support team consists of expert developers who have extensive experience with Linux and WordPress.
Many of them have created WordPress plugins and themes and even contribute to WordPress Core.
Optimized WordPress Stack
Kinsta's keeps their servers up-to-date with the latest software that benefits WordPress performance the most.
The latest PHP version (PHP 7 right now), an Nginx reverse-proxy, LXD containers, and MariaDB.
Extensive Security Measures
Kinsta provides a "hack-fix guarantee."
As a managed service, all servers are monitored by Kinsta's security team. They monitor uptime (checking every minute), have DDoS attack detection, and constantly scan for malware.
WordPress is often prone to security weaknesses, and Kinsta protects you well.
Caching Optimized for Popular Plugins
Kinsta has created caching rules to help with popular plugins, most notably WooCommerce. It will only cache pages that are static while excluding checkout and account pages that often change for visitors.
This keeps your e-commerce site running as fast as possible with no functionality issues for customers.
Site Migrations
Kinsta offers their customers free site migrations. As a highlighted feature, this is extremely convenient for WordPress users.

Try Kinsta For WordPress Hosting
Support and Customer Service
The company offers a free site migration with every plan, with a temporary URL so customers can monitor the progress of the migration. Kinsta has a migration team that handles everything from start to finish, with little or zero downtime.
Kinsta only employs WordPress experts on their support team, who have created or contributed to plugins and themes.
How Can I Find My Support Options?
Customer support is also handled through the dashboard via live messaging, available 24/7. There is no phone support.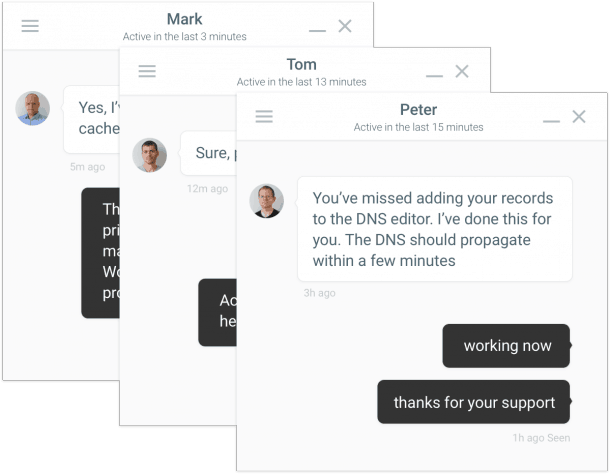 Try Kinsta For WordPress Hosting
The public-facing part of Kinsta's website also has a knowledgebase full of tutorials, and answers to frequently asked questions.
Kinsta's Custom Control Panel
Typically it's a bad thing when hosting companies provide a control panel other than the trusted cPanel that we've all used before.
But a few hosts have been able to create a custom control panel that is on par or better than cPanel. I believe Kinsta is one of them.
Since Kinsta is a WordPress host, it makes sense that their control panel has a WordPress-esque design.
The UI is simple and intuitive, and the design of charts and the layout, in general, is pleasant.
Dashboard and Features
The dashboard quickly shows you your traffic levels and resource consumption over time.
I can't list all the things you can do in the control panel, but all the basics are covered.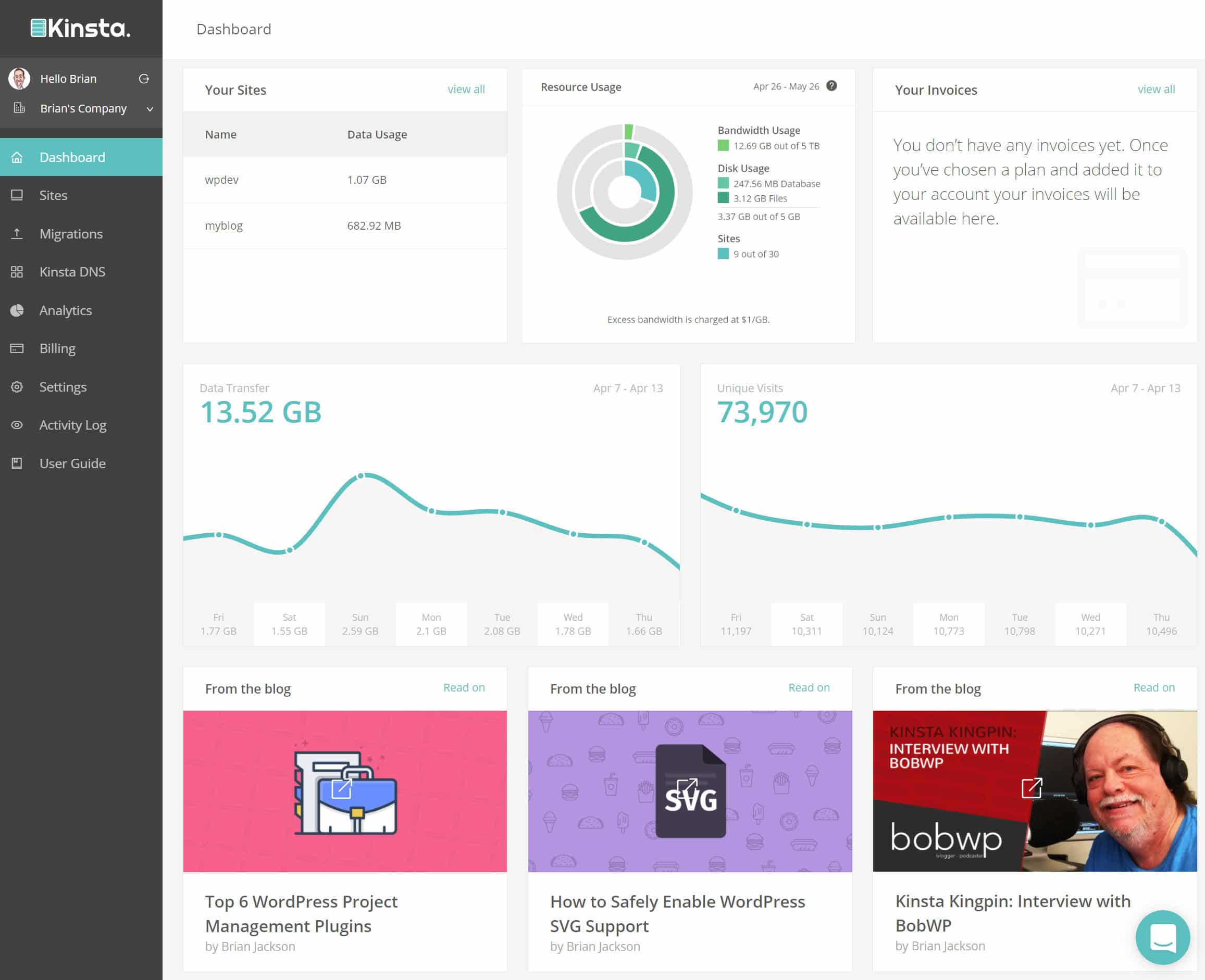 Try Kinsta For WordPress Hosting
Here are 5 examples of what you CAN do:
Add a new site to your plan
Manage redirects
See detailed analytics
View resource usage
Manage your billing information.
Those handling multiple clients like web designers can attach sites to different companies in the dashboard. The dashboard also includes a detailed log of all changes that have been made to a site.

Try Kinsta For WordPress Hosting
Infrastructure: Geared for Speed
Kinsta touts its Google-based architecture for its speed. The company offers a range of some of the latest web hosting software, including Nginx, PHP 7, LXD containers, and MariaDB.
Kinsta also stores files using the advanced ZFS file system.
Other Supported Versions and Staging
The company supports several other versions of PHP: 5.6, 7, and 7.1, for things like supporting a particular plugin or testing sites in newer versions of the language.
Staging areas are included with all plans.
A unique feature that Kinsta offers is that you can switch between PHP versions with no downtime or server migration needed.
The company offers staging areas to its customers for them to test websites in a safe environment before deploying them to a wider audience. This is ideal for those who are building complex custom web applications rather than hosting a simple WordPress blog.
At the same time, admins can test small changes before taking them live. Want to try out a new plugin? You can see how well it will work with your existing site.
CDN Offered by Kinsta
Finally, all businesses should be using a CDN to improve reliability and website speed for visitors. All Kinsta plans come with free access to KeyCDN (a Kinsta partner), a real-time HTTP/2 powered CDN.

Try Kinsta For WordPress Hosting
Development Tools
For extra performance in testing environments, Kinsta also supports HHVM.
HHVM is a virtual machine for executing Hack and PHP programs using just-in-time compilation. This fits with the company's ethos of providing very fast web hosting. HHVM offers a significant speed boost over PHP's FastCGI interpreter.
These staging environments are backed up the way production environments are. This means developers won't have to start from scratch if something goes wrong with their development environment.
Importance of Backups
An old programmer saying goes that there are two kinds of developers: those who have accidentally blown away key parts of their environment and those who are going to.
This is true enough that it's always good to have reliable backups to fall back on, even in temporary environments.
Developers can clone a production environment into a development staging environment if they want to play around with some things before merging these changes back into production.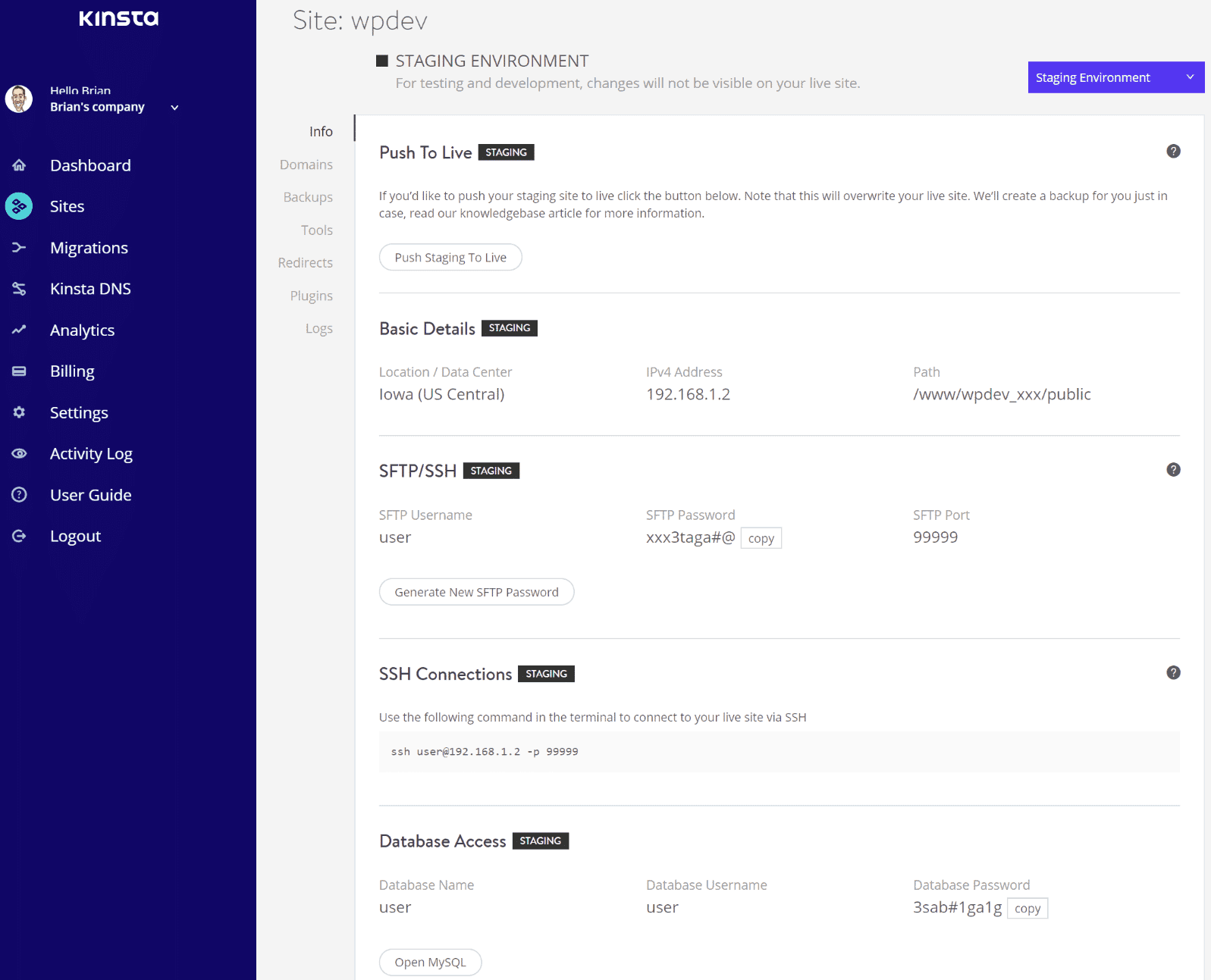 Try Kinsta For WordPress Hosting
Kinsta containerizes these environments, so developers can keep production and testing environments separate. When they feel satisfied that the site is working to their satisfaction, they can deploy with a one-click "push to live" option.
SSH Access, FTP Passwords and More
All Kinsta plans provide free migration.
Developers will also appreciate SSH access into their systems. This means they can run tools like GIT and even make quick edits to files using text editors like vim. Developers can also run SSH tunnels to database tools like HeidiSQL or Sequel Pro.
Kinsta users can also change their FTP passwords with one click.
The combination of LXD and ZFS allows the company to create isolated backups of systems, with several backup points made each day. In a testing environment, developers can also see how well the existing site works without having to mess with the production server.
Security Features
Kinsta also offers a number of security services. The company monitors uptime, response time, and detects DDoS attacks. In most cases, they are able to stop these attacks immediately if they occur.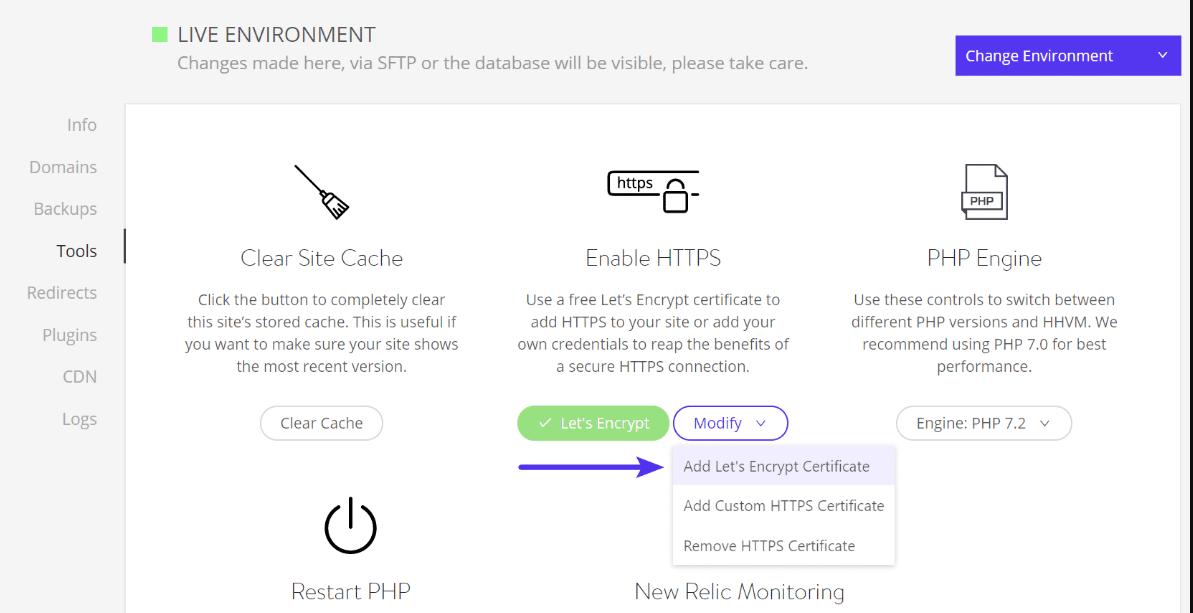 Try Kinsta For WordPress Hosting
With many websites moving to HTTPS, Kinsta accepts third-party SSL certificates, even ones from the free Let's Encrypt service.
The company also employs hardware firewalls with what it says are strict security settings, along with daemons that scan for malware. Two-factor authentication is also available.
Free Daily Backups
Every plan that Kinsta offers comes with free daily backups.
You can also create a manual backup for any individual site in your control panel at any time:
If you run a large site with dynamic content, it will make sense to pay for the hourly backups add-on.
Try Kinsta For WordPress Hosting
Billing and Payment Options
You can pay monthly or annually for any Kinsta hosting plan. You get a bit of a discount with the annual option.
The payment options are a bit limited at Kinsta. They only accept the major credit cards (or debit cards by the same companies):
Visa
MasterCard
Discover
American Express
If you have an annual subscription, you can also pay with a wire transfer.
PayPal is not accepted in any form at this point in time.
Money-Back Guarantee
Kinsta does not have a money-back guarantee.
However, they do let you cancel your plan at any time and will refund you the unused portion at any time. Overall, I must say this is a fair approach.
Similar Hosting Providers
Furthermore, here are some hosting providers which offer remarkably similar services to Kinsta's.
WP Engine
The original and still a popular managed WordPress server. Similar pricing and overall feature set to Kinsta, but a different list of banned plugins. You can see our WP Engine review for a more complete look at the hosting company.
Cloudways
Another hosting service that is also developer-friendly, but cheaper in most cases, and you can host sites other than WordPress.
Instead of being based on Google Cloud, you can pick from multiple hosting services (AWS, Digital Ocean, etc.) to put your sites on.
Liquid Web
Specializes in high performance managed hosting (no shared hosting). They do have a plan specifically for WordPress, but you can host other types of sites as well. They have a fantastic support team, and a large emphasis on speed as well.
The plans are expensive, but generally in line with Kinsta, depending on the plan you choose. Here's a detailed look at Liquid Web.

Try Kinsta For WordPress Hosting
Pros and Cons of Kinsta
Kinsta's a fairly unique hosting company, so there's a lot of information to take in when evaluating it.
To help simplify things, I've picked out the biggest pros and cons of Kinsta, with the assumption that you already know that Kinsta only provides managed WordPress hosting.
Pros
Free migration by the team – Each plan comes with a free migration, completed by an experienced WordPress migration team. Even as a developer, I trust them to do it without issue more than myself.
Big emphasis on site speed – Kinsta has many features to speed up WordPress as much as possible.
Highly trained support – You get a support team that is highly experienced and trained specifically in running a WordPress site.
Robust security features – Kinsta's security team actively monitors and fixes any potential security holes. If there is a security issue, they fix it for free.
Highly scalable – Kinsta hosts small sites, but also sites of large companies that get a huge volume of traffic. You can upgrade to a higher tier plan at any time with just a few clicks.
Cons
Price – While Kinsta's price is competitive for a managed WordPress host, it's still expensive, especially for small businesses.
No email – Surprisingly, Kinsta doesn't provide an email service of any kind. (This is also true of WP Engine, however.) They say it's to focus only on the hosting. You can integrate G Suite, but it's some extra work for you.
Banned plugins – Kinsta has quite the list of banned plugins, many of which are popular. Since Kinsta maintains and optimizers their servers, some plugins could interfere with their setup. It's fair but could be a problem for you if you rely on some of those plugins.
Try Kinsta For WordPress Hosting
Kinsta can be great, but it's still not perfect.
Conclusion
Kinsta offers fast, reliable managed WordPress hosting based on the Google Cloud Platform.
The unlimited features on each pricing tier, plus the advanced development features, will make it attractive to a wide variety of clients, especially those heavily customizing WordPress sites.
It is a good alternative to other hosting companies specializing in WordPress such as WP Engine.