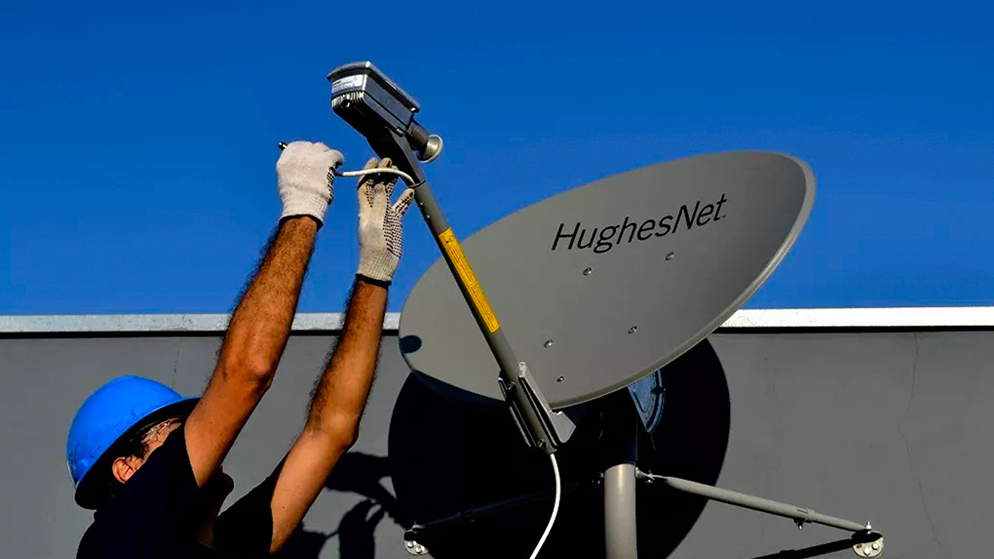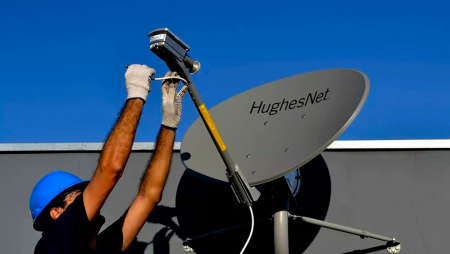 Heads up: Our content is reader-supported. This page includes affiliate links. If you click and purchase, I may receive a small commission at no extra cost to you.
HughesNet offers good value for its lower-GB plans, but if you want download speeds faster than 25 Mbps, look to Viasat.
If you need satellite internet, HughesNet is a great pick for a budget-friendly plan that doesn't come with a lot of data or speeds faster than 25 Mbps. But as soon as you need more data, HughesNet's prices quickly rocket past Earth's orbit.
We dug into HughesNet's four internet plans to figure out which one is the best deal—and whether this satellite internet provider is worth the price at all. Let's dig in.
No price hikes for two years
Clear and transparent plans and pricing
Option to add more data plus free Bonus Zone data
Only one 25 Mbps download speed option
Low data caps
High prices for 45 GB and 75 GB plans
HughesNet prices and plans
HughesNet internet plans range from $64.99 a month for 15 GB of data to $159.99 a month for 75 GB of data. You can also find two plans between those: a 30 GB plan for $74.99 a month and a 45 GB plan for $109.99 a month. All HughesNet plans come with 25 Mbps download speeds.
Satellite internet almost always costs more than other kinds of connections, like DSL or fiber. What can we say? Satellites are expensive machines. Still, you might feel some sticker shock.
If you just moved to the country from a city, don't be surprised to see a higher monthly bill, even if you feel like you're getting slower service now than you did at your old place.
HughesNet satellite internet promotional prices
We mentioned that HughesNet's internet plans are transparent and easy to understand. Each plan is named for the data cap it comes with. How simple is that?
Maybe too simple for some. Those data caps are all that changes from plan to plan—you won't see a boost in speed if you pay more.

Where is HughesNet available?
You can get HughesNet satellite internet anywhere in the US. All you need is a clear view of the Southern sky.
That does make it more difficult for homes in the mountains or those surrounded by trees or tall buildings to get a signal. This is another reason getting your HughesNet dish professionally installed is a good idea. Your installer should be able to find a spot with the clearest view of the sky.
How does HughesNet compare to Viasat?
HughesNet used to be the better deal compared to Viasat, at least if you needed less data. But how does it stack up now?
The HughesNet 45 GB plan comes with 25 Mbps download speeds and 45 GB of data for $99.99 a month for the first 6 months and then $109.99 a month for months 7-24.
The closest comparable Viasat plans, Liberty 50 and Unlimited Silver 25, come with 12 to 25 Mbps download speeds and 50 to 120 GB of data. Liberty 50 starts at $75 a month, while Unlimited Silver 25 starts at $84.99 a month.
HughesNet 45 GB: $99.99 for the first 6 months and then $109.99 a month until 24 months. Total: $2,579.76 for two years of service.
Viasat Liberty 50: $75.00 a month for three months, then $100.00 a month for 21 months. Total: $2,325.00 for two years of service.
Viasat Unlimited Silver 25: $84.99 a month for three months, then $119.99 a month for 21 months. Total: $2,774.58 for two years of service.
HughesNet is no longer a solid deal compared to Viasat, even if you factor in Viasat's three-month price hike. Despite higher data caps, you'll either pay less for slightly slower speeds with Viasat, or slightly more for the same 25 Mbps speeds and more data.
HughesNet internet speed
HughesNet's 25 Mbps download speeds can't compete with Viasat's max speed of 100 Mbps
Satellite internet providers often change their offerings based on your location. For example, Viasat changes its prices and speeds depending on where you live. But you don't have to deal with that with HughesNet. HughesNet gives you the same 25 Mbps speed regardless of your address.
Viasat and HughesNet download speeds comparison

For some, that may not be a good thing. But 25 Mbps is more than enough to comfortably check your email and scroll through Facebook without waiting forever for pages to load.
Of course, you might still face some slowness with certain types of activities, like streaming videos or playing online games. Sadly, that's just the nature of the satellite internet beast.
You see, satellite internet has higher latency than other internet connection types. That means it takes longer for your computer to send information to that satellite orbiting the Earth about 22,000 miles away, then to the website you're visiting, and back.
How do HughesNet data guidelines work?
Even though HughesNet internet plans list data caps, those aren't set in stone. You don't have to worry about your data being cut off or paying overages if you use more than your set amount.
That said, your speeds will slow down if you go over the data amount on your plan. We call these soft caps, or "data guidelines." They're not hard-and-fast limits, but you'll feel like they are if you use more than what's on your plan.
If your kids go on a Disney+ spree and gobble up your data allowance, HughesNet will slow down your speeds to a rate that makes molasses look fast. (1 to 3 Mbps, to be exact.)
There are some ways to make sure you don't use up all your high-speed data and crawl through your social media feed at a snail's pace. We cover these in-depth in our HughesNet data guide, but here's a quick look:
Track your data usage on the HughesNet app. (iOS | Android)
Take advantage of the Bonus Zone, which gives you 50 GB of extra data each month between 2 a.m. and 8 a.m.
Stream your videos in standard definition (SD).
Contracts, equipment, and fees
HughesNet's still stuck on that two-year contract, and its equipment fees can be pricey
Just like Viasat, HughesNet locks you into a two-year service contract. Your price does stay the same for all 24 months, with no surprise price hikes—which is nice.
But we still dislike contracts and wish HughesNet (and Viasat) would either stop using them or limit them to just one year.
That said, satellite internet is a pain to set up and a pain to return, so you probably won't want to switch it out too often anyway. And if you don't plan on moving anytime soon, then two years isn't a terribly long time to keep your internet service.
HughesNet's broadband internet service requires a satellite antenna and a modem. You can buy this equipment from HughesNet, or you can just lease it. Either way, it's going to be pricey.
How much does HughesNet equipment cost?

At the end of two years, your $14.99 monthly equipment fee adds up to $359.76, which is delightful compared to the $449.99 purchase fee.
But that total doesn't take into account the $99 setup fee, which is waived if you purchase your equipment. If you lease, you'll end up paying that activation fee, bringing your two-year rental fee total to $458.76. So at that point . . . maybe just purchase it outright.
Once you've decided between renting and leasing your equipment, you should get the option to schedule installation. And this is definitely a job you want the pros to take care of, no matter how handy you are.
HughesNet uses third-party contractors to install your satellite antenna and modem. That means the contractors don't work directly for HughesNet, so the quality of your customer service is a bit of an unknown. But your installer will be able to find the right spot, angle, and height for your dish to catch the best signal.
Remember: Installation can take around four hours, so block out at least half your day.
HughesNet charges a $99 activation fee if you lease your equipment. Depending on how long you plan to keep your service, that could be another reason to buy your equipment outright.
Installation fee: If you lease your equipment, there's a $99 activation fee. If you buy your equipment, installation is included and the activation fee is waived.
As for early termination fees, if you cut your HughesNet contract short, expect to pay out the wazoo for it.
Early termination fee: You'll pay $85 minimum if you cancel your service early, and depending on when you cancel, you could pay up to $400.
The early termination fee decreases the longer you keep your service. But the lowest you'll possibly pay to cancel is $85, which is still a decent chunk of change.
If you cancel before your equipment is installed, HughesNet says it'll refund what you paid when you placed your order. But if your equipment is already installed and you decide to cancel your internet service only 90 days or less into your two-year contract, there'll be a big honkin' $400 cancellation fee heading your way.
This is one of the reasons we dislike contracts so much. Who can know for sure they won't need to end their service early? Life happens.
And even if you cancel after those first 90 days, you'll still owe a hefty amount: $400 minus $15 for each month you've kept your service. Ugh.
Customer service
HughesNet's customer service is lackluster—just like every other internet provider
Read a HughesNet review or two and you'll find some unhappy campers.
Sadly, the same is true for pretty much every internet service provider (ISP). In the latest American Customer Satisfaction Index (ACSI) report, the industry average was 65 out of 100.2
That's a D grade.
HughesNet itself didn't receive a rating, but instead was rated in the category of "All Others" by the ACSI. Take that as you will—we think there's a good chance HughesNet has work to do on the customer service front.
HughesNet customer service rating

Recap: Is HughesNet high-speed satellite internet good?
HughesNet is a good pick if you don't need lots of speed and want to avoid price hikes
Satellite internet is never mind-blowing, but HughesNet offers consistent speeds across the country. Plus, it won't throw any mid-contract price gotchas your way.
For now, HughesNet's prices, speeds, and data caps pale in comparison to Viasat. But the launch of its next satellite (hopefully in late 2022) should see improvements across the board.
Prices and plans: HughesNet scores points in our books for transparent plans and pricing. But you'll pay a higher price compared to Viasat.
Speed: We wish HughesNet offered more than one download speed of 25 Mbps. Still, this is enough speed to check emails and even stream a little too.
Contracts, equipment, and fees: HughesNet plans come with a two-year contract, which is pretty standard. And depending on how long you plan to keep your service, it may be worth forking over the money to buy your HughesNet equipment.
Customer service: No internet provider earns a gold medal for customer service. We'd love to see HughesNet and others improve.