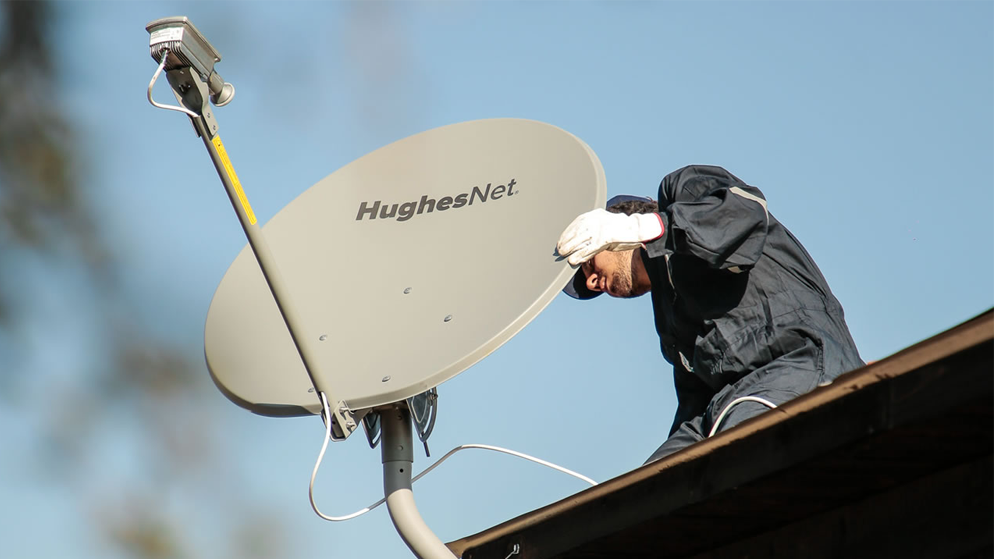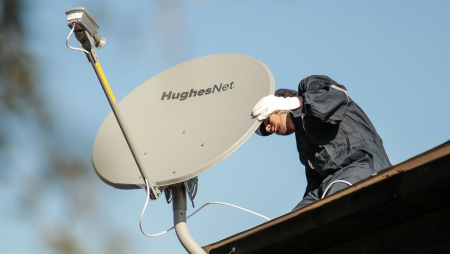 Heads up: Our content is reader-supported. This page includes affiliate links. If you click and purchase, I may receive a small commission at no extra cost to you.
If you live in a remote area, have a clear view of the southern sky and don't have access to cable or fiber internet, Hughesnet satellite can provide you with a good internet option. However, with slow download speeds of 25 Mbps, compared to internet companies that provide download speeds of 100 Mbps and higher, Hughesnet doesn't make the best choice for remote workers and customers who need fast internet. But Hughesnet may be on the brink of change if they roll out Jupiter 2 with a download speed of 100 Mbps slated to launch at the end of 2022.
Pros
Available nationwide
Good for rural areas
Stable pricing
Cons
Requires a 24-month contract
Only 25 Mbps download speeds
Larger storage options are high priced
Hughesnet Internet at a Glance
Established in 2017, Hughesnet Internet, a subsidiary of EchoStar, offers satellite internet with 25 Mbps download speeds and three Mbps upload speeds. The company landed the number one spot for "best satellite internet providers of 2022" and "best internet service provider for rural areas" from U.S. News and World Report. Hughesnet is not an accredited member of the Better Business Bureau, although the company received an A+ rating from the BBB. On the other  hand, customer reviews on the website rated the company poorly, earning 1.3 out of 5 stars. However, ratings for Hughesnet vary from other sources collected for Forbes Home's data set in December 2021:
Trustpilot: 3.3 out of 5 stars
Consumer Affairs: 3.3 out of 5 stars
Google Reviews: 1.1 out of 5 stars
On the upside, Hughesnet gives customers 50 GB of free data during off-peak hours daily between 2 a.m. to 8 a.m. They also offer a video data saver that allows users to view three times as many videos with the same amount of data by downgrading to 480p display resolution or DVD quality streaming quality.
Hughesnet has a range of pricing plans based on how much data customers need. But the company requires a 24-month commitment, unlike cable. Hughesnet offers customers a $20 discount off the price for the first six months of the contract. For the remaining 18 months, the plan price will remain the same.
Customers can choose between renting and purchasing their modem. Rental is $15 extra per month. Buying a modem costs $450. New customers that rent a modem pay a $99 activation fee. Hughesnet waives the activation fee if you buy a modem.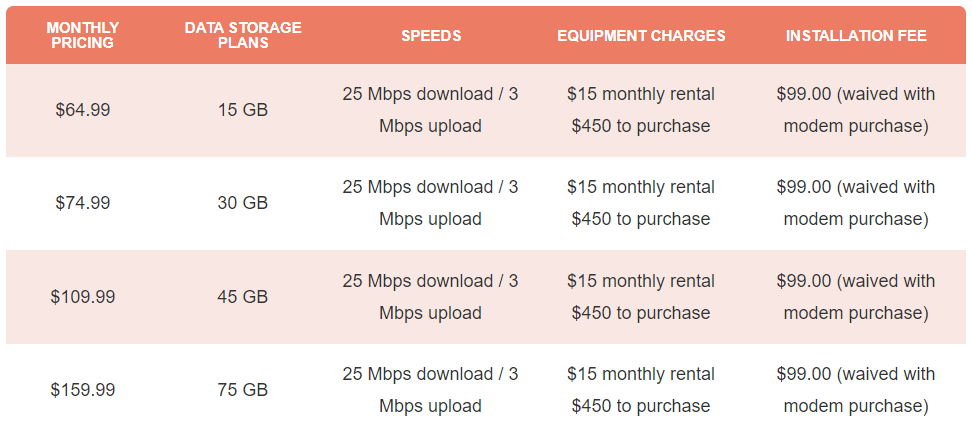 Which Plan Is Right for You?
15 GB: This plan is recommended for basic internet use such as checking email and light internet browsing.
30 GB: The 30-gigabyte plan is appropriate for connecting on social media, checking email and light or moderate internet browsing.
45 GB: This plan is a good choice for customers that need moderate data usage for activities such as downloading their favorite music, online shopping, email and surfing the internet.
75 GB: The 75-gigabyte plan is more robust than lower data plans. You can upload big files and images and stream videos.
100 GB: This plan enables customers to stream more videos, upload more docs and images and listen to more audio files. However, it's not available in all areas.
Early Termination
All Hughesnet plans require customers to commit to a 24-month contract. If you decide to cancel your internet service, you'll likely be hit with an early termination fee. If you cancel within the first three months, your fee can be as high as $400. After 90 days, Hughesnet takes $15 off the early termination fee every month. This means if you cancel in one year, you'll owe the company $265.
Hughesnet State Availability
Hughesnet has the widest coverage of all other internet companies on the market. The company provides service in 50 states, including Alaska and Hawaii, in addition to the District of Columbia and the territories of Puerto Rico, and the Virgin Islands. Aside from the company's 100-gigabyte plan, which is available in limited areas, customers can order all other plans in every state.
Other Benefits
Video Saver: This feature allows you to watch more videos in DVD quality or 480p.
Bonus Zone: Gives you 50 GB free during off-hours.
Affordable Connectivity Program: Low-income and Lifeline households can qualify for $30 or more off their internet bill through 

the Affordable Connectivity Program

.
Combined dual modem and Wi-Fi unit: Save space, instead of using two separate boxes.
Fine Print
Hughesnet claims it doesn't have a hard data limit which means customers won't be cut off when they run out. However, Hughesnet doesn't mention that download speeds will drastically slow down from 25 Mbps to one to three Mbps, which can make internet use nearly impossible.
If customers don't want to wait until the new billing cycle to get a faster connection, they may purchase a data token with additional data storage and return to the original speed. The following list provides a breakdown of data tokens and their pricing structure.

Unlike cable companies, customers cannot use their own modems or perform their own installation, which means people handy with technology won't be able to do the installation DIY.
Is Hughesnet Internet Right for You?
If you live in a rural area, have a clear view of the southern sky without the obstruction of trees and buildings, and a slower internet speed is acceptable to you, Hughesnet can work for your home. However, if you work from home, do a lot of streaming and gaming or require faster download speeds than 25 Mbps, consider another internet company that offers 100 Mbps.
Methodology
To determine the best internet provider ranking, the Forbes Home Improvement editorial team analyzed third-party data on almost 20 major companies, with each company's star rating determined by evaluating a variety of metrics, including:
Customer reviews (20%)
Customer support options (20%)
Number of states covered (15%)
Other services (10%)
Lowest price plan available (10%)
Highest price plan available (10%)
Pro installation? (5%)
Unlimited data plans available? (5%)
Bundle plans available? (5%)
Frequently Asked Questions (FAQs)
Is Hughesnet Internet a good deal?
The satellite internet provider offers decent pricing for their 15 GB and 30 GB data plans, but the company's 45 GB and 75 GB data plans can be quite expensive for customers on a budget.
Can I get Hughesnet Internet without a phone line?
Yes. With Hughesnet, customers no longer need to rely on traditional phone lines.
Is Hughessnet a good internet choice?
HughesNet is a good satellite internet choice for remote rural area residents that don't have access to cable and fiber internet or faster satellite internet speeds.