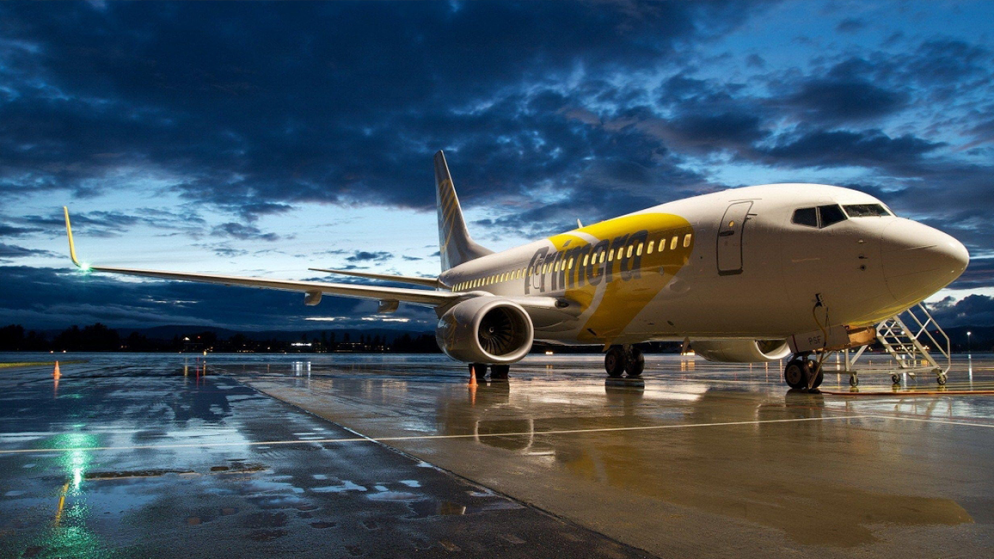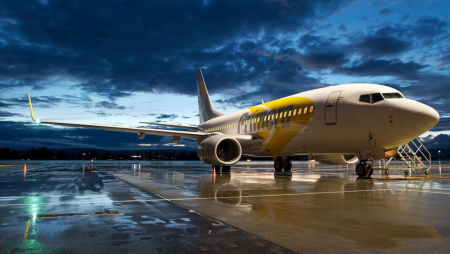 This post contains affiliate links. If you use these links to buy something we may earn a commission. Thanks.
What's in it for me?

This article will walk you through a basic procedure coupled with images at each and every step showing how to respond to the reviews on Expedia & Hotels.com. Yes, this post is a bit on the technical side. Hence consider it as more of a tutorial if you're new to this field and looking to provide quality responses to your online reviews.
Reviews are an important measure of a hotel's overall reputation but how a hotel responds to its reviews is even more important to demonstrate to its guests that it values their feedback and acknowledges the same by posting an appropriate response to it.
Writing review responses can be a bit tricky but thankfully, there is a great list of sites that allow management responses. With a lot of visitors searching for an appropriate answer regarding the etiquette to be followed to respond to the reviews on Expedia, in this discussion, we will talk about how to do exactly that on Expedia Group: Expedia.com & Hotels.com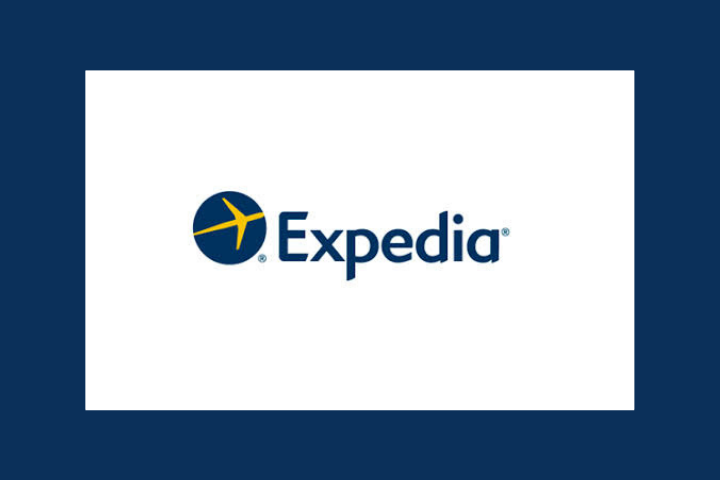 One of the fastest growing online travel portals, Expedia, the American travel booking website is at the forefront of virtual booking agencies. It offers travelers a plethora of options for hotels, activities, car rentals, cruises, vacation packages, etc. for every budget.
Owned by Expedia Group and headquartered at Bellevue, Washington, Expedia.com was launched on October 22, 1996. The company is planning to relocate to Seattle which was scheduled for this year itself (2019). Expedia was initially a division within Microsoft operating solely as an online travel booking agency. Expedia Inc. covers most facets of researching, planning, and booking travel. This includes choosing a seat on an airplane, planning what to do after arriving at your destination, and more.
It has a host of subsidiaries which include mainly travel fare aggregator websites like Hotels.com, Hotwire.com, Travelocity, Trivago, to name a few. Currently, Expedia.com functions as an operating company of Expedia Group.
In this article, we have taken it upon us to show you a sequenced version of the way in which you can respond to Expedia reviews with step-by-step images-
Respond to the Reviews On Expedia: Procedure
The first step is to log into the 'Expedia Group Partner Central' after you have successfully registered your business on Expedia. Here you have to simply 'Sign in' by putting your login credentials.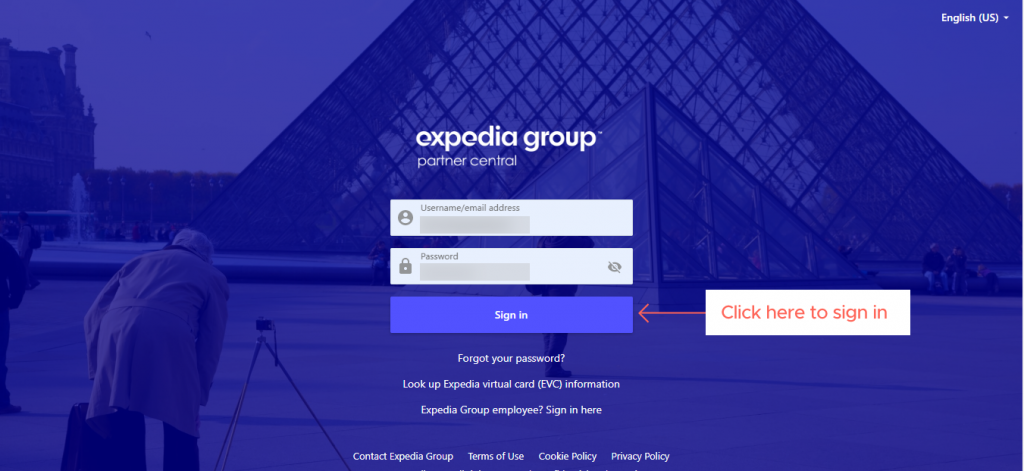 Expedia.com Review Response Step 1
Once you have logged in successfully, a page called 'Manage a property' will be displayed to you. If you have more than one property registered with Expedia, it is feasible to use the 'Search' option (see the image below) wherein you can perform the desired search as per the 'property name, city or ID.' In other words, it helps to narrow down your search and makes the process less time-consuming.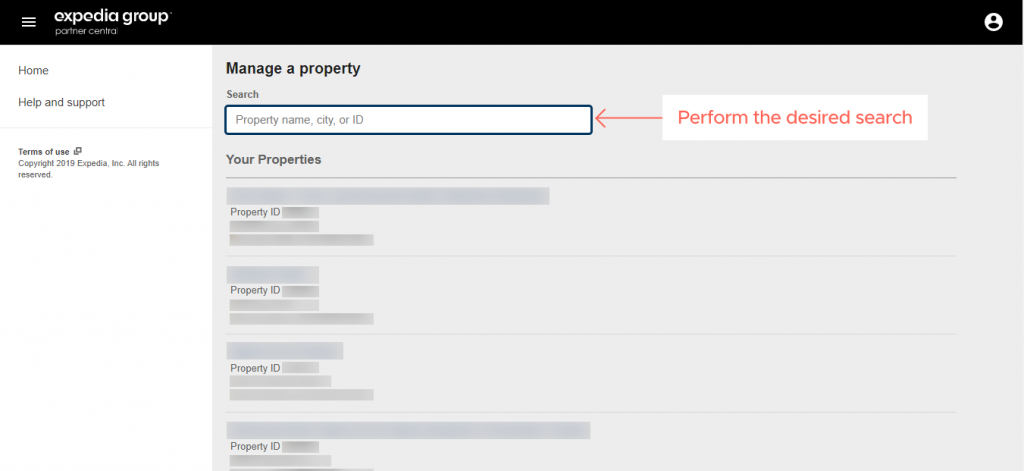 Expedia.com Review Response Step 2
After you have selected the desired property, click on it and a page entitled 'Today's Opportunities' will open containing the number of conversations, real-time feedback, and Expedia reviews. Since you are looking to respond to the reviews here, simply click on 'Reviews' without wasting much time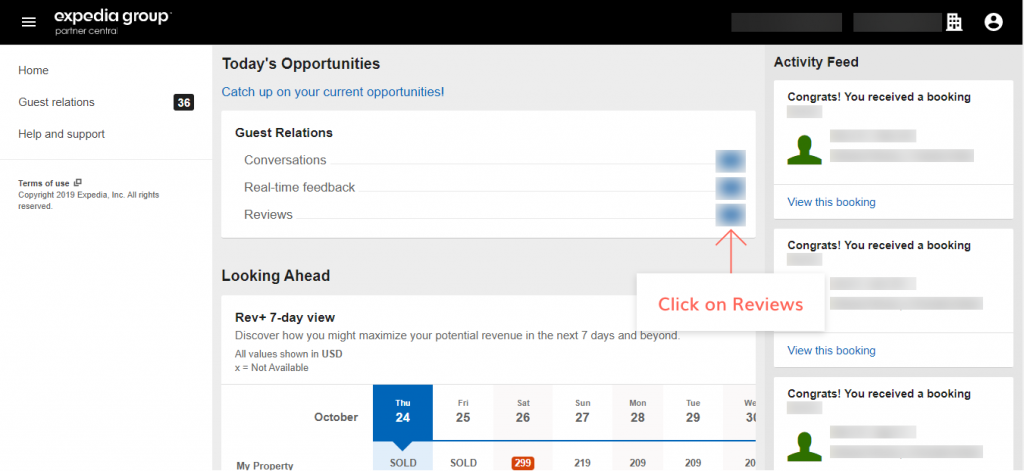 Expedia.com Review Response Step 3
Clicking on Reviews will bring forth a filter called 'Guest Reviews: Filters' wherein under 'Reviews' you will have a plethora of options to select from. Since the task in hand is to focus on Expedia.com, select 'Expedia' and after selecting, click on 'Apply Filter' to confirm your application (see the image below).
‍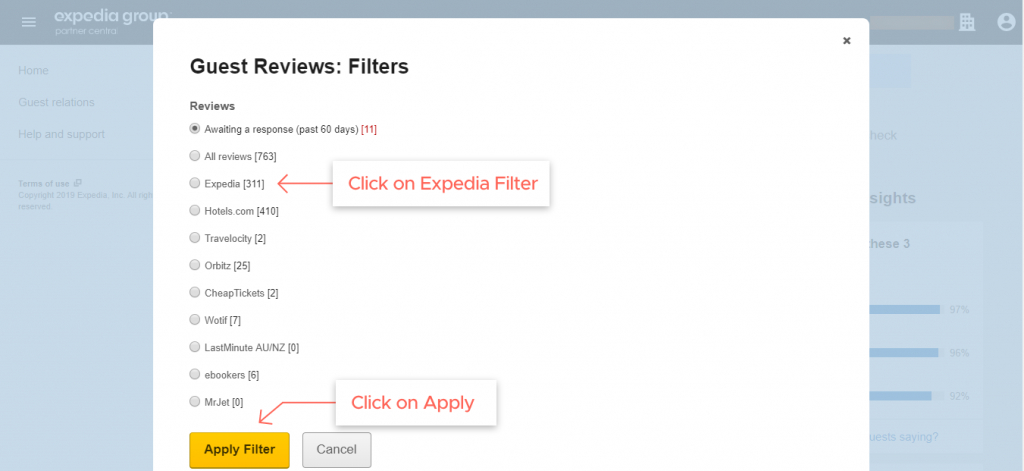 Expedia.com Review Response Step 4
Respond to the Reviews On Expedia: Procedure
After this application, you will be redirected to the 'Guest Rating' page where a series of reviews that await your response will be right in front of you. Select the review to which you would like to respond to simply by clicking on the 'Respond' button (see the image below).
‍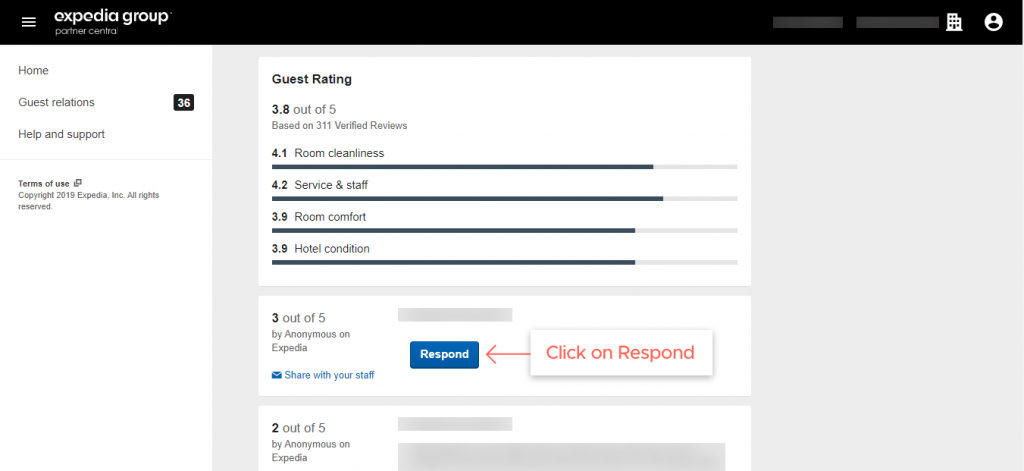 Expedia.com Review Response Step 5
After completing the step above, you will see a white empty box or space entitled 'Your response.' This is exactly where you need to type in your response (see the image below). After drafting the response in a proper, professional manner, you will be required to enter a nickname under 'Your nickname.'
‍Avoid picking a cheesy nickname as this box will be sort of acquainting the guest with your role as to who is responding- for instance, XYZ Guest Xperience Management/ Customer Care Executive, etc.
Expedia also offers certain 'Writing guidelines' which one is expected to adhere to while crafting their responses. This option is available right above the 'Your response' box.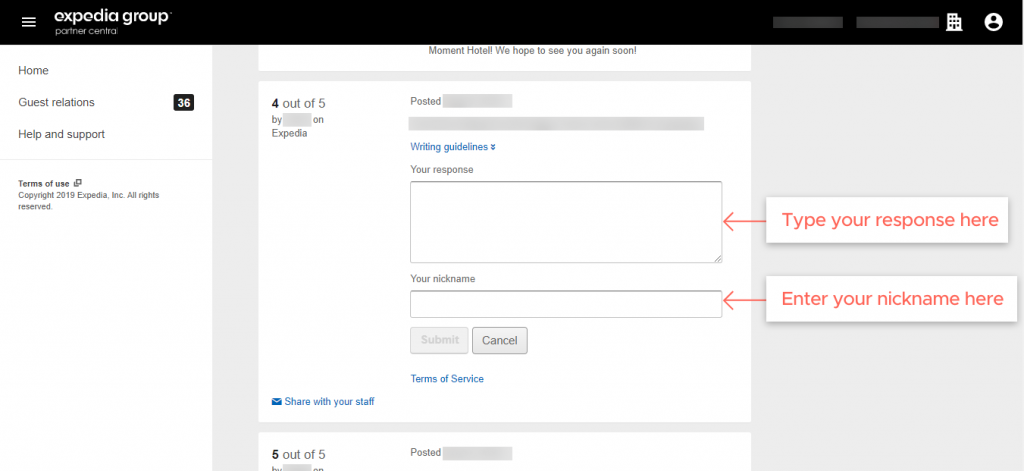 Expedia.com Review Response Step 6
After you have successfully typed in your response, it's time to finalize it by clicking on the mustard yellow button called 'Submit.'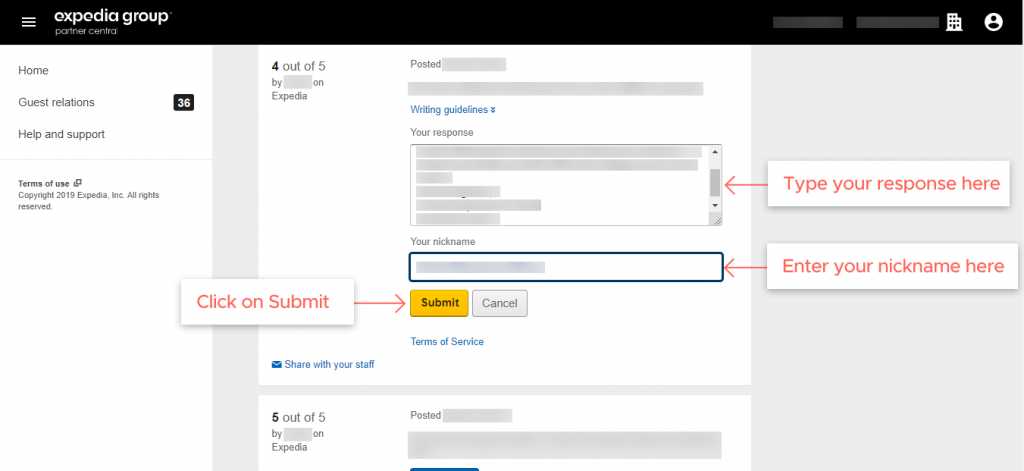 After clicking on that, your response will display 'Pending approval' below it. This usually takes a few seconds to finalize your response before it goes live. Once approved, the comment will look something like what is shown in the image below by being displayed under the 'Comment from Hotel Management.'
‍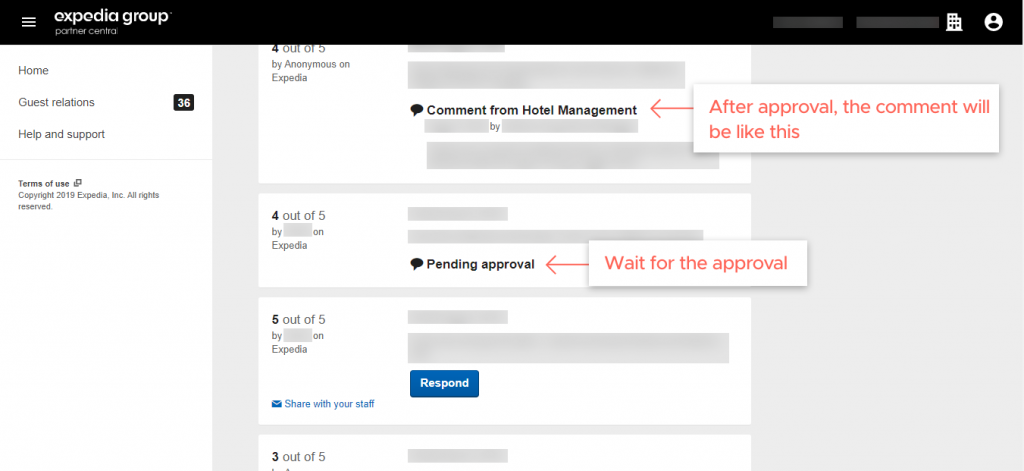 Expedia.com Review Response Step 8
How to Respond to the Reviews On Expedia Group: Hotels.com
Coming under Expedia Group, Hotels.com is a subsidiary travel fare aggregator website where you can post management responses to user reviews. Usually, the steps for responding to a review on Hotels.com are the same as Expedia review except for some minor differences. Here is the complete procedure:
Follow all the steps till Step No.3 until you arrive at the 'Guest Reviews: Filters' wherein under 'Reviews,' you will have to click on 'Hotels.com' filter for Review Responses. Once done, you can click on 'Apply Filter' to proceed.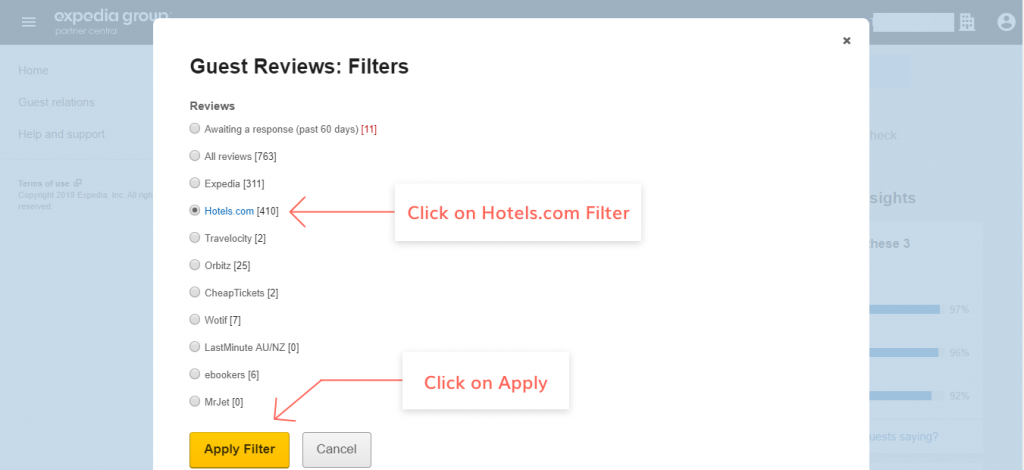 Hotels.com Review Response Step 1
Reviews from Hotels.com will be displayed to you and once again follow the same drill as Expedia by clicking on the 'Respond' button.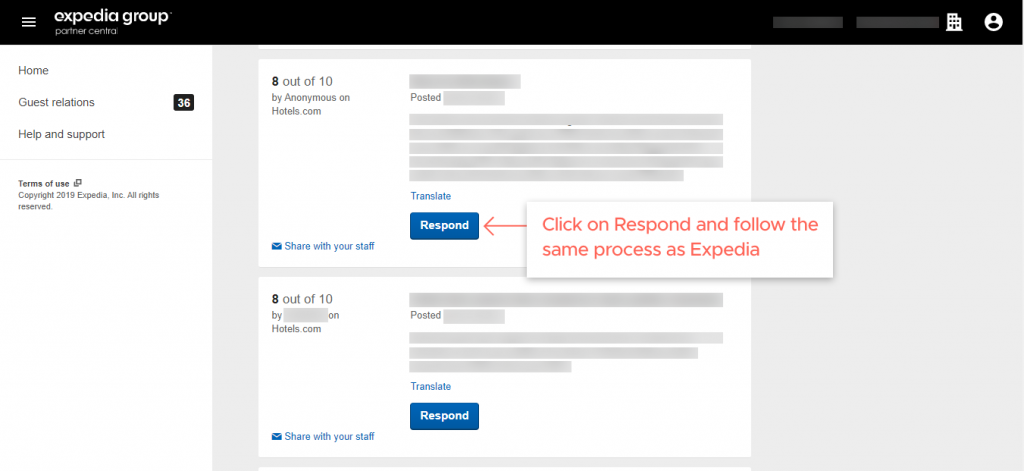 Hotels.com Review Response Step 2
Follow the steps 6, 7, and 8 listed under Expedia.com to also respond to the reviews on Hotels.com.
Your Old Review Response Strategy Deserves a Long Vacation!
With a whirlwind of changes taking place in today's world, it's more than important for the hoteliers to stay tuned to the latest updates in the industry. Right from the new products to reputation management, your hotel needs to know it all! Guess what? 77% of travelers are likely to book with management responses to the reviews. Hence your reviews cannot afford to take a back seat!
With GuestTouch, revamp your old review response strategy and automate functions like never before. Come to the forefront, take the lead, stand out and instill confidence in travelers, with hand-crafted, personalized responses to your online reviews.
Additional features:
• Keep a track of all your reviews seamlessly by means of a next-gen dashboard
• Professionally and timely respond to all the reviews across various OTA platforms
• Tired of using "we thank you for your review" and "we regret the inconvenience caused to you?" Our expert team specializes in crafting personalized, unique responses to all your online reviews. Say goodbye to canned, robotic review replies!
• Have additional context to the situation in hand? Providing your input is now easier with just one tap
• Are you a master of words yourself? Have preferences for specific phrases and words? Bring it to the table for us to take your brand to the next level
• Need authority? Our smart prompt feature allows just that, helping you approve each of the responses!