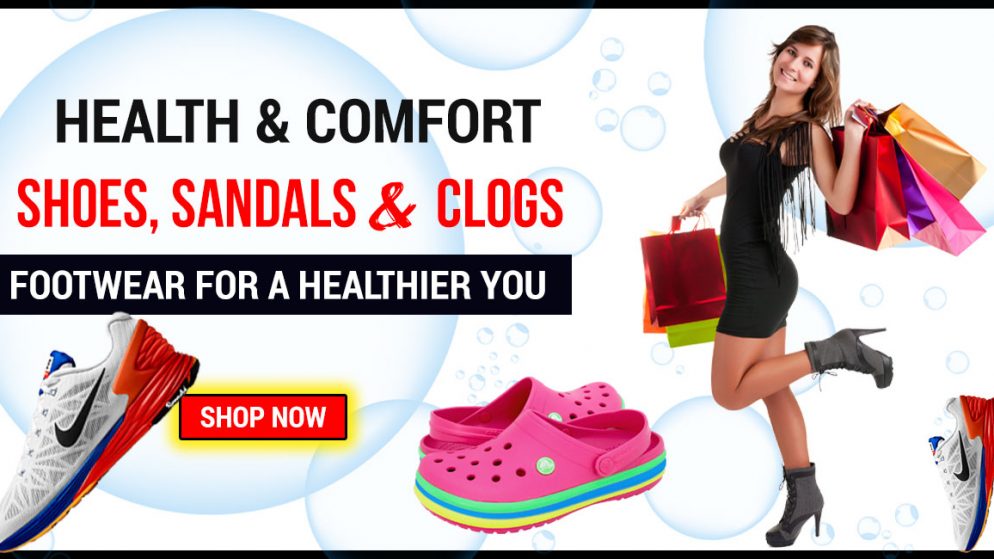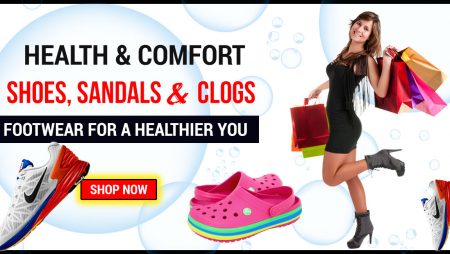 About Happy Feet Shoes
Our feet are our personal transportation system. They see a lot of action in a day, and most of the time, we don't give them the support they need. Happy Feet Plus exists to provide that support along with comfort alongside a high-caliber selection of body-beneficial footwear.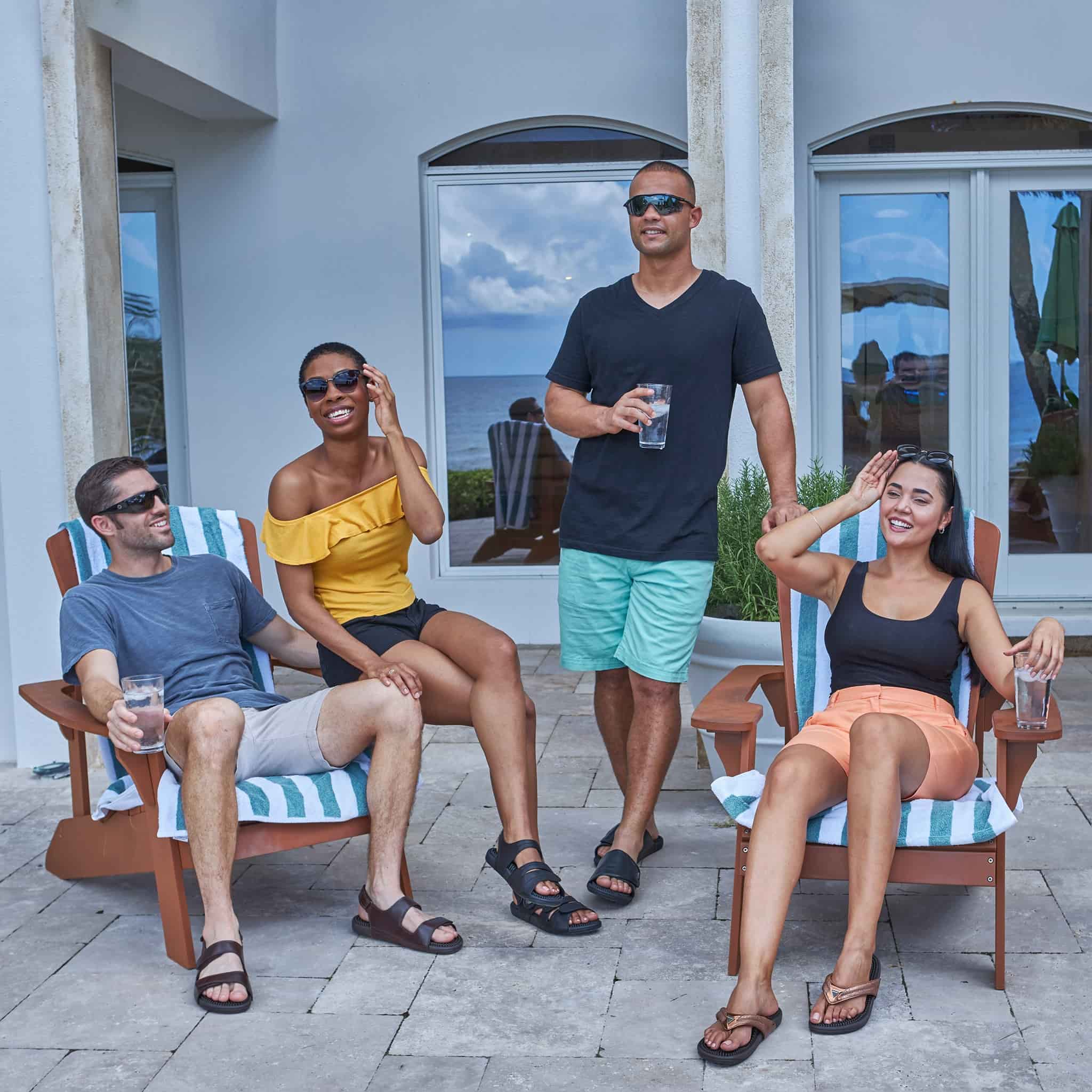 Shop Now At Happy Shoes
Happy Feet carries a choice selection of brands that include essential everyday footwear, as well as inserts, socks, and shoe care products to bring you comfort and help your shoes last a lifetime. With a growing social presence and nearly 5k likes on Facebook, it's apparent this brand is great at keeping people's feet happy.
Ahead in this Happy Feet Shoes review, we'll fill you in on all the critical details about the company and its footwear, take a stroll through customer feedback, promotions, and more, to help you decide if this brand is the right fit.
Overview of Happy Feet Shoes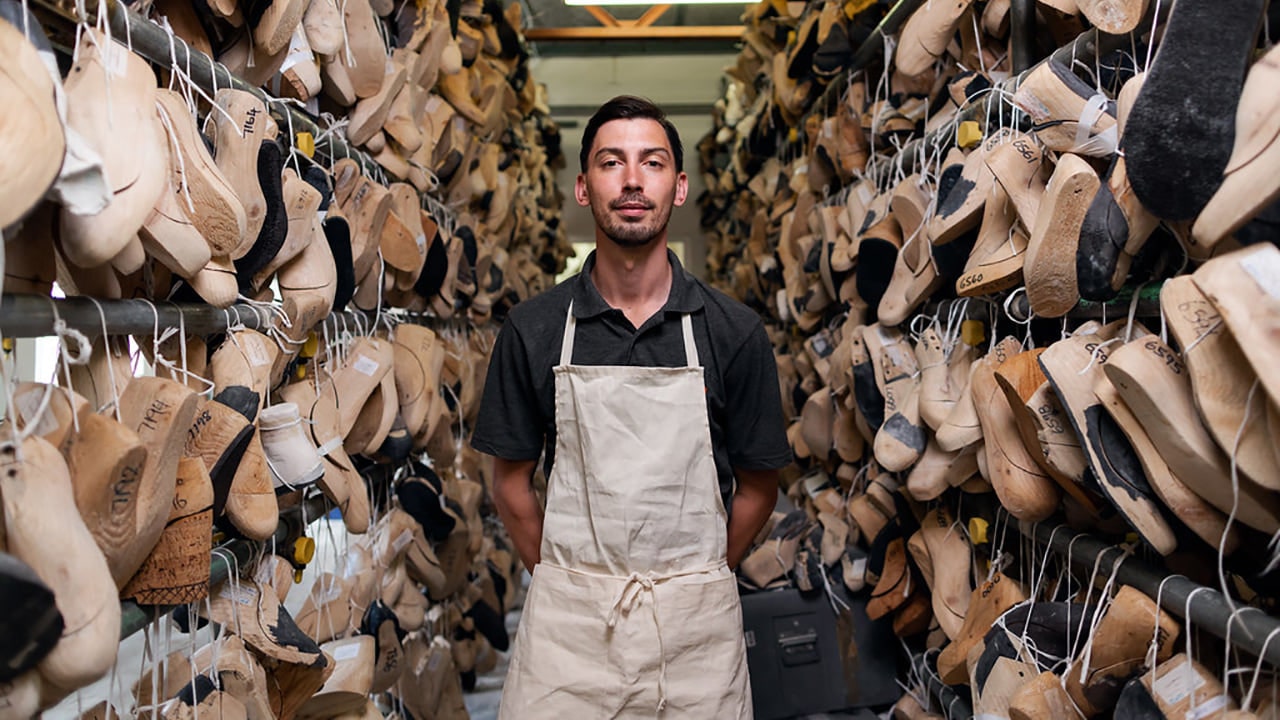 After reading up on Happy Feet, we came to realize it's kind of an iconic brand. The first-ever e-retailer of Birkenstocks and the only US distributor of Kenkoh Massage Sandals, it's been up and running since 1985 when founders Jacob Wurtz and Jane Strong opened their first shop in South Florida.
When brands focus on health — foot-related or other — they tend to look at the wider picture of wellness too. And you'll find that Happy Feet's approach to healthful footwear extends from humans to the environment.
Committed to preserving the health of our planet, this thoughtful shoe retailer offers a carefully selected lineup of shoes that promote sustainability through the materials they're made from and the processes used in their production.
So what is their carefully chosen footwear like? We'll tread through a wholesome selection just ahead in this Happy Feet Shoes review. Before we make it there though, take a peek at the brand's highlights to get a feel for what it's all about:
Highlights
Good selection of brands, styles, and prices
Payment plans available
Customers report amazing customer service
12 retail locations in Florida
Ships the Kenkoh Massage Sandal to Canada
Free US shipping
Free exchanges
Happy Feet stocks a balanced collection of shoes from well-known brands like Birkenstock, Aetrex, and ECCO, along with footwear accessories like insoles and socks. With a range of mid to high-priced shoes, this store offers a pretty rockin' sale section, as well as payment plans through PayPal to give its shoppers a leg up.
With the option to browse by brand and work-specific styles, this Happy Feet Shoes review will walk you through a selection of both men's and women's comfortable, everyday shoes.
Happy Feet Men's Shoes Review
The Happy Feet Men's Shoes collection is sneaker heavy with a lot of comfortable-looking sandals, boots, and clogs as well. Ranging between the more conservative to the modern, the spread includes a solid supply of closed and open-toed shoes to fit both casual and classy occasions.
This Happy Feet Shoes review will feature its best-selling pairs with an inclusive range of sneakers, sandals, and Oxfords from well-known comfort shoe brands Finn and Brooks.
Happy Feet Finn Comfort Vaasa Shoe Review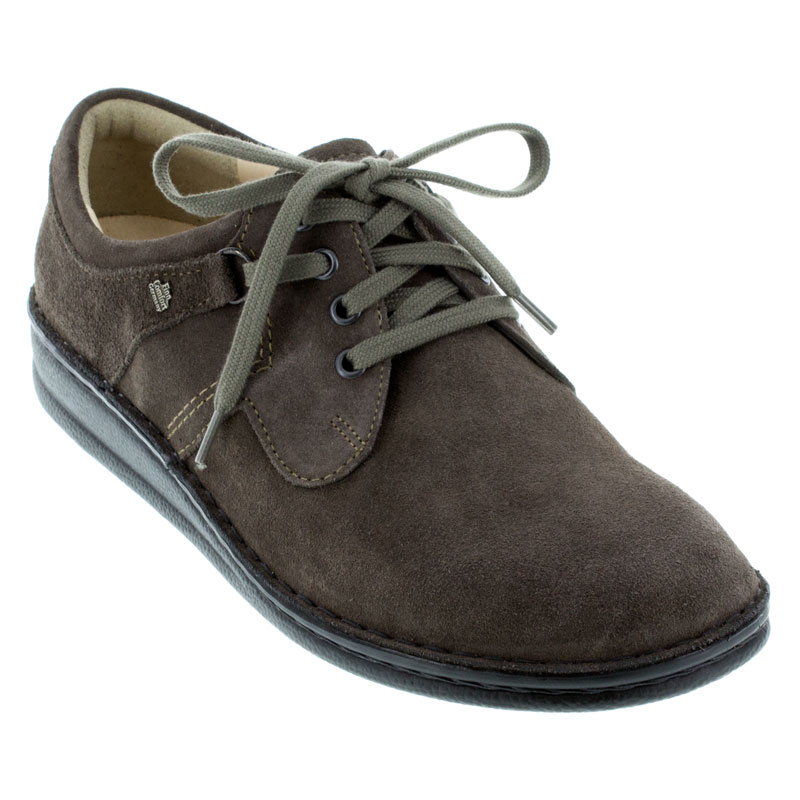 The Finn Comfort Vaasa Shoe comes from a German brand known for its traditional craftsmanship. This particular shoe blends the old with the new, merging classic shoe-making techniques with modern technology to create a great-looking (and feeling) pair of Oxfords.
They're made from a blend of Mediterranean oak tree cork with natural suede or Nappa leather for comfort and support, helping negate the impact of the ground as you walk. With a classy-casual look, this pair suits casual looks like jeans but also translates well to chinos and khakis. Ranging in European size from 35 to 47, you'll be able to find the perfect fit for you.
With full arch support and a metatarsal padded footbed, these shoes were designed for feet, not for a quick sale. Experience what footwear should truly be — breathable, flexible, light, and supportive — with this sophisticated shoe, available in five colors:
Asphalt suede: $325
Black leather: $325
White leather: $325
Coffee leather: $325
Happy Feet Finn Comfort Toro Leather Soft Footbed Review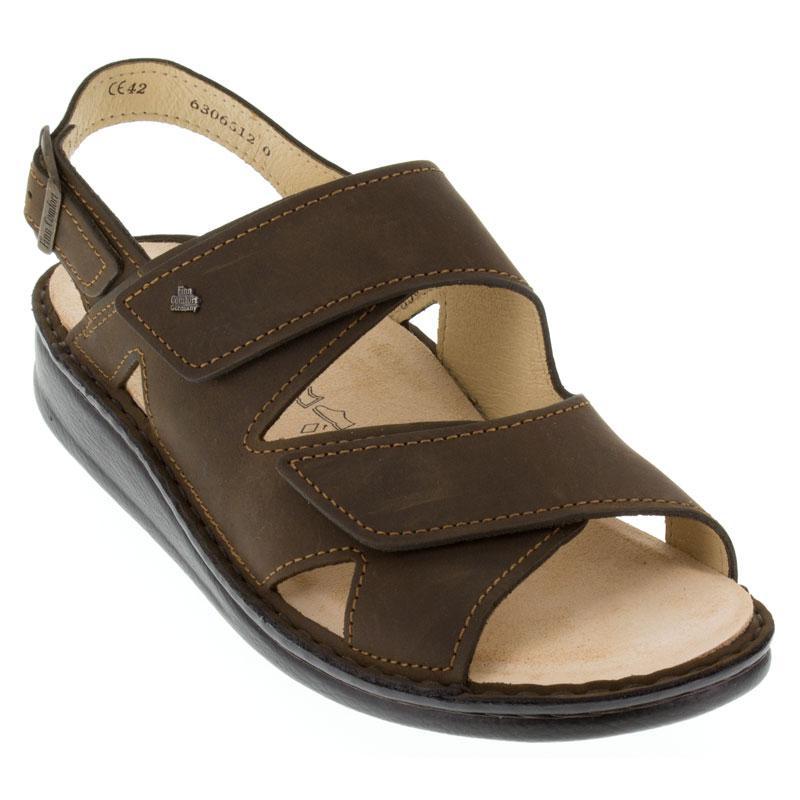 Some believe that open-toed shoes are better for walking, allowing your foot its natural spread. And they're not wrong. Plus, the benefits double because the shoes are super breathable!
The Finn Comfort Toro Leather Soft Footbed is made from Cherokee leather for a silky-smooth feeling against your skin. Its three straps provide security and support, along with a customizable fit to keep you strapped in. They're lined with suede with an ergonomic footbed, providing arch support and a metatarsal pad.
Handcrafted in Germany, fine attention to detail shines through in these sandals that can keep your feet cool and content on hot summer days. Available in European sizes 39 to 47, it also comes in two colors, wood or black. Grab a pair for $265.
Happy Feet Brooks Addiction Walker 2 Leather Review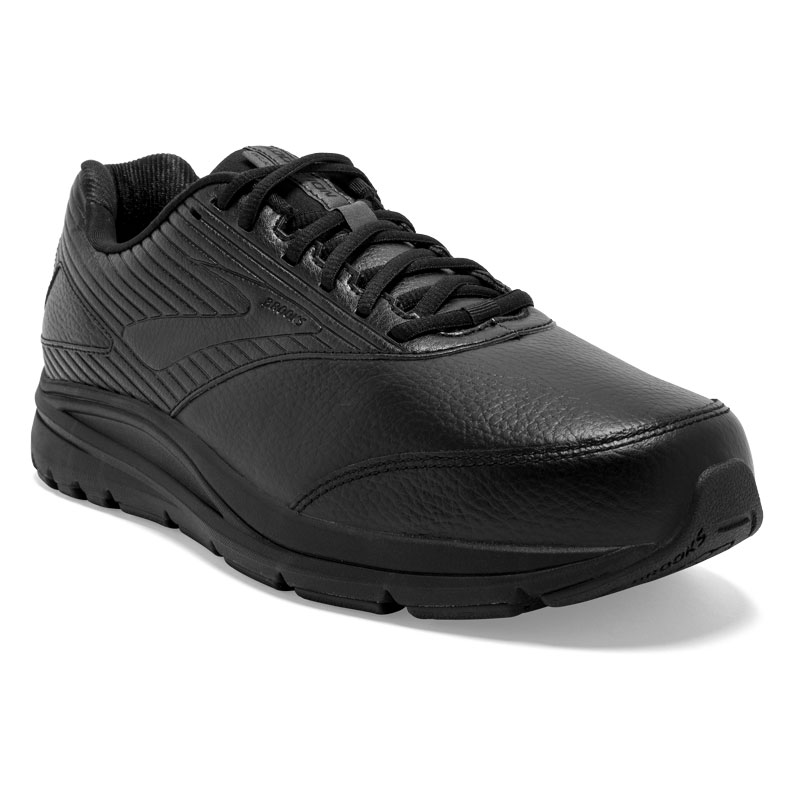 One of the brand's more popular pairs of shoes, the Brooks Addiction Walker 2 Leather sneakers merge a trendy-looking runner with the fine-tuned support that the brand's shoes are known for.
With arch support and cushioning, these shoes learn from your feet and respond to help you reach your natural stride. They're made from full-grain leather so they're durable and can go with everything from basketball shorts to jeans.
Available in US sizes 8.5 EE to 13 EE, the sneakers also come in two colors, black and white, with an option for velcro in white. Feel the difference with a pair for $140.
Happy Feet Women's Shoes Review
Happy Feet Women's Shoes range from strappy sandals to modern sneakers and trendy boots, all designed to make your feet feel wonderful while being in style. The collection is filled with a mix of leather, cork, and synthetic materials to keep feet dry and content wherever you wear them.
This Happy Feet Shoes review will showcase the brand's best-selling shoes that include Mary Janes and soft leather sandals from Aetrex and Finns.
Happy Feet Aetrex Ada Leather Review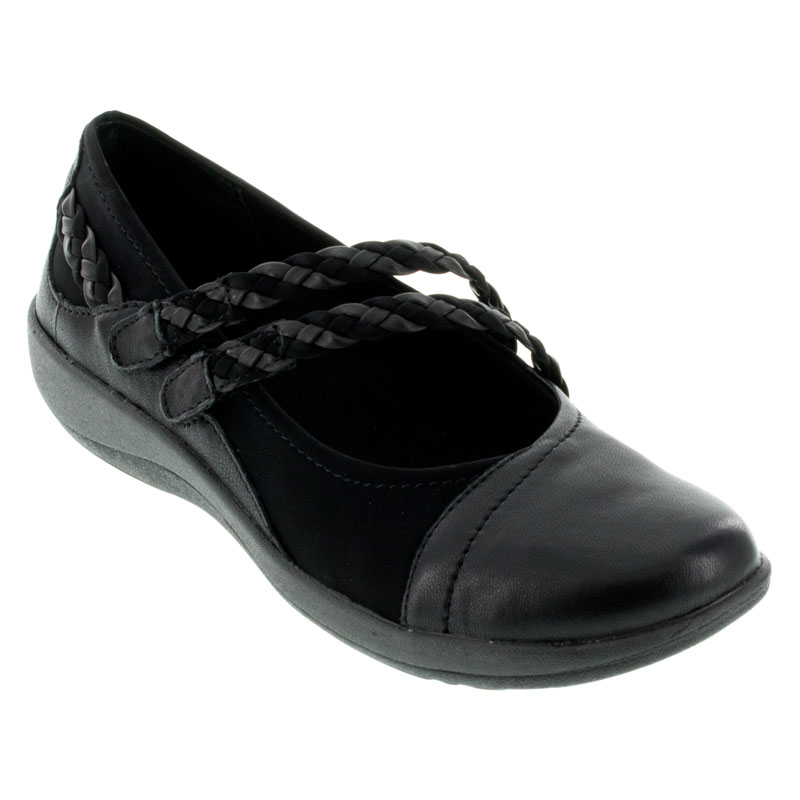 The Mary Jane is a classic-looking shoe, but the Aetrex Ada Leather puts a chic spin on the traditional style. Adding a two-toned braided strap across the front, these versatile shoes work well with a variety of looks from office wear to skinny jeans.
Ada is made from a mix of velvety and smooth, shiny leather, with hook-and-loop straps for adjustability. Orthotic support helps to improve your stride and relieve pain, while the 1.3" heel gives you a little lift.
Available in black or cognac, this Mary Jane shoe comes in both medium and wide fit for US sizes 5 to 10. Merge comfort with fashion with a pair for $120.
Happy Feet Aetrex Brielle Leather Review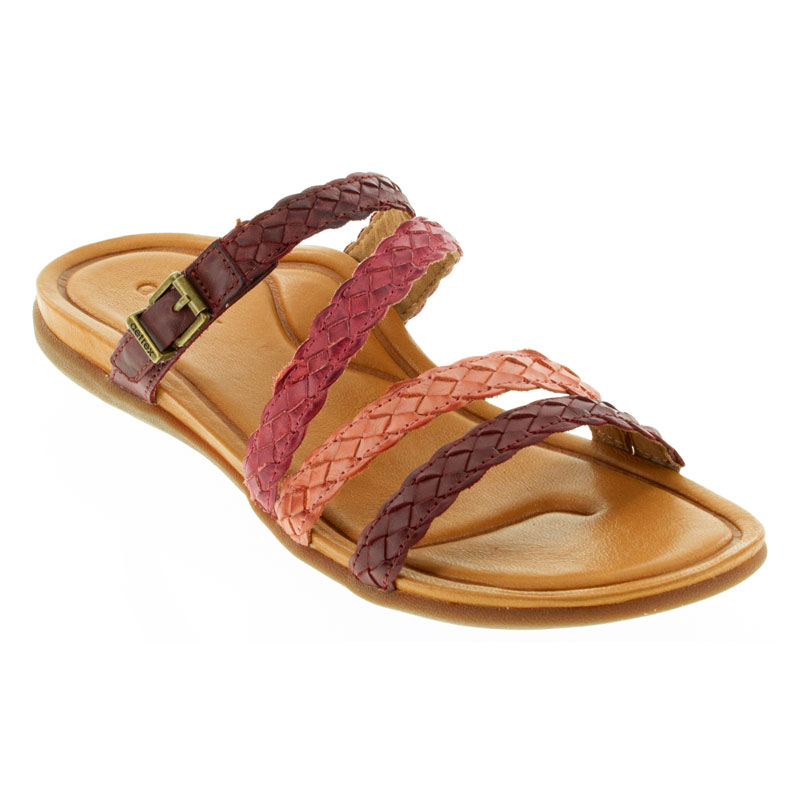 What does the ideal summer shoe look to you? To us, it should work with different kinds of outfits like dresses, skirts, and shorts, be breathable for super hot days, and carry you from day to night.
The Aetrex Brielle Leather slides have an attractive multi-colored braiding across the front with a trendy side buckle at the top for a custom fit. Made with arch support, memory foam, and stretchy leather, they're a dream to walk in and are super easy to slip on and off.
The outsole relieves pressure and absorbs shock on long days with a special type of compressive resistance, while their orthotic footbeds aid in support and balance, helping to properly align your body every time you take a step.
And they're also made with anti-microbial technology which is perfect for the summer and helps negate bacteria and odor. Available in four colors — red, white, black, and brown — the slides come in US sizes 6 to 11.
Get a pair for $140.
Happy Feet Finn Comfort Gomera Leather Soft Footbed Review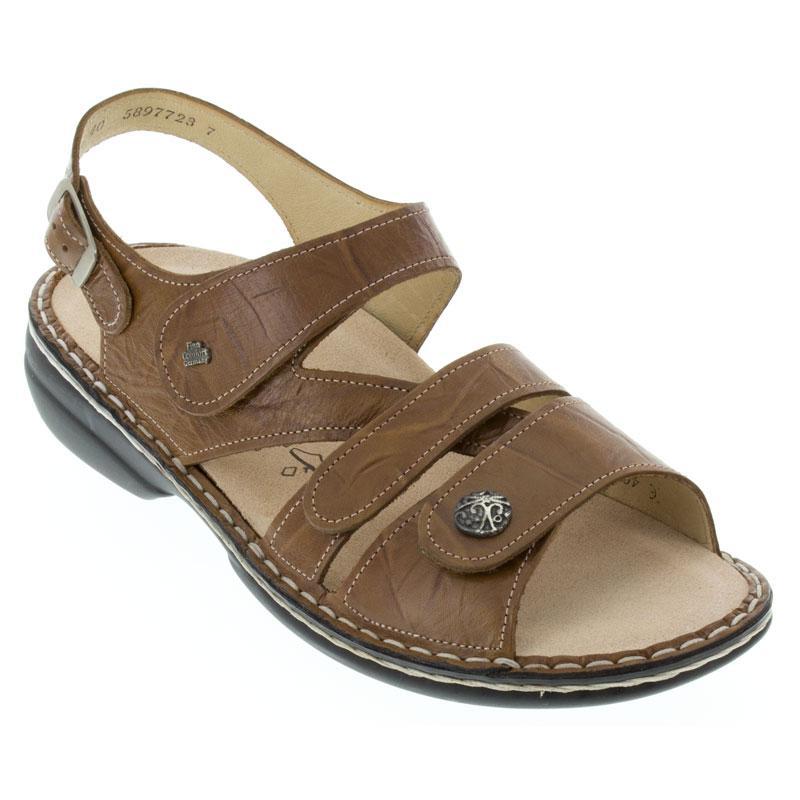 Love versatility? What about supreme craftsmanship? The Finn Comfort Gomera Leather Soft Footbed is one of the brand's top-sellers for a few good reasons.
With a cute and classic look, these sandals are lined with soft leather and have an ankle strap with a snap closure for quick fastening and unfastening.
The footbed of the shoe is made from cork that contours to your foot for arch and metatarsal support. Cushioned by latex, and supported by a polyurethane outsole, this shoe is flexible, light, and absorbs shock, providing a 1" lift.
The Gomera sandal has an attractive textured leather look with trendy stitching around the base. Wear them with long, flowing skirts and dresses or a simple high-waisted jean skirt and T-shirt for a sensible but polished look.
Available in 23 colors, including black, cognac, and red, the sandals come in European sizes 35 to 43. Enjoy these handmade German shoes with a pair for $275.
Who Is Happy Feet Shoes For?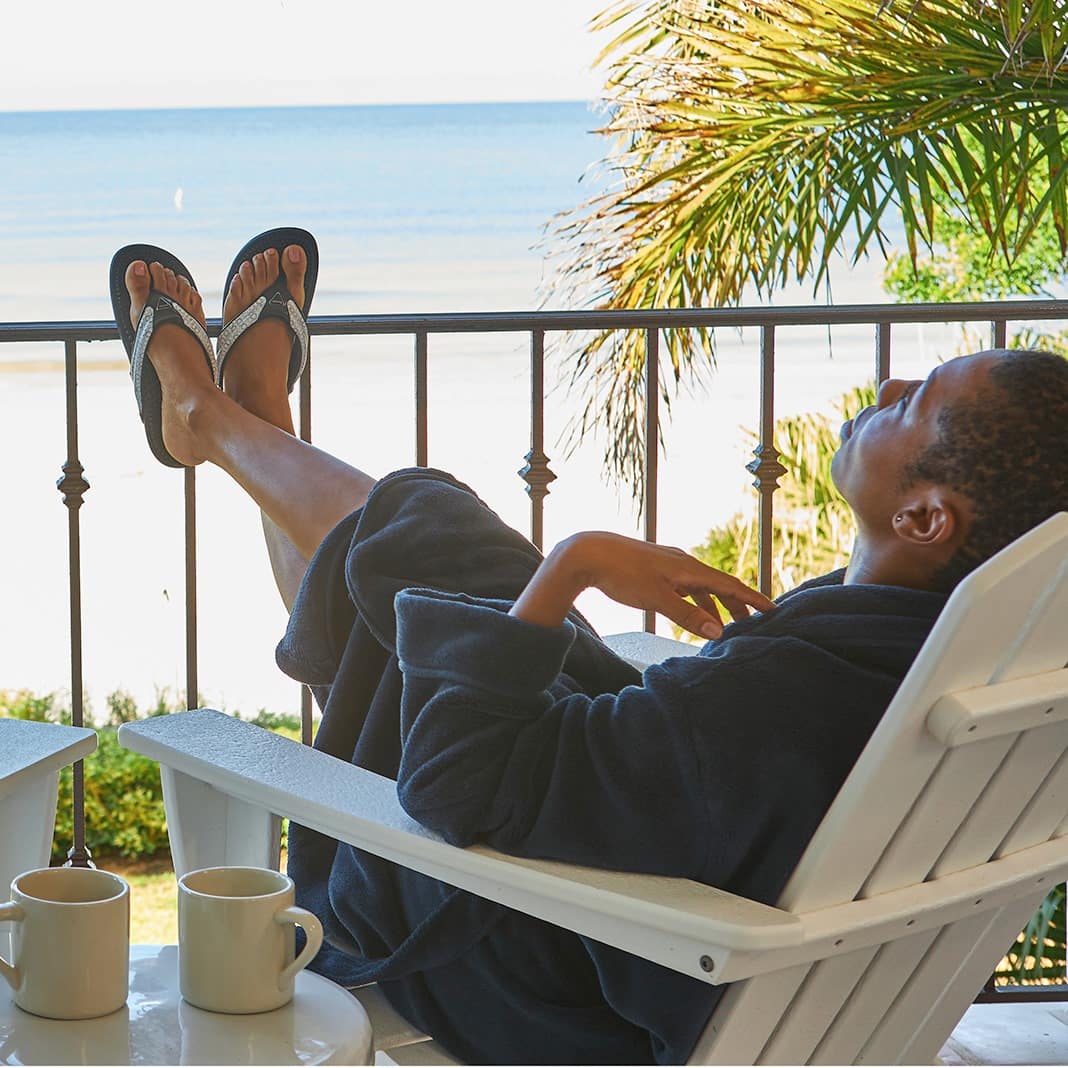 Happy Feet's slogan is "Footwear for a Healthier You!" The shoes are carefully chosen to make your feet feel good, so the store is a great choice for anyone who wants that.
Offering a well-rounded collection of orthotic shoes, clogs, and sandals for men and women, the company is an easy pick for those who may need a little help with finding the right pair thanks to its out-of-this-world staff.
Happy Feet Shoes Reviews: What Do Customers Think?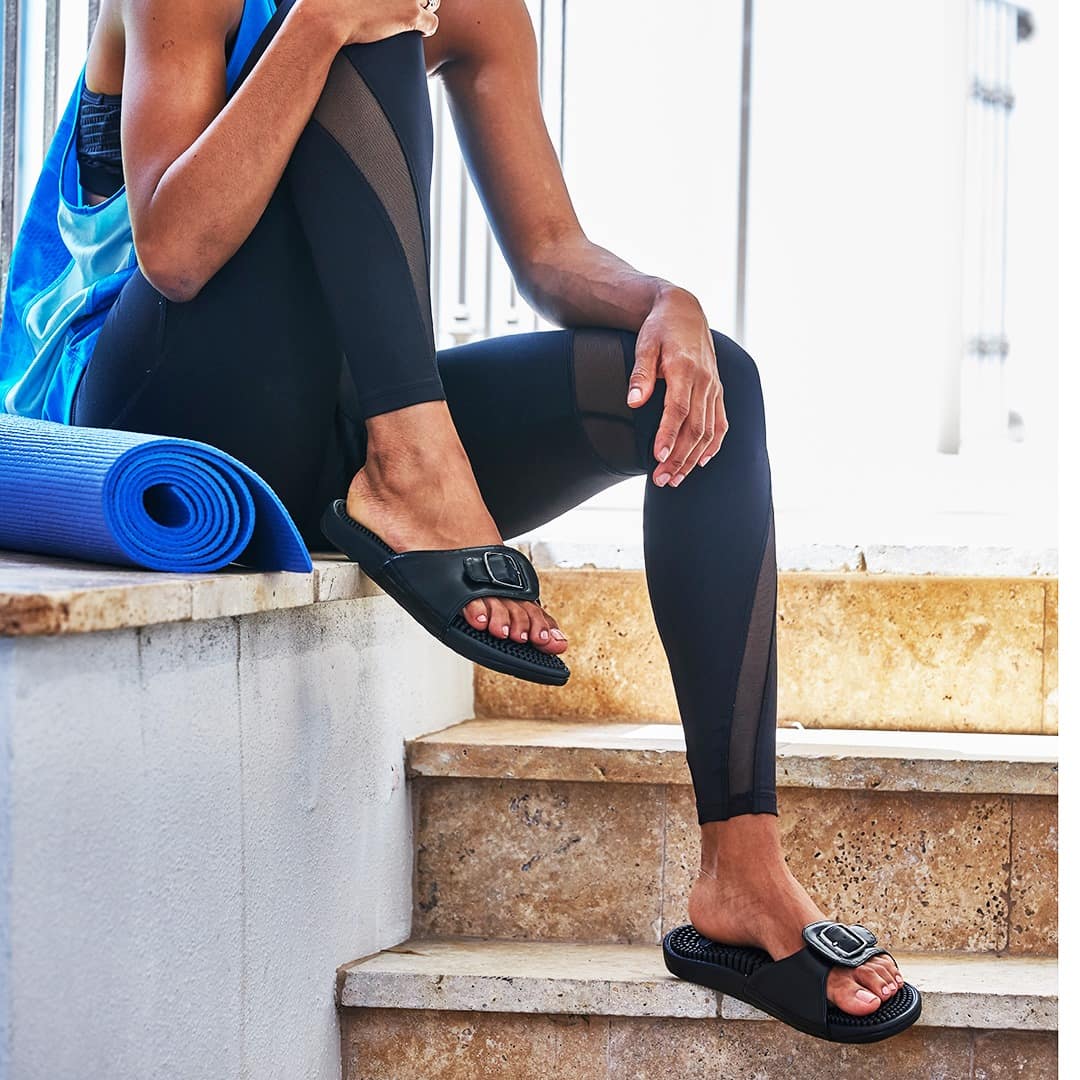 You've probably heard about some of the shoe brands that this company sells. In this section of our Happy Feet Shoes review, we'll zone in on the level of service provided by the folks at Happy Feet, as that's why people choose this brand over the many others out there who sell similar shoes.
Our first stop was on happyfeet.com, where we checked out a few ratings for some of its best sellers:
Finn Comfort Gomera Cognac Leather Soft Footbed: 5/5 stars, 12 reviews
Aetrex Brielle White Leather: 5/5 stars, 2 reviews
Aetrex Annie Black Leather: 5/5 stars, 3 reviews
Brooks Addiction Walker 2 (Men's) Black Leather: 4.4/5 stars, 25 reviews
Finn Comfort Toro Wood Leather Soft Footbed: 4.7/5 stars, 11 reviews
For the Finn Comfort Toro Wood Leather Soft Footbed shoes, we found comments about how incredibly comfortable they are and their incredible fit. One Happy Feet Shoes review read: "This saddle has an already broken in feeling. So just a really great fit and comfortable."
Along with another comment mentioning how easy they are to get on and off, we quickly realized that this particular pair of shoes is the ideal in comfort for everyday activities and are what customers can expect when they shop at this store.
Next, we headed over to Yelp to check out what their physical store locations were like. With a 3.5/5 star score from 18 shoppers, the comments section is full of happy remarks about the high level of service they received.
One customer who had been dealing with foot pain wrote in their Happy Feet Shoes review: "I was greeted by Nathan who was super helpful and knowledgeable. Nathan really cares about helping his customers. Working as a cook I am on my feet 7-10 hours a day, when I put the slip-in sole into my work crocs it was a whole new shoe."
This review is just one of the many that talks about the helpful staff members at the shop, but another that mentioned an appreciation of the lifelong support you'll get from Happy Feet read:
"They will re-sew them if you pop a stitch, they can replace the inner support thingie…I mean, these things will probably last longer than my vehicle." We'll put it plainly — the shoes Happy Feet sells aren't cheap but they're built to last. And if they don't, you can get them repaired in the shop.
On the way to our final spot for feedback, we stopped in at the Better Business Bureau to check on how well the company deals with customer complaints. Finding an A+ score and just 3 issues in the last 3 years, we were content that Happy Feet is great at resolving shoppers' complaints.
Trotting over to Facebook, we came toe-to-toe with a 4.4/5 star score from 67 people, along with rows of comments about incredible service in the stores and life-changing shoes. One Happy Feet Shoes review read:
"My husband and I visited the Ellenton Fl. store while on vacation. We had the BEST sales person…She was very educated with all of the different types of brands and was able to help me with my foot problems. She helped us choose the best brand for our feet."
The right staff makes all the difference no matter what you're buying. It's great to read about all of the outstanding employees that this company hires that help customers find the perfect shoe.
In the end, we've come to understand why Happy Feet Plus is such a popular company. You can find a lot of the same shoe brands at other retailers, but it's really the service that keeps customers coming back.
Is Happy Feet Shoes Worth It?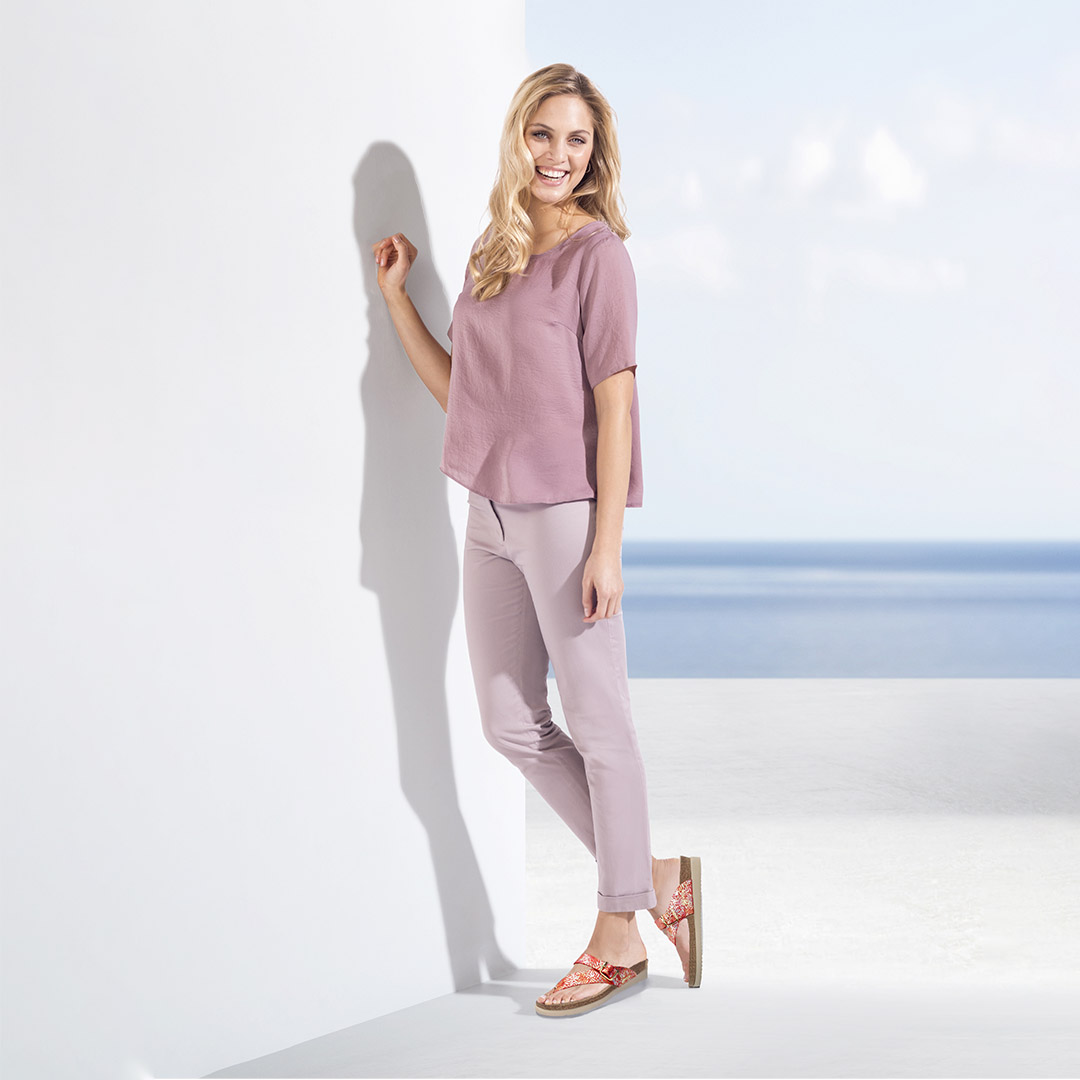 We won't beat around the bush here, Happy Feet Plus has some expensive shoes. But some of the best shoes for your feet are expensive because they've been made by skilled artisans with high-quality materials.
Like one customer said, though pricey, these shoes will last you a long time and the brand has the repair service in place to make sure they do. Why choose Happy Feet over going to another store? It's a difference in the people behind the brand.
No matter where you go, if you're looking for orthotic shoes, you will most likely be paying the same prices listed here. Why not buy from someone who takes their time to make sure you get the right shoe versus someone just trying to make a sale and get you out the door?
Those are the big differences with this brand and based on the Happy Feet reviews we discovered, we believe the brand to be worth the buy.
Happy Feet Shoes Promotions & Discounts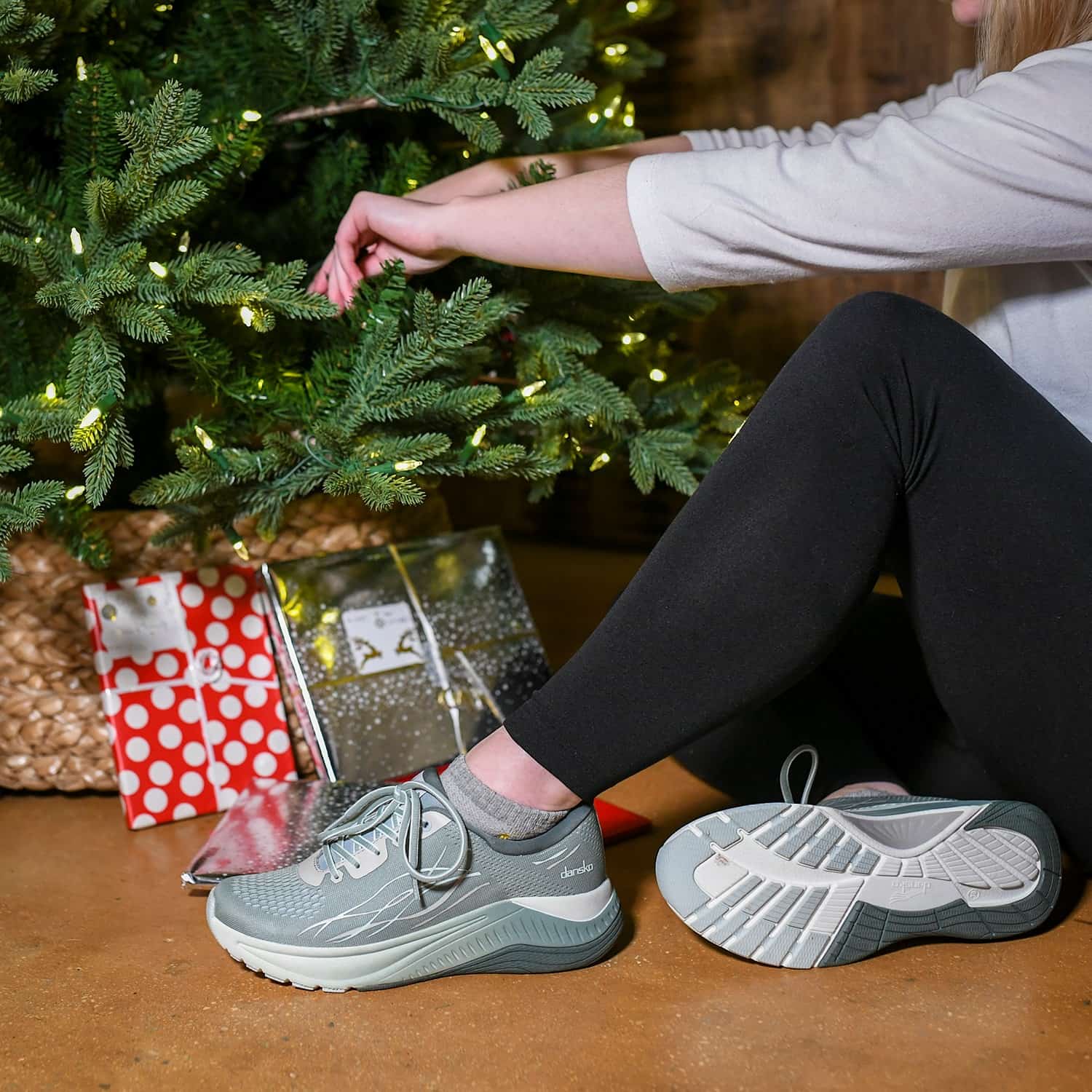 Along with stellar service, there are a lot of other reasons why buying from the comfort shoe retailer is a smart choice when it comes to shopping for footwear.
During this Happy Feet review, we discovered that the brand offers free US shipping and exchanges, meaning that you won't need to pay a penny to get the perfect pair. Along with that, right now the brand is offering an Autumn Savings promotion with up to 80% off sale items.
Where to Buy Happy Feet Shoes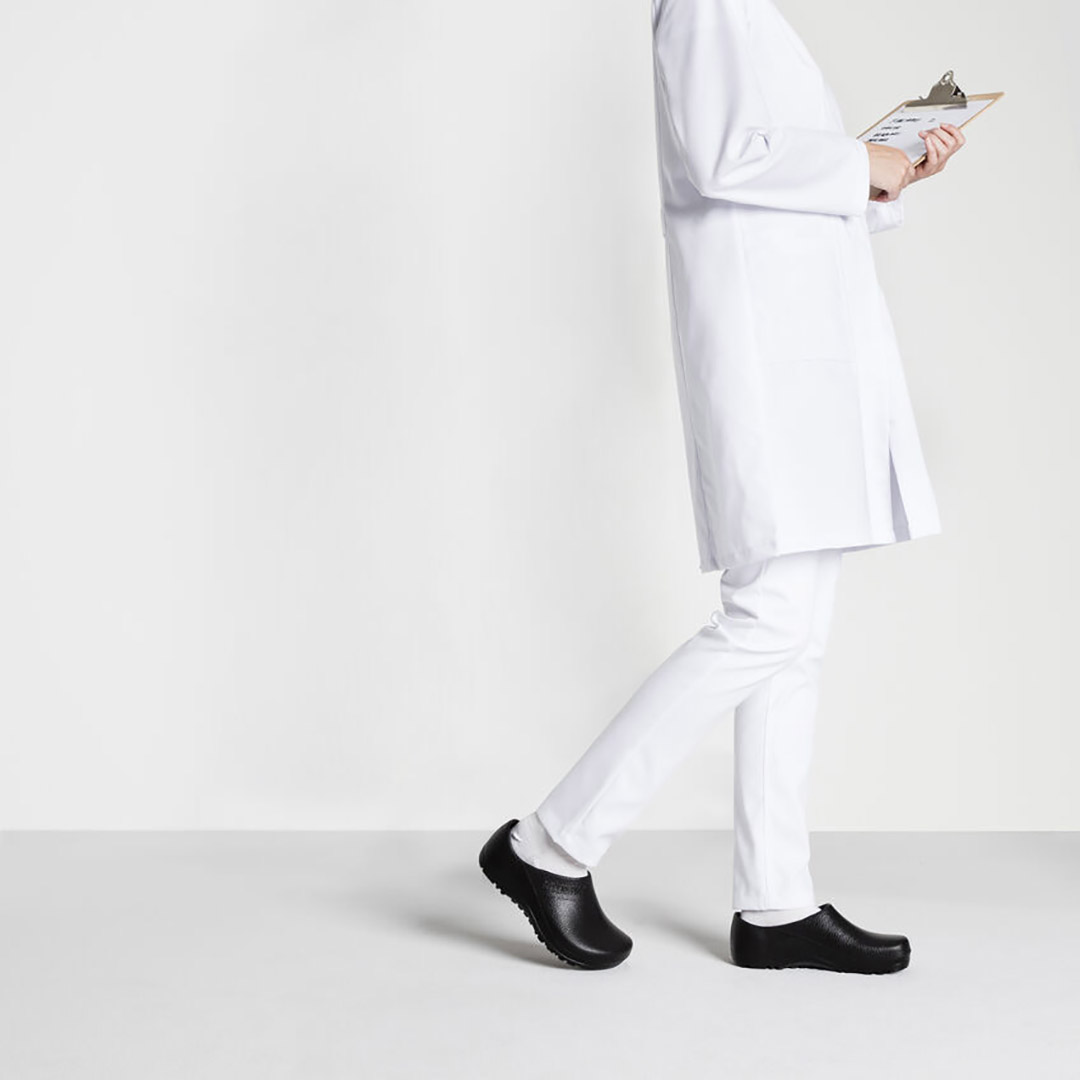 Happy Feet Plus sells a range of brands in its 12 retail locations across South Florida. Don't live in the Sunshine State? Hop over to happyfeet.com and shop the entire collection.
FAQ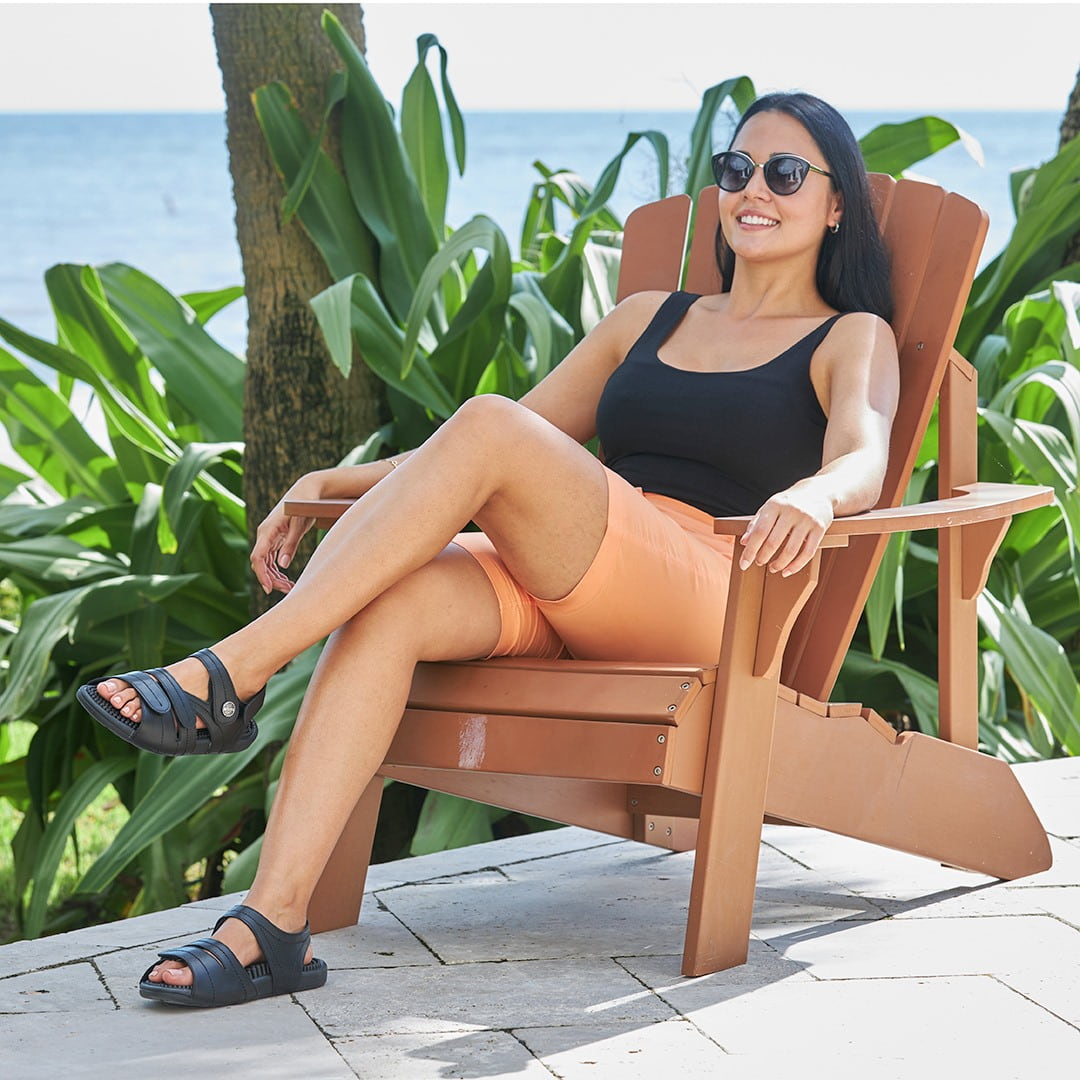 Who owns Happy Feet Shoes?
Happy Feet Plus is a joint ownership between Jacob Wurtz and Jane Strong. The two have been friends since grade school and decided to open the shop together in 1985.
Does Happy Feet Shoes ship internationally?
Happy Feet ships 99% of its products within the US. There is one type of shoe that it ships internationally, and it's only available to Canada. These special shoes are the Kenkoh Massage Sandals, a style of shoes the brand has had since it opened in 1985.
What is Happy Feet Shoes' Shipping Policy?
Delivery for all orders in the States is free, but the brand does offer expedited options as well, with prices varying the more you buy:
Ground Delivery (footwear & non-footwear): Free
2-Day Delivery: $25-$45
Next Day Delivery: $40-$60
If your order totals over $300, keep in mind that you'll need to be around to sign for it. Orders take about 2 business days to process and then they're hurried out of the brand's warehouse and on their way to you.
What is Happy Feet Shoes' Return Policy?
Happy Feet makes returning something really easy so you can always get the right fit. There are a few things to keep in mind when making a return:
You have 30 days to initiate it
The product(s) must be in new condition. Tip: Try them on at home (with carpet) to prevent any sort of damage
You must return items in their original, undamaged box
You must include the original invoice or shipping receipt with your order
To make a return or exchange, all you need to do is reach out to the brand and let them know. Here are the steps:
Call 1-800-336-6657.
An agent will help you with the process and send you a prepaid shipping return label.
You'll attach this label to the outside of your return package.
Inside the box, include the return authorization form or original invoice.
Though exchanges are free, if you wish to get a refund, a $10 shipping fee will be deducted from your refund
amount. After your return is approved, you'll receive your money through the original method you used.
How to Contact Happy Feet Shoes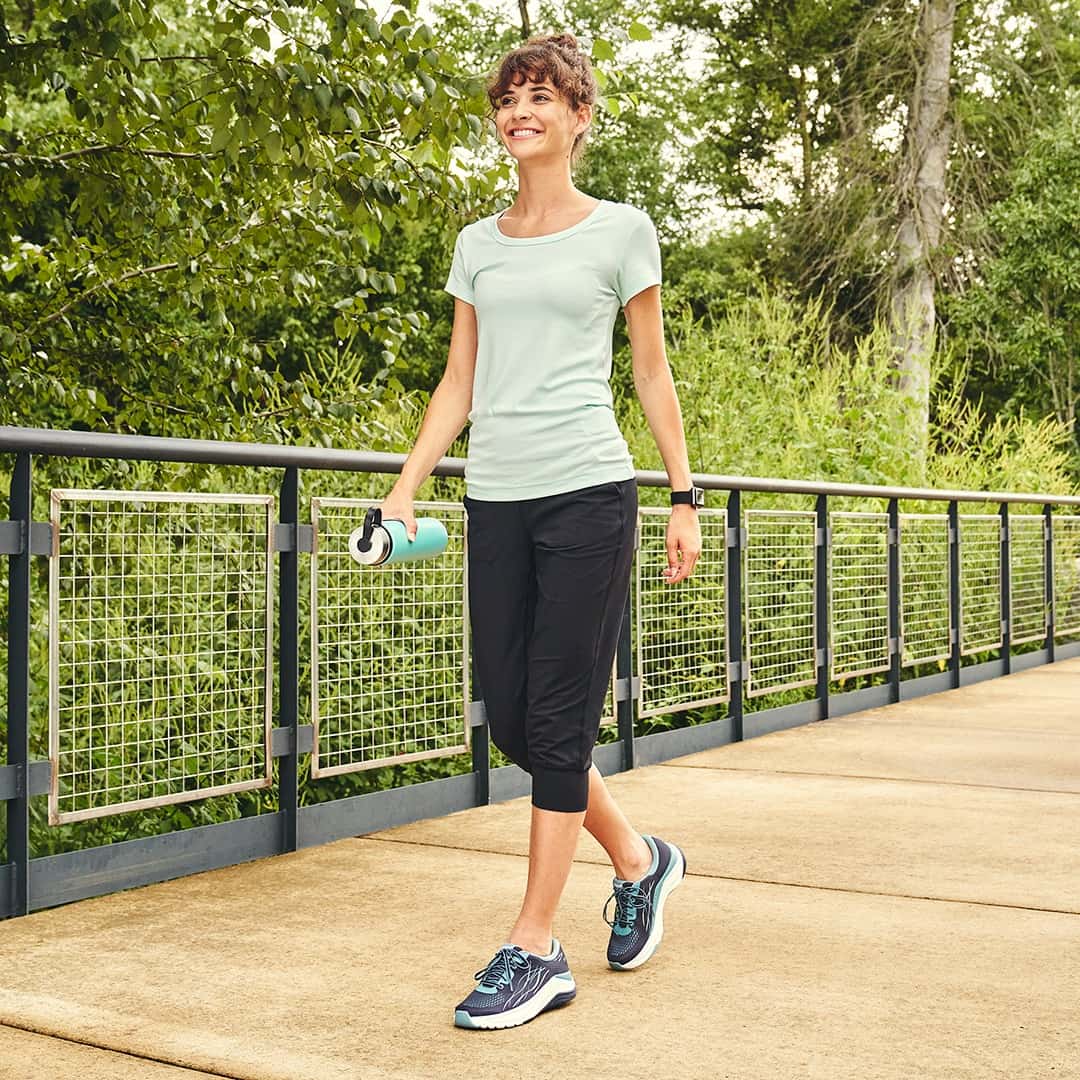 If you need any other information that wasn't included in this Happy Feet Shoes review, you can get in touch with the brand in the following way:
Phone: 1-800-336-6657
Their customer service team is available Monday to Friday, from 9 am – 5 pm EST.