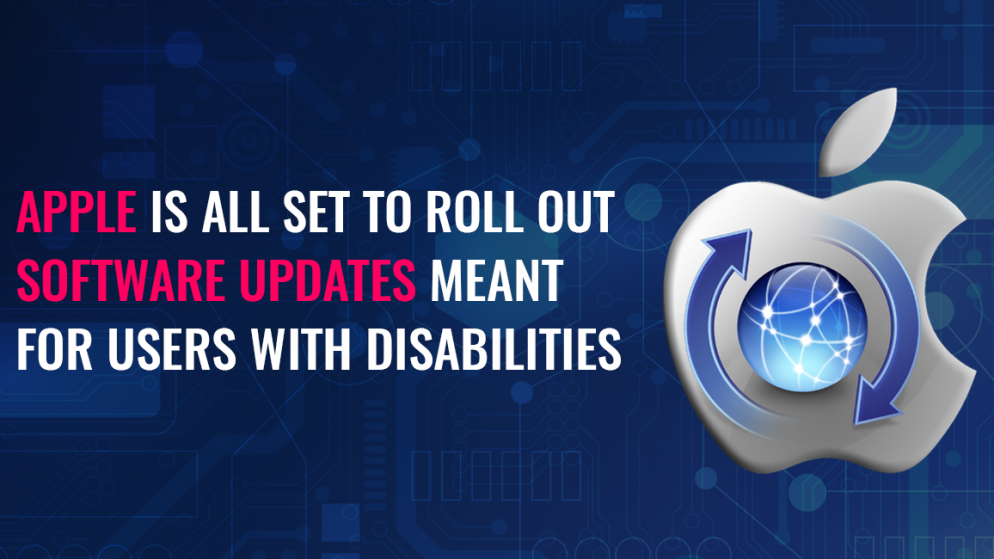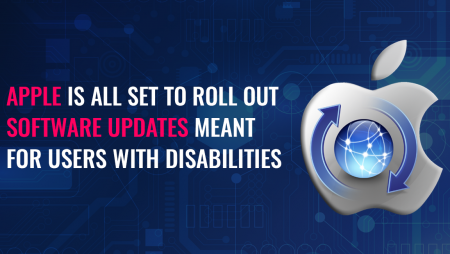 Our content is reader-supported. If you click on our links, we may earn a commission.
Apple has announced its impressive software updates meant for users with mobility, hearing, cognitive disabilities, etc. The next-generation technologies by Apple highlight its belief that accessibility is everyone's right. It also takes forward the company's legacy of offering customized and helpful features for all age groups and people from all walks of life. Later this year, Apple will introduce the latest software updates all over its operating systems for the users with limb differences or with disabilities can access the Apple watch via assistive touch. And users with low vision or blindness can access to iPad via the support of third-party eye-tracking hardware.
Apple's Voice Over screen reader is going to get better and smarter with the help of on-device intelligence. It will help users to explore objects within pictures. The company is also introducing new background sounds which will cut off any distractions for deaf and hard-of-hearing people. It will help users with neuro-related problems.
On May 20th, the company is also launching a new service named Sign Time. This will allow the users to easily communicate with Apple Care and Retail Customer Care via ASL (American Sign Language), BSL (British Sign Language), and LSF (French Sign Language). This service will first launch in countries like the US, UK, France, and later in other countries.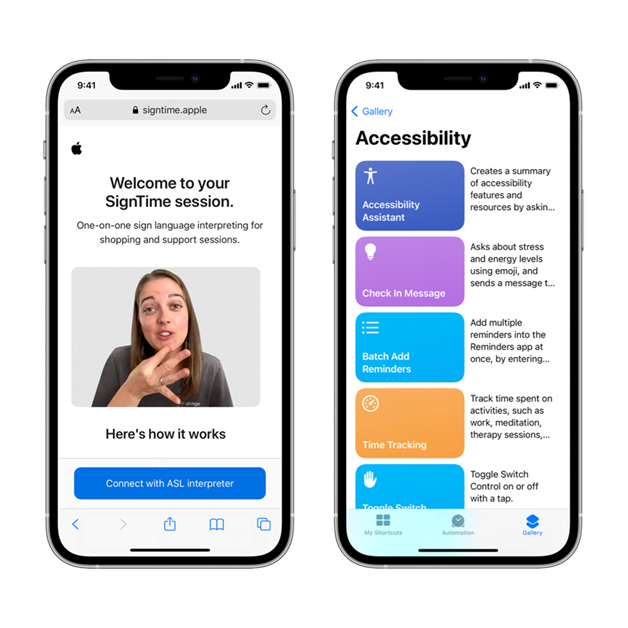 Apple Watch – Assistive Touch
Users with Apple Watch can now enjoy revolutionary accessibility features. Assistive Touch for watchOS is meant for every user with upper body limb differences. This feature will allow them to easily use the Apple Watch without needing to touch the display or other controls. The built-in motion sensors such as gyroscope, accelerometer, optical heart rate sensor, etc. allow Apple Watch to know differences in your muscle movement or tendon activity. This way the users can navigate the cursor of the Apple Watch via simple hand gestures like pinch or clench. With this feature, users with restricted mobility can easily answer calls; have easy access to the notification center, and a lot more.
iPad Eye-Tracking Support
To make it easy for the users to control their iPad by using their eyes, iPadOS will come in support of third-party eye-tracking devices. Users can now easily control iPad with their eyes. In few months, compatible MFi devices will work according to a person's gaze on the screen. The pointer will move as per the gaze of the user.  With their eye gestures, many actions can be performed effortlessly.
VoiceOver to explore via images
VoiceOver is a screen reading feature for blind as well as low vision users. And Apple is going to launch brand new features in it to make it more effective and diverse for the people with low vision. The image descriptions are updated to VoiceOver, this way the users can explore various details like table data, text, etc. within images. This feature can also explain the position of a person so that one can relive the memories in detail. Thus, new features will help people to relive memories in detail. Also, the Markup feature will let users put their own picture descriptions to customize/personalize family photographs.
Hearing assistance and Audiogram support
The hearing assistance and audiogram support are for users who are deaf or feel trouble hearing. Apple is also likely to bring support for brand new bi-directional hearing aids. The new hearing aids with microphones allow them to have a hands-free phone as well as FaceTime conversations. Apple is also going to introduce software support for audiogram recognition – charts with the results of any hearing test. With the help of these hearing tests, users can change their audio settings. Also, headphone accommodations will help users to elevate soft sounds and customize specific frequencies as per their hearing requirements.
New Background sounds
We all know that everyday background sounds in the office and home are very distracting. It's really hard to ignore them and put focus on work. Hence, Apple is going to introduce new background sounds that are meant to decrease distractions and enhance focus. This feature can be beneficial to minimize any distractions to help users focus, stay calm, or work. Users can opt for the balanced, bright, ocean, stream sounds to play continuously. The sounds can be mixed by users with other audio or system sounds.
Some more features that Apple is likely to roll out by the end of this year
New sound actions for switch control: Apple is likely to roll out new mouth actions for the user with restricted mobility, or who can't speak. They can use sound gestures and actions such as 'ee' sound, click, pop instead of physical buttons to get their work done.
New display and text size: The Company will also roll out customized display and text settings for each app. The feature will help visually challenged users to see the screen easier than before without facing any problem.
EndNote
Apple leaves no stone unturned to make the technology available for every user including user with disabilities and these software updates prove that. It keeps launching applications, software updates, and features to make iOS better, brighter, and more user-friendly. That's why, Apple and it's products are known to be the best in the world in terms of innovation, design, and technology.
To Read More About- Apple lost a lawsuit to a Brazilian! Forced to provide free iPhone 12 charging adapter to every user