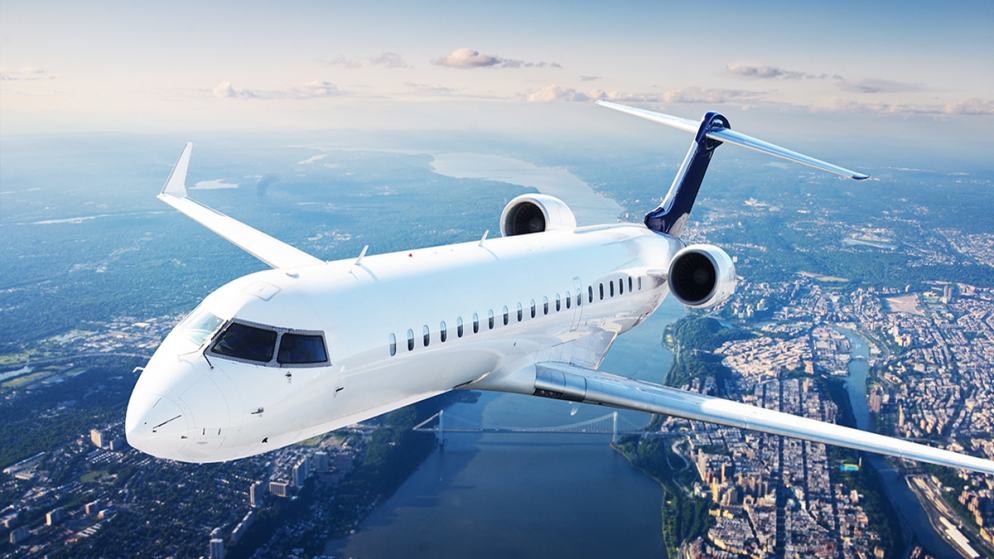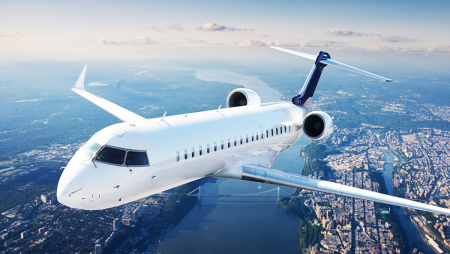 Heads up: Our content is reader-supported. This page includes affiliate links. If you click and purchase, I may receive a small commission at no extra cost to you.
This summer i was traveling europe when my flight from tirana to vienna was delayed by more than 5 hours (twice the length of the flight itself!). Not fun. But by using airhelp, i was ultimately able to collect $162 in airline compensation. It took about 10 minutes of work filling out some documents on my part, plus a lot of patience over the three months the claim took to process.
What is AirHelp?
Airhelp charges a flat 35% service charge, which they only collect if your claim is successful. They simply deduct the service charge from your compensation payment.
Pros of AirHelp
Super easy to file a claim (took me 10 minutes)
Airhelp manages the claims paperwork
You pay nothing upfront (only when your claim is paid)
Money is automatically deposited after your claim is approved
Cons of AirHelp
AirHelp takes a cut of your compensation
The process takes several months (though that's not AirHelp's fault)
How AirHelp Works (Full Review of My Experience)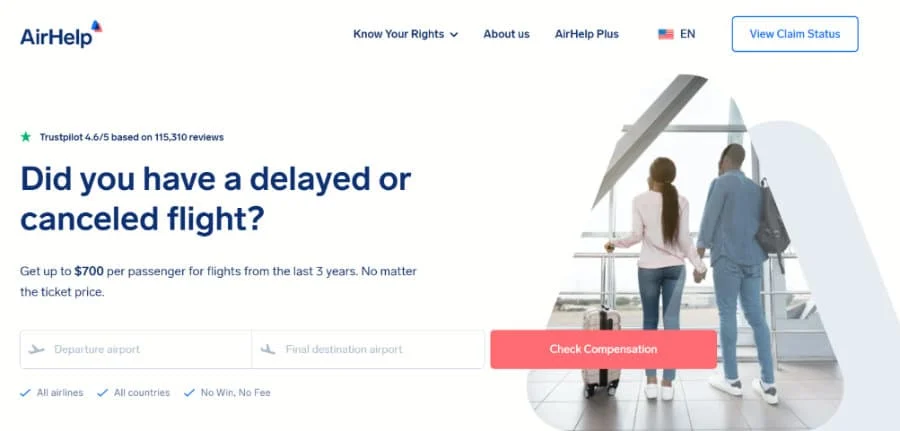 Airhelp represents passengers in claims against airlines for the following types of flight disruptions:
Flight delay compensation
Flight cancellation compensation
Missed connection compensation
Overbooking compensation
Denied boarding compensation
Delayed baggage compensation
Airline strike compensation
Most of the legal rights involved affects flights to or from the eu, under eu regulation ec 261. However, they also assist with claim's under brazil's regulations and the montreal convention.
One of the main draws of airhelp is just how simple the process is. Let me walk you through how using airhelp works, and share my take on each step of the process.
I personally used airhelp for a flight delay compensation claim, which i suspect is the most common reason most readers would need the company's service.
Step One: Check Eligibility for Compensation (2 Minutes)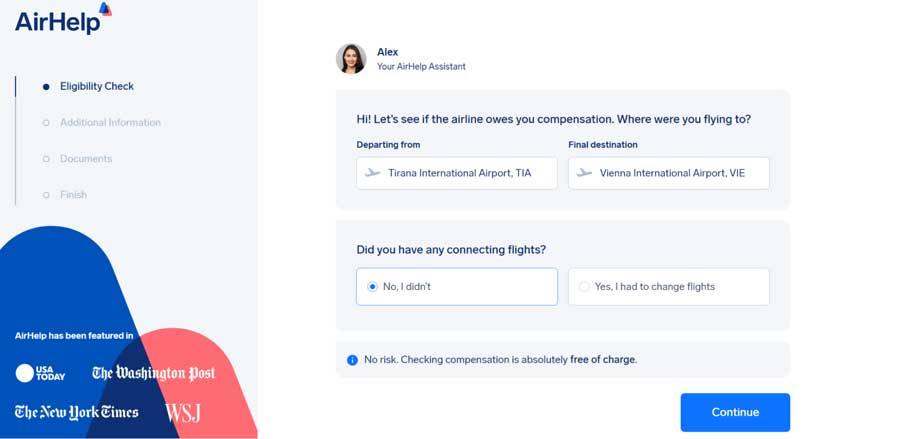 The first step to using airhelp is to go here and input your flight details. The system will pull up a database of flights so that it can check if yours is potentially eligible for compensation.
Departed or landed in the eu
Been delayed in arriving by more than three hours
Not been delayed due to "extraordinary circumstances" (bad weather is the most common one claimed by airlines)
The amount of compensation passengers are entitled to under the law varies based upon how far the flight was supposed to travel, and how long the delay was. The compensation scale goes from 250 euros on the low end to up to 600 euros for longer delays or cancellations.
Step Two: Fill Out the Required Documentation of Your Flight Delay or Cancellation (5 Minutes)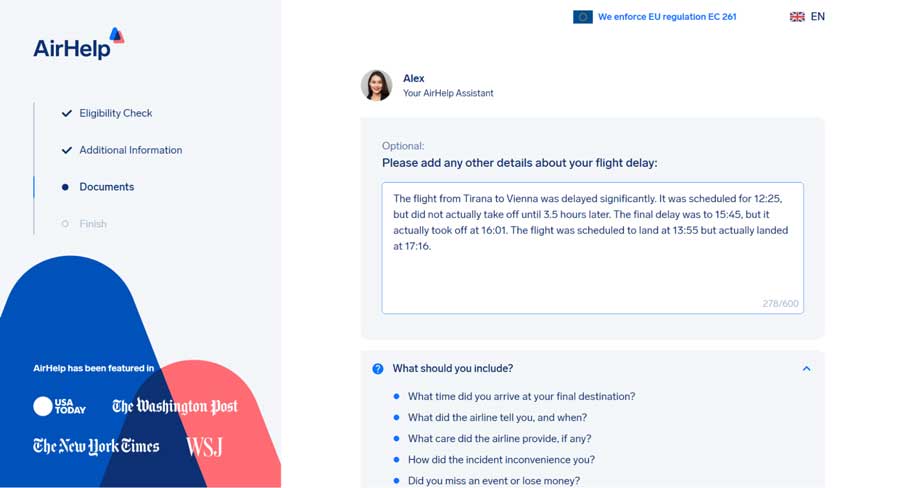 Next, airhelp asks for some simple documentation of your flight. You have to provide your booking reference number, your address, and your name.
Then you sign a document that basically authorizes airhelp to represent you in this claim, and in which you also agree to their 35% service fee if they are successful. You don't have to print anything out – or even download anything at all. I signed the document with my mouse right on their website.
You then submit a copy of your boarding pass or e-ticket.
Lastly, there is an (optional) section where you can describe what happened on your flight. As you can see above, i chose to provide some extra detail.
In total, the entire airhelp documentation process took me about 5 minutes to complete.
Step Three: Wait While AirHelp Handles Your Claim (Several Months)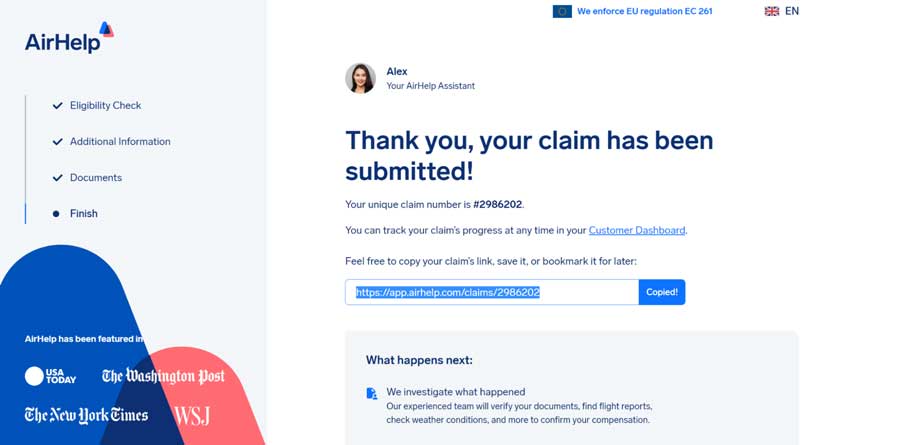 After you submit our documentation, airhelp generates a claim number you can use to track your claim. Their team then investigates the claim and advocates on your behalf to the airline.
The only thing you have to do is simply wait … several months. While this is annoying, as a recovering lawyer, i can tell you that this is just how any claim procedures tend to work.
Unfortunately, ec regulation no. 261/2004 does not require the airline to process claims by any particular deadline. The airlines thus have the incentive to drag their feet in the hopes that claimants simply give up. But this is why i am thankful that airhelp was handling it on my behalf.
About a month after my claim, airhelp sent me an email with a question about my e-ticket document. This was likely because i used points to book the flight through united's star alliance award booking system, so my ticket didn't come directly from the airline in question (austrian airlines). It took me about two minutes to reply, and then the waiting continued.
Step Four: Enter Bank Details to Receive Compensation (3 Minutes)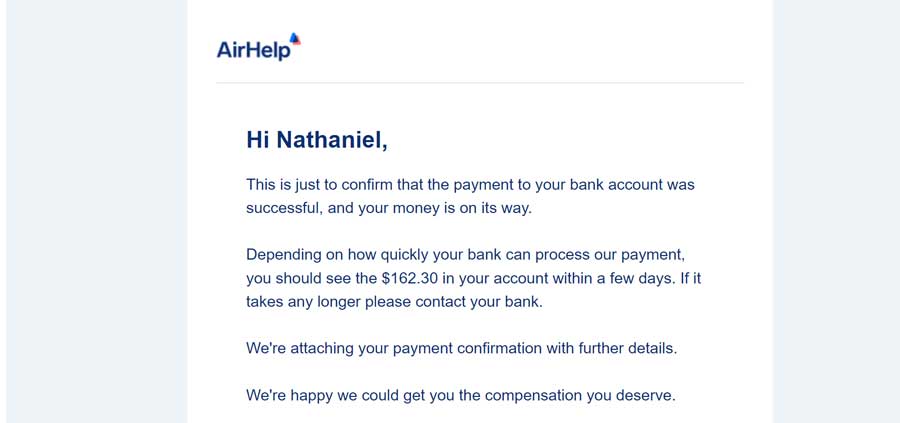 About three months after i submitted my claim, i got an email from airhelp saying my claim was ready to collect.
I just had to click a button and quickly fill in all the relevant information for the free bank transfer. Three days later, bam, there was $162.30 sitting in my bank account!
Airhelp did offer the option to use part of the compensation to join "airhelp plus."
Airhelp plus is a subscription service that costs 19.99 euros per year and basically waives the airhelp fee on future claims. Since i was planning to leave the eu pretty soon, i declined the offer. But it might be worth it if you fly a lot within the eu (especially given how common flight delays are these days).
FINAL VERDICT – Is AirHelp Worth It?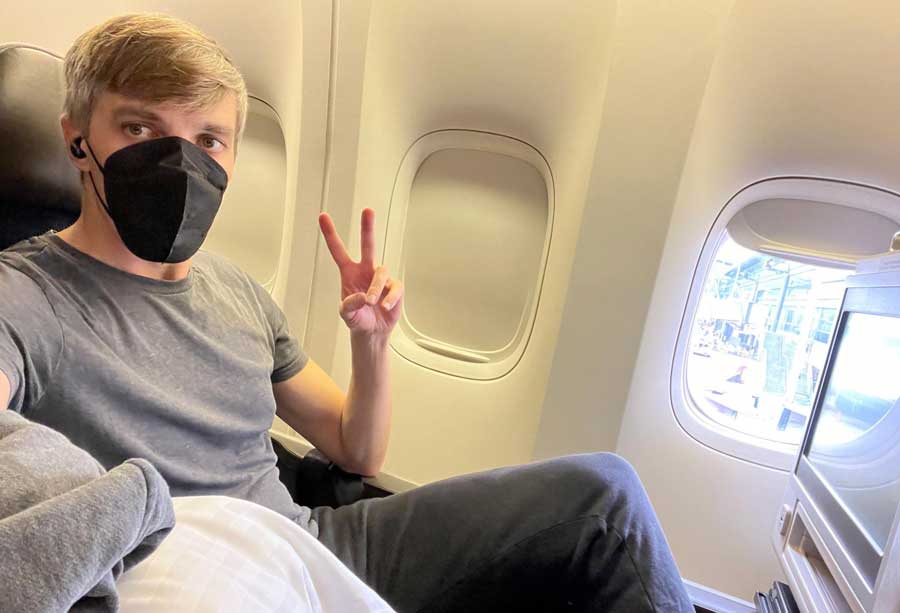 But i am happy to pay that $80 difference to airhelp. It simply was not worth the time and stress, plus the possibility that i either messed something up or gave up on the process altogether and got $0.
I would definitely use airhelp again the next time i have a delayed flight in the european union. The only downside is the 35% service charge. While it's hefty, all in all i think it is fair given the seamless service that airhelp provides.
AirHelp Alternatives
Airhelp is not the only company that offers flight compensation representation services. Although i haven't (yet) personally tested the below services, they are alternatives to consider if for some reason airhelp doesn't meet your needs.
Sky Cop

Skycop is another flight compensation company that helps you submit a claim if you are affected by delayed, canceled, or overbooked flights.
Sky cop's success fee is slightly lower than airhelps, at 30% (vs 35%). Sky cop otherwise appears very similar to airhelp, so i will likely try them out the next time i encounter flight disruptions in an eu airport or eu country.
Claim Compass

Like airhelp, claim compass is a service that represents passengers affected by delayed and canceled flights in collecting all the documents and filing a compensation claim for eligible flights.
Also, like airhelp, they charge a 35% success fee that only gets paid when the company secures financial compensation from the airline companies involved.
Personally, i felt that the airhelp appeared more user friendly than claim compass's, which is why i went with airhelp. But i would be open to considering claim compass as an alternative for future delayed flights.