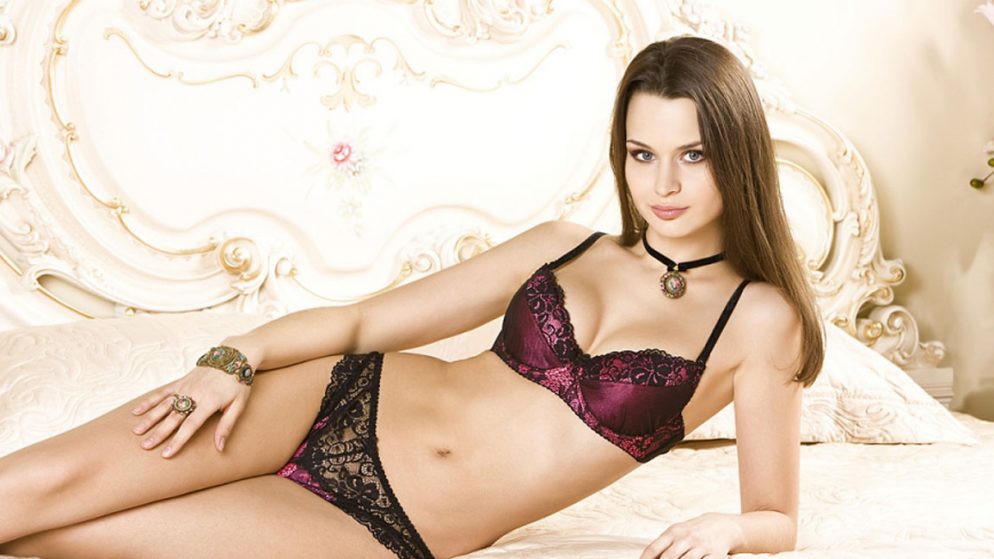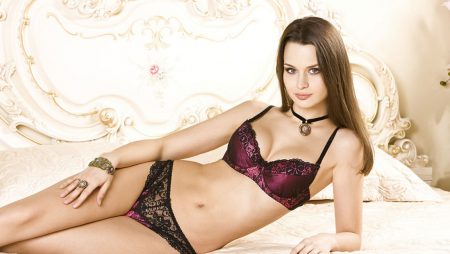 Heads up: Our content is reader-supported. This page includes affiliate links. If you click and purchase, I may receive a small commission at no extra cost to you.
**This post contains affiliate links. If you use these links to buy something we may earn a commission.** Thanks
About Yandy
Yandy is a store for lingerie, costumes, swimwear, and clubwear. Featured in New York Magazine, Forbes, Refinery29, Vogue, Cosmopolitan, Daily Mail, Allure, and even more recognizable media names, Yandy is making things happen.
On social media, the brand has amassed (and it is a mass) 1.6M followers on Facebook, 634k followers on Instagram, and another 20.5k followers on Twitter.
This Yandy lingerie review will cover pros and cons, bestseller products, customer reviews, shipping and return policies, and other FAQs. Because what's sexier than knowledge?
Overview of Yandy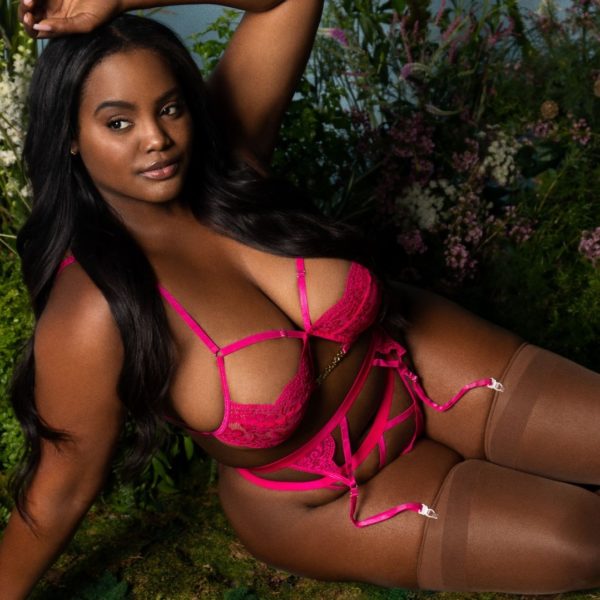 Shop Now At Yandy
Yandy was founded in 2007 by Chad and Evan Horstman. At first, they only set out to make a lingerie brand, but their company grew to something so much bigger. Still, at the heart of the brand is this mission:
"to empower women & men to accept their sensuality in its physical, mental, emotional, and healthful facets… to normalize the conversation about sexy pleasures and sensual experiences of every body and establish the role of lingerie in everyone's personal story."
Headquartered in Phoenix, Arizona, the brand has become (in)famous for their absurd sexy Halloween costumes like the controversial friendly Mr. Rogers or the oppressed women of The Handmaid's Tale.
Before we really get into all that the brand has to offer, this Yandy lingerie review will go over their pros and cons:
Pros
Offers a stunning variety of lingerie, costumes, swimwear, and so much more
International shipping
Positive reviews about lingerie styles
Rewards program
Affordable prices
Financing options available with Quadpay
Cons
Return shipping is not free
No international returns
Negative reviews about clothing quality and customer service
Yandy Lingerie Review
Bestsellers tell us which products people are digging and help us assess whether the brand is for us, too. Hear ye, hear ye: it's lingerie review time.
Yandy Sultry Nights Open Cup Shelf Bra Review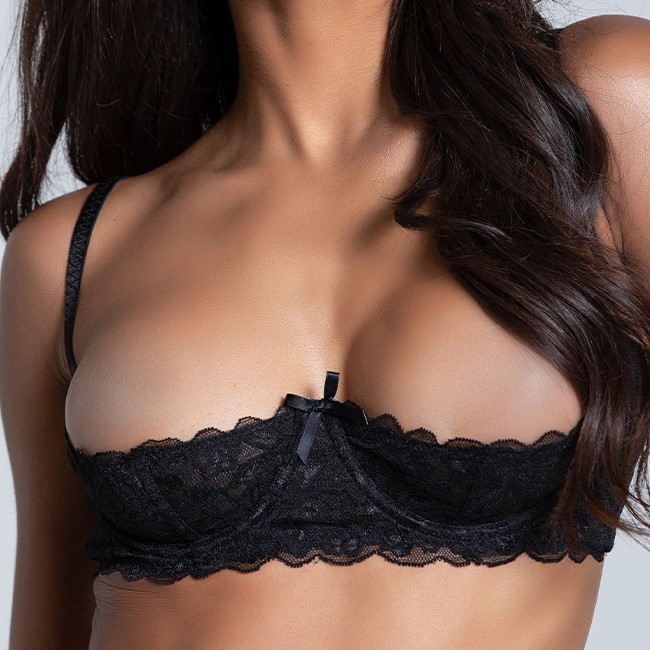 The Sultry Nights Open Cup Shelf Bra is sexy in a simplistic way. Available in black, white, or red lace (all dazzling), the revealing cup is supported by an underwire.
You can adjust your fit with the spaghetti straps and the two-hook back closure. Also in the back is sheer lace that adds that extra seductive look and feel.
Sizes 32 to 38 are available now as well as plus sizes. The Sultry Nights Open Cup Shelf Bra is available for only $20.
Yandy I Kid You Net Bodystocking Review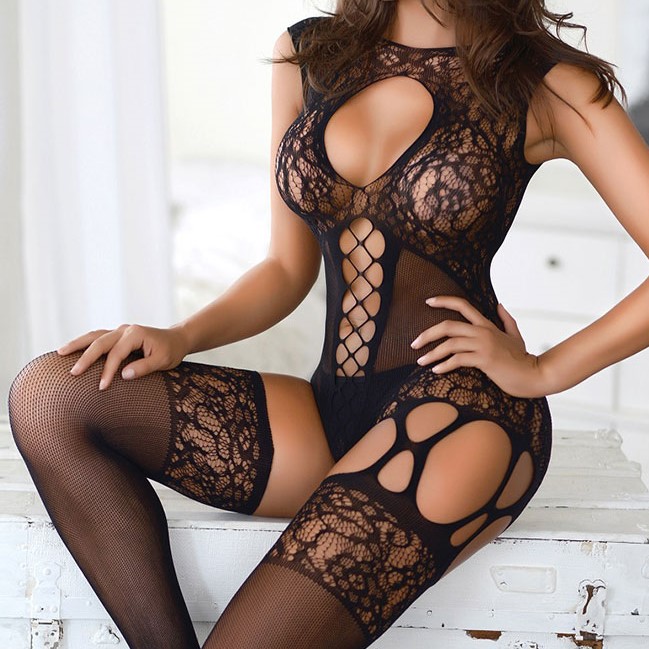 The I Kid You Net Bodystocking is a bodysuit with garters attached, so there's no need to put on and take off several different pieces of lacy decoration.
Made from nylon and spandex, this bodystocking has a high keyhole neckline and a sheer bodice that is oh-so inviting. The back is also sheer and lacy around your bum area.
The piece is available in white, black, or wine, and only comes in One Size Fits Most, so make sure you check that size guide carefully.
The I Kid You Net Bodystocking is $19.
Fun fact: this style is part of one of the Yandy wedding dresses sets, as in, it would go well underneath your wedding dress for the night of, *wink wink*.
Yandy Plus Size Review
The Yandy plus size collection is a large part of the brand's appeal. Plus size people deserve to feel just as sexy as thin people, so Yandy has lingerie for larger sizes, too.
Yandy Plus Size Fiona Retro Bra Set Review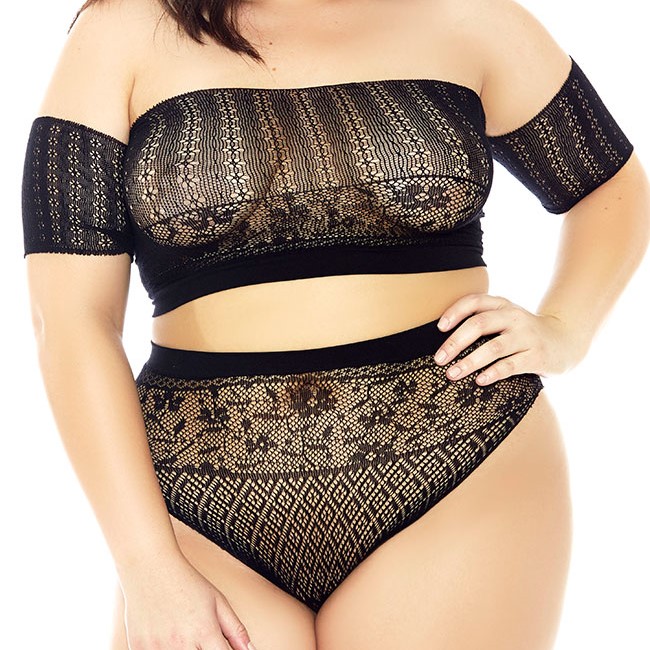 The Plus Size Fiona Retro Bra Set comes with a beautiful lacy black bra and panty to match. Both sexy areas will be covered in a sheer lace with lovely flower patterns stitched in.
Made from nylon and spandex, the bra has off-the-shoulder short sleeves that are more enticing than the typical bra strap, and the panty is high-waisted with a thong fit—the best of both worlds.
This set comes in One Size Fits Most Queen, which is a 40-42 bust, 42-52 hip, and 34-44 waist size. The Plus Size Fiona Retro Bra Set is only $24 for an all-in-one adventure.
Yandy Plus Size Rose Lace Flared Chemise Review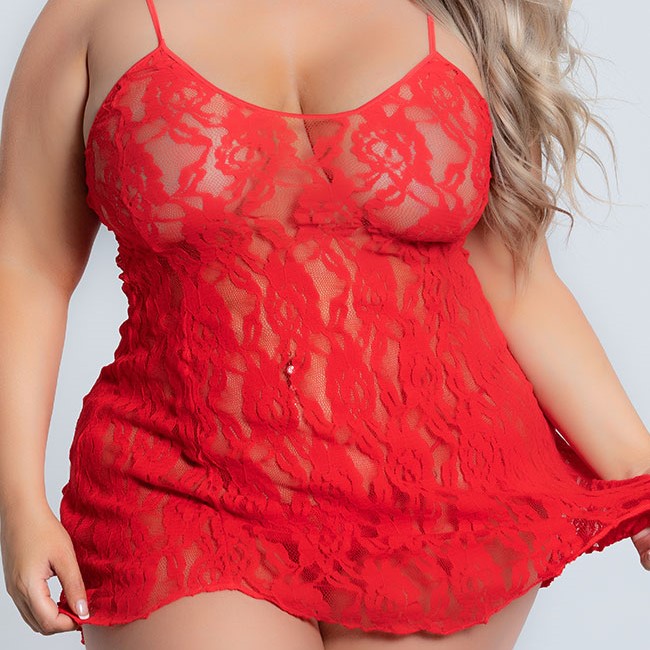 The Plus Size Rose Lace Flared Chemise, available in black or red lace, is an easy, looser fit lingerie set. It's both adorable and seductive with the scoop neckline, thin spaghetti straps, sheer lace throughout, and matching panty.
Made from 100% nylon and only available in one Plus Size, it is recommended for curvy queens with a bust of at least 38, C-D cups, 12-14 dress size, 40+ hips, and 32+ waist. If this sounds like you, the Plus Size Rose Lace Flared Chemise is only $16.
Yandy Costumes Review
Yandy Halloween costumes are another huge seller of the brand. It's no secret that Halloween is a time for spooks, yes, but also fun and sexy dressing up. Become the trick or treat by dressing up in one of these Yandy Halloween costumes.
Yandy Anime School Girl Costume Review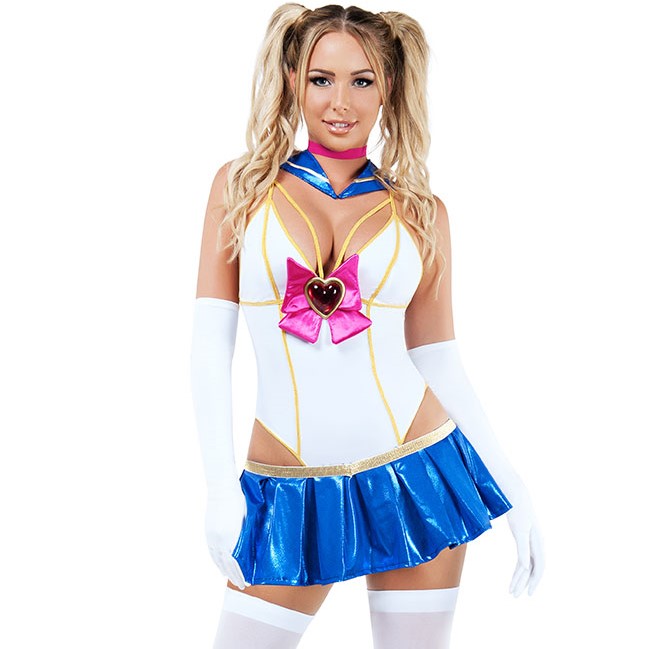 The Anime School Girl Costume isn't your typical anime school girl look. It's a Sailor Moon-esque costume.
Get dazzled up to fight evil—or the overpricing of candy right before Halloween—with this costume, complete with a white romper with gold detailing and Sailor Moon's signature jeweled bow on the bust.
The romper is a V-neck and comes with a shiny blue pleated skirt accented with yet another pink bow on your behind. The costume also comes with a blue collar and long white gloves.
The Anime School Girl Costume comes in at a cool $76. If you're looking for actual non-costume Yandy dresses, the brand has those too.
Yandy Street Fighter Chun-Li Costume Review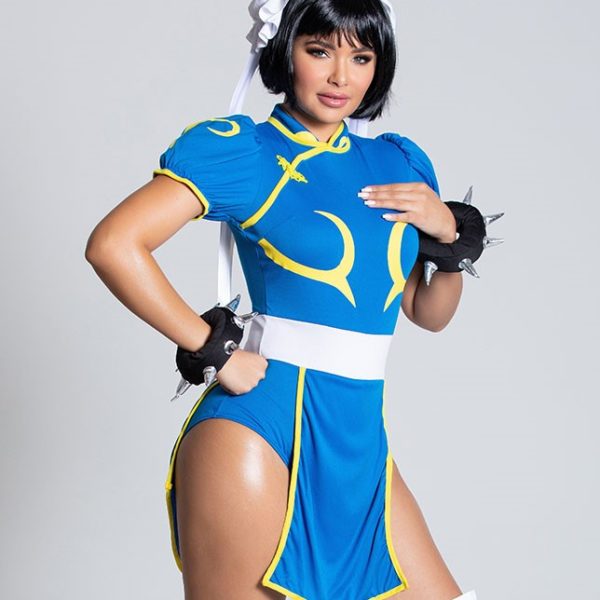 The Street Fighter Chun-Li Costume is one of the officially licensed Yandy costumes that's ready to party or cosplay (or both).
You can be the badass warrior chick Chun-Li from Street Fighter with this 3-piece set: a blue romper with yellow detailing, ribbon hair pieces, and spikey, black wrist cuffs.
Available in sizes S/M and M/L, the Street Fighter Chun-Li Costume is $55.
Yandy Swimwear Review
Of course the brand makes bikinis! Let's dive into the best of the best when it comes to Yandy swimwear.
Yandy American Micro Bikini Review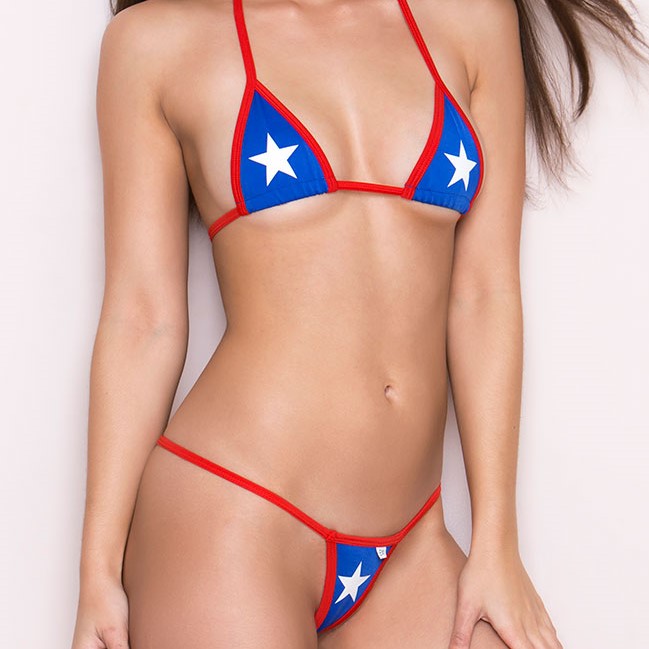 The American Micro Bikini is a One Size Fits Most 2-piece set. That's probably the best part: no purchasing the top and bottom separately. Not today, Swimwear Satan.
The set is royal blue with red outlining and white stars. The bikini top is a halter with a tie in the back, and the bottoms are a thong.
It's the all-American swimwear dream for the price of $20.
Yandy USA Micro Bikini Review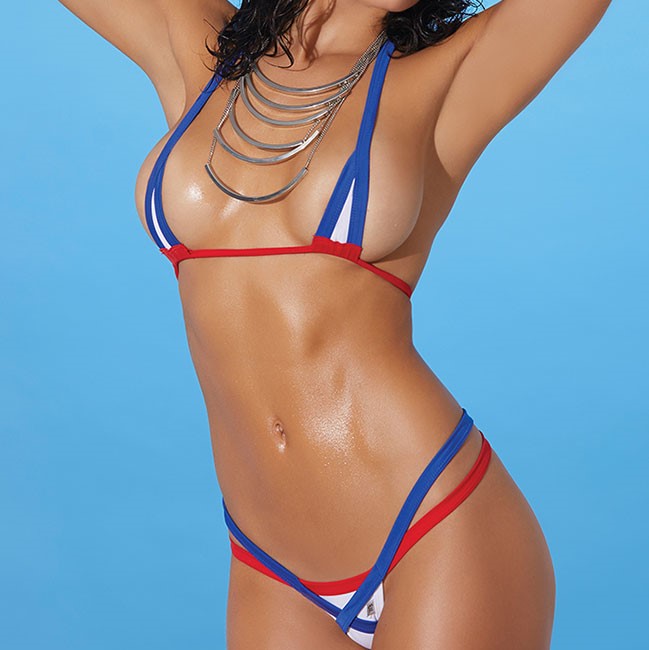 The USA Micro Bikini has a super minimalistic design. And by minimalistic, we mean minimalistic. Both the top and bottom have very minimal coverage of your you-know-whats.
It's strappy, it's undeniably sexy, it's full of USA pride in red, white, and blue. This Yandy lingerie review approves.
The top is a halter tie-back and the thong bottoms have double straps around the waistline. The USA Micro Bikini is only yours for only $18.
Who Is Yandy For?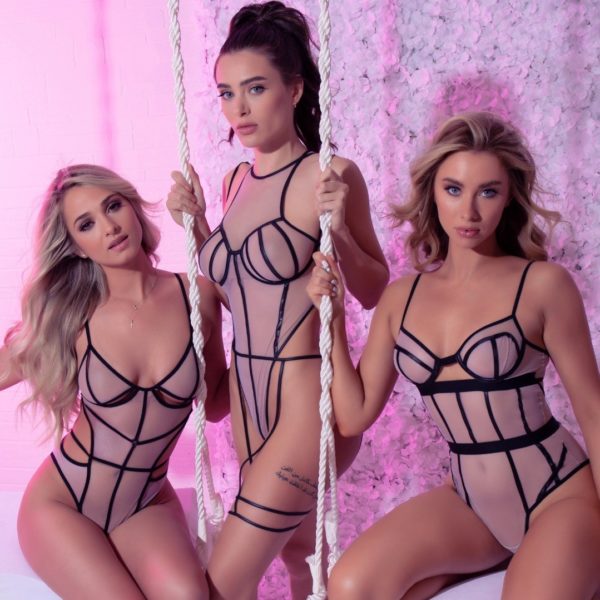 Yandy is for adult women, men, and couples looking for various sexy things: lingerie, swimwear, clubwear, sexual wellness, and Halloween costumes.
It's especially for you and/or your partner if you're doing sexy on a budget because Yandy is super affordable.
Comparison: Yandy vs. Lovehoney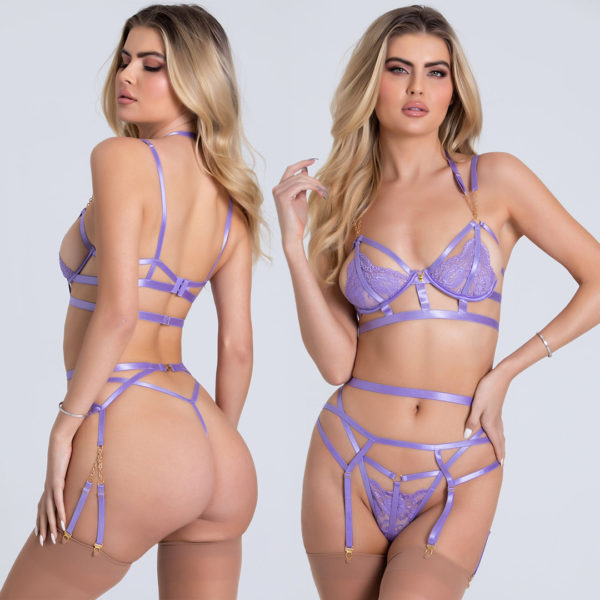 This Yandy lingerie review needs a side-by-side comparison with a competing brand to get the full picture. Lovehoney is another lingerie site that gives you all the lacy goodness to show off your already-hot bod.
We know you don't need to hear a full detailed essay about the differences, so we'll make this super quick and painless with some short lists.
First, 4 main similarities of Yandy and Lovehoney:
Lingerie brand
Offers plus-size lingerie
International shipping
Offers a student discount
But here are 4 things Lovehoney does differently:
UK-based
Much wider selection of sex toys and wellness
Free returns
Free shipping over $50
The main thing: Lovehoney is more of a well-rounded sexual wellness brand that sells a lot more goodies.
Yandy Reviews: What Do Customers Think?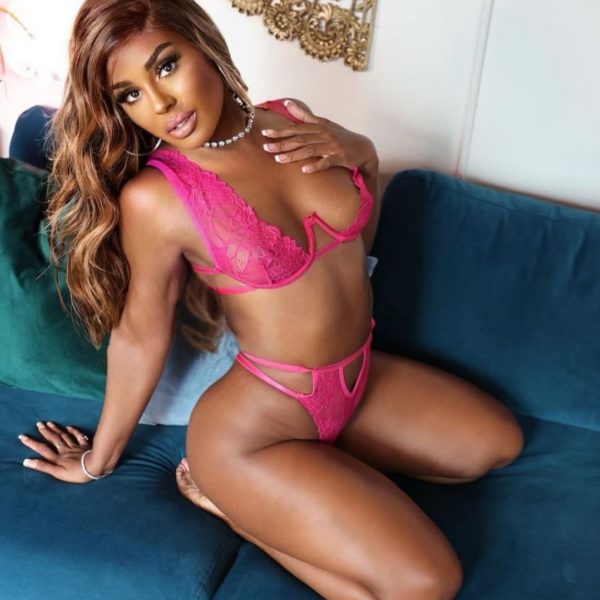 Here's the thing: the brand doesn't share reviews on their own site, so we had to look elsewhere to find out what customers really think about the company and their products. Let's see what buyers on Amazon, TrustPilot, and Sitejabber have to say.
First up, on Amazon, the brand has an overall score of 3.6/5 stars from 33 reviews. Not the best start, but it's not the worst, either. The 5-star reviews mostly loved how ridiculously affordable the brand is and how undeniably sexy the products are.
Customers said that they received their order "in no time," the store has a "good selection" of everything you could want from a sexy lingerie site, and the purchasing process, website, and app are all "never hard to navigate."
One happy customer wrote, "Love this shop!!! Always great service.. very nice products! Will continue to be a member."
To end the Amazon portion of this Yandy lingerie review, many of the brand's apparel is well-received on the website:
Yandy Premium Two Piece Babydoll Set: 4.4/5 stars out of 98 ratings
Yandy Premium Black Lingerie Set: 3.7/5 stars out of 69 ratings
Yandy Black Deluxe Limited Edition Women Sexy Romper SWAT: 4.1/5 stars out of 62 ratings
Yandy Exclusive Mystic Darkness Sexy Assassin Cosplay: 3.9/5 stars out of 55 ratings
Yandy Burgundy Magical Schoolgirl Fantasy Sheer Bodysuit: 4.5/5 stars out of 261 ratings
Yandy has a great rating of 4/5 stars from 681 reviewers on Trustpilot. The opinions are pretty polarized, with the majority awarding either 5 stars or 1 star.
Lingerie lovers were impressed with how "professional," "incredibly kind," affordable, and plus-size-friendly the brand is. One Yandy lingerie review reads:
"For what you're getting, the prices are decent and, in my experience, they ship pretty fast too. I've bought from Yandy three times now, and it's only ever taken a week at most for my things to get to me."
All in all, the positive comments swear: "great selections, great prices, great customer service and delivers in a timely manner." Awesome! That's just what we like to hear.
Lastly, let's look at the situation on Sitejabber. Customers gave Yandy a neat 3/5 stars from 308 reviews. Many customers had positive things to say about every aspect of the online purchasing experience.
Promising quotes include: "shipping was extraordinarily fast," "fit perfectly at such a great price," "great quality for the price," and even "can't say enough about their customer service" (you know, in a positive way).
One lengthier review of the company praises it for their very kind customer service:
"Everything comes exactly as pictured. The sizing has always been true as shown by the size charts for each brand offered. The one and only time an order fell behind in shipping time, they immediately replaced it and sent it overnight for FREE! Their products are good quality."
Plenty of folks were overjoyed with their new sexy gear, especially with the unbeatable prices. They also loved the selection of styles and plus-size inclusivity.
Is Yandy Worth It?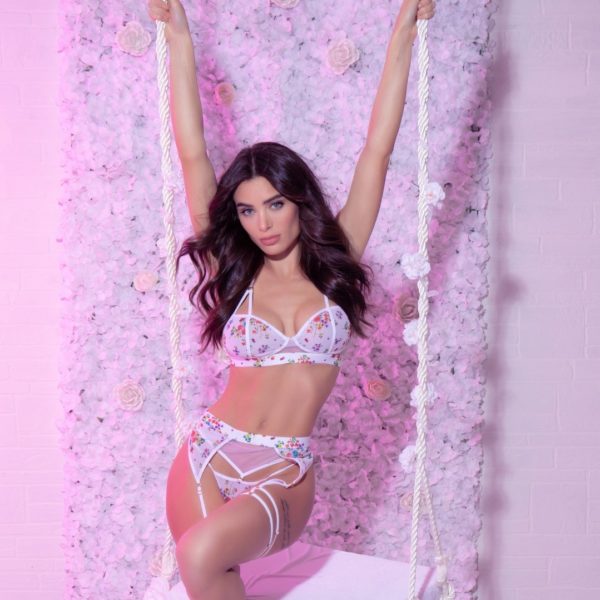 Yes, Yandy is worth it! The amazing prices make it pretty easy to say "worth it" here because you aren't spending much and aren't losing much if you're disappointed.
The size inclusivity is a definite plus (see what we did there?) and there's a good variety of bras, panties, and everything in between.
Don't expect the products to be luxury quality. It's unrealistic considering the price tags. Expect good-enough-but-not-extraordinary quality and check the size guide to make sure you're getting the right fit.
Remember that you would have to pay return shipping costs if your items don't fit, so it's important that you select mindfully. Happy shopping!
Yandy Promotions & Discounts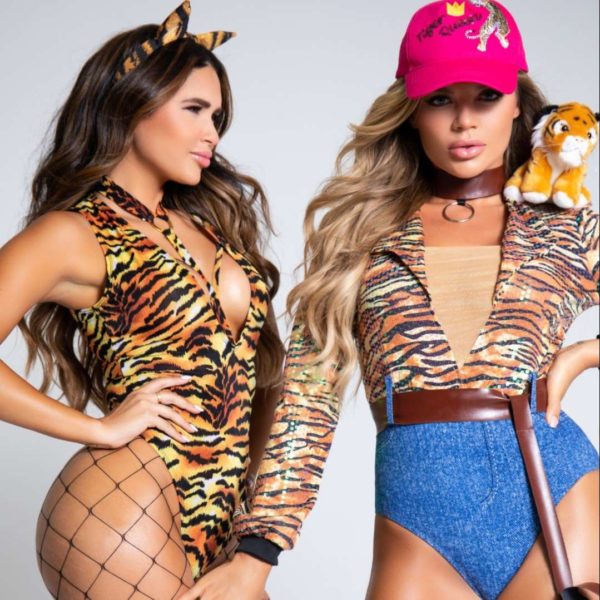 We couldn't sign off this Yandy lingerie review without giving you a few money-savers:
10% off when you sign up for the newsletter
10% off when you sign up for texts
Collect Yandy Reward Dollar points to earn free stuff as you shop
Follow the brand on social media for more deals and giveaways!
Where to Buy Yandy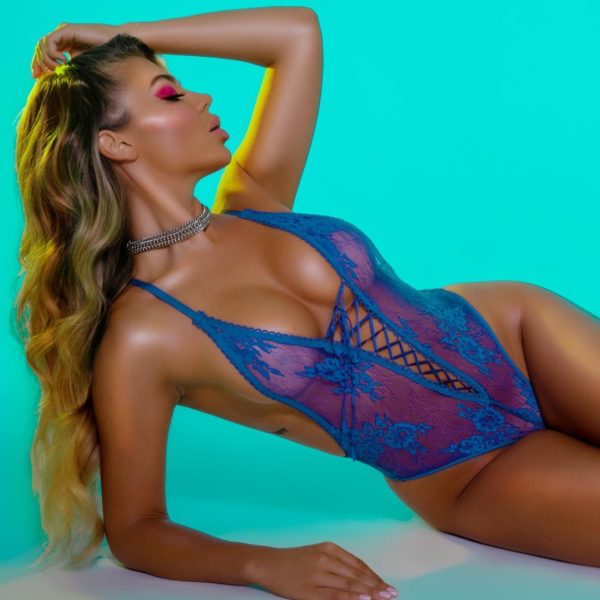 Yandy apparel is available for purchase on yandy.com and their store page on Amazon.
FAQ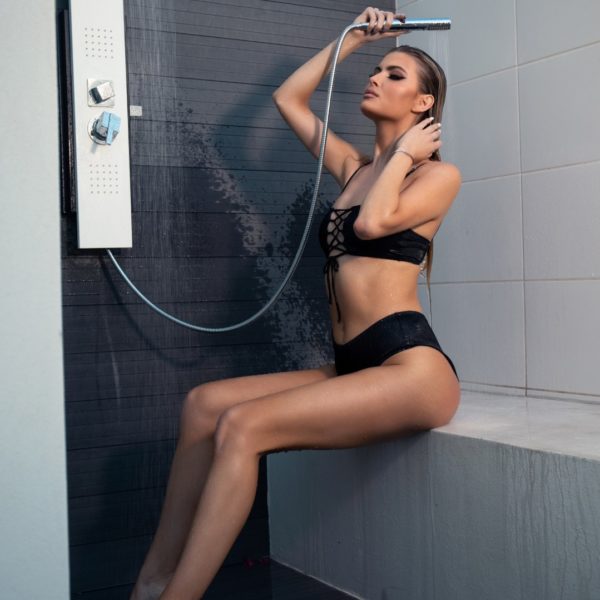 Where is Yandy located?
Yandy is headquartered in Phoenix, Arizona.
Where is Yandy made?
Our Yandy lingerie review found that some products are made in the USA while others are manufactured in China.
Is Yandy true to size?
Customers have complained that the sizes are sometimes too small, so just to be on the safe side, you might wanna pick up a size larger.
Also, customers find that the One Size Fits Most items are less than savory and usually too small.
What is Yandy's Shipping Policy?
This Yandy lingerie review is happy to report that the brand ships in and out of the US. Now, here are your shipping methods:
Flat Rate (2-5 business days) – $7 flat fee OR free for orders over $75
UPS 2 Day – costs vary
UPS Overnight Express – costs vary
You receive tracking info from UPS or USPS once your sexy stuff has shipped, and then you're free to stalk its journey from the warehouse to your body.
What is Yandy's Return Policy?
You can return unused items in their original packaging within 30 days of purchase. Return shipping costs are your responsibility and will be deducted from your refund. Alternatively, you can opt for store credit so you won't pay for shipping in that case.
We do note that quite a few items on the site are final sale, including all Yandy panties, hosiery, and sexual wellness products.
Outside of the US, you cannot return your items, so be sure that the products you want look absolutely fantastic. No take-backsies.