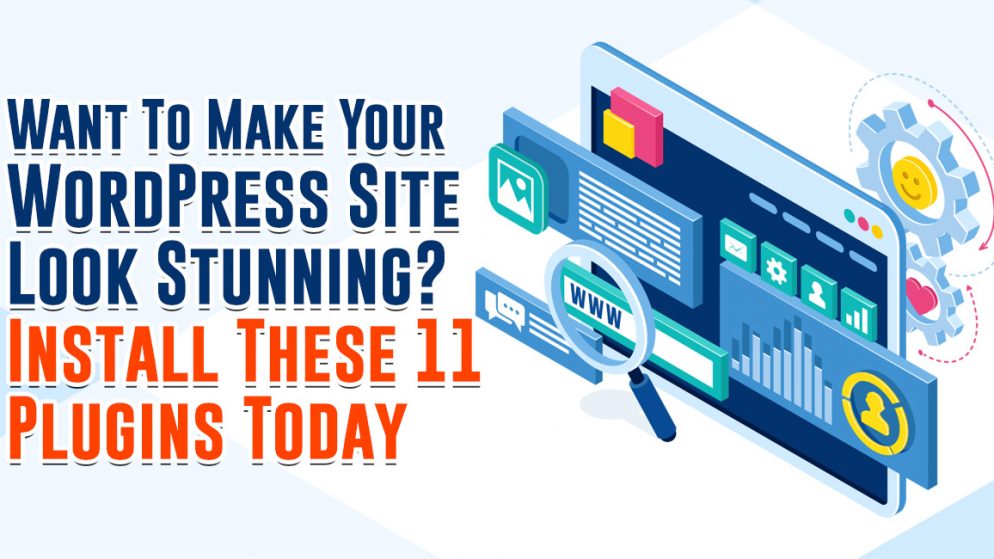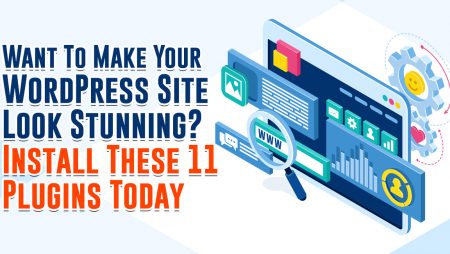 Heads up: Our content is reader-supported. This page includes affiliate links. If you click and purchase, I may receive a small commission at no extra cost to you.
In today's digital world, a professional website becomes a mandate. It's like an online office for customers and netizens to have a look at your services and products. Knowing that most of the websites are backed and powered by the WordPress platform, one can easily make their website look incredibly beautiful and super-productive. WordPress, a leading online website builder, offers a plethora of plugins to make your website look more refined, stunning, powerful, and seamless. Plugins help us to add extra customizations, functions, and capabilities without making big changes to the hosting program. Hence, it's important to keep an eye on the latest and the best plugins offered by WordPress.
WordPress-driven sites have the benefit to enhance the functionality and add customizations anytime. This is one of the best features of having a website on the WordPress platform. On top of that, it's always recommended to go with new plugins to match the latest trend and make your website look trendy, not outdated.
So, here is the list of new wordpress plugins that one must have to add new features, functionalities, and improve the appearance of their website tenfold.
Social Warfare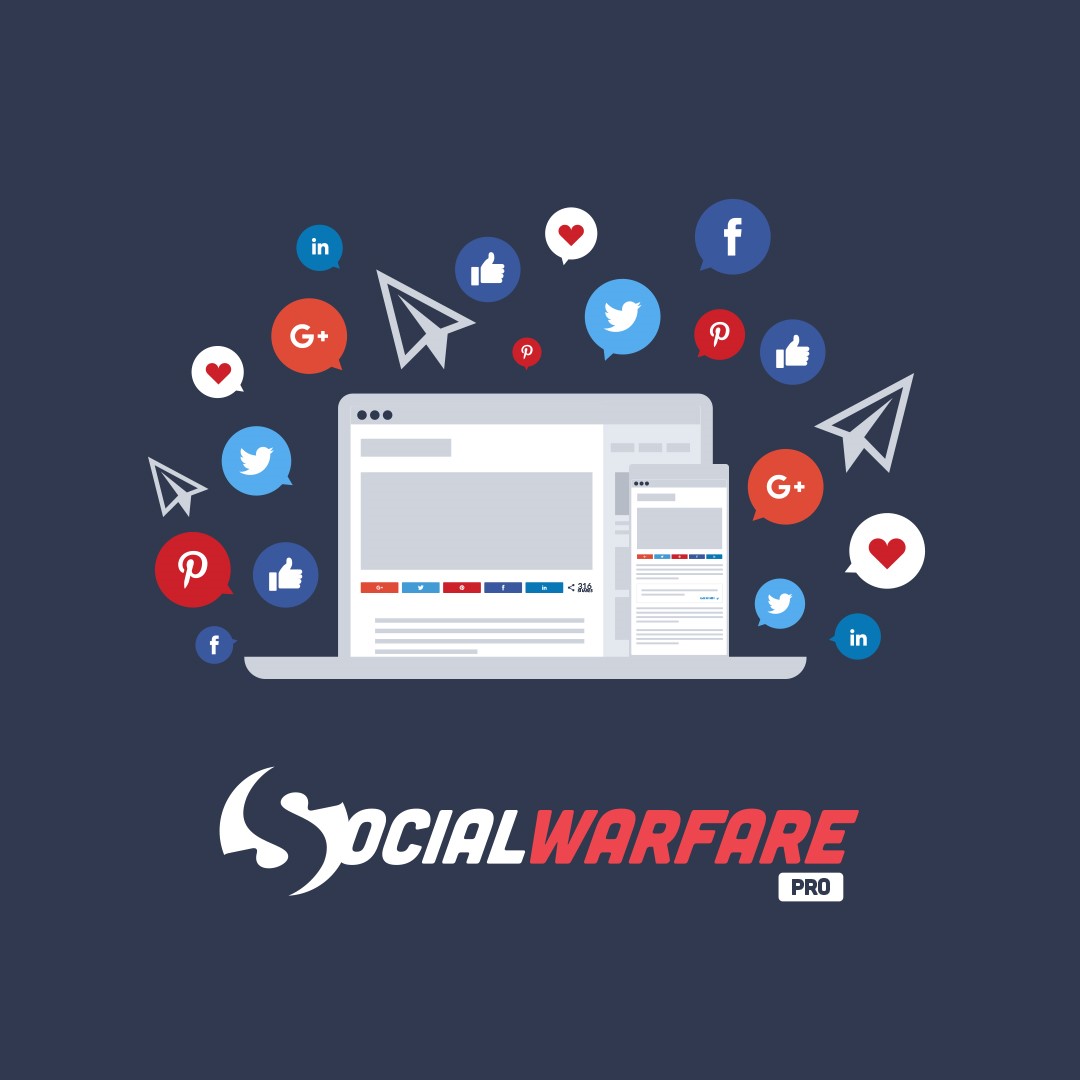 It is one of the raging plugins for WordPress websites nowadays. It basically offers unique buttons to let users share their content for social media pages. However, you can find out a plethora of social media plugins online, but it offers higher accuracy, more customizations, and looks very eye-catching. You will get timely updates about how many times the content has been shared and the number of shares for trending posts. If you want to amplify your social media presence then this is the perfect plugin to download right now.
SVS Pricing Tables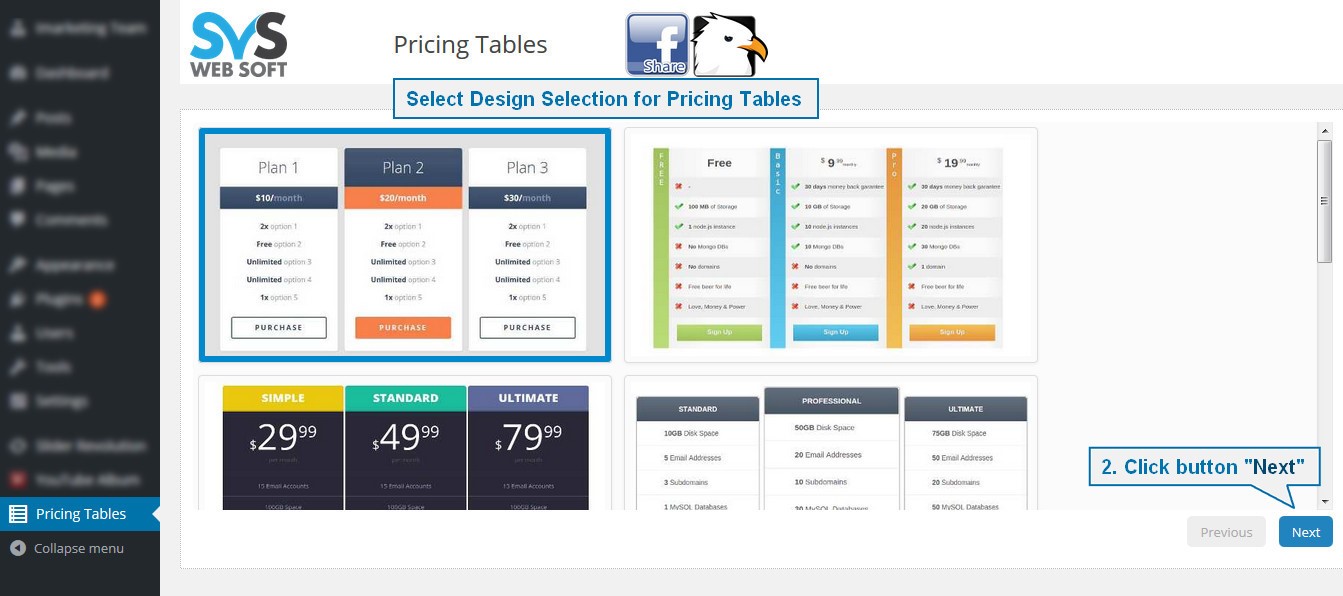 If you have a website based on business then this is an essential plugin to go with. It offers a versatile range of price tables with a lot of customizations. One can easily drag and drop tables, and publish them anywhere on the website seamlessly with the help of shortcodes. The best part is that you will be getting an option to customize the color and size of the tables to make them eye-catching.
Chronosly Event Calendar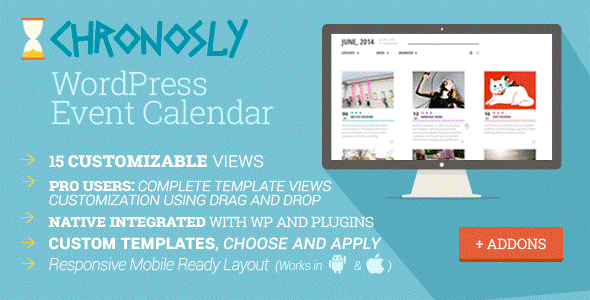 If you are into the event business then this plugin is a must-have for you. It will help you to make enchanting event lists for your website to attract customers and viewers. Once they click on any event, it will showcase event information, including time, location, and description. The best part is that it helps you and viewers to view events in a simplistic calendar or sequence format. On top of that, you will be getting multiple ways to customize the events.
Video Grid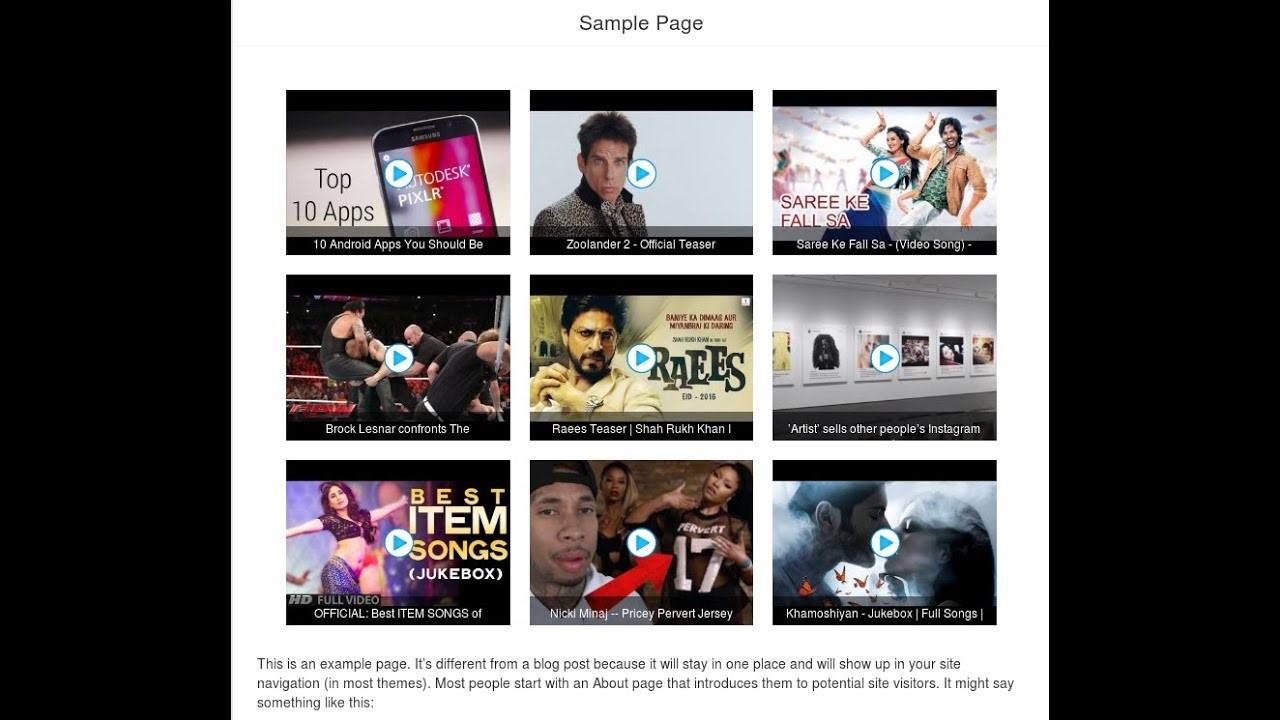 If you are someone who posts a lot of videos on your website then this is a great plugin to make a slim and stylish video grid with a highly responsive lightbox viewing to attract visitors. The best part is that the free version also comes with plenty of features and one can add numerous videos in the grid. The plugin also empowers you to edit your videos.
Career Portfolio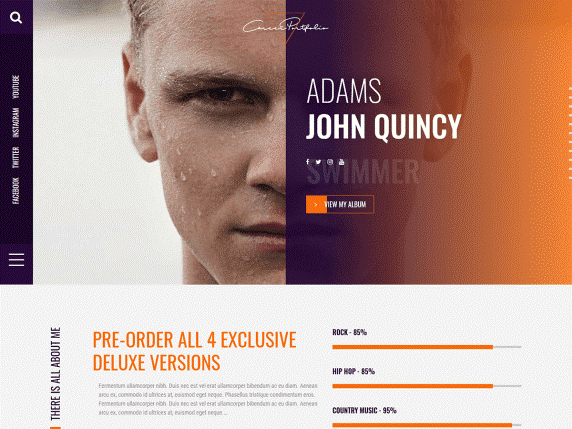 If you are planning to create a short and sweet portfolio on your website then this plugin is meant for you. This plugin will help you to showcase your work in a creative manner. Not only work, but you can also showcase your clients and team in a very professional and attractive manner. However, the free version comes with only one layout. To get your hands on multiple layouts and many more customization options you have to download the premium version.
Swifty Bar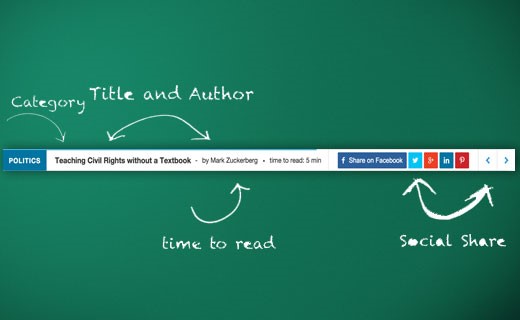 It is yet another raging plugin that helps you to make a sticky bar right at the bottom of the post to give readers useful information such as the post's reading time, buttons to share, category, title, previous and next post links, etc. The plugin helps you to retain your readers to your website and make it easier for them to navigate your website.
Better Facebook Page Box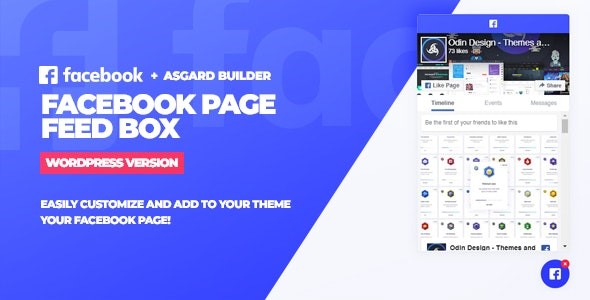 To target Facebook properly for your business website it is essential to have this plugin to expand your brand's reach tenfold. It will help you to add a tiny box having a preview of your Facebook page to your website to let users know about your FB presence and page instantly. The best part is that the plugin will help you to add a Facebook page preview anywhere on your website with the help of PHP, widgets, or shortcodes into your website's theme. You can also go a step ahead by showcasing your Facebook feed on your website with the help of this plugin.
WP Notification Bars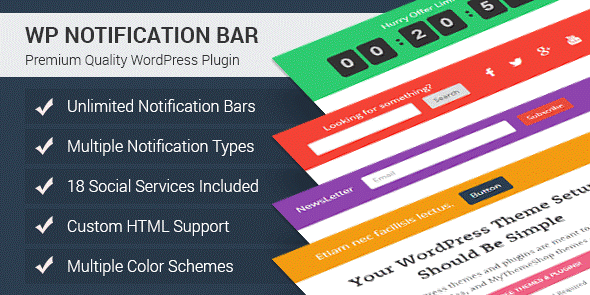 If you want to put some customized notification bars on your website pages then this plugin is meant for you. Those who are into marketing and promotional business can use this plugin to amplify their productivity, output, and reach. The plugin will help visitors to visit other pages eventually help you to attain higher traffic and conversion. The plugin is very simplistic in usage, responsive, and completely customizable. It will also give you a detailed track report of visitors from social media pages and search engines.
Video Background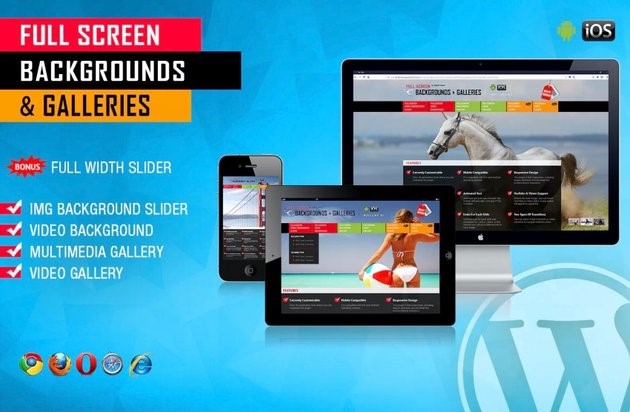 If you want to make your website visually attractive then have a video background plugin installed today. It will help you to make a video background on your website without paying a single penny. The video can be spanned throughout the site or on the header. In fact, the plugin will also help you to overlay text, bring in audio, or loop the video within a few clicks.
CM Popup Banners

If you want to create custom pop-up banners for your website then download this plugin today. This plugin will give you access to custom pop-ups to showcase promotions, campaigns that you are going to schedule. You can pick images to be displayed in the pop-ups and where you want them to be displayed on the website. To make sure that pop-ups work well with statistics, the plugin gives you an option to check that as well.
CM Table of Contents

Every viewer seeks an easy content viewing experience on any website. And to make it happen effortlessly, the CM Table of Contents plugin is a must-have for you. It will help you to create a table of contents for all the pages and posts to let users view the content easily. The best part is that the table of contents can be added anywhere on the page with the help of an easy shortcode. You will also get an option to customize headers and sections.
Endnote
To make your site updated, better, and up-to-date, it's very essential to add new plugins. Plugin makers leave no stone unturned to add brand new functionalities and capabilities to modern WordPress websites through plugins. So, keep an eye on new plugins to keep your website ahead, relevant, and updated.