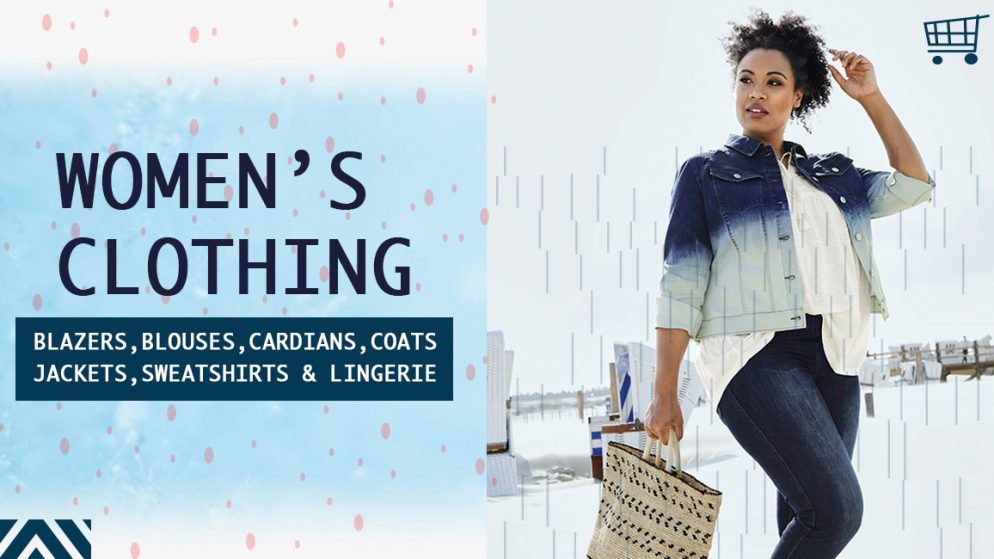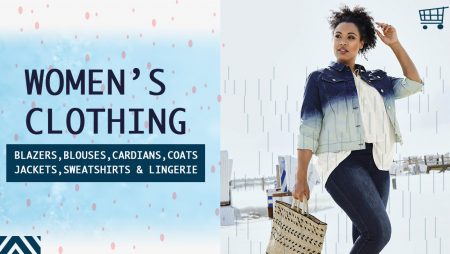 Our content is reader-supported. If you click on our links, we may earn a commission.
Even if you have a larger size you want to look as nice as possible. But sometimes it's hard to find clothes in a larger size. Ulla Popken wants to do something about this. But what will the quality of their lingerie be? Will those coats be as warm as they seem to be? How comfortable will those shirts be? Will you finally be able to find strings and underwear that fits? How long will you have to wait until the delivery service of Ulla Popken delivers your new bathrobe at your home? And how will the delivery service of Ulla Popken respond if the pants don't last as long as you thought? Only people who have visited Ulla Popken can tell you more about this clothing shop. Read their reviews to get an impression of their thoughts on Ulla Popken. Their reviews, opinions, ratings and experiences can show you what you can expect from Ulla Popken.
About Ulla Popken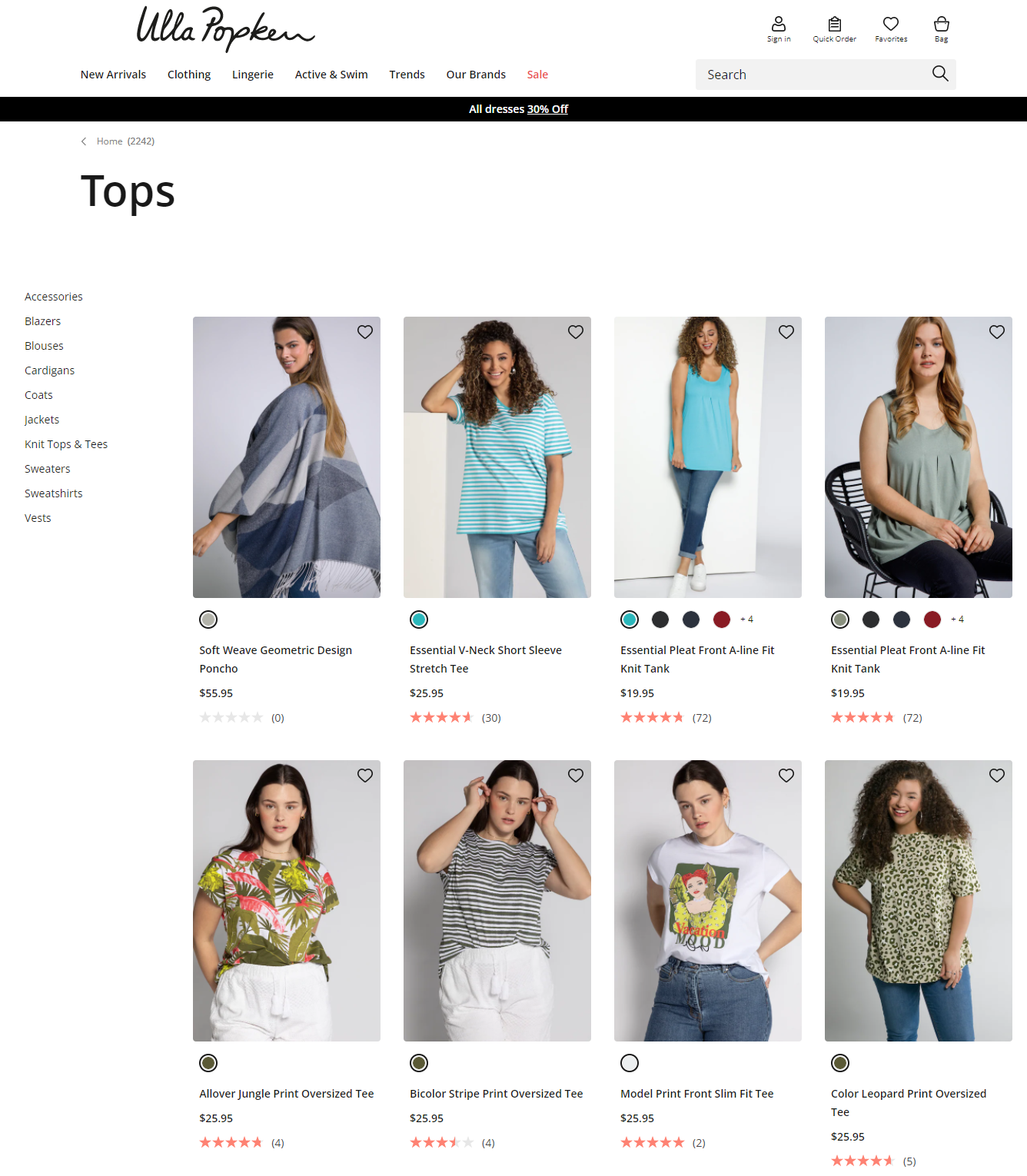 Ulla Popken is a fashion store that offers clothes in larger sizes. The history of the company goes back to the time Johann Popken decided to establish a textile house in Hamelen. After a few changes, it became a department store for maternity clothes in 1977. One of the employees noticed that a woman bought lots of their clothes and did so very often. It turned out that the woman was not pregnant; she just couldn't find clothes her size anywhere else. Therefore, Ulla Popken decided to create young clothes in plus size version. Now, there are over 300 shops from which Ulla Popken clothing is sold, both in and outside of Europe. In total, the company had over 2.000 employees. Their shop contains every-day clothes but also some feminine business outfits. You can choose from blazers, shirts, vests, bodywarmers, shoes, coats, tops, trousers, pullovers, skirts, ponchos and a lot more. Of course, they have a selection of festive clothing and party clothes. Their swimwear section contains tops, bathrobes, pyjamas, bras, homewear, slips, strings etc. And their range of sports clothes includes ski fashion, outdoor jackets, trousers and shirts. So whether you want to attend a wedding, look fashionable for work or have a leisurely day at home, Ulla Popken can provide you with some fashion.
Services of Ulla Popken
Maybe there is a Ulla Popken shop that you can visit to try on some of their clothes. But you can also order their shirts and dresses online. The delivery service of Ulla Popken will send the trousers to your home. The shop also has a customer service department in case there is something wrong with your coat.
Special Offer Products on Ulla Popken
1.Lizards Stretch Knit Tank Tunic Dress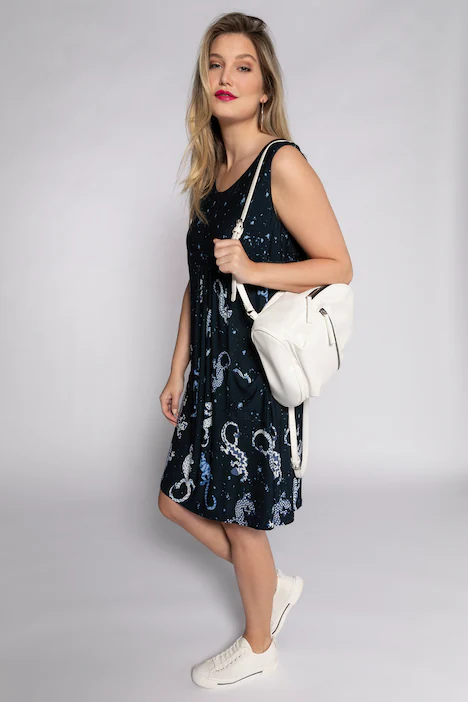 Lizards Stretch Knit Tank Tunic Dress – girls can like lizards, especially in a playful print. Round neck, full coverage shoulders, no-show armholes, all around front gathered empire seam, and patch pockets. A-line fit. Soft silky stretch knit.
2.A-line Fit Floral Print Dress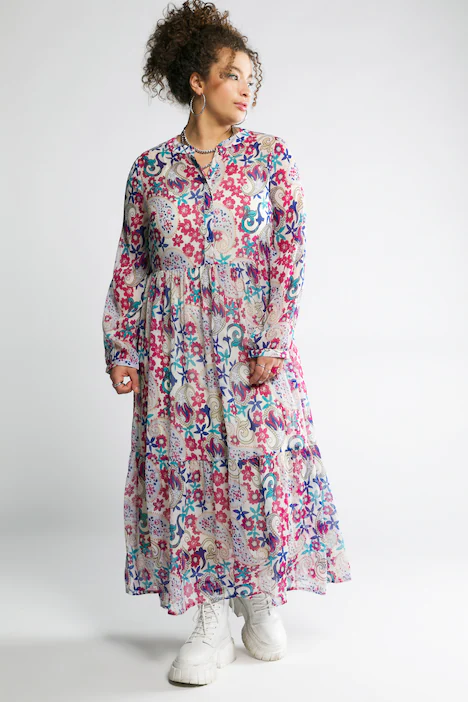 A-line Fit Floral Print Dress. Double layer model with open stand-up collar and button placket to cross seam. Wide flounce at hem, long sleeves with cuffs. Opaque underdress.
3.Lace 2 in 1 Look Round Neck Sleeveless Occasion Dress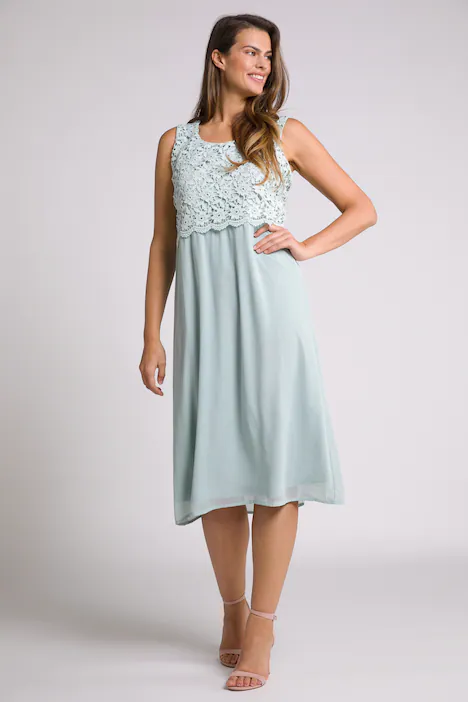 Lace 2 in 1 Look Sleeveless Occasion Dress – you'll float through warm romantic evenings with this enchanting style. Sheer lace bodice with a round neck, full coverage shoulders, no-show armholes, and loose scalloped hem at the waist. Slightly gathered sheer chiffon skirt. Opaque soft silky stretch knit tank lining.
4.Pretty Print Button Front Classic Shirt Dress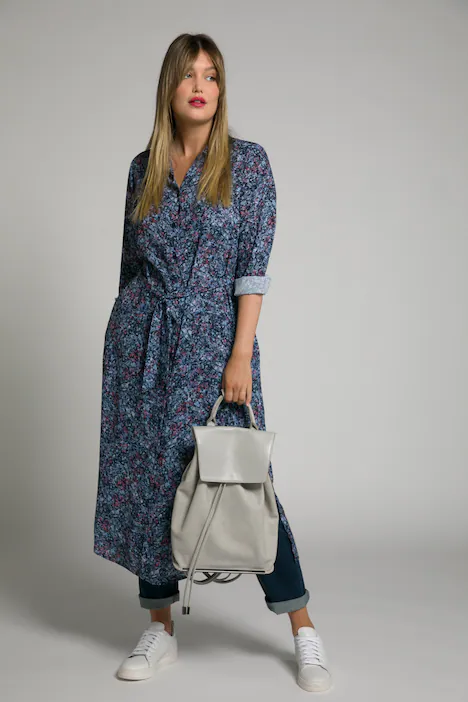 Pretty Print Classic Shirt Dress – an easy feminine dress that every women should own. Open shirt collar, full length button placket, long adjustable button cuff sleeves, adjustable tie belt, and rounded hems. Back yoke with inverted pleat.
5.Pink Leopard Print Roll Sleeve Knit Tunic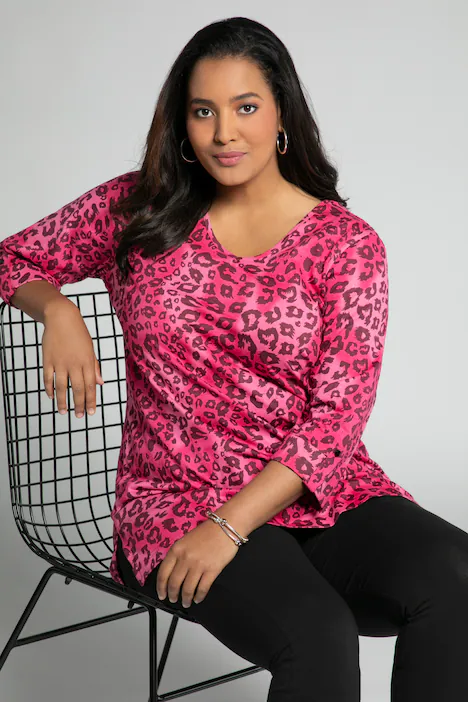 Pink Leopard Print Knit Tunic – let's take animal prints to the next level – this bright pink style has a V-neck, 3/4 faux roll sleeves and side vents.
6.Tiger Stripe Handkerchief Hem Lined Tankini Top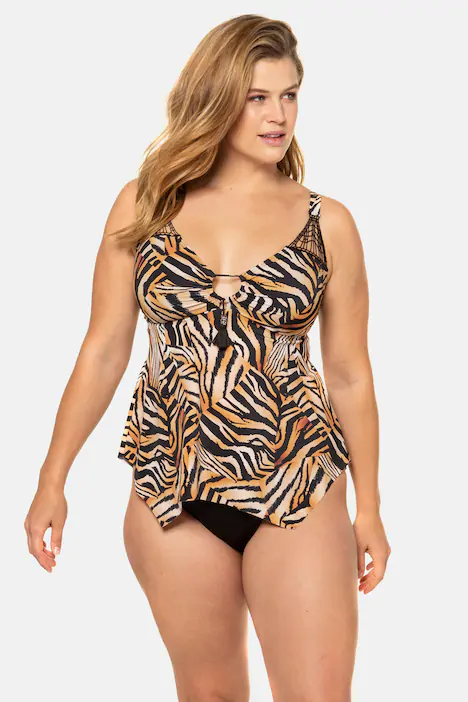 Tiger Stripe Tankini Top – macrame accents enhance the wild animal print. V-neck, gathered keyhole opening with adjustable drawstring tassel tie, soft cup bust, under bust band, adjustable back straps, handkerchief hem, and straight back. Bottoms sold separately. Front lining. Sun protection UPF 20+
7.Parrot Print Tassel Accent Front Lined Bikini Set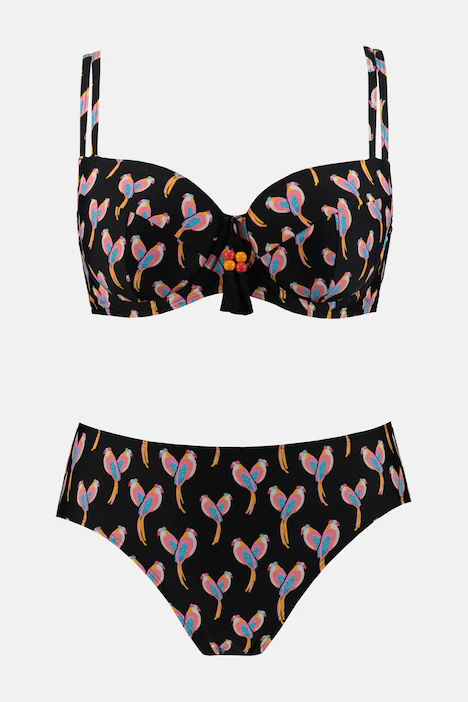 Parrot Print Tassel Accent Bikini Set – fun parrot print with decorative beaded tassels. Sweetheart neck, soft cup bust, under bust band, adjustable straps, and back closure. Print bikini bottoms. Front lined.
8.5 Pack of Stretch Cotton Panties – Floral, Dots, Solids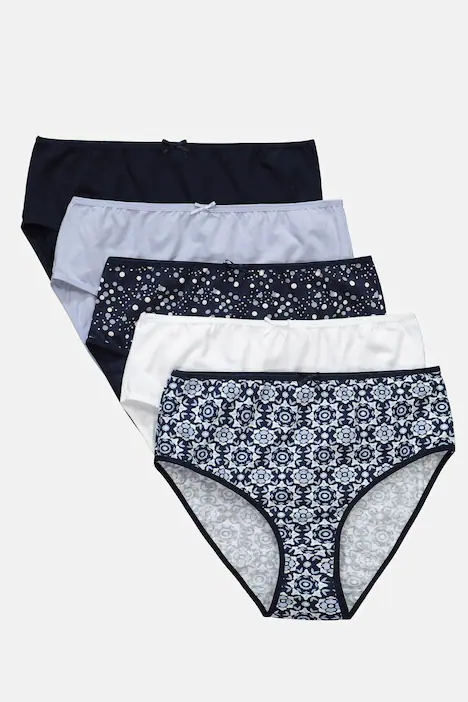 5 Pack of Cotton Panties – Floral, Dots, Solids – soft stretch cotton style with durable thin elastic waist and leg openings, center satin bow, and a cotton lining. 1 floral print, 1 dot print, 3 solids.
9.Upbeat Graphic Print Button Front Stretch Jacket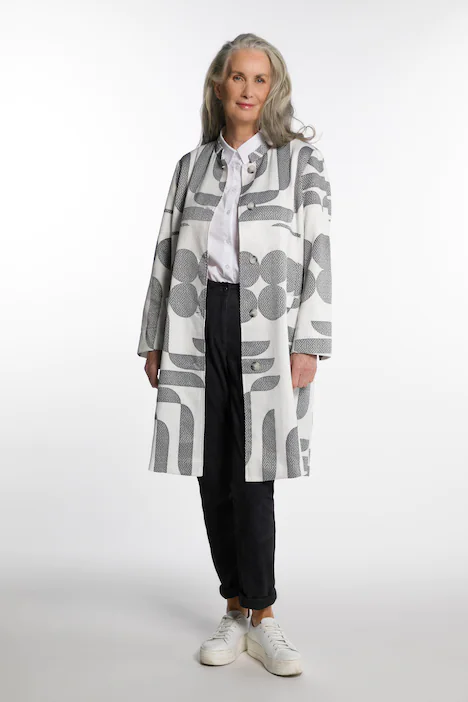 Upbeat Graphic Print Stretch Jacket – this extra long layer with bold graphic appeal is comfortable and refined. Stand-up collar, button placket, long vented hem sleeves, and patch pocket. Back walking vent.
10.Business Casual Drawstring Waist Open Front Blazer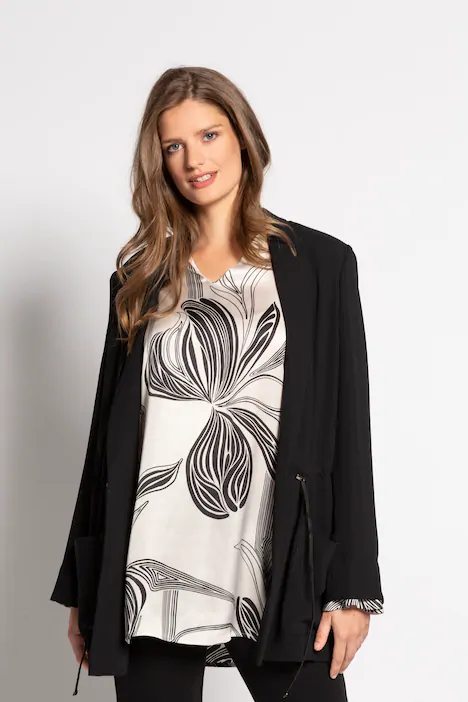 Business Casual Drawstring Waist Blazer – easy essential for refined casual style. Small notch lapel collar, open front, adjustable drawstring waist, long vented hem sleeves, and patch pockets.