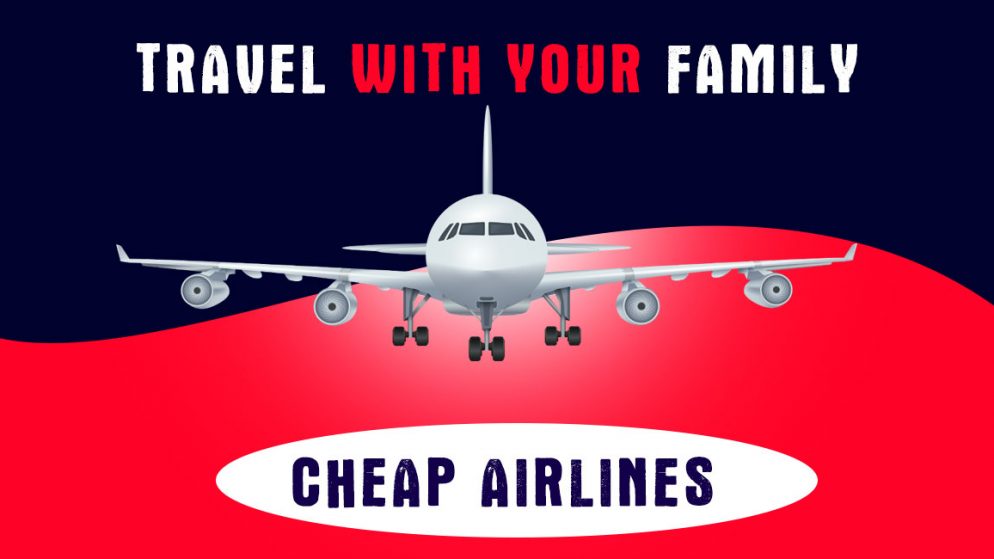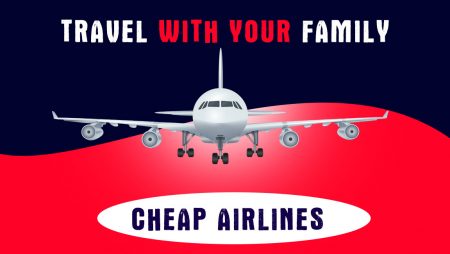 Heads up: Our content is reader-supported. This page includes affiliate links. If you click and purchase, I may receive a small commission at no extra cost to you.
Prior to moving to the Netherlands, I had NEVER heard of TUI airlines. I'm writing this review of TUI airlines because I couldn't find much about flying with TUI in English and I think that it's a great alternative to more expensive options. Although I travel a lot, I'm often skeptical of flying with new airlines, especially if the price is that good and it's a direct flight to somewhere that I want to go. Keep reading for my experience of flying with TUI airlines and what to know before you fly with TUI airlines!
What I Cover In This Review Of Tui Airlines
Basic information about TUI airlines
Where does TUI airlines from to/from
Advantages/Disadvantages of flying with TUI
My review of my long-haul flight with TUI airlines from Amsterdam to Orlando (round-trip)
Booking my flight with TUI airlines
Economy v. Comfort v. Premium v. Star Class v. Deluxe
Check-in process and Schiphol airport
Arrival in the United States
Overall review of TUI airlines (TUIfly)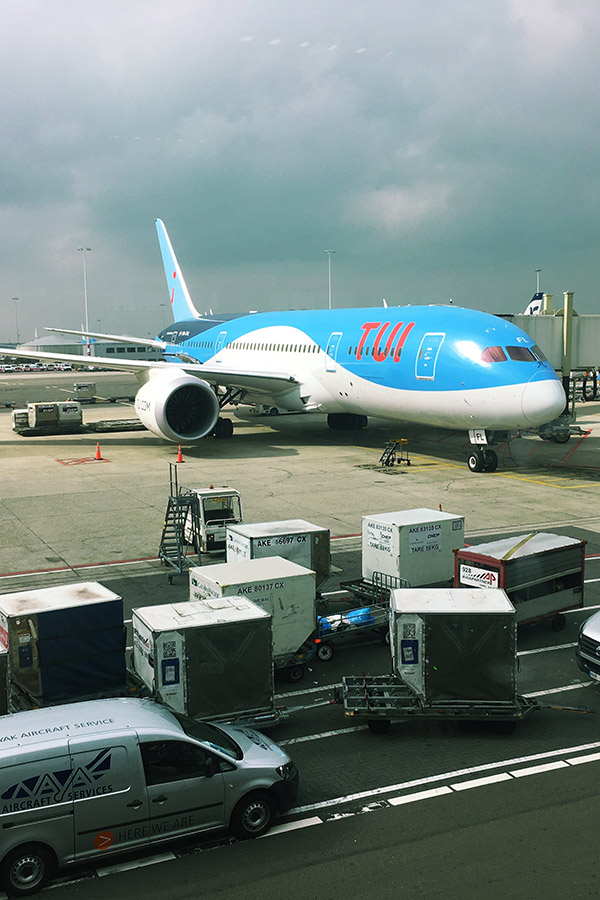 If you are looking for more in-depth travel advice about Belgium and the Netherlands, I created a guidebook on behalf of Moon Travel about Amsterdam, Brussels, and Bruges. You can find this book on Amazon!
TUI used to be called AirHolland, an airline started in the 1980s.  It was known as ArkeFly after being bought by a German company who recently rebranded it as TUI in 2005. TUI's headquarters is close to Schiphol airport in the Netherlands and Amsterdam is one of the major hubs of TUI.  TUI has now expanded to include flights from much of Western Europe and the Nordics, including the United Kingdom, Germany, Belgium, Switzerland, Norway, Sweden, France, Spain and Austria.
Where Does Tui Fly?
Tui mostly focuses on holiday destinations with warm weather, such as the south of Spain, Egypt, the Caribbean, Turkey, Greece, and some locations in Africa.  They've recently started flying a Dreamliner long-haul and direct to Florida in the United States, which is the focus of this review of TUI airlines.
In some cases, TUI does not fly the plane, however they serve as a booking partner/travel agent to offer holiday packages with other airlines.   For instance, I was considering a package going with TUI from Amsterdam to Cartagena (Colombia) where TUI had created a last-minute package flying with KLM direct to Colombia together with a hotel in Colombia for a fraction of the price that I had seen on KLM's website.
Advantages And Disadvantages Of Flying With Tui
TUI has low fares, especially if you're interested in sunny destinations, and last minute trips.  I've spent a while playing with their website fares to a couple destinations of interest and their cheapest fares are typically those where you're traveling within 1-3 weeks of the trip.  I'm not really a spontaneous traveler and I usually book my trips at least a few months in advance, however I did see some good deals if you're open to an inclusive resort last-minute.
TUI focuses mostly on packaged travel, so if you're looking to book a trip and not worry about the details until you get there, TUI is a good fit.  I tend to be someone who does independent travel, so I ended up not taking advantage of their packages, however independent travelers looking for a cheap flight abroad might be interested in the cheaper flights abroad with TUIfly (TUI airlines' own flights).
The major issue with TUI is that they don't fly every day to all destinations and their schedule may require that you take off additional time to take advantage of their flight schedule  In my case, TUI only flies on Mondays and Fridays to Orlando (or vice versa).  As a result, if you work full time, you'll end up missing over 6 days of work between the flight and recovering from your flight. For those taking a long deserved vacation after not using your holiday allowance often enough, this is great.  However, it can be problematic for those who work full-time and don't want to lose 7 days of holiday allowance on one trip.
My Long-Haul Flight With Tui Airlines From Amsterdam To Florida
I have family that lives in Orlando.  When trying to visit in time for my Grandfather's birthday and minimize taking off time from work for travel, I was looking for a direct flight from Amsterdam to Florida.  I was only seeing non-direct flights with difficult transfers when I happened to see an ad for TUI airlines pop up advertising a direct flight to Florida for 500 euros round-trip. I was intrigued although a bit skeptical.  I ended up flying on a Dreamliner long-haul, which was surprisingly swanky.
Issues With Booking My Flight With Tui Airlines
My experience booking a flight with TUI airlines was actually a miserable one as they entirely localize their websites, so all websites stemming from one destination (e.g. the Netherlands) are in the language of the country and require residency in that country for payment.   This caused some issues for me as an American living in the Netherlands.
I generally book travel with a credit card from the USA rather than my Dutch savings account.  This makes me quite different than many Dutchies who tend to keep higher savings for travel.  (I think that these problems were special expat-related issues that others may not have if booking from their country of origin and using the most popular payment systems in their own country.)
This is the one reason that I haven't advocated TUIfly for Americans entirely although I'd recommend it 100% for Dutchies. The website for booking a flight from the Netherlands to Orlando is entirely in Dutch.  TUIairlines offers a very limited English website (for Dutch bookings) and now they don't accept credit cards.  (Update thanks to a lovely reader.)
I decided to book through the Dutch website with my American credit card.  This wasn't possible, so I ended up booking using an external website, which I found quite frustrating.  Now, TUI is available via Vayama, but I have not had success booking through it myself recently.
Originally, I had seen the flight for 400 euros a few months in advance, however we waited to confirm a few details and the price of our flight went up to 650 euros per person. I still feel that this was a really good deal considering that it was a direct flight, which gave me more time with my family.  Note, I booked Economy tickets, so baggage was not included, and we chose to travel carry-on only.
Class Differences
We ended up booking Economy tickets, which included unlimited drinks (long-haul only), no checked bags, no seat choice, and a personal entertainment device on long-haul flights.
We received only one meal, but I felt that they were pretty generous with giving us snacks, almost continually.   Economy passengers receive the smallest amount of leg space (29 inches).  (The woman is where I was sitting while the man must be in premium.)
There are significant class differences and those interested in a more premium experience can receive up to 41 inches of leg space, expedited status for security in Schiphol,  entrance to the Schiphol Lounge, and a second meal if desired. (I can't attest to this experience myself.)
Extra Fees With Tui Airlines
Luggage is not necessarily included with your basic TUI flight.  For us, it would have cost twenty euros per bag per flight.  We ended up choosing not to check a bag as it was a short trip.
Similarly, seat reservations cost extra.  I've heard that in some cases, TUI does not include the exit tax for some countries in the cost. I did not experience this, but I had read a review of a traveler who had this experience for Mexico.  My carry-on was required to be a standard size for budget airlines: 55x40x25 cm and 10kg.
Check-In Process And Airport Experience
As we were flying to/from the United States, online check-in ahead was not possible.  This is typical for TUI airlines flights and this bothered me as it meant that we had to get to Schiphol early.  We had to wait in a very long line in order to check-in, despite not having baggage.
Schiphol has had some issues related to lines during peak travel times and we unfortunately hit a major flying period. Although security wasn't too bad, we didn't have that much time for the line for immigration after our lengthy wait to check-in, which was fairly long.  As we were flying out of the US, we had to go through the non-Schengen immigration controls.
After getting through immigration, we had to sprint to the gate in order to make our plane.  We ended up having a few extra minutes prior to the gate closing, but I suspect that quite a few people missed their flight due to the crowds.  I'd recommend getting there early to ensure that you have enough time.
I can't attest to the full boarding process for the way from Amsterdam to Orlando, but I can write about it from Sanford to Amsterdam. The boarding process is done by class with passengers who have premium seats boarding first.  Overall, I felt that boarding was very tidy.  That said, there weren't so many passengers on both routes and I felt that people were patient/polite.
Tui Airlines In-Flight Experience
Legroom
Flying from Amsterdam to Sanford, I flew on the Dreamliner! This new airline was particularly nice and spacious.  Although I had read that TUI only gave Economy passengers only 29 inches of legroom, we were pleasantly pleased by the amount of legroom that we had during the flight.
I suspect that it was because we flew TUI long-haul on one of their newest jets.   I'm embedding a video from a fellow blogger showing the seats in Premium and Economy on the Dreamliner below.
In-Flight Entertainment
I felt that the general in-flight experience was equivalent to most full-service airlines that I've flown with long-haul, including Delta and TAP.  The only source of frustration was the personal entertainment device, which required payment to watch movies that weren't promotional videos for TUI's destinations.
I ended up learning a lot about the things to do on different Caribbean islands.  I was a bit disappointed with this feature, however I ended up playing free games using my device.  You win some, you lose some.  (On the way back, I slept in preparation for landing in the morning in the Netherlands as I had work.)
Usb Port
There was a USB charging port on our flight both ways to/from Amsterdam directly into the screen in front of me!  This was particularly nice as I spent much of the flight reading on my phone, so I appreciated that I could charge my phone during the flight.
Food
I had indicated to TUI ahead that I have issues with lactose.  My meal was thoughtfully prepared with no traces of milk and honestly, it was better than the food that I've received on full-service airlines.  Although I only received one meal during my twelve hour flight, the friendly flight attendants kept offering snacks as well as drinks to us.  I had unlimited drinks during the flight. I mostly stuck to juices, however alcohol was available.
Stopover In Miami
As I was visiting family, I didn't take advantage of TUI's special where the price was the same to fly out of Miami instead of Orlando on the way back. For first time travelers to Florida, I could see this option being quite appealing.  In flying to the United States, we stopped over for about thirty minutes in Miami.  We just sat on the plane while passengers heading to Miami got off.
Arrival In The United States In Sanford, Florida
As we were flying in/out of Sanford airport, rather than MCO (the main Orlando airport), our experience arriving in the United States was quite fast as Sanford isn't a big hub.  I can't speak towards the experience in Miami, but the line for immigration was quite short and I was able to skip the line as an American citizen.
My biggest issue with Sanford, Florida is that it's quite far from the main attractions (50 miles / 80 kilometers).  For Orlando more generally, especially if you plan to visit more than one park, it's a good idea to have a car as it will allow you to find better (and more affordable) food options in Orlando.  However, if you're at a resort, expect to pay at least $100 for a shuttle/taxi from Sanford to the parks. I had family picking me up, however they were a bit surprised by how far it was from Orlando.
Departure From The United States On A Tui Flight
Our TUI flight departure from Orlando went smoothly and on-time. It made me a bit anxious that I couldn't check in until we got to the airport.  The drive was around an hour, but I ended up having enough time to even get a coffee at the airport (Sanford is small).
The flight was quite smooth with no issues until we arrived in Miami where we were informed that there might be a delay in arriving into Amsterdam due to something related to the weather.  I appreciated how upfront they were about this while we were still on the ground.  Despite this delay, we arrived on-time in Amsterdam.
An Overall Review Of Flying With Tui Airlines Long-Haul
Overall, I was very pleased with TUI airlines, given the price-quality ratio and that I was able to find a direct flight to my destination (Orlando) for a reasonable price.  I was very frustrated with the process of booking my flight, which was surprisingly difficult, even as someone who is an American citizen living in the Netherlands.  I felt that the overall experience in-flight was surprisingly good with better food than with many of the major American airlines that I've flown.
Although there were no free movies, I was thoroughly entertained by the videos promoting their different destinations around the world.  That said, I was quite annoyed by the fact that TUI airlines flew into a smaller regional airport, rather than the main airport in the region, as it made it hard to organize transportation to/from the airport. I'd definitely fly TUI again and I'd even consider booking one of their inclusive packages to go to South America.