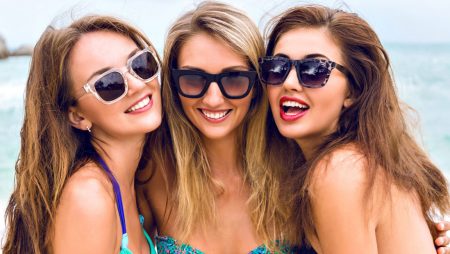 Heads up: Our content is reader-supported. This page includes affiliate links. If you click and purchase, I may receive a small commission at no extra cost to you.
About Stio
Wyoming-based Stio clothing specializes in designing quality technical clothing for people living mountain and outdoor lifestyles, inspired by the mountains, trails and rivers of the Teton Mountains in Wyoming.
A passion for mountain life
As fellow lovers of nature, trails and mountains, we are also inspired by time spent outdoors, and so it's no surprise that we love Stio's passion for mountains and the outdoor lifestyle, which drives the design and function of their clothing ranges.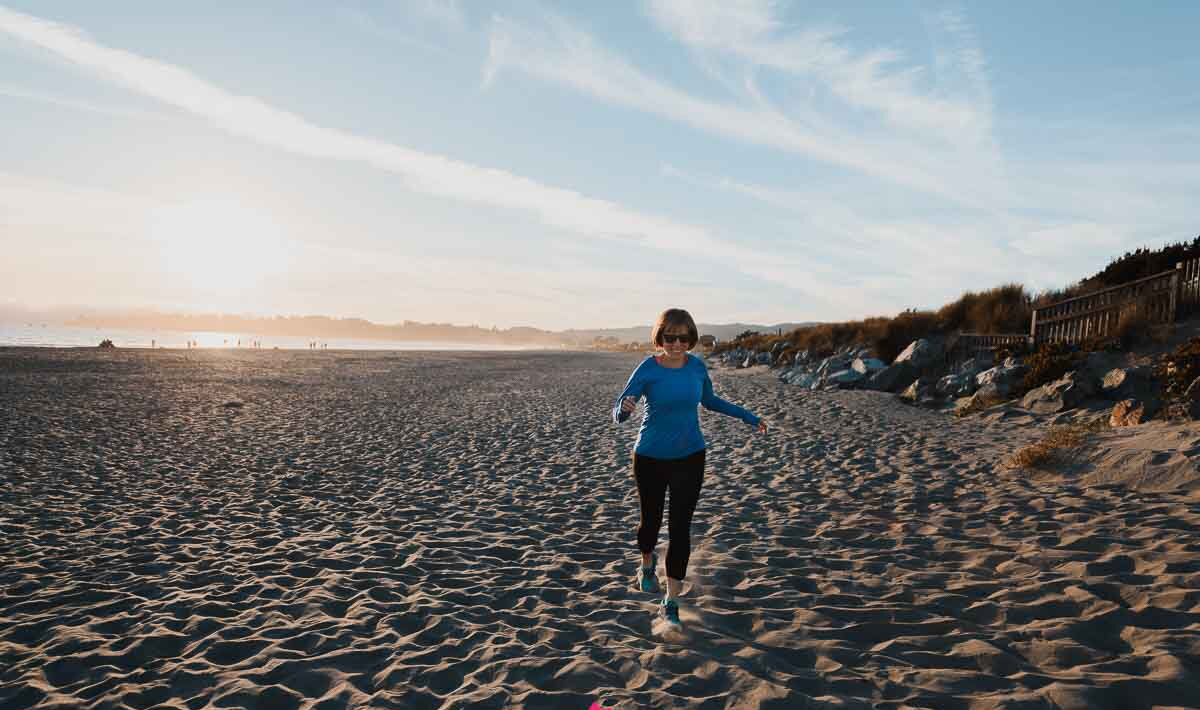 Shop Now At STIO.COM
Stio Clothing – Women's Divide Tech Tee (long sleeve)
While some clothing is designed for more adventurous pursuits, I've been wearing some of Stio clothing's versatile women's tops, the Women's Divide Tech Tee LS which can be worn for everyday activities, as well as trail running and exploring further afield, together with the Turpin Half-Zip Fleece.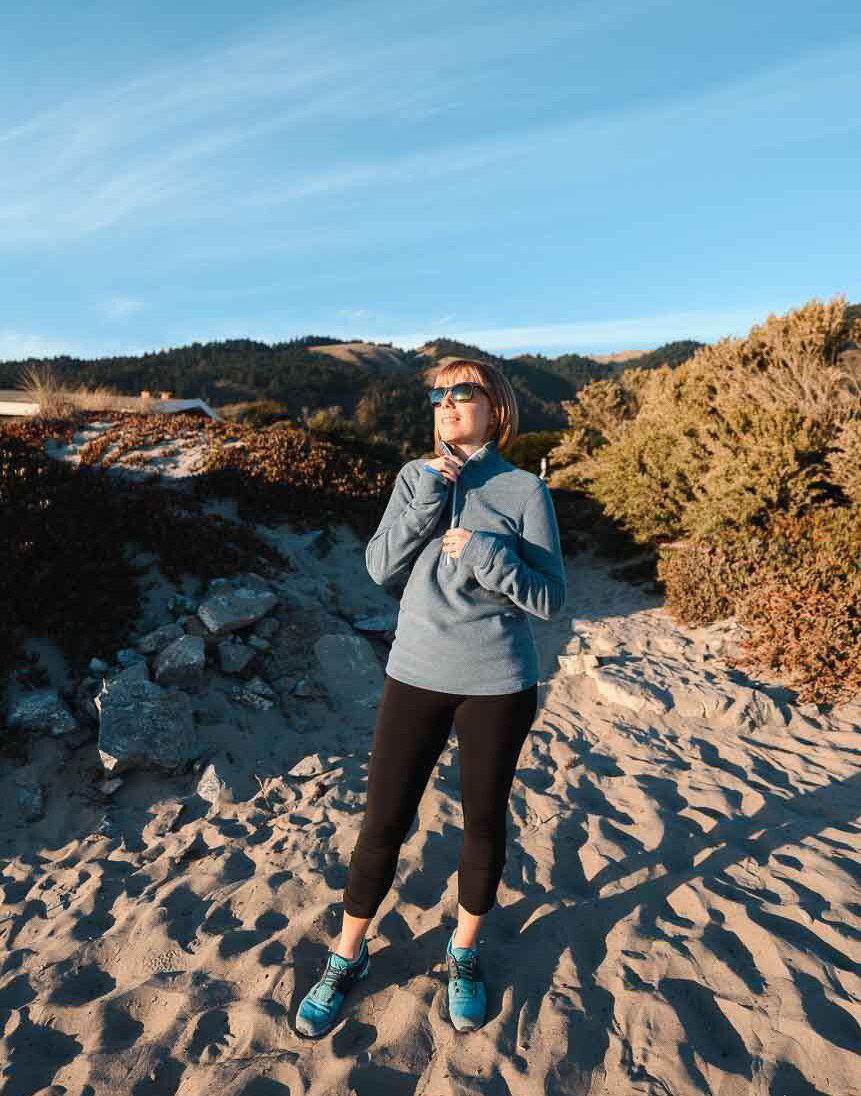 Divide Tech Tee Design
Stio's Women's Divide Tech Tee LS (long-sleeved version) is ideal for Fall/Winter layering. It looks like a normal casual top but is made with a sweat-wicking poly-cotton fabric blend, which means you can wear it to do active pursuits such as hiking, cycling and running.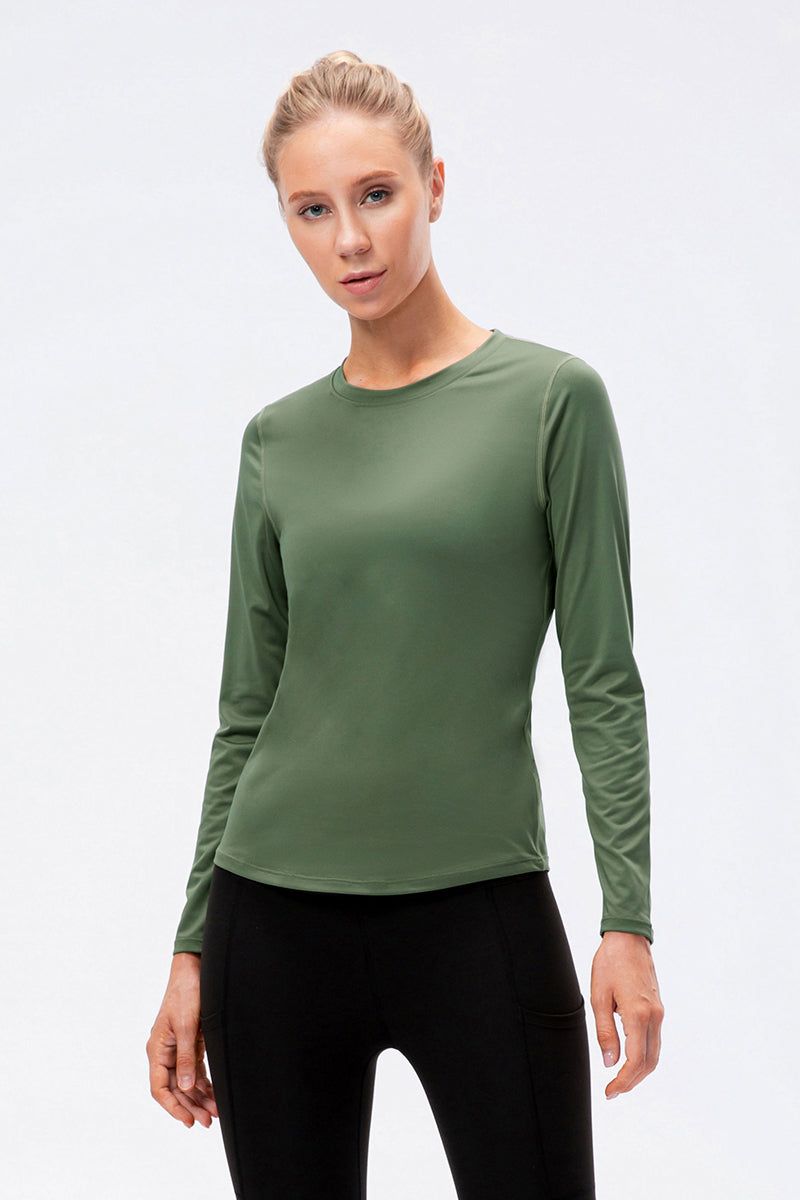 The large scoop neck is flattering, and I love the thumb-loops, which are particularly useful for keeping my hands warm when worn on its own in cool weather, as well as for keeping the sleeves pulled down when wearing a layer over the top.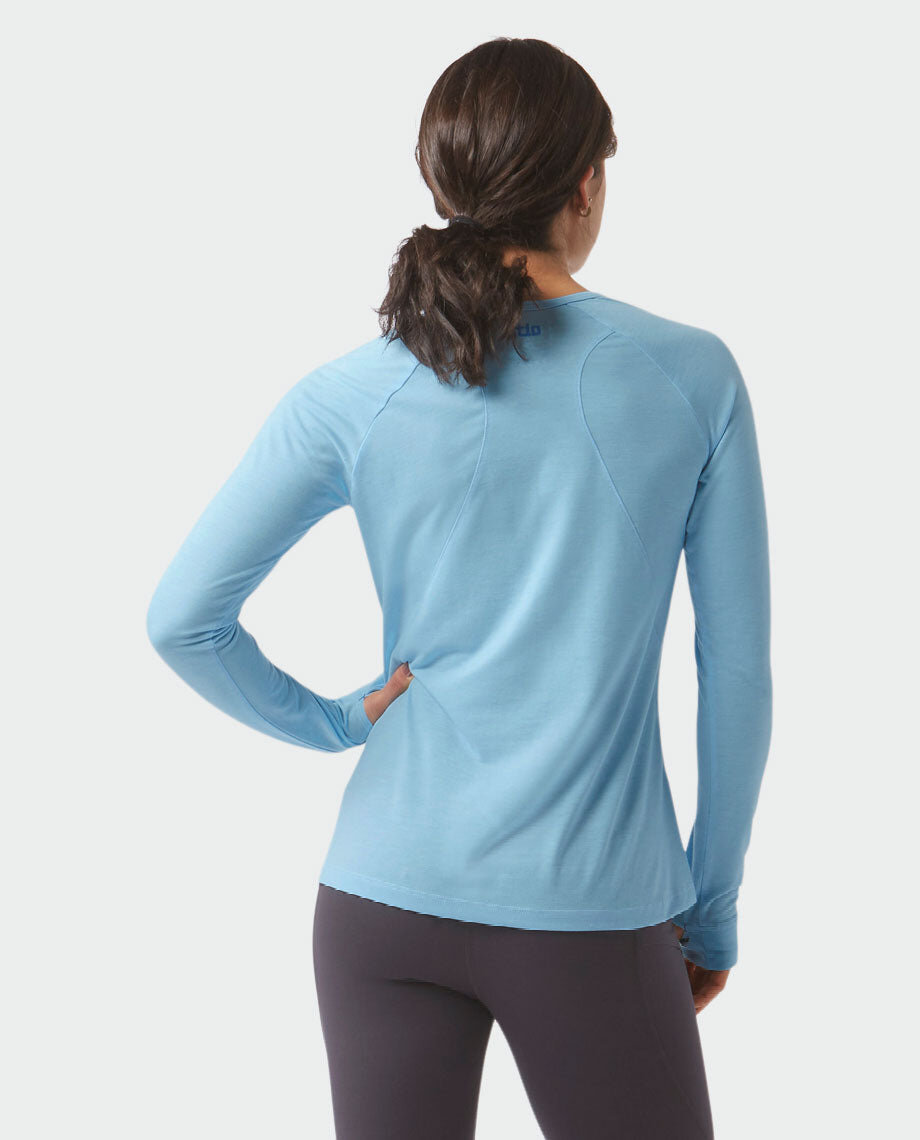 Although I find it rarely cold enough in California to run in long-sleeved tops, the Divide Tech Tee is also ideal for a winter run in chilly conditions. You can wear it alone, or it is also great layered under a windproof layer or body-warming gilet/vest.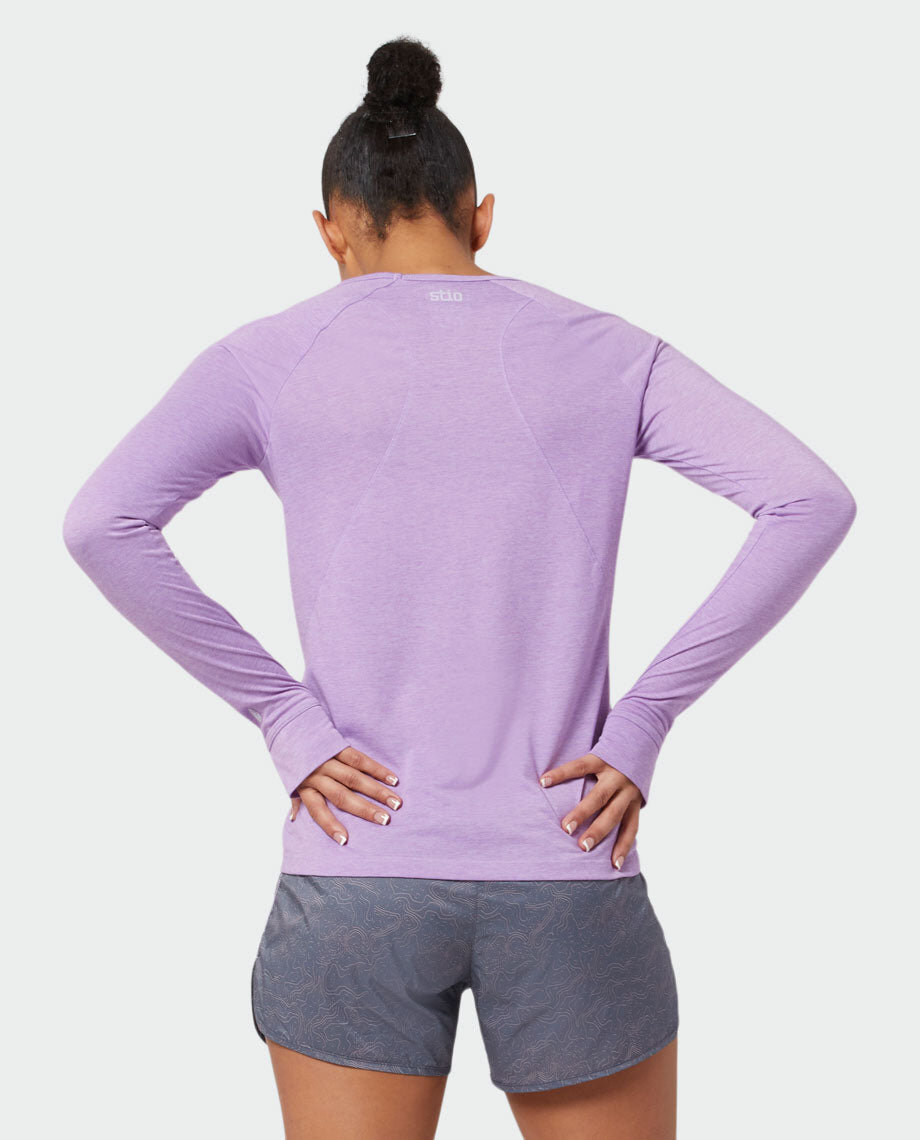 Fabric
Stio has managed to keep the Divide Tech Tee's fabric thin (which helps it give a flattering fit) but ensured it is not see-through or clingy, which is often an issue with other, similar base layers. It also does not crease as much as regular cotton clothing, which is great because (a) I dislike ironing, and (b) it looks good even if worn after being folded or packed in a suitcase.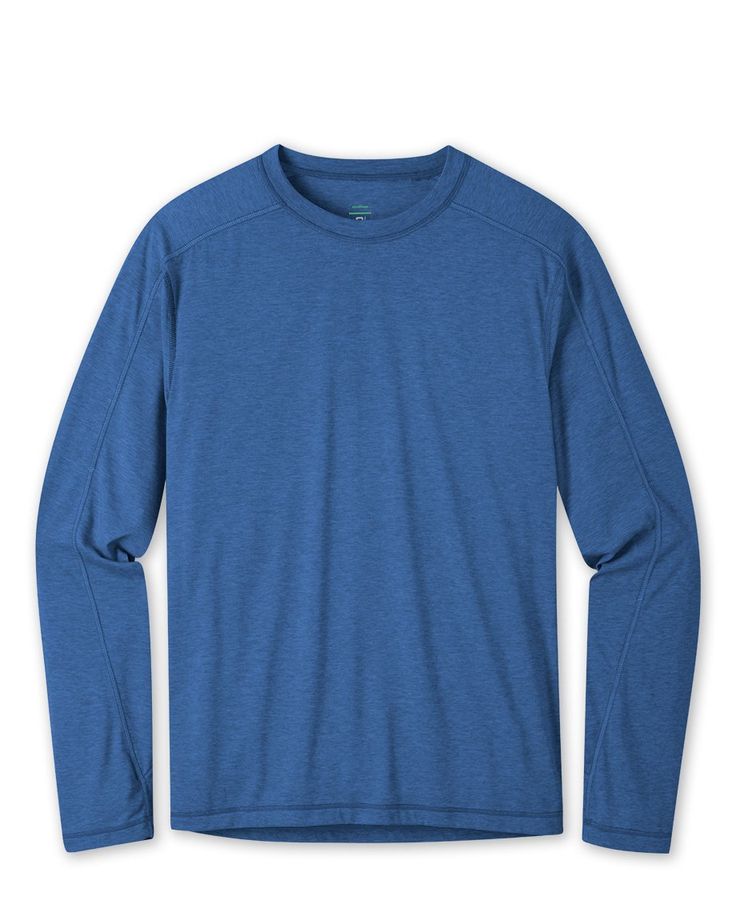 I do a lot of air travel for my day job, and have found myself reaching for this top as I know it will keep me comfortable and warm (or cool) enough, even if the airplane climate control makes the cabin too warm/cold.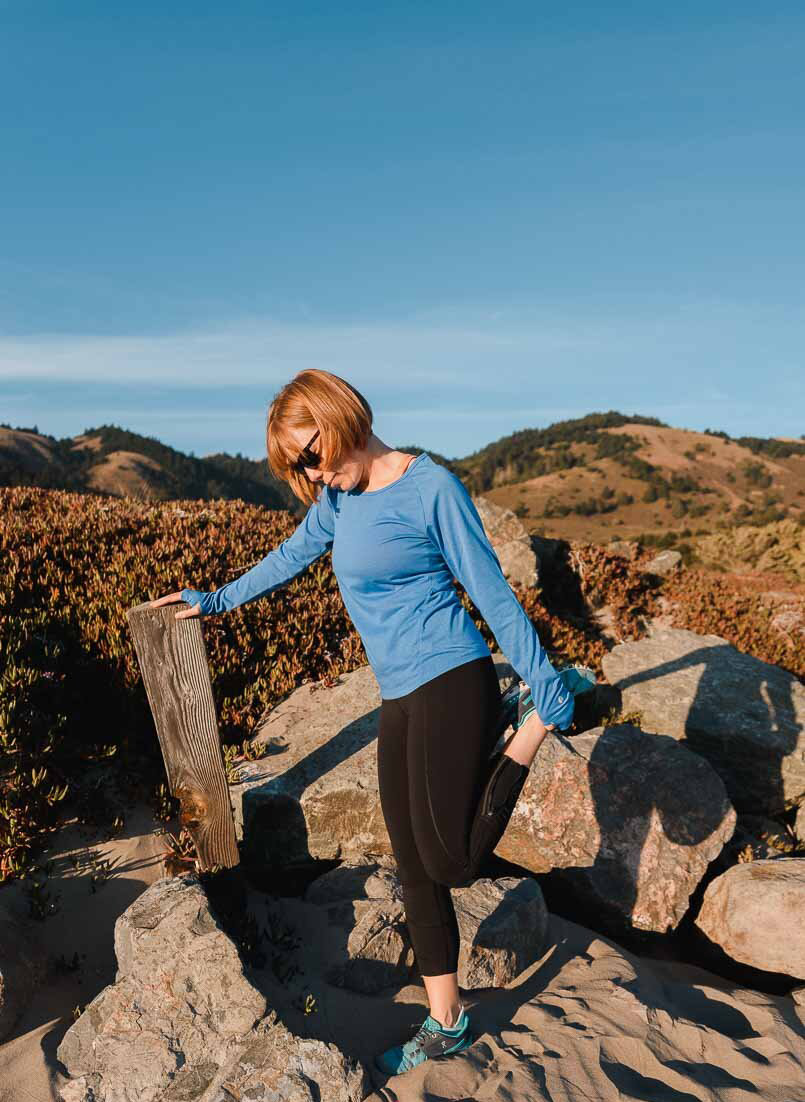 Stio Women's Turpin Fleece – Half Zip
I like to layer the long-sleeve Divide Tech Tee under a gilet (puffy vest), full-on puffy jacket, or a fleecy layer such as Stio's cosy Women's Turpin Fleece Half Zip, shown opposite.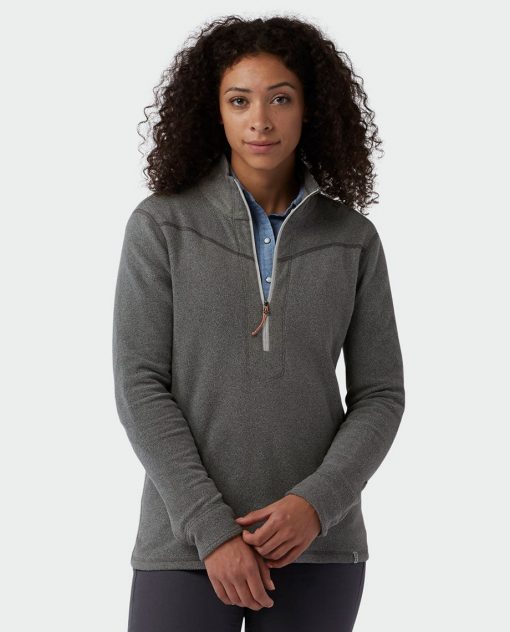 I particularly like the fleece because it's another versatile item I can wear for casual walks around town, in the home or hikes and rides around the trails, and I'll stay comfortable because like the long-sleeved tech tee, the fleece is also stretchy and breathable. I also love that it is made from recycled microfleece material, which is heathered and feels super-soft. After years of shunning fleeces from my wardrobe, it is exciting to see them making a come-back thanks to the Turpin Fleece's flattering fit and technical fabric making me want to find excuses to wear it, in and out of the house.
Turpin Fleece – Fit and Fabric
The quality soft fabric also makes the fleece comfortable worn for active pursuits and travelling because the sweat-wicking fabric dries much faster than regular cotton (4x faster, according to Stio's website!).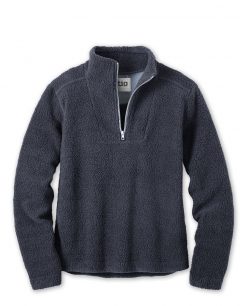 I pretty much will never buy casual clothing that does not have sweat-wicking properties, because why would I want to spend time in a soggy cotton top after a hike or bike ride, when I could be comfortable and cool with these layers of technical clothing?

In summary
I've been loving the Stio clothing discussed in this post, and can't wait to find an excuse to try out some more of their gear (the technical plaid shirts and corduroy pants look great).
If you're also an outdoor lover with a passion for mountain lifestyle and technical outdoor casual and activewear, I recommend checking out their website for the latest Stio clothing seasonal collection and offers.