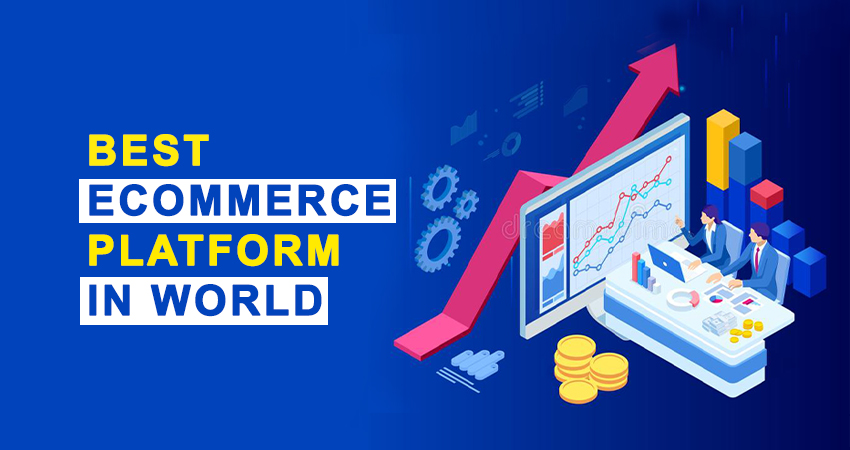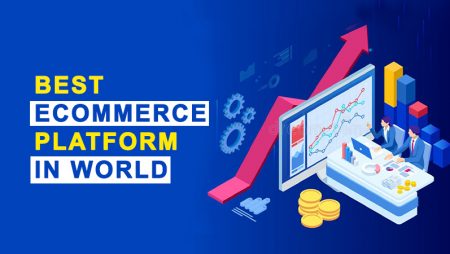 Our content is reader-supported. If you click on our links, we may earn a commission.
Know About Shopify Review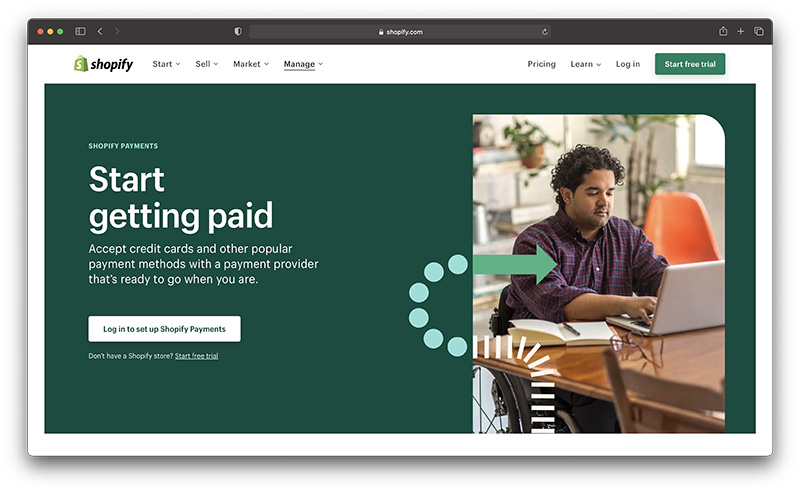 One of the most widely used and most user-friendly e-commerce systems online, Shopify offers all the capabilities you could possibly need.
You'll get immediate access to the whole toolkit needed to create and then maintain an e-commerce website once you join up. With Shopify, you can alter the look of the website, add products to a catalogue, set pricing, choose payment options, and add taxes. You may also installable extensions to add more functionality.
PROS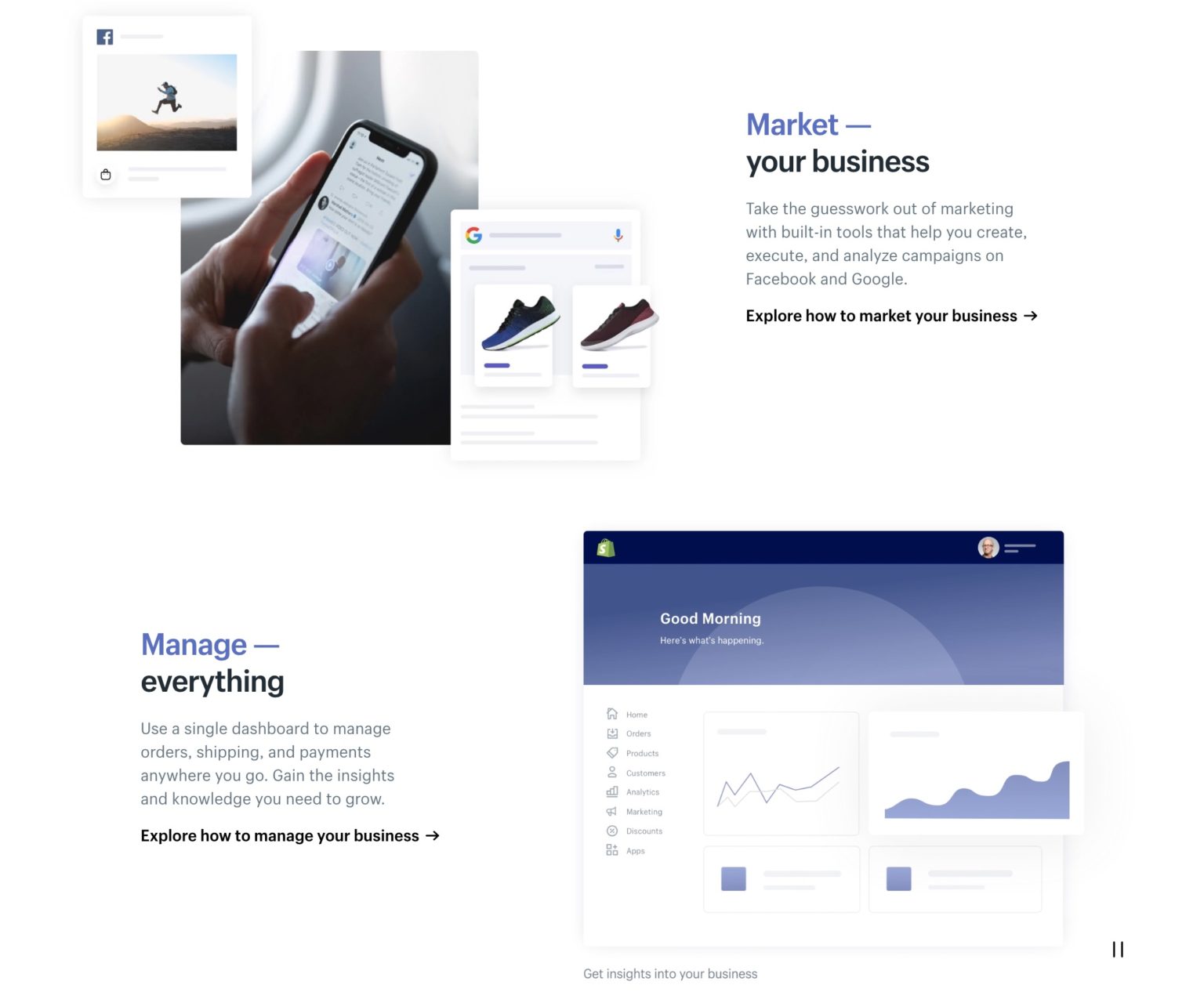 The user doesn't need any technical expertise to utilize Shopify since it is so simple to use.
Shopify is equipped to handle any challenge you may provide. You may sell anything, including tangible stuff, digital products, and services.
You have access to a wide range of shop designs using Shopify. All of them have a contemporary, lovely appearance and are designed to increase sales.
You may choose the $9/month Shopify Lite plan if all you want to do is sell things on social media platforms like Facebook, Instagram, or Pinterest.
There's a 14-day free trial.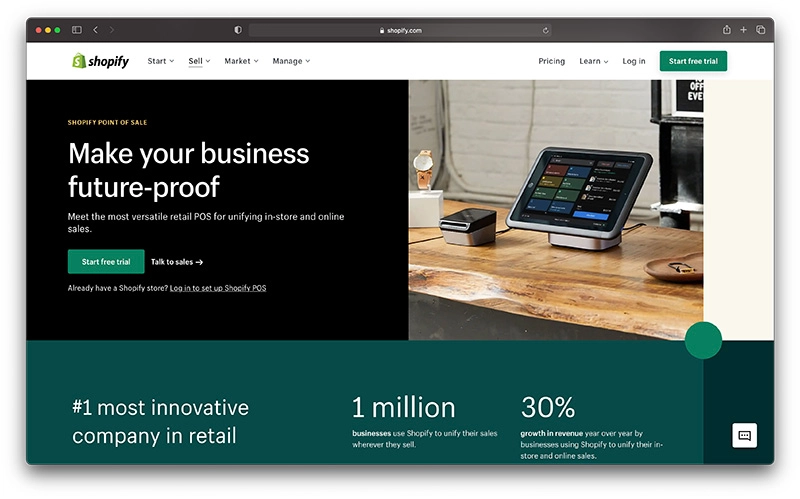 CONS
Customers may post reviews and ratings for your items if you pay extra for these services via extensions.Your shop isn't really under your complete control. Shopify owns the servers on which your shop is housed. This implies that they have the right to do so at any moment if they decide to shut down your shop. If you do not violate any of the licensing terms, it is most likely not going to happen.
Why Should You Choose Shopify?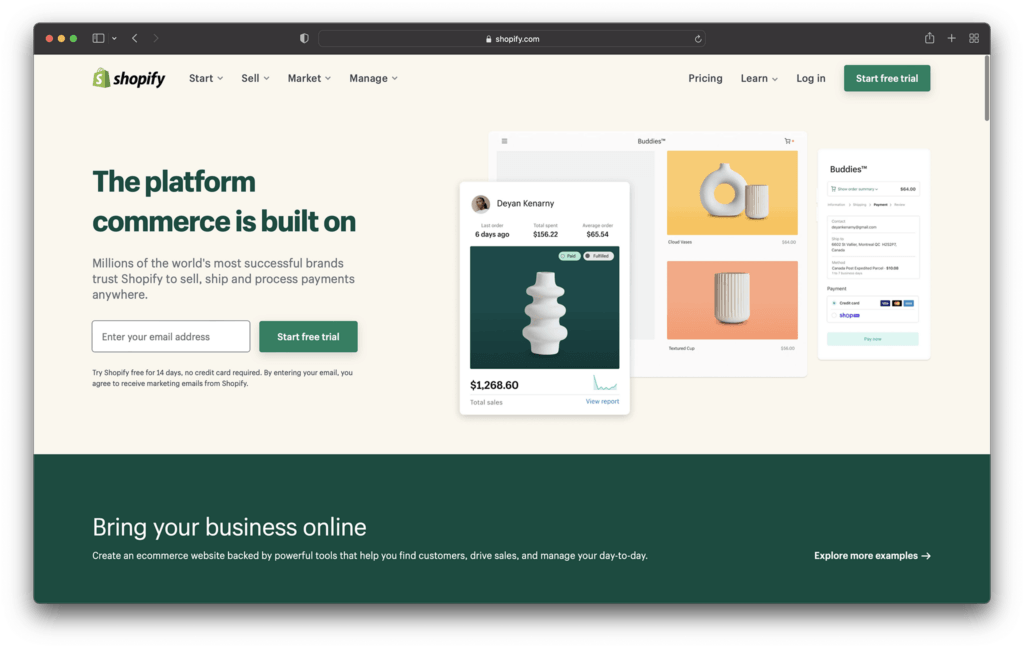 Tobias Lütke (Canadian CEO of the Year), Scott Lake, and Daniel Weinand established Shopify in 2006.
The platform has rapidly developed since its inception, going from a little player to one of, if not the top, e-commerce platforms, competing with BigCommerce, Volusion, Magento, or WooCommerce.
Currently, the business powers more than 1,750,000 online shops (October 2021).
It is obvious that there must be a reason why Shopify has become so well-known and has maintained its place in the industry for more than ten years.
Shopify Pricing & Plans

the cost of using the Shopify platform.
A portion of your income is charged as payment processing costs.
We've created a Shopify fees calculator to help make this more obvious. Based on your income, you can use it to see precisely how much you will be paying each month.
All Shopify plans have common features.
I've explored a lot of e-commerce systems in the past, and I have to say that Shopify offers the most well considered feature set of any of them. A unique feature takes care of almost everything you need to create your own internet shop.
Before we get into the specific features that are included with each Shopify plan, let's first talk about the basic features that are included with all Shopify plans.
Shopify Review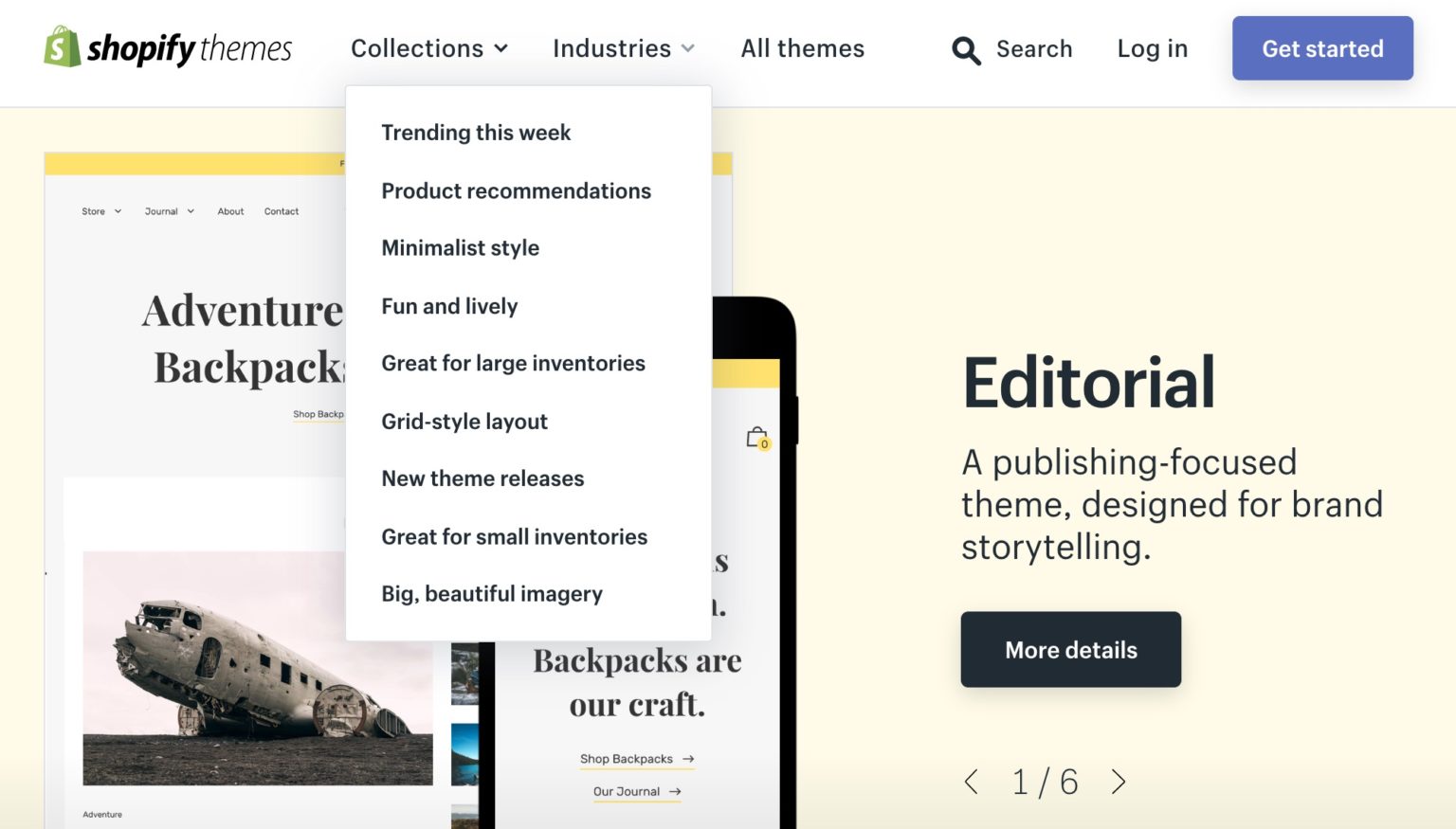 Managing your inventory is a crucial aspect of operating your shop, and Shopify has you covered in this regard as well. All you have to do to add inventory to your shop is choose the Products tab from the dashboard's sidebar. Afterward, you'll be immediately sent to the next page:
Everything, including the product title, description, and price, is adjustable, as shown in the picture above. Additionally, you may provide a unique SKU and a barcode to each product.
Review of Shopify's SEO and marketing tools
You may be quite dissatisfied with the sales numbers if you have a fantastic shop but your clients can't discover it. Shopify has excellent SEO and marketing options. Your website will be quickly discovered on all major search engines like Google, Bing, and Yahoo thanks to the SEO capabilities that are already built in.
Coolly, you may browse to each product page and configure your own target keywords, URLs, and more even though the SEO settings are automated.
PayPal Payments
In the past, using a third-party payment processor like Stripe, PayPal, or another would be necessary to take payments. These processors would charge a certain fee per transaction. Shopify has developed a proprietary payment system called Shopify Payments (Powered by Stripe). The program will waive all transaction costs if you choose to enroll.
You do have the choice to interface with more than 70 different payment gateways, however we just discussed credit card costs in the price section, so it's important to remember that. These include taking credit card payments, Google Checkout, PayPal, and many more.
You may do the following actions with the Shopify mobile app:
Publish and take product pictures.
Edit product information, such as the price.
Add merchandise to the shop
Fulfill orders and provide refunds.
get shipping labels and print them
Obtain conversion statistics
View current sales data and current traffic
order alerts
Make contact with your team.
The actual publication is carried out by a little bit of code.
You may alter your buttons' appearance, as well as their sizes, colours, and accompanying pictures, while setting them up. After then, Shopify provides you with a piece of code that you may paste on any website.
You may use this code to show your product's image, price, and description. You are free to add as many items as you like since there are no limitations on single products.
Shopify Lite's Facebook selling capabilities
Shopify Lite is a fantastic choice for you if you currently have a sizable following on Facebook and aren't all that interested in starting a separate web shop.
You can rapidly create a new Buy button and put it on your Facebook page thanks to the tools' ease of use.
Additionally, you may converse with your clients by having Shopify send messages to Facebook Messenger (sales channels). Even better, customers may make purchases right from the chat window.
Shopify Lite is best suited for companies that:
want to add ecommerce to a blog or website that currently exists
want to market on Facebook
are OK with simply email and live chat help.
need a backend system to control their stock and payments
wish to examine how Shopify's capabilities correspond to their physical shop operations
would want to begin with a very little budget
Simple Shopify
Shopify basics: Blogging
Your Shopify shop already has a blog module built in. This may be a great tool to help you grow your audience and provide more visitors to your online business, which can result in more sales.
Using this module, you may publish new articles, add photos and other material to them, establish tags and categories, and adjust each post's SEO characteristics.
Basic Shopify: Recovering Abandoned Carts
You can detect users who add items to their carts but then decide not to check out using abandoned cart recovery. Before, only customers of the more expensive plans could utilize this functionality; today, Basic Shopify users may do the same.
Shopify offers two options: manually sending emails to customers who abandoned their baskets or more automatically having Shopify send emails on your behalf.
Professional Reporting on Shopify
Every Shopify user has access to the main dashboard, which provides an overview of the store's activity, when it comes to reporting. The Shopify plan also gives you access to the following categories of reports:
sales statistics
Profit statements
Customer feedback (5 out of 7)
Is Shopify's Plan Right for Me?
The following merchants might benefit greatly from the Shopify Plan:
You now have or anticipate obtaining significant volume sales.
wish to begin using gift cards and coupon codes
need more thorough reporting on your profitability and client purchasing patterns.
own one or more real shop locations
Modern Shopify
The Advanced Shopify plan, which costs $299 per month, is the following one.
Review of Shopify, including its themes and designs
The themes and styles that Shopify offers are one area where it truly shines. The firm provides some of the ecommerce platforms' most expert-looking themes. Eight free themes and more than 60 commercial themes (costing between $160 and 180 each) are both offered as of this writing.
There used to be more themes in the store, but Shopify made the decision to get rid of them all and focus exclusively on contemporary content that is optimized for contemporary consumers and search engines.
Review of Shopify: Security
When running an online store, security should be treated extremely carefully. After all, you'll be handling sensitive information like your customers' credit card numbers, their order information, your own product information, and a lot more.
Shopify Review: Summary
Beginners, moderate users, and experts can all utilize Shopify (the ones looking to speed up the development process by not spending much time on coding or more complicated processes).
We also think it's great for company owners who only want to add an ecommerce section to their current websites, particularly