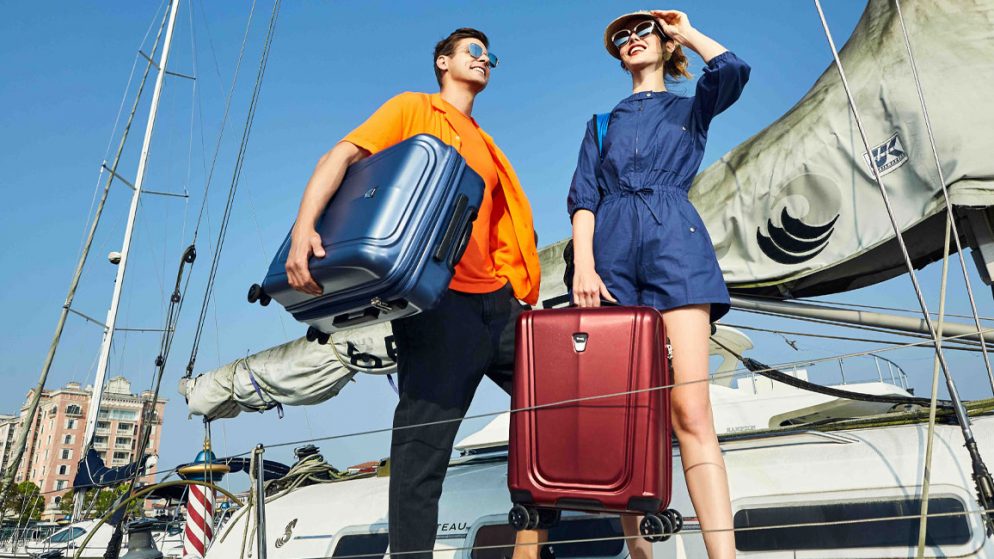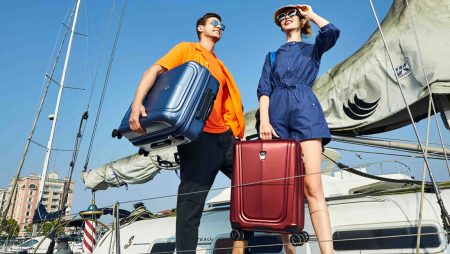 Heads up: Our content is reader-supported. This page includes affiliate links. If you click and purchase, I may receive a small commission at no extra cost to you.
**This post contains affiliate links. If you use these links to buy something we may earn a commission.** Thanks
About Samsonite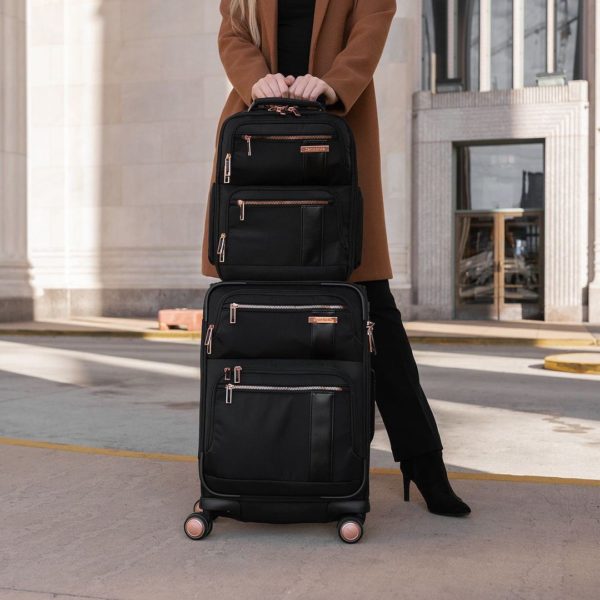 The best way to ensure that you have everything packed before you head out for a trip is by having a suitcase that can fit everything you need.
Samsonite, the world-famous luggage manufacturing company with over 34k Instagram followers and 1.5m likes on Facebook, has made a name for themselves by developing products that can hold all your travel essentials and eccentricities.
This Samsonite review will teach you about the company's background, their products, what their customers think, and more so that you can learn whether their items are suitable for you.
Overview of Samsonite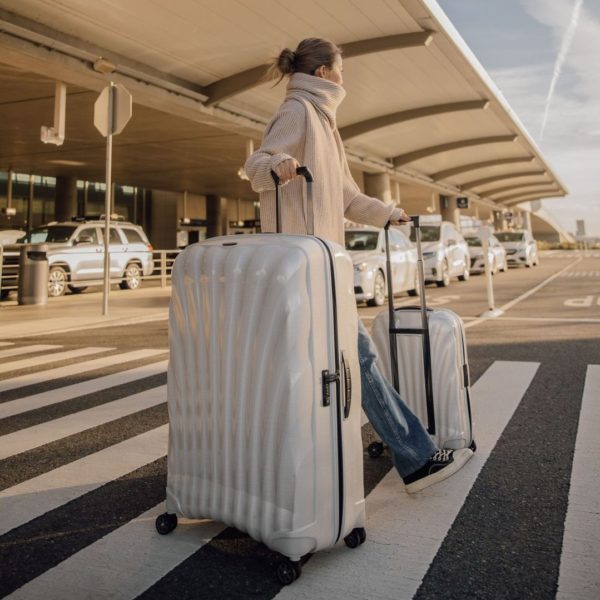 Samsonite has been producing travel goods for all walks of life for over 100 years. The brand was founded in Denver, Colorado in 1910.
Their century of manufacturing experience means they've carved out a unique identity among luggage production houses. Their items usually combine a business casual flair with an everyman functionality.
What we mean is that a Samsonite backpack, for example, is just as well-suited for a Japanese salaryman as it is for a college freshman.
Let's open up Samsonite's metaphorical suitcase and unpack some of the brand's highlights:
Highlights
Peerless in the realm of luggage and backpacks
Offers a comprehensive product line
Suitcases and luggage are often bundled together
Readily available through many retailers
Free standard shipping for purchases over $150 (it's very easy to hit that mark with luggage)
PayPal financing options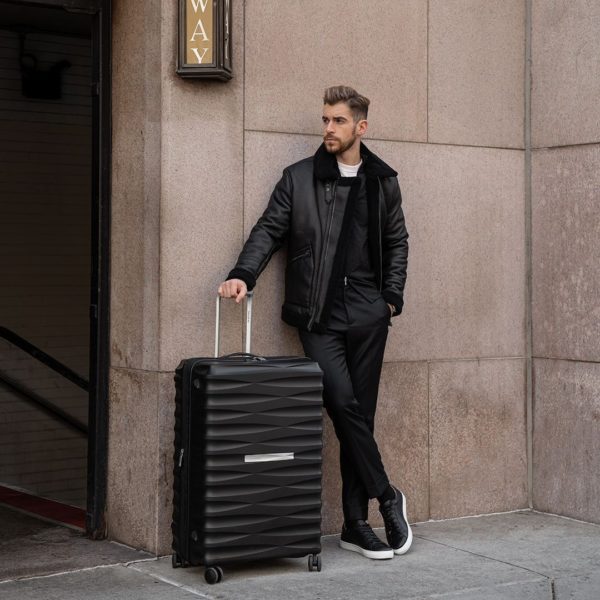 Our Samsonite review writers want to inform you that the brand produces suitcases, backpacks, duffel bags, laptop bags, carry-on cases, and other accessories.
Samsonite Luggage Review
This segment of our Samsonite review will draw the curtain back on the underlying magic of the company's best-selling luggage products.
Samsonite Tenacity 3 Piece Set BP/21″/25″ Review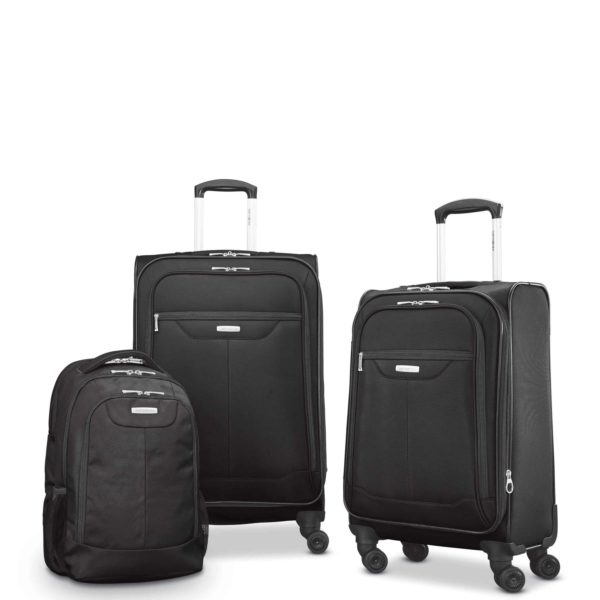 This Samsonite luggage set has enough space for an entire 3-person family, granted that they can contort themselves to fit into spaces as tight as 18.0″ by 12.0″ by 8.5″.
That's the size of the backpack included in the Samsonite Tenacity 3 Piece Set BP/21″/25″. It comes with a polyester carry-on sized luggage and a medium-sized piece of standard luggage.
All the included items (save for the backpack) sit atop four spinning wheels, feature TSA-approved interlocking zippers, and have Samsonite's SmartSleeve technology.
This entire set can be yours for $160.
Samsonite Carbon 2-2 Piece Set Review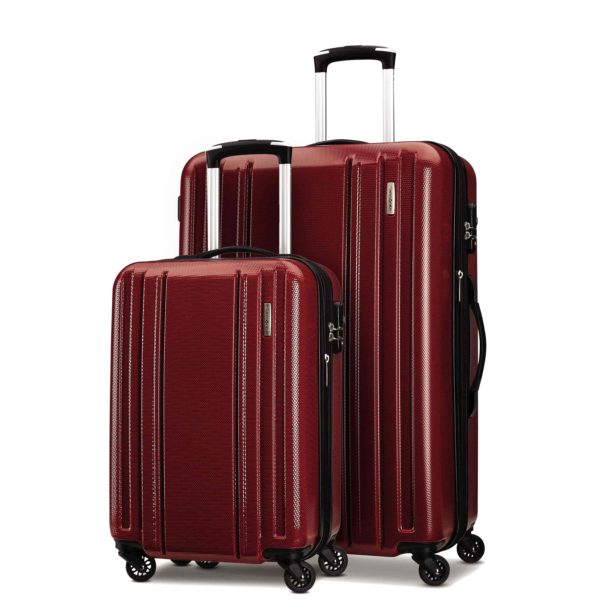 Why travel like a heathen when you can have luggage that's as chic as the clothing inside of it? The Samsonite Carbon 2-2 Piece Set is an oil-slick pair of rolling suitcases that are as cool as a batch of frozen cucumbers.
The carbon exterior protects your belongings from shock and drops while providing scratch-proof packaging. This exterior comes in three different colors; navy, red, and silver.
Additionally, you can move the Samsonite Carbon 2-2 Piece Set while keeping it upright. The four wheels along the bottom of each suitcase are multidirectional. What that means is that they can rotate, spin, and roll in any direction.
For $190, you can call the Samsonite Carbon 2-2 Piece Set your own go-to luggage set.
Samsonite Novaire 2 Piece Set Review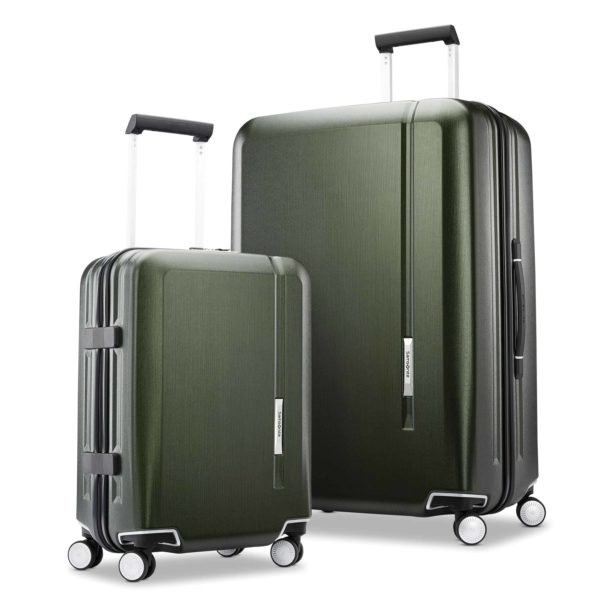 Our Samsonite review writing team didn't know it was possible for luggage to look this suave. The Samsonite Novaire 2 Piece Set looks so refined that you could show up to one of Jay Gatsby's parties and attract the attention of everyone there.
The polycarbonate outer casing is more than just for show though. Its shiny exterior protects it from scratches and dents, and the tough material lining should keep the product's shape intact.
Each Samsonite Novaire 2 Piece Set includes a carry-on bag and a large suitcase, both of which feature four omnidirectional spinning wheels, retractable handles, internal straps to secure your goods, and a TSA-approved customizable lock.
Ready to give airport security an excuse to pat you down? You can show off to them with this set for $336.
Samsonite Backpack Review
Not all travel is about airports and bullet trains. Sometimes transportation is about walking from your bachelor pad to a 24-hour cafe to complete some last-minute work. In that case, these Samsonite backpacks may be the best bags for the job.
Samsonite Detour Travel Backpack Review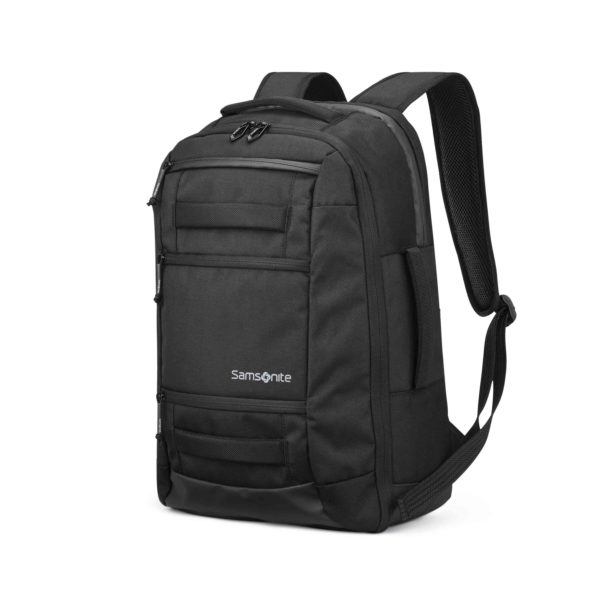 The best travel stories are often found buried within the side streets, the ignored alleyways, and the unexpected detours. You should best prepare for those unintended excursions by packing a little extra, something the Samsonite Detour Travel Backpack can help you do.
This Samsonite backpack has enough space for you to fill it with your travel essentials plus some extra goodies. What's great about it is that this backpack will maintain its ergonomic shape regardless of how full you stuff it.
The Samsonite Detour Travel Backpack's polyester exterior is coated with waterproof technology. That's great news made even better when you consider that it can hold a 15.6" laptop with space to spare.
Travel off the beaten path with this backpack for $100.
Samsonite Novex Perfect Fit Laptop Backpack Review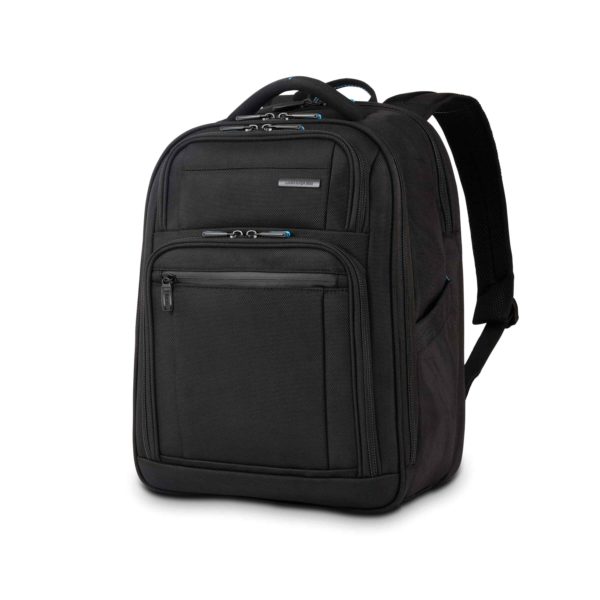 The Samsonite Novex Perfect Fit Laptop Backpack is a no-fuss, no-fluff, all-purpose backpack. While we admire its versatility, we're most drawn by its adjustable laptop carrying capabilities.
You can alter the laptop pocket to snugly house laptops from 13" to 15.6" in size. That means you won't have to worry about your most precious piece of technology getting knocked about during your travels.
You can add this TSA-Checkpoint-approved knapsack to your collection for $80.
Samsonite UBX Commuter Backpack Review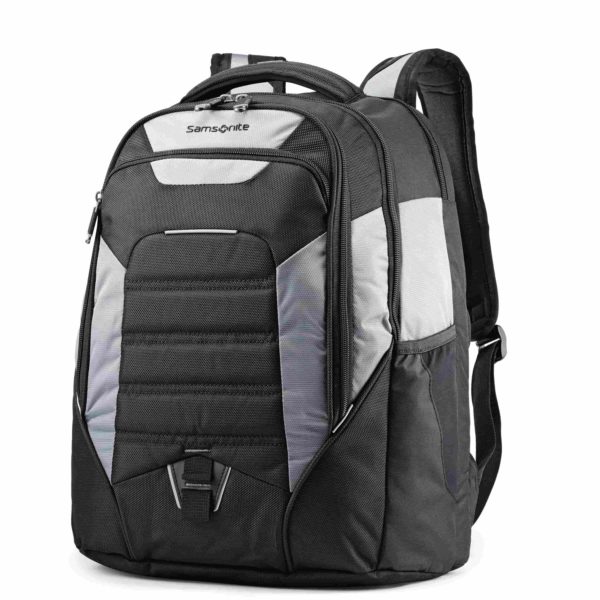 This Samsonite backpack is for the common man, the urban warrior, the 9-5 grinder, the one who's always on the move – you know, someone with places to be.
That's because the Samsonite UBX Commuter Backpack marries the comfort of foam straps with water-resistant polyester. That means this puppy is lightweight yet tense enough to hold a 15.6" laptop.
It has more than enough pockets to hold food for an entire small village along with side compartments ideal for water bottles. Thus, if you feel like instigating any food donations, use the Samsonite UBX Commuter Backpack.
This product is available for $80 though sadly it's currently out-of-stock.
Who Is Samsonite For?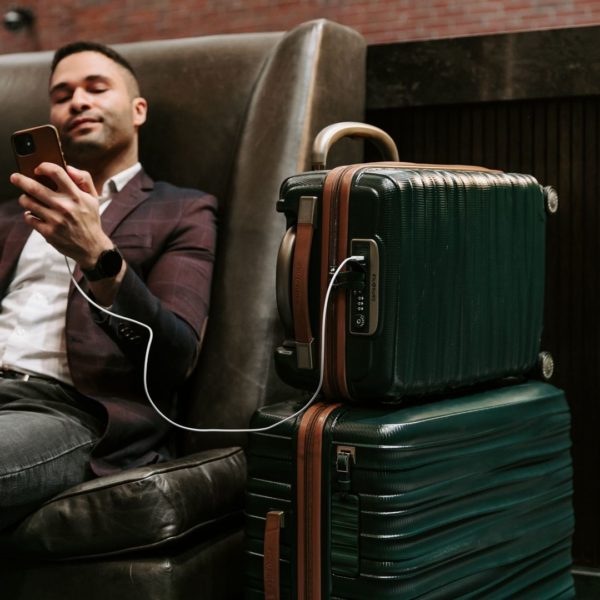 Samsonite products are for frequently air-mile collectors as well as commuting conquistadors. Their suitcases and luggage sets seem to be dependable while their backpacks are economic in size but ergonomic in function.
Samsonite Reviews: What Do Customers Think?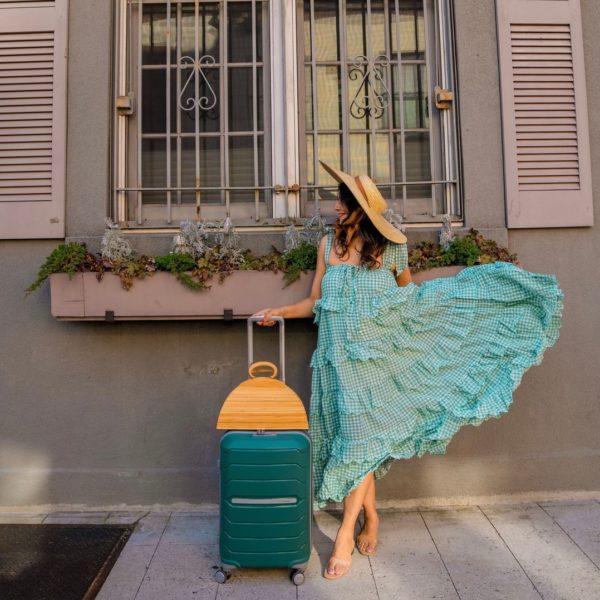 The key to successful packing is establishing that every item is in its right place. All properly packed luggage should look like it was assembled by someone with a master's degree in Tetris. But do you know what has no place among vacation packing staples like underwear, toothbrushes, and deodorant? Doubt.
You should never bring doubt with you during your travels, nor should you have any doubt in your luggage. That's why this section of our Samsonite review will study what customers have said about the brand. That way you can decide whether these are the right carrying cases for you without a shred of hesitation.
The easiest place to find customer reception about Samsonite is from the company's own website. Here's a short list of the aggregate scores of the best-selling products we spoke about earlier in this Samsonite review:
Samsonite UBX Commuter Backpack: 4.8/5 stars based on more than 430 pieces of customer feedback
Samsonite Novex Perfect Fit Laptop Backpack: 4.7/5 stars based on more than 880 pieces of customer feedback
Samsonite Tenacity 3 Piece Set BP/21″/25″: 4.6/5 stars based on more than 340 pieces of customer feedback
Samsonite Detour Travel Backpack: 4.4/5 stars based on more than 130 pieces of customer feedback
Samsonite Novaire 2 Piece Set: 4.3/5stars based on more than 220 pieces of customer feedback
Upon looking at those numbers, the only thing we can say is that that's a lot of stars! Thankfully, we're not the ones talking here, the customers are. And boy, do they have quite a bit to say about Samsonite.
Most Samsonite products were touted for being spacious yet compact. They could fit everything customers needed with their multiple pockets and creative design making them optimal carrying cases.
But any big bag can hold plenty of things. What customers really loved about Samsonite was how their suitcases and backpacks could fit so many items while maintaining their shape. Samsonite goods were often called easy to carry.
One perfect 5/5 star review of the Samsonite Novex Perfect Fit Laptop Backpack said that the product allowed them to remain mobile and productive.
The customer wrote, "I use this backpack as a mobile office. It helps me be efficient by standing upright and giving me easy access to everything in it. Once I arrive where I am working I just open up the front flap and I have access to any office-related things I might need, pens, notebook, hand sanitizer (!), etc. Not having to pack everything up when I go mobile is great, everything always has a home."
On the negative side of customer reception, buyers weren't very pleased with Samsonite on Trustpilot. The poor reviews there decried Samsonite's durability. Some customers reported that their suitcases broke after only a handful of flights.
However, airports are notoriously dangerous for luggage. They're the leading cause of infant luggage mortality in most Western countries according to our own scientific findings. This means that poorly maintained luggage transports in airports could've been the reason why these Samsonite products were damaged.
We'll conclude this section of our Samsonite review by reflecting upon what we learned from Samsonite customers. Those that loved their purchases claimed that the items were,
Reliably sturdy
Able to hold many items
Efficient and mobile
Is Samsonite Worth It?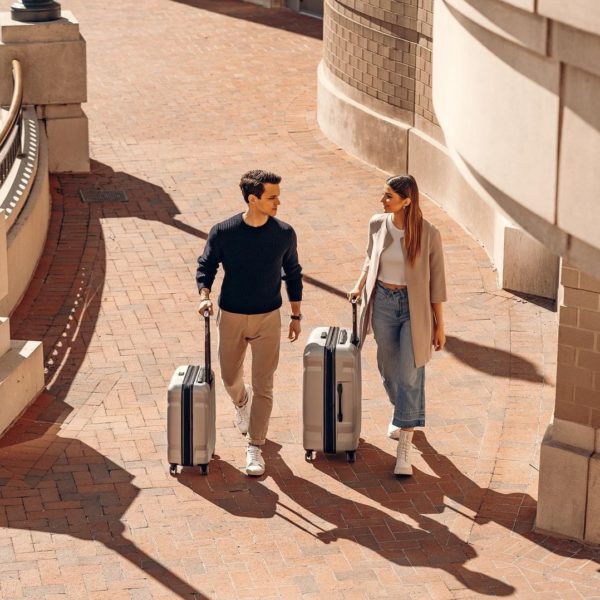 Based on the positive Samsonite reviews, we can say without a shred of uncertainty that they are worth looking into if you're interested in purchasing new luggage.
Samsonite Promotions & Discounts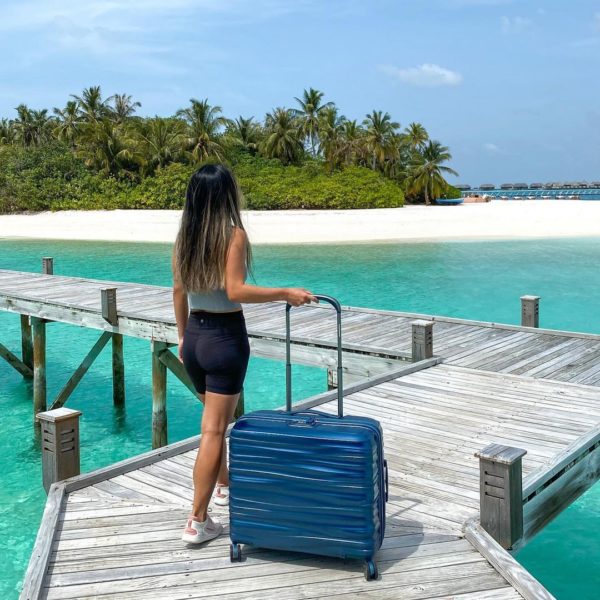 Most people reward themselves during the holidays by stuffing their faces with turkey, potatoes, and pies of all shapes and sizes. However, you're not most people. We can tell you prefer to treat yourself with gifts that are a bit more, shall we say, sustainable.
That's why you should look into Samsonite's Spring event.
By using the Samsonite coupon code SPRING you could save $25 on a $250 purchase or $50 off of items that cost $300 or more.
Our Samsonite review writers also found that the company features year-round savings on certain products through their clearance section.
Lastly, you can also enlist in the company's email newsletter to receive news about any future promotions and for 10% off your first purchase.
Where to Buy Samsonite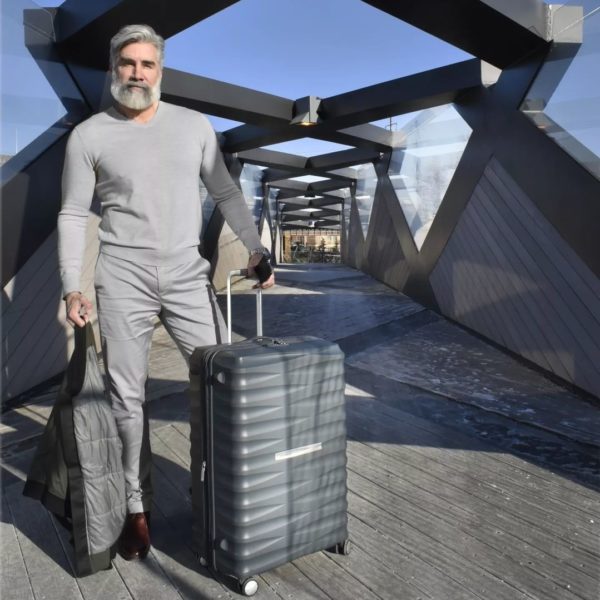 You can roam if you want to, you can roam around the world, you can even roam without wings – and potentially without wheels, depending on which Samsonite luggage set you select – by purchasing the right suitcase for the job.
Our Samsonite review writers found products along the real and virtual aisles of these retailers;
Samsonite's website, shop.samsonite.com
Luggage stores like Bentley and TUMI
Online shopping centers like Amazon
FAQ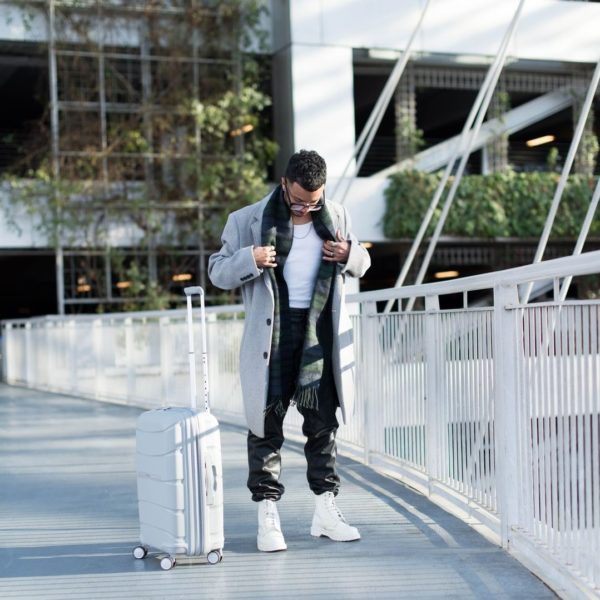 Who owns Samsonite?
Samsonite is currently owned by the British private equity firm CVC Capital Partners.
Does Samsonite ship internationally?
Yikes, looks like Samsonite do not offer international shipping at this point in time. International shoppers will have to look into luggage retailers in their particular country in order to purchase Samsonite baggage.
Where is Samsonite made?
Our crack squad of Samsonite review writers discovered that some of the brand's products are made in Europe. That being said, the majority of Samsonite goods are manufactured in China and India.
What is Samsonite's Shipping Policy?
Samsonite's US shipping policy includes three different delivery options. These choices, and their associated prices, are;
Standard shipping, $5 fee on orders up to $150, free shipping on any orders more expensive than $150
Expedited shipping, $20 shipping fee plus a $10 luggage surcharge
Priority shipping, $40 shipping fee and a $15 luggage surcharge
Standard shipping typically takes around 2 to 6 business days for products to arrive once the company has sent them for delivery. Expedited shipping orders only take 2 to 3 business days to reach their destinations while priority shipping ensures that products nearly teleport themselves from the factory to your doorstep.
Items shipped via priority shipping should only take 1 business day to deliver.
What is Samsonite's Return Policy?
Do you want to learn about Samsonite's return policy? Okay, here's everything our Samsonite review writers dug up about it.
The company offers you the opportunity to return any new or unused Samsonite goods up to 30 days after you've received them.
They will not refund any shipping or handling fees. Additionally, all travel items are subject to a $15 return fee and non-travel products cost $10 to send back to Samsonite.
Samsonite cannot exchange any items either. They only offer full product refunds. Anyone looking to exchange their Samsonite luggage for another piece will have to return the first product then manually purchase their desired replacement.