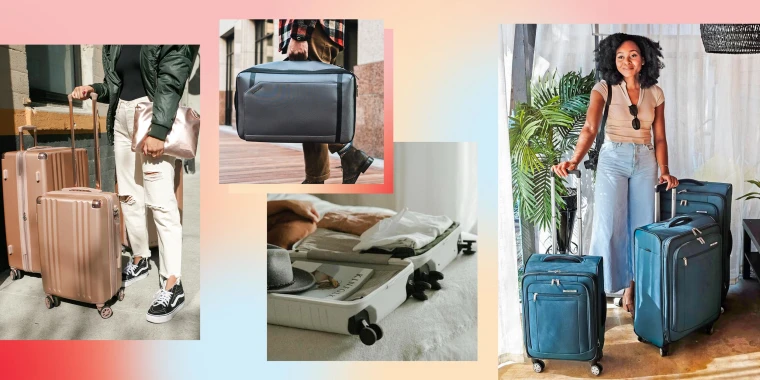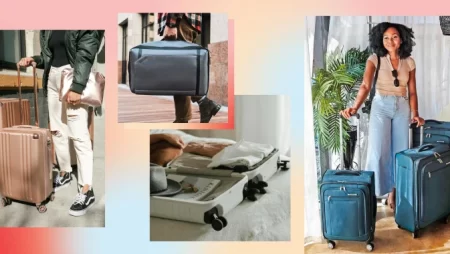 Heads up: Our content is reader-supported. This page includes affiliate links. If you click and purchase, I may receive a small commission at no extra cost to you.
**This post contains affiliate links. If you use these links to buy something we may earn a commission.** Thanks
I'd like to think that I've perfected the art of travel, considering I've lived out of my luggage for a year — and have jetted around the globe for work for a few more. I travel a lot, which has taught me a few things about efficiency; and even if that weren't the case, I'd still want the most efficient experience with each trip.
That's asking a lot of the airports, airlines and fellow travelers, of course. ( "Travel efficiency" is quite the oxymoron.) But there is one way to make sure efficiency is always within one's grasp: choosing the right luggage.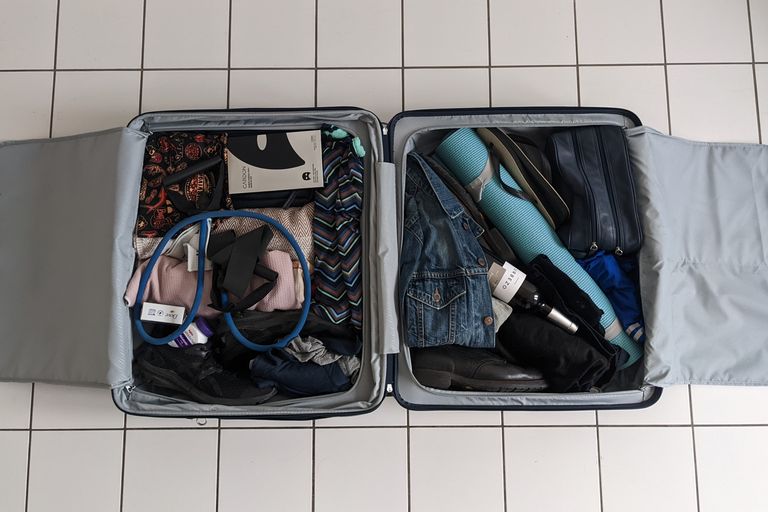 Now, this isn't a tutorial on effective packing, but for my trip in question, I had to cram two weeks' worth of clothes, including wedding attire, multi-climate outfits and beach needs (towels, too), a yoga mat (chiropractor's orders), as well as gifts (among them, three bottles of wine). I needed a sturdy, protective suitcase I could check that still moved quickly over cobbled sidewalks, without shifting too much in transit.
Previously, I trusted (and lived out) of the Away Large Suitcase, which I highly recommend for its ultra-low weight and ultra-large belly; it's perfect for an entire on-the-fly wardrobe. It felt too tall for this trip, though — a big, boxy bag that was hard to lift into the back of cabs onto a luggage rack once I'd arrived in my room. I needed something large but compact, where I could pack fewer things, but also heavier and bulkier things.
Enter the new Elevation Plus Medium Glider from Samsonite, one of four June 2022 "Elevation Plus" launches from the suitcase super-brand. I was drawn to this one for its low center of gravity, durable shell and numerous thoughtful details.
What Are the Benefits of a "Square" Suitcase?
In short, the key benefit of a shorter, stouter suitcase like this one is that it carries a low center of gravity. That means more efficient movement across unstable ground, and less "tumbling space" for heavy or valuable items when checked on the plane. (But there's still ample space to pad them in with bubble wrap, surplus socks or beach towels.)
The Elevation Plus Medium Glider isn't the first low-riding "square" suitcase — Samsonite has a few Glider models, including a large, a soft medium and a more heavy-duty medium. However, this one struck a balance between affordability (it's the least expensive of the four Samsonite Gliders) and durability; I knew it could keep my wedding clothes taut, prevent my grooming products from spilling out, and my wine bottles safe. It also expands nearly one inch for bulkier trips.
The Samsonite Elevation Plus Lineup
Samsonite's new Elevation Plus lineup, their premium collection, launched with four core pieces: The medium Glider, a large Spinner check in and two slightly offset carry-on Spinners (one slightly smaller than the other). Both carry-on options have a quick-access push pouch, as well as a removable pouch for any seated in-flight needs, even while the bag itself is stowed.
The thread line of all four pieces are the lightweight, durable Polypro shells and eco-friendly materials. The interiors are lined with 100 percent post-consumer recycled PET bottles; other features like spill-proof pockets, garment dividers and compression straps are standard fare, too.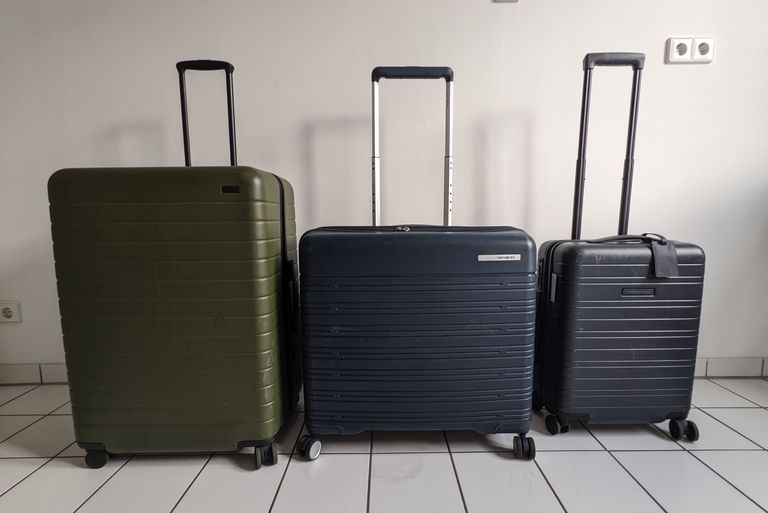 I would compare this assortment to millennial favorites like Away and Horizn; it seems to be a direct response to the success of those brands. And, hey, good news: with Samsonite's launch, now your luggage won't be identical to every traveling 20- and 30-something.
Samsonite Elevation Plus Medium Glider
Key Specs
Shell Dimensions: 23 by 24.5 by 12 in. (including wheels)
Weight: 10.3 lbs
Linear Dimensions: 59.5 in.
Packing Dimensions: 20.75 by 23.25 by 12 in. (+0.75 in when expanded)
Warranty: Limited 10-years
Extras
TSA passcode lock
Interior Apple AirTag holder
Complimentary zipper repair kit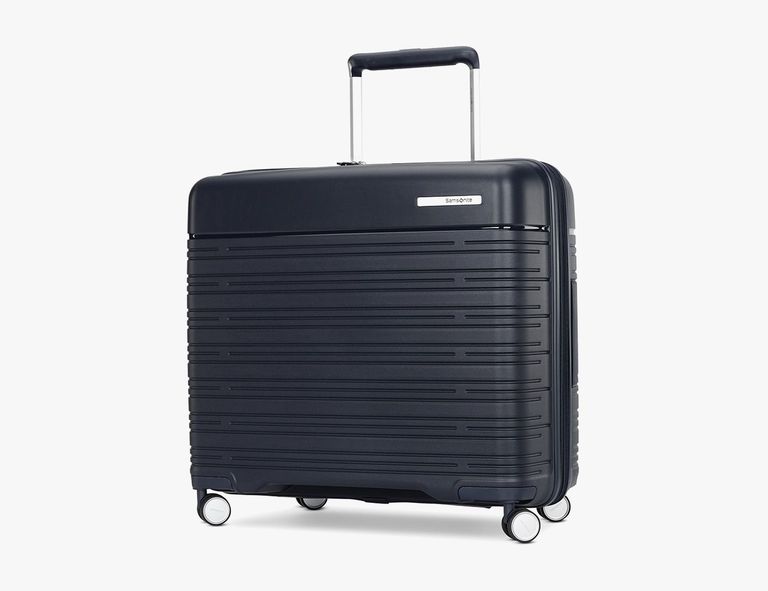 What's Good
The Volume and Weight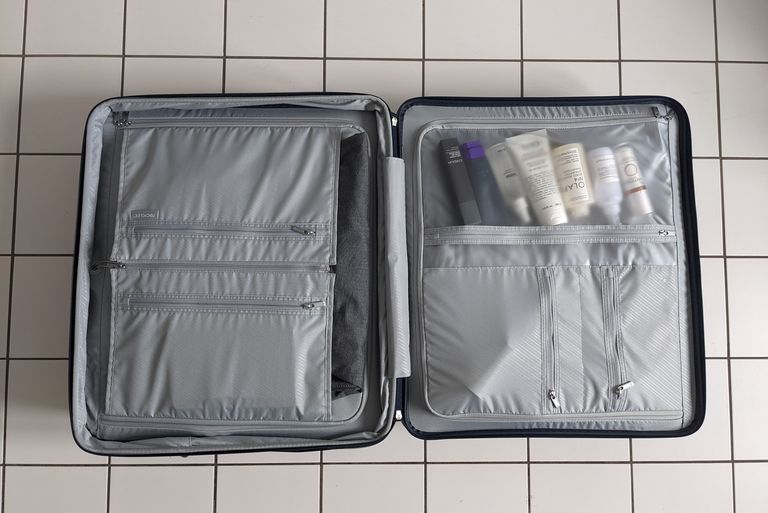 I was pleasantly surprised by the Glider's volume: I expected the Samsonite to carry less and to be heavier, but it holds roughly 93 liters and is expandable to 99, matching the volume of my usual go-to, the Away Large. I was surprised that the Samsonite Glider shell is lighter, too: It is 10.3 lbs compared to the Away Large's 11.2.
Now, I'm suggesting that these two pieces of luggage are interchangeable; rather, the Away Large has long been a favorite, but I can't expect it to be the best fit for every need. However, when an airline's check-in weight limit stays fixed at 50 lbs, then it is worth comparing their volume and weight, especially considering the somewhat more reinforced shell on the Samsonite.
The Zipper Configuration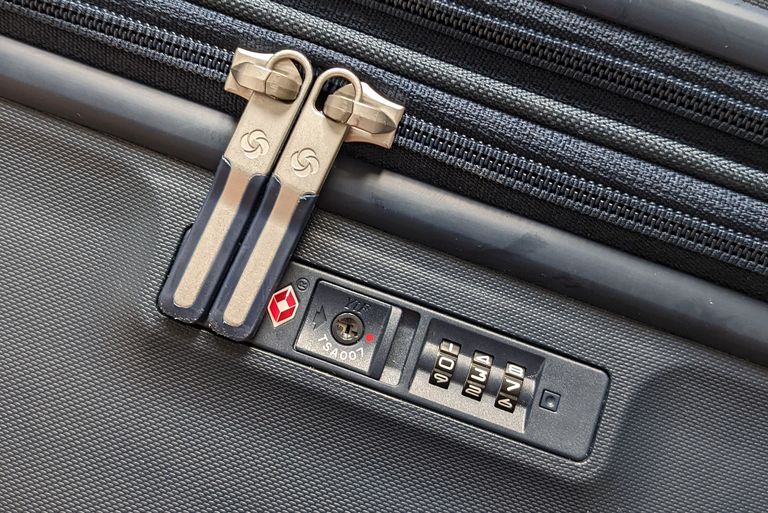 I love when luggage zippers shut on both sides, turning the middle space into a shelf of sorts (one with pockets, in this case, to protect liquids from spilling, particularly on the wedding attire packed directly opposite in the garment compartment).
Along with travel, I also write about grooming, so I tend to travel with lots of grooming products. Plus, I never trust the hotel shampoo, conditioner, and body wash over the products I can otherwise tote.
Its Shape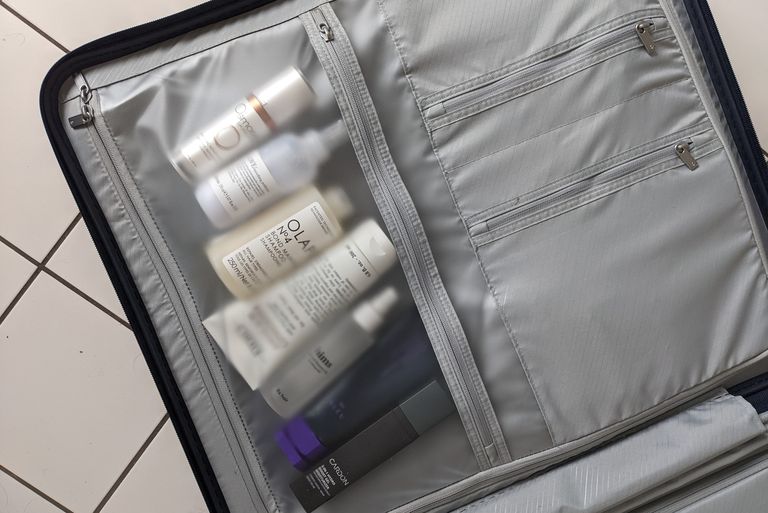 I was pleased that my yoga mat fit perfectly across the diagonal, and that my three wine bottles (gifts for our trip hosts) were easy to protect; there was plenty of give on either side for beach-towel padding, as well as a limited amount of space where these bottles could move, which was best of all. Plus, the zippered-off sections ensured this, too. I packed two bottles on one side, and the third on the other.
How It Travels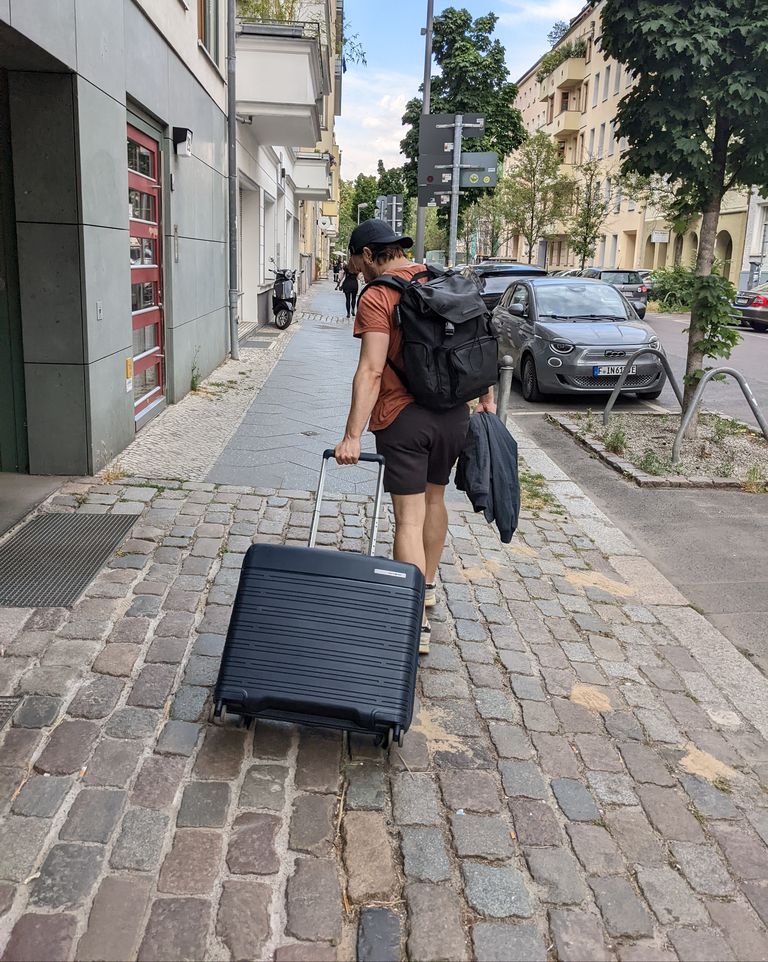 For the majority of my trip, the suitcase was stowed with all the other checked bags — but it arrived without a single spill or compromising dent. I can credit that to its low center of gravity and overall reinforced structure. I live a couple blocks from the tram and have to roll my luggage over a few cobblestone side streets to get there. This thing, from grip to base, rattles far less than my other suitcases.
It is deceptively small, too, in that taxi drivers mistook it for being light like a carry-on, when sometimes it probably contained as much as 70 pounds of cargo (when we weren't packing for flights, but instead of road transfers). I also found that the short stature and shape made it easy to lift into cars.
The polypro shell endured some scuffs in transit on this inaugural trip; that's par for Polypro, though. I would say to level up to polycarbonate or better yet, ABS if you want a scratch-resistant shell. I was able to rub off most of the markings, but the wear is evident already. (That's fine; like a pair of white sneakers, I can't expect this luggage to stay fresh. What's the point in it if it's never put to use?)
What's Not
Adjusting to How It Opens
The strangest thing (not in a bad way) was how the suitcase opens and unfolds. It does so from an upright position, in that the wheels fold into one another and their offset positioning doesn't cause any overlap. The front panel is slightly more inset, and the back two, for the recline, are more outset.
The Verdict
Samsung Elevation Plus Medium Glider
For me, the Elevation Plus Medium Glider is nearly perfect. While no piece of luggage is ideal for every occasion, this one can carry as much as larger competitors, but with more care for anything fragile or particularly heavy or bulky. (Be sure to pad anything fragile, still.) The easiest sell is the cost, especially given that its core competitors charge over $100 more for something less structured, less decked out and nevertheless heavier than this Medium Glider.
Would I have used this one on an extended "live out of my suitcase" type trip? Yeah, I could see that. I wouldn't doubt that it could succeed in that way, especially given the terrific storage options. It feels a little less like a piece of luggage where you throw everything in and go; it requires a little more attention, but it pays that off with a lot more protection and, best of all, more efficiency on the go. Travel is smooth with this Samsonite…and that's the only way I can fathom traveling anymore.