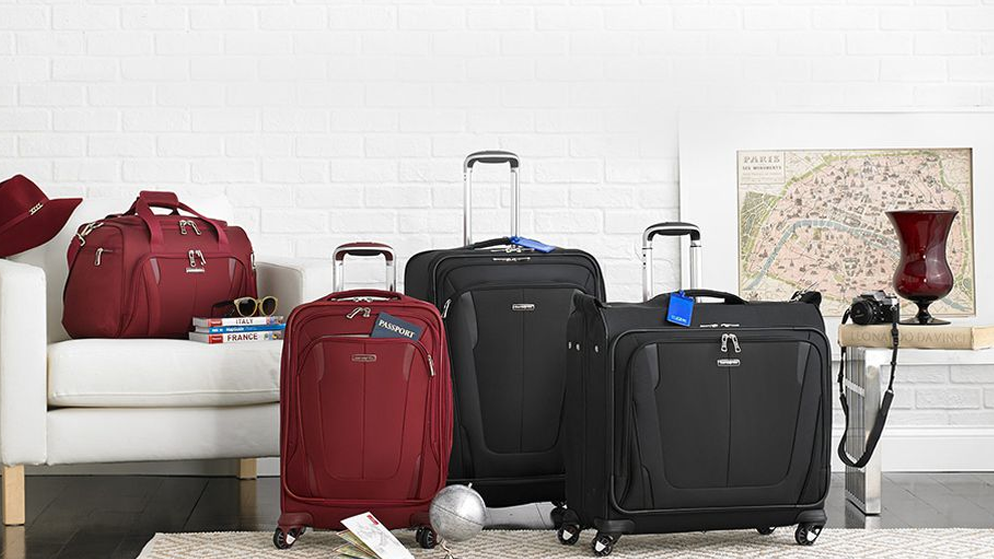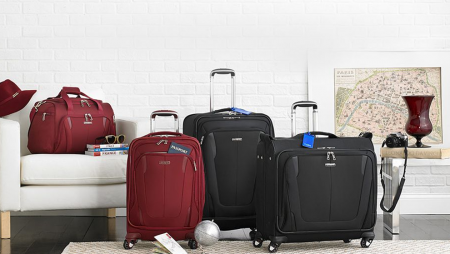 Our content is reader-supported. If you click on our links, we may earn a commission.
**This post contains affiliate links. If you use these links to buy something we may earn a commission.** Thanks
Samsonite has been known as the go-to luggage brand for those who want reliability at reasonable prices for decades. But in the past few years, a lot of new brands have risen. This raises the question of whether Samsonite is still the best choice or not.
In this Samsonite luggage review, we'll find out if it lives up to its name. We'll look at their quality, ratings, warranty, features, prices and compare them to similar alternatives from other brands.

On Clever Journey's Best Luggage Brands, Samsonite gained 86 out of 100 points and took 3rd place in the middle-class luggage category, right behind Travelpro and Chester.
Although Samsonite isn't the absolute winner on our leaderboard, they lived up to their name. Samsonite offers the perfect balance of quality, features, design, and prices, which explains how they've managed to become so large and stay on the top for so many years.
You can see how the full rating was determined in this graph. Down below, we go in-depth on each category and explain why we've given them that particular rating.
The Good
Solid build quality. While Samsonite isn't the best brand when it comes to build quality, they offer reasonably solid luggage. Their suitcases are made from durable materials and go through rigorous testing to ensure that their quality is top-notch.
Reliable warranty and support. Samsonite is very well known for its excellent support and warranty. Although they don't offer a lifetime warranty, they do offer five and ten-year warranties, and the warranty terms themselves are pretty good.
Excellent reviews. Because Samsonite is so popular, their bags have been tested by thousands of people, and the average rating usually is between 4-4.5 stars out of 5. Most of their buyers are repeat customers who've been loyal to the brand for decades.
Great designs. Even though Samsonite doesn't have the most extravagant designs you can find on the market, their glossy looks and modest yet minimalistic designs are incredible.
The Bad
Limited packing features. Most of their affordable suitcases don't offer packing features that you would get excited about. Some newer brands are doing a much better job at coming up with unique and smart packing features.
Some models can get expensive. Although you can get a good quality suitcase for about $100, some of their premium models can cost up to $700, and we don't think they are worth that much.
The Verdict
Samsonite is an excellent option for leisure as well as business travel. Although other brands may offer better durability, warranty, features, or look better, they usually lack in other aspects. Samsonite combines everything in a well-made suitcase that is a solid option for nearly everyone. Whether you're a businessman, a single mom, or in your mid-20s traveling the world, you really can't go wrong by choosing Samsonite.
That being said, we still think that Travelpro or Chester is a slightly better choice. They're similarly priced but are more reliable and have better warranty terms. Still, Samsonite is a solid choice for those of you who don't want the best suitcase in a certain aspect, but a jack of all trades.
Full Review
Key Facts About Samsonite
Samsonite International S.A. was established back in 1910. Right from the get-go, their main focus was manufacturing affordable luggage. Over the years, they ventured into other niches (furniture, for instance), but they weren't too successful there.
Today, Samsonite is the most popular luggage brand on the market (three times bigger than the second place, Louis Vuitton.) A high portion of their sales come from Samsonite retail stores, which are available in almost any metropolitan city across the globe.
Over the years, Samsonite acquired several other luggage manufacturers, like American Tourister, Hartmann, Tumi, eBags, High Sierra, and Lipault. All brands combined are pretty close to having a monopoly status in the market.
Reviews (26/30)
Although we've seen better reviews in similarly-priced brands, Samsonite's customer reviews are one of the best ones in the entire luggage industry. Most of their products receive 4.4-4.7 stars on various online stores, which is fairly high. Keep in mind that while it's easy to get 5-star reviews for the first dozen reviews, Samsonite's luggage has managed to keep these high rankings with thousands of reviews on every product.
Because Samsonite has been around for a long time, a lot of its customers have been using its luggage for decades. It's not uncommon for people to stay loyal to Samsonite for decades because they've always resonated with an excellent warranty, support, and durability. That being said, we've seen a slight decrease in customer reviews over the last decade. People are saying that their durability isn't as good as it once was. If a decade ago you could expect their bags to last over ten years, now they're closer to seven or eight.
This has caused frequent travelers to search for a new and better alternative at the same price point. While brands like Travelpro and Chester offer just that, and brands like Briggs & Riley offer more for double the price, Samsonite's popularity hasn't decreased. This is especially true nowadays since most luggage brands don't have enough stock available due to the pandemic, while Samsonite's most popular suitcases have been fully stocked.
Here's a really cool video that shows what's going on behind before a suitcase is mass-produced and sold to the public.
Quality (17/20)
In terms of durability, Samsonite does a pretty good job. Most of their suitcases are made from reliable materials, such as polycarbonate and nylon. Cheaper brands usually choose ABS or polyester, because of cheaper production costs but not Samsonite. They even offer a few aluminum suitcases, which people reported to be especially durable.
Samsonite's suitcases are outsourced in third-world countries, which is how they keep their production costs somewhat low. So theoretically, their suitcases don't differentiate much from lesser-known brands. But you have to understand that nowadays, everything is outsourced. What sets Samsonite apart is that they only work with reliable manufacturers, and they have much higher quality standards.
Our market research revealed that most people were happy with their purchases. On suitcases, the first things that tend to break are the zippers, the wheels, the handles, the seams (for fabric suitcases), and the hard shells get cracks. Samsonite does a pretty good job at this because only a few people complained about these problems. Instead, most people said that the retractable handle on their suitcases feels rigid, the zippers won't get stuck or broken, the seams are well-stitched, and that they haven't had any serious issues even from frequent travel.
That said, a few people complained about broken spinner wheels and faulty handles. Usually, the retractable handle would get stuck or one of the spinner wheels would break off. But overall, most people didn't have any of these issues – only a small percentage. Some people also mentioned that the durability has slightly declined over the years. For example, when two versions of the same Samsonite model are compared side by side, usually, the newer version feels slightly more flimsy but lighter.
In this video, you can see how a Samsonite carry-on looks after 10 years of use (Still reasonably new, aside from slightly torn-up fabric).
Features (13/15)
Because Samsonite has a huge budget, they can afford to spend a lot on R&D (Research and development.) Many of their high-end suitcases come with new features that you rarely find in luggage from other brands.
Innovative Cable TSA Locks for Some Fabric Suitcases
On most Samsonite's hardside suitcases, you will find integrated TSA-approved combination locks, which is nice, especially when you're paying over $100 for a hardside bag. But this is somewhat common because most manufacturers offer TSA locks only for hardside bags.
However, Samsonite has also managed to add TSA locks to fabric bags. On some of their softside luggage, you'll find a cable that pulls through all the exterior zippers and connects with a TSA lock. This way, all of the outer pockets are locked instead of just the main compartment.
Built-In USB Ports on Premium Models
On some premium models, you'll find integrated USB ports. They're helpful for charging your electronics in airports, trains, and while commuting. Basically, you can keep your power bank inside a dedicated pocket and connect your mobile phone to the power bank through the USB port. While not everyone is a fan of these, some travelers can't go on a trip without a power bank, so being able to attach it to their luggage is pretty handy.
Right-Height Retractable Handle System
On some of their most recent models, like the Silhouette XV carry-on, Samsonite has implemented what they call the 'Right Height' handle system. Essentially, it's a fancy way of naming a retractable handle with more-than-average fixed heights. Usually, you get two to four fixed heights, while in Samsonite's system, you get eight, which can benefit some people.
Durable Spinner Wheels
Most of Samsonite's suitcases come with spinner wheels, which is nice. Based on other customer reviews, we didn't see many issues with faulty spinner wheels, which is a common issue for most brands.
On some of their newer models, instead of regular spinner wheels, you'll get double wheels with the 'Tru Trac' technology. Essentially, this system improves steering and the ability to roll the suitcase in a straight line. But, it's mostly there for marketing reasons, as almost every other similarly-priced brand offers similar wheels. That being said, we can safely say that Samsonite's wheels are superior to most other brands.
Water-Resistant Coatings on Fabric Suitcases
Almost all of Samsonite's fabric bags offer water resistance to some degree. Some are coated with the 'SamGuard' water-resistant coating, and some are made from naturally water-resistant materials, like ballistic nylon.
This doesn't mean that you can go swimming with them. It just means that in light rain, the contents of your bag won't get soaked.
Expandable Zippers on Most Models
We're glad to see that this feature isn't an extra and is included in most of their suitcases, both hardside and softside. The expandable zipper allows the bag to expand by 1.5-2 inches, resulting in an extra 15-25% packing volume. It's convenient for checked bags when you're short on space.
Design (13/15)
Although Samsonite's low-end fabric suitcases look a bit generic, we think that their hard shell bags look stunning, and the Winfield 2 hardside looks especially sleek. But above all, we like that Samsonite is consistent with their style.
They're made for business professionals, frequent travelers, and people who appreciate discrete and sleek looks over flashy ones. When you check out their products, all of them are made in this professional style, which is good because it keeps their brand at their core values.
Warranty (9/10)
Samsonite is well known for its outstanding warranty and friendly support. That's why they've got loyal clients who remain loyal for decades. All of Samsonite's suitcases are covered by either a limited global warranty, a limited 3-year warranty, or a limited 10-year warranty.
Unfortunately, their warranty doesn't cover normal wear and tear, transportation damages, or any damages caused by improper use. Basically, they only cover manufacturing defects and defects from the use of improper materials.
It may not sound like much, but we've seen countless cases where their clients got free warranty repairs when it clearly wasn't covered by the warranty policy. They go above and beyond to keep their customers loyal, so taking minor losses to keep their customers happy is essential.
Whenever their products have to be repaired, Samsonite offers these two options:
The customer can ship the item to the warranty repair center at his own cost.
The customer can go to the nearest Samsonite's shop, and the dealer will ship it to the Samsonite's repair center for a small fee of $10-$15, depending on how large the briefcase is.
We like the second option better because Samsonite's stores are available in almost all large cities worldwide, and the fee is minimal.
Samsonite has a reputable and dependable warranty compared to its competitors, which is why we've given them 9 out of 10 points.
Price (8/10)
Although Samsonite's suitcases may seem on the higher end, they actually aren't. Yes, they do offer some premium suitcases that cost up to $700; however, they have a wide variety of affordable bags that cost around $100-150$. Taking everything into account, their affordable options in the $100-$200 price range offer the most value.
Samsonite's premium models that cost around $300-$400 don't make much sense and are overpriced. We think that you'd be much better off with Tumi or Briggs & Riley at that price point. That being said, it's safe to say that you're getting what you're paying for, despite Samsonite's luggage being a bit more expensive than other medium-class luggage brands.
How Does Samsonite Compare to Other Luggage Brands?
There's no doubt that Samsonite is the most popular luggage brand out there. Compared to every other brand we've reviewed, Samsonite offers the best balance, meaning that it's not the best brand on individual aspects, but it ranks highly on each aspect. That being said, let's look at how Samsonite ranks against other similarly-priced brands, as is shown in our Best Luggage Brands list.
Starting out with Samsonite's reviews, the brand ranks higher than most other medium-class brands. Both Ricardo Beverly Hills and Traveler's Choice have received worse reviews than Samsonite, with Delsey ranking similarly. Chester and Travelpro are in a league of their own, with both brands receiving much better reviews than Samsonite. The same can be said about the brands' warranty, even though in this case, Samsonite ranks closer to Chester and Travelpro, all three of which have excellent warranties.
When it comes to Samsonite's luggage design, the brand still ranks highly compared to other medium-class brands. While Travelpro's designs aren't great, the rest of the brands rank very similarly, with Delsey and Mia Toro ITALY ranking higher than them.
Samsonite offers great quality luggage, ranking just below Travelpro and Chester, with the rest of the brands ranking below these three luggage brands. When it comes to their price, all the luggage brands rank similarly, with Traveler's Choice ranking above them all, followed by Ricardo Beverly Hills. Samsonite sits tightly alongside Chester and Travelpro. The features that Samsonite offers are similar to the other brands when it comes to their usability, with Travelpro and Traveler's Choice offering the most features for their respective prices.
Overall, Samsonite offers a bit of everything. This makes it the "jack of all trades" of the luggage industry.
Individual Samsonite Suitcase Reviews
Best Hardside Carry-On: Samsonite Omni 2 20-Inch Carry-On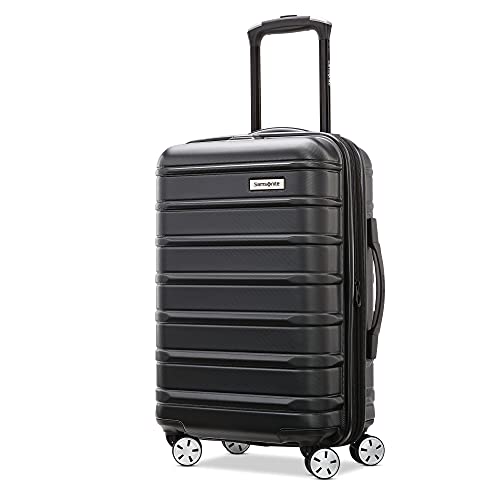 Between all the Samsonite hardside carry-ons, the Omni 2 carry-on is undoubtedly the best. It's the successor of the famous Samsonite Omni 1 collection, and it came out in early 2021. The suitcase comes in four vibrant colors – black, silver, teal, and purple, with its design featuring ridges on the front and the back.
The outer shell of the suitcase is made from lightweight polycarbonate, which is to be expected at this price range. Alongside the durable polycarbonate shell are four pairs of spinner wheels, a retractable handle. According to recent customer reviews, the wheels and the retractable handle are reasonably durable. If they are anything like the Omni 1, then they'll last for a very long time. On the carry-on model, there's no TSA-lock, unlike the medium and large checked counterparts.
As we take a closer look inside, we're presented with a standard interior. There's one spacious main compartment and a zipper mesh divider. The main compartment features a pair of elastic straps that'll keep all of your luggage in place, but it's not extremely durable, especially when the bag is overfilled. Another neat feature that can be found on the Omni 2 is a USB port so that you can charge your phone or laptop while you're flying.
Overall, the Omni 2 carry-on is one of the best hardside carry-ons on the market. However, it's slightly worse than the Maxlite 5 hardside carry-on by Travelpro. Still, both suitcases are an excellent choice for frequent travelers.
Best Softside Carry-On: Samsonite Solyte DLX 20-Inch Carry-On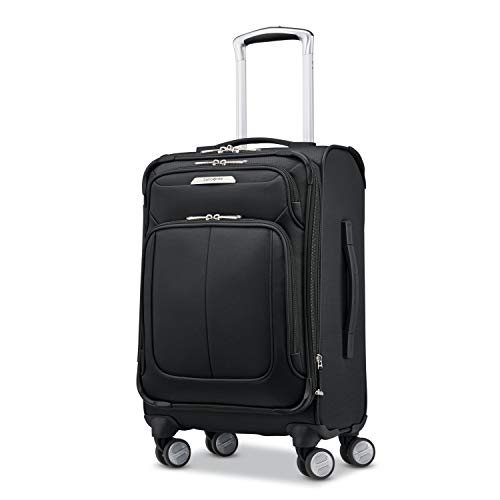 The Solyte DLX softside carry-on has been one of Samsonite's best sellers for many years. It's easily the best softside carry-on that Samsonite has to offer. The design of this suitcase is pretty generic, and it looks like something that came out of the 2000s (that's because it did come out in the late 2000s). It only comes in three colors – black, blue, and gray. This might make it difficult to find it on the conveyor belt.
The suitcase is made from durable polyester with some waterproof properties. You shouldn't expect that pouring a gallon of water on the suitcase won't make it wet, but a light drizzle will be no problem for your luggage. This bag has no TSA-approved lock, which is disappointing, but the retractable handle and double spinner wheels are very durable. Just like most softside carry-ons, there are a couple of pockets on the front where you can keep anything you might need during the flight. There's also a 'Smart Sleeve' on the back of the suitcase, which allows it to be put on top of the medium and large checked counterparts.
On the inside, there's nothing too special. The bag features a main compartment, which is pretty compact, as well as two zippered mesh pockets. There's also a USB port so that you can charge up your phone while you're in the air. The main compartment has some durable straps that will keep all your luggage nice and tight.
Overall, the Solyte DLX is a great softside carry-on. But, when compared to similarly-priced carry-ons like the Maxlite 5 softside carry-on, it seems like it's lacking in features and packing space.
Best Luggage Set: Samsonite Winfield 2 3-Piece Luggage Set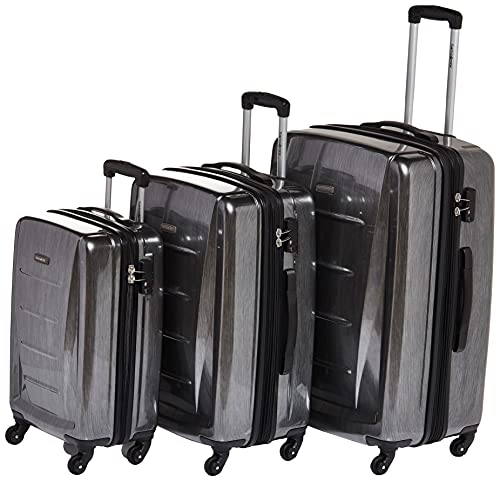 We think that the Winfield 2 3-piece luggage set is the best one that Samsonite has to offer. In fact, we believe that this is one of the best luggage sets on the market.
The set comes in 20, 24, and 28-inch suitcases. All three pieces nicely fit inside each other, so they don't take too much space when stored in the attic. The brushed finish is available in several different colors, including charcoal, deep blue, brushed anthracite, orange, and purple.
All three pieces are made from polycarbonate, which is more durable than ABS. The two largest pieces are fitted with expandable zippers, which allows the cases to expand by an additional 1.5 inches in width. Other than that, all three pieces are fitted with TSA-approved combination locks and four spinner wheels.
Inside, you get two separate compartments in each bag, both divided by a fabric sheet. There's also a large zippered pocket for smaller items and an X-shaped compression strap to keep your contents in place.
However, all three bags are said to be easily scratched. Some colors will make those scratches stand out, but we found that even the more matte colors like the brushed anthracite still have visible scratches after a couple of flights. The carry-on also lacks some features compared to the other two checked suitcases, like the side handle and the expandability.
But, overall, we like how affordable, durable, and good-looking the Winfield 2 luggage set is and that it's backed by a 10-year Samsonite warranty. If you're looking for a similar luggage set, then you should check out the Traveler's Choice Sedona 3-piece luggage set.
Best-Looking: Samsonite Freeform Hardside 21-Inch Carry-On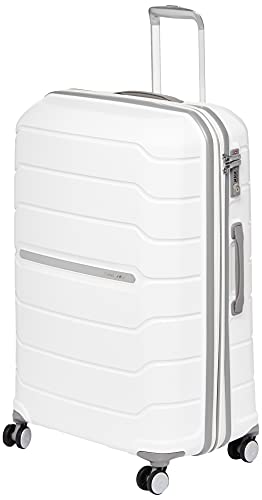 We think that the Samsonite Freeform 21-inch hardside is the best-looking suitcase that Samsonite has to offer, especially in the white color, and it's also one of their cheapest hardside options. Its design is relatively simple, but it's very elegant and stylish, and it comes in black, navy, sage green, tangerine, and white.
The outer shell is made from polycarbonate (which is stronger than ABS) and feels sturdy. When compared to the Winfield 2 or Omni PC, the Freeform is also more lightweight. Although this case doesn't have a patterned finish for hiding the scratches, we can definitely say that the scratches are nearly invisible, including the one that comes in white.
From the outside, the Freeform is fitted with double spinner wheels for smooth moveability, top and side handles, and a retractable handle on top. Although you don't get any exterior pockets, the main compartment is locked with a TSA-approved combination lock.
On the interior, the bag is split into two parts. Inside, you will find two pockets for storing your smaller items and an X-shaped compression strap, so you can keep all of your clothes pushed down to the frame. If you would ever run out of space, this bag is fitted with an expandable zipper for an additional two inches in width.
Although this carry-on is slightly oversized for the most common 22 x 14 x 9 size limit, most of their customers have successfully fitted the bag inside the airlines' measuring boxes (even though it's a tight fit). That being said, the wheels are not as durable as other Samsonite suitcases. Despite us not having any problem with them, the main complaint of other customers is that the wheels break easily.
Overall, the Freeform carry-on comes with many features that you wouldn't expect on a suitcase at this price. But the main reason why we're so excited about this case is its looks, especially in the white finish. An equally-beautiful bag is the Delsey Chatelet checked hardside suitcase, but it's much more expensive.
Best Medium Hardside: Samsonite Centric 24-Inch Checked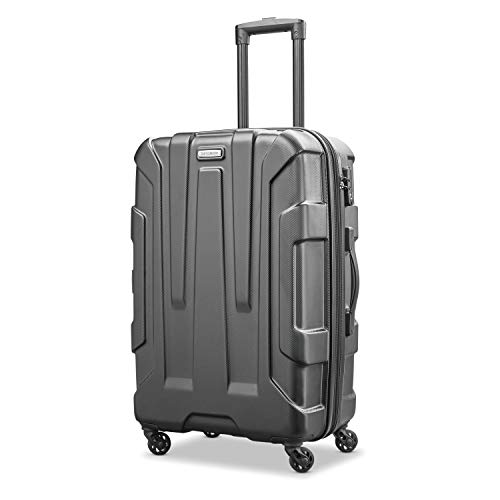 The Samsonite Centric medium checked suitcase is an excellent option if you want the best medium hardside suitcase. Its design is really unique compared to everything else that Samsonite offers, and it comes in a wide array of vibrant colors, including Caribbean Blue, Burnt Orange, and Purple.
This bag is made from polycarbonate, which is very durable compared to ABS. When we tested out the bag, it wasn't as rigid as we expected, but it still held up great during the trips we took it on. That being said, concerning the rigidity of this one, if you're unlucky and it gets handled poorly, it might end up with a chip or a dent. Still, the suitcase comes with a retractable handle, alongside a top and side handle and a TSA lock. Its wheels are below-par, as they are single spinners instead of double spinners on most of Samsonite's luggage.
On the inside, we were a little bit disappointed. While the main compartment is similar to just about every other hardside bag, the divider is made out of mesh. While it looks really cool, it isn't durable, and you might end up mixing all your clothes together. The same goes for the X-shaped strap that holds everything together. But, the main problem with this suitcase is its price point. Most of Samsonite's bags are closer to $150, while this one is more towards $250 if it's not on sale.
But, overall, we have to say that the Samsonite Centric medium checked bag is very durable. If you manage to find it on sale, it's a very good purchase. A cheaper alternative to it is the Traveler's Choice Pagosa medium checked suitcase.
Best Large Hardside: Samsonite Omni PC 28-Inch Checked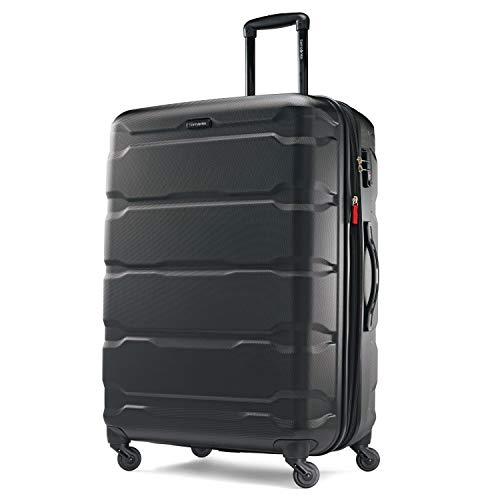 The Samsonite Omni large checked suitcase is one of the best large bags on the market for the past decade. This suitcase is highly-praised by the luggage community, and it's one of the best sellers on Amazon. It features a different design to the Omni 2 that we mentioned above, but it comes in various colors, including red, white, pink, and many more.
Like most Samsonite suitcases, the Omni is made from lightweight polycarbonate and has a scratch-resistant finish. This makes it extremely durable compared to other bags, as well as 100% water-resistant, and unlike softside suitcases, this one can go through puddles, and your belongings will stay nice and dry. We don't like that the wheels are single spinners, which tend to be less easy to maneuver around, but we had no issue moving the bag. It also comes with a TSA lock and handles on the top and the side.
The interior is fully lined and features the main compartment where you can fit all your clothes and keep them in place with the X-shaped straps, a zippered mesh pocket that can fit a couple of shirts, and a pocket for any toiletries you have. As with every suitcase, the zippers are the most fragile part, especially since the Samsonite Omni is expandable.
Speaking of that, the bag is slightly bigger than what most airlines allow. We didn't have any issue with that, but you might have to spend extra when you're checking the suitcase.
Overall, the Samsonite Omni is a solid choice if you're looking for a large suitcase, despite being on the heavier side. Another great choice is the Traveler's Choice Maxporter II large checked suitcase.
Best Underseater: Samsonite Underseat Spinner with USB Port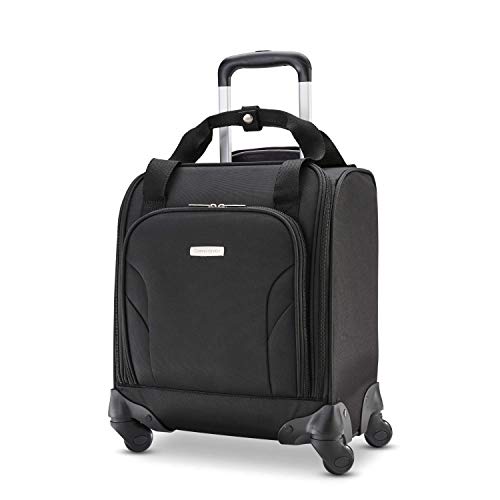 The Samsonite Underseat Spinner is an excellent choice if you want to maximize your personal item's capacity. The design is pretty simplistic and a bit outdated compared to what other brands offer, but it looks professional. It also comes in just three colors – Jet Black, Ocean, and Purple.
The Samsonite Underseat Spinner is made from 1680D polyester, which is relatively durable. It also gives this underseater some water-resistant properties. Its wheels are single spinners which aren't the most durable ones out there, but they do their job, and it also has a retractable handle for you to roll the bag around.
This underseater has three pockets – the main compartment, the one on the front of the bag, and the one on the side. You can fit your essential electronics inside, including a laptop and headphones. It also has a USB port, where you could charge your phone or laptop while you're flying.
Overall, the Samsonite Underseat Spinner is the best underseater that Samsonite has to offer.