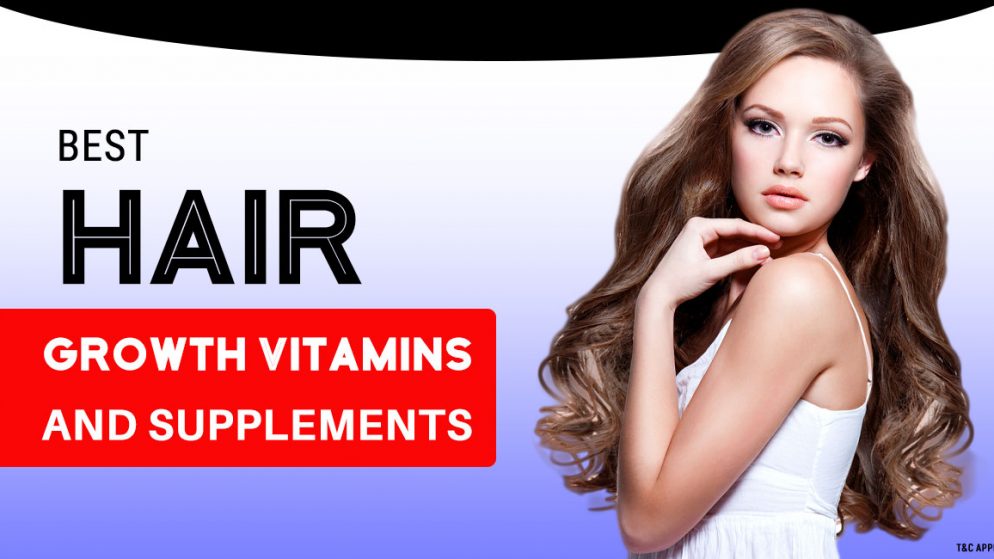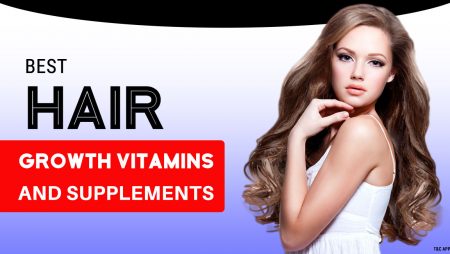 Heads up: Our content is reader-supported. This page includes affiliate links. If you click and purchase, I may receive a small commission at no extra cost to you.
Nutrafol is an oral supplement for hair loss. Multiple variations are available to cater to the different causes of hair loss. The company claims to use naturally sourced botanicals in its products.
Hair loss is a common condition that affects at least 40% of females and 50% of males. In itself, it is not a serious condition, but it can affect a person's mental health, leading to depression or anxiety. As it may sometimes occur due to an underlying health condition, a person may wish to consult a doctor to rule out this possibility or get a diagnosis.
Hair loss can be hereditary or age-related, but there are many other causes, including:
hormone imbalances and high levels of dihydrotestosterone (DHT)
events that place significant stress on the body, such as childbirth or surgery
insufficient levels of biotin, protein, zinc, or iron
inflammation
thyroid conditions
damage resulting from hair care products and practices
alopecia areata
chemotherapy
radiation therapy
medication
scalp psoriasis
Despite the multiple factors that can cause hair loss, many treatments are available for the condition, ranging from shampoos and scalp treatments to hair transplants and supplements, such as Nutrafol.
What is Nutrafol?
Nutraceutical Wellness Inc. manufactures the oral supplement Nutrafol, which it claims can address thinning hair. It markets versions for:
men
women
postpartum women
peri- and postmenopausal women
The company also makes a line of Nutrafol boosters that it has developed to address specific underlying causes of hair loss and thinning. These causes are:
stress
hormones
nutrition
metabolism
environment
How does Nutrafol work?
Nutrafol contains "nutraceuticals." Although there is no formal definition of a nutraceutical, a widely used descriptionTrusted Source is "a food or part of a food that provides medical or health benefits." The manufacturer uses a proprietary approach to collect nutraceuticals, which makes them easier for the body to use and allows the company to provide a standardized dose.
The manufacturer claims that Nutrafol supports hair growth by helping the body fight back against contributing hair-thinning factors. As many factors contribute to hair thinning and hair loss, the company says that a multifaceted approach is necessary to combat these issues.
In a 2018 randomized controlled trialTrusted Source, Nutrafol women's capsules successfully improved hair growth activity by addressing stress, micro-inflammation, and oxidative damage. Additionally, the researchers reported no adverse effects. However, it is important to note that the manufacturer of Nutrafol gave financial support to this study.
Who is Nutrafol for?
Nutrafol's products are for males and females with thinning hair due to age or stress. It also has post-partum supplements and supplements for those who are breastfeeding.
The company states that individuals can take its supplements to reduce the chance of hair becoming thin.
Customer reviews and brand reputation
The Better Business Bureau (BBB) does not accredit Nutraceutical Wellness, Inc., and awards the company an F-grade. The BBB awards the company 1.5 stars out of a possible 5, based on two customer reviews.
On Trustpilot, Nutrafol scores 2.3 stars out of a possible 5, based on eight reviews.
Positive online reviews state that Nutrafol:
claims its supplements are multitargeting
supplements contain naturally sourced botanicals
supplements do not contain drugs
claims to have recognized clinical studies to back up some of the claims
Some less favorable comments include:
unnoticeable effects for months due to the growth rate of the hair
the product is relatively expensive compared with other hair loss supplements
difficulties with shipping
people still receiving charges after trying to cancel a subscription
What are Nutrafol's ingredients?
The active ingredients in Nutrafol include:
curcumin
Indian ginseng, or ashwaghanda
saw palmetto
tocotrienol and tocopherol complexes
piperine
collagen
resveratrol
kelp
horsetail
Nutrafol products
Below are some products that people can find on Nutrafol's website.
Nutrafol Postpartum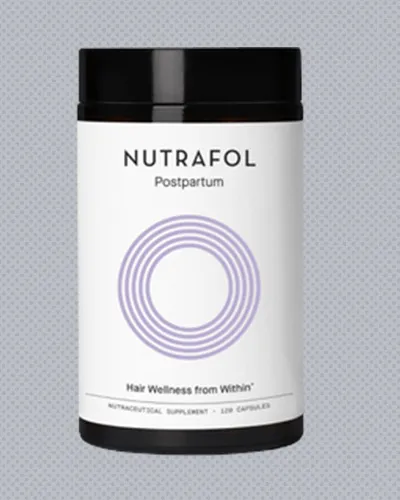 Shop Now At Nutrafol
Price: $88 per bottle
Nutrafol markets its Postpartum supplements for females to take in the first year after they give birth or are if they are breastfeeding.
The supplement contains theanine, shatavari, and tocotrienol, and the company claims this can promote thicker and fuller hair.
The product does not contain gluten, dairy, soy, or hormones.
Nutrafol advises a person can take four capsules per day, with meals.
Nutrafol Women's Balance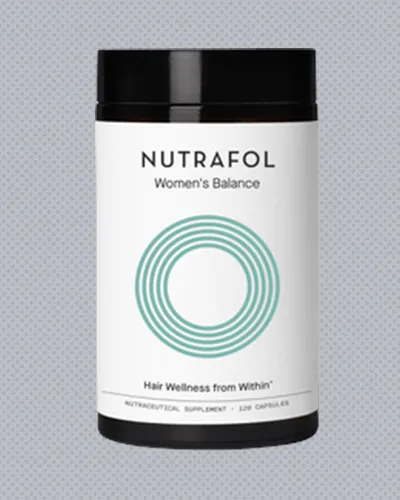 Price: $88 per bottle
Nutrafol offers this product for those experiencing menopause symptoms. The supplements are also safe for peri- and postmenopausal use.
The company claims the product targets the cause of hair thinning, such as aging and hormones, and helps promote thicker hair. It also claims these supplements may also help improve sleep and reduce stress.
This product is gluten-, soy-, dairy-, and hormone-free.
The company recommends taking four capsules per day and states that individuals may notice results within 3–6 months.
Nutrafol Women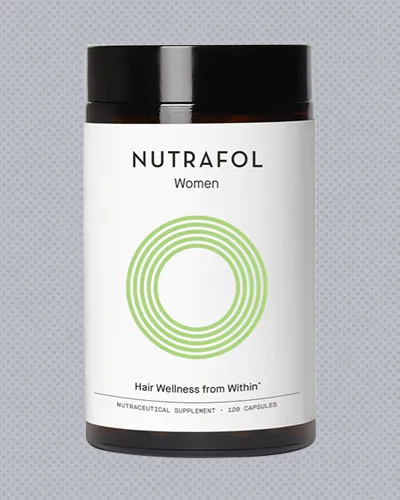 Price: $88
Nutrafol Women claims to help thicken lashes and brows and allow the hair to grow stronger and longer.
It has no gluten, dairy, soy, or hormones.
A person can take four capsules once per day, and results may start showing in 3–6 months.
Nutrafol Men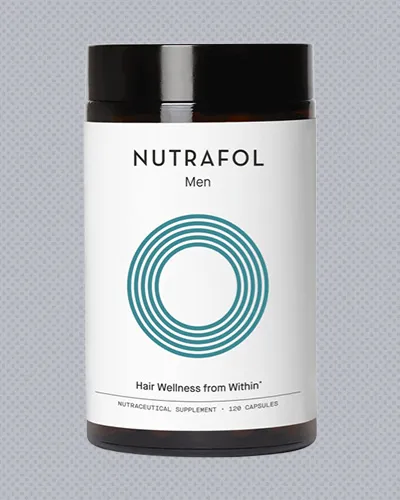 Price: $88
Nutrafol Men claims to help provide hair thickening and increased scalp coverage, with no effect to a person's sexual health.
This product also provides visible results in 3–6 months, and the company recommends taking four capsules per day.
Nutrafol Growth Activator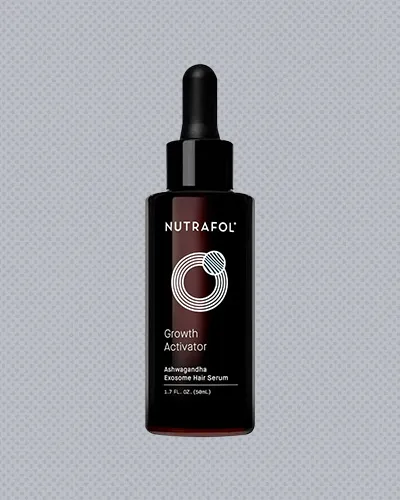 Price: $69 per bottle
This product contains ashwagandha exosomes, pea sprouts, and green tea that help minimize hair breakage, provide hydration, and thicken the hair.
According to the company website, most customers saw an improvement in their hair health after 30 days of using this serum.
Nutrafol side effects
Nutrafol states that its products should not cause side effects and should not affect a person's libido.
However, according to the University of Rochester Medical Center, people who take a lot of kelp, one of Nutrafol's active ingredients, may develop hyperthyroidism or hypothyroidism. The ingredient may also contain harmful metals, such as lead, aluminum, or cadmium.
Saw palmetto is also present in these supplements. The National Center for Complementary and Integrative Health (NCCIH)Trusted Source states that this ingredient may cause headaches or digestive symptoms. Doctors may not recommend it for those who are pregnant or breastfeeding.
What are the safety considerations?
The Food and Drug Administration (FDA) classifies Nutrafol as a supplement, not a medication. As a result, the FDA regulates it as a food rather than a medication. A 2020 reviewTrusted Source of hair, nail, and skin supplements raised concerns about this, as manufacturers do not have to demonstrate a product's efficacy or safety prior to releasing it into the market.
As with all supplements, anyone considering taking Nutrafol should first discuss it with a doctor.
Researchers have noted that some Nutrafol ingredients can cause health problems when people take the supplements in large quantities for extended periods. Pregnant people should also use caution and consult a member of their healthcare team before taking Nutrafol. The ingredients that a person should monitor include:
Nutrafol costs
In general, Nutrafol offers these payment options for people who are interested in their products:
One-time price: This covers the cost of one bottle which is $88.
Monthly delivery: Monthly deliveries cost $79 per month and individuals receive a one-month supply treatment and they may also benefit from free consultations.
3- or 6-month delivery: People who opt for this plan receive a 3-month supply of their chosen supplements, together with free doctor consultations. Prices start from around $264. Individuals can pause or cancel their subscription at any time.
Pros and cons of Nutrafol
Below are some of the advantages and disadvantages of Nutrafol:
Pros
products for both male and female use
natural ingredients
one-time price and monthly payments
free shipping within the United States
Cons
expensive when purchasing one bottle
possible side effects
long time to see results
Nutrafol vs. competitor products
Many different products supposedly treat hair loss, but there is limited scientific evidence to back many of the claims that the manufacturers make about these products. This is one of the ways in which Nutrafol differs from its competitors.
The FDA has approved two medications for treating hair loss: minoxidil (Rogaine) and finasteride (Propecia). Clinical studies show that minoxidil prolongs certain phases of hair growth while finasteride slows hair loss and promotes hair regrowth. However, the side effects associated with these drugs include:
growth of facial hair in females
contact dermatitis
congenital abnormalities
sexual dysfunction
Viviscal is another dietary supplement. Similar to Nutrafol, this product aims to provide the nutrients the body needs to support all stages of hair growth. The company also sells "densifying" shampoo, conditioner, and elixir.
When to contact a doctor
A person should see a doctor if they are concerned about their hair health or wish to try a new product.
They should also seek medical advice if they develop any of the following symptoms:
sudden hair loss
bald patches
scalp itching
losing hair in clumps
The United Kingdom's National Health Service (NHS) explains that physicians can tell what is causing hair loss and suggest the right treatment plan for the individual's needs.
Frequently asked questions about Nutrafol
Here, we answer some of the most frequently asked questions relating to this company.
Does Nutrafol work?
There is little evidence to support consistent results across all Nutrafol products, and some of the evidence that does exist does not appear to be wholly impartial.
It is important to note that what works for one person might not work for another, and individuals should discuss any hair loss treatments with a qualified medical professional beforehand.
Is Nutrafol safe?
Users and researchers have generally found Nutrafol to be safe. However, some of the Nutrafol ingredients may interfere with medical tests, worsen bleeding conditions, or increase the risk of congenital anomalies. As a result, a person should practice caution, particularly if they are pregnant.
Where can you buy Nutrafol?
Nutrafol products are available for purchase online.
Summary
Hair loss is a widespread condition that can have a significant effect on some people's quality of life. Many different factors can combine to cause hair loss, including hereditary genes, hormones, and stress.
Nutrafol is a supplement made from nutraceuticals. The manufacturer claims that it is specially formulated to provide a person with the nutrition their body needs to support hair growth.
Limited clinical studies show that Nutrafol may moderately help hair loss. However, there is no one-size-fits-all solution for hair loss. Discussing different forms of treatment with a doctor may help a person find the best approach for them.