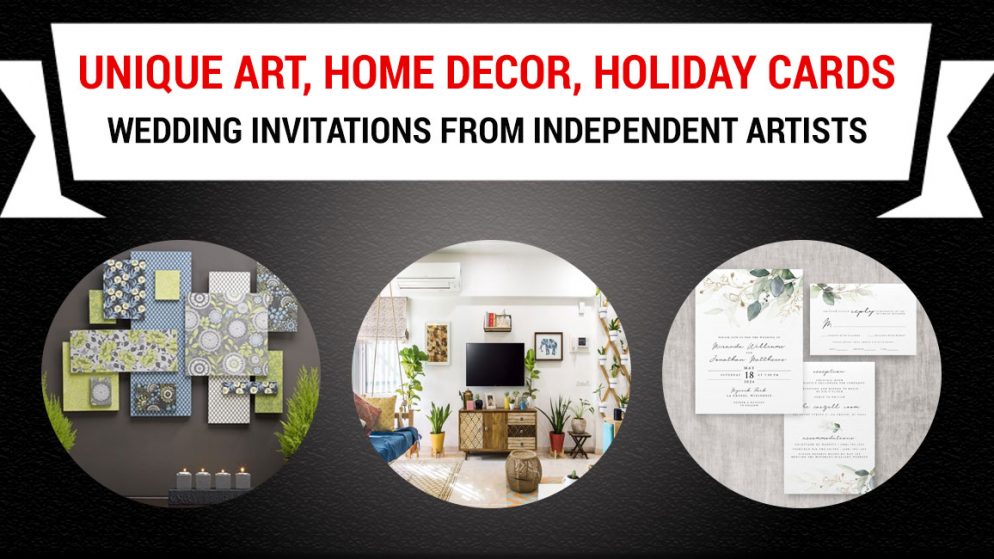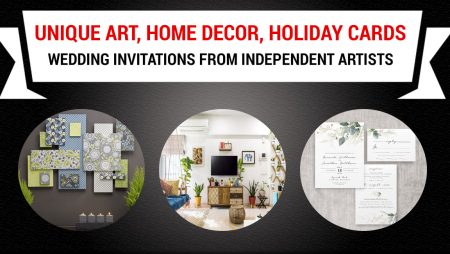 About Minted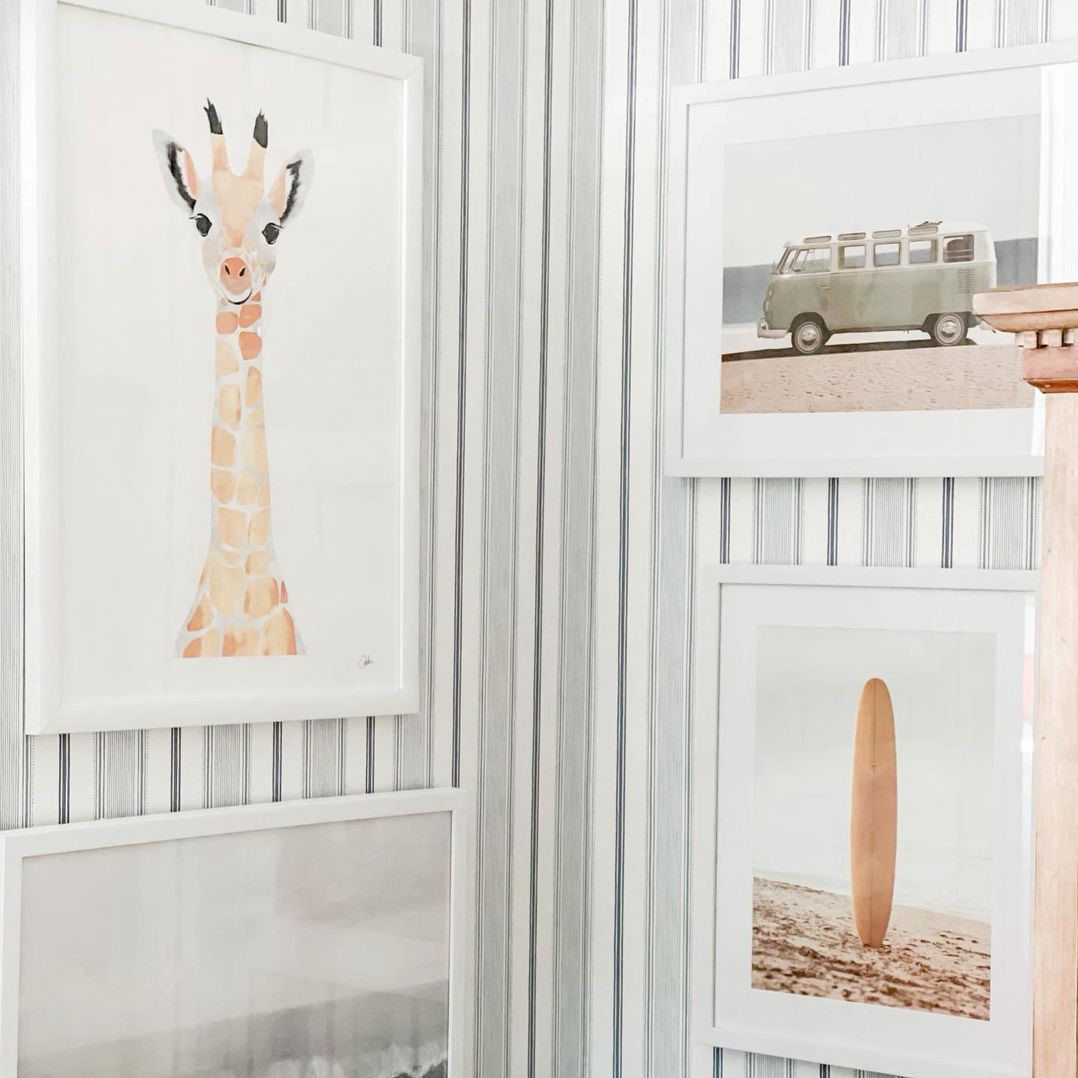 Shop Minted Art and home decor
Minted is an online marketplace that sells works from independent artists globally. Once sourced, artworks are made into home decor, stationery, and more. The company's goal is to allow creatives to gain exposure and build their current businesses.
The arts and design retailer has garnered a 441k following on Instagram and was featured in media outlets like The Wall Street Journal and The New York Times. It has definitely cemented itself as one of the original crowdsourcing companies.
Does Minted live up to its accolades? Keep reading, as we take a closer look at the company's history, some bestsellers, policies, and more, so that you can decide if the collection is worth checking out.
Overview of Minted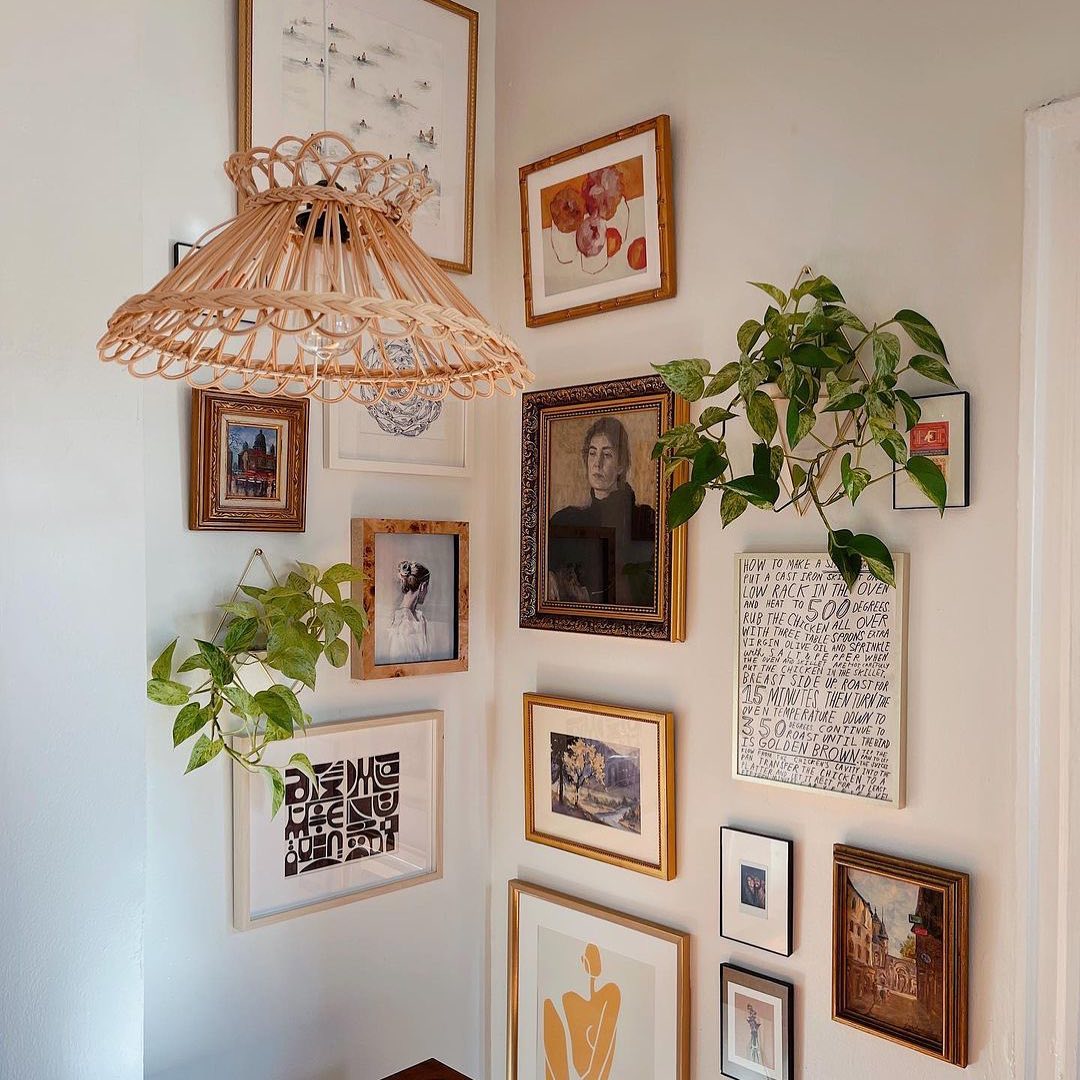 Shop Minted Art and home decor
Launched in 2007, Minted is the brainchild of Mariam Naficy. The founder grew up in five different countries in the Middle East and Africa, which sparked her fascination with art. Inspired by motifs she saw while travelling, as well as works made by her relatives, she decided to meet with artists who were struggling to find recognition.
Naficy believed that the internet could assist with her mission. She questioned if crowd-sourced designs could create an online brand that kept up with current trends, as well as the needs of consumers.
Minted's first "design challenge" started in 2008. The save-the-date card competition got about 66 entries. Unfortunately, they were also close to failing and received negative reviews from the media.
Despite its initial challenges, the company has successfully expanded into the art and home decor industry and is backed by many investment firms today. And, all of the Minted artworks on display are chosen by their customers!
This Minted review will now give you a brief overview with a pros and cons list of the San Francisco-based retailer.
Pros
Minted supports independent artists around the world
Unique designs available for wedding invitations, stationery, and more
Consumer-driven voting system for design challenges
Buyers can return an item for any reason
International shipping is available
Cons
Mixed third-party reviews
No financing options available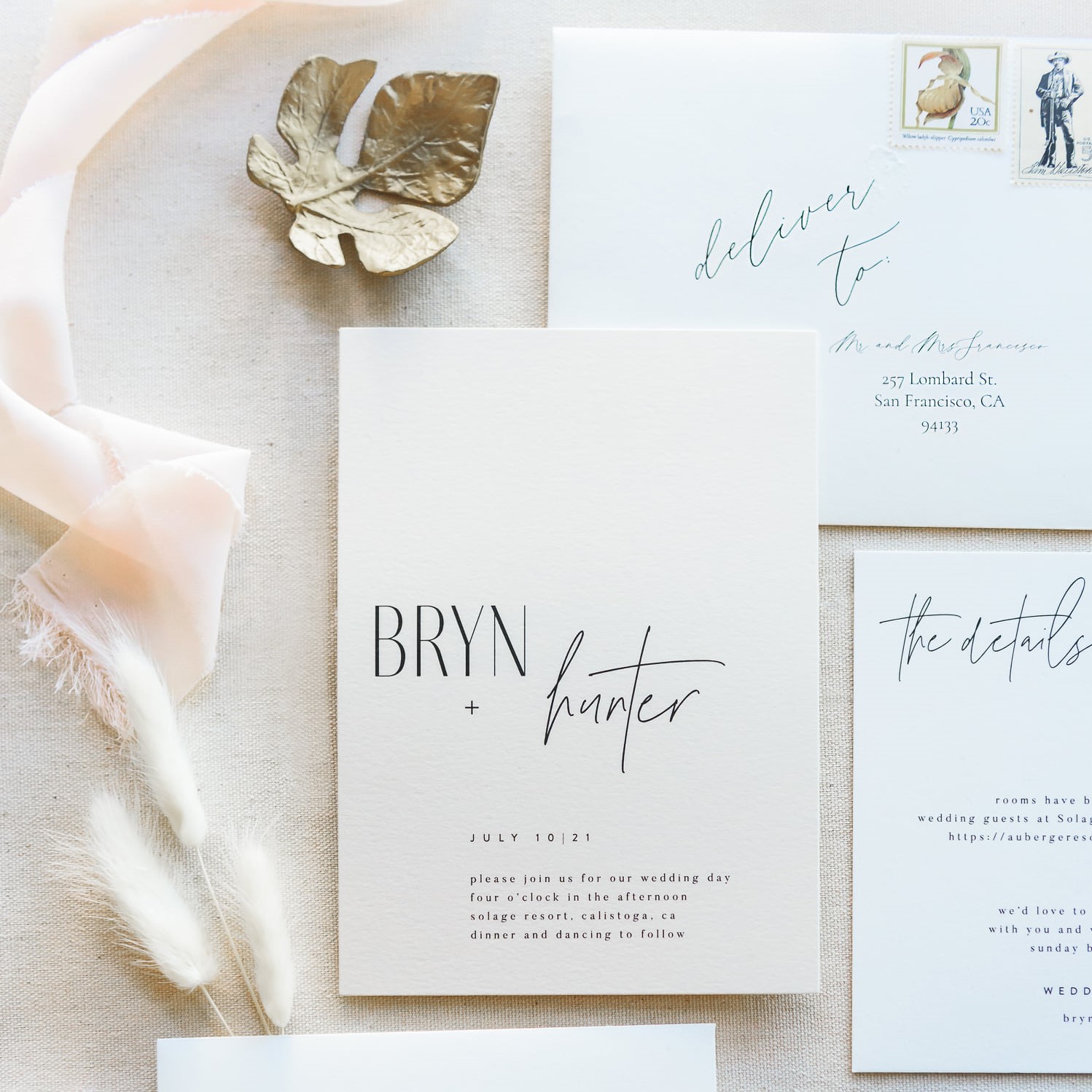 Shop Minted Art and home decor
The company offers one-of-a-kind designs from upcoming artists. These designs end up as invitations, greeting cards, and more. Planning for a special occasion? Stay tuned as we explore some of the top-selling Minted cards below.
Minted Review
Many factors go into planning a wedding. The invitations are important, as they often create the first impression your guests will have of the big event. Your relatives might even cherish them as momentos.
So, which Minted wedding invitations are customers loving right now? Let's find out.
Minted Essential Wedding Invitations Review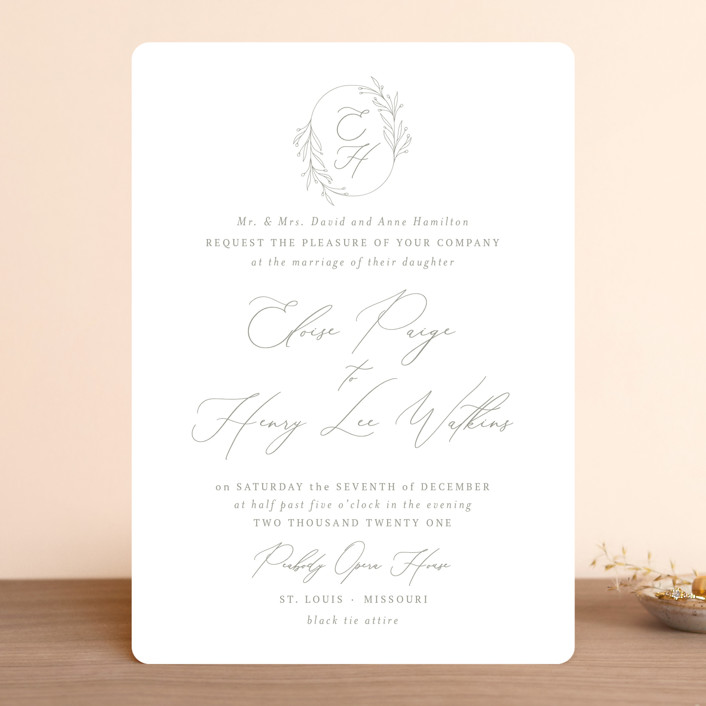 Shop Minted Art and home decor
The Essential Wedding Invitations feature a traditional design. All of the necessary details are written in an elegant script, exuding romance and simplicity. There's nothing flashy about these cards, and they will set the right tone for your big day.
These beautiful Minted invitations were drawn by Design Lotus in Idaho. They pride themselves on "simple, approachable, and happy designs." The mission clearly shines through in these invites.
In your package, you will also receive a set of colored envelopes. The invitations alone range from $6–$269 depending on how many you decide to purchase and the silhouette of the card.
You can add the matching RSVP, direction, reception, and Minted thank you cards as a bonus. Just be aware that each one does come at an extra cost.
Minted The Loden Wedding Invitations Review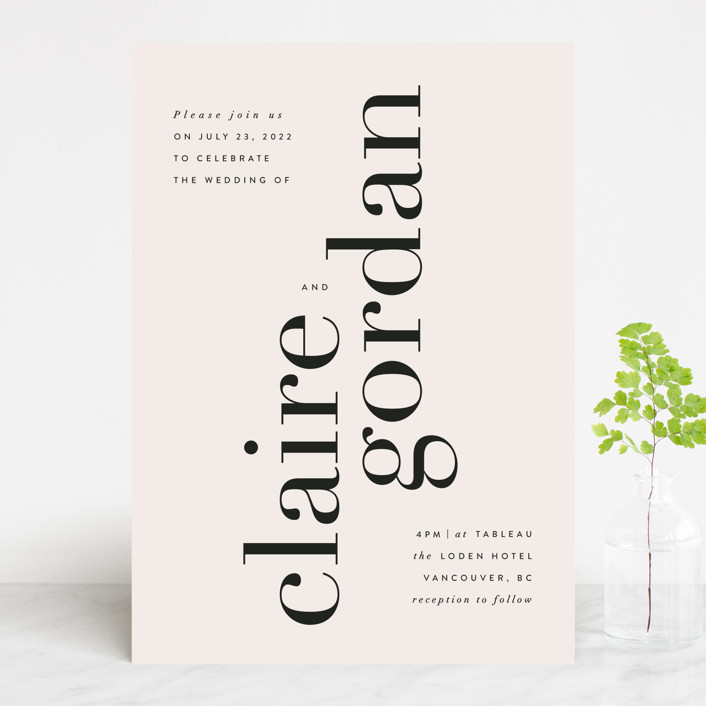 Shop Minted Art and home decor
For a bit of a bold and modern look, check out the Loden Wedding Invitations. These Minted wedding invites were designed by a Vancouver designer, Kelly Schmidt. The couples' names surface as the highlight of this invite—surrounded by a minimal, contemporary design.
You can choose between eight different color themes when ordering these cards. There's also an option to request a custom color at an extra cost.
Prices vary from $6–$234, depending on the quantity. If you're on the fence, this Minted review recommends asking for a sample before placing a huge order.
Minted Save the Dates Review
Despite what you might think, Save the Dates and invitations are not the same thing. The enchanting Minted Save the Date cards instruct your guests to do precisely that—cancel any reservations they may have that day.
This gesture can also be accompanied with a wedding website and a notice for a formal invitation. This Minted review has gathered three popular options for you to consider.
Minted Hearty Save the Dates Review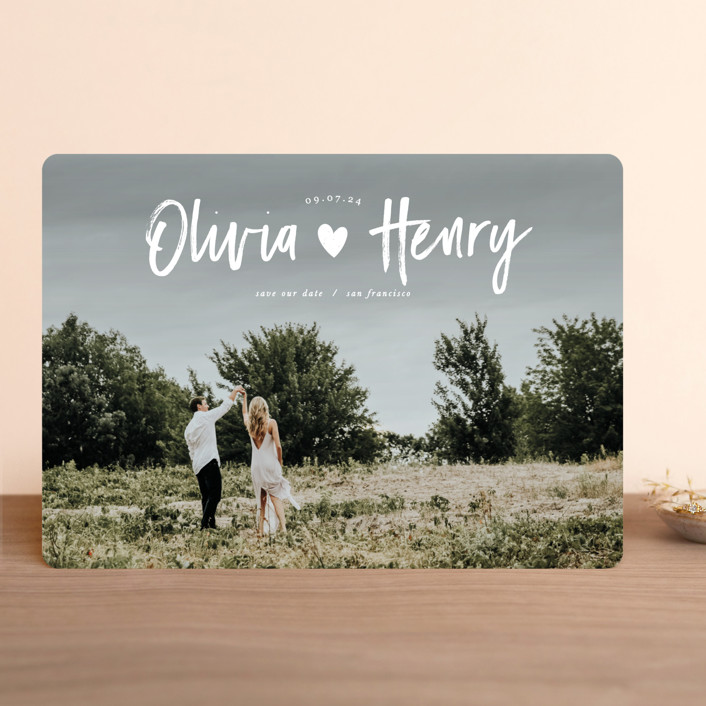 Shop Minted Art and home decor
The Hearty Save the Dates were designed by an artist from Mumbai, Creo Study. These cards are all printed on luxe paper and can be fully personalized. They can help set the tone for the rollout of your wedding invitations as well.
This Save the Date features a small heart between the couples' handwritten names, as the name suggests. The front can include a flattering photo of you and your sweetheart. Those who need additional room can simply add a backer or interior to hold more pictures and text.
If you opt for a regular silhouette shape and the classic 7" x 5" size, it'll run you about $154 for 100 cards at checkout. Prices do vary depending on your personal preferences.
Minted Flirt Save the Dates Review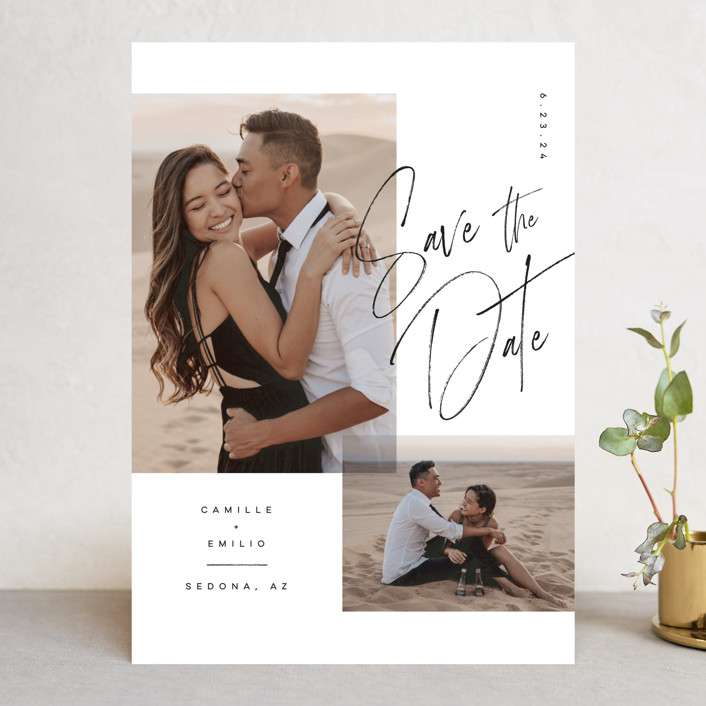 Shop Minted Art and home decor
The next item in this Minted review is the Flirt Save the Dates. This adorable card can feature multiple photos of the happy couple plus some handwritten text. These definitely give off a flirty and romantic vibe.
Kristie Kern designed these Save the Dates, and she prides herself in creating designs that are "classic with a modern twist." She definitely achieves that with these cards. As a bonus, Minted includes a free wedding website for RSVPs and other helpful information for your guests.
If you're sticking to the standard choices, the Flirt Save the Dates will cost you about $154.
Minted Calendrier Save the Dates Review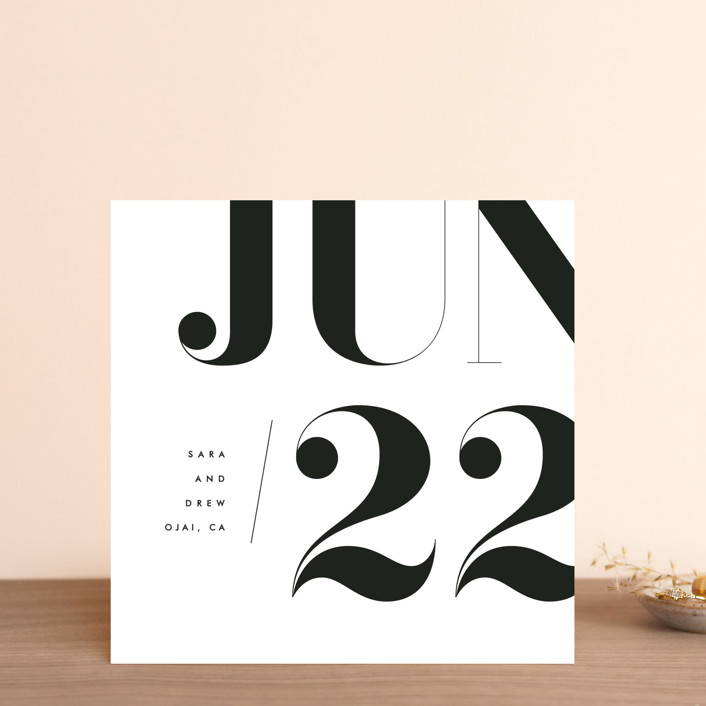 Shop Minted Art and home decor
With the Calendrier Save the Dates, you can rest assured that the wedding day will be the highlight. Inspired by a calendar sheet, these Save the Dates will definitely ensure everyone remembers to plan accordingly.
Designer Kelli Hall didn't want to make these cards appear too flashy. The date typography is bold yet classy, and it doesn't take attention away from the celebrated couple. Plus, the whole point of a Save the Date is to know which date you're saving. As we said, the Calendrier does just that.
Depending on how many you choose to order and your silhouette shape, the Calendrier Save the Dates range between $61–$154.
Minted Arch Save the Dates Review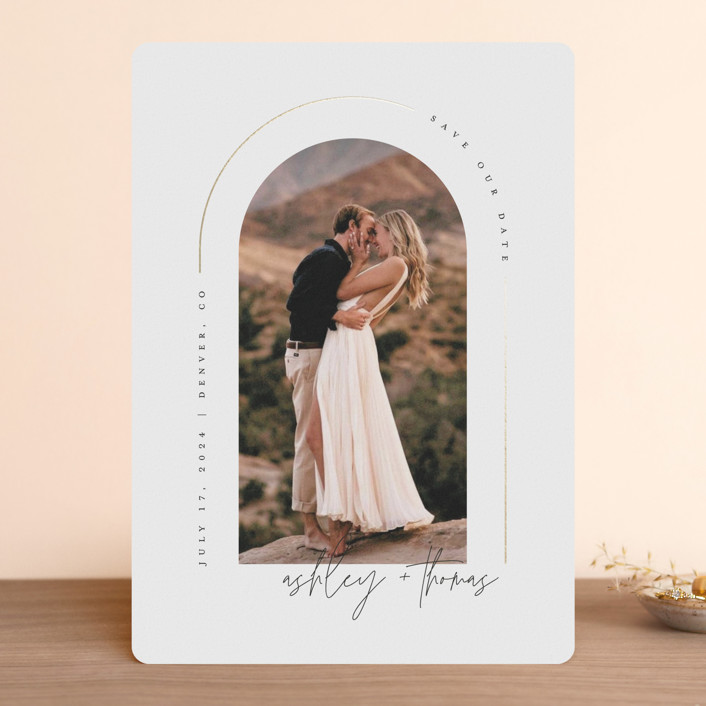 Shop Minted Art and home decor
Want to add some sparkle and fantasy to your day? The Arch Save the Dates can do that for you. These cards are another design by Kelly Schmidt. They feature thin, gold foil detailing and an arch shape frame—perfect for a picture of you and your soon-to-be life partner.
These Save the Dates are hand-pressed and printed on luxe paper by Minted printing services. The shimmery foil adds a touch of unique charm that your guests will gush over.
The Arch Save the Dates could run you between $132 and $284, depending on your customizations.
Minted Holiday Cards Review
Next up in this Minted review are the company's best-selling holiday cards. Even if you're a hundred miles away from family, you can make them smile with these cute and simple designs. All you need to do is think of a heartwarming message to write inside.
Minted Classic Sentiment Holiday Cards Review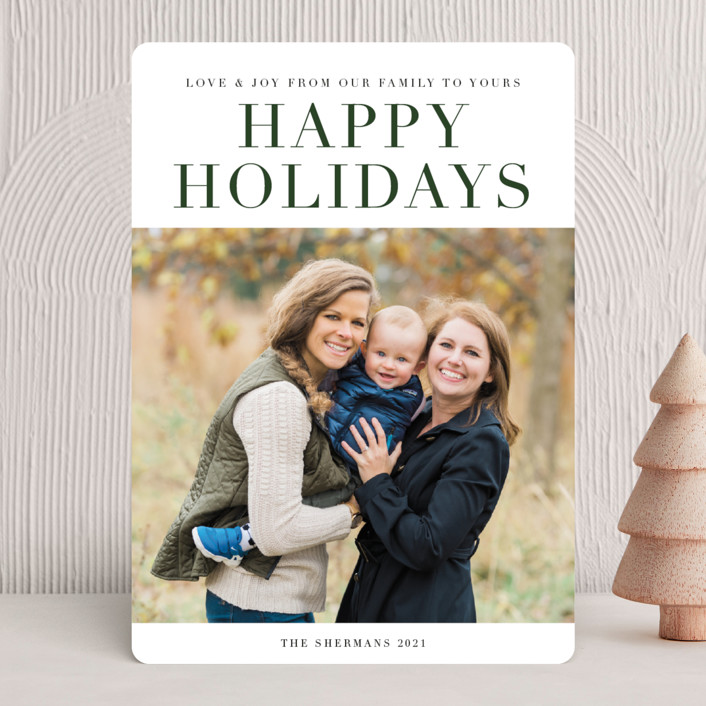 Shop Minted Art and home decor
The Classic Sentiment Holiday Cards can feature multiple photos of your family. If you want, it could also include interior text greetings for your loved ones. Similar to the other cards in this Minted review, you're able to address your cards for free upon purchase.
The Classic Sentiment Cards can also be made into Minted Christmas cards. You're also able to choose between six different holiday-themed colors. This design comes from Jennifer Lew, an art director from San Francisco.
Lew's design can make it to your mom's fridge for $65–$172 depending on personalizations.
Minted Ruff Year Holiday Cards Review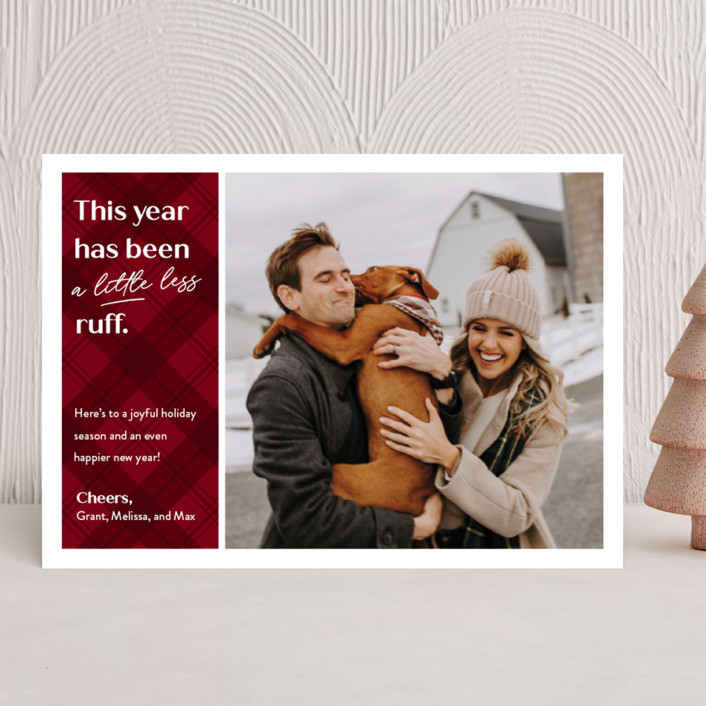 Shop Minted Art and home decor
Are you a big fan of punny holiday greetings? The Ruff Year Holiday Cards are perfect for jokesters. This greeting card features a play-on-words tagline and can include a photo of you and your pup to really send the sentiment home.
There's nothing better than starting off your friend's New Year with a chuckle. The envelopes also feature adorable paw prints that read "pawliday delivery!"
Depending on the style and number of cards you order, these Minted holiday cards range between $65 and $172.
Minted Car Art Review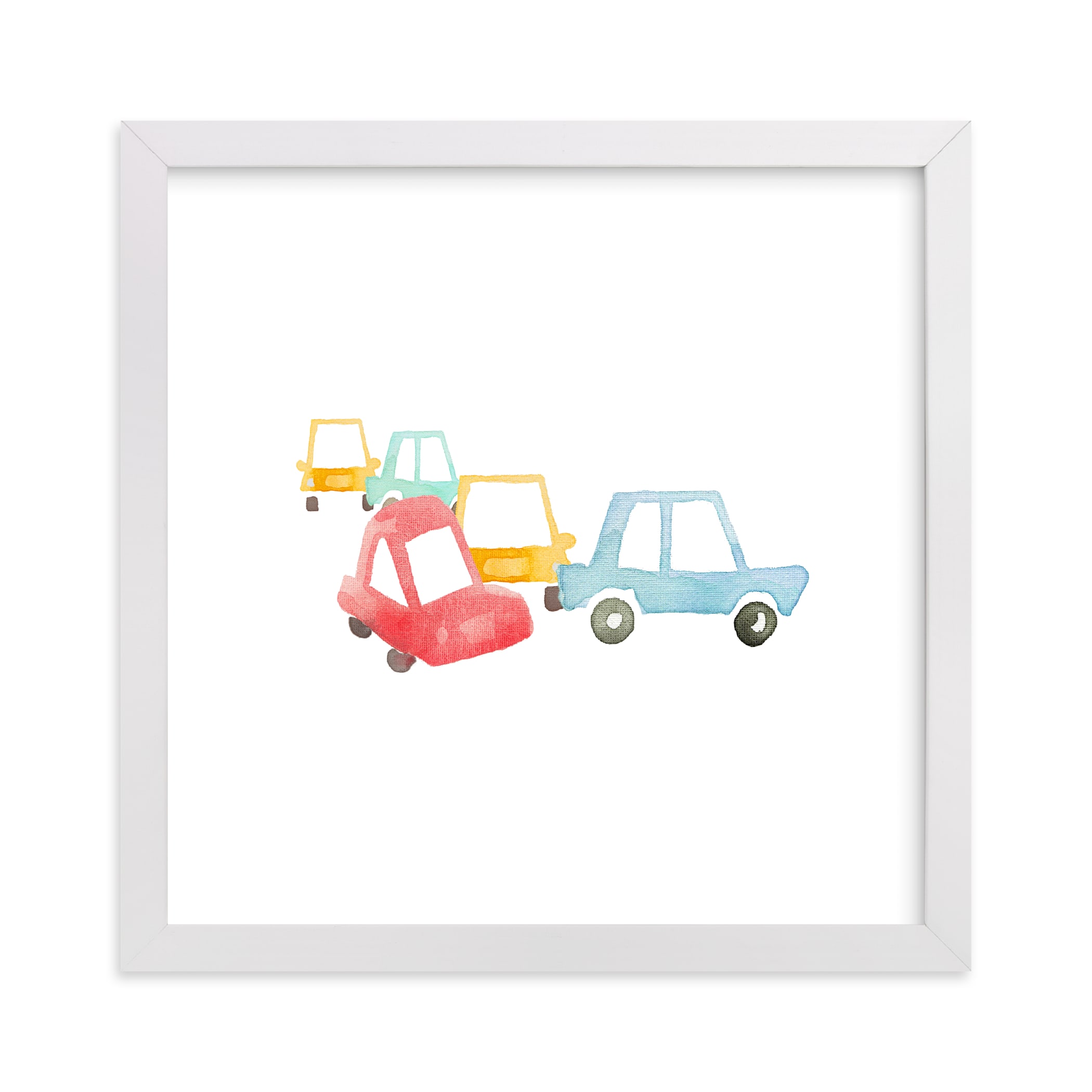 Shop Minted Art and home decor
Looking for a gift for an upcoming baby shower? This Minted review has picked out a minimalistic Car Art watercolor piece. This print showcases blue, yellow, teal, and red toy cars and belongs to the Minted x Pottery Barn collaboration.
This painting can easily light up a baby's first room. The colors aren't too bold, but it's still an eyecatcher. It's just an adorable addition to any nursery. The artist, Jan Dolby, is a mother of two; she says her little ones inspire her illustrations every day.
This Minted artwork costs $26. If you want to make things easier by ordering the print with a frame, it'll come to about $50.
How Do I RSVP With Minted?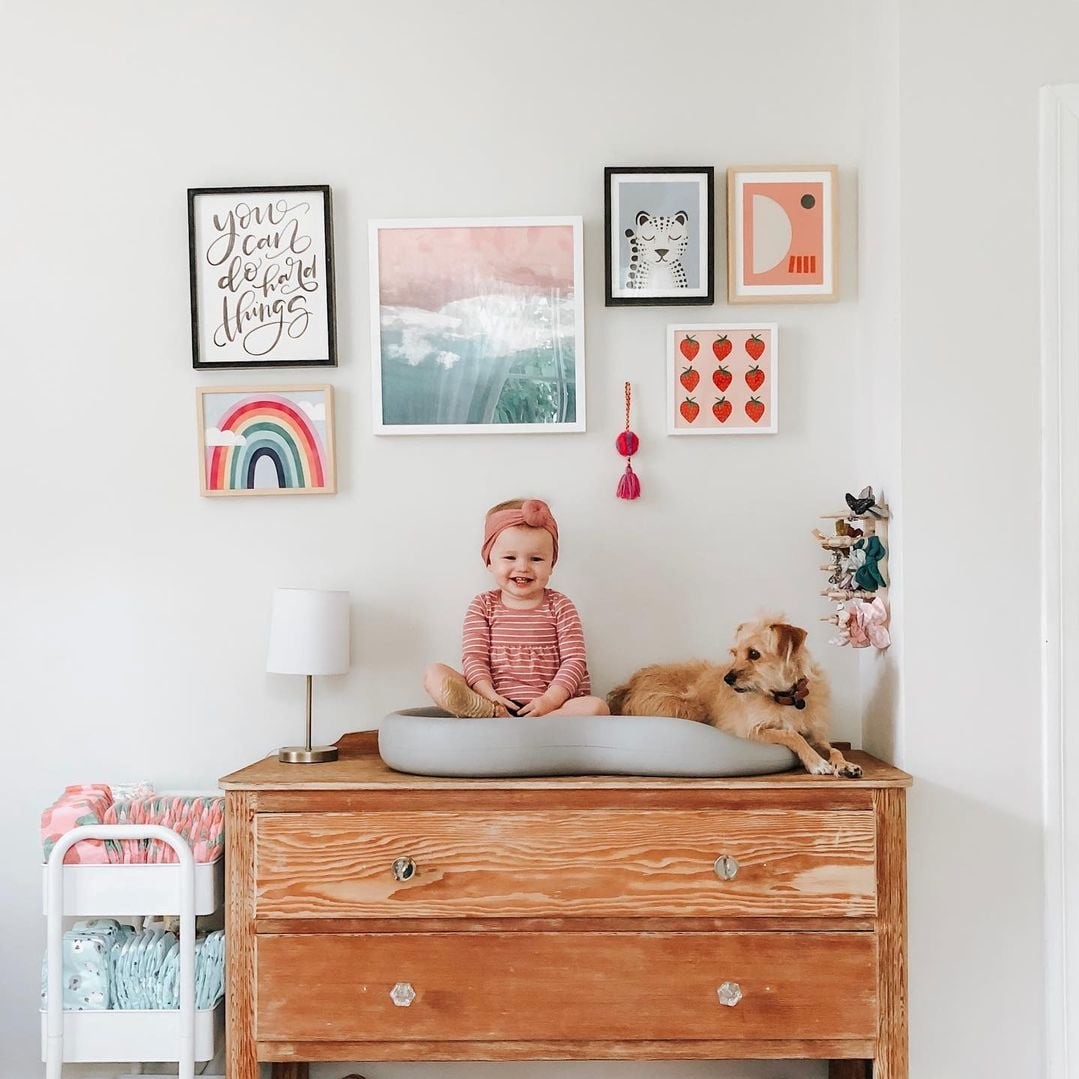 Shop Minted Art and home decor
The marrying couple will send you a Minted URL. It would look something like this: couplename.minted.us. Have this website address handy, click the RSVP tab, enter any details you need to, and you're good to go!
Who is Minted For?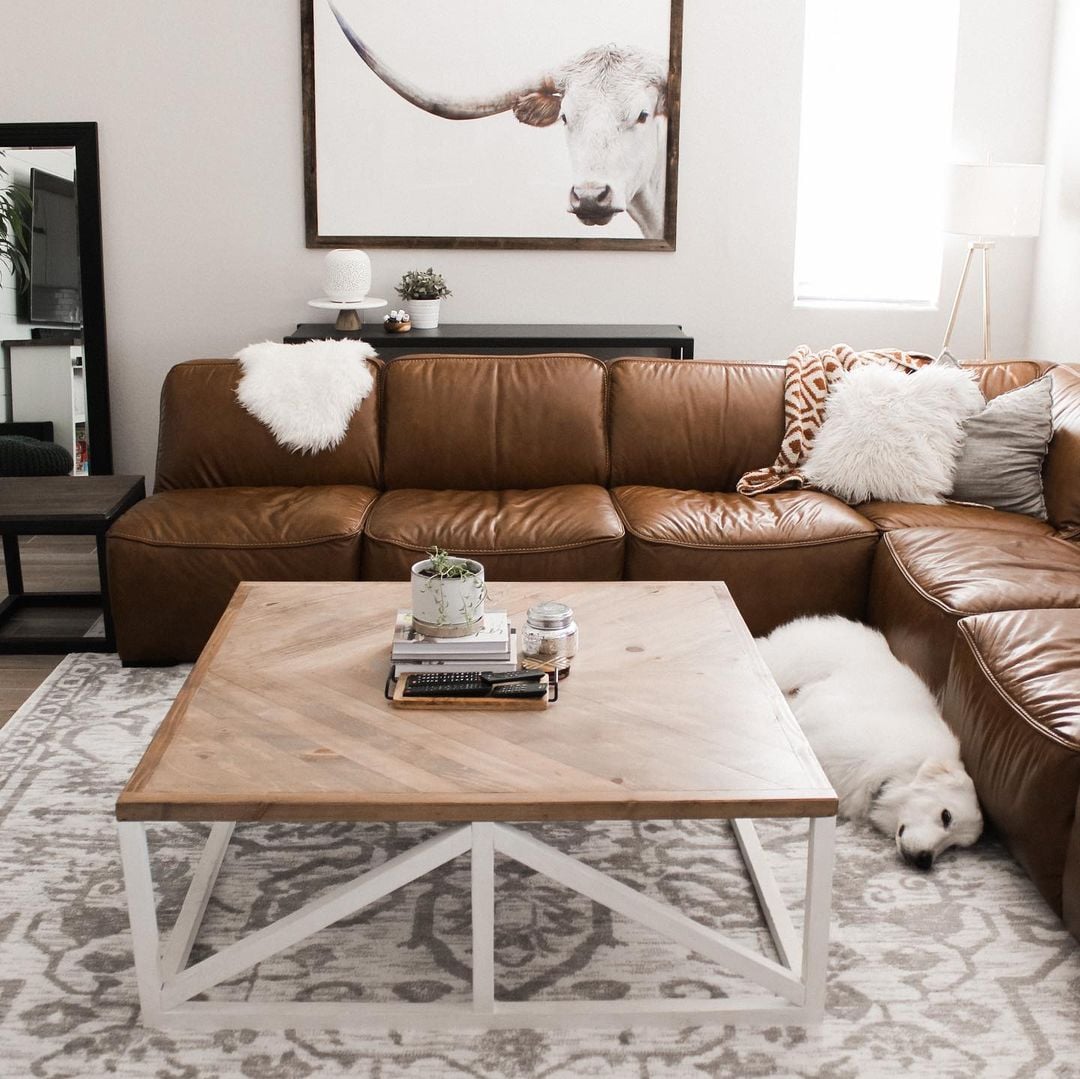 Shop Minted Art and home decor
Minted is perfect for anyone who's looking to support independent artists and discover new works. Additionally, if you want to purchase original invitations, cards, or other artwork, this shop can be your go-to. They also offer wedding RSVPs if you're getting ready for your special day.
Comparison: Minted vs. Joy
Shop Minted Art and home decor
Planning a wedding, baby shower, or any major milestone can be stressful. Same with decorating blank walls in a new home. Aside from Minted, there are many websites out there that can help you out.
Wondering how our featured brand compares to its competition? This Minted review looked at Joy and laid out the details for readers below.
First, we'll take a look at some of their similarities:
Both Minted and Joy make wedding planning easier for couples
Both companies offer invitations and Save the Dates
Both brands have an app to help you manage your guest list
So, it does seem like Minted and Joy have some similar traits. But, there are key differences between them:
Joy is a newer company
Joy's services are free
Joy's invites are all online, while Minted sells physical invitations and Save the Dates
Minted is a marketplace for artwork and decor, while Joy exclusively a wedding planning service
At Minted, you can browse through stationery, original art, greeting cards, and more. The brand also offers some wedding planning services for the price of the invitations and Save the Dates. On the other hand, Joy is entirely digital and free to use when you're managing guest lists and RSVPs. It's strictly a wedding planning service, though. So which one suits your needs?
Minted Reviews: What Do Customers Think?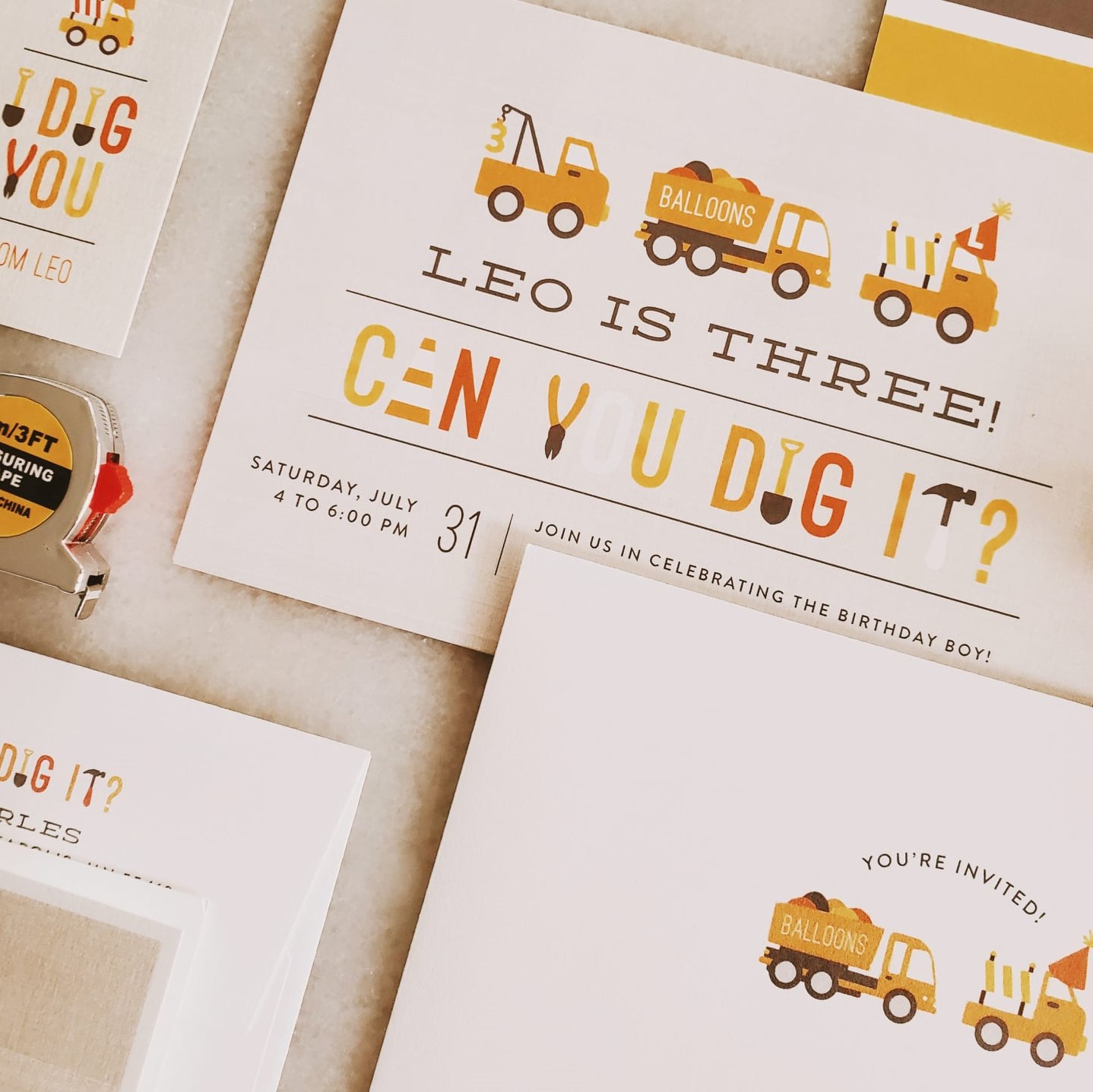 Shop Minted Art and home decor
We've arrived at an exciting part of this Minted review: What do customers think about the company and its many offerings?
Unfortunately, there aren't any reviews for products on the main website, but we did find some general feedback on Better Business Bureau, Trustpilot, and The Knot. These honest comments give us a good sense of the shopping experience.
Here's how the company rates on each of these sites:
Better Business Bureau: 1.03/5 from 31 reviews, A+ BBB rating
Trustpilot: 3.1/5 stars from 1.6k reviews
The Knot: 4.3/5 stars from 606 reviews
The Knot hosts testimonials from many happy customers. One writes, "We used Minted for our Save the Dates (twice because of COVID rescheduling), and they turned out great both times! They have so many different designs and options, and it was very easy to select the design we wanted and add our photos. They also have free recipient addressing."
Another reviewer writes, "Customer service was excellent. When I ordered the wrong foil color on my invitations, they immediately contacted me to fix it. The invitations were beautiful, and everyone loved them!"
There are a few rave reviews on Trustpilot as well, with one buyer saying, "I recently ordered save-the-dates from Minted and was very happy with how they turned out, and the speed at which they were delivered to us. Compared to some other sites, the quality of the paper and pictures were much better!"
Another customer states, "Great experience with Minted! Beautiful product and quick shipping. I liked a gift I purchased for a friend so much, I came back to order one for myself!"
Is Minted Worth It?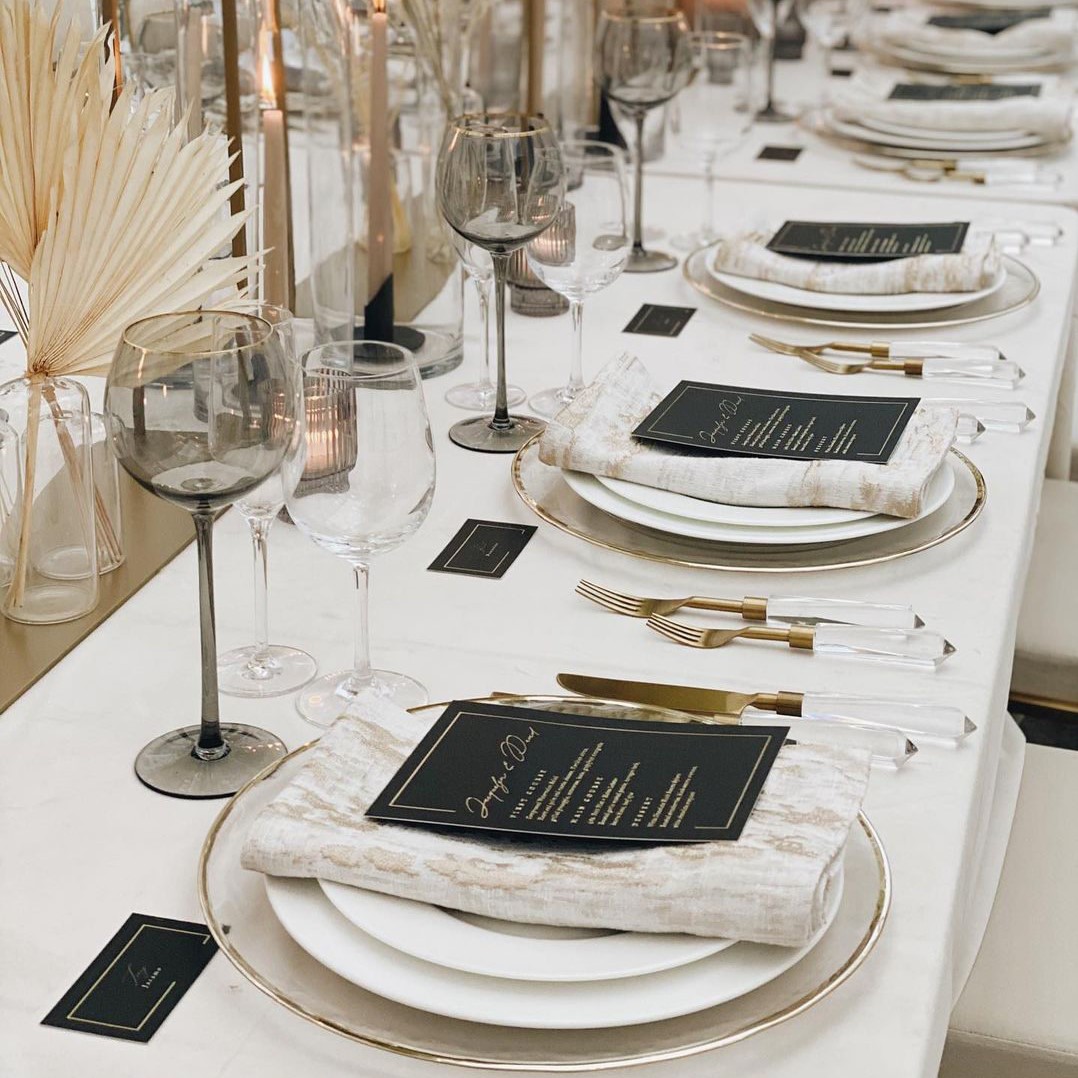 Shop Minted Art and home decor
Finding original invitations, greeting cards, or home decor is a real challenge. Luckily, with Minted's marketplace of original art from independent designers, you're bound to find something that suits your style.
This Minted review has determined that their products are worth checking out. Their designs are simple and contemporary, with a lot of charm. Plus, you'll be supporting creatives from around the world when you purchase their creations. Overall, we recommend taking a look at Minted's varied selection.
Minted Promotions & Discounts
Shop Minted Art and home decor
Members who have joined Minted More can receive free shipping on every standard order, plus perks such as 30% off holiday cards and 20% off all other products.
In addition, you can also receive a gift box filled with items worth $160 total. This crate of goodies includes things such as a gift wrapping essentials kit, set of greeting cards, and the Minted 2020 coloring book.
Lastly, buyers can sign up to receive Minted's emails and be kept in the loop with the latest deals!
Where to Buy Minted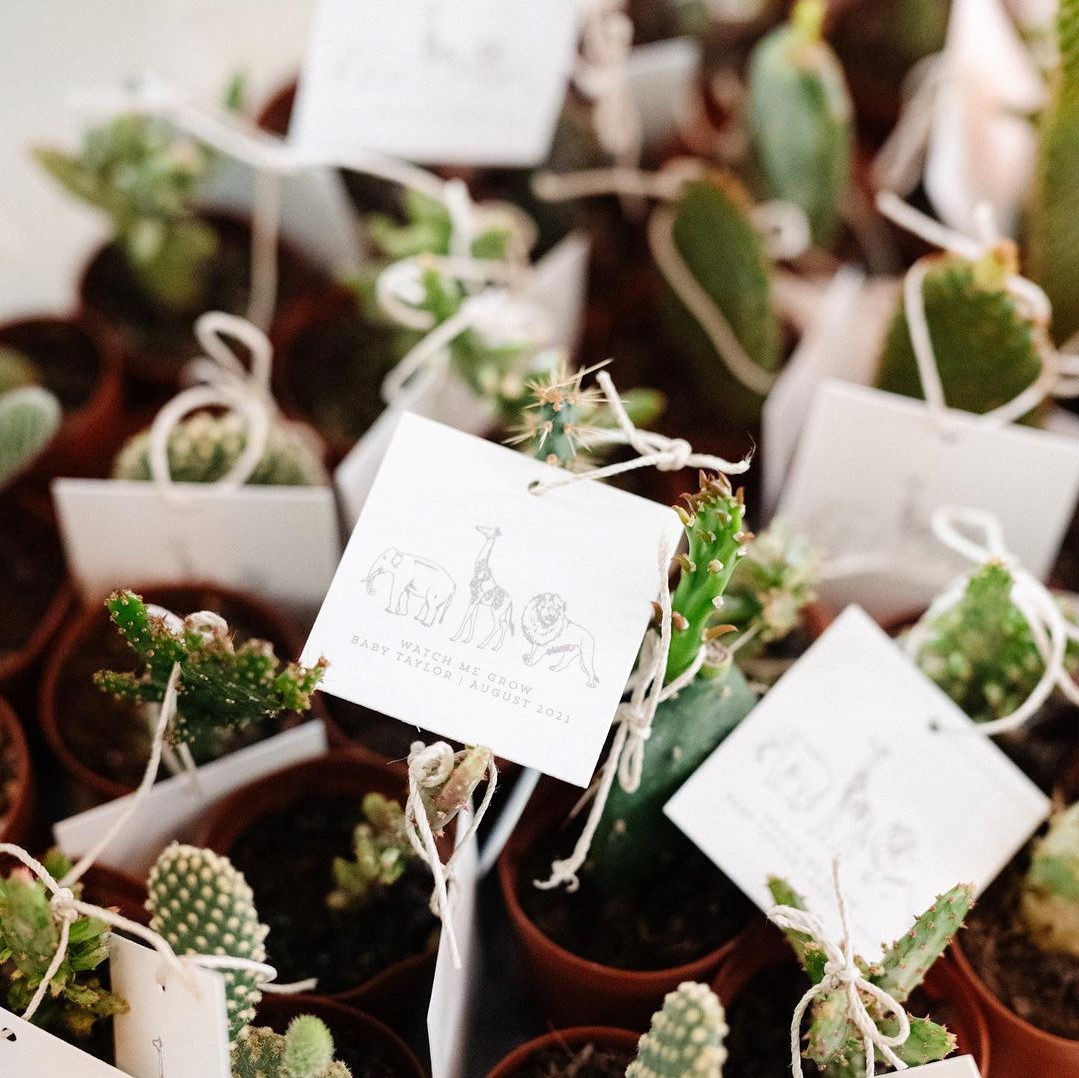 Shop Minted Art and home decor
Looking for artwork to complete that themed Minted baby shower? You can shop the company's entire collection exclusively at minted.com.
FAQ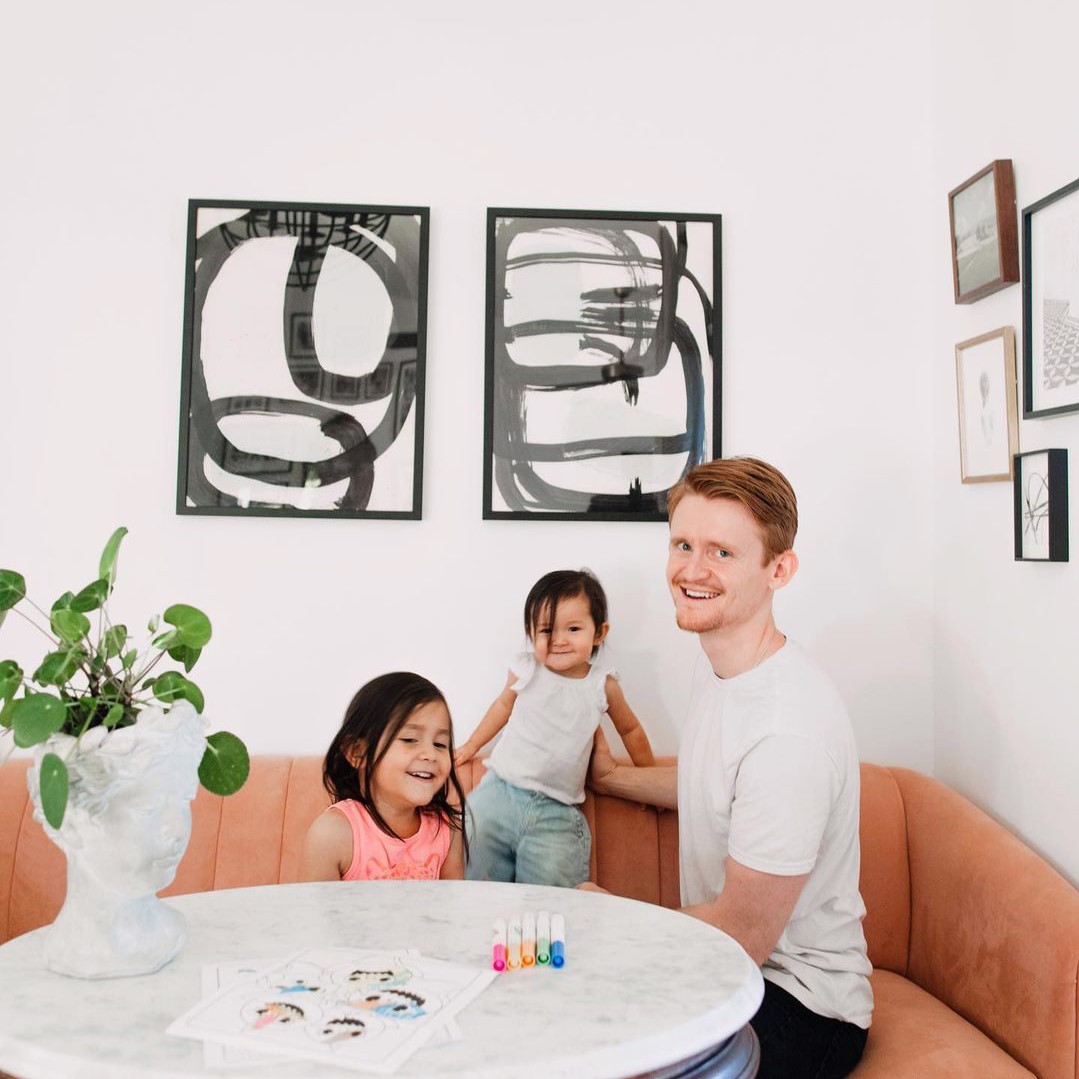 Shop Minted Art and home decor
Who Created Minted?
Minted was created by Mariam Naficy in 2007. She is the current CEO of the company as well.
Where is Minted Made?
Unfortunately, this Minted review could not find clear information about where the brand's products are manufactured. What we do know is that their headquarters are based in San Francisco.
What is Minted's Shipping Policy?
Minted ships both within the US and internationally. For domestic orders of stationery, there are four shipping options available. Here's the complete price breakdown and the estimated delivery dates:
Standard (6 to 9 business days): $4–$8
Priority (7 business days): $11
Expedited (6 business days): $25
Rush (5 business days): $35
For framed or unframed art prints, shipping costs range from $4–$100. If you end up purchasing stationery and home decor together, delivery is free.
When it comes to Canada and other international locations, there are two shipping options available:
Canada
Economy (7 to 9 business days): $15
Priority (5 to 7 business days): $35
Rest of the world
Economy: $20
Priority: $45
This Minted review would like to note that these shipping costs don't include international customs fees. Any additional charges are the buyer's responsibility.
What is Minted's Return Policy?
Minted accepts returns on a case-by-case basis. The company states that customers can send back their orders if they're unhappy with it for whatever reason. The only exception to this rule: artworks that were commissioned.
If you do have issues with commissioned art, Minted recommends contacting the artist directly. Additionally, the company can orchestrate any gift exchanges as well.
To initiate a return, you must contact Minted's team with your order number, a description of the issue, a picture of the problem, and specify whether you prefer a replacement or reimbursement.