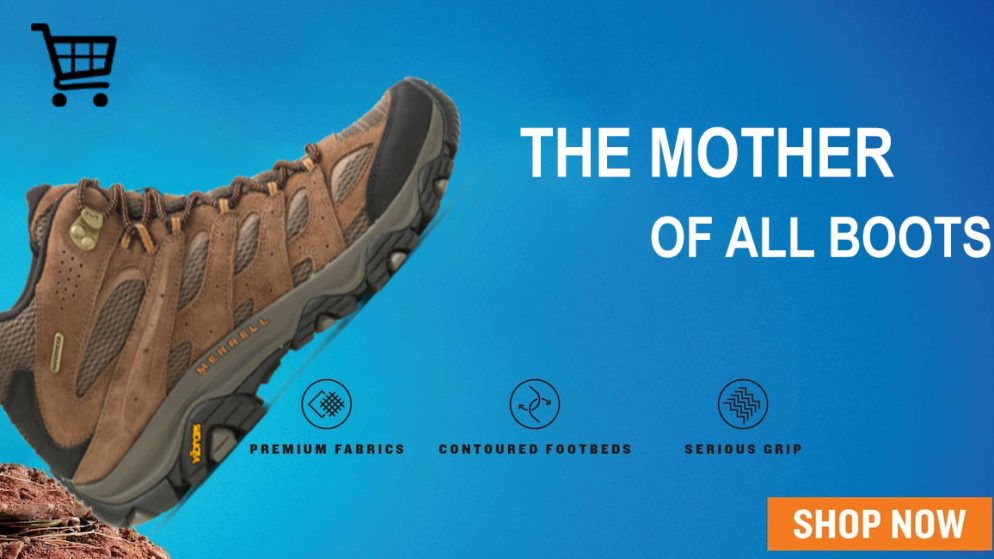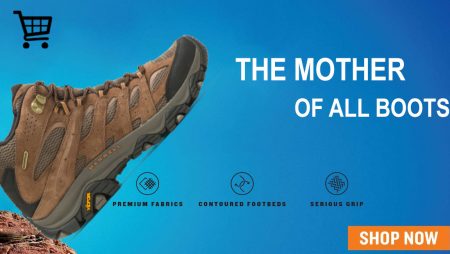 Our content is reader-supported. If you click on our links, we may earn a commission.
Need a new pair of hiking shoes, preferably something that's suitable for the warmer months? Great – that's exactly what I'll be talking about in this review.
More specifically, I will be talking about the best hiking shoes (for both men and women) by Merrell – a very popular outdoor gear brand with a great reputation.
So whether you're prioritizing grip and traction or support and stability, you will find an excellent option here, in our detailed review. And I will show you shoes for both men and women, so there's something for everyone!
Best Merrell Hiking Shoes
Merrell Moab 2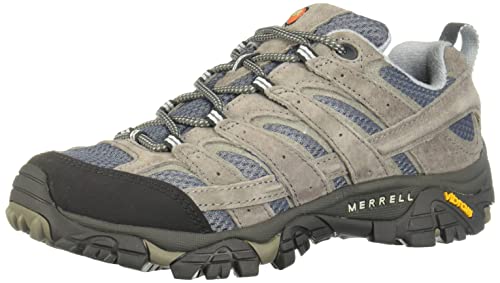 The MOAB shoes are practically famous – they are the best-selling hiking shoes by Merrell. That kind of makes sense, considering that MOAB stands for Mother Of All Boots. And which is honestly appropriate, when you look at all the amazing features these hiking shoes are equipped with.
The first thing to keep in mind is that there are lots of versions of the MOAB out there. In this review, I will show you two pairs – the MOAB Ventilated and the MOAB Waterproof. It does suck a little bit that you have to choose which feature you want, but it also allows you to get footwear that is exactly suitable for your hiking habits.
Both pairs are lightweight and short, feature breathable mesh lining inside the shoe, a nylon shank, and a Vibram TC5+ outsole. This particular outsole is very flexible, with deep multi-directional lugs that offer plenty of grip and traction on all terrain types.
As for arch support, both pairs of shoes are equipped with Merrell's M Select EVA footbed and an EVA midsole. The midsole offers stability and comfort, while the footbed offers plenty of arch and heel support. There's no doubt whatsoever that these shoes will feel comfortable on your feet, and keep you stable with every step.
Here's where the two styles differ – the Moab 2 Waterproof features M Select DRY waterproof membrane, which completely seals out the shoe and does not allow any water to penetrate it. But it does allow moisture to escape the shoe, and it features decent ventilation.
The Moab 2 Ventilator, on the other hand, does not have a waterproof membrane. Instead, it has mesh inserts on the upper part of the shoe, which keep it ventilated and allow the shoe to breathe. This also results in the shoes being lighter, and a better fit for the really warm days.
Both styles are available in men's and women's versions, and I will link all of them below.
Pros
Great grip and traction
Plenty of heel and arch support
Very durable shoes
Cons
Choose between waterproof or ventilated
Insole not removable
Product Information
Materials: Suede leather and mesh uppers
Outsole: Vibram TC5+
Weight (men's boots): 1lb 15oz (Ventilator) / 2lbs 1oz (Waterproof)
Merrell Alverstone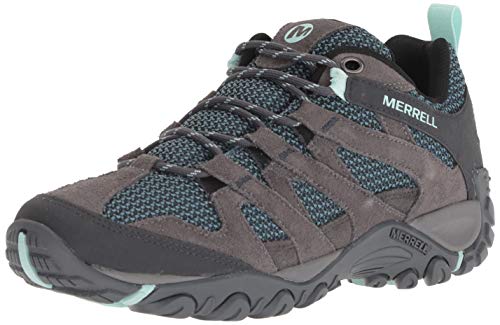 The Alverstone shoes are another popular option. They feature suede and mesh uppers, which have great ventilation thanks to mesh lining inside. These shoes are also available in regular and waterproof versions, and I will link both of them below.
They are equipped with M Select GRIP outsoles, with 5mm deep lugs. The outsole is very flexible and provides you with plenty of grip and traction even on wet terrain.
Inside the shoes, you will get a Kinetic Fit insole by Merrell, which promises plenty of heel and arch support. But it is removable, which is perfect for all of you who need more support than usual, because of flat feet or high arches.
There's also the compression-molded EVA midsole and the nylon shank for superb stability. And the round toe cap will protect your feet from any obstructions on the path, while the bellows tongue keeps any debris out of the shoe.
Another thing worth mentioning about the Alverstone is the Air Cushion heel, which absorbs all shock and increases your stability. Because of that, these shoes feel very comfortable to walk in for long periods of time. Oh, and the quick lace system with the loop in the back makes them incredibly easy to put on and take off.
The regular version of these hiking shoes is not waterproof. However, you can buy them in a waterproof version. These are pretty similar to the original – the main difference is that the waterproof variant features the M Select DRY impermeable membrane that keeps any water out of the shoe. Additionally, the regular version of the Alverstone is a couple of ounces lighter, but the difference is not really big.
Pros
Removable insole
Great grip and traction
Antimicrobial coating inside
Cons
The original version is not waterproof
They run half a size small
Product Information
Materials: Suede leather and mesh upper
Outsole: M Select GRIP outsole
Weight: 1lb 5oz (women's) / 1lb 11oz (men's)
Merrell Chameleon 7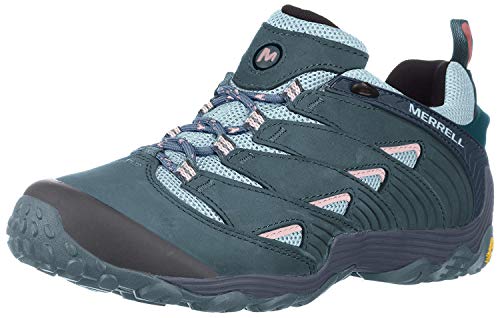 The Chameleon 7 shoes are incredibly flexible and great for pretty much any surface. With lightweight FlexPlate technology and a Flex Index Grade 2, these will pretty much feel as flexible as your socks. And thanks to the Vibram TC5+ outsole with 3 mm lugs, you will have plenty of traction on different terrain types.
But if you're more interested in great grip, I suggest you go with the Alverstone shoes instead, since they have deeper lugs.
The uppers of the shoes are made from Nubuck, suede leather, and mesh. They feature traditional lace closure, with a loop in the back that allows you to put them on and take them off rather quickly. And the rubber toe cap protects your feet from any obstacles you might encounter along the way.
You will also feel very stable in the Chameleon 7 shoes, thanks to the molded TPU heel contour and the Merrell Air Cushion. That last feature absorbs shock and helps keep your feet comfortable while you are moving around.
The shoes are equipped with a Kinetic Fit Base insole, which is removable. In conjunction with the EVA midsole, it provides you with plenty of heel and arch support and helps keep you stable on the trail. But it's good to know that it's removable, should you need something with better support.
Here's a tip for the ladies – if you have small feet, you might want to go for a Big Kid's version instead of the women's version. The sizes go up to 8.5 (women's), so you can actually get them in your usual size. Plus, the kid's version of the shoes costs half as much as the women's version, so why not save some money if you can. All the important features are the same anyway.
The Chameleon 7 shoes are available in several different versions. I will link the regular and the waterproof options below. The only difference is that the waterproof version features an M Select DRY membrane, and weighs a few ounces less than the regular style.
Pros
Very flexible shoes
Lots of traction
Removable insole
Cons
Pretty heavy
Breathability could be improved
Product Information
Materials: Nubuck, suede leather and mesh uppers
Outsole: Vibram TC5+
Weight: 1lb 15oz (men's) / 1lb 11oz (women's)
Merrell MQM Ace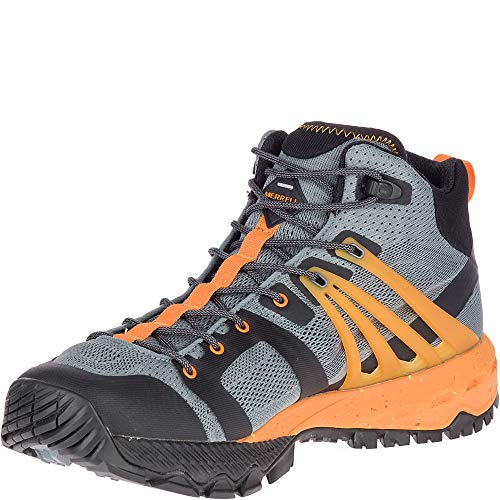 The MQM line by Merrell mostly features trail runners. The MQM Ace model is the most rugged version in the line, which is more similar to a hiking shoe than a traditional trail runner. But it's a great cross of the two styles – you will have the ease of movement and speed you can get in trail runners, but also the grip and stability of hiking shoes.
The hybrid shoes have excellent ventilation, with breathable mesh lining and several inserts in the uppers. Along with antimicrobial coating inside the shoes, this makes them an excellent choice for hikes in really hot weather.
And also a great choice for running on the trails – with the TrailProtect rock plate that protects your feet from debris on the trail and the Air Cushion in the heel for great shock absorption, nothing will be able to stop you.
Well, almost nothing – the MQM Ace hiking shoes are not waterproof, and your feet will get wet if you step into a body of water. But on all other terrain types, you will have plenty of grip and traction, with 4mm deep multidirectional lugs on the Vibram Megagrip outsole.
And if you really want something waterproof, you can get this in a boot version – but they won't be as flexible and as suitable for running as the hybrid shoes.
In addition to that, the FLEXconnect grooves in the EVA midsole promise exceptional stability and agility, and ensuring running on the trails will be effortless and fun.
The Kinect Fit BASE insole and the Floating Hypercage offer arch support, but not too much of it. In case you find you need more support than the MQM Ace shoe offer, you'll be happy to know that you can remove the insole and use something more appropriate for you.
Pros
Excellent ventilation
Very flexible shoes
Plenty of grip and traction
Cons
Not waterproof
Not too much arch support
Product Information
Materials: Mesh and TPU uppers
Outsole: Vibram Megagrip
Weight: 1lb 8oz (men's) / 1lb 5oz (women's)
Merrell Pulsate 2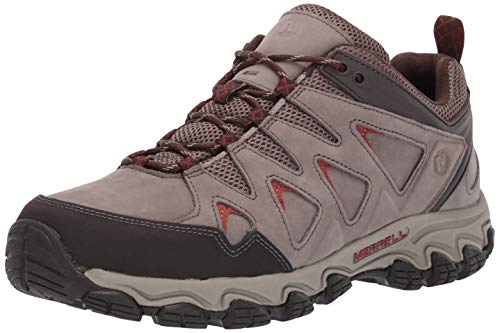 The Pulsate 2 shoes are actually the first hiking shoes so far that are specifically designed for men. They are available in two variants – a regular leather shoe, and then there's also a waterproof version.
With 5mm deep multidirectional lugs and the M Select GRIP outsole, these hiking shoes were designed for amazing grip even on the toughest terrain. They appear and feel very rugged, and will help you take on even the most difficult of hiking trails.
The Merrell Air Cushion also helps there, as it provides you with plenty of stability and absorbs shock when you move. And the nylon shank further improves stability and arch support, just like the compression-molded EVA midsole.
The uppers of these shoes are made from full-grain leather, so even the original version has pretty good water resistance. But if you're planning on getting wet, then you are probably better off getting the waterproof version of the Pulsate 2 shoes, since it has the M Select DRY impermeable membrane.
Both versions of the shoe are equipped with a removable Kinetic Fit Base insole, which is both flexible and supportive. And they feature antimicrobial agents inside the shoes, which help prevent the stay of bacteria and unpleasant odors.
Additionally, these shoes have a protective rubber toe cap which keeps your feet safe from any nasty objects on the trail. And the bellows tongue keeps any debris out as well. It is also very easy and quick to put these on and take from off, thanks to the quick lace system and the back loop.
Pros
Deep lugs for excellent grip
Removable insole
Comfortable and stable
Cons
On the pricier side
Original version is not waterproof
Product Information
Materials: Full grain leather uppers
Outsole: M Select GRIP Outsole
Weight: 1lb 15oz (original) / 2lbs (waterproof)
Merrell Siren Edge Q2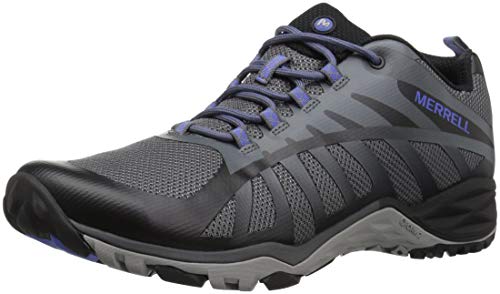 The Siren Edge Q2 hiking shoes are only available in a women's version – but the name was a dead giveaway there.
Although they are nearly identical, if you look closely you can see that the waterproof shoes are thicker and a bit bulkier than the other ones. There's also a slight difference in their weights – the waterproof version is an ounce heavier than the regular shoe.
And the Siren Edge shoes are actually more similar to trail runners in their build and weight. They are very lightweight and flexible, and provide you with great shock absorption and lots of stability on the trails, regardless of your speed.
The mesh uppers of the shoe offer excellent breathability on both versions of these Merrells. But the waterproof version also features the M Select DRY impermeable membrane, which promises to keep all water on the outside from entering the shoe.
The M Select GRIP outsole with 4.5mm deep lugs is very sturdy and flexible, and will give you plenty of traction on the trail. However, it is not as grippy as the outsole on some other shoes I've shown you here, so bear that in mind.
As for your comfort and support, you'll be glad to know that the Siren Edge Q2 hiking shoes were designed specifically for women's feet. The Kinetic Fit TRI insole offers triple-zone arch support, while the Q FORM 2 insole and midsole technology ensure natural alignment of the foot and great comfort. And with the molded nylon shank, stability will never be an issue either.
Pros
Lightweight and comfortable
Gender-specific fit design
Great traction and stability
Cons
Insole is not removable
Shock absorption is not the best
Product Information
Materials: Mesh and synthetic uppers
Outsole: M Select GRIP
Weight: 1lb 2 oz / 1lb 3oz (waterproof)
Merrell Yokota 2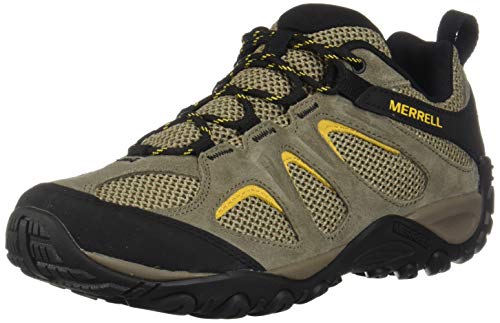 First thing's first –  these men's shoes are designed for wide feet; great if you normally have to get the wide version of a shoe. But if you don't, then you probably want to go at least half a size down, for a good fit. And because of the elastic laces, you can easily tighten them.
The Yokota 2 shoes are an excellent choice for summer and for some light hiking. If you're not looking for anything too rugged, I think you will really like these. Their entire uppers are made from leather and mesh, which promises excellent ventilation and breathability. And the interior of the shoes is also lined with breathable mesh, so your feet will really be able to breathe.
The antimicrobial coating inside helps keep the Yokota 2 hiking shoes odor-free and fresh for a longer time.
But which also means that any water on the outside can easily penetrate the shoe. And they are not available in a waterproof version at all – if that's important to you, then skip these.
The M Select GRIP outsole of these shoes is very rugged and features 4mm deep lugs for excellent grip and traction. In addition to that, the Yokota 2 shoes have a pretty tall heel – 1,5". That, along with the Air Cushion technology in the heel and the molded TPU contour of it guarantees excellent shock absorption and stability. Especially with the nylon shank.
Inside the shoe, the Kinetic Fit BASE insole promises support, as it is designed to contour to your foot. But it is not removable, and I'm not sure if it would provide enough support for someone with high arches or flat feet.
Pros
Great shock absorption and stability
Excellent breathability
Lots of grip and traction
Cons
Not waterproof
Wide version – runs large if you don't have wide feet
Product Information
Materials: Suede and textile uppers
Outsole: M Select GRIP
Weight: 1lb 7oz
Merrell Hydrotrekker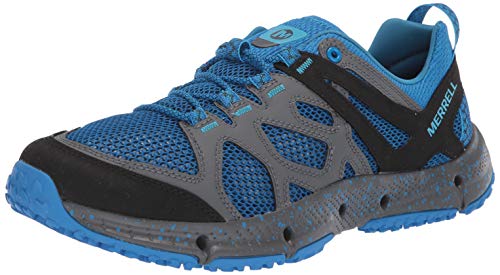 How about a lightweight shoe that is really breathable, but water-friendly? Something suitable for the July heats, but also for trekking through puddles unbothered? That would be the Merrell Hydrotrekker, a fairly new addition to their men's only hiking shoe range.
With water-friendly uppers made from synthetic and mesh, these shoes dry very quickly. They are great for rainy weather because they don't really retain water. However, they are not fully waterproof, and that is a big deal. Sure, you will have excellent traction in water, with the M Select WET GRIP outsole, but your feet will still get wet.
Because of that, I think you're not supposed to wear socks with these shoes. They are designed to dry off very quickly, even on the inside. The Kinetic Fit BASE removable insole features a water-friendly top cover, and the Hydramorph midsole has channels and ports for water evacuation and air ventilation.
This allows water to quickly drain from the shoe and helps the Hydrotrakker dry in just a few minutes. Wearing socks will make you uncomfortable because they won't dry nearly as quickly.
The 3.5mm multidirectional lugs provide you with excellent traction on wet and slippery terrain. But, because the lugs are so small, you won't have an amazing grip on other terrain types – I imagine rocky and difficult hiking trails might not be a breeze in the Hydrotrekker.
These shoes are slimmer and cut lower than most other Merrell hiking shoes I showed you. And they actually resemble sandals more than boots, which is appropriate I guess, considering their intended purpose.
Overall, they are a great choice if you're looking for a shoe that dries quickly and offers traction underwater. But not something I would recommend for the everyday hiking trail.
Pros
Water friendly uppers
Quick drying
Great traction on slippery surfaces
Cons
Not really waterproof
Not great for demanding terrain
Product Information
Materials: Synthetic and mesh uppers
Outsole: M Select WET GRIP
Weight: 1lb 10oz
What To Look For
Type Of Hiking Footwear
There are lots of different styles of hiking footwear. Boots are the most popular option, but they're usually pretty bulky and warm. And they're not really a suitable option for summer unless you're going somewhere where there's snow on the ground in July.
But, I will show you a few pairs of boots, mostly because they are among the best options you have from Merrell. There are some styles that have been their best-sellers for years now, and that pretty much wipes out all the other competition.
However, I will mostly focus on shoes that are similar in size and shape to trail runners. These will be lightweight and airy, and a perfect option for those exceptionally warm days. But they won't provide you with lots of ankle support, since most of the hiking shoes in this review cut off under the ankles.
Anyway, if you're looking for hiking boots or shoes, you will find several options in our review. If you're looking for hiking sandals, on the other hand, you won't find anything here. I suggest you check out our review on the best walking sandals for women and the best closed-toe sandals for men, as you'll find what you are looking for there.
Waterproofing & Breathability
In addition to lots of grip, traction, and support (which you will have with all of the shoes in this review), your hiking shoes should be waterproof and breathable. Or water-resistant at the very least.
Breathability is especially important if we're talking about lightweight footwear for summer hikes. It's natural that you will sweat more often when the temperatures get really high, and your shoes need to be able to deal with that. I will try to show you only footwear that is breathable – that either has mesh inserts or a membrane, which allows the moisture from inside the shoe to get out.
But also shoes that won't let any water from the outside get inside. Waterproofing might not be as important as breathability with summer footwear, but it's very useful to know what to expect from the footwear you're buying.
Whenever a particular pair is (not) waterproof, I will make sure to list that in the pros/cons section. In addition to that, if the breathability of a certain pair is not completely up to my standards, or if it exceeds them in any way, I will also make sure to indicate that in the pros/cons boxes.
Men's Vs. Women's
Most of the shoes that I will show you in this review are available in both men's and women's versions. The differences between the two are usually in the color and sizing – women's shoes tend to be smaller and more narrow, as well as available in smaller sizes.
In some cases, I will show you a pair that is gender-specific, and I will make sure to note that in the mini-reviews. Be sure to check for buttons as well – if you only see a link to one gender-specific version, then that particular pair of shoes is not available for the other gender.
You can find the shoes that are only available for men/women towards the end of the review.
Merrell Hiking Shoes: Our Top Choices
Not completely sure which hiking shoes to grab? Get any one of these below – our top three options certainly won't disappoint you!
The Moab 2 shoes are a clear winner. Who can say no to the Mother Of All Boots, after all? They are extremely durable, breathable, offer amazing grip and traction and they even come in a waterproof version. These shoes are great for all-terrain types and provide you with lots of stability and comfort in your every step.
If you want shoes that will perform exceptionally well in every imaginable challenge, the Moab 2 shoes are the perfect choice for you.
If you're looking for both speed and support, consider the MQM Ace. This hybrid cross between hiking shoes and trail runners is as comfortable as it is sturdy. With the Vibram Megagrip outsole with deep multidirectional lugs, you will have lots of grip and traction in your every step.
And since these shoes are remarkably flexible, stable and they have excellent shock absorption, running around the trails will never feel like a chore again.
If you're looking for a shoe that will provide you with grip and traction underwater but you're not quite ready for a sandal, go for the Merrell Hydrotrekker. They are so much like sandals in their lightweight, airy materials, and flexible exterior.
Plus, they are equipped with an outsole designed for superb performance on wet and slippery surfaces, even if their uppers are not completely waterproof. Don't wear socks with them, and you'll see just quick-drying both the interior and the exterior of the Hydrotrekker are!
Those would be our top three choices. Head over to Amazon to see if your favorite option is available in your size, and which colors you can get the shoes in. And also how much they cost.
If you're not completely satisfied with the options in this review, go check out some of our other posts. There are plenty of other brands of hiking shoes that you might like better, and which certainly won't disappoint!