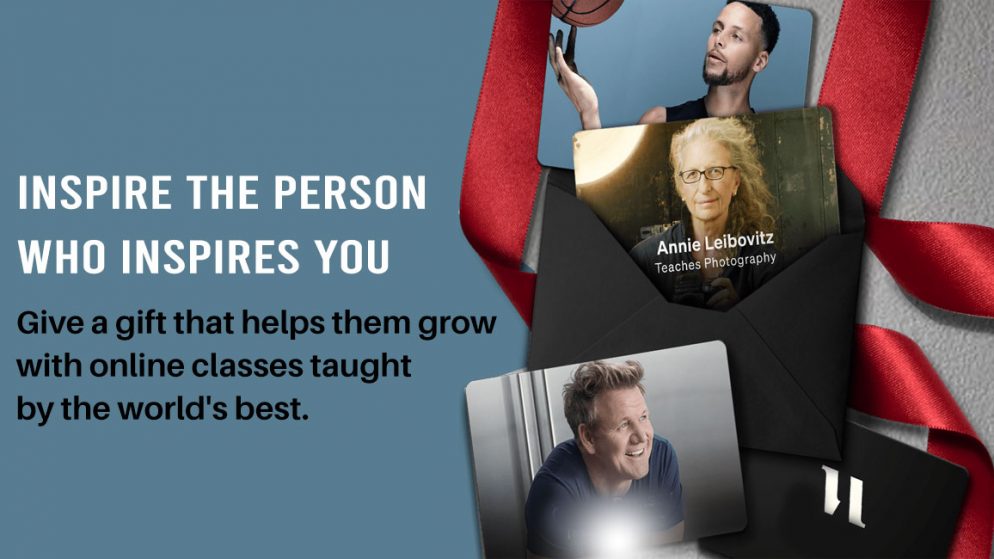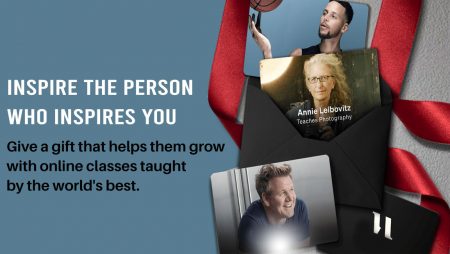 Our content is reader-supported. If you click on our links, we may earn a commission.
Work, eat, sleep, repeat. Ever feel like you're living the same day over and over again? I sure do. Join me in breaking the cycle and filling your free time doing things that not only interest you but help you grow. This year we're practicing self-care habits that go beyond face masks and wine. Enter: MasterClass. The brand sent me a free trial, and after being a member for six months, I'm officially adding it to my weekly self-care regimen.
If you've ever considered signing up for MasterClass, there's no better time than now. The online learning platform is offering an amazing limited-time deal: Buy one subscription, get one free. That means you can get a membership for yourself and a friend for just $15 a month.
Pros
Affordable price: starts at $15/month
Unlimited access to all classes
Legendary instructors
Wide variety of topics
New classes added every month
Outstanding video quality
Ability to take notes while watching
User-friendly app
30-day satisfaction guarantee
Cons
Doesn't offer memberships for single courses
Doesn't have free trials or monthly subscriptions (membership is billed annually)
No classes with certifications
No interaction with instructors
What Is MasterClass?
OK, learning and taking classes might sound, well, sort of meh. The thought of those words may transport you to grade school classrooms you dreaded being in (*cough* anything math) or online classes in college you put off until Sunday at midnight (guilty). Good thing there's a huge difference between school and MasterClass.
MasterClass is an online library with over 100 classes across 11 different categories featuring topics like makeup and fashion design taught by living legends, including Anna Wintour, Diane von Furstenberg, and Bobbi Brown. In each class, there are usually about 10 to 20 lessons, which range between 10 and 30 minutes long. You can binge-watch a whole course or take your time — no rules, no deadlines, no tests. Simply the pleasure of learning about things you love.
Signing Up for MasterClass: How It Works
There are three different MasterClass plans: Standard, Plus, and Premium. Each plan comes with access to all classes, a 30-day satisfaction guarantee, bonus guides and content, and a variety of streaming options (computer, TV, phone, and tablet). Although MasterClass doesn't have free trials, the 30-day satisfaction guarantee allows you to get your money back if it's not the right fit for you. If this is the case for you, send an email to support@master class.com to receive a full refund.
One difference between the plans is that Plus and Premium members can download classes for offline viewing. This is an excellent perk for those who travel often or don't always have access to Wi-Fi. Another feature the Standard plan doesn't include is the ability to watch lessons on multiple devices at the same time. Plus members can be logged in on two different devices, while Premium members can watch MasterClass on six different devices at once. The upgraded plans make the most sense for families or small groups that want to access classes simultaneously on their own smart gadgets.
Most Popular MasterClass Classes
MasterClass covers a huge variety of topics. The 11 categories include: Arts & Entertainment, Home & Lifestyle, Music, Business, Writing, Food, Design & Style, Sports & Gaming, Science & Tech, Wellness, and Community & Government. Below, you can see some of the most-loved courses and instructors available within each category upon the date this article was published; MasterClass adds new courses every month. I think you'll be surprised by the number of people you recognize and would want to learn from.
Arts & Entertainment
The Arts & Entertainment section is the largest category, featuring more than 60 classes. Whether you love to take photos, want to learn more about the film industry, or enjoy literature, there is a course for you.
Helen Mirren Teaches Acting: Helen Mirren is an award-winning actress known for her stunning performances in movies like The Queen and The Good Liar. In this course, she talks about her experience as a theater actress, how to assess roles, tricks for learning scripts, and more. The class has 28 lessons.
Christina Aguilera Teaches Singing: Singer, songwriter, and actress Christina Aguilera offers three and a half hours of voice lessons. Even if you aren't a singer, this course teaches you life lessons, such as how to express yourself, overcome mistakes, and deal with nerves. There are 23 lessons in this class.
Home & Lifestyle
The Home & Lifestyle section offers incredible classes for those interested in interior design, cooking, wellness, and gardening. There are a total of 24 classes available in this category.
Kelly Wearstler Teaches Interior Design: In the mid-'90s, Kelly Wearstler founded her own design studio in L.A. Now it's evolved into a well-known lifestyle brand. This MasterClass takes you through the creative process of designing a space and the specific elements to pay attention to. There are 17 lessons in this class.
Gordon Ramsay Teaches Cooking I: Gordon Ramsay is a world-class chef and restaurateur, as well as a TV star on Kitchen Nightmares and Hell's Kitchen. He's blunt, fiery, and very entertaining. This intro cooking class teaches you how to select good produce, knife skills, and other useful techniques in the kitchen. There are 20 lessons in this class.
Music
It's safe to say that most of us are fans of some sort of music, whether it's for the beautiful instrumental sounds or meaningful lyrics. This category has 21 different classes for people who want to learn more about producing, writing, singing, and playing music.
Alicia Keys Teaches Songwriting and Producing: With 15 Grammy awards under her name, Alicia Keys is one of the most talented singers, songwriters, and producers of the century. In this course, Keys shares her songwriting process, favorite instruments, the importance of collaboration, and so much more. There are 19 lessons in this class.
Usher Teaches The Art of Performance: You're lying if you say you didn't have a crush on Usher in the early 2000s. Whether you love him for his looks, talent, or both, this class gives you an inside look at Usher's music journey. He shares his experience with singing, dancing, acting, and live performances. This class has 16 lessons.
Design & Style
Students, professionals, and basically anyone who is passionate about fashion and beauty will find themselves obsessing over each one of these 15 Design & Style classes. Who else better to learn from than Anna Wintour, Diane Furstenberg, and other famous leaders?
Anna Wintour Teaches Creativity and Leadership: Anna Wintour, editor in chief at Vogue, shares her wisdom about the fashion and magazine industry. She takes you through editorial decisions, management techniques, planning for the Met Gala, and more. There are 12 lessons in this class.
Tan France Teaches Style for Everyone: Queer Eye and Next in Fashion cohost Tan France shares his expertise in fashion and design. He teaches you how to find your personal style, where to find inspiration, and how to mix and match prints, plus he even takes you behind the scenes of Queer Eye.
Business
Learn from 19 different world-class leaders on how to succeed in your career. These business classes are for entrepreneurs, students, strategists, and forward thinkers.
Sara Blakely Teaches Self-Made Entrepreneurship: Founder and owner of Oprah-loved brand Spanx, Sara Blakely shares her tips on how to be an entrepreneur. She starts with developing the idea and ends with building a company culture. There are 14 lessons in this class.
Elaine Welteroth Teaches Designing Your Career: Project Runway judge and former Teen Vogue editor in chief Elaine Welteroth shares what it takes to build the career of your dreams. She talks about side hustles, work-life balance, and marketing yourself. This class has 15 lessons.
Writing
Dive into the world of writing, reading, and storytelling with 20 classes taught by famous authors, journalists, poets, and playwrights.
Issa Rae Teaches Creating Outside the Lines: As an Emmy-nominated writer, actor, and producer, Issa Rae is an expert on creativity. This MasterClass teaches you how to get inspired, what makes a good pilot episode, and how to present your vision to the right people. There are 14 lessons in this class.
David Sedaris Teaches Storytelling and Humor: David Sedaris is a best-selling author, comedian, and storyteller. In this course, Sedaris explains how to turn observations into stories, connect with readers, and grow as a writer. This class has 14 lessons.
Food
If you love watching shows on the Food Network, you're in for a treat. The Food category features 19 classes with notable chefs, including Gordon Ramsay, Wolfgang Puck, and Massimo Bottura.
Massimo Bottura Teaches Modern Italian Cooking: Massimo Bottura, an Italian chef and restaurateur, shares his knowledge on traditional favorites, such as pesto, pasta, risotto, and more. This class has 14 lessons.
Gordon Ramsay Teaches Cooking II: Restaurant Recipes at Home: If you love to host, this class will help you impress your guests. Gordon Ramsay shows you how to prepare 13 different recipes, including sesame crusted tuna with cucumber salad and raspberry soufflé. There are 15 lessons total in this class.
Sports & Gaming
Even if you're not a fan of sports or video games, this category offers 14 amazing courses led by athletes like Simone Biles and Serena Williams.
Serena Williams Teaches Tennis: Professional tennis player Serena Williams offers a two-hour class on how to train and play like a pro. She covers groundstrokes, mental toughness, serving, and other important skills. There are 10 lessons in this class.
Simone Biles Teaches Gymnastics Fundamentals: As the greatest gymnast of all time, Simone Biles has a lot to say about the sport. In this MasterClass, Biles walks you through floor, beam, vault, and bar skills, as well as setting goals and gaining confidence. This class has 17 lessons.
Science & Tech
Science & Tech is a small but mighty category, featuring five classes from experts like primatologist Dr. Jane Goodall and astronaut Chris Hadfield.
Dr. Jane Goodall Teaches Conservation: Jane Goodall is most known for her 60-year study of wild chimpanzees. In this course, she breaks down her studies on chimpanzees, humans, and the similarities between the two species. There are 29 lessons in this class.
Bill Nye Teaches Science and Problem-Solving: Remember Bill Nye the Science Guy? Now you can learn more from him in your adult years. He explains the importance of critical thinking, evidence of climate change, and seeking scientific solutions. This class has 13 lessons.
Wellness
The Wellness category includes nine classes about mental, physical, and emotional health. Here you can learn how to meditate, sleep better, refresh your sex life, and more.
Robin Arzón Teaches Mental Strength: Peloton Head Instructor Robin Arzón speaks about reinventing yourself, finding your purpose, and overcoming mental obstacles. This class has 11 lessons.
Emily Morse Teaches Sex and Communication: Emily Morse is a sex therapist and the host of the Sex with Emily podcast. In this MasterClass, Morse offers advice on how to intensify orgasms, keep the desire alive, and how to experiment with different positions and toys. There are seven lessons in this class.
Community & Government
The Community and Government category offers 12 classes taught by leaders, politicians, philosophers, and activists. If you're interested in learning more about politics and activism, this is a great place to start.
Hillary Rodham Clinton Teaches The Power of Resilience: Former First Lady Hillary Rodham Clinton shares her knowledge about public speaking, negotiating, handling criticism, and dealing with stereotypes. Plus, there is a lesson where Clinton and Huma Abedin speak about mentorship. There are 16 lessons in this class.
Malala Yousafzai Teaches Creating Change: Nobel Peace Prize winner Malala Yousafzai teaches you how to become an advocate for causes that matter to you and the skills she uses for her own work. This class has 15 lessons.
My MasterClass Experience
I might be a millennial, but I'm no expert with technology. Luckily, the MasterClass website and app is extremely user-friendly. As someone with a busy schedule, I oftentimes had to log off in the middle of a lesson. Thankfully, it was never an issue because MasterClass has a section called "My Progress" where you can resume the video right where you left off. In the "My Progress" section, you can also view your class notes, your list of classes you've flagged that you want to take, and the courses you've "mastered" or completed.
When choosing which classes to take, I found it really helpful to view the class trailers and lesson titles to get a feel of what the course will look like. During the courses, I absolutely loved the note-taking feature. Each lesson has its own notes section on the right side of the screen so you can type different ideas, advice, and learnings as you watch. I always think I'm going to remember information, but these notes ensure I won't forget. MasterClass also has extensive downloadable guides for each class that provide valuable information you can keep forever. After each lesson, you can give it a rating out of five stars. You can skip lessons, but I recommend watching the entire course in order. The classes are well made and provide exclusive insight you won't want to miss.
Once you've finished a class, you can always go back and take it again or replay lessons you loved. I did this many times when I felt like I was distracted during a lesson or wanted to hear a certain part that resonated with me again.
Lastly, to get the most out of your subscription, I recommend checking out MasterClass Live and MasterClass Articles. MasterClass Live includes several live recordings with stars like Olympic gold medalist Simone Biles and American Ballet Theatre dancer Misty Copeland that you can watch at any time. There are hundreds of MasterClass Articles to read that expand on the topics from the online courses. Some article examples include Basic Photography 101 and Helen Mirren's Top Film Acting Tips.
MasterClass Community
One downside to MasterClass is that it no longer offers the ability to communicate with other members who take the same classes as you. But since its recent removal of the discussion feature, the company added a new segment called Sessions.
This new experience provides hands-on learning with some of the same instructors in MasterClass's regular courses. Each class runs for 30 days and consists of different activities and projects. During your Session, you can engage with other learners and get feedback from Teaching Assistants by submitting questions, comments, or photos of your projects in the community chat. You can reply to other people and expect an answer from the TA whenever you have a question.
Because Sessions is still fresh, there are only two options to choose from at the moment, including Bake Like A Pro with Joanne Chang and Design Stunning Floral Arrangements with Maurice Harris. In the future, there will be more lessons available, such as Crafting a Performance with Christina Aguliera and Building a Streaming Channel with Ninja.
MasterClass Cost
Right now, MasterClass starts at $180 a year ($15/month) and goes up to $276 a year ($23/month), depending on which plan you choose. These current sale prices are significantly lower than its original cost of $360 to $552 per year. During your first 30 days, MasterClass offers a money-back guarantee if you decide it isn't for you. Members are billed annually, and the subscription automatically renews each year unless you cancel it.
MasterClass also has group rates for businesses who want to purchase subscriptions for employees. It's a win-win for both the company and employees to learn personal and professional skills from some of the best leaders in the world. Head to this page to learn more and sign up.
You also have the option to give an annual MasterClass subscription as a gift through this link. Simply choose a plan, enter your email address and the recipient's email address, leave a note, and select whether you want to send the gift immediately or on a later date.
MasterClass Reviews and Customer Service
Over 630 reviewers have given MasterClass an average 3.1-star rating on Trustpilot. To break it down, 61 percent say it's excellent, eight percent say it's great, six percent say it's average, four percent say it's poor, and 21 percent say it's bad. Most complaints had to do with canceling subscriptions. If you want to cancel your membership, go to "Settings" under the Menu dropdown, and click the Cancel Membership button. From there, you will be guided through a cancellation process. Once it's completed, your subscription will not renew at the end of your current subscription period.
"Every single MasterClass I've viewed has been superbly produced and well-structured," one five-star reviewer said. "Robust content, to the point, broken into easy-to-consume chapters and all around first-class."
"I joined MasterClass to take the writing courses. They were all excellent," another five-star reviewer wrote. "Then the film directing and acting courses looked good, too, so I took those. Then there were some on humor, and I had a blast taking them. Then I found some on cooking — I don't cook — but I enjoyed seeing how it's done… You get the idea: The learning never ends. Outstanding instructors, excellent set-up, and good ancillary materials for review. I love MasterClass."
"MasterClass charged my credit card this morning for an auto-renewal, a day and a half before the cancellation deadline date/time that they emailed to me," a one-star reviewer said. "I'm going to try to get a refund by emailing them. There is no customer service telephone number on their website."
Who's MasterClass Good For?
MasterClass is great for people who are curious about certain topics, interested in learning from celebrities, and want an alternative to watching TV in their free time. Also, people who love watching documentaries, exploring new hobbies, and expanding their knowledge will love MasterClass. It offers inspiration, guidance, expert tips, and real-life experiences to help you grow in your career and personal life.
Who Isn't It Good For?
I wouldn't recommend MasterClass to people who'd rather read paper copies of information than watch video lessons. Also, it's not a great investment for people who don't enjoy learning new things or who don't have interest in a variety of subjects.
Bottom Line
Without a doubt, MasterClass is worth the money. At just $15 a month, you get access to more than 100 classes from some of the most knowledgeable people in the world. Whether you learn about subjects that help you grow in your career or as a person, choosing to sign up for MasterClass is choosing to invest in yourself. Not only will I continue to be a MasterClass member, but I love it so much.