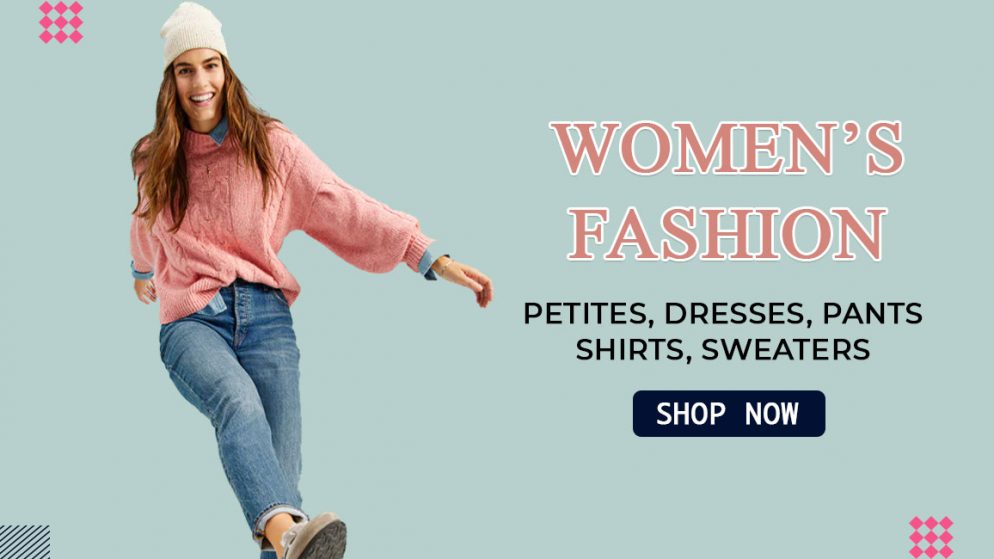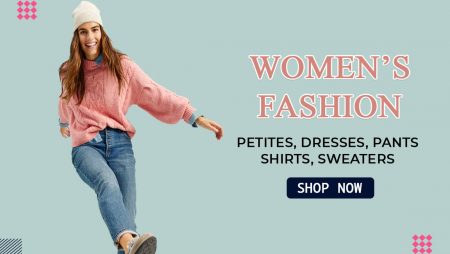 So I was perusing the internet last night, doing my usual stalking, when I came across LOFT's website. (I think I got an email about their 40% off sale).
Now, I'm not usually a big LOFT shopper. I think most of their stuff is great for work but obviously I don't work in a traditional work environment so I don't really need any of that stuff. I also feel like I've happened to come across their selection at times where I didn't see anything. Liked–very hit or miss–so this particular retailer is not usually top of mind for me.
BUT as I was perusing, to my surprise, I loved SO MANY THINGS. I went on stories and asked, "GUYS. Should I be shopping at LOFT more?! Have I been living under a rock!?"
72% of you said YES–and many of you who said no said you would still be interested in seeing my picks? So…here we are!
Infinitely Loft Review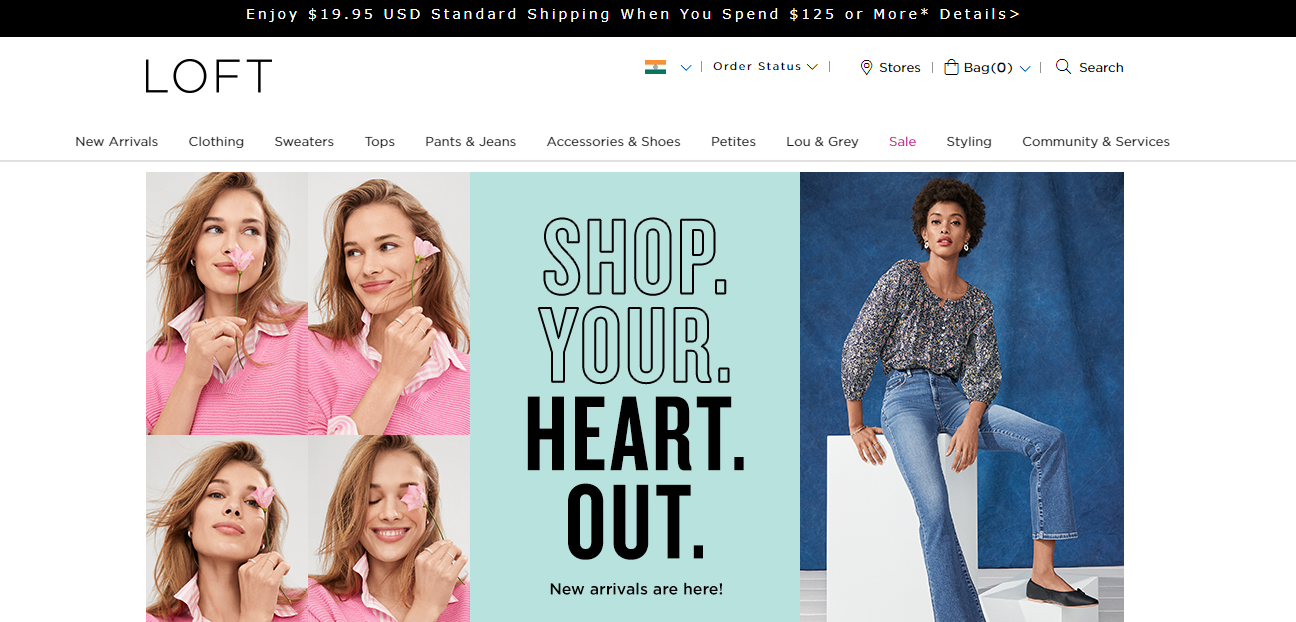 Get ready for a long one today because I'm so excited to share everything about Loft's new subscription box: Infinitely Loft. First, let me just say that this post is NOT sponsored in any way. I was really curious about the service since I am a big Loft fan and wanted to test it out and give ya'll an Infinitely Loft Review. At the time that I subscribed, there were hardly any reviews out there. So I figured I'd share my thoughts with you all in case this clothing subscription is something you might be interested in! Let's jump right in!
What is Infinitely Loft?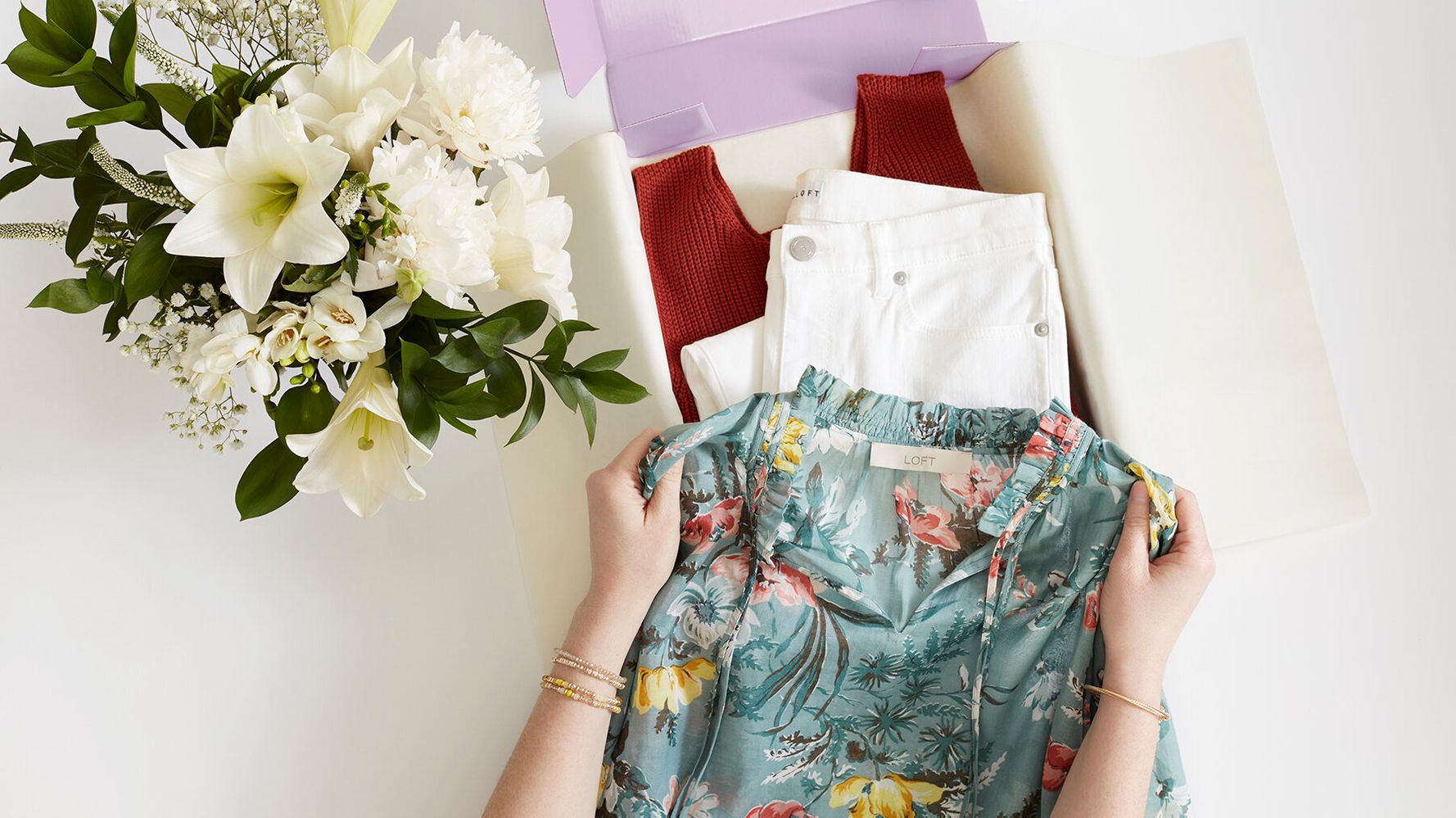 Infinitely Loft is a subscription service from Loft that allows you to choose items to create a dream "closet". You fill your closet with at least 8 items (but can certainly add more). They send you three of your items at a time in a box. When you're done wearing those items, you send them right back in the supplied return bag. The service is $64.95 a month and you can send items back as many times in a month as you'd like. I was drawn to this in particular because of other services (like Rent the Runway) costing a whole lot more and some have limitations on how many items you can have per month.
Also, if you do decide that you like an item in your box, you can purchase it for a discounted price (usually 50 or 60 percent off). The service boasts that it will lessen your laundry load, keep your wardrobe feeling "new", and of course it offers free shipping and priority mail. Here is the FAQ page for Infinitely Loft if you want to take a peek at the details a little more.
Infinitely Loft Review: How did my month go?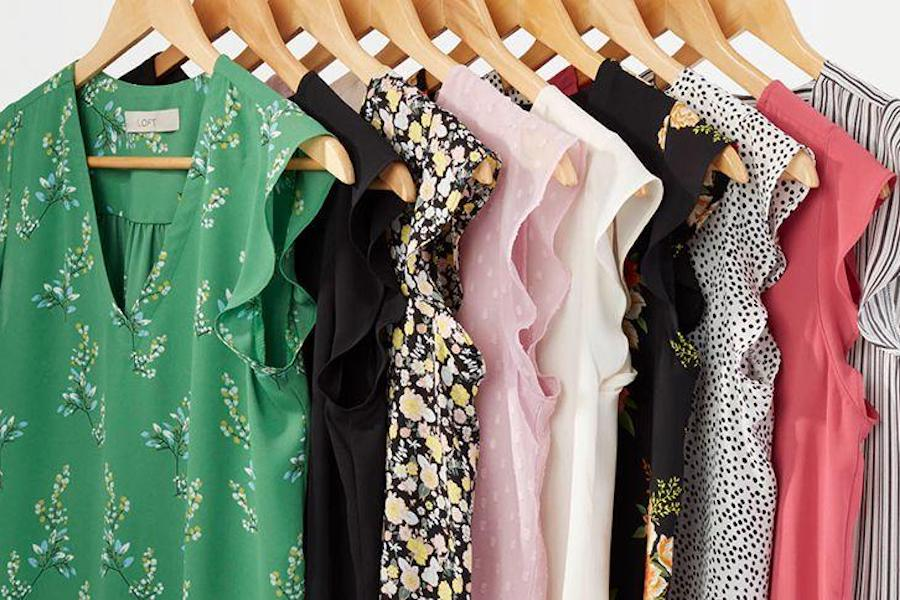 If you're looking for the short answer, my month went really well! But, just like with any subscription service, there are pros and cons that I want to be really honest about. The best thing about the service (for me), was feeling refreshed about my wardrobe and inspired with some new options to style or wear to work. I was excited about the new clothing and happy to have new items for the start of my school year, without having to go and spend $200. It didn't bother me at all that the clothes weren't brand new; in fact, I felt a strong sense of responsibility at the sustainable nature of it all. I'm someone who enjoys new clothing at the start of each season. But that's just not always a smart or feasible option, especially when trying to budget.
For me, the drawback to the subscription was the time lost in the mail. After my first batch of clothing arrived, I set it out for return on a Friday. It took one full week to receive a new batch back. The following week, it took six days. During my entire subscription time, I never had a box arrive any faster than six days. For me, I felt like a lot of time was lost and wasted just waiting on the mail. Infinitely Loft has 3 day priority shipping with USPS, but with the time it takes to wait for your return to get back.
You're looking at close to a week from start to finish. I would absolutely keep my subscription if the company could speed up the process just a little bit with shipping. And maybe if you're in a large city like Dallas or Houston, it may get to you a little quicker. I know that the headquarters is located in Ohio, which is very centrally located to many cities. For a small city out in West Texas though, it took a while for my items to arrive.
Loft Dashboard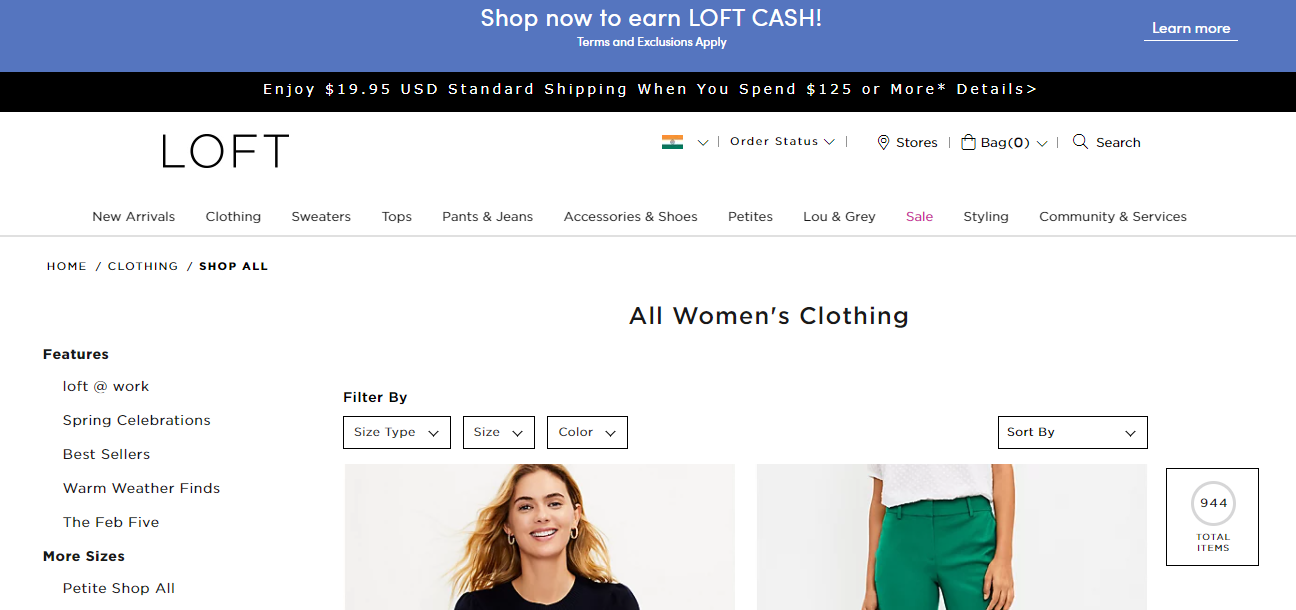 The Experience: Pros
One of the big pros when you are "shopping" for items to add to your closet is the ease of finding something. The collection is separated into categories, just like the actual Loft website would be: Dresses, tops, and bottoms. I thought it was awesome that they also had a petite, plus size, tall, and maternity section. This subscription box truly works for all sizes. I noticed that the selection of clothing is updated weekly, but don't expect to find everything from the Loft website available for you. Nevertheless, I didn't have any trouble filling my closet with at least eight items. There was plenty to choose from in each category.
The Experience: Cons
One of the big things that I did not like about the experience or process of picking items was the unavailability of certain clothing pieces. I might click on a dress, only to discover that they didn't have my size available currently. It didn't happen a ton, but it was slightly frustrating to realize that I couldn't add certain items to my closet.
The last feature that could use improvement was the "priority" button. Once you add items to your closet, you have the option to prioritize them and Infinitely Loft says that they'll try to get that item out to you first, or in the next shipment coming your way. I tried the priority button out three weeks and never received my "prioritized" clothing. I wish that there was a way to ensure what you were getting so that you could plan for an event. Also wish there was a way to "bundle" which items you'd be receiving so that I could pick a pair of pants, a coordinating top, and a dress for one order. As it is, you have no way of knowing what will ship until the package has already been sent off.
Is it worth it?
If the mailing process changed, YES, this would be 100% worth it for me. I think the ideal customer is someone who enjoys new clothing, loves the Loft brand. Wants to budget with shopping but still feel like they're getting the shopping experience. If you live in a big city, I bet your mailing time would be faster than mine. So what do you think? Is this something you'd try out after reading my Infinitely Loft Review? Leave a comment below and let me know your thoughts!
Loft New Arrivals – My Picks: (Many On Sale!)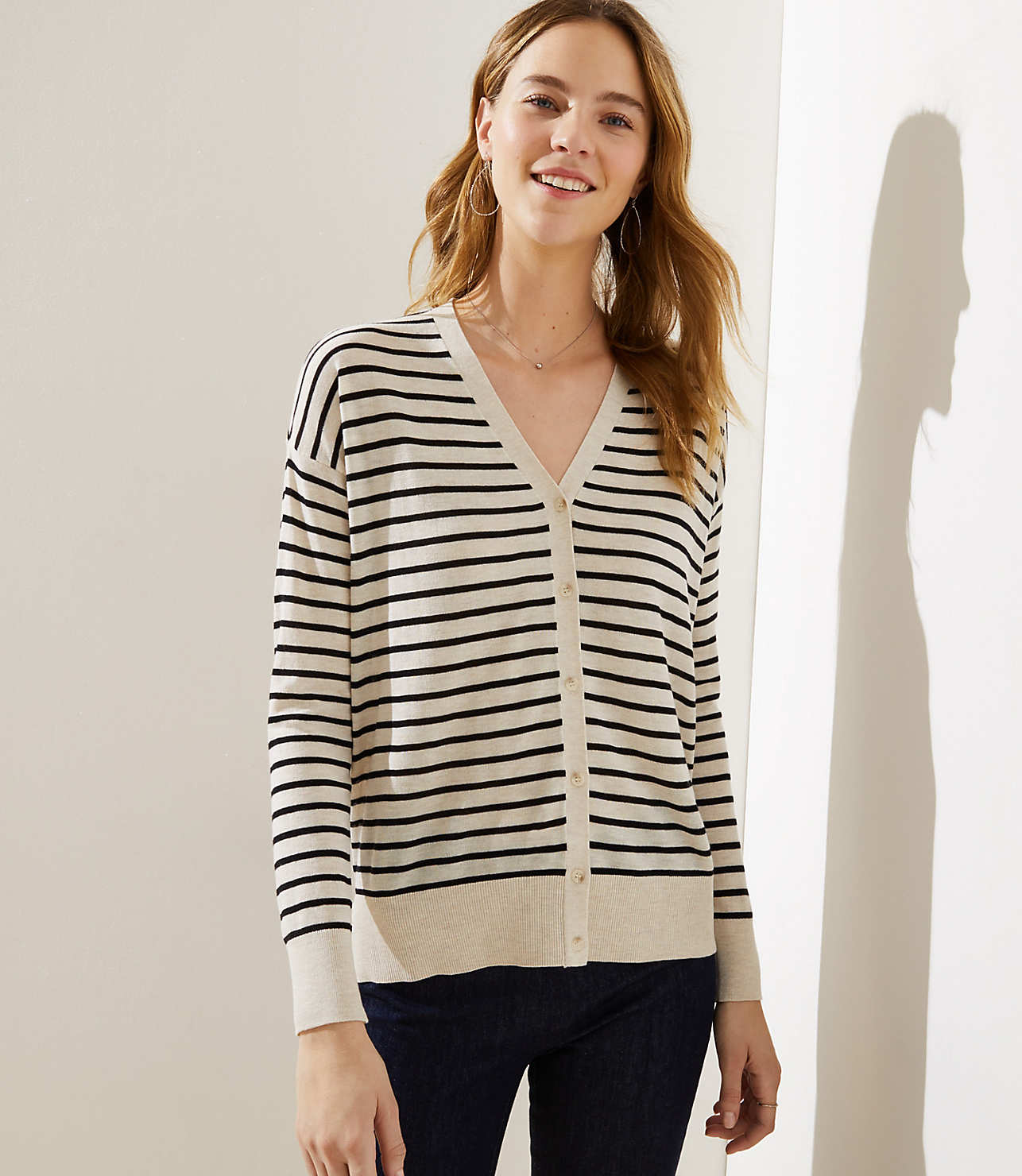 Striped Cardigan:
This might be my favorite thing on the whole list. I don't have a lot of button-front cardigans and I've been looking to add more to my wardrobe. They're cute layered, they're cute all by themselves buttoned up! I absolutely love this one. You can wear it with jeans or wear it with work pants to the office! 40% off!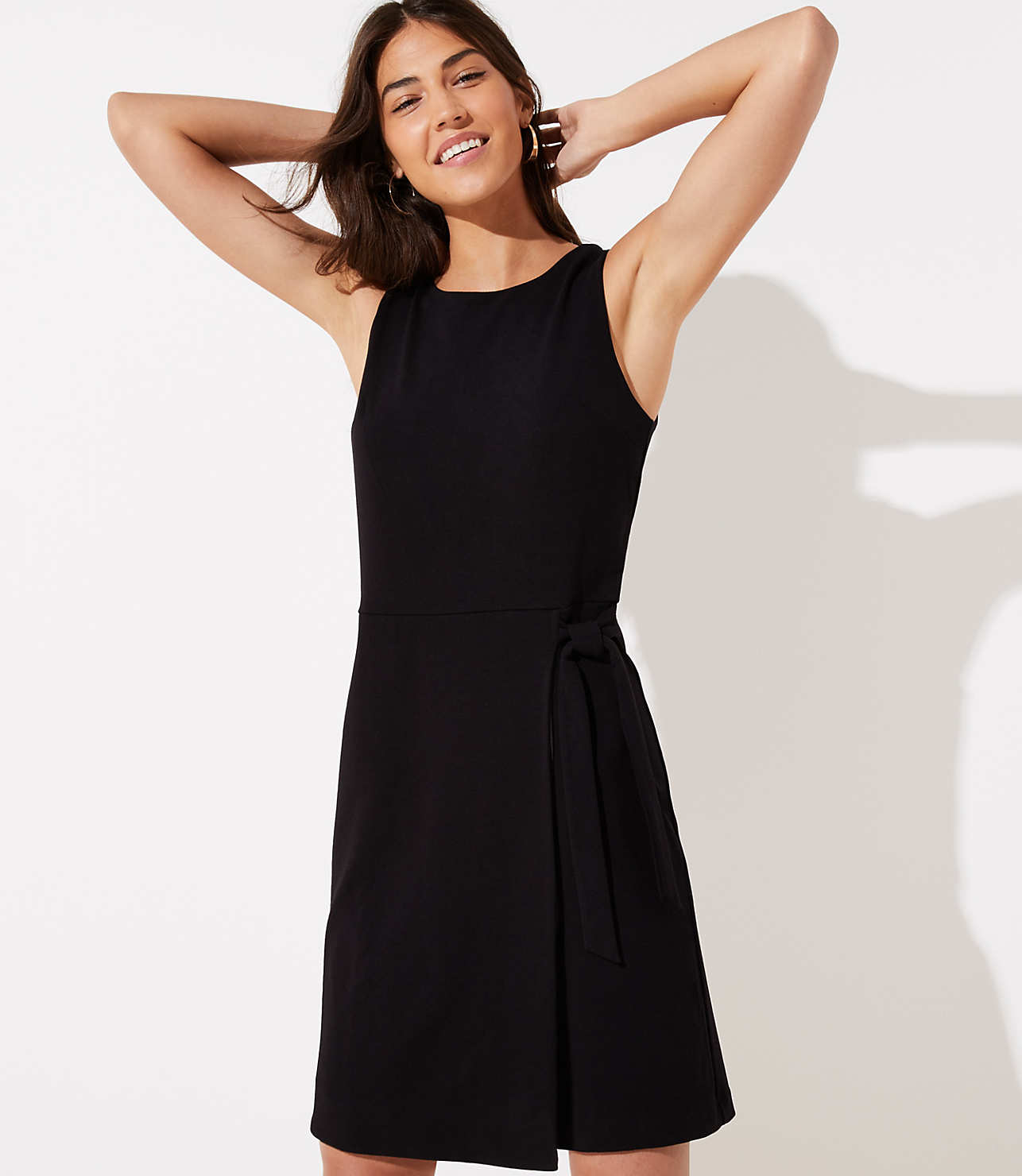 The Perfect LBD:
Every so often, I stumble upon a universally flattering dress on tons of different shapes and sizes that is perfect for all occasions (in and outside of the office) and seasons.
This dress is one of them! It's so cute, and you can layer a collared shirt or turtleneck under it right now for colder months! (See how to do that in this post!)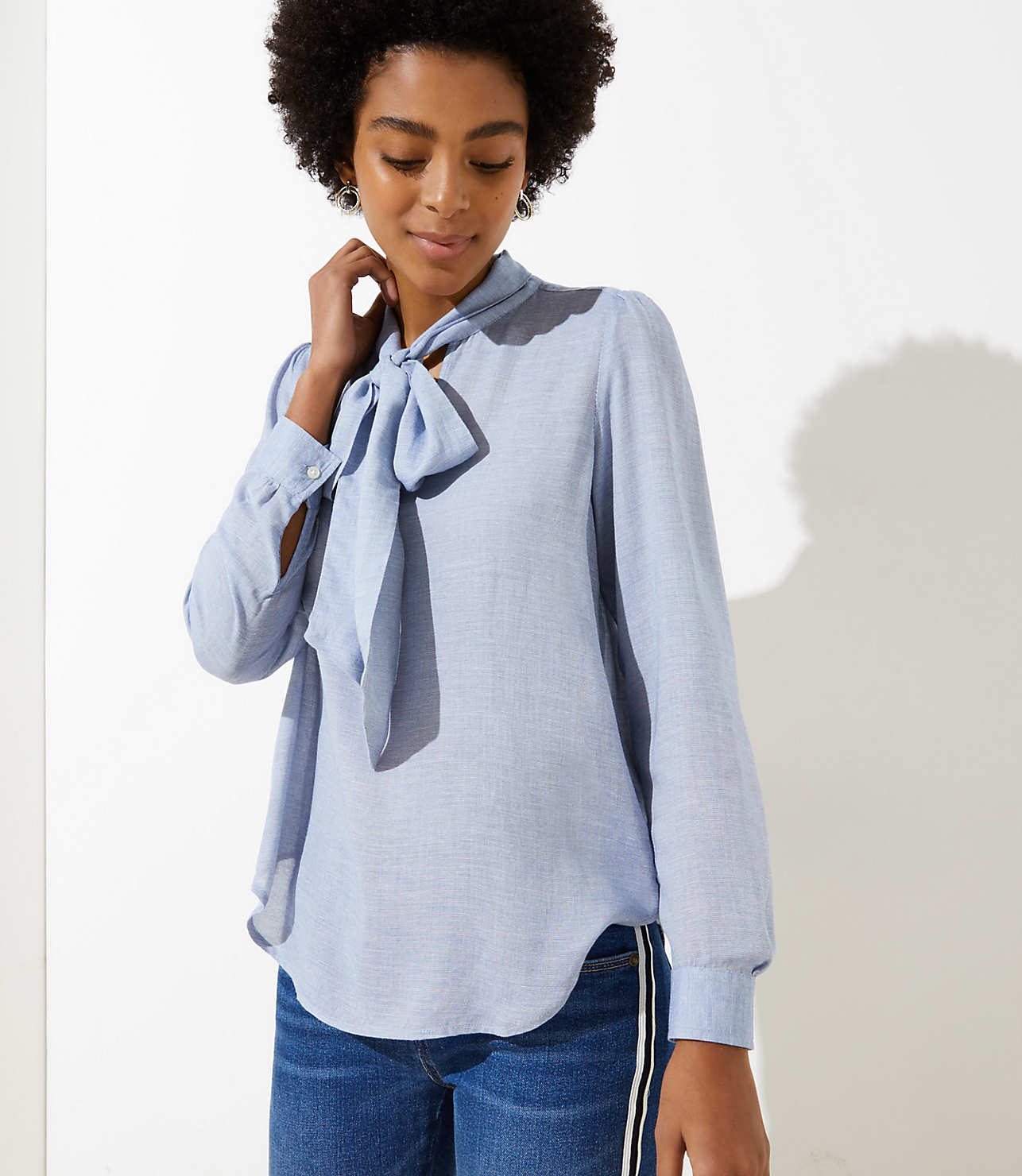 Chambray bow blouse:
I am a sucker for a good bow top, and like pretty much everything at LOFT, it's perfect for work, but something you'll wear a ton outside of work too.  I love that it's a light chambray–which mixes up the texture!
Wear it with: a skirt or ponte pants for the office, a pair of white jeans and a trench coat for a springy weekend look, or a skirt and OTK boots!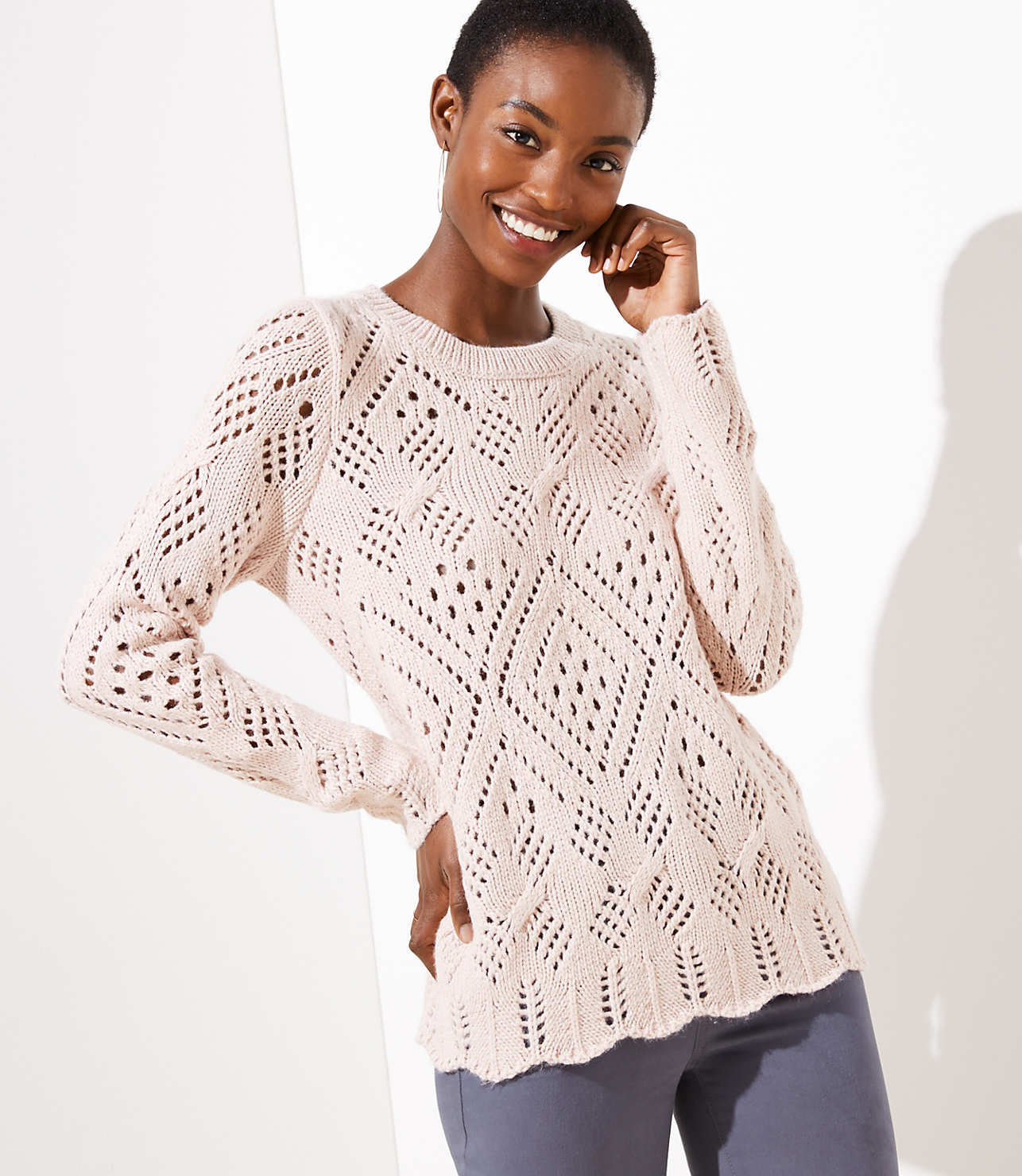 Springy sweater #1:
LOFT has a lot of really adorable sweaters right now that are perfect for spring. (I.E. You can wear them now because it's still cold, but you can FEEL like you're out of your winter wardrobe slump!) I particularly love this one for it's pretty intricate details–comes in more colors, too! 40% off!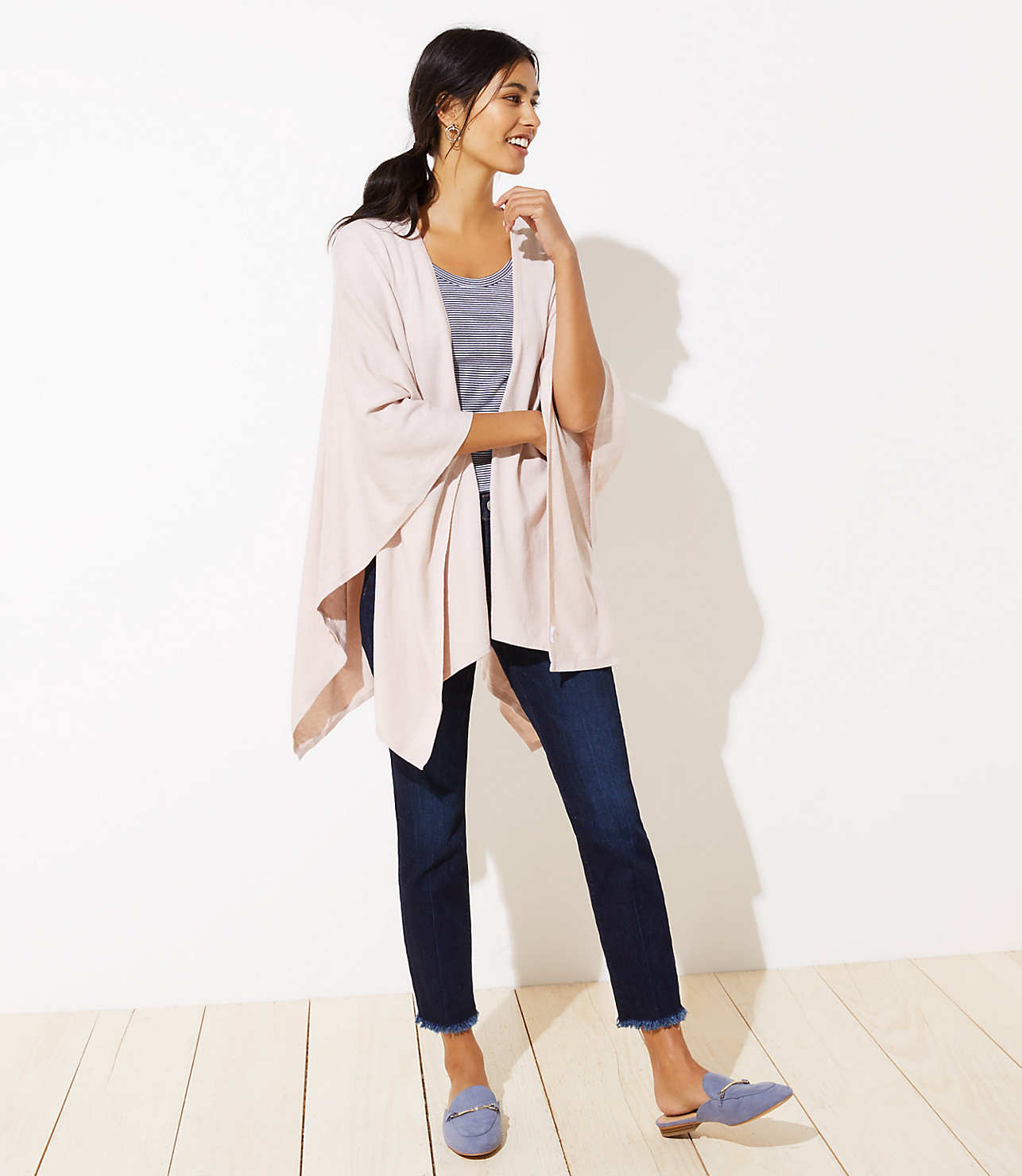 Travel wrap:
I always advocate traveling with a wrap! They come in so handy on airplanes, trains, you can ball them up and use them as a pillow, they make a casual outfit look more polished–it's hard to beat this price! 30% off!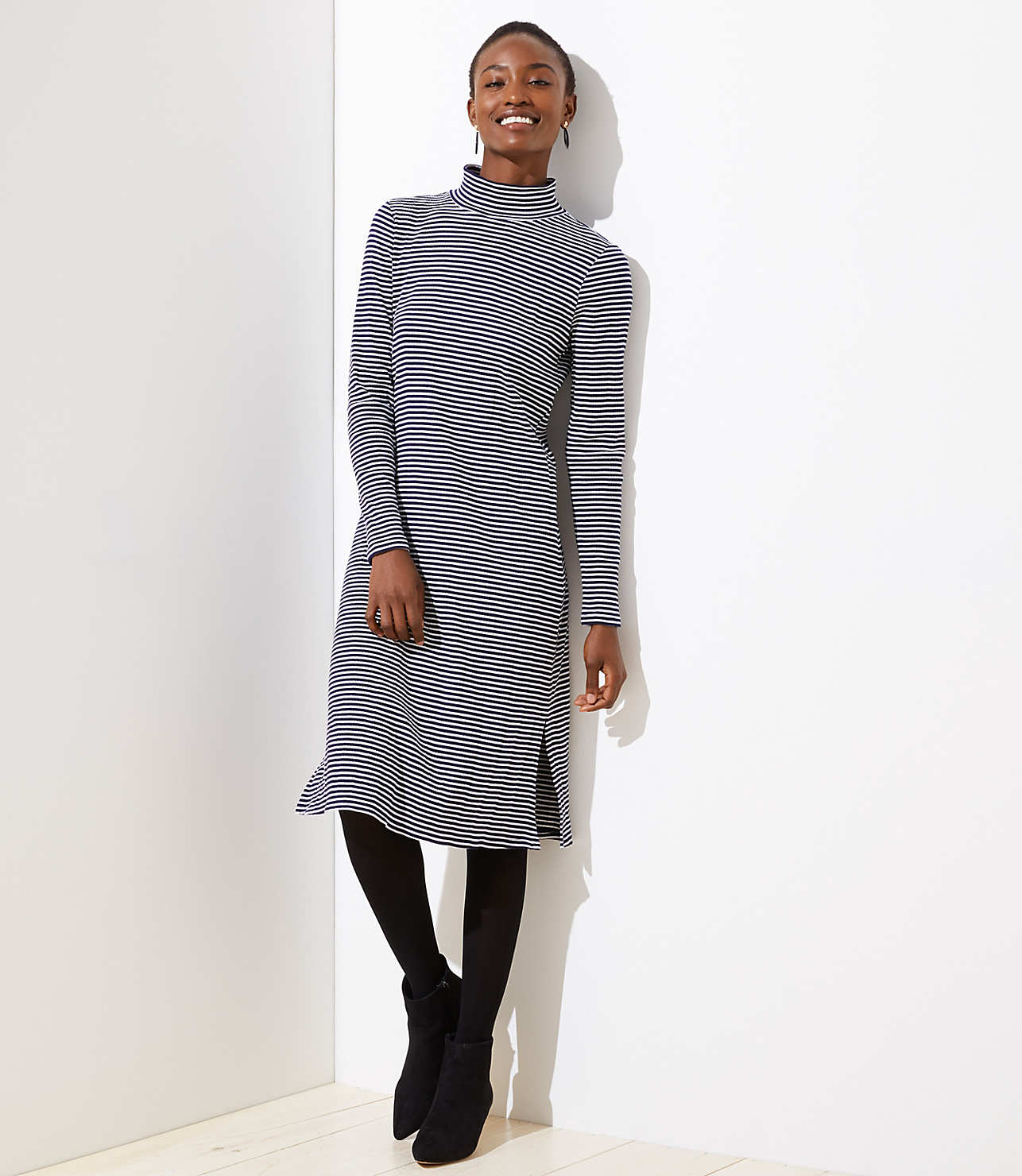 Striped Midi Dress:
Midi dresses are SO wonderful–you never have to worry about flashing someone when you bend over, a gust of wind coming up at an inopportune moment–you get the picture.
This one is casual, but so easy to dress up. Wear it now with booties (tights optional) and wear it later with your favorite heels, flats, or classic sneakers! There are infinite ways you can wear this one.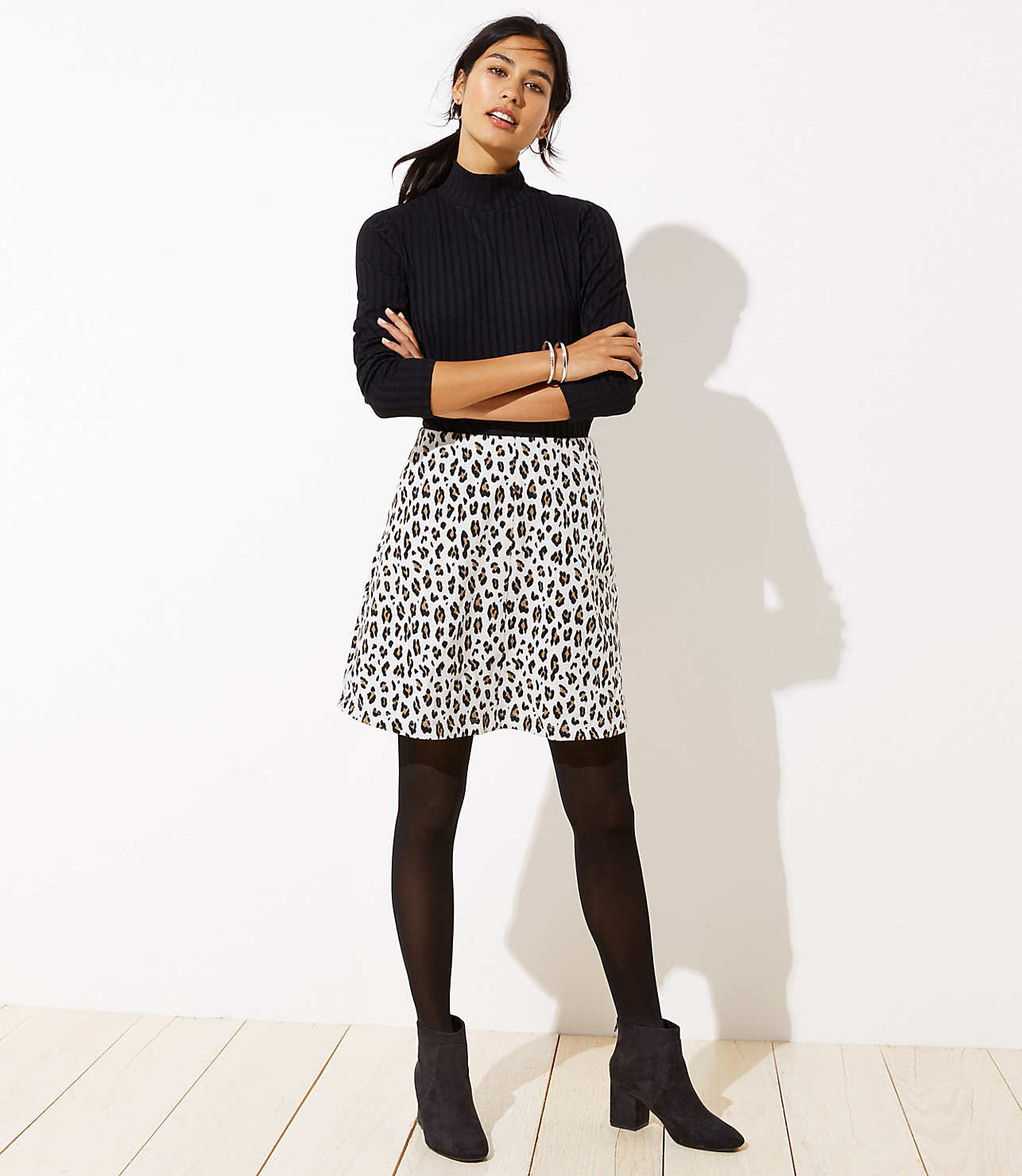 Leopard skirt:
I will say this about LOFT mini skirts–I very much appreciate that they are short enough to not look frumpy, but just long enough to get away with wearing them to places like the office, lunch with grandma, etc. Those are hard to find!
This is one of them. I fell in LOVE with the leopard print, and while yes, it's a little louder than a typical "statement" piece–but that doesn't mean it's not super versatile.
Wear it outside of work with OTK boots, your favorite heels, and a moto jacket!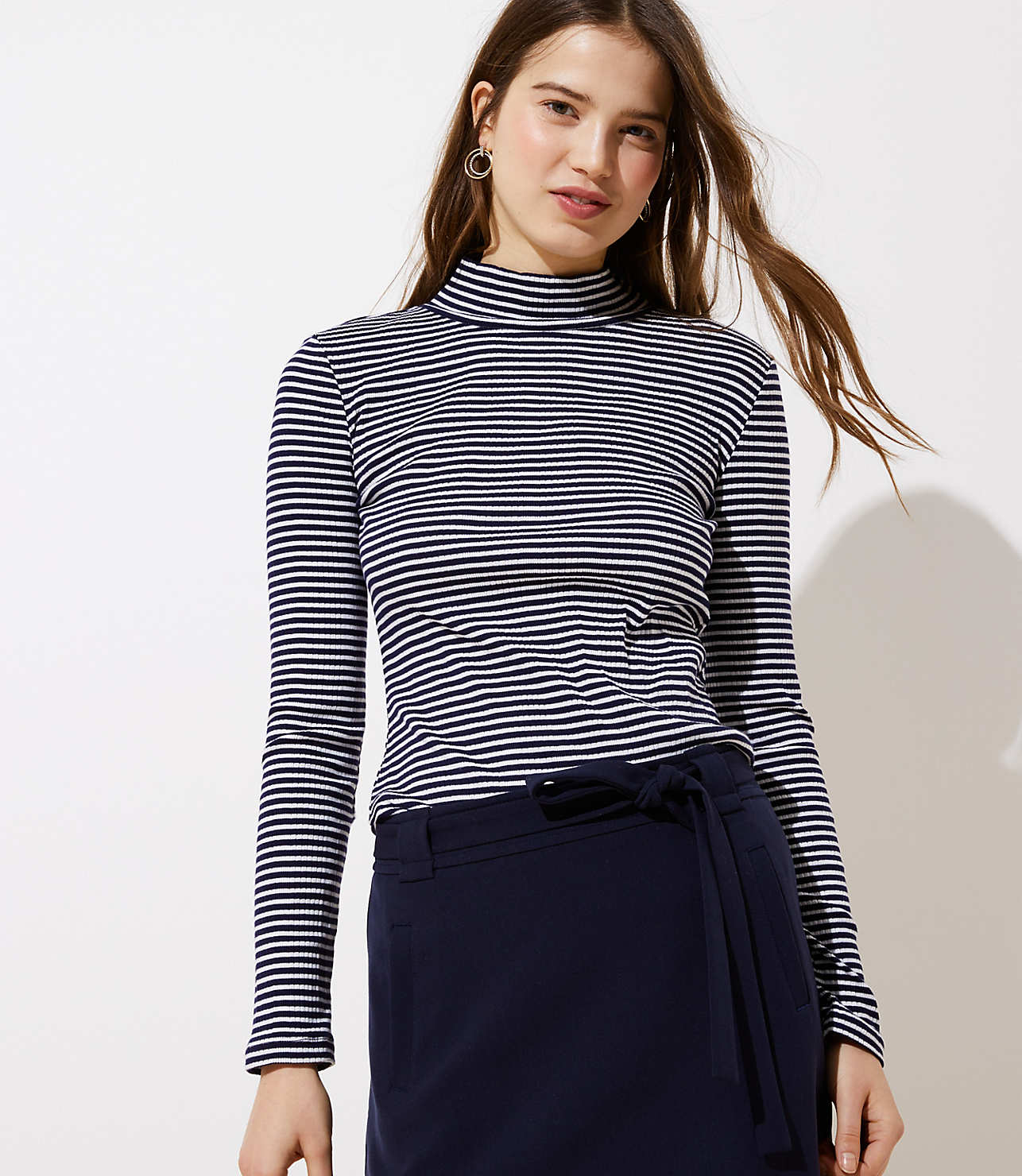 Striped turtleneck:
I couldn't NOT include the on-sale striped turtleneck–because who couldn't use another one in their reserves? I love how this one is ribbed, so it's a little different than a turtleneck t-shirt! 40% off!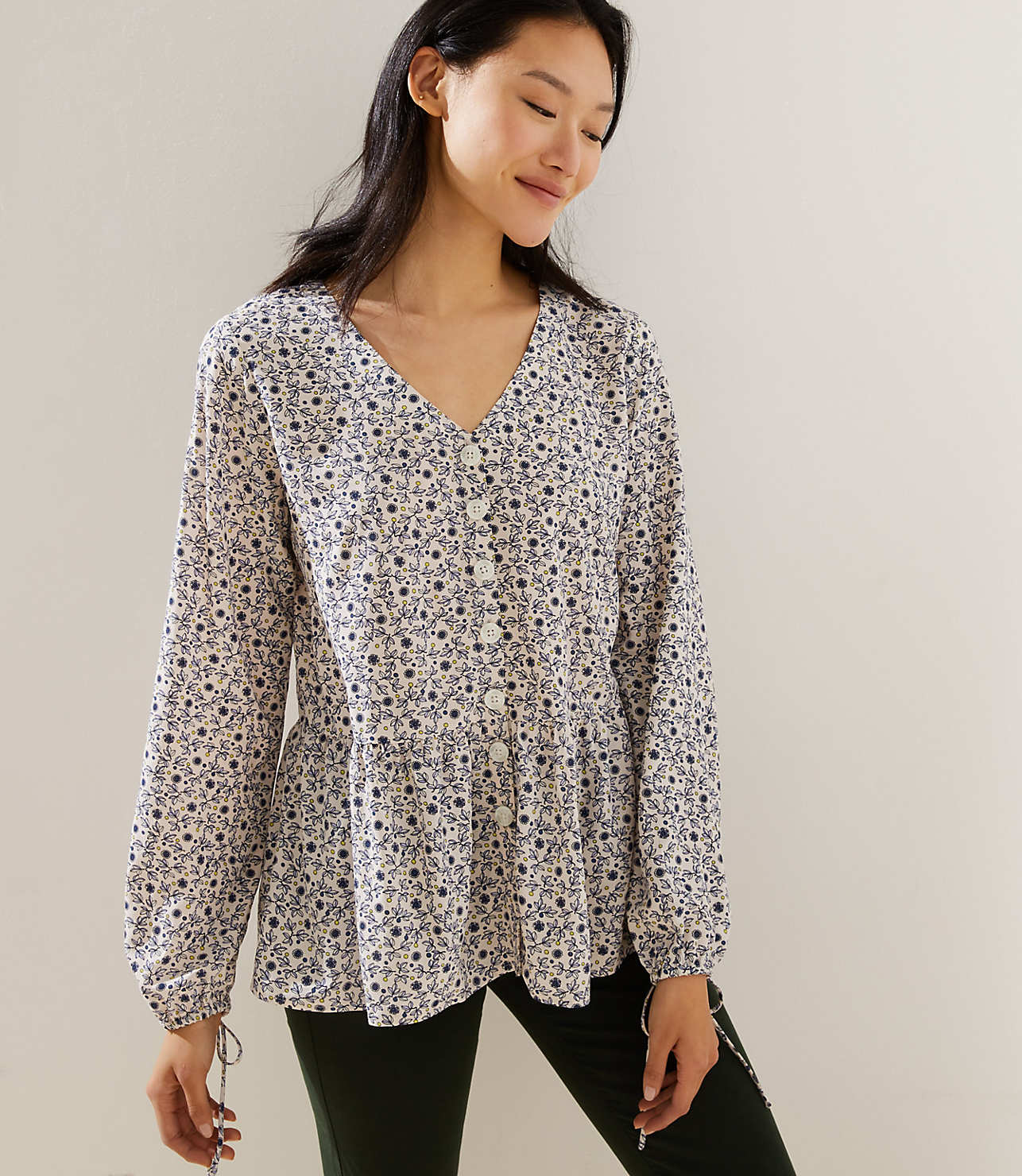 Easy peplum blouse:
This blouse looks like it could be from Sezane or Anthropologie–I absolutely love how beautiful and feminine it is! Definitely something you'll wear throughout the spring and summer, but you can totally wear. It now with a leather or suede jacket thrown over the top, and your favorite neutral booties! 40% off!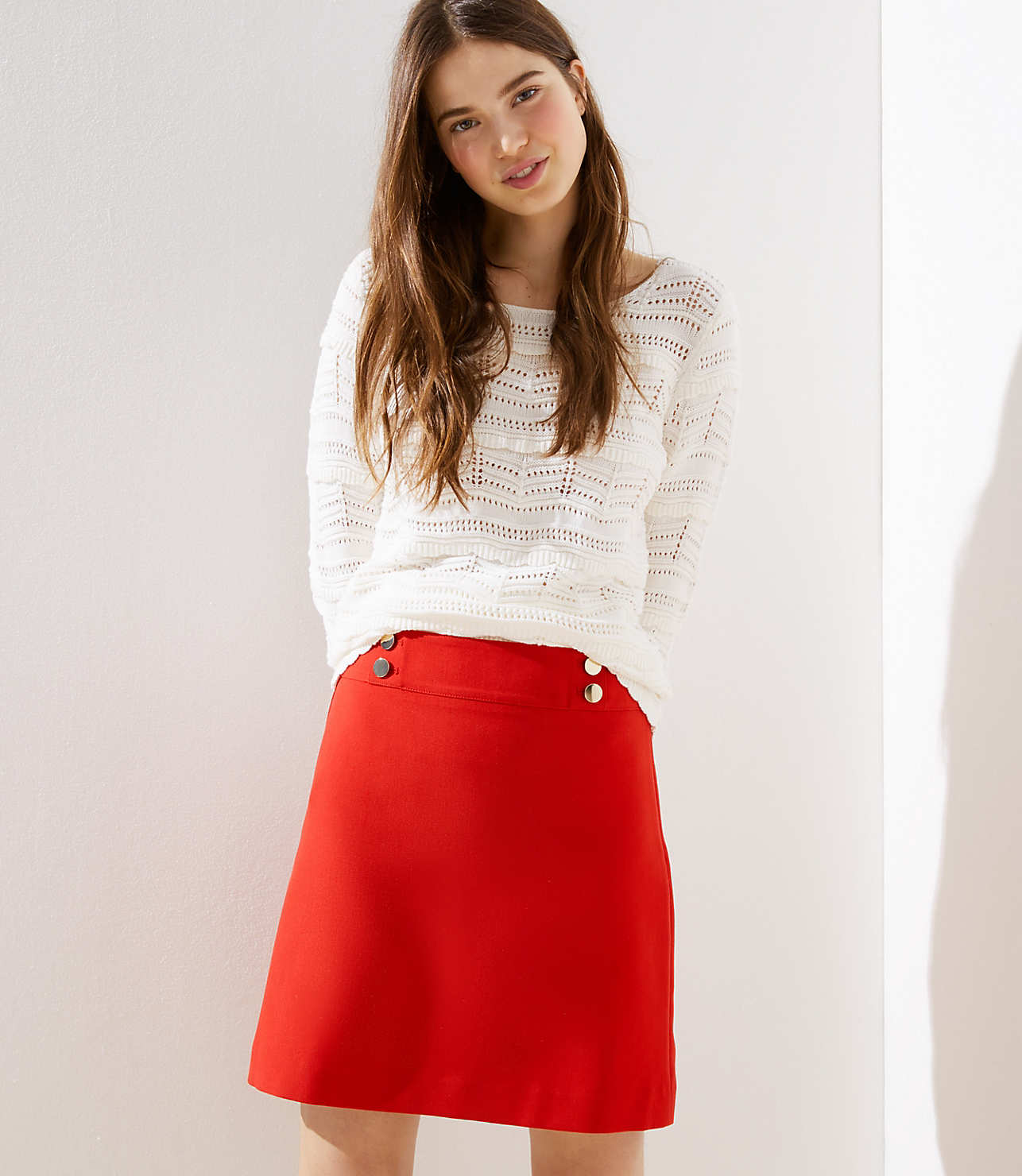 Little red skirt:
I MEAN? I want this red skirt immediately so I can wear it with sweet ballet flats and feel like Madeline. Or something. It's a statement while being classic and preppy at the same time. It will look LOVELY with a trench coat for spring!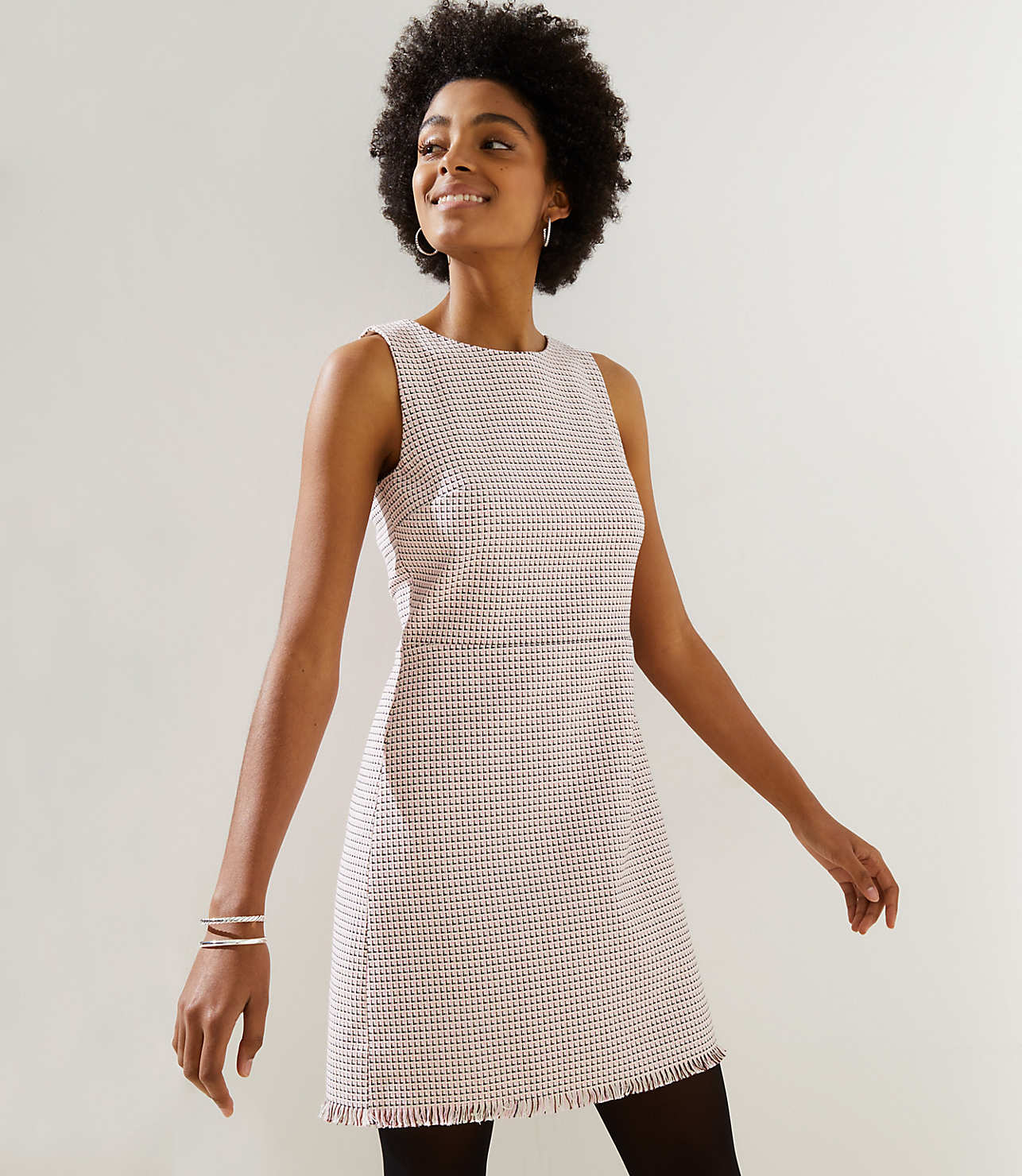 Tweed shift dress:
Another amazing work dress that looks 600x more expensive than it is. I've been really into tweed lately. And by lately, I mean I haven't really purchased anything tweed yet, but yesterday I decided that I really wanted to. ?This is the perfect piece for now and later. Get some inspiration in this post "How to wear a shift dress" for how to wear it tons of ways!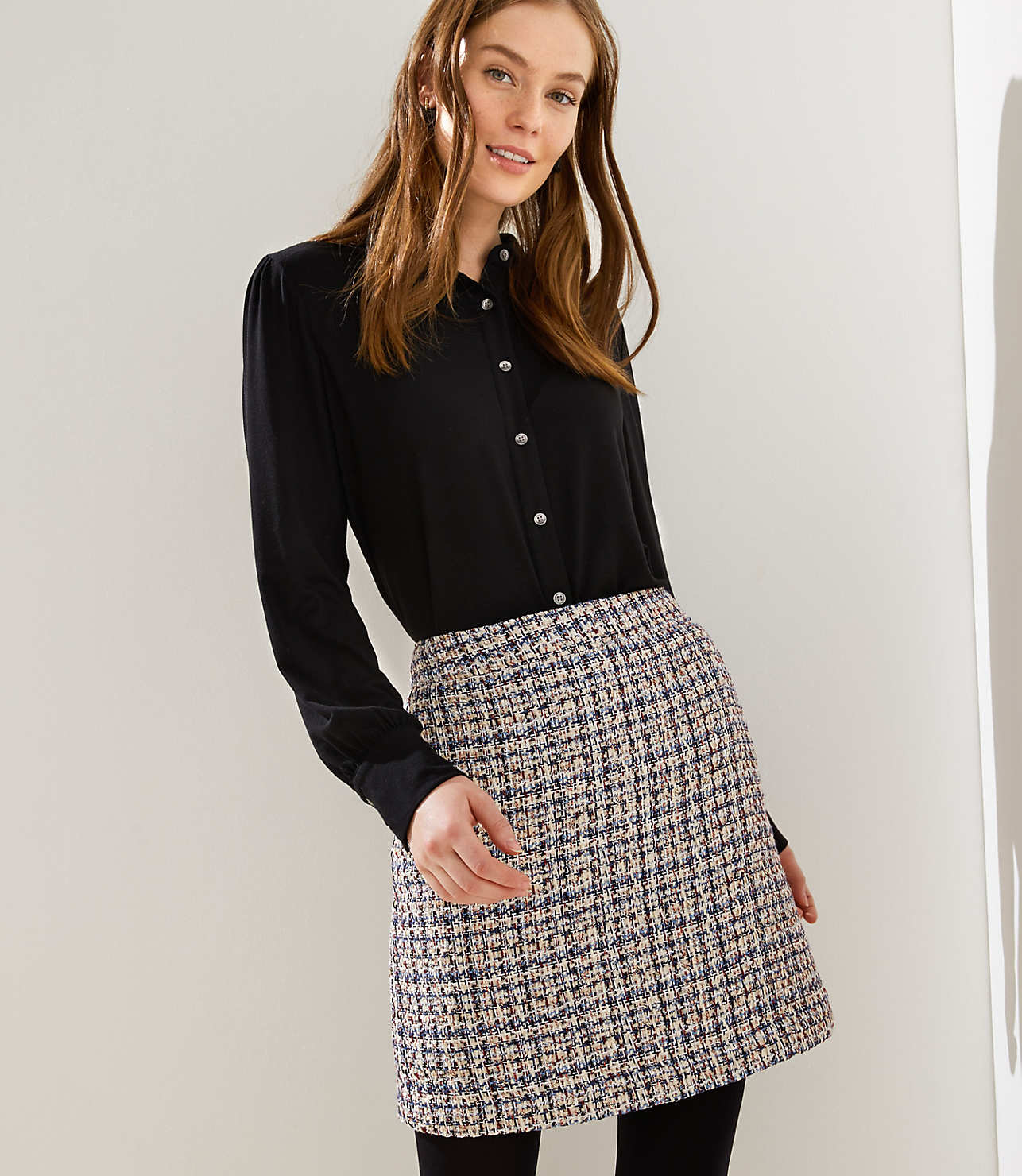 Tweed mini:
Ah, the tweed parade continues. Again, the perfect skirt length–not too short, not too long–if you're going for a classic/preppy Parisian look–you'll be all about this skirt. I am itching to wear it with my cap toe pumps!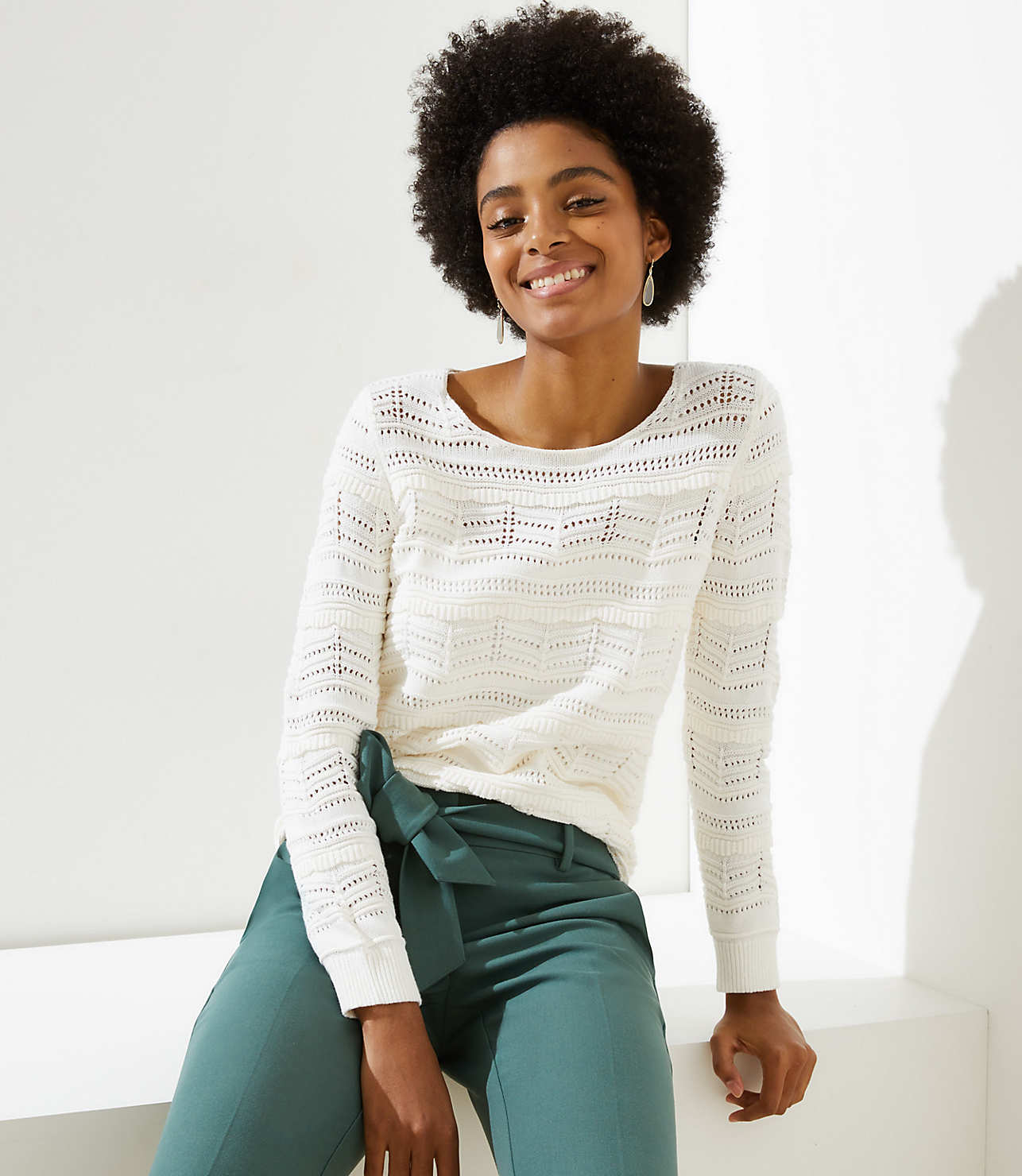 Springy sweater #2:
Similar to the sweater above, but a little bit different! I love it in white–it's a staple you'll wear over and over again through spring, and for years to come. Another versatile piece that you can wear for work and with jeans, shorts, skirts, etc! 40% off!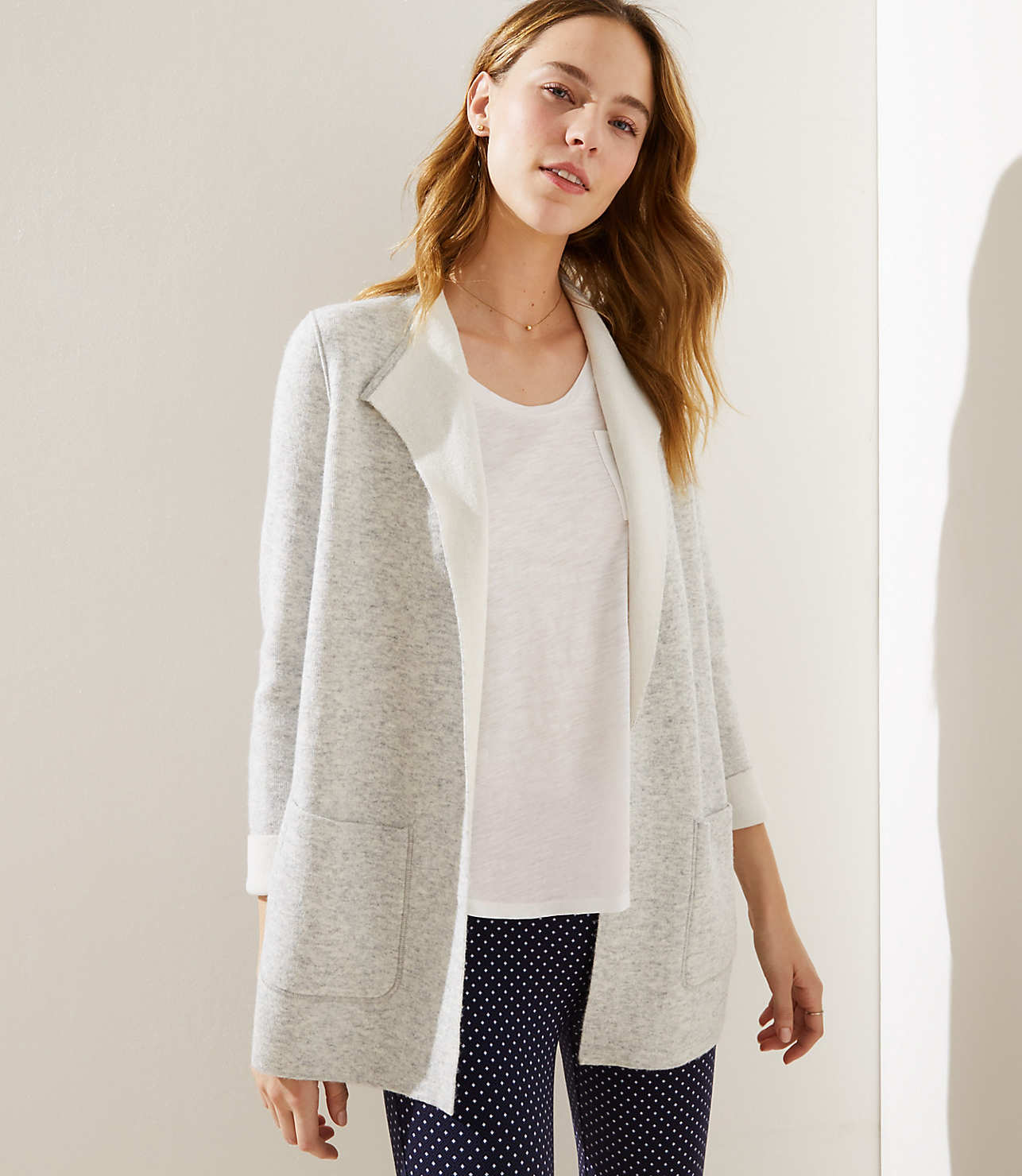 Reversible sweater coatigan:
I am in love with this easy sweater coat! First of all, it's reversible, and second, you can wear it with literally everything. Keep it on the back of your chair at work, wear it when you travel. Wear it to brunch with leggings and sneakers, wear it to yoga–whatever! It instantly polishes up your outfit, and is way more chic than a sweatshirt! 40% off!
Positives of Loft:
SO many of you raved about their selection of items that are perfect for the office, yet cute enough to wear outside of work. It's also fantastic that they sell both petite and plus sizes, and that their items are on-trend but not trendy, so you don't feel like they go out of style.
Your Knocks On Loft:
I heard a lot of mixed things about quality, especially in regards to pants–saying they bag out. Bummer! But I have heard good things from you about their Ponte Pants, so I think it's kind of a trial and error sort of thing and may depend on the style.
A Note About Loft' Quality: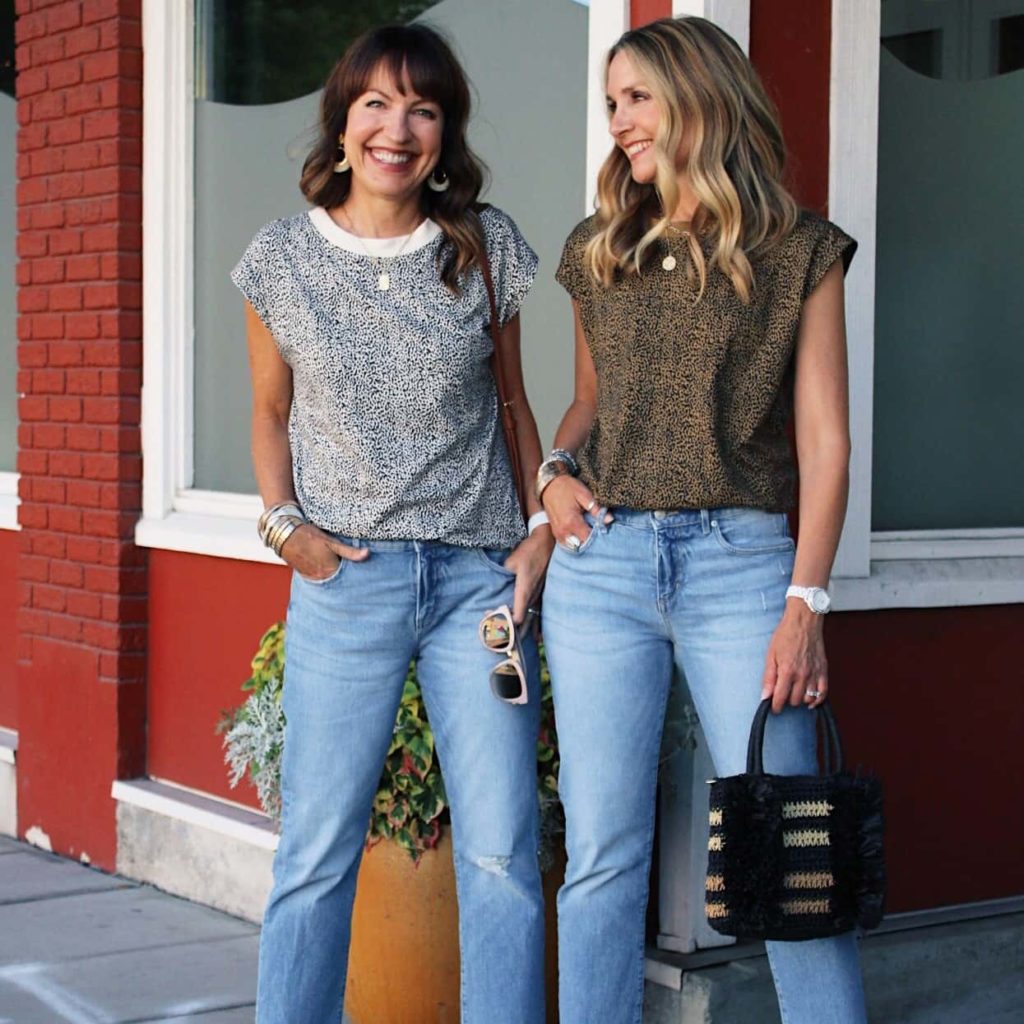 I heard a lot of feedback saying their stuff doesn't hold up in the wash, BUT–big tip–I think a big part of this probably has to do with how you're washing your clothes. I agree that it's not say, Everlane quality, but we all know that already! The stuff I have bought from LOFT isn't any lower quality than say. Topshop or Zara–so I think this has more to do with proper care vs. quality.
The Reality: Loft Dresses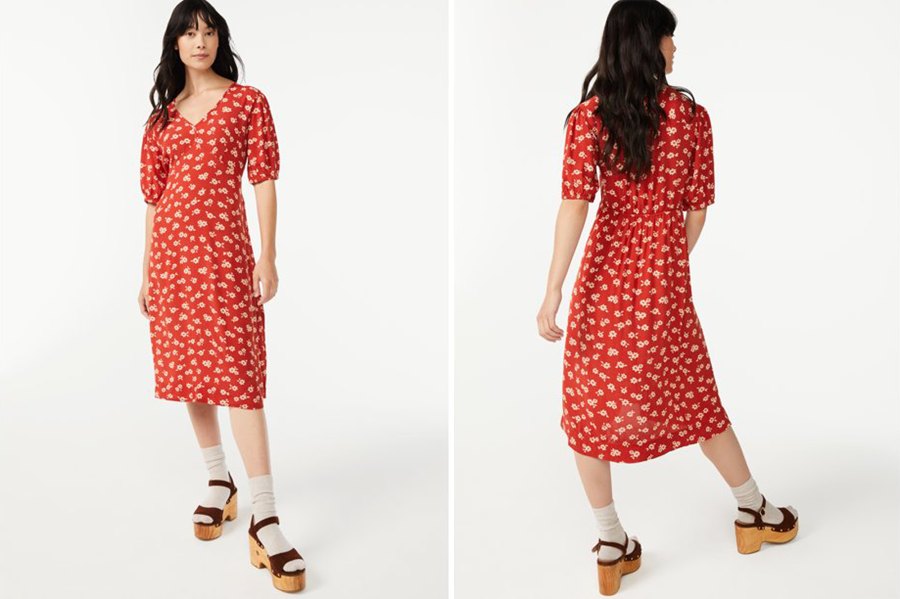 Blouses, sweaters, and dainty dresses should be always be hand washed in cold or warm water (It's really easy to do in the sink–just let them soak–or throw them all in the bathub?) Or, if you're short on time, you can also wash them on the most gentle cycle possible, in a lingerie bag. Then, hang them or lay them flat to dry on a towel. Also, just wash things as little as possible–not after every wear. Washing them wears them out and ruins them, so only wash your stuff if it's truly dirty. This should help your clothes (LOFT or not) last longer! Read my laundry post on how to stop ruining all your clothes right here!
Okay, that all being said, here are some really cute picks that I LOVED from LOFT's new arrivals! They are all super versatile, you can wear them for work or outside of work, now and well into spring! Plus, tops and sweaters are all 40% off! I'm curious to know what you think–which of these items would you like to see me style?