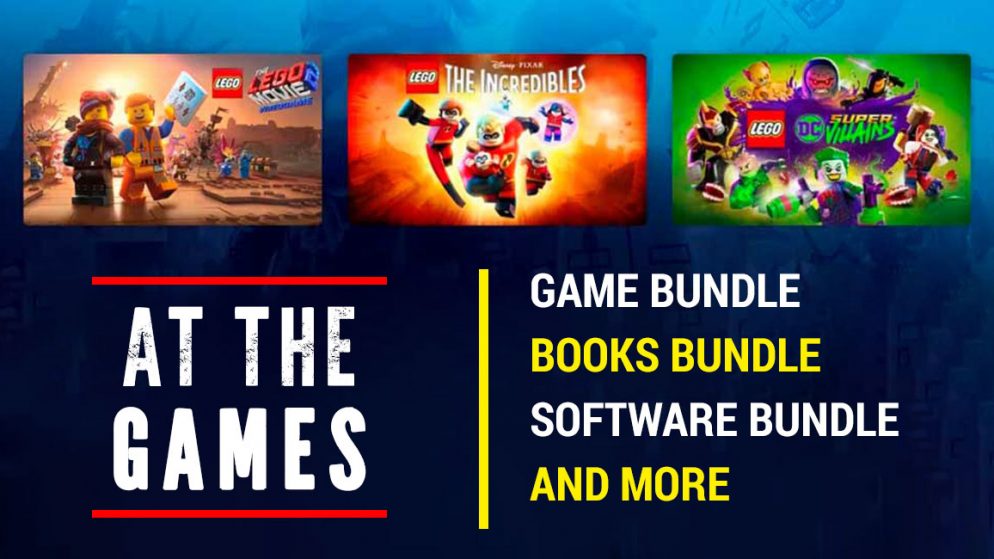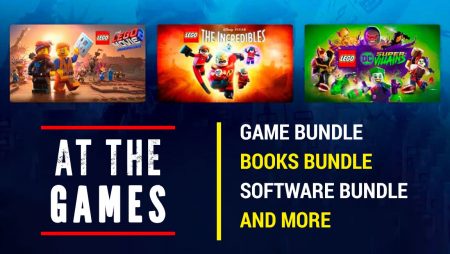 Our content is reader-supported. If you click on our links, we may earn a commission.
Humble Bundle is a site to help gamers save when purchasing games. It is a decent site to join if you are a gamer. But if you are looking to earn extra cash, this is not the site for you.
Playing video games can be expensive – especially if you like to play a lot of games. That's because most games played on your computer today cost a significant amount.
The good thing is, there are ways you can save when buying video games for your pc. One such way is to join an online rewards site. Fortunately, there are online rewards sites that are geared towards gamers.
One of these sites is called Humble Bundle. But before you go and sign up for this site, it is important to figure out if it is truly worth joining or if it's just a waste of your time.
This Humble Bundle review will help you figure out the answer to that question. Hopefully, after reading this article, you will be able to make a decision on whether you should join this platform or not.
What is Humble Bundle and what does it offer?
Humble Bundle, in reality, is actually an online store that sells games, eBooks, software, and other digital content. But, it also offers ways for you to receive rewards once you become a member.
You will be able to collect rewards when you spend on their store.
In essence, they are like a cashback site with just a slight difference.
Now, in order to gauge how good this site is, we have to take a closer look at the ways you can earn rewards.
So, here are the opportunities Humble Bundle offers.
Deals
Deals aren't earning opportunities per se, but the deals they offer will allow you to save a significant amount of money.
And as the saying goes, "Money saved is money earned." So, in essence, you are really earning money.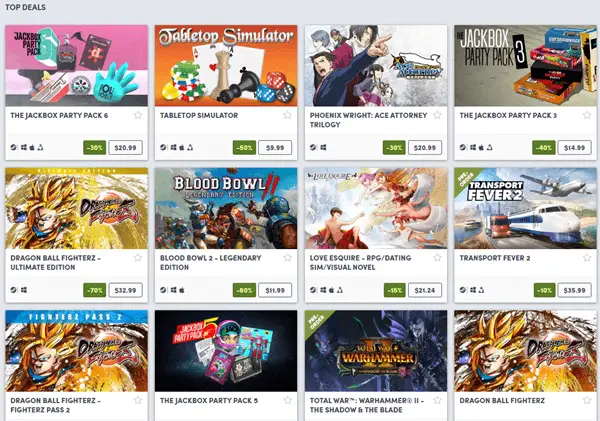 Buy Now Humble Bundle
When you log in to their dashboard, you will be given access to special deals that offer up to 75% discount, which, in my opinion, is actually pretty high.
Most of the deals you can find are for video games.
So, if you want to try out a video game, Humble Bundle is actually a good place to do it because you can save a significant amount.
The good thing is, they have a pretty good number of games available.
Just don't expect to see the latest and most hyped games on their catalog because those games almost always never get discounted in the first place.
Humble Monthly
Humble Monthly is their monthly subscription offer. This offer doesn't really allow you to earn anything but it does have some interesting benefits.
When you subscribe to Humble Monthly, Humble Bundle will curate over 10 plus games every month that you can choose from.
You then get to keep 9 of them forever. In other words, if you subscribe to Humble Monthly, you get 9 free games every month.
Plus, 5% of your subscription cost will also be donated to a charity affiliated with Humble Bundle.
So, not only are you getting free video games, you are actually donating to charity (albeit it's a small amount only)
Missions
Missions are like small tasks you can do to earn rewards. Think of it as a sort of bonus for spending your money in their store.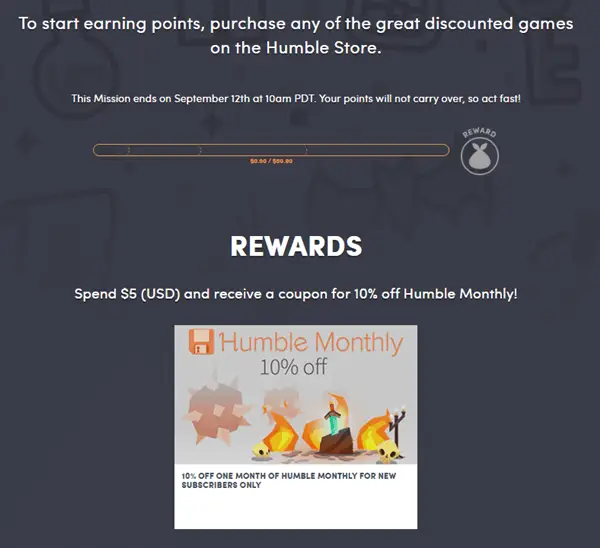 Buy Now Humble Bundle
Missions aren't always available and most missions will almost always ask you to purchase something from their shop in order to get rewards. For example, if you spend $50 on the Humble Store, you will receive a coupon worth $5.
You can then use the coupon for your next purchase. As mentioned, missions have a set duration. So, make sure to take advantage of the missions when they are available.
Referral Program
You will also be able to invite people to join the site and receive a reward in return. Their referral program is structured so that each referral you make will earn you rewards.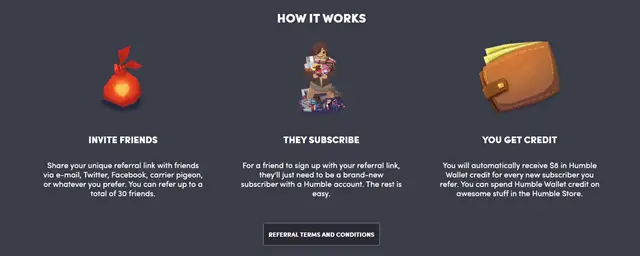 Buy Now Humble Bundle
All you have to do is share your unique referral link with friends via e-mail, Twitter or Facebook.
You will then receive $8 worth of credit for every new subscriber you refer that will subscribe to Humble Monthly. You can use the credits for purchasing digital content in the store.
You can only have a maximum of 30 referrals, so make sure to choose which people to invite. Make sure you invite those who are really interested in subscribing to Humble Monthly.
How do you get paid?
Humble Bundle doesn't use a point system for their rewards.
Every reward you will receive will be in the form of a specific dollar amount. The amount you will receive will then be credited to your Humble Wallet.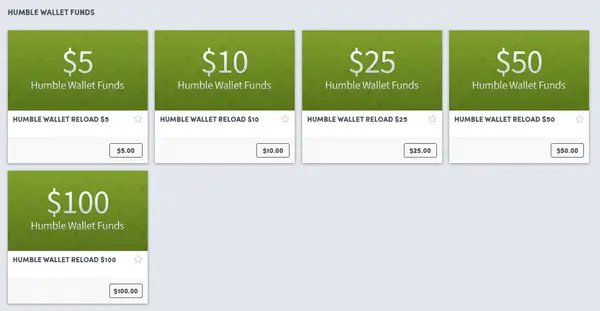 Buy Now Humble Bundle
You can then use the amount you've accumulated for purchases you make on their store.
It's actually a very uncomplicated way of providing rewards. You don't even have to reach a threshold in order to start spending credits from your Humble wallet.
Plus, as you can see in the photo above, you can also add funds to your wallet for purchases you want to make. You can add funds using your credit card, PayPal or through Amazon.
Even though its payment system is very simple, there is just one glaring drawback with how their system works.
That is, you won't be able to earn without spending your own money. Humble Bundle, in essence, is really just a cashback site.
The only difference is, the offers are only in the form of digital content. If you are looking for more diverse cashback sites, I suggest you check out the top cashback sites.
How much money can you make?
Technically speaking, you won't be making money on this site. Instead, you will be saving money. But that is only if you purchase in their store.
So, the main factors to consider on how much money you will be able to save when you become a member of Humble Bundle will be the availability of deals and the discount percentage offered.
As mentioned previously, discounts can reach up to 75%. That's a very significant price drop.
The only problem is, games with this kind of price drop are pretty old. That's probably the reason why it has a very huge price drop, in my opinion.
So, if you really aren't interested in old games, this site won't really be very advantageous for you. Plus, if you were hoping to get a discounted price from new and hyped games, you won't get it from this site.
What I can say though is, they do have a decent number of games available. So, you might find something you like. Just don't expect a lot from it.
Can you use it on mobile?
Humble Bundle doesn't have a standalone mobile app you can install on your mobile device. However, you will be able to access their site using your mobile device.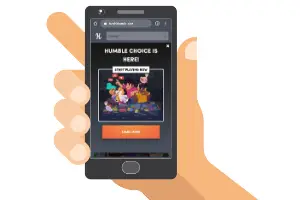 And the good thing is, their site is mobile-friendly. So, you won't have a hard time navigating through the site.
The only benefit I can really see on accessing Humble Bundle on a mobile device though is, you can have access to new deals a lot faster.
That's because you won't have to sit in front of a computer to open their dashboard.
Simply grab your mobile device and log in. But if that doesn't bother you, then there is really no point in using a mobile device for Humble Bundle, in my opinion.
Who can join Humble Bundle?
The best quality that Humble Bundle has, in my opinion, is that it is available globally.
That means you will be able to register and become a member regardless of where you live. You just have to be at least 13 years of age in order to sign up.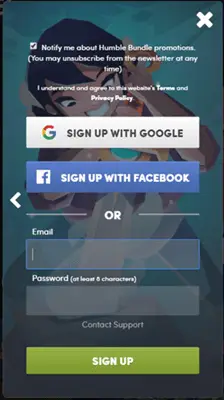 Buy Now Humble Bundle
To become a member, all you have to do is go through the registration process, which is pretty easy.
In fact, you can just sign up using your Facebook or Google account. You can also provide your own email address and password for the sign-up process.
Once you've finished the sign-up form, the next thing you have to do is verify your membership.
Just check your email and click the verification link and you are good to go. That's how easy it is to sign up.
Can you get support?
If you need to contact their support team or you have a question about their site, you can get help by going to their support page. You can get to their support page by clicking on the Support link on the bottom of their homepage.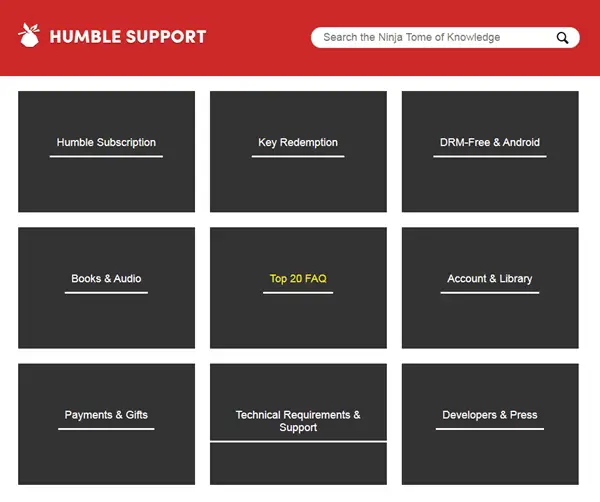 Buy Now Humble Bundle
Their support page contains a wide variety of topics discussed. So, if you have any questions for their support team, I suggest you check out their support page first because you might find the answer you are looking for.
If you can't find the answer, you can then submit a support request. It's like submitting a support ticket.
You send in your question and wait for their reply. They do say that the expected wait time for the first response is currently 5 business days.
That's a pretty long wait, in my opinion. But hey, at least, they offer a way for you to contact their support team.
Final Verdict
Humble Bundle is a site that is designed to help gamers save on purchasing games. It has some good qualities and some bad ones.
To help you with your decision, here's a summary of its pros and cons.
Pros:

Available globally
You will be able to get up to 108 free games a year if you subscribe to their Humble Monthly
Cons:

You will have to spend money to earn money
Has a relatively long wait time for support request
Very niche-specific site
All in all, Humble Bundle is a decent site to join if you are a gamer. If all you are after is to get as many games as possible, then it is certainly one of the better options out there.
But if you are looking to earn extra cash, this is not the site for you. You won't be able to get rewards from this site without having to spend your own money.