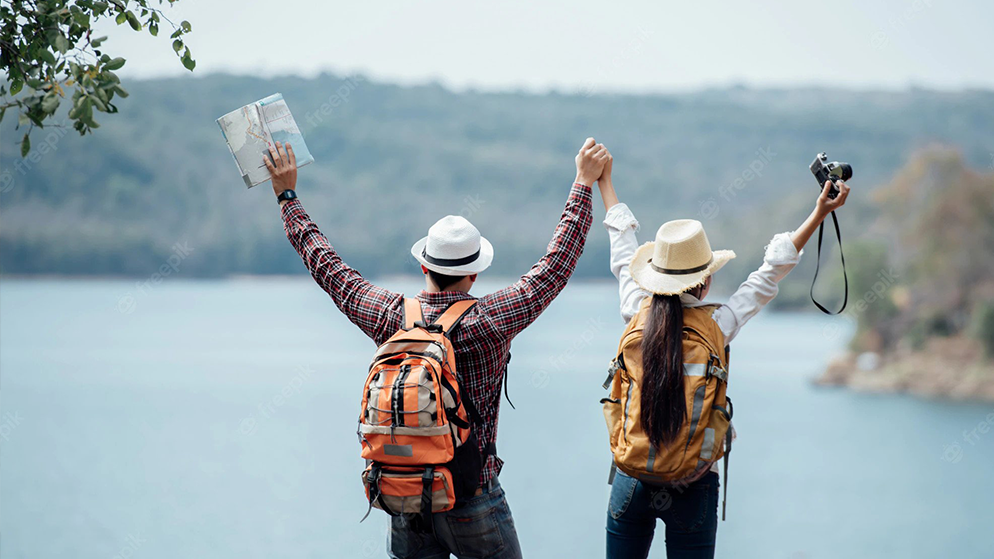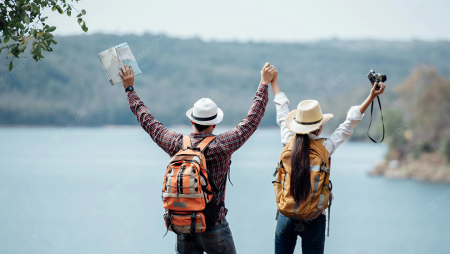 Our content is reader-supported. If you click on our links, we may earn a commission.
Is Hotwire still the cheapest booking site for hotels, flights and car rentals? Read this to save money on your next trip with a good deal.
PROS AND CONS OF HOTWIRE

Hotwire is one of the most popular online travel agencies (ota). Here is a snapshot of hotwire's strengths and weaknesses to help you decide if its right for you.
WHAT WE LIKE ABOUT HOTWIRE:
Low Price Guarantee: If customers find cheaper travel accommodations with the exact same itinerary within 24 hours of booking, Hotwire will refund the difference. It's a good feeling to know there's no buyer's remorse when it comes to price.
Hot rates: patient customers can get steep discounts by booking reservations without knowing all the information beforehand. This is a great match for travelers on a budget.
Easy-to-figure out hot rate hotels: figuring out an opaque hot rate hotel is usually possible with a little bit of effort.
Free membership program: Hotwire's membership program is free and easy to sign up for. Other OTAs may require customers to get a branded credit card to earn rewards.
WHAT WE LIKE ABOUT HOTWIRE:
Third-party booking: Because Hotwire is a third-party booking site, customers will not book or collect loyalty points with the travel providers themselves.
Less detailed opaque bookings: Hotwire's Hot Rates offer less up-front information than comparable opaque bookings from other OTAs.
No multiple dates/locations search tool: It's difficult to search for the best deals for flexible trips, since Hotwire can only search for specific locations one at a time.
No price comparison to other sites: Hotwire does not compile prices from other travel sites/individual providers alongside its own listings.
Slightly more expensive than other OTAs: Most of Hotwire's prices on regular bookings are comparable to other OTAs, but some Hotwire listings tend to run slightly higher.
HOW TO FIND CHEAP DEALS ON HOTWIRE
You can still find good travel deals on Hotwire. In this article, we'll explain:
WHAT IS HOTWIRE?
Hotwire is an online travel agency (ota) that finds the best travel options based on your needs. Unlike "metasearch sites" like google flights or kayak that redirect you to another website, customers book and pay directly through the hotwire website.
You can find travel options such as:
Hotels
Flights
Rental cars
Vacation packages
Hotwire also partners with companies to sell their last-minute empty seats and rooms at a discounted rate. That means you can find great deals even when making reservations near your travel date. Plus you can look for hotwire promo codes on sites such as retailmenot and groupon.
HOTWIRE FEATURES
Hotwire offers some features that allow you to book at an even deeper discount. Keep reading to learn more.
LOW PRICE GUARANTE
If you book through hotwire and then find the same flight, hotel, rental car or vacation package at a lower price, hotwire will refund you the difference. This applies to all hotwire bookings. First, you must meet the following requirements:
Report lower rate within 24 hours of booking the original trip.
Itineraries must match exactly.
Lower rate must be available to the general public. No members-only deals.
Lower rate must be in the same currency.
If it's a bundle/vacation package, each piece of the bundle must exactly match the lower rate you found.
Hot Rates
Hotwire has "opaque booking" options called "hot rates." you won't have all the details of your itinerary (like what airline or hotel chain you'll be traveling with) until after you book.
Hot Rate options are available for:
Hotels
Flights
Rental cars
VACATION PACKAGES
Hotwire's vacation packages bundle multiple travel reservations under one price. The goal is to help travelers save when making all the necessary arrangements for their trips.
Hotwire vacation packages allow you to bundle:
Hotel + flight
Hotel + car
Flight + car
Flight + car + hote
Not all packages may give you significant savings, so be sure to compare prices with the travel providers directly and with other otas.
REWARDS AND MEMBERSHIP
Because you're not booking with the travel providers directly, using hotwire will usually not earn you points with any airline/hotel/car rental programs.
You also can't cash in on any complimentary upgrades like free Wi-Fi or free checked bags because you're in a frequent flyer program like American AAdvantage Gold status.
But hotwire has a membership program that will get you extra discounts and update you on travel deals before they're released to the public.
You can create an account by clicking on the "sign up" button in the upper right-hand corner of the hotwire site. After you have an account, you can sign into it from the same place.
Hotwire Flights

You can create an account by clicking on the "sign up" button in the upper right-hand corner of the hotwire site. After you have an account, you can sign into it from the same place.
HOW TO BOOK A HOTWIRE FLIGHT
To book flights on Hotwire, follow these steps:
Go to hotwire's website and click on the "flights" tab on its homepage.
Type in your departure city, destination, travel dates, and the number of travelers. Select a round-trip or one-way option.
Hotwire displays a list of outgoing flights and the round-trip fare. You'll choose the departing flight first, then the return flight.
Use the filters on the left-hand side to narrow your search by number of stops, airline, departure/arrival times, price, and duration.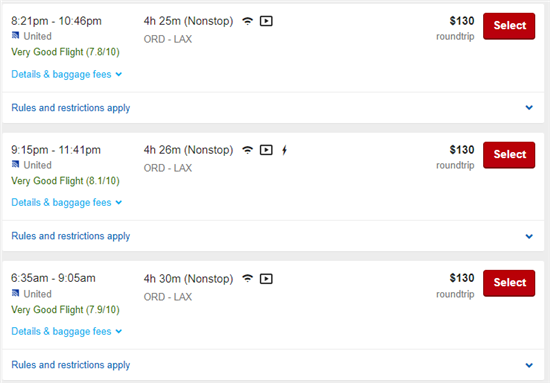 Choose the outgoing flight that works best for you.
Then, you'll choose your return flight. Because you were given a round-trip price on the first page, the return flight displays as $0 unless it costs more money.
Hotwire will also display a flight score for each flight listing which is based on the duration of the flight, type of aircraft, and amenities offered. It ranges from 1-10, with 1 being poor and 10 being excellent.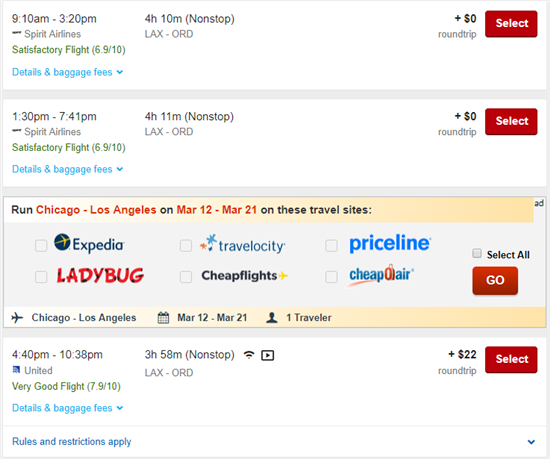 Complete your booking and pay for your flight through the hotwire website.
HOTWIRE HOT RATES FOR FLIGHTS
Hotwire's opaque booking option, Hot Rates, sometimes offers flights with even steeper discounts than the regular bookings.

To find a Hot Rate flight, follow these steps:
Input your departure city, destination, and dates. Select whether you want a round-trip, one-way, or multi-city flight.
If a Hot Rate flight is available for that date, it will be the first result. If you don't see one, try for a different date, or try your search again the following day.
You will only see an estimate of your departure and arrival times (morning, afternoon, or night).
You will not see the name of the airline you're flying with, your exact timing, or the number of stops you'll take.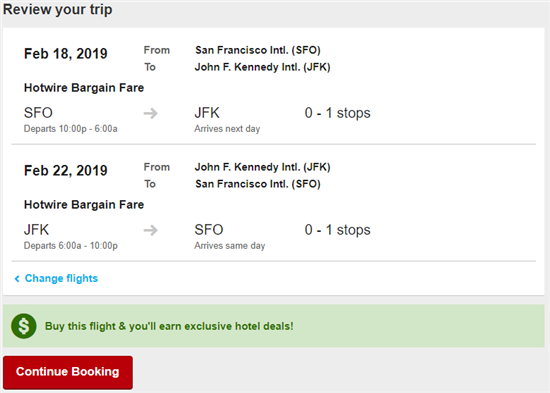 Select the flight, complete the booking and pay right on Hotwire's site.
HOTWIRE FLIGHT PRICES
So how do Hotwire prices compare to other travel sites? As a sample, check out these round-trip flights from Los Angeles to San Francisco:
Here is an example of international flight prices from Hotwire and other competing travel sites. This is a round trip flight from Los Angeles to Tokyo:
Hotwire works exclusively with reputable airlines for its international travel. That's one less thing to worry about. We're all about lowering stress when you travel.
Since hotwire compiles prices from multiple airlines, the cost of your roundtrip flight will likely be less than if you booked a roundtrip flight through one airline.
If you have more flexible travel plans, consider searching for flights (one-way or roundtrip) to multiple locations and then booking the cheapest hot rate option.
HOTWIRE FLIGHT TERMS
You cannot transfer, change, or receive a refund on Hot Rate flights.
If you find the exact same itinerary (the same flight with the same number of stops and exact same departure and arrival dates) for a lower price within 24 hours, report it to hotwire. They should refund the difference through their low price guarantee.
HOTWIRE HOTEL
Hotwire offers some of the best hotels available online. Read on to learn how, plus what you can do to figure out Hotwire's secret Hot Rate hotels.
HOW TO BOOK A HOTWIRE HOTEL
Hotwire can get you great discounts on hotels around the world. To book through Hotwire, follow these steps:
Go to hotwire's homepage and click on the "hotels" tab.
Enter in your destination city and your travel dates. Indicate the number of guests and how many rooms you'll need.
After clicking "find a hotel", you'll see a map of your travel area with various neighborhoods highlighted in green. On the left, you'll see a list of hotel options.
Click on one of the green neighborhood areas to narrow your search. Filter by price, hotel class, amenities, guest rating, or tripadvisor rating.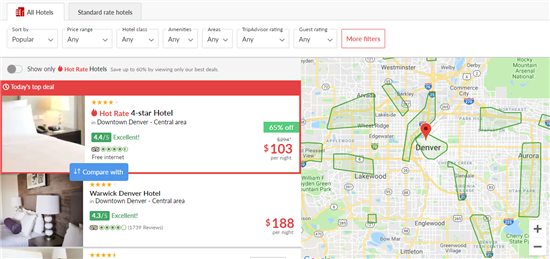 Hotwire offers cheap prices with its Hot Rate hotels. As with flights, you won't get all of the hotel information upfront, so some flexibility is required.
Book a Hot Rate hotel with the following steps:
On hotwire's homepage under the "hotels" tab, enter your destination city and dates.
Click "find a hotel". All hot rate deals will be shown at the top of the list, or you can toggle to only see hot rate hotels.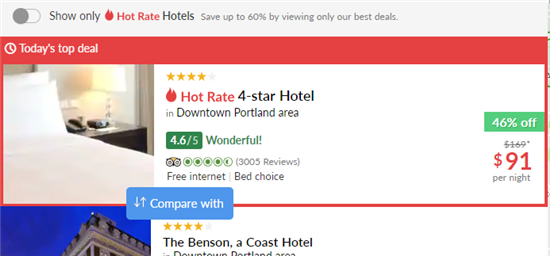 Check the tripadvisor rating, guest rating, hotel amenities, and neighborhood before you book. You won't see the name of the hotel until after.
Once you click on the hot rate button, hotwire will show you four hotels. The hotel you're booking is one of those listed, through hotwire won't tell you the exact one until after you book.
If you want, you can compare the amenities shown on hotwire with the amenities shown on each hotel's website to narrow it down.
Choose your bed type (1 king-size bed, 2 queen-size beds, etc.)
Make absolutely sure you like the offer that you see. Once you book a hot rate hotel, it's non-refundable, non-transferable, and can't be changed.
Click "book now" and pay right on hotwire's site.
HOW TO FIGURE OUT A HOT RATE HOTEL
Hotwire offers more information with its opaque hotel booking than most other OTAs like Priceline and Orbitz
These extra details can help you discover the secret hotels you're looking at. First, notice the hotel's:
These extra details can help you discover the secret hstar rating
Number of tripadvisor or expedia reviews
Guest rating
General area
Accommodations & amenitiesotels you're looking at. First, notice the hotel's:
If Hotwire shows you another list hotels…
Your hot rate hotel is guaranteed to be one of them. First, find the hotel(s) with the same tripadvisor (or expedia) rating as the hot rate. Then, follow the steps outlined below.
If you don't see another list…
Click on the "standard rate hotels" tab above the search bar. Match all of the filters to your hot rate hotel (star rating, specific neighborhood, guest rating and amenities).
Click on the listings with the same guest rating as the hot rate (usually within a percentage point).
Cross-check these hotels' number of TripAdvisor or Expedia reviews by searching for them on TripAdvisor or Expedia. If a listing has the same number of reviews (or within a close range), you've found your hotel. Pretty neat tip, right? It takes some of the guesswork out of booking an unknown hotel.
If Hotwire gives you a range of reviews…
Even if it says "1000+ reviews," still check to narrow it down. If you're between two hotels and one has 300 reviews while one has 1060, you'll soon figure it out.
HOTWIRE HOTEL PRICES
To see how Hotwire stacks up, we compared its hotel prices other travel sites. Here is a price comparison for a 4-star hotel in downtown Seattle, WA:
Hotwire prices can be a bit higher than its competitors for regular hotel bookings. The hot rates prices, however, are better deals than the competition's offerings.
How do the prices compare when looking at the exact same hotel? Here are the prices for the Westin Philadelphia in Philadelphia, PA.
In this case, you aren't getting much of a discount. In other cases, you will get a better deal on hotwire than the hotel's website (we found a honolulu hotel on hotwire for $120 less than the hotel's site).
In this situation, we would book directly with marriott so that you can earn points.
HOTWIRE HOTEL TERMS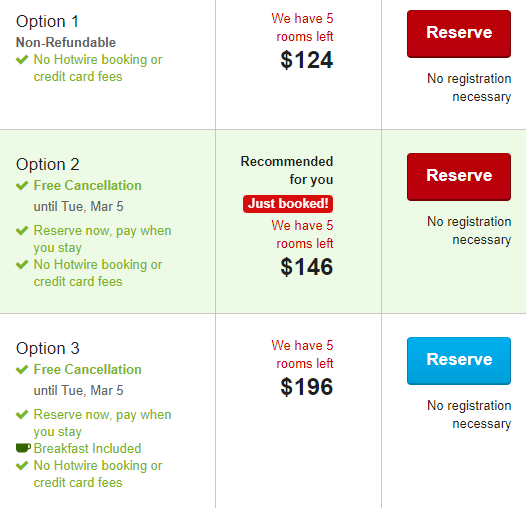 Each hotel offer is different, so be sure to read the fine print before booking. It's easy to get caught up in the booking process and forget those little details.
Some will require payment when you book, others will charge a reservation deposit, and others will let you pay once you arrive.
HOtTWIRE RENTAL CARS

When your travel plans require a rental car, look to Hotwire. Below we cover everything you should know about booking a rental car with Hotwire
HOW TO BOOK A RENTAL CAR WITH HOTWIRE
Hotwire has many options for rental cars. To search, follow these steps.
On the homepage, click on the "cars" tab.
Enter your destination and your travel dates.
Then, filter the listings by pick up location, car type, agency, and security deposit preferences.
Each option will show the price per day, the total price (which includes taxes and fees), and whether you pay upfront or later.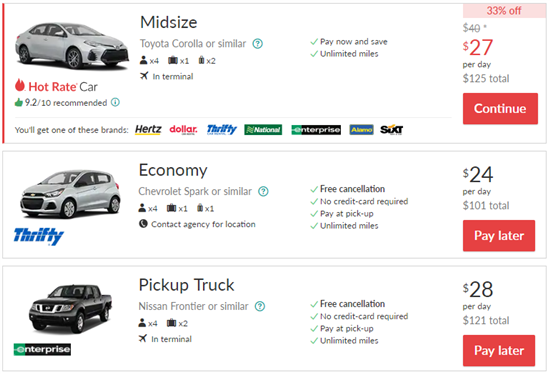 Choose your car, then enter the driver's information. You'll also have to opt into or out of hotwire's rental damage protection (more on this later).
HOTWIRE HOT RATES FOR RENTAL CARS
The platform offers lots of Hot Rate options for cars. They're listed with a red "Hot Rate Car" logo.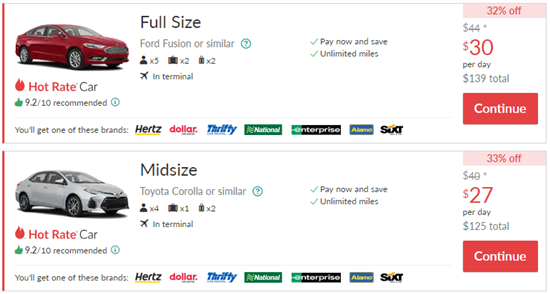 You will see the:
Type of car
User rating
Any additional perks (such as unlimited miles)
You will not see the exact model of the car or the rental agency. Once you check out, Hotwire will tell you the name of the car rental agency.
HOTWIRE RENTAL CAR PRICES
So how do Hotwire's prices for rental cars measure up to its competitors? We compared the price per day and the total cost (including taxes and fees) of a four-day rental in Asheville, NC:
Hotwire shows you the "Taxes and Fees" included in each price, but it doesn't break them down. We noticed that the taxes and fees for Orbitz's rental cars were sometimes $10-$15 cheaper than Hotwire. Orbitz is also transparent with what, exactly, each of its charges are.
RENTAL CAR INSURANCE WITH HOTWIRE
Hotwire offers a collision damage waiver (CDW) as rental car damage protection. Check with your credit card company before buying rental car insurance. You may get it as a free perk.
As you can see, paying with a credit card that offers its own cdw is often a better option, both in terms of benefits and cost.
You will need to decline hotwire's cdw option and the car rental agency's offer in order to take advantage. As always, read the fine print before booking using your credit card.
HOTWIRE VACATION PACKAGES

Hotwire offers great discounts by bundling multiple services in a "vacation package".
HOW TO BOOK VACATION PACKAGES WITH HOTWIRE
First, click on the "vacations" tab. Then choose which services you want to bundle:
Flight + hotel
Flight + car rental
Hotel + car rental
Flight + car rental + hotel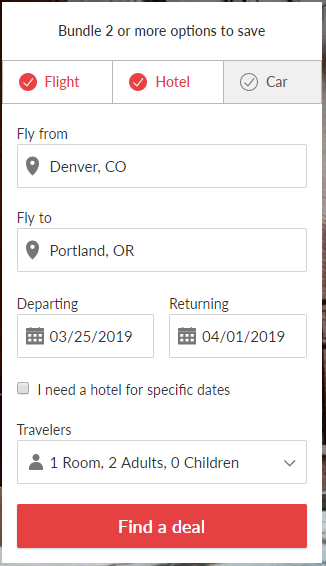 Follow these steps to book your bundle.
Enter your destination and departure cities and your dates.
Depending on your vacation bundle, you'll see either the flight or hotel screen first.
You'll see a list of options for your trip. Filter these options using the controls on the left.
The prices listed are for the total price of the bundle for each person.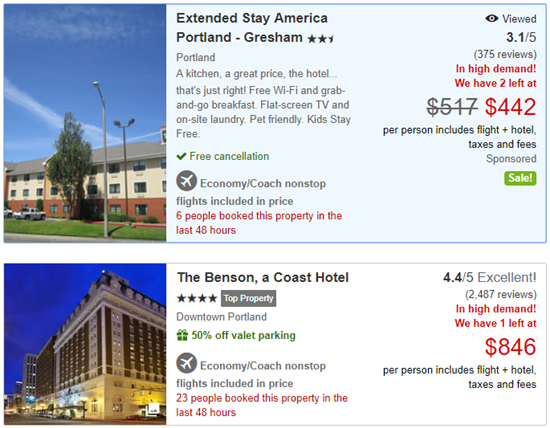 Select the hotel/flight that works best for your itinerary.
Choose the second part of your bundle. If you choose an upgraded option than what the original bundle price was based on, hotwire will show you how much more you'll need to pay.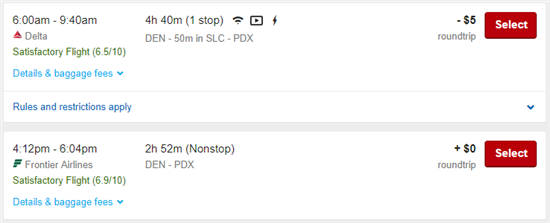 Pay on Hotwire's website to complete your booking.
HOTWIRE VACATION PACKAGE PRICES
Does booking through Hotwire Vacations really save you money? We compared booking a 5-day (4-night) trip through Vacations versus booking two separate services to find out.
There are two big takeaways here:
Bundling for your services is a good deal overall. You can save anywhere from $40-$200.
Bundling for your flight + car is not the way to go. We tried a bunch of different options here and they all ended up costing more than just booking flights and rental cars separately.
HOW DOES HOTWIRE COMPARE?
Hotwire's prices are pretty much equal to those found on other otas. You can get better deals with its hot rates compared to most other travel sites.
Here's a look at Hotwire's competitors:
Priceline
Priceline's opaque booking options (called "Express Deals") are usually $15-$40 cheaper.
But Hotwire gives you more information upfront on its Hot Rate deals, especially for hotels. That gives you more control over your booking, which can be helpful for families or groups.
Here are the other trends we've noticed:
Priceline has more Express Deals on flights compared to Hotwire's Hot Rates flights.
Hotwire has more Hot Rates deals for hotels and rental cars