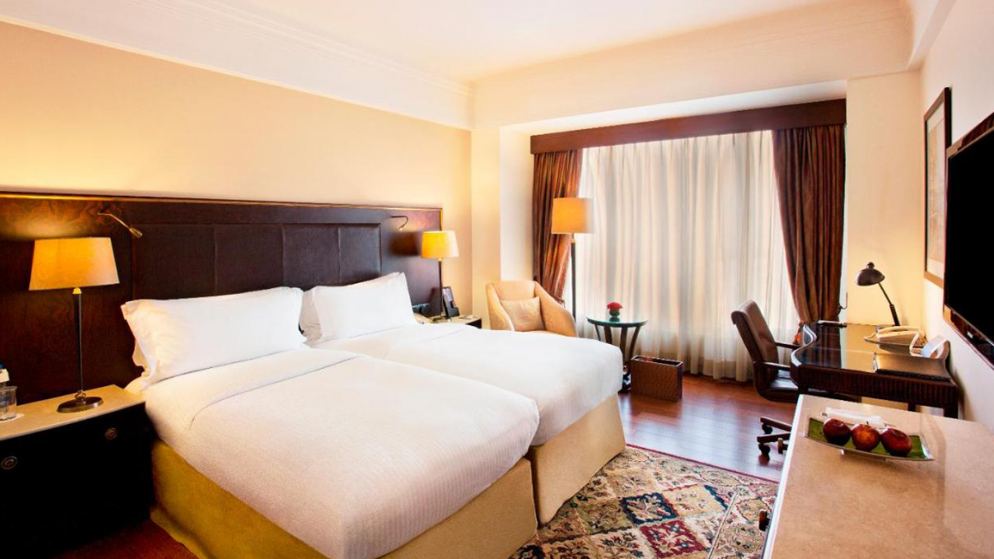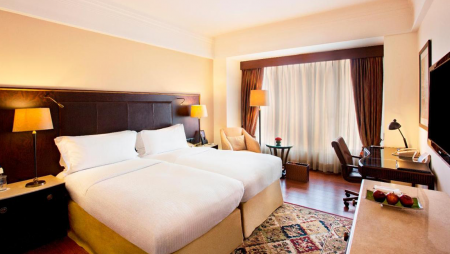 Our content is reader-supported. If you click on our links, we may earn a commission.
Traveling often i need to optimize my bookings. It is a matter to save money, but also to reach my goals. I like to take care of every single detail of planning my trips. This is the secret to enjoying them. As it happens to you, i always search for the best solution. Especially if i have to reserve a hotel room. This is how i found online hotelscombined reviews. It was one new, for me, more platform. Good opinions were on many websites, but there was also some bad description of the service provided. What did i do?
The only thing possible. I went through the hotelscombined platform. Try by myself is the best way to know if the service works. If you are reading this article there is only one reason. You want to book a hotel room using this online company. Here you won't find a huge list of opinions about the hotels booking site, but my direct experience.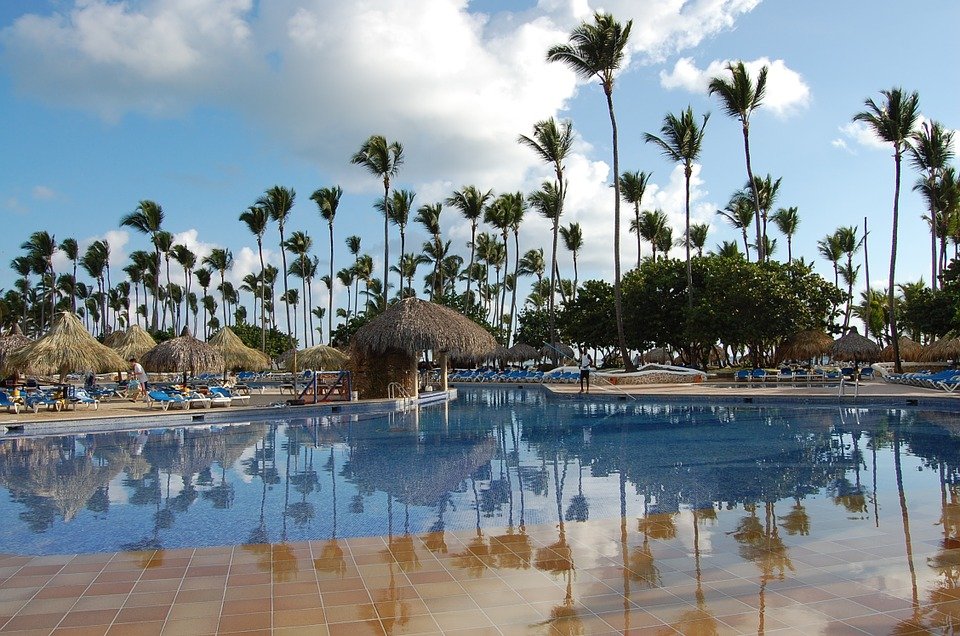 My words come from the usage. I already mentioned this search engine in another post. But now i want to go deep telling you why you can trust it. Nowadays it is not hard if you have some tech skills and money to invest to create a hotel search engine comparing different websites. The difficult part is to make it properly and efficiently.
From HotelsCombined reviews to the booking
The opinions about the site were mostly comments about the stay, the payment method, and something not so important to me. It can happen to everyone to have difficulties with a reservation or to live a bad experience in a hotel. It is hard to be objective in the evaluation and this is normal. Then companies' competitors can use this way strategically. So better for me to explore directly the platform. In this article, i go step by step to describe the results of the comparison usage. This will help you to understand why you should use hotelscombined as your main starting point and not as an alternative to other platforms.
Since i am curious before opening the website, i took some other information. The company was founded in 2005 in australia. After one year on the market, they hired the first employee. Now they count more than 200 people in the staff. The company operates on a worldwide basis in more than 42 languages. This platform aggregates more than 5 million deals getting rates from hundreds of sites, comparing them. It is part of kayak. Well, if they can count on these results plus a lot of prizes won, it means there is something positive. This news is for me more important than hotelscombined reviews.
Appearance
My first step was to open the homepage of hotelscombined. No popups, no confusing ads everywhere. A simple design welcomes the visitor. On the left, on the top, there is the search form to select criteria to find a hotel. On the right, a list of some websites used to compare rates. Then a list of destinations and trendy hotels to get inspired. Nothing of these features are described on hotelscombined reviews. That's why i want to share my complete experience with it. There is another important thing to take into consideration. On the top menu, there are 'hot deals'.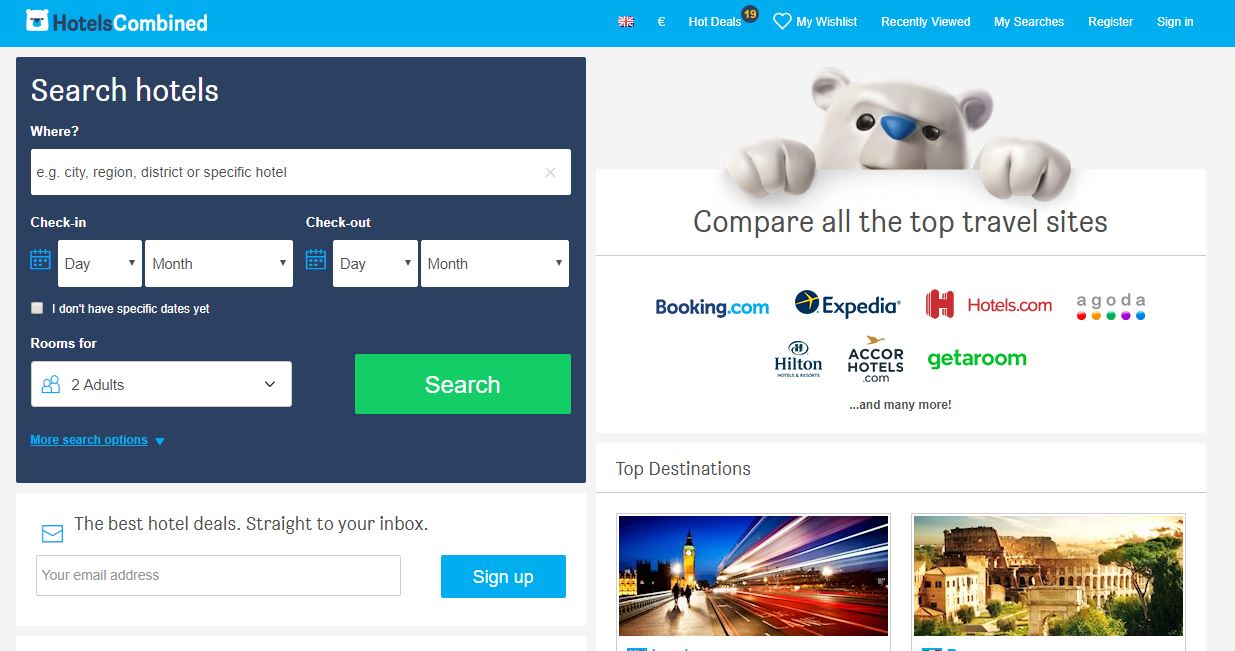 Hot deals on hotelscombined
This section shows a list of hotels around the world with special rates. If you didn't decide yet where to go, it is useful to surf the deals. You will find great places and you will also save money. Clicking on the hotels you access the details and you can freely choose. In front of you, there will be a page with all the deals related to the hotel coming from various sites. Entering them you see the features of the accommodation and if you like you will complete the reservation. My hotelscombined review is made by frequent and updated usage.
If the design is already one reason to try the platform, the hot deals are the second one. You take advantage o unique conditions and suggestions. But i am telling you about my experience. As i told you i travel often, but i do it mainly for business. So destinations are already decided. Why do i check those offers? You never know. Some of them can be in a place where i have to go. If i should write hotelscombined reviews just considering the hot deals i could underline the huge variety. They cover a lot of cities around the world. And they are convenient.
Thanks to them it is possible to choose luxury hotels at a cheap price. Or find lower prices for any type of accommodation.
The research
After i surfed the offers i made direct research about my destination. I also selected the dates of my interest. I am not going to focus on these details because you don't need them. Your attention needs to be pointed to the results. In this aspect, hotelscombined shows one of its strengths. Especially compared to other platforms. In the list of accommodations, the four best rates from different websites are underlined. For each of them, you can find the main points of policies applied. This means free cancellation, pay later, breakfast included, and so on.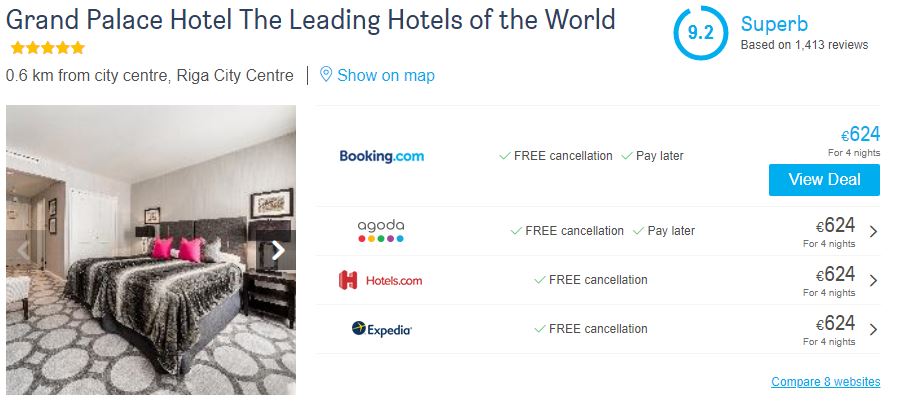 Secret deals
I have never read about this in hotelscombined reviews. For some hotels on the list, in the results of your research, there are secret deals. What are they? Those are special offers accessible only to members. What does it mean? You have to subscribe, create for free an account on hotelscombined and the rates will be visible. A better way to save more money. Try them and you will have benefits in planning your trip.

Criteria
Every platform dedicated to hotel reservations allows you to apply specific criteria. Hotelscombined has something more. I want to underline the ones that are very useful to me. Location, star rating, price range are common. On this website, it is possible to see prices including or excluding taxes. The theme is the chance to select what type of accommodation you are searching for. Choose a boutique hotel, a designed one. There are hotelscombined reviews or better the customers' reviews about the properties.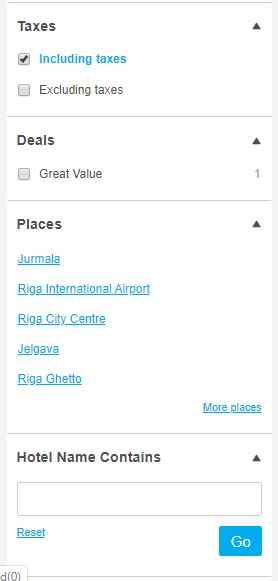 This criterion is easy to catch the preferred apartments or hotels by travelers. Are you trying to catch a precise hotel without knowing the name? No problem, fill the box 'hotel name contains'. A few letters of a word help you to make a selection and to find the one you want. Don't you think this is helpful? It is, you know why? Because online it is full of properties and they are listed according to rates, preferences, and so on. The more you refine the research you will have the best hotel. Try to believe me. This is my hotelscombined review.
Reviews
One of the criteria for the research is about the guests' reviews. Well, you can't read them. You see how many people voted and the average grade for cleanliness, dining, service, facilities, location, and rooms. Do you know why i consider it a strength? Because the reviews can be too personal and related to an episode and we don't have all the same impression. Read can be confusing, as it happens with hotelscombined reviews. But for some people, this can be a negative point. I guess you will agree with me using it.
3 tips for you about hotelscombined
Open hotelscombined website. If you are sure about the destination, start your research. If you need some inspiration, explore the hot deals. This is useful also if you are open to changing your mind according to the best offers to save money. Let me give 3 tips to improve your experience with this platform. Then you will write hotelscombined reviews online. Don't forget to share it in your comments on this page too.
1. Subscribe
I know, most of the time, you leave your email and they fill your inbox. This is not the case of hotelscombined, but if you create an account you have access to secret deals. Unique and incomparable offers dedicated to members. It doesn't cost anything. It means saving a lot of money on your bookings.
2. Use the wishlist
On the bar, on the top, there is the wishlist. It registers your choices when you want. If you see a hotel or a property you like for your stay, added to the list. Why? Because comparing them can be sometimes difficult and clicking on deals you will be redirected to other websites. If you mark the most interesting for you, you will easily find them and put them on a page to make a direct comparison.
3. Give a chance to hotelscombined
Why do i recommend you hotelscombined? Because i am using it successfully. Comparing the largest number of websites allows me to find the lowest price. With the money saved, i can do something else and improve my trip. Then i can stay in better hotels for cheaper rates. One more reason: my blog is written for you and i select the best tools to make your travel experience unforgettable. Or at least i help you in this direction. It is part of my tips.
That's it?!?! No! There are no fees and no mark-up. If you find a lower rate than the ones proposed by the platform they will give you back the difference. Try it now and see if my hotelscombined reviews are right if my experience is useful to you.