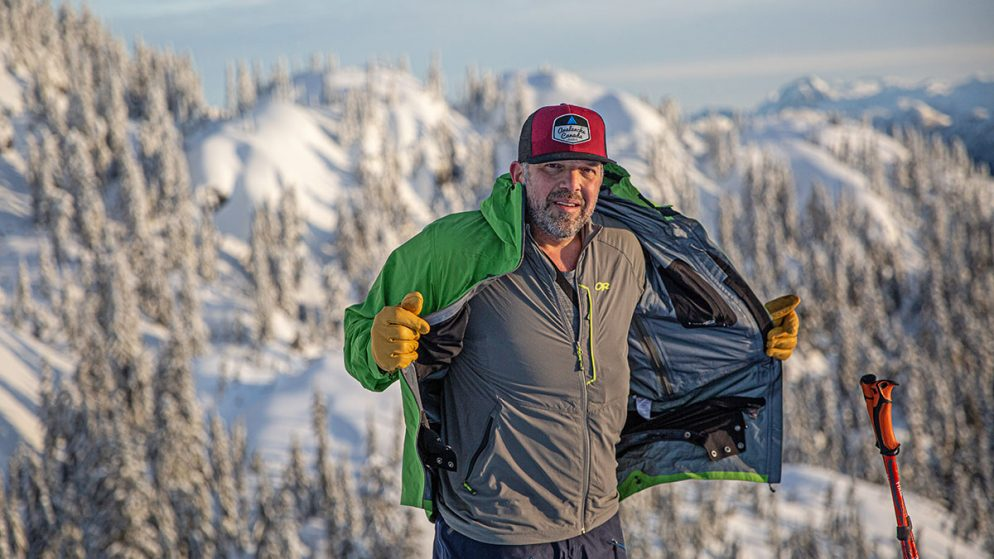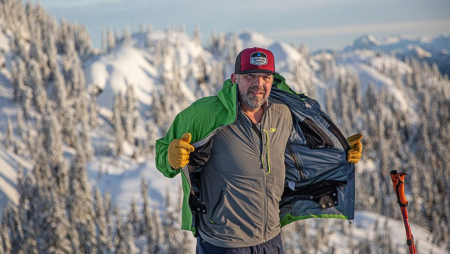 Heads up: Our content is reader-supported. This page includes affiliate links. If you click and purchase, I may receive a small commission at no extra cost to you.
Helly Hansen is a Norweigian outerwear company that has produced outerwear since 1877. Its seafaring jackets evolved into ski outerwear that is now ubiquitous and found on ski teams and ski professionals worldwide. To see if the products' reputation holds up, we tested the Alpha Lifaloft Men's Ski Jacket in an early Rocky Mountain winter. We assessed its performance over several weeks, evaluating factors such as warmth, breathability, style, wind resistance, and versatility. Read on for all the details.
Style: Race-inspired but relaxed
The Alpha Lifaloft jacket is definitely a skiers coat and the shorter, slimmer cut is far from your standard longer snowboarding jacket. That said, it's not nearly as stiff, heavy, and tight-fitting as jackets from other race-inspired brands, especially European brands such as Descente.
The colorways are simple, solid colors ranging from standard black to bright blues and a burnt orange that stands out. We tested their Lav Green colorway which is earthy but accented with neon yellow highlighter zippers.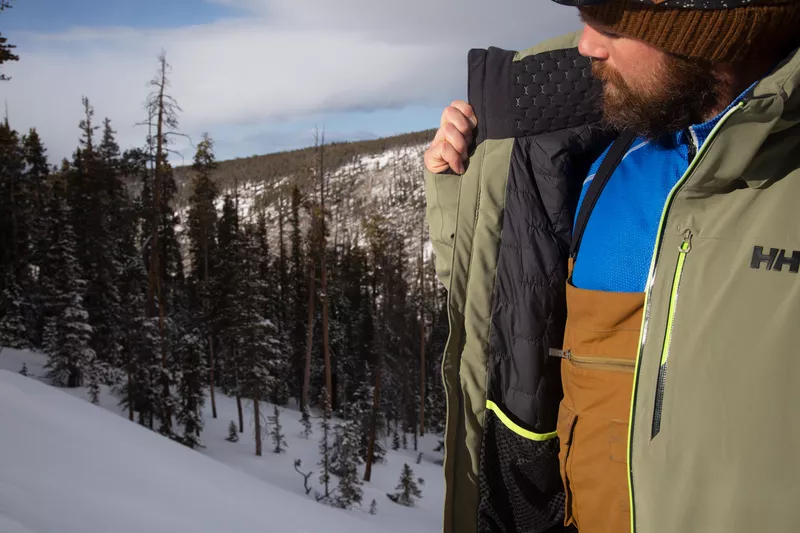 Shop Helly Hansen Jacket
Comfort and Fit: Soft and a bit tight
Thanks to a flexible face fabric, the jacket is soft and not at all stiff like many high-end waterproof ski jackets. I tested a size XL based on Helly Hansen's helpful interactive size selector. I'm an even 6 feet tall, a tad chesty, and right around 200 pounds. The XL does, in fact, fit great though I immediately noticed that the jacket still felt short in front.
The short front is by design and is only short compared to the longer jackets I normally prefer since I wear bibs and enjoy the overlap afforded by longer coats. The tail of the coat hangs down in the back, which keeps the jacket from looking too stubby and helps keep snow away from your back waistline if you're wearing ski pants instead of bibs.
Because this is an insulated jacket featuring 80 grams of built-in Primaloft insulation, there isn't a ton of room inside for layering. At most, you might wear a soft shell over your base layers on the coldest days and on warmer days you won't need much more than a performance tee underneath to keep from overheating. This all adds up to a snug fit that's great for keeping you warm, but can feel a little restrictive when paired with a relatively tailored cut.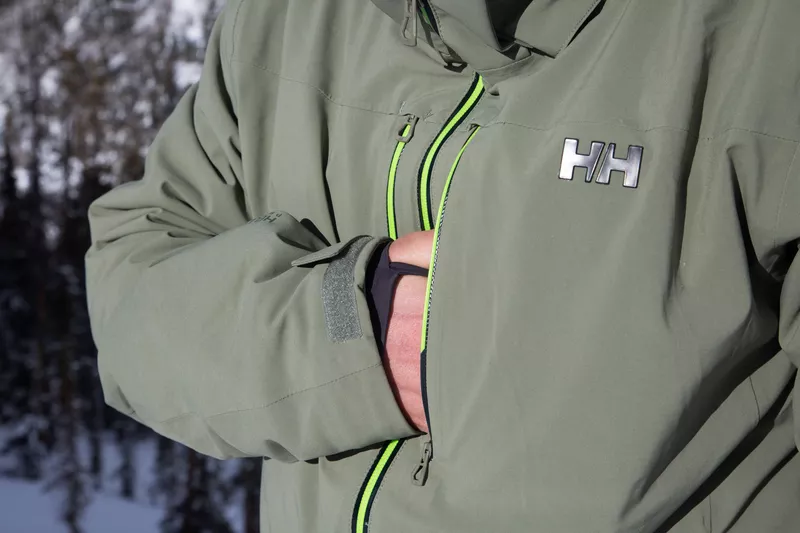 The primary pockets I used were the two vertical chest pockets on either side of the main zipper and I found them small and felt like the jacket became tight if I put too many items in them. Even a phone and a wallet made the jacket stick out at my chest and forced me to use pants pockets for anything bulkier than a smartphone to keep the jacket from girdling.
The cut overall is a good compromise between a slimmer fitting racing jacket and the sometimes overly baggy snowboard-style jackets. Consider what pants you'll pair with the jacket though, because if you prefer roomier ski pants, the Helly Hansen Alpha Lifaloft jacket may look and feel more snug.
Warmth: Great for cold days at the resort
Staying warm isn't an issue with the Alpha Lifaloft jacket, which takes Helly Hansen's Alpha 3.0 jacket and adds their patented Lifaloft insulation. Integrated insulation is great since it adds an insulative layer that's tailored into the jacket, unlike additional base layers that can create fit issues and bulk.
The trade-off is that this jacket is too hot for warm spring days, or for hiking in the backcountry and resort-adjacent "sidecountry". I took the jacket for several hikes in the Tenmile Range near Breckenridge and the jacket spent most of the time strapped to my pack to keep me from overheating, only slipping it on for the descents. Traditional pit zips are there to shed steam, but they're not enough to combat the heat. If you do a lot of hiking to ski or alpine touring in the backcountry, you may want to consider a more stripped-down shell jacket that you can layer and use year-round.
For this reason, this is a winter-only and resort-only ski jacket, which is fine for many skiers. If, for example, the ski resorts you go to are mostly on the East Coast, the warmth won't likely be an issue. Likewise, if you travel to ski and your trips aren't in late spring, the Alpha Lifaloft shouldn't ever be too warm for you.
The nice thing about the coat's heavy-duty warmth is that on normal days you can wear simple merino wool base layers, minimizing the bulk on your body. It also allows the jacket to keep its streamlined fit since you don't need space to cram puffy coats and softshells underneath.
Waterproofing: Professional-grade
Pacific Northwest skiers will be glad to know the Alpha Lifaloft jacket features Helly Hansen's highest-grade waterproofing. While you never want to be skiing in rainy or wet conditions, it happens and it's reassuring to know the two-layer construction will keep moisture out while retaining body heat at the same time.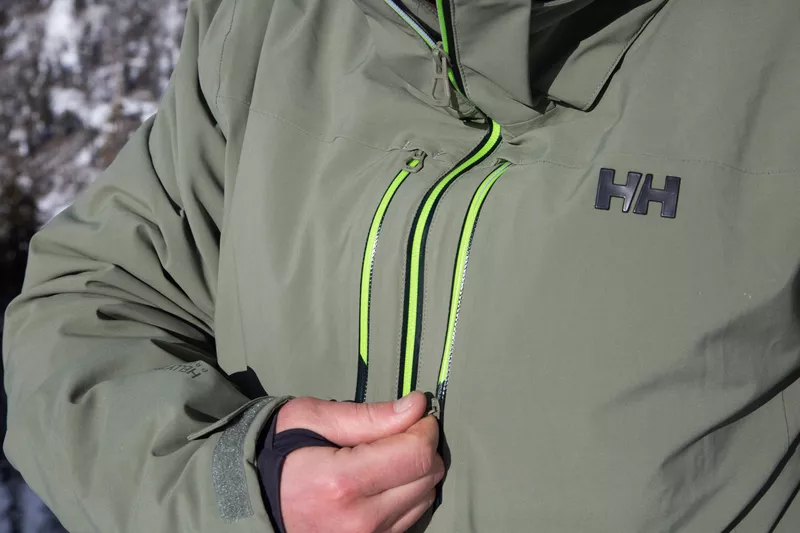 Not surprisingly for a brand of this caliber and a jacket at this price point, all the seams are sealed, meaning stitching and zippers won't be failure points for moisture repellency. I tested the jacket midwinter, so soggy conditions weren't available, however, I tested the waterproofing with tap water on the shoulders which is one area where water and wet snow can cause problems. I also allowed water to sit on the fabric for several minutes: it beaded as expected and remained that way until I let the water run off.
While our testing period wasn't long enough to assess the durability of the Durable Water Repellent (DWR) coating over several seasons, it's likely that a jacket this soft and flexible will need its coating refreshed after a season or two if worn regularly. Products such as Nikwax TX Direct can be used to refresh water repellency for a low cost.
Windproofing: Holds up in high winds
Despite being soft to the touch, the Alpha Lifaloft is also 100 percent windproof which I tested above treeline on some very windy days. The detachable hood helps in this regard and is helmet-compatible.
I ski primarily at Breckenridge and in the surrounding mountains in Colorado. Breckenridge is known for its high winds above treeline, and even with minimal layers underneath, the wind never chilled me, though I did make use of the integrated snow skirt that buttons around your waist to keep snow and cold air out.
The integrated sleeve creates an additional seal at the wrist and features gussets with a thumb hole. The Velcro cuff also adds a multi-layer approach for keeping wind and snow at bay and off your hands. It's worth noting that, like the built-in insulation, you can't avoid the sleeve gusset which can help trap heat in the jacket if you're feeling too hot. Again, this is a cold weather-only jacket.
Drawstrings for the waist and hood are easy enough to locate and operate with gloves and give you another lever for steering yourself against high winds.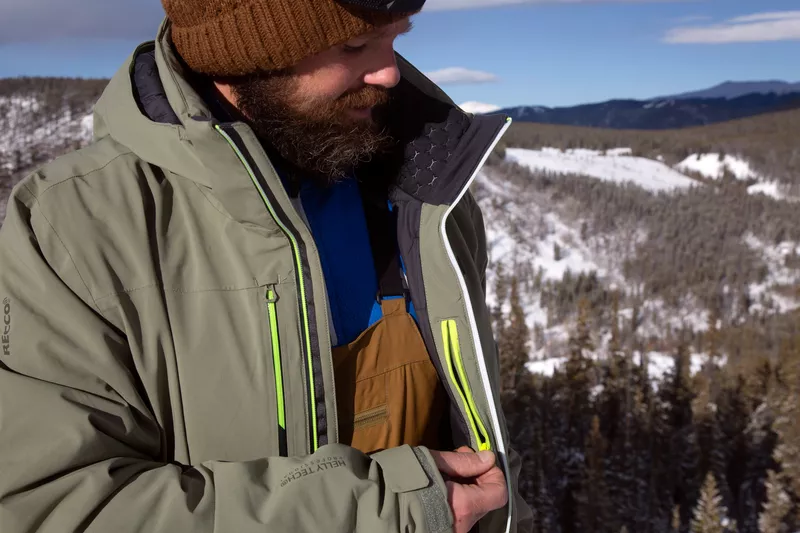 Breathability: Layer down if you're running hot
While the Helly Tech outer fabric itself is technically very breathable, in practice, the insulation knocks the breathability of this jacket down a few notches. As mentioned above, this jacket isn't at all practical for hiking and you definitely run the risk of overheating if you're skiing hard in warmer spring temperatures on sunny days.
If breathability is a priority, consider a pure shell such as the Alpha Lifaloft's sibling: the Alpha 3.0 jacket. It's essentially the same coat minus the insulation.
Ski-Specific Features: A few nice touches
I don't get too excited about "tech" add-ons such as special media pockets and holes for your headphones, but Helly Hansen has some useful features for the skier in this jacket.
The Recco rescue system can help search and rescue professionals locate you in an emergency. The ski pass pocket is also useful, especially in the age of RFID passes that you don't need to take in and out on each run.
Their tethered goggle wipe might seem superfluous until you really, really need it. They've also created something called the "Life Pocket" which uses a gel insulation to give your hand a safe place to come back to life when you've left it out in the elements for too long.
Price: Middle of the road
It's hard to call an MSRP of $550 "middle of the road" with a straight face, but in the pricey landscape of ski jackets, that's just the truth. You can easily find ski jackets that cost three times as much, though there are plenty of worthy competitors in the $200 and below range. But for the price, you get most of Helly Hansen's professional-grade features.
Helly Hansen Alpha Lifaloft Jacket vs. Patagonia Snowshot 3-in-1 Jacket
I've tested both of these jackets and they have very similar styles and cuts, as well as insulation. The big difference is that the Patagonia Snowshot jacket is modular. Its removable inner jacket means that you can wear just the shell or even just the light inner insulation layer, making it more adaptable to changing conditions and seasons. The drawback is that the fit is not as tailored and the inner jacket can pull, get caught, and generally feel bulkier than the Alpha Lifaloft jacket. However, if you need the flexibility of a 3-in-1 ski jacket, consider Patagonia's. You'll save a little dough, as well.
Helly Hansen's Alpha Lifaloft is great for anyone that runs cold, skis in particularly cold climates, or doesn't ski so aggressively that they generate a ton of body heat because it's windproof, warm, and designed with skiers in mind.