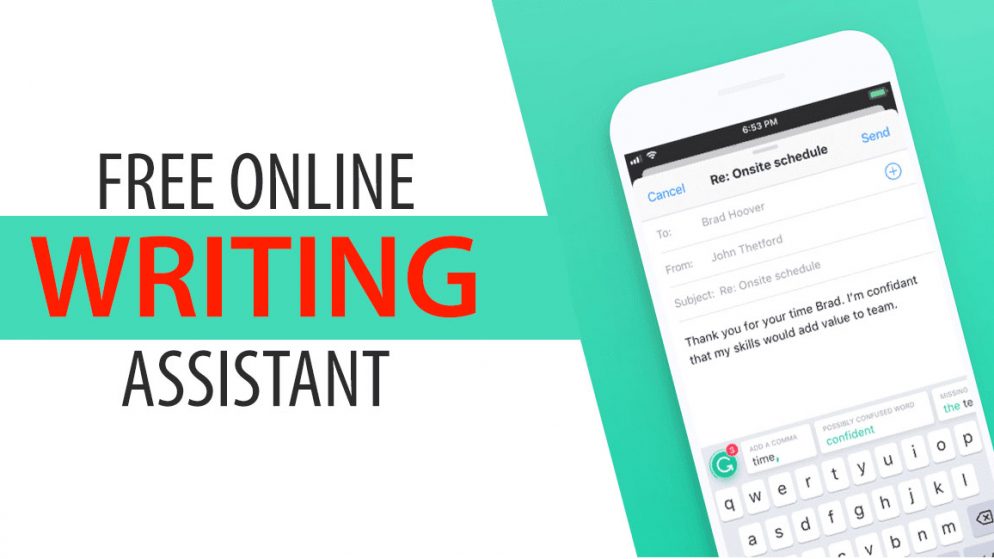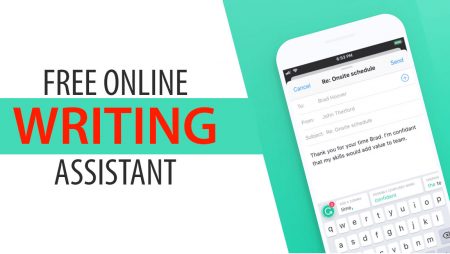 Our content is reader-supported. If you click on our links, we may earn a commission.
Not sure if Grammarly Premium is worth the money but considering making the purchase? Learn more by using our Grammarly review guide. In order to make your writing more effective and clearer, Grammarly developed a digital writing tool that you can use as you write. It checks your grammar, word choice, and tone. Co-founders Alex Shevchenko and Max Lytvyn can claim 20+ million daily active users and have successfully attracted over 2000 institutions and enterprise clients.
Know About Grammarly
Do you frequently use your desktop, Microsoft Office, or browser to type business emails or write? Would you like to make sure that your writing is well-written, follows your writing objectives, and is grammatically, correct? As you type, Grammarly offers AI-based support to ensure that the material is accurate and free of grammatical errors.
Actually, based on my own experience and a lot of examples, this grammar checker plugin offers a lot more than just grammar to improve error-free writing. In fact, Grammarly has earned a reputation as one of the most creative grammar checker providers for its suggestions for how to make ordinary writing better. Visit the official website to download Grammarly without cost.
Where Can Grammarly Be Used?
Content Editor: This program serves as the main hub for writing and customizing the writing recommendations you can see online.You may download the most recent version of Grammarly as a browser extension to help you while you type on Google Docs, Medium, Twitter, and other websites, regardless of whether you use Chrome, Safari, Internet Explorer, or Mozilla Firefox.

Use the MS-Office edition of Grammarly for suggestions when writing in MS-Word or Outlook.

Grammarly for Desktop: On both Mac and Windows, you may download Grammarly for Desktop if you'd rather not access it through a browser.

Grammarly Keyboard: To ensure that all emails and texts you send and receive on your phone are written with perfect grammar, you may download the Grammarly Keyboard app from the App Store (for iPhone) or Play Store (for Android) and set it as the default keyboard.

Grammarly for iPad: The Grammarly app for iPad, which is available for download from the App Store, optimizes the Grammarly keyboard specifically for tablet users.
Grammarly Review: Features Free vs. Paid
While you might be considering whether the Paid or Free version is ideal for you and whether the expenditure is even justified. To assist you in making your final decision, let's examine the advantages and disadvantages of each version as well as the costs.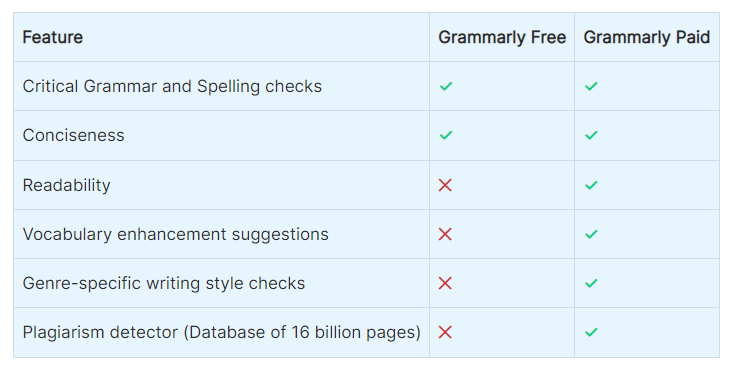 Comparison of the Grammarly Paid and Free versions
Grammarly Premium, according to the company, is designed to deliver results that are superior to and free of grammatical errors. They take pride in the following outcomes:
Writing is now more fun for 76% of users,
99% of pupils, this has improved grades.
Now, 85% of users are proficient writers.
Review of Free Version
The Free edition includes an AI-enhanced spellchecker, punctuation checker, and basic grammar checker tool with browser and MS Word Embedding to check the most common errors like muddled words or extraneous punctuation. Furthermore, because it is AI, it may function far more effectively than a typical human spell checker. It has mobile versions as well and can only be used by one individual.
PROS
ongoing checks for grammar and spelling
Secure data
superior than human spellcheckers
Correct advice and tone checker
Simple to use and appropriate for most gadgets
supports English in the US, UK, Canada, and Australia.
CONS
Basic corrections to grammar and spelling only
Detection of plagiarism is lacking
No support for advanced formatting
a few minuscule mistakes in the sentence verification or tone detection
Premium Version Review
The free version just offers necessary spelling and grammatical checks. However, the Premium version also gives you access to readability suggestions, vocabulary improvement ideas, genre-specific writing checks, and a plagiarism detector. For those that must write professionally to expedite their publishing process, lower the expense of editors, and produce overall superior writing, the premium version could be a lifeline.
Pricing & Plans for Grammarly Premium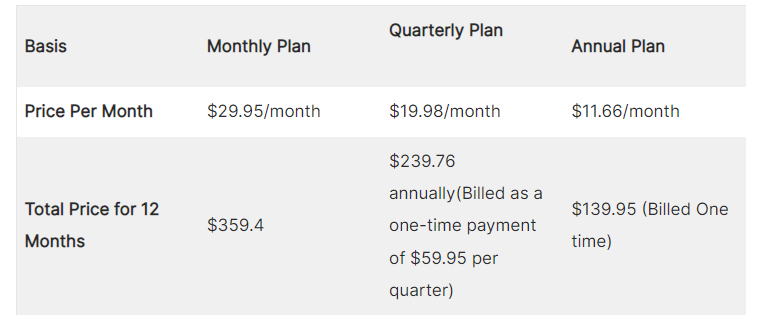 Grammarly Premium pricing schedule as of 2020
Although many of Premium's recommendations are spot-on, some can be repetitive and narrow in scope. A built-in plagiarism checker also significantly minimizes your workload. The Grammarly Premium Plan's whole price list can be found below.
FAQs
What is your present position?
Imagine you are a writer, professional copywriter, student, or someone else whose current position necessitates a lot of writing for a blog. Consider using the Premium edition if you believe knowing grammar rules will be beneficial to you.
How well do you now write and use grammar?
Strong Writing and Grammar Skills: Using the Free Version could greatly improve your already excellent writing and grammar skills if you are a Native or Advanced/Fluent English speaker, hence Grammarly Premium wouldn't be strictly necessary.
Writing and grammar deficiencies: If English isn't your strongest suit yet your job or school demands that you produce high-quality work with precision, then Grammarly premium could be beneficial for you.
Conclusion
You now understand what Grammarly premium is all about. Whether you select this tool or not is entirely up to you. Specific features are included with Grammarly Premium. You should choose this tool if your writing or articles need these unique features. In general, the decision to purchase Grammarly Premium is subjective. Certainly, it depends on how the instrument is used.