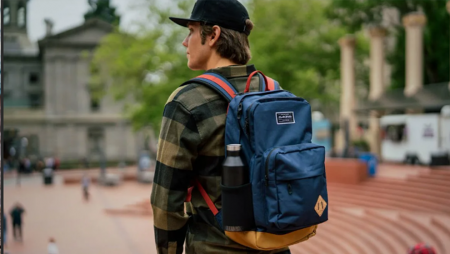 Heads up: Our content is reader-supported. This page includes affiliate links. If you click and purchase, I may receive a small commission at no extra cost to you.
You know what you're getting when you buy a bag from filson: a durable and tough product, one with ample space and no frills. The brand has been making bags since 1897, and many of the same markers that defined the brand then remain — things like waxed canvas and leather.
Some of the brand's newer designs, though, take a slightly different tack. They employ more technical fabrics, ushering their line of do-it-all backpacks, briefcases, dry bags and duffles into the modern era.
Backpack capable of getting your valuables to and from the office, up a light trail or to your final destination via air, rail or four wheels, thanks to a luggage trolley sleeve beneath the straps.
Filson Dryden Backpack Review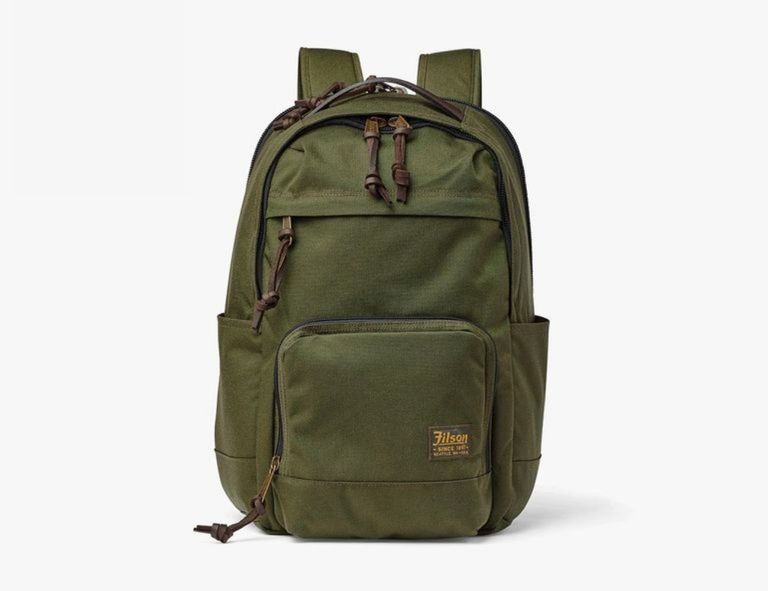 Key Specs
Dimensions: 18 by 12.75 by 8 inches
Capacity: 25.5 liters
Materials: 1000D Cordura nylon, Bridle Leather, nylon
Colors: 4
Pockets: 4 — the main compartment, a rear laptop panel, a medium-sized front pocket and a smaller compartmentalized front pocket
What's Good About the Filson Dryden
There's room for it all
There's a compartment or pocket for everything but the kitchen sink. Your laptop, books, papers, cables and other tech and even a jacket or sweater can be tossed in for chilly offices or lecture halls. Going to the gym after? Throw some sneakers in here too while you're at it.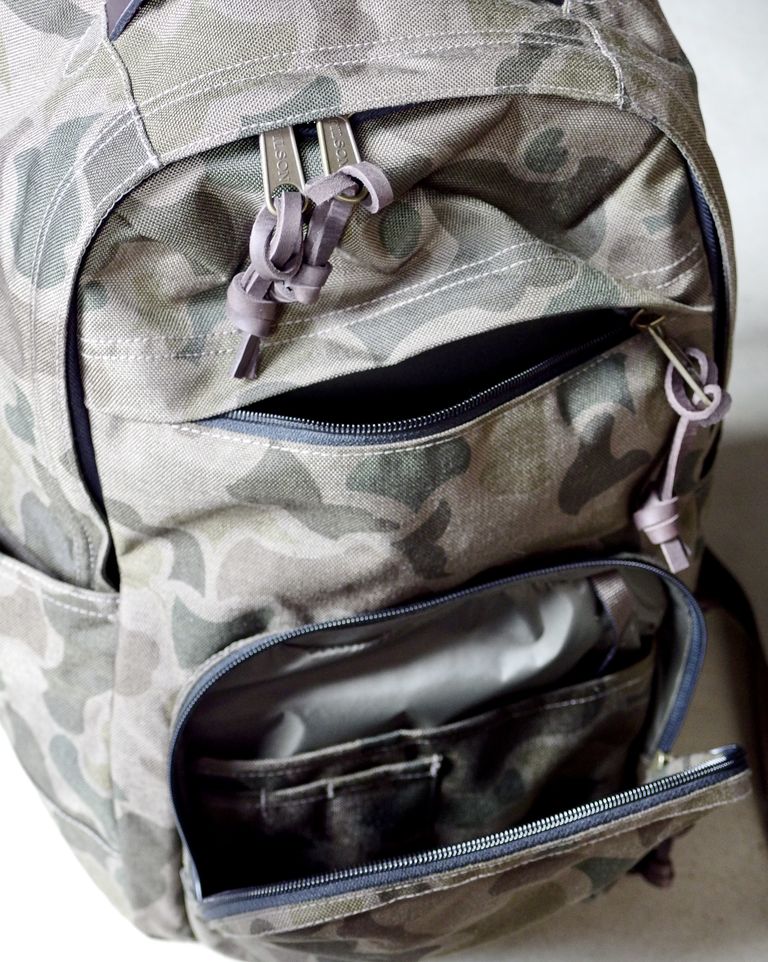 Although the bag itself boasts a capacity of just 25.5 liters — most medium-sized backpacks range between 30 and 50 liters — it doesn't feel small by any means. There's a rear panel pocket with a u-shaped zipper and a padded pocket for your laptop, but not much else will fit back there without the items pressing up against your back once on.
For everything else, the main compartment, accessible through a middle zipper with a fabric overhang, features a zippered mesh compartment and a big, seemingly bottomless, bucket pocket. (a bucket pocket is one without dividers or additional compartmentalization.) sure, smaller items might bounce around if you're in a rush or on a bike, but there's plenty of room for stabilizers like a jacket or a hoodie or a few heavy books.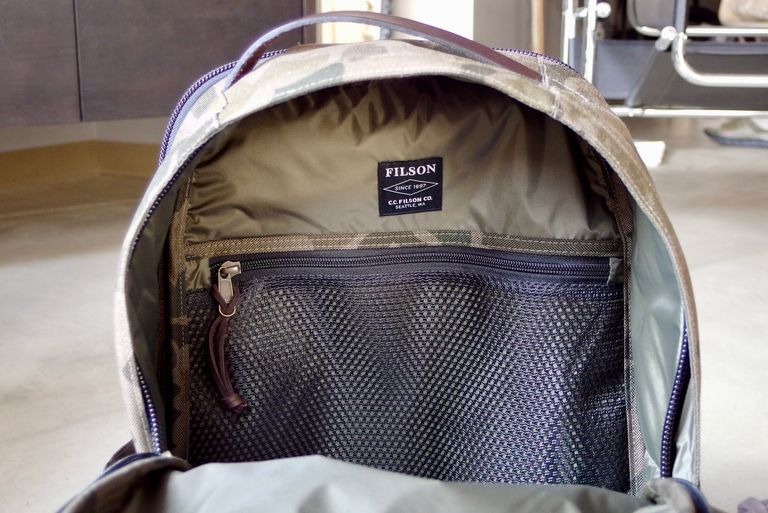 It's well-made
As is such with all filson products, the dryden backpack feels incredibly well-made. The bottom is double reinforced with additional fabric; the coil zippers are so sturdy they can be hard to open; the bridle leather accents feel cemented on and like they'll age gracefully with constant exposure to the elements.
Plus, although this is a given, the cordura nylon feels appropriately stiff, albeit pretty soft on. It's comfortably equipped, if that makes sense.
It's plenty comfortable.
That being said, despite the bag's lack of load distribution technology, the bag feels pretty good on — even when fully loaded. The straps aren't all that padded, but they aren't thin strips of fabric, either. They wrap tightly over the shoulders, pressing the flat back of the bag up against yours. Taking it off is easy, too, even when the straps are tight (how i wear my backpacks).
What's Not Ideal About the Filson Dryden
It's so tough, it's tough to use.
The bulk of this bag is made from flexible nylon, so there's no real break-in period for this option like there is with waxed canvas or leather backpacks. But the coil zippers, for example, are so serious they're a tad tough to use for the everyday wearer.
Sure, this isn't much of a critique, but for folks upgrading to filson's dryden backpack from a sub-$100 north face or nike backpack, the zippers will glide noticeably slower, especially since the main compartment's zipper can snag on the fabric hood that covers it. (that being said, the rest of the zippers are far easier to access, making them much easier to open.)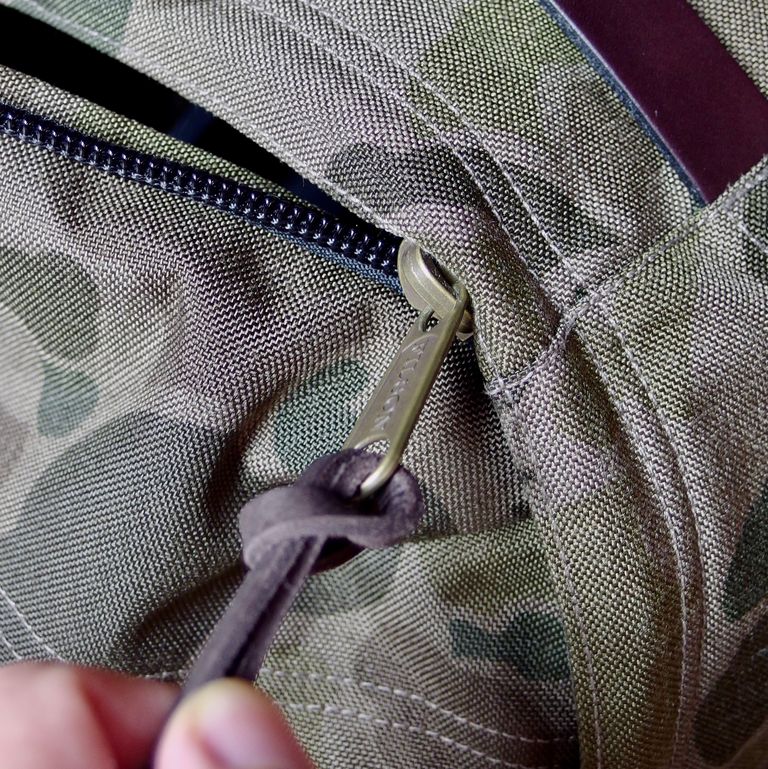 The Filson Dryden Backpack: The Verdict
For me, most backpacks either feel far too big for everyday use or exceptionally small. The Filson Dryden Backpack is neither, making it the perfect size for trips to the office with a change of clothes for after work or to the gym with extras for a post-workout meal. (I'm 6'2″ with wide shoulders, and this bag didn't feel too centered in my back or too tiny for my frame.)
It's also a great companion for trips, i learned, as this bag went with me on a long-haul flight. I could fit pertinent travel documents in the front pocket, personal tech in the second front pocket, bulkier items in the big main compartment and a laptop in the rear sleeve. And even at max capacity, the weight remained evenly distributed and the bag plenty comfortable (and its original shape, too). Some bags buckle under the pressure of being a daily driver and a sack for special occasions (like traveling), but the dryden backpack handled challenges in stride. It's superior to most mass-market and designer bags, making it a superior alternative to many other options above and below its price point.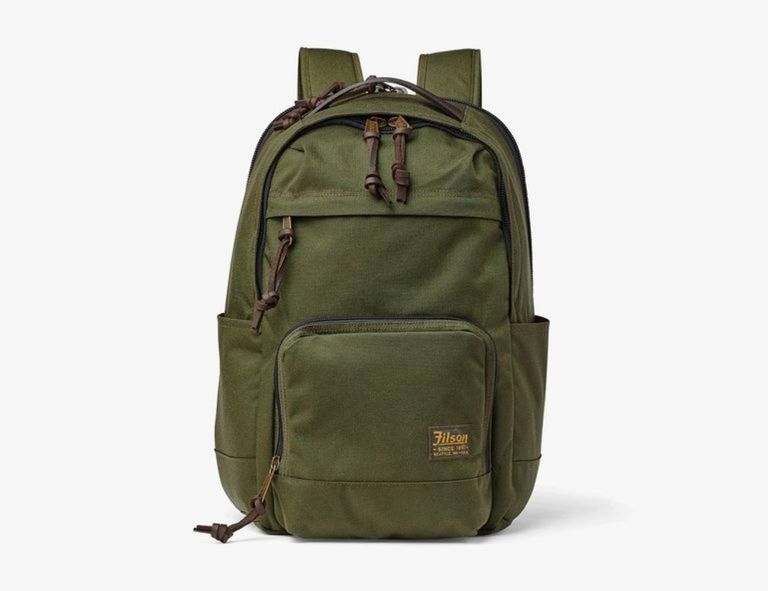 Filson Dryden Backpack