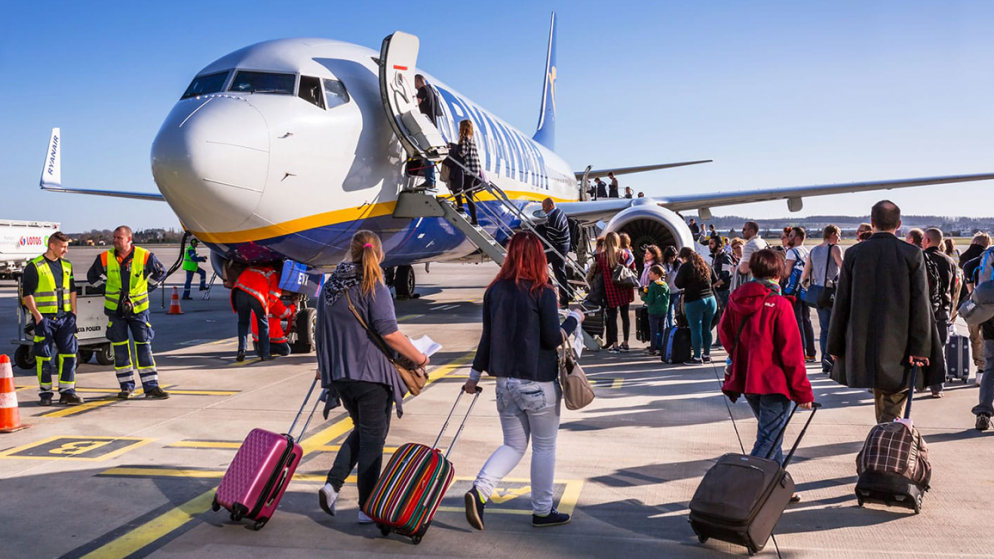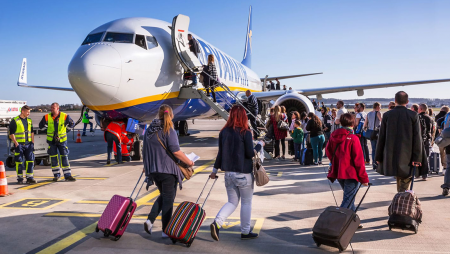 Heads up: Our content is reader-supported. This page includes affiliate links. If you click and purchase, I may receive a small commission at no extra cost to you.
Review of Etihad Airways Business Class
Etihad business is among the best business class products of the middle eastern carriers. Etihad airways offers its passengers regionally inspired cuisine and excellent service from takeoff to touchdown. The ground experience at its abu dhabi hub features local highlights from its business class lounges to the soon-to-open airport terminal.
Etihad airways is undergoing a transformation as it shifts from becoming a long-haul, global airline to targeting certain routes. This makes perfect sense for its smaller fleet and network. There will still be long-haul intercontinental flying, but not as many destinations as before as the carrier focusses more on europe, the middle east and parts of africa and asia instead. The airline is downsizing its fleet, and on many aircraft, the business class experience may be different.
Etihad is not a member of a global alliance but does have partnerships with other carriers including air new zealand, air canada, oman air and sri lankan airlines, allowing reciprocal earning and redemption of miles. Etihad guest, the airline's own loyalty program, also has its fans, especially if you live in the united arab emirates – the airline is based in abu dhabi – or travel through.
Airport experience
When starting – or ending – your journey in Abu Dhabi, passengers can take advantage of chauffeur service from their home or hotel to the airport where Business Class travellers have a dedicated check-in area.
Once through priority-lane security – available for originating passengers or those in transit – in Abu Dhabi, passengers can visit one of the airline's Business Class lounges with a Middle Eastern and Asian-inspired menu including sushi, staffed bar for fine wines, cocktails and mocktails, showers and quiet places to relax or work.
A new terminal at Etihad's primary Abu Dhabi hub is under construction, and it is expected to have new lounge facilities. For now, some connections require long walks between terminals. For flights that board via airstairs – rather than from a jet bridge – Business Class passengers have a private bus transfer to take them to the aircraft.
When Etihad Business Class passengers travel from other airports, they are treated to priority check-in, security and lounge facilities with airline partners or one of the few Etihad-branded lounges in select airports including London Heathrow and Washington Dulles.
A unique feature of Abu Dhabi's airport, when compared to other Middle Eastern departure points, is that U.S.-bound travellers complete pre-clearance formalities while still in the United Arab Emirates. They undergo U.S. customs and immigration before takeoff. On landing in the United States, they deplane as if it were a domestic flight. While this is especially convenient, it does mean that U.S. bound passengers must allow plenty of time before the flight or while in transit to undergo these checks. Once completed, there is a separate Business Class lounge for U.S.-bound travellers to enjoy.
A dedicated Etihad Airways Arrivals Lounge is also available at Abu Dhabi International Airport.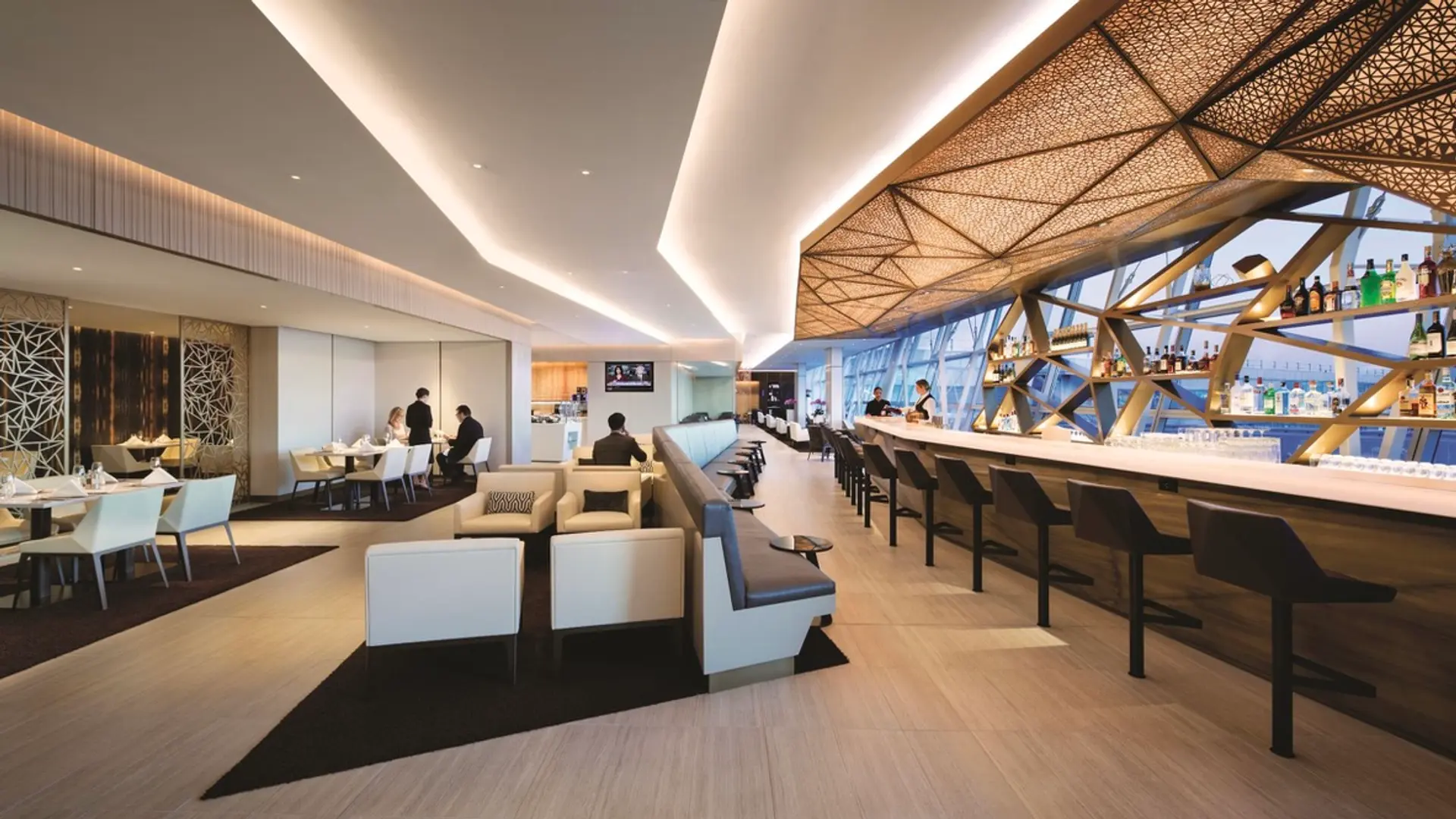 Cabin & Seat
Business class seats can vary depending on the aircraft. The airline's boeing 787 aircraft – as well as its soon-to-be-retired 777s – are laid out in a 1-2-1 configuration giving all passengers easy access to the aisle. On the airline's narrowbody planes like the airbus a320 or a321, which operate sectors that can span 4 to 5 hours, are laid out in a 2-2 configuration. Window seat passengers must step over their neighbour to reach the aisle. These seats are recliner-style seats that do not go fully flat, but do have leg rests for more comfort.
On widebody planes, the airline has two different types of seats. One comes with seats that are staggered between slightly facing the aisle or slightly facing the window. Opt for the latter as those turned toward the aisle feel more exposed.
A newer version of the business class seat – branded business studio – also in the same 1-2-1 configuration, has higher partitions that make it feel more modern and private. These seats alternate between being forward and rear-facing so be sure to study the seat map before departure to make a seat assignment since there is no charge to select seats.
Both recline into various positions using electronic controls and can go fully flat in bed mode. There is also a massage function built into the seat controls. Either version of the seat has a large side table that is great for working or storing items while you are eating or sleeping.
Those travelling together should opt for the centre section of seats as there is a divider that can be opened for easy conversation or raised for more privacy. Small storage compartments provide a place for reading material, eye glasses, mobile devices and other things. Power and usb outlets are easy to reach.
Each seat comes with a large pillow and thick duvet awaiting on the ottoman facing the seat.
Large and sturdy tray tables fold out toward the seat with plentiful space to dine or work.
On the 787, window dimmers allow different amounts of light while still being able to see out rather than a traditional window shade to lower.
The flight search on businessclass.Com includes images, videos and seat maps for most airlines and aircraft search results also include details such as seat pitch, width and recline. This way you can see the seat and cabin configuration of the flight in which you are interested, before making your choice.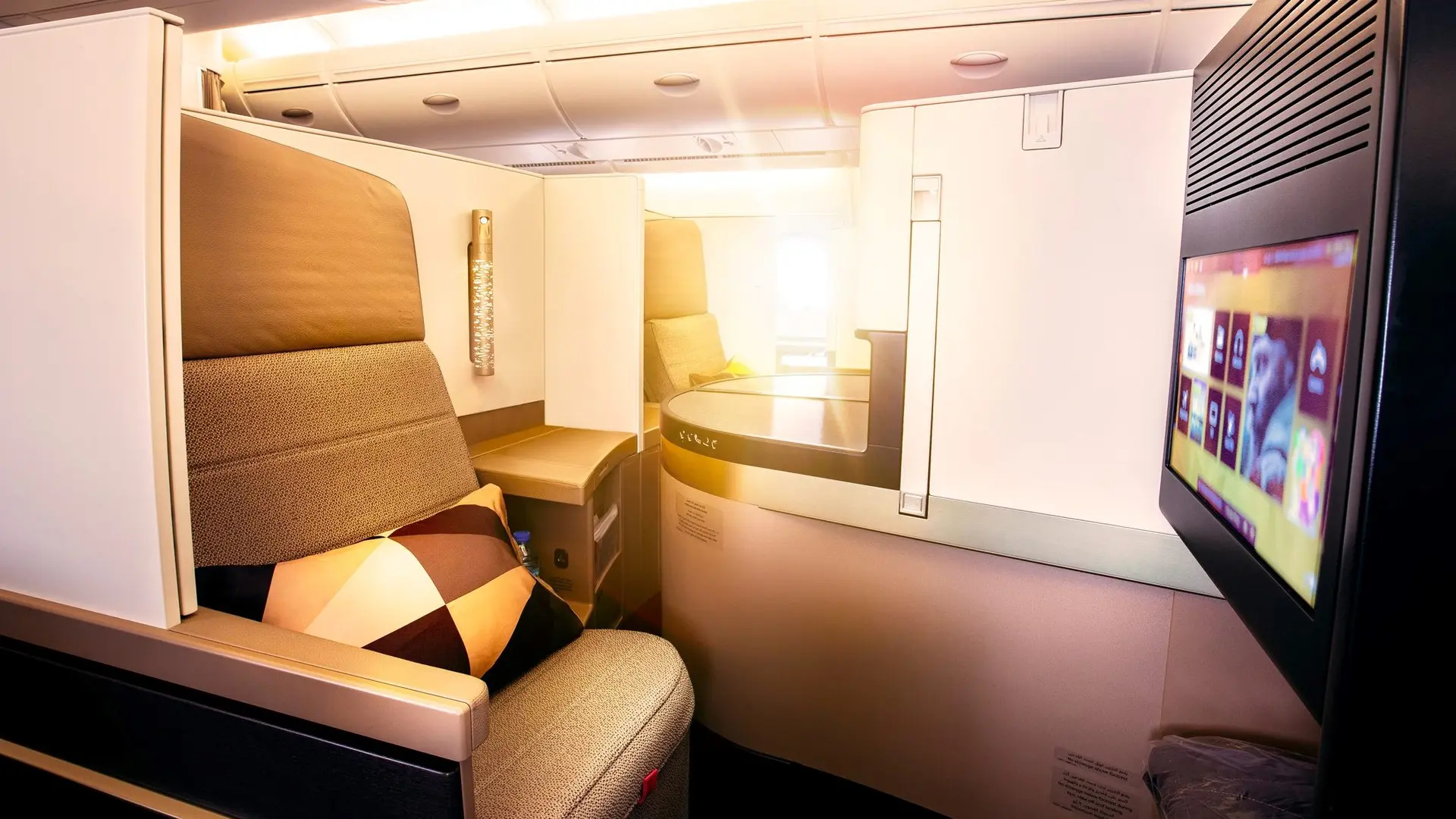 Cuisine
Etihad offers dine-on-demand service for business class passengers – you can eat what you want, when you want. While flight attendants work hard to prepare and deliver food with restaurant-style presentation, it can take a bit longer for everyone to be served since it is such a personalised service.
Tray tables are covered with starched linens, and meal service begins with a beverage from the bar, warm towel plus a ramekin of nuts delivered on a decorative tray. Once you peruse the menu, you realise why things may take awhile as there is great variety including many arabic and western choices.
Starters include salmon tartare, salads or soup. Try the arabic mezze for one of the airline's signature appetisers.
Main course options can include beef, chicken, pasta and fish. Dessert consists of cakes, fresh fruit, ice creams and cheese platters. Cordials, coffee, tea and other after-dinner drinks round out the service.
In between meals, passengers can order from an all-day snack menu including everything from burgers and sandwiches to baklava and crisps. The etihad steak sandwich is an all time favourite with fans of the airline.
In addition to a lunch or dinner menu, there is usually a breakfast selection including bakery items, cereal, fruit and an omelet.
Passengers can dine according to their own body clock, which helps reduce jet lag. Be sure to place an order for your preferred things early as the crew can run out of popular items. There is also an option to order special meals including asian vegetarian, muslim and kosher entrees, but this must be done in advance.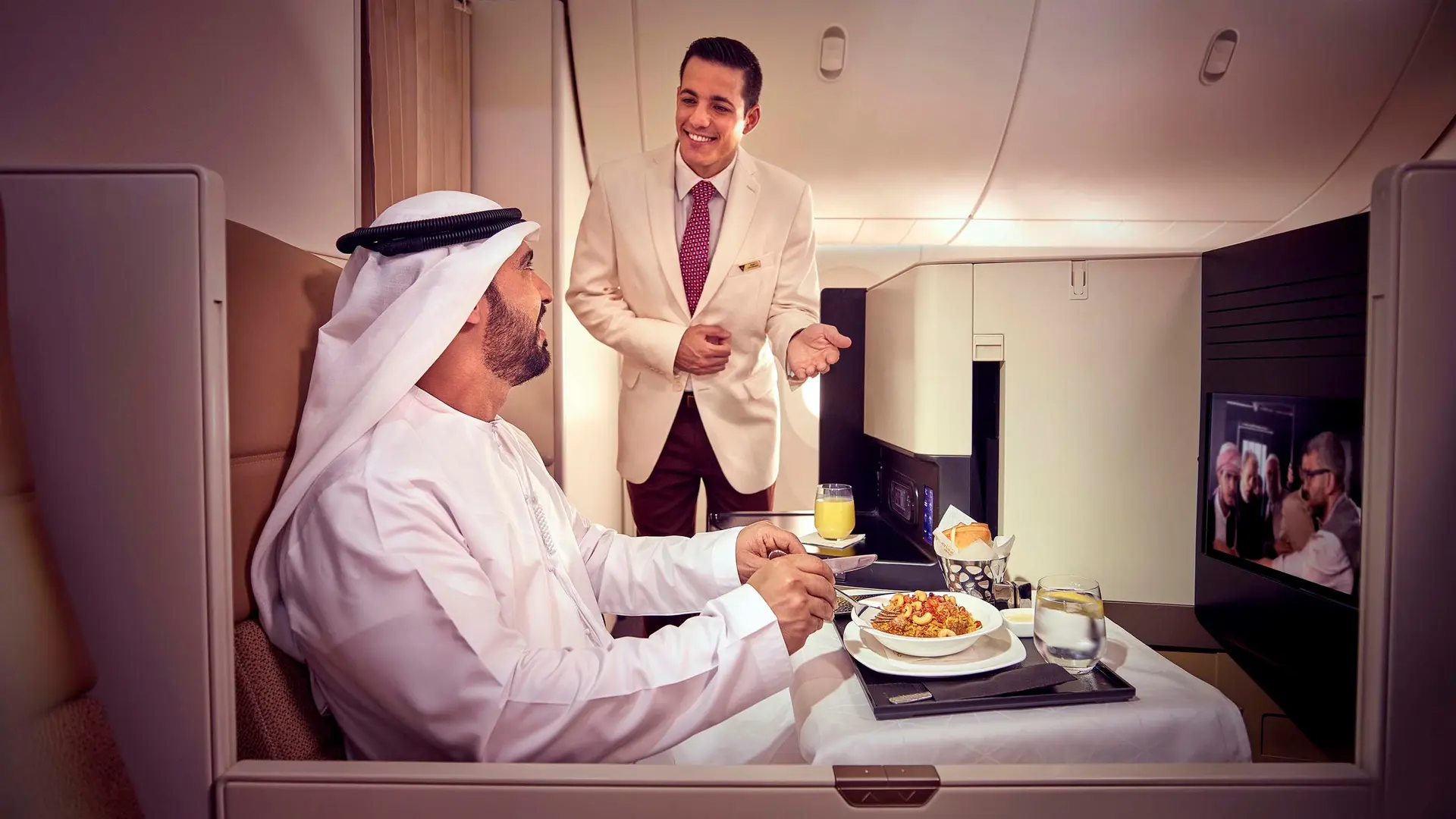 Beverages
S guests board, a warm towel and welcome drink, including the option for piper heidsieck cuvée brut champagne and fresh juices, helps passengers get settled.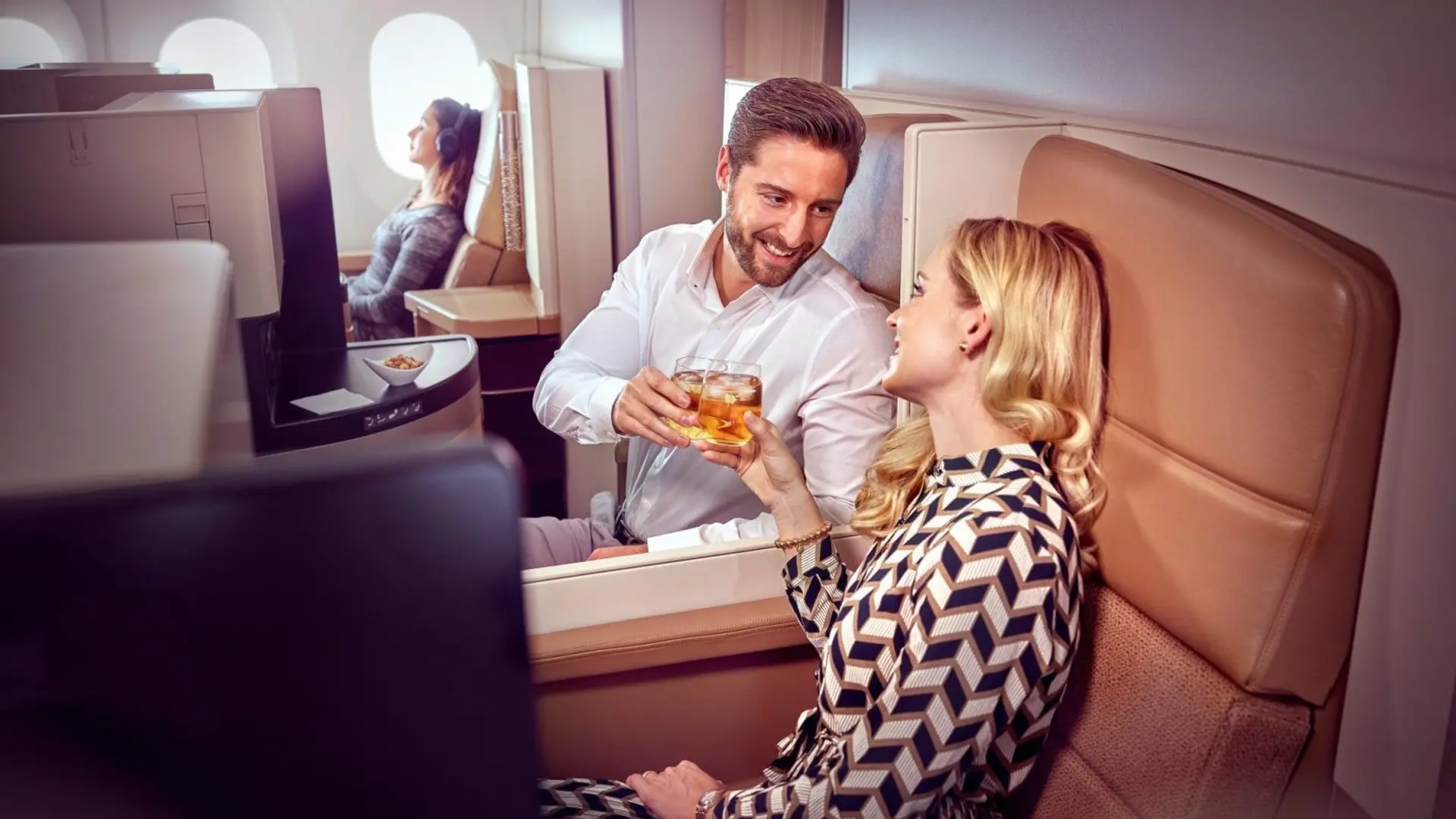 Printed menus outline what is available throughout the flight including champagne, two white wines, two red wines and a dessert wine. There is a long list of cocktails using an impressive array of liqueurs, spirits and mocktails plus a wide assortment of soft drinks and juices. There is even a traditional bellini delivered in a beautiful champagne flute. International beer selections are available as well as tea and coffee served many ways – cappuccino, espresso and macchiato are just some of the preparations.
Service
Flight attendant service is attentive and friendly from an international crew that speaks a variety of languages. In business class, they work hard to remember particular preferences, which can be difficult to execute with dine-on-demand service. Service is impressive.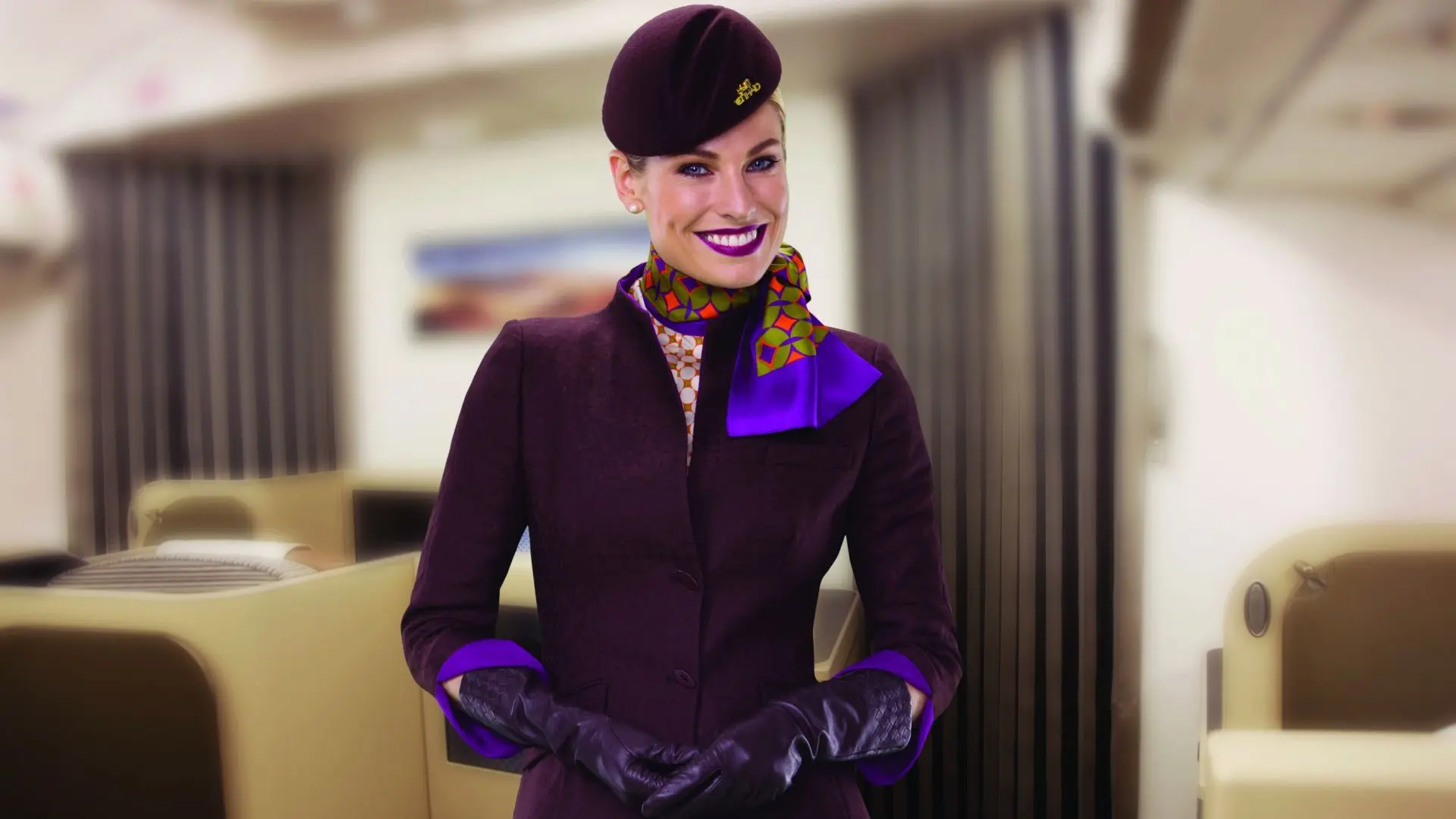 Entertainment
Noise-reducing headphones plug into the side of the seat and hundreds of international movies including options from the middle east, europe and asia, a similar number of short subject features like comedies and documentaries, and all kinds of world music selections are available via the large touch screen or extendable remote control. In addition, there is a 3-d moving map display showing details of the route of flight and destinations the plane is passing along the way. Passengers can also peruse the food and beverage offerings via the entertainment system.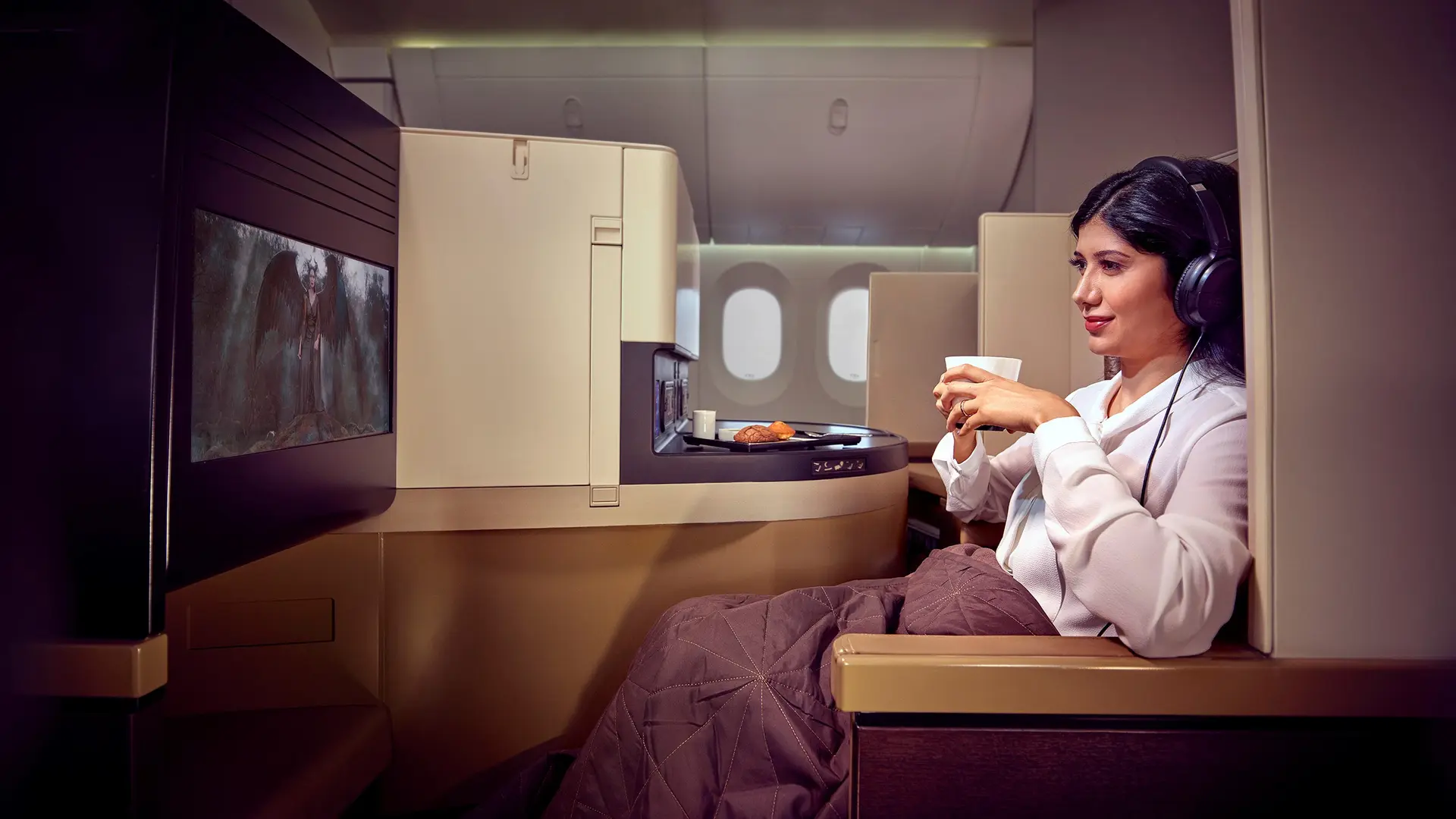 Amenities & Facilities
Amenity kits are stocked with acqua di parma toiletries, and lavatories – decked out in attractive mosaic tiles and mood lighting – feature more comfort products including face mist, lotion and eau de cologne.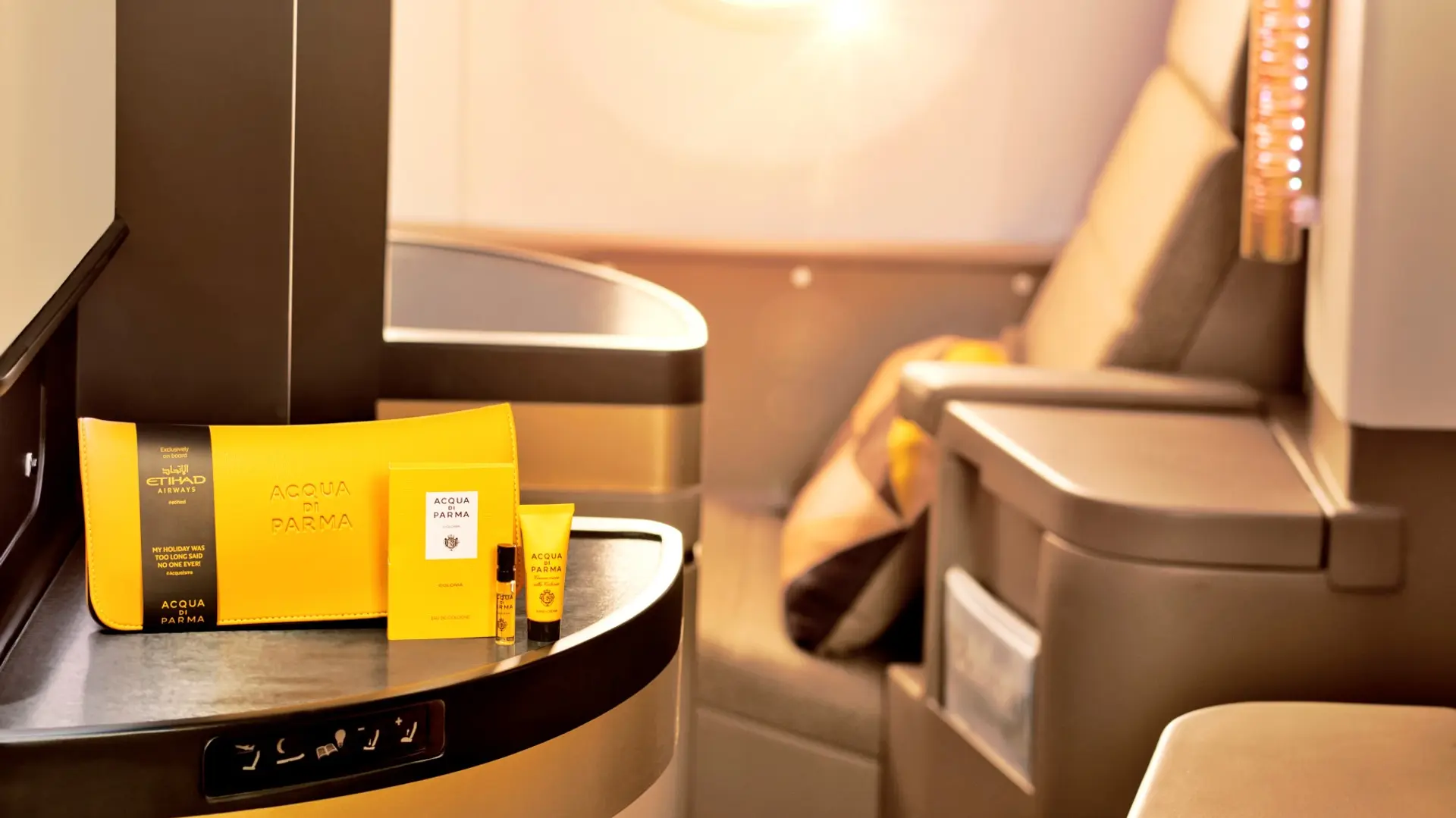 Short & Medium Haul
On shorter flights, the dine-on-demand meal service remains the same, even on narrowbody aircraft with smaller gallies. While the recliner seats and smaller entertainment screens are not ideal, they still offer a comfortable way to travel. The same food and beverage menu is in place including Champagne and the full wine & cocktail list.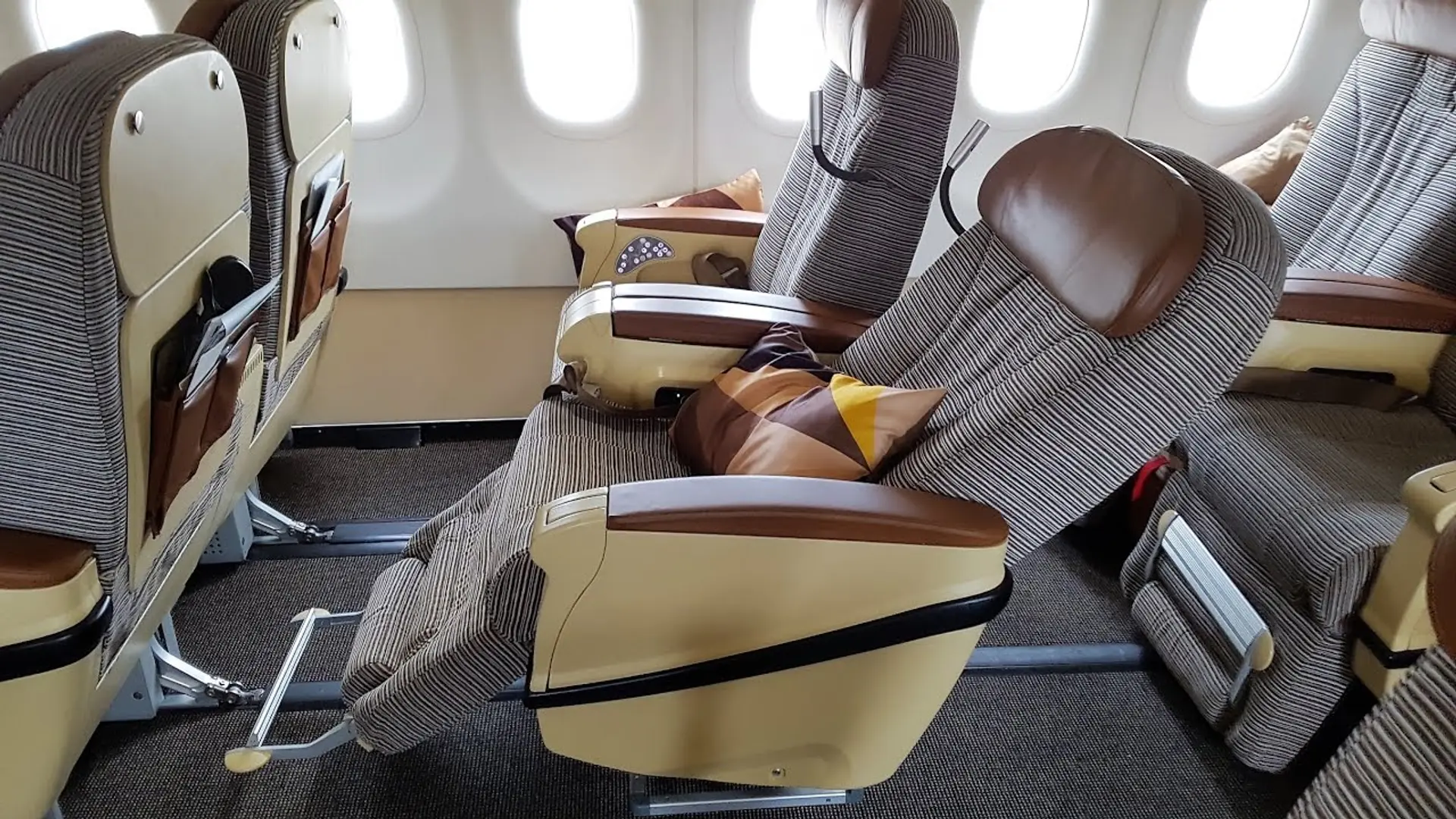 Sustainability
The airline is focused on recycling and efficient ground operations. In addition, the airline is working to reduce single-use plastics and plans to operate at a net zero carbon emissions level by 2050. It is also committed to the illegal trade of endangered wildlife and has conservation programs in place to monitor for potential problems.
More than 300 cabin crew participate in the airline's green ambassador program and wear green scarves on flights. Their role is to share information with passengers on how etihad is focused on more eco-friendly operations. They also share details with the airline on how to operate more efficiently by suggesting changes that can be put in place to support the environment. For example, the airline now uses a paper seal on blankets rather than wrapping them in single-use plastic.
Etihad has a partnership with boeing to trial new initiatives covering everything from noise reduction to sustainable bio fuel using its own planes as test flights. There is even an etihad dreamliner painted in a green livery and dubbed the "greenliner."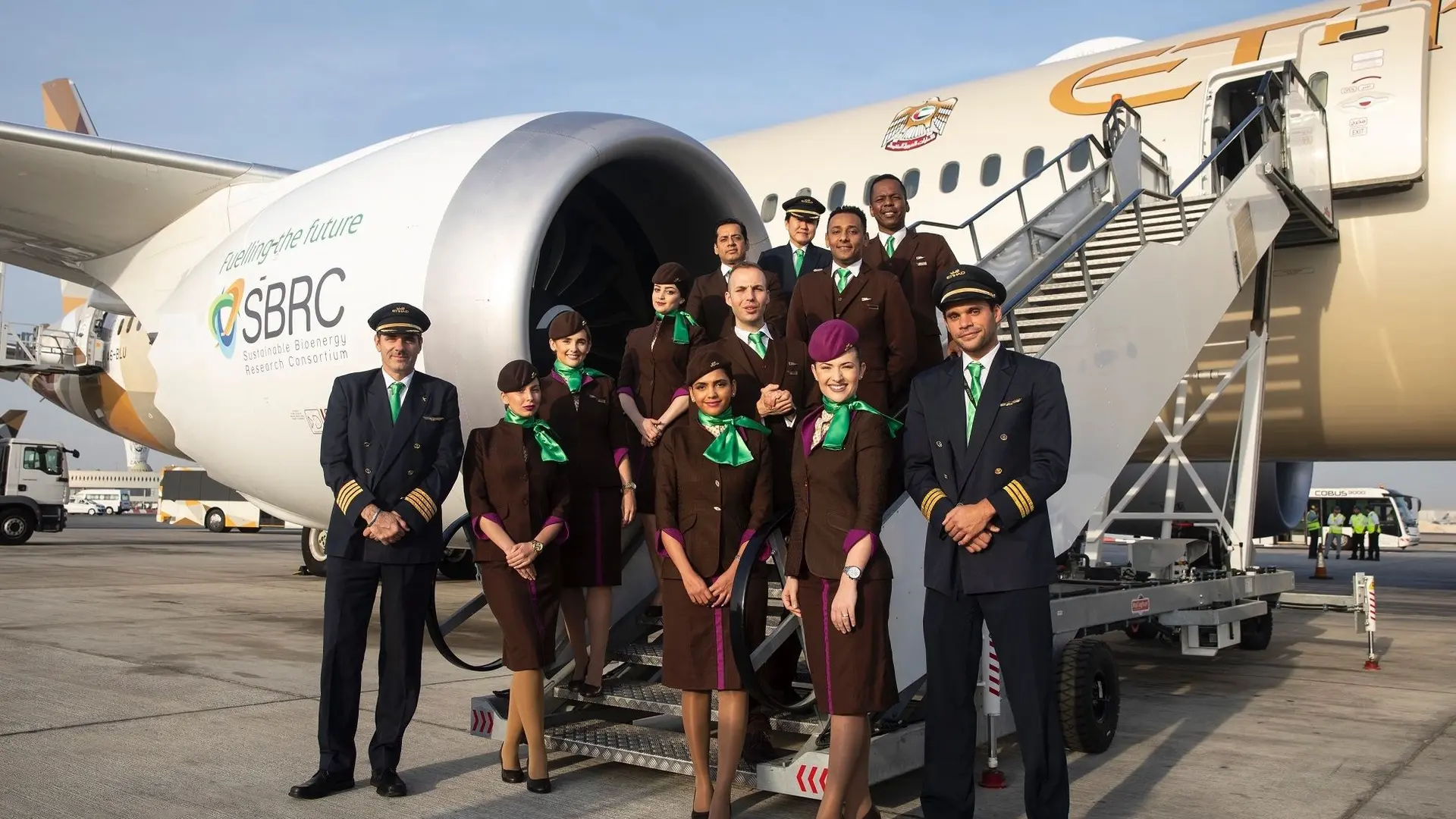 What We Love
The ability to customise your meal from a dine-on-demand menu that lets you eat on your body clock
The abu dhabi lounges with fully stocked bars, a buffet of middle eastern and asian cuisine and showers
Top-notch service from an international crew that pays attention to even the smallest details