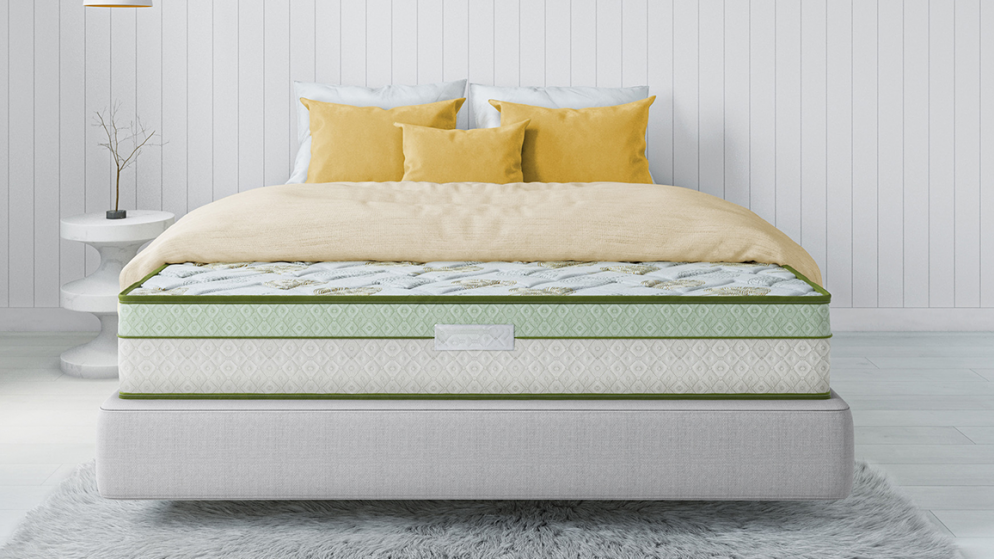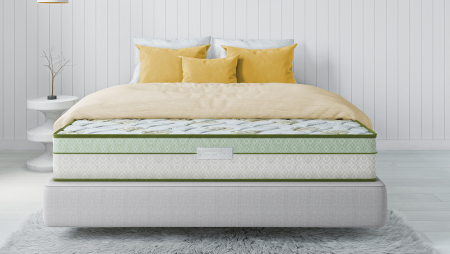 Heads up: Our content is reader-supported. This page includes affiliate links. If you click and purchase, I may receive a small commission at no extra cost to you.
**This post contains affiliate links. If you use these links to buy something we may earn a commission.** Thanks
Are you a Canadian shopper interested in snagging a mattressEndy mattress review that's as supportive as it is pressure-relieving? Then you've come to the right spot because this review is all about one of the most popular beds in Canada: the Endy mattress.
Though the endy has a solid reputation, im not one to let a mattress rest on hype alone, so i put it to the test to see how its built, how it feels, and how it sleeps to figure out if the endy mattress is everything youre looking for!
Keep reading below for my full endy review! Short on time? Hop on over to my review summary.
Is the endy a good mattress for you?
Lets hit the ground running with some of the basics about the endy mattress to help you decide if its a good choice for you. Depending on your body weight, height, and preferred sleeping position, the endy may or may not work for you. While i cant make that decision for you, take a look at some of my recommendations below to help you get there on your own.
Who I recommend the Endy mattress for
I think the endy could be a good choice for combo sleepers or anyone else who likes to toss and turn throughout the night.
The endy is a nice option for hot sleepers, since its breathable foam helps dissipate body heat.
Who I don't recommend the Endy mattress for
I dont think strict stomach sleepers will get the support they need on the endy. Stomach sleepers need a firmer mattress to help keep their hips from sinking out of alignment. If thats you, id recommend checking out one of our best mattresses for stomach sleepers.
I dont recommend the endy for heavy people. I think these sleepers need a mattress with a bit more support, especially on the edges, and should take a look at one of our best innerspring mattresses.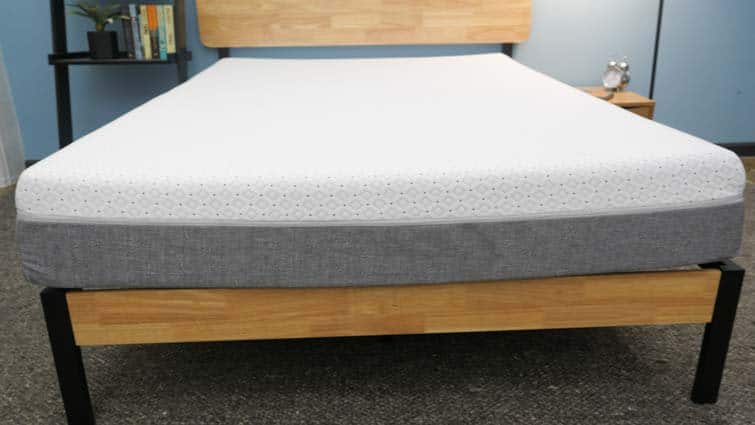 How Firm is the Endy Mattress?
One of the most important factors that goes into buying a new mattress is firmness level, which is the initial feeling you experience when you first lie on the mattress. Everyones going to experience firmness a little differently (depending on body shape, size, and weight), so i like to invite a few coworkers to test out the mattress alongside me. We each give it a whirl and share our personal firmness ratings, between 1 and 10: 10 being the most firm and 1 being the softest, which we then average together to land on the score below.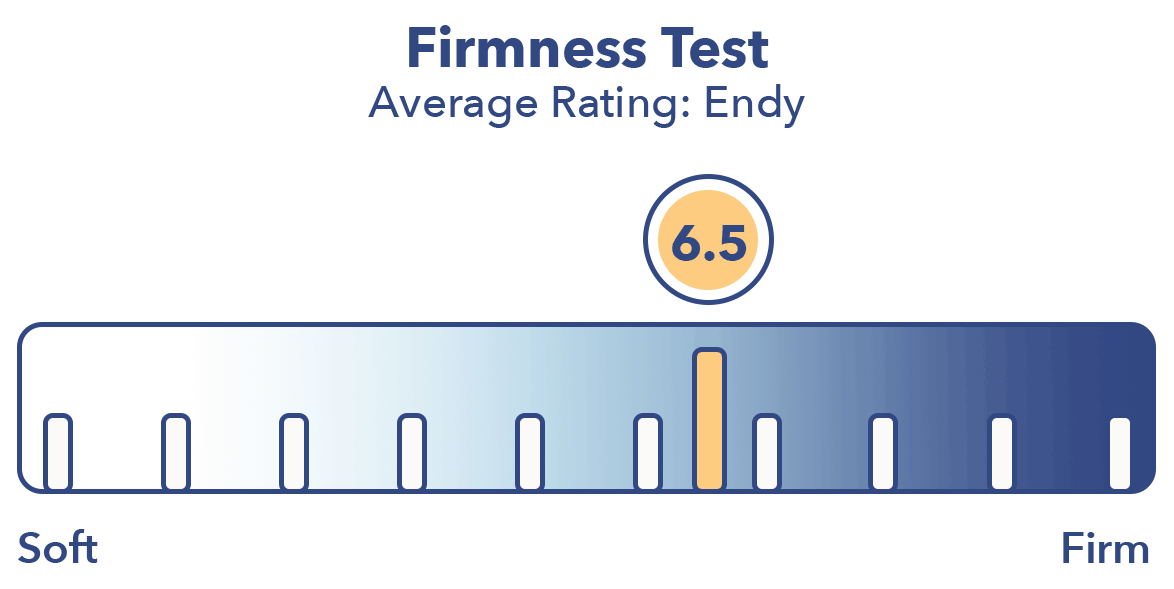 There wasnt much deviation in our ratings and we arrived at an average of 6.5 out of 10, which syncs up perfectly with the industry standard for medium firmness.
I gave the bed a 6.5, as i found its mix of memory foam and poly foam to create a nice, medium firm feel. While youre likely to experience some slight contouring as you sink into the top comfort layer, the transition section of poly foam helps to lift the sleeper up and out of the structure, making it super easy to change positions.
Endy Mattress Performance
Firmness is one of the most important characteristics to consider when searching for a new mattress, but there are definitely more things to look at. To really determine whether a bed is a good match for you, its also important to consider how it performed in different sleeping positions, how it relieved pain and pressure, and how it might feel for couples sharing the bed. So lets do just that!
Testing the Endy Mattress in Different Sleeping Positions
Different sleeping positions and weights require different amounts of support. Generally, light sleepers don't require the same amount of support as heavy sleepers. Read on below to see how the Endy mattress performs for sleepers of different weights.
Is the Endy a Good Mattress for Light Sleepers (Under 130 lb)?
Light back sleepers – light back sleepers tend to feel mattresses a bit firmer than advertised, so i think this bed would be a good option for these folks. These sleepers should feel their weight evenly distributed across the mattress, with a bit of pressure relief around their lower back.
Light side sleepers this mattress may feel too firm under these sleepers. Light side sleepers should steer towards a softer mattress, with a bit more give, in order to cradle their hips and shoulders.
Light stomach sleepers light stomach sleepers need more support than the endy offers and should lean towards a firmer option.
Is the Endy a Good Mattress for Average Weight Sleepers (130 – 250 lb)?
Average weight back sleepers – i think average weight back sleepers will really enjoy this mattress. Falling right at a medium-firm level, this mattress should support these sleepers at their lumbar region, which should help prevent morning back pain.
Average weight side sleepers – the endy lacks the cushioning average weight side sleepers need at common pressure points. These sleepers should look for a softer bed with more sinkage.
Average weight stomach sleepers i recommend stomach sleepers head in a different direction than the endy, since youll usually need a much firmer mattress to keep the spine in safe, straight alignment.
Is the Endy a Good Mattress for Heavy Sleepers (over 250 lb)?
Heavy back sleepers – heavy sleepers will not be supported enough by this mattress, especially on the edges. These sleepers should opt for a firmer bed, which they can find in our best mattresses for heavy people roundup.
Heavy side sleepers-  see above.
Heavy stomach sleepers – see above.
Endy Pain Relief Performance
When searching for a new mattress, you may ask: how is it going to relieve pressure at sensitive spots like my hips, shoulders, and lower back? To find out, i like to recline on a good ol fashioned pressure map that can get to the bottom of all things pressure relief.
While i move about the bed, the pressure map moves with me, creating a colorful graphic that shows how my bodys reacting to the mattress in real time. Depicted below, you can see blue to green for areas of low pressure and yellow to red for areas of high pressure.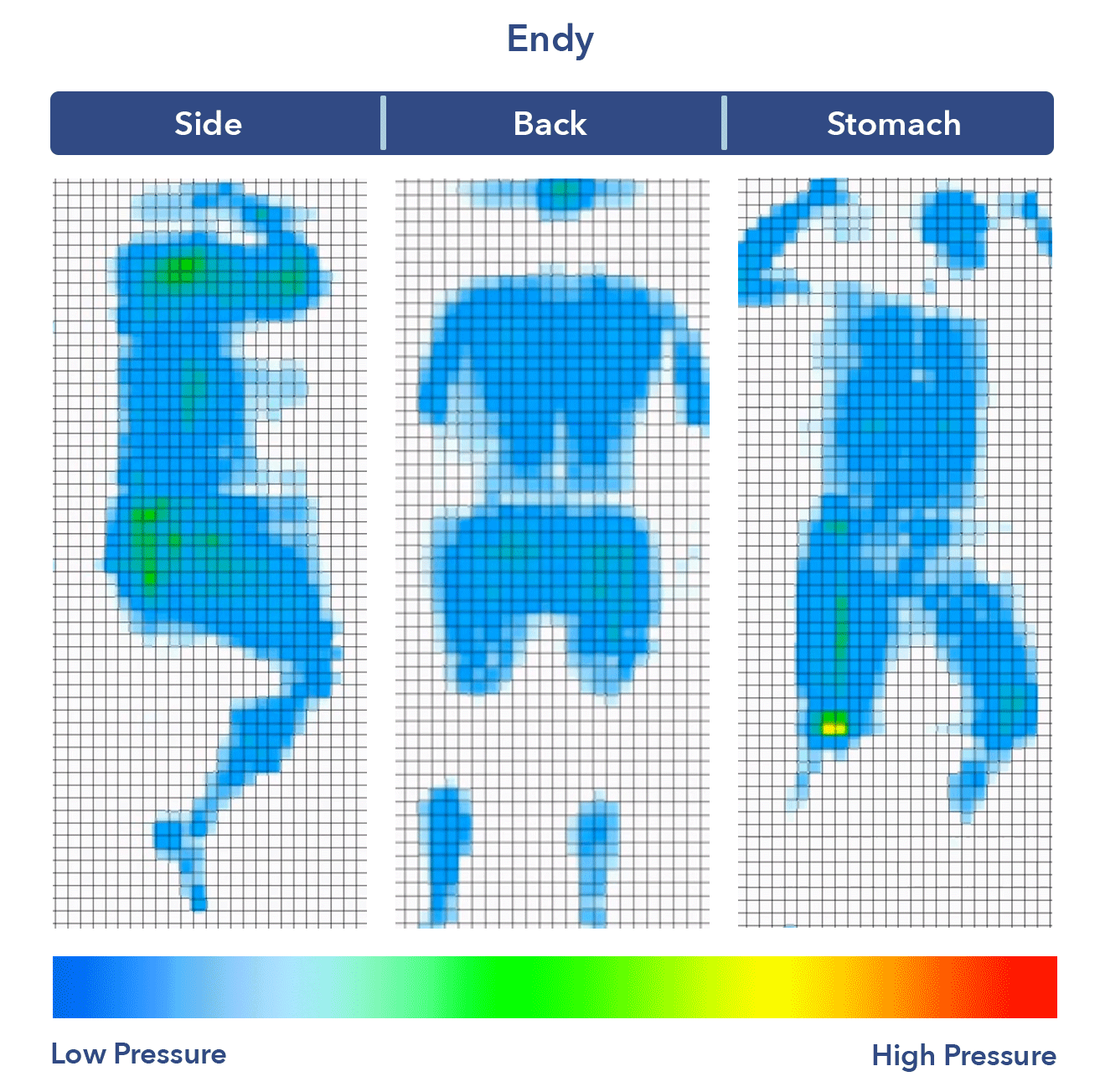 Back pain when i stretched out on my back, i felt pretty comfortable as i sank into the top layer of gentle foam. Though i could feel this material filling in the space at my lumbar region for some nice pressure relief, i didnt feel too stuck in the mattress. This means that when it came time to move around, i was able to do so with ease. I think this is a good option for back sleepers with lower back pain. On the other hand, this mattress is not a good option for stomach sleepers with back pain. These sleepers need a firmer bed to prevent their hips from sinking, which can worsen their back pain.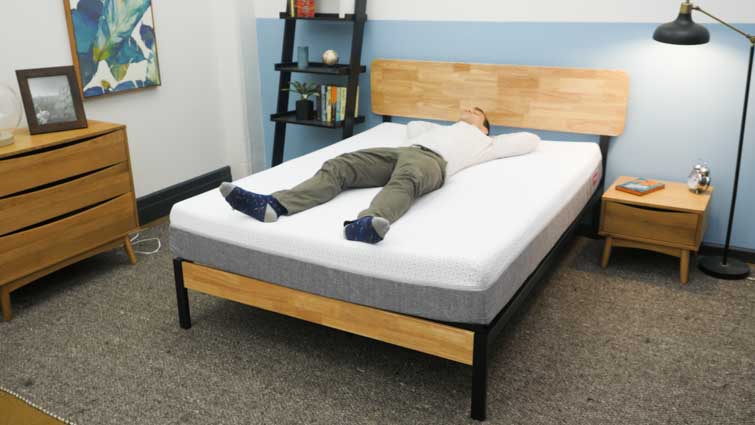 Shoulder pain – when rolling onto my side, i could feel some pressure at my shoulders and hips. As i touched on in the firmness section, the dense poly foam in the endy doesnt allow for very much body-contouring, which added pressure on the shoulders. This mattress isnt a good option for sleepers with shoulder pain.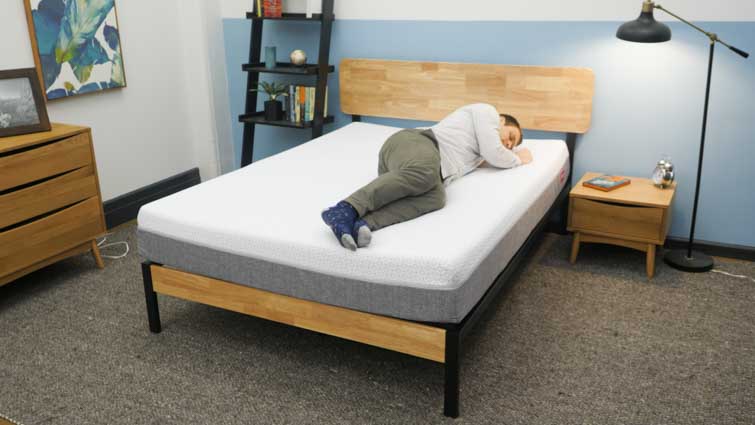 Hip Pain – While on my stomach, I felt as though the Endy was trying to keep my hips in alignment with my shoulders, but the mattress is probably a bit too soft for strict stomach sleepers. The mattress is medium-firm, and stomach sleepers with hip pain should really look for a firmer option. On the flip side, literally, back sleepers with hip pain should get a nice pressure relief. The mattress promotes an "on top" of the bed feeling that will keep a healthy alignment of the hips and spine.
Endy Performance for Couples
When sharing the bed with a partner, youll want to keep a few more things in mind while shopping for a new mattress. Features youll want to consider include motion transfer, performance during sex, cooling, and edge support.
Motion Transfer
If youre looking for the best mattress for couples (or even a furry best friend), youll want to pay close attention to motion transfer, or the amount of movement likely to be detected from one side of the bed to the other. If your partner tosses and turns, or your dog rolls around on his back, this section is for you!
To illustrate this motion transfer, i dropped a 10 lb steel ball from heights of 4 inches, 8 inches, and 12 inches and measured the disturbance it caused: the bigger the lines, the bigger the disturbance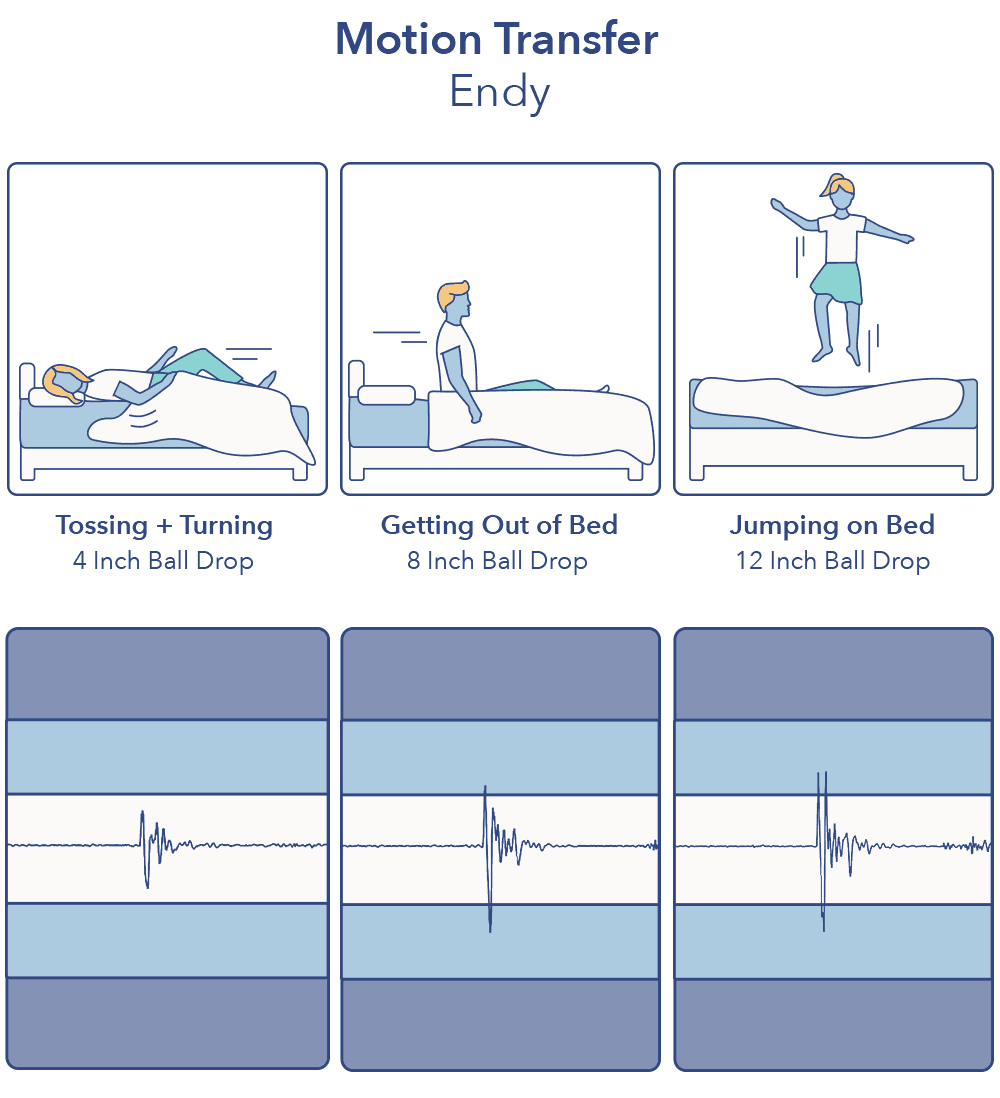 Sex
The endy has a bit of bounce and responsiveness, which makes it easy to switch positions a pro for the endy in the sex category. The downside is that this bed has poor edge support, which may make it difficult for couples to have enough room for activities in the bedroom. I would say that this mattress is not bad for sex, but also not ideal something to consider if youre on the hunt for a good mattress for sex.
Cooling
Memory foam tends to trap body heat, but the endy has a few special features that help you maintain a lower body temperature. The breathable cover, in combination with the comfort layers open-cell memory foam, work together to prevent overheating. That being said, if you are a particularly hot sleeper, these capabilities may not be strong enough to override your body heat though they put good effort in!
Edge Support
Edge support refers to how well a mattress holds up on the sides as compared to the center. If a mattress has good edge support, you should feel just as supported on the edges as you do in the middle. If it has poor edge support, you might feel like youll roll off if you turn one too many times.
One of the major cons of this mattress is that it has pretty poor edge support. When i sat on the edge of the bed, to illustrate tying a shoe, i felt quite a sag in the mattress. This is something couples, as well as heavy folks, should take into consideration about the endy mattress.
What is the Endy Mattress Made of?
The endy mattress measures up to 10 inches in height and features three layers of memory foam, poly foam, and high-density poly foam. Its a straightforward construction, one intended to create a medium firm feel for a mix of both pressure relief and support.
But does the design pull this off? Lets dive in to find out!
Cover the cover is made of a knit polyester fabric, so its soft and breathable. Another fun feature? Its totally removable, and can be washed with the rest of your bedding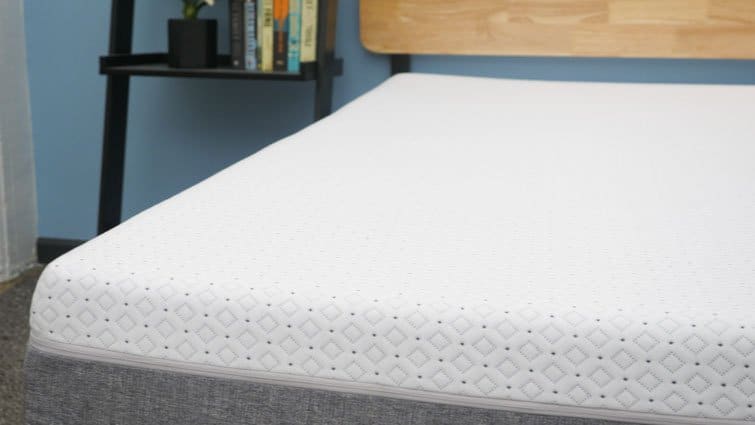 Comfort layer- the comfort layer is comprised of the brands proprietary endy foam, an open-cell memory foam designed for cooling and pressure relief. Kicking off the construction with this material allows for some immediate, cozy comfort as the sleeper sinks into the section. Its worth noting that the open-cell nature of the layer helps to mitigate some of the overheating tendencies seen in even the best memory foam mattresses.
Transition layer- next up, youll find a layer of poly foam. This material is firmer than the one above it, allowing the sleeper to gradually transition from the gentle comfort layer into the foundation. It also helps to curb some of the sinkage of the top section, preventing a stuck-in-the-bed feeling.
Base- rounding out the construction is a base layer of high-density poly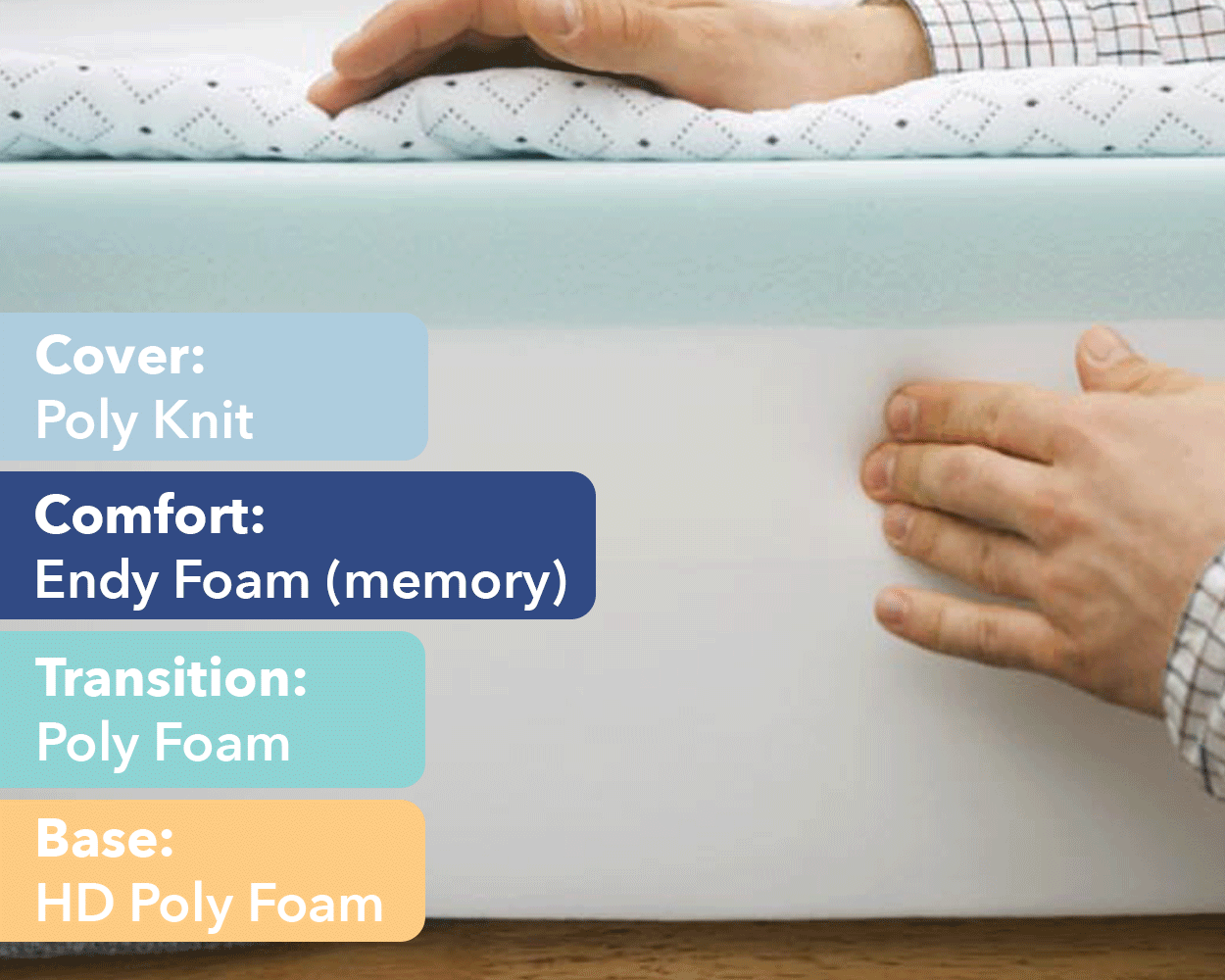 Endy Unboxing and Off-Gassing
The endy is a bed-in-a-box mattress, which means it will arrive compressed and will have to be unboxed at home. As with all bed-in-a-box mattresses, youll need to wait at least 24 hours for this bed to fully decompress.
As with many new mattresses, the endy will likely emit a smell when it is first unboxed this is known as off-gassing. If you do detect an odor, i suggest unzipping the mattress cover and leaving it in a well-ventilated room for a few days while the smell completely dissipates.
My favorite things about the Endy mattress
I mentioned earlier that combination sleepers should like endy. Its got the right touch of firmness and pressure relief for those switching up positions during the night. The comfort layer of endy foam helps you sleep cool, which is great for sleepers looking to avoid overheating. The endy has some decent bounce, which could make it easier for sleepers to change positions without getting stuck in the bed.
My Endy mattress complaints
If you share your bed with a partner, you may have to sleep toward the center because this mattress lacks edge support, and falling out of bed shouldnt be part of your sleep regimen. The endy lacks the pressure relief strict side sleepers need at the shoulders and hips. These folks need to be able to sink deep into bed, so it might not be the best fit for them. While the endy provides ample comfort across different sleeping positions, i wouldnt necessarily say its great for strict-position sleepers. What i mean is that those who doze primarily in one position (be it side, stomach, or back) may feel as though the firm support of the mattress causes their bodies to dig into the structure slightly.
How Much Does the Endy Cost?
Of course, before you purchase a new mattress youll want to look at how much it costs. Take a look at our up-to-date pricing chart below, and make sure to visit our endy coupon page for a nice discount.
Prices listed below will be before discount or offer for each size.