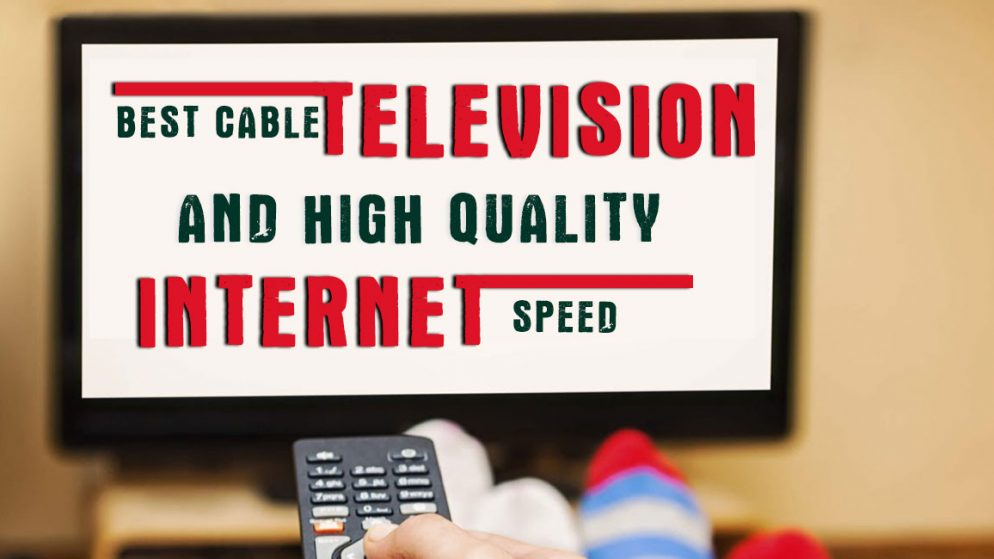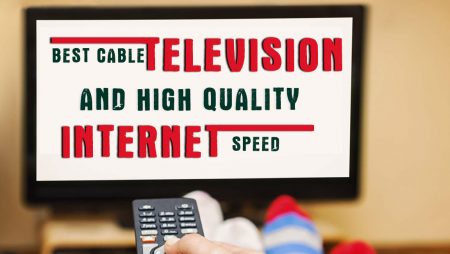 Our content is reader-supported. If you click on our links, we may earn a commission.
What Is Cox?
Cox Communications is a broadband communications and entertainment company that provides, among other things, high-speed internet service. Cox customers can also subscribe to digital video, home phone, home security, and home automation services. Cox is currently the largest private telecom company in the U.S., serving more than six million residences and businesses in 19 states.
Although its main offering is cable internet, Cox also offers fiber optic internet to customers in select areas. Currently, the internet provider has 30,000 miles of what it calls "Metro Fiber" in place.
Cox Communications was founded more than 50 years ago and is still a family-owned company. It's a subsidiary of Cox Enterprises.
Popular Internet Service Providers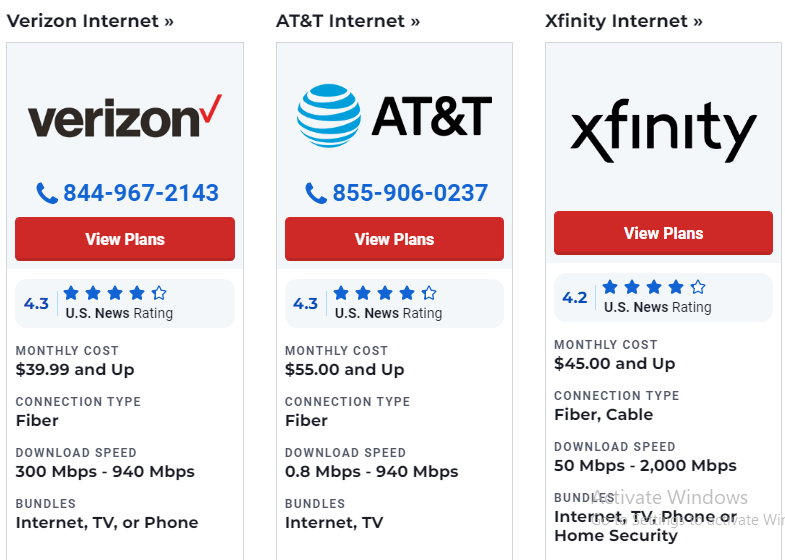 Cox Internet Review
Ranked #4 in Best Internet Service Providers of 2022
Ranked #4 in Best Fiber Internet Providers of 2022
Ranked #2 in Best Prepaid Internet Service Providers of 2022
Ranked #2 in Best Cable Internet Providers of 2022
Ranked #5 in Best Internet Providers for Gaming of 2022
Cox Internet is best for:
On-the-go internet users who can take advantage of hotspots
People who prefer to pre-pay for their internet plans
Cox Internet is not recommended for:
People who prefer to avoid contracts
Users who don't want data caps
Cox Internet places No. 4 in our ratings of the Best Internet Service Providers of 2022. With multiple data plans and a variety of speeds available, this mid-range provider offers cable and fiber options and a variety of price points. This provider did well in multiple categories of this year's ratings, coming in at No. 4 for Best Fiber Internet Providers and No. 2 for Best Prepaid Internet Service Providers, among other subratings.
Unlike some competitive providers, Cox Internet has a data cap, and you'll be charged $10 per 50 GB you go over that limit up to $100 though, for the average user, that shouldn't be a regular concern, especially if you choose one of the more robust options. On that note, if you have a household with multiple internet users, the lower-cost plans may not provide bandwidth for simultaneous video calls, gaming, and streaming all at the same time, so be sure to understand your internet needs to make sure you get a plan that will cover everyone in your home. You can also register your password and user information to receive notifications about your usage prior to surpassing the cap, and monitor it from your computer, phone app, or dedicated widget.
Cox Internet services include access to over 3 million hotspots around the country, but if you live in a rural area, you may need to find a different provider. Cox does not offer satellite services and has limited reach in many rural communities. The provider uses existing cable lines, which allows it to provide higher internet speeds and better bandwidth than it might with digital subscriber line (DSL) but which can also limit its availability in some areas.
Low- or fixed-income customers may qualify for one of several options for government assistance programs. For $30 per month, Cox Connect Assist includes a free Wi-Fi modem, Easy Connect, 50 Mbps of speed, and connections for up to five devices at a time.
Gamers may find Cox Internet's standard offerings a little lacking, but its Elite Gamer program claims to reduce lag by as much as 32%. If you're using your own modem, this service costs $7 per month but is included free if you are using Cox's Panoramic modem. We ranked Cox Internet No. 5 in our ratings of the Best Internet Providers for Gaming of 2022.
Cox has introduced Easy Connect home installation kits, available for free, which allow you to set your connection up in around 30 minutes. There may be a cost for professional installation.
Overall, this is a decent internet service provider with plenty of options for pricing and speed. Read on to learn more details about what Cox Internet has to offer.
Is Cox Internet Available in My Area?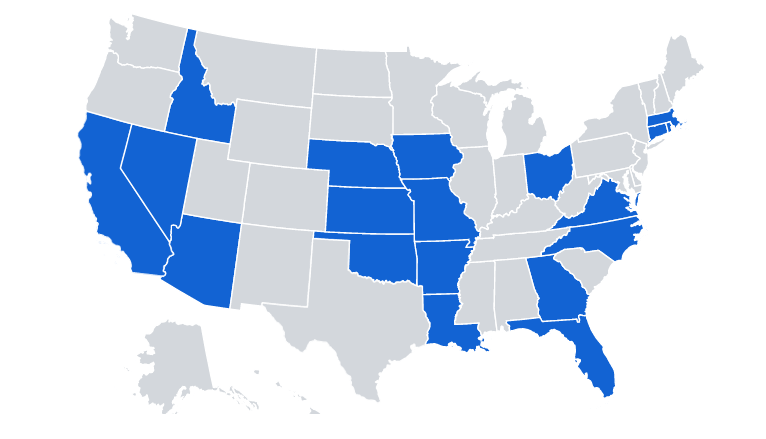 Cox operates in 19 states: Arizona, Arkansas, California, Connecticut, Florida, Georgia, Idaho, Iowa, Kansas, Louisiana, Massachusetts, Missouri, Nebraska, Nevada, North Carolina, Ohio, Oklahoma, Rhode Island, and Virginia. Cable internet is more widely available than fiber. Prospective customers can see which internet option (if any) is available by checking the Cox website or by calling customer service.
Similar Internet Service Providers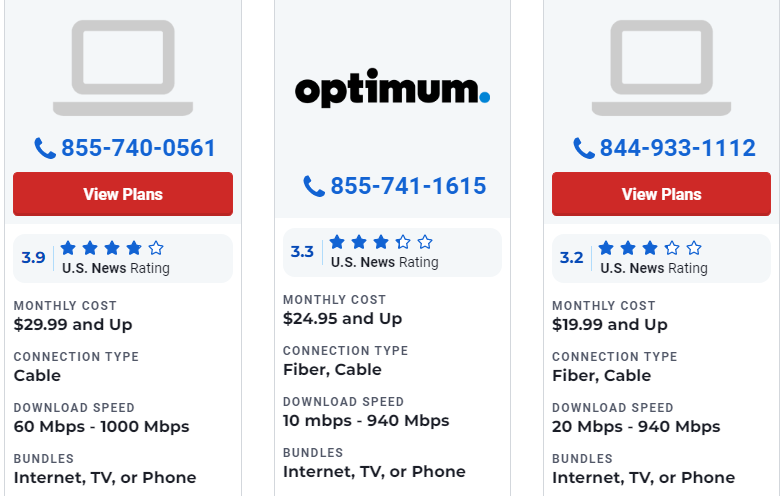 Cox Internet Plans and Prices

Cox has five standard internet plans and one prepaid plan. Its standard plans start at $29.99 a month for 25 Mbps and go up to over $99.99 a month for 940 Mbps. These prices include a $10 a month discount if you sign up for a one-year agreement. After the first year, the prices increase to $44.99 a month for 25 Mbps and $119.99 a month for the 940 Mbps plan.
The prepaid plan "StraightUp Prepaid" is $50 a month for up to 25 Mbps download speeds and includes a modem. This makes it a good option for anyone who is looking for a no-strings, no-frills service. With this plan, there is no contract, credit check, or deposit, and there are no extra fees.
Plan 1: StraightUp Prepaid
Best for:
People who want to avoid a contract, as this plan is prepaid month to month.
Users who have straightforward connectivity needs and want the simplest plan available from this provider.
The StraightUp Prepaid plan costs $50 per month. There is no credit check, deposit, or term agreement. The Wi-Fi modem is free, but you must install it yourself. You can connect up to five devices, with download speeds up to 50 Mbps, upload speeds up to 3 Mbps, and a data cap of 1 terabyte (TB).
Plan 2: Starter 25
Best for:
Users who are on a tight budget.
People who have simple internet needs and don't plan on many high-usage activities.
This plan is a good choice for budget-conscious consumers. You can connect up to three devices for $29.99 per month during the first year. It is fiber- and cable-friendly and includes 1.25 TB of data If you need only light usage, this plan's download speeds of 25 Mbps and upload speeds of up to 3 Mbps are good for simple browsing, emailing, and normal social media use.
Plan 3: Preferred 150
Best for:
People who work or learn from home and need coverage for video calls.
Customers who want to do light online gaming.
Cox Internet's most popular plan starts at $59.99 per month during the first year. You can connect up to seven devices at a time. This plan includes a McAfee Security suite and features download speeds up to 150 Mbps, upload speeds up to 10 Mbps, and a 1.25 TB data cap.
Plan 4: Ultimate 500
Best for:
Gamers who want enough speed for multiplayer online gaming.
Users who frequently stream videos, download large files, or work or learn from home.
This popular plan is a little pricer than the Preferred 150, but it also features faster speeds, with download speeds up to 500 Mbps and upload speeds up to 10 Mbps, with a 1.25 TB data cap. This plan supports up to nine devices, and comes with an included McAfee Security suite for $79.99 per month for the first year.
Plan 5: Gigablast
Best for:
High-usage customers who want to stream and game without interruption.
Households with multiple users online at the same time.
At $99.99 per month ($119.99 after the first year) this plan sits at the top of Cox Internet's price range, but it also boasts the service's most robust speed offerings, with downloads up to 1 Gbps and uploads up to 35 Mbps. Like a few other Cox Internet plans, this one comes with the McAfee Security suite and a data cap of 1.25 TB.
The Gigablast plan can support nine or more devices and is a good choice if the members of your household do a lot of high-usage activities, such as downloading movies, gaming online, or working from home.
Cox Internet Speed
Fastest Cox Internet Plan: Gigablast
The fastest internet plan from Cox is Gigablast. It offers customers 940 Mbps download speed and 35 Mbps upload. Gigabit internet is ideal for heavy tech-using households, full of smart home devices, and multiple people who love to stream Ultra HD content.
Cox Internet Bundles and Extras
A great option to secure some savings is to choose from the bundles available, which combine internet, streaming, and extra perks like Panoramic Hi-fi. Additional packages offer up to 140+ TV channels, with speed upgrades available at multiple price points. You may rent a Panoramic Wi-Fi modem/router device for $12 a month or use a Cox-approved one of your own.
Unlimited tech support, called Cox Complete Care, is available for an additional $20 per month, and you can add unlimited data with unlimited tech support for $50 per month.
Prices are the same rather you purchase online, in-store, or by phone. Most internet, TV, and voice equipment will be delivered the next day, and the 30-day money-back guarantee also allows you to change your plan if you decide your needs have changed.
Cox vs. the Competition

Cox Internet vs. Astound Broadband
Although the monthly fees between Cox ($29.99 and up) and Astound Broadband ($25.99 and up) appear comparable, there may be a difference in their installation fees depending on where you live. Also, the termination fee can be up to $120 for Cox, while Astound has no fee to end services.
Cox has a 1 TB data cap, while Astound has no cap. Both offer similar internet, TV, and phone bundles, though Cox also has home security offerings. Both use fiber and cable connections. If you select the fastest available plans, be prepared to pay at least $99.99 for Cox Internet, while Astound offers comparable top speeds starting at $54.99. Both providers have 12-month plans with 30-day trial periods.
In both cases, whether you can choose Cox Internet or Astound may depend on where you live, since both have limited availability in certain regions.
Cox Internet vs. Optimum
Optimum is only available in three states but offers many similar options to Cox Internet, and both connect via fiber or cable. Both have similar bundles, though Cox has additional home security bundle options. If you are concerned with your data cap, Cox Internet's data caps at 1.25TB, while Optimum does not have a cap at all. Optimum's fastest plan starts at about half the price of Cox's fastest plan.
If you prefer month-to-month contracts, you may choose Optimum, as Cox only offers a 12-month plan. Equipment rental at Optimum is $10 per month and up, while Cox offers $0 and up. If you plan to terminate your plan, Optimum has no termination fee, while you may be charged $120 for canceling your Cox Internet service.
Cox FAQ
How can I get Cox Internet service?
See if you're in the service area: If you're in one of the 19 states where Cox is available, check to see if you can get service at your specific address by going on the Cox website or calling customer service.
Decide what internet speed you need: Review each plan and how many devices they support to figure out which one is right for you.
Choose a package (if bundling): If you want to change TV and/or phone providers, you may be able to score a great deal by bundling your Cox internet with another service.
Schedule installation (if needed): Cox customer service will work with you to figure out if you need a professional technician to get you set up, or if you can self-install. If the latter, your equipment will be sent to you or you can pick up the equipment at a Cox retail store.
What do I need for Cox Internet service?
Minimum system requirements: When connecting to a computer, depending on the plan you choose, you will need to have certain operating systems, browsers, and hardware to maximize your speed.
Equipment: Cox offers the Panoramic Wi-Fi Gateway, an all-in-one modem, and router, for rent. You can also purchase and use your own equipment, though you should first make sure the modem and router are approved to work with this company.
Should I buy or rent equipment for Cox Internet service?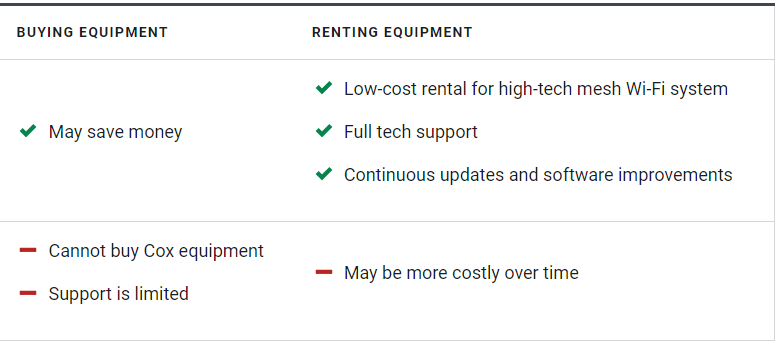 Renting equipment is probably the best option for Cox internet customers. The Panoramic Gateway, a combination modem/router, is $12 per month. Going with their hardware makes it easy to set Wi-Fi rules, pause devices, and track who's using your Wi-Fi on the Panoramic Wi-Fi app. You don't have the option to buy this device. You can, however, use your own compatible modem, which could potentially save you money in the long run. However, Cox doesn't offer support for these devices.
How do I cancel Cox Internet service?
Typical Cox Contract Length: One year
Call: Let customer service know that you wish to cancel and they'll walk you through the process.
Visit a local Cox store: If you prefer to cancel in person, you can go to a retail location.
Return equipment: You can drop off or ship back Cox equipment, such as cable boxes, modems, remote controls, and cabling at designated Cox service locations.
Pay any fees: You will be charged up to $120 if you cancel before your contract is up. If you're going to a new internet provider, ask them if they offer a contract buyout program as they may be willing to pay you back for any early termination or other fees.
Why is Cox Internet slow?
Internet slowdowns happen on occasion, so that's to be expected. But unusual or constant slowdowns can indicate a bigger problem.
The first thing to do is to make sure your router is centrally located and away from interference from metal objects, mirrors, microwaves, and cordless phones. Next, consider if the slow internet is only happening in one area of the home. If so, you might choose to purchase Panoramic Wi-FiPods to create a "mesh Wi-Fi network," which extends the signal to dead spots.
If none of that helps, you may need to speak to a customer service agent who can help you run a speed test. You may also determine that you might need a faster plan to accommodate more devices and usage.
Find a fast internet plan and learn how to pick the right internet speed in our guide on The Fastest Internet Plans.