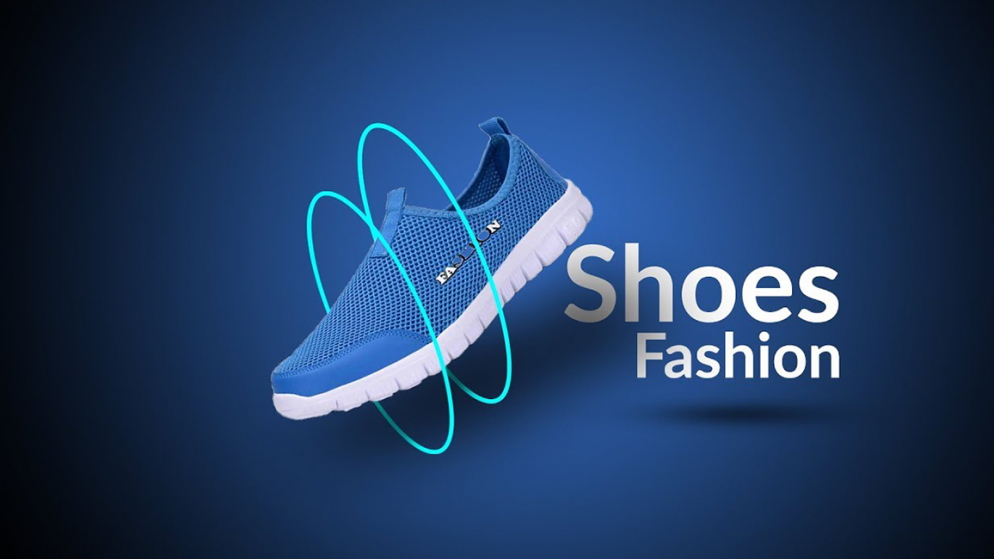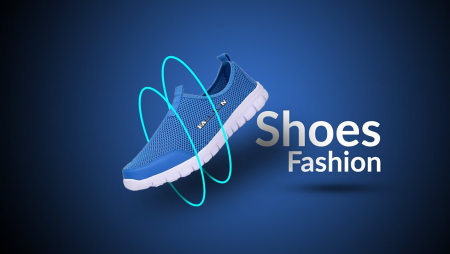 Our content is reader-supported. If you click on our links, we may earn a commission.
About Cole Haan
Cole haan is a footwear and accessories brand that markets to men and women. The company is most known for its comfortable dress and casual shoes. But they also offer accessories, including belts, bags, sunglasses, and more.
The brand is known globally and can be seen in its own retail locations and department stores like nordstrom. Its modern products also garner some attention on social media as the company boasts a 363k following on instagram.
Are you eyeing the brand for some new kicks? This cole haan review might be able to help you out as we look at the company's best-sellers, feedback, policies, and more so you can decide if they're worth the buy.
Overview of Cole Haan
Cole haan was founded in 1928 by trafton cole and eddie haan. The store originally started as a men's footwear label but has since expanded to offer men's and women's footwear, accessories, and even luggage. They moved their hq to maine from chicago, where they established themselves as a high-quality brand.
In 1975, the founders sold the company to george denney's partners. Over ten years, cole haan became a leading american footwear brand and began offering products in retail stores. Then, in 1988, the brand partnered with nike to combine the quality of their classic shoe with athletic shoe tech. This evolution is still a part of their signature styles today.
After many years in collaboration, nike announced that the two were parting ways in 2012, and cole haan was bought by apax partners worldwide. Their hq has moved to greenland, new hampshire, with its design center in new york city.
Now that you know more about the brand, this cole haan review will go over some highlights:
Highlights
Extensive collection of footwear and accessories
Options for both men and women
A long-standing brand with a reputation for high-quality goods
They publish a blog on their main website with travel guides, features, and more
Generally positive reception online
International shipping is available
Free returns and free shipping with an order minimum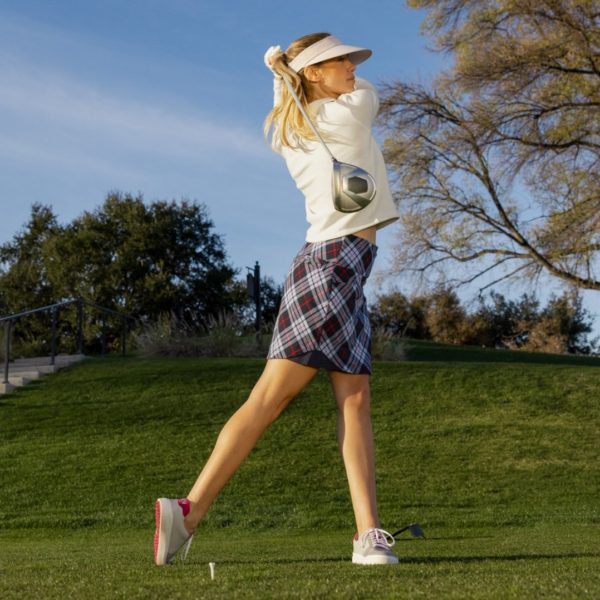 New shoes can make anyone smile, and grabbing a pair of cole haan shoes will definitely put some pep in your step. So, keep reading this cole haan review to learn about their famous men's and women's boots, sneakers, loafers, and more. Then, maybe you can get your hands on a pair.
Cole Haan Women's Review
First up are the most wanted women's shoes. These kicks are stylish, classic, and comfortable. What more could you want?
Cole Haan Tahoe Featherfeel Chelsea Boot Review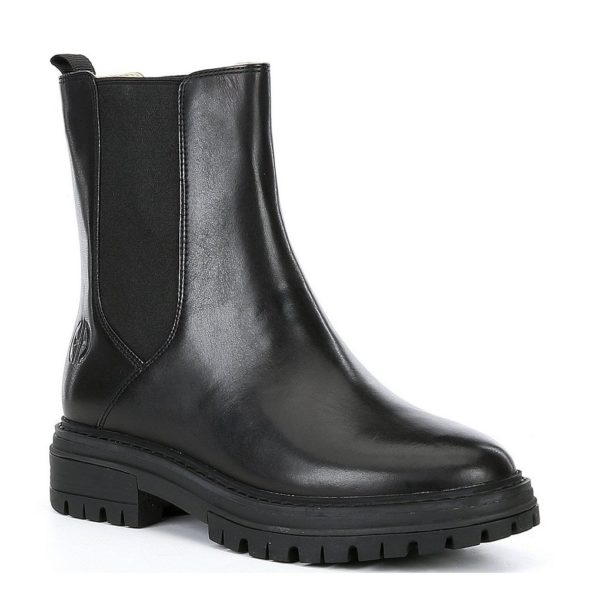 The tahoe featherfeel chelsea boot elevates the classic chelsea style. The shaft hits slightly higher than a classic ankle boot with leather uppers. It's also fully lined, which comes in handy during colder months.
Walking around in these cole haan boots will be a breeze. The athletic-inspired foam midsole provides support while remaining lightweight. The company also prides itself in designing responsive cushioning and steady traction so you can strut the streets in confidence.
Besides the technical side, these shoes are super versatile and chic. Going for the monochrome black colorway will offer many different options because, as you know, black goes with everything.
Cole Haan GrandPrø Topspin Sneaker Review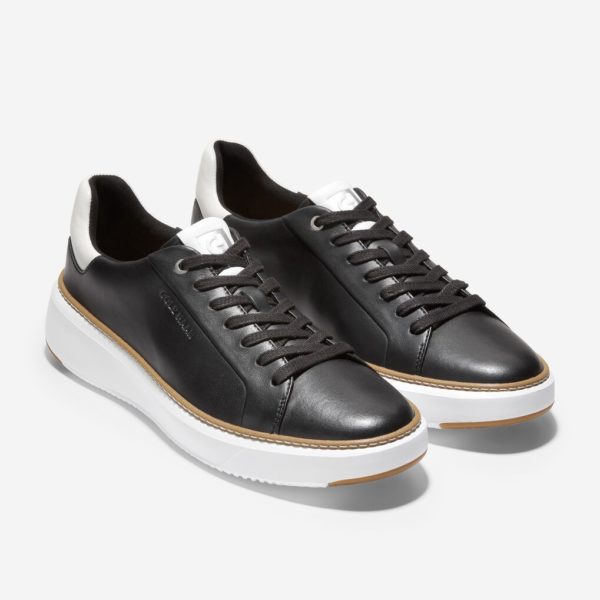 You can't go wrong with a classic sneaker when you're off-duty. The grandprø topspin sneaker is perfect for your weekend plans. It features lightweight and flexible leather uppers and a faux-shearling tongue for a touch of style.
Now, the faux fur tongue might deter you from purchasing the shoe, but cole haan ensures breathability with small ventilating details and temperature regulating materials. So basically, you'll stay and look cool sans any foot odors.
You'll also be pretty comfortable with the shoe's grandføam footbed, meant to literally add a bit of rebound (or pep, if you will) to your step. And with seven different colorways, the grandprø topspin sneaker will cost $187 to add to your cart.
Cole Haan Finley Grand Sandal Review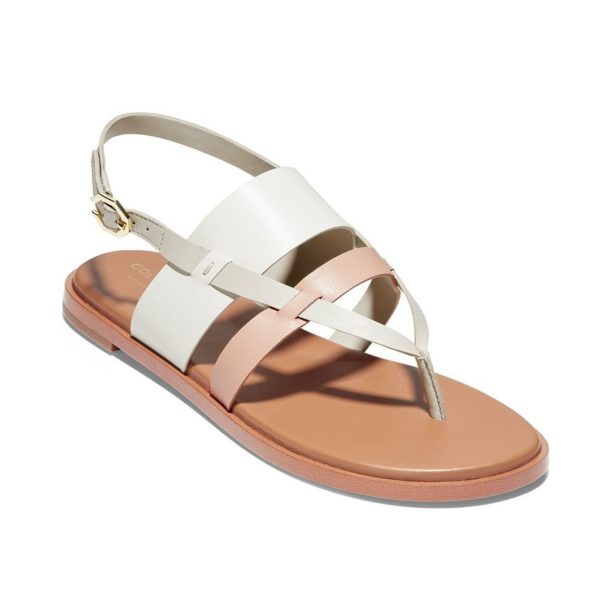 This cole haan review's last women's shoe is the finely grand sandal. This strappy shoe is the ultimate summer sandal, featuring a toe-thong design with thick straps for comfortability and security.
The finely grand sandal is made using leather and synthetic materials. It also features a padded footbed for extra comfort. So, taking a light summer walk in these sandals won't feel too restrictive or uncomfortable. In addition, the synthetic and rubber outsole will give you traction and some flexibility while you're strutting about town.
If you're stumped on how to style these, they'll pair well with your favorite summer attire. Specifically, we think they'd look adorable with floral rompers or some denim shorts. Regardless, they're definitely suited to sunny weather.
Cole Haan Men's Review
Of course, this cole haan review has to discuss the popular men's shoes. From weather-ready boots to a sporty loafer, you'll probably be able to find shoes for any condition or occasion. So, let's get into it!
Cole Haan Zerøgrand City Trekker Boot Review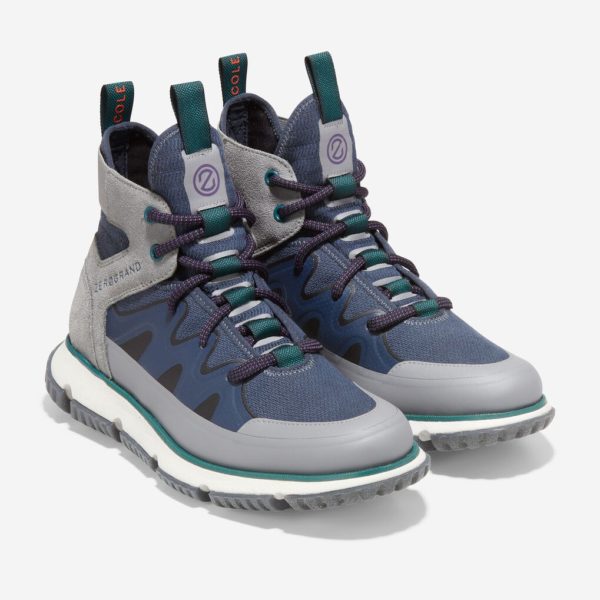 There's nothing you won't be able to handle in the zerøgrand city trekker boot. The water-resistant shoe might look like a traditional high-top sneaker, but it packs a punch. The hiker boot can accompany you on any trek, and they'll still be as comfy as your old worn-in kicks.
This boot also has some responsive cushioning, providing a luxe, soft pad with each step. It can quickly become one of your go-to boots on rainy, spring days, and its water-resistant materials will help you avoid the soggy sock dilemma.
Since the design isn't too bulky, you can easily get away with wearing these boots with some jeans or khakis without drawing too much attention. The zerøgrand city trekker boot comes in three different colors and sells for about $120 at nordstrom rack (from the original $200).
Cole Haan GrandPrø Topspin Sneaker Review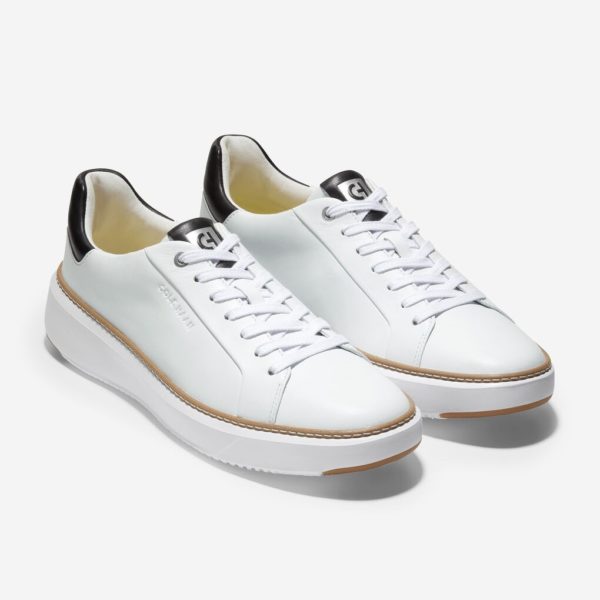 We have to mention the men's iteration of the grandprø topspin sneaker. They have a similar silhouette with a few minor differences. The men's sneaker is made from a lightweight suede, adding some eye-catching texture. It also includes a plush heel, providing some additional comfort.
Of course, the grandprø topspin sneaker has breathable materials and the grandføam sole that absorbs shock with every step. Besides that, the navy blue colorway is easy to style and would go handsomely with some black pants and a white cotton tee to match. As a bonus, the men's shoe also features a sock liner to help you get the right fit.
Cole Haan Cole Haan GrandPrø Rally Canvas Penny Loafer Review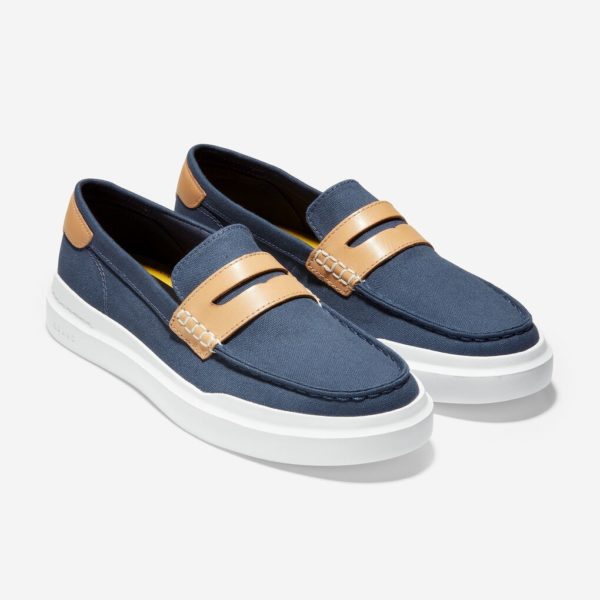 Last but not least in this cole haan review is the cole haan grandprø rally canvas penny loafer. The two companies elevate a classic style, taking cole haan's dress shoe style and combining xhibition's boundary-pushing tech.
The shoe is made from premium canvas and handcrafted to include all the small details. In addition, this cole haan loafer has responsive cushioning and lightweight construction like the previous items. So, you can walk around the office comfortably in these kicks and then head out for some after-hours fun without wanting to throw them off.
The sporty and handsome cole haan x xhibition grandprø rally penny loafer will cost $150 to add to your bag.
Who Is Cole Haan For?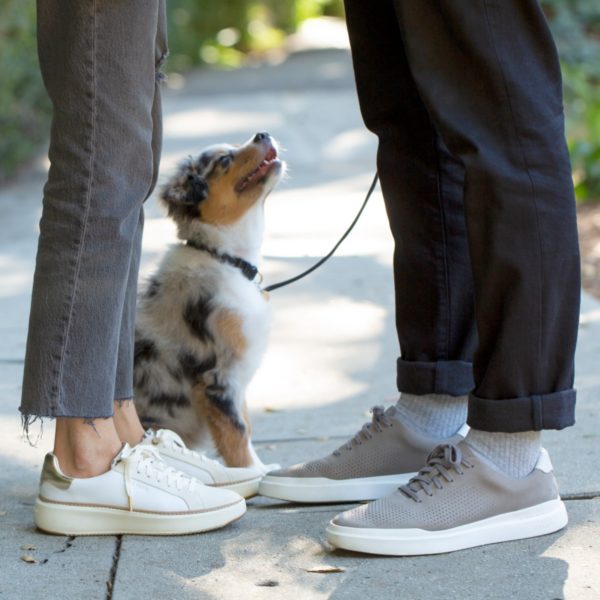 Cole haan is for men and women looking to add some classic shoes to their arsenal. We'd say their target demographic is young adults as the company's designs do have some trendy details but are mainly suited to be go-to staples. In addition, there isn't anything too bold or flashy, so their shoes can be a part of anyone's wardrobe for years.
Cole Haan Reviews: What Do Customers Think? 
We can't finish this cole haan review without looking at some customer feedback. Of course, the company publishes ratings on its website. Still, we also wanted to provide you with external testimonials to give you the whole picture. During our search, we found some on influenster and better business bureau.
The women's grandprø topspin sneaker also gets some love. One customer writes, "so comfortable yet incredibly stylish. I wear them with jeans for a put together casual look and they also look fabulous dressed up with black ankle skimming pants. So versatile and i love the incredible cushion like feel when walking in these sneakers. Highly recommend!"
Another customer writes, "comfortable, stylish, raise-your-game sneaks. Dress them up to impress at work and for fancy fun nights out. This color is the best of the season. It's everywhere."
A fashionista expert writes, "great shoes with great quality. I have sandals and sneakers from the brand, i'm happy. The leather is very soft, the shoes are very light. I advise you to try it whenever possible."
Another reviewer writes, "i bought a pair of men's dress shoes for daily use at work and i absolutely love them. I've been wearing them for about 2 years now and the cole haan quality does live up to its name. They are also comfortable enough where i'm not sore about 8+ hours of wearing them."
Customers mainly have gripes with customer service, receiving damaged items, and shipping problems. But, a cole haan representative promptly responds to these inquiries to try and rectify the situation.
Is Cole Haan Worth It?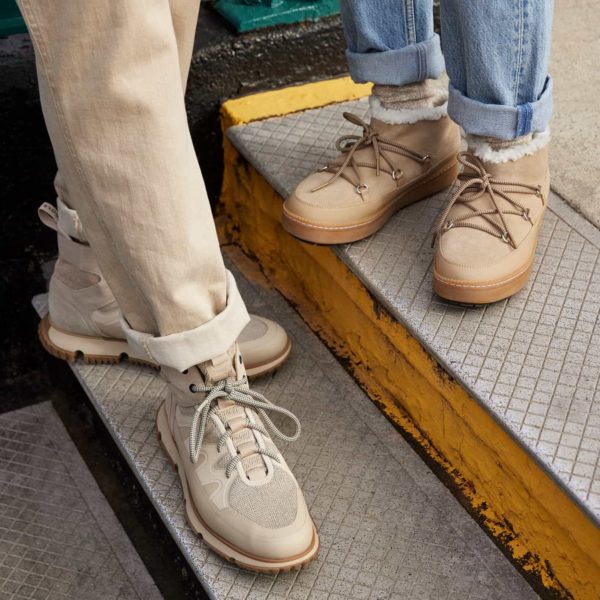 Classic, high-quality shoes are essential items. Obviously, they protect your feet, but they should also be comfortable, durable, and stylish. Cole haan's footwear offers these qualities while also remaining pretty affordable.
That said, based on this cole haan review, we think the brand is worth checking out. They have some modern and useful shoes that'll perform well while you wear them. And based on the customer reception, they sound like a dream to wear.
Cole Haan Promotions & Discounts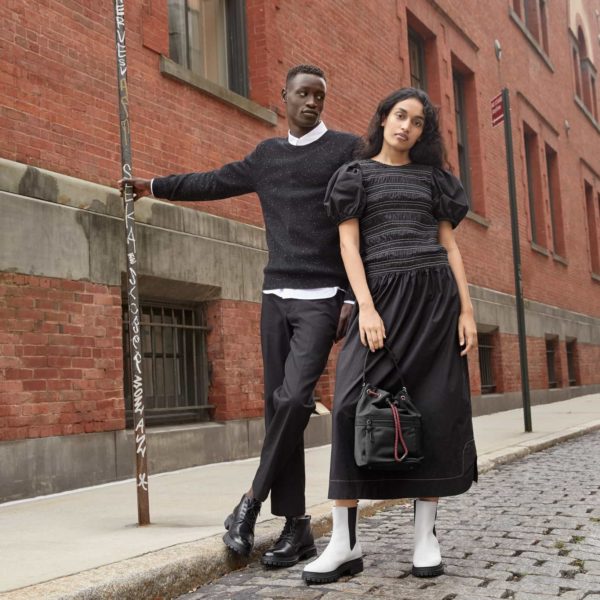 Everyone loves a good shoe deal. You can get 10% off your next order when you sign up for the cole haan newsletter. Unfortunately, we couldn't find any other promo codes or deals. But, by signing up, you'll be able to stay updated on any exclusives or discounts.
Where to Buy Cole Haa
Are you looking to get your hands on some stylish loafers? You can buy some at colehaan.Com. The company also has retail locations, which you can find using their 'find a store' function.
FAQ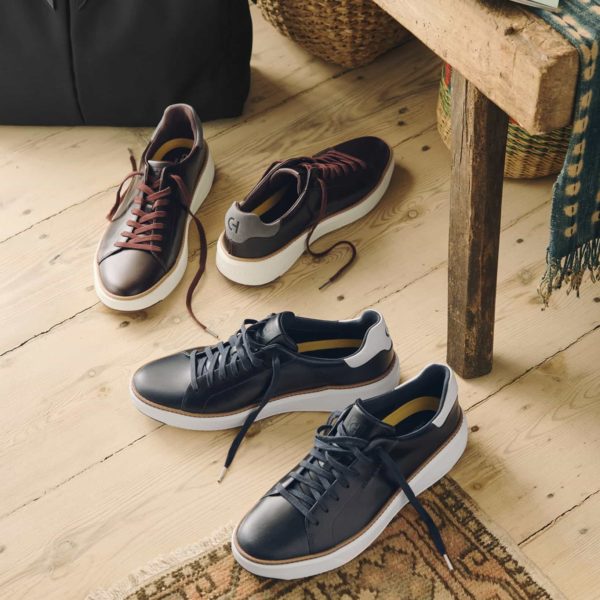 Who owns Cole Haan?
Cole haan operates under the parent company apax partners. The group bought the company after years of partnering up with nike.
Does Cole Haan ship internationally?
Cole haan does ship internationally through their partner, global-e. We'll get into more detail in the following section.
What is Cole Haan's Shipping Policy?
Cole haan offers free standard shipping in the us with a store membership. Ups fills out the orders, and estimated delivery dates vary depending on your chosen shipping method. Here are the cost variation and delivery estimates for the us:
Ups ground (5-7 business days): $8 (non-members)
Ups 2-day (2-3 business days): $15
Ups overnight (1-2 business days): $25
Army post office (30-45 business days): $5
As we mentioned, the company also offers international shipping. You're subject to free shipping with an order minimum which varies depending on your location. Global-e fulfills orders, and shipping fees will vary depending on your chosen shipping option too. In addition, international orders may have additional customs fees specific to your location.
What is Cole Haan's Return Policy?
Cole haan has a free 30-day return policy. The company notes that they have the right to refuse items that aren't returned within this period. Additionally, any shipping charges for online purchases are non-refundable.
To initiate a return or exchange, visit the company's returns portal. From there, follow the provided instructions. Note that your item must be in its original condition.
If you're sending your return via mail, it can take about 2-3 business days to process once it arrives at the company's warehouse. In addition, it may take at least one billing cycle for the credit to show up in your account.
It's also important to note that you can return online purchases in-store. So, if you're able to find a cole haan location near you, you can start the process by going to their returns portal. It's also important to note that final sale items are not eligible for return.
How to Contact Cole Haan
We hope you enjoyed reading this cole haan review. If you have any questions, you can contact their customer service team via the following channels:
Phone: 1 (800) 695-8945
Email: customerservice@colehaan.Com
They monitor their phones seven days a week, from 8 am to 11 pm est.