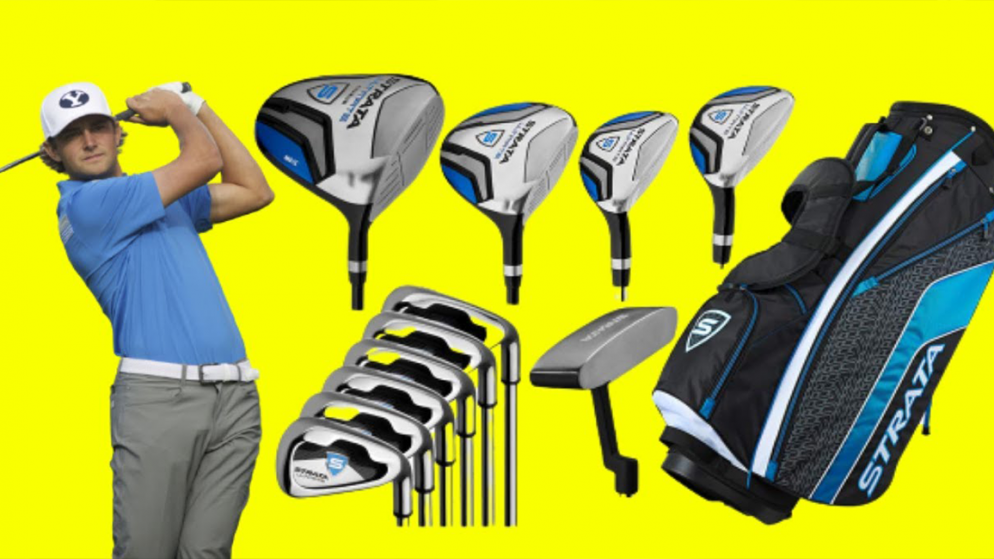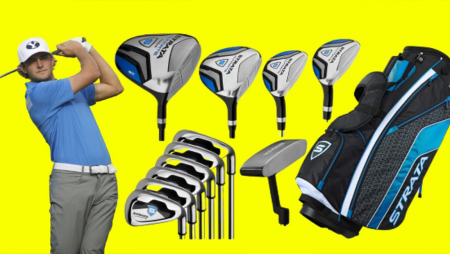 Our content is reader-supported. If you click on our links, we may earn a commission.
It's widely recognized as the top set for new players just starting the game and is one of the highest rated sets out there period.
First off, from the looks of the clubs themselves, it spells "first class." Secondly, its price. It's one of the better beginner sets out there that you can get for around $200 for the basic set.
Then after purchasing, I got to test the clubs out on the driving range for the first time.
I actually got a large bucket, finished with it, and was back on the range the next day with another large bucket because I couldn't put the clubs down. I couldn't believe that I was finally hitting my driver straight, every time.
Like all clubs though, they do take some time getting used to, but after a while, they're hard to put down and super forgiving.
So let's break it down a little more and look at what makes this set so great for new golfers out there.
#1 – IT'S A CALLAWAY SET: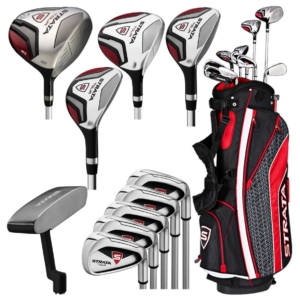 Plus, it's a Callaway set. Callaway, one of the best brands there is in golf. Most golfers out there want a brand they can trust, a brand that many pros use. This is it. Phil Mickelson, Francesco Molinari, Henrik Stenson and Sergio Garcia all use Callaways.
WHAT'S IN THE SET?
The 12 Piece Set Includes
Driver
3 Fairway Wood
5 Hybrid
6 – 9 Iron
Pitching Wedge
Putter
2 Headcovers
Cart Bag
14 Piece Set Adds
Sand Wedge
Extra Headcover
16 Piece Set Adds
Sand Wedge
4 Hybrid
2 Extra Headcovers
SELLING POINTS
Large 10.5 Degree Driver With 460CC Titanium Head, Graphite Shaft And Large Sweet Spot
3 Wood With Graphite Shaft, Easy To Hit High And Straight
4 & 5 Hybrid, Rescue Club, Graphite Shafts, Easiest Club To Hit In The Bag
Irons & Wedges With Steel Shafts For Average To Fast Swingers, Perimiter weighting and large face for trajectory and accuracy.
Blade Putter with visual alignment to sink all of the easyh ones – hopefully.
Uniflex Shafts for Average and Faster swing speeds.
THE STRATA DRIVER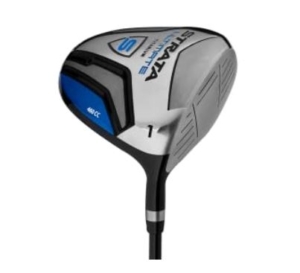 Now I've got a fast swing speed, so for me, it's perfect. Because of the size of this head, if you swing at a slower speed, you could have some issues with it. It will take some time adjusting to, but over time, you should be fine. But just keep that in mind.
It is worth noting at this point that the set is more suited to average and faster swing speeds and we would recommend another set if you are a slow swinger.
The driver also allows you to keep the ball straighter on missed shots. It's no doubt a club you will want to practice with a lot so you get used to it as it's not your normal driver. It's got size, pop and power to it.
FAIRWAY WOOD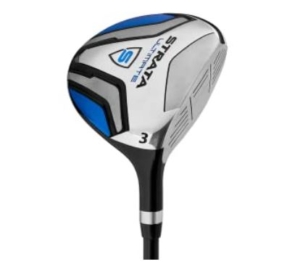 To me, the 3-wood was the hardest club in the bag to hit. I always have a hard time getting the trajectory I want on a 3-wood, and while this one has a nice sweet spot on the face, it's not as easy to control my shots as the hybrids are.
When hitting it off the ground, I tend to lose control a little more and it's more prone to the slicing I had with my old set. That being said, it still is a great club and when I do hit it the way I want, I get great results. It just takes some time getting used to.
HYBRIDS
The sweet spot is also solid with this club.
The 5-hybrid is also a beauty when bailing me out of trouble. If I hit it in the thick stuff, I go to the hybrid. Hit in the bunker? Go for the hybrid. Hit it behind the tree? Go to the hybrid. It's my "go to rescue club".
The only issue with the hybrid is I hit it so good that when I go to my first iron, there's bit of a distance gap. I'll hit the hybrid around 200 but the 6-iron around 170, so if I'm 185 out, I find myself having to hit a softer hybrid which is tough.
IRONS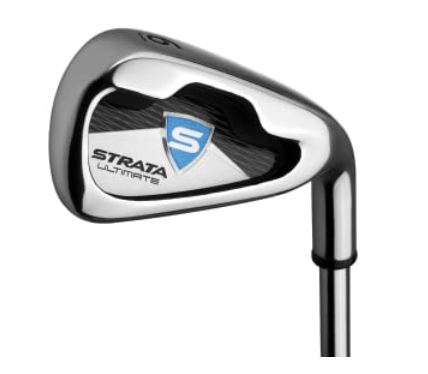 There are five irons in your 12 piece bag, starting with the six iron and going up to the pitching wedge. They have perimeter weighting and stainless steel shafts which allow for high precision and maximum distance. They also have an expanded sweet spot so you can mishit your shot a bit and still get the distance you want.
THE WEDGES
The pitching wedge is 46-degrees which gets you good height on the short shots and is comfortable in your hands around the green.
Missing from the bag is the sand wedge, which if you want, you will have to go for the 14 piece or the 16 piece which we would definitely recommend unless you already have one.
Sand wedges are good for bunker shots and also when you have a long chip shot with very little green to the hole. Some of the bigger sets out there also have gap wedges and lob wedges, which this set doesn't come with.
Overall, though, the irons have a lot of forgiveness to them which is what you want out of a set.
Personally, I would have liked to have seen it comes with a 4 and 5-iron because of the distance gap with the hybrid, but that can always be an add on just like the sand wedge
PUTTER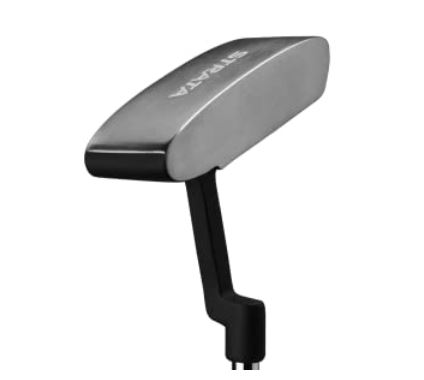 The mallet head putter has some size to it with some weighting on the bottom which makes it easy to control the ball and gives it a good feel. It has linings on the putter head to help you get your ball lined up correctly.
It's 35 inches long which is ideal for most golfers. If not happy with the mallet putter, feel free to invest in one on your own as putters tend to not be overly expensive.
The ball comes off this putter head with some pop. It will take some time getting used to, but over time, you will come to love it. It is comfortable in the hands.
GOLF BAG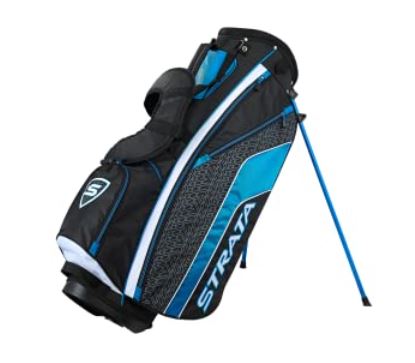 Still, it's not like carrying a bag of 30 bricks on your back. For the average person out there, it will feel comfortable when walking the course. There just happens to be lighter bags out there. There's also only one design.
There's a lot of qualities to like about this bag. For one, it has a dual strap that is padded and makes walking the course much easier compared to trying to one strap it.
The stand that it comes with easy to set up and fold back. It also has five compartments for you to store things, including a cooler pocket for food or water while you play.
If it rains, just throw on the rain hood which is sturdy and will keep your clubs as dry as can be, until you have to use them.
The Callaway set also has head covers for your woods and hybrid
CALLAWAY STRATA FOR WOMEN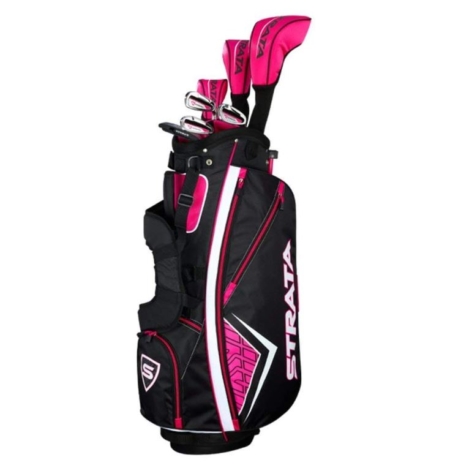 Callaway also make a Strata Set for women and these clubs are shorter, lighter, more forgiven and they come with a womans design so you can be sure to play to the highest level for beginners and intermediates.
The Irons still have steel shafts in the woman's set so if you are a slow swinger, you may want to go with a different set.
OTHER SETS TO CONSIDER
While the Callaway Strata Set is one of the best around, there are plenty of other sets to consider for beginners and intermediates alike that will suit different peoples games better.
Cobra XL Speed Set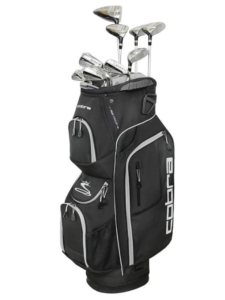 Cobra are quickly becoming one of the leading brands in golf and it is easy to see why. Their drivers, woods and irons are being used by more and more tour professionals every year and this complete set is one of the best around.
It also gives you a lot more options like choosing graphite or steel shafts in the irons and selecting a shaft flex that completly suits you game.
You also get more clubs as follows:
Driver
3 Wood
5 Wood
4 Hybrid
5 Hybrid
6 – 9 Irons
Pitching Wedge
Sand Wedge
Putter
Premium Cart Bag
Headcovers
The drawback is that it will cost a few hundred dollars more and there is also a set for Women.
Defintely recommend for those with a higher budget and those with slower swing speeds.
Wilson Profile Platinum Complete Golf Set
Wilson are another company that have producing top quality equipment for many decades and all of the knowledge they have gained over the years in culminated in this excellent beginners set.
You have the same oversized heads, large sweet spots and perimeter weighting as the strata for excellent performance.
With the Profile Platinum set, you get to chose between regular length or add an inch for taller players.
The Set Includes:
Driver
5 Wood
5 Hybrid
6 – 9 Iron
Pitching Wedge
Sanding Wedge
Putter
Premium Bag
Headcovers
They cost around the same as the 16 piece Strata set and are certainly of the same quality if not higher than the Strata.
Definitely recommended for the taller players.
OVERALL
Spend some time on the driving range, get used to the feel of the woods and the irons, and spend some time on the putting green getting accustomed to the putter. After putting in some practice time, though, you should be ready to hit the links and start lowering your score.
I highly recommend getting this set if you're a new golfer. It will make playing the game fun and enjoyable while hopefully making you a better player.
PROS
Driver is perfect for long and straight shots
Irons are high precision and stainless steel
You get a lot of distance from the driver
Hybrids rescue you out of trouble and give you high trajectory on your shots
All the clubs have an expanded sweet spot allowing you to mishit your shot and still get maximum distance
Putter is comfortable and easy to use
Solid distance with all the woods and hybrid
CONS
Driver may be difficult to use for some of the slower swingers out there
3-wood takes some time getting used to
No sand wedge in the bag
A bit of a distance gap between irons and hybrid