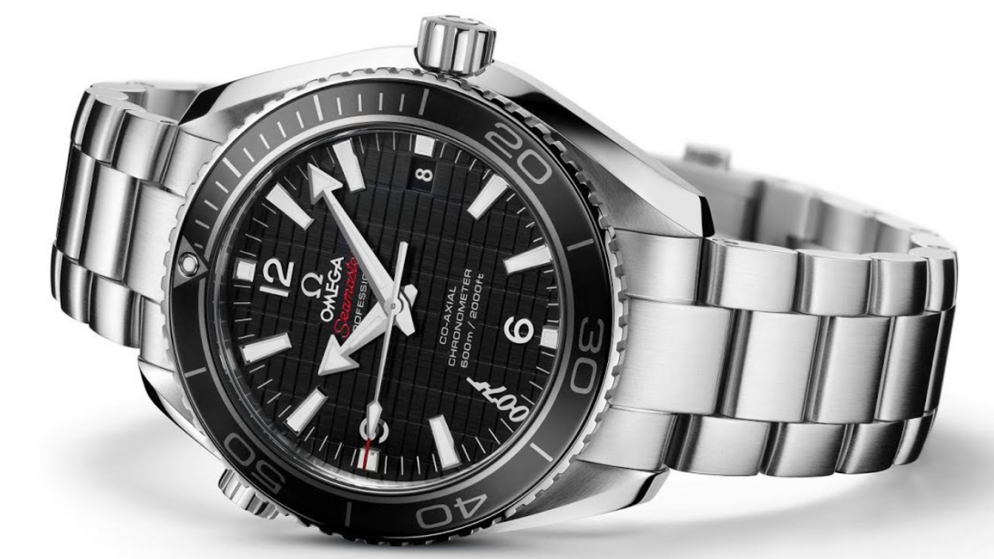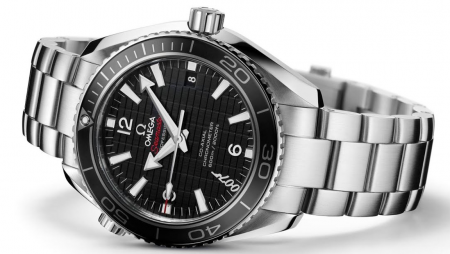 Heads up: Our content is reader-supported. This page includes affiliate links. If you click and purchase, I may receive a small commission at no extra cost to you.
Bulova is known for its quality watches. Watch enthusiasts all around the world agree with this, which is why we had to create our Bulova watch reviews. From A-Z, we've discussed the brand and reviewed some of their best timepieces. What's stopping you from reading ahead?
Who Is Bulova?
Bulova has been around for a long time. They've been in the game since 1875 and started in Manhattan, New York. The company began with the vision of producing quality timepieces, and to this day, they've stuck with this message.
Bulova is currently owned by the Citizen group and is known for its higher-end watches. Although they can't compete with the likes of Rolex or Omega, the company prides itself on being a brand for people who enjoy the finer things in life.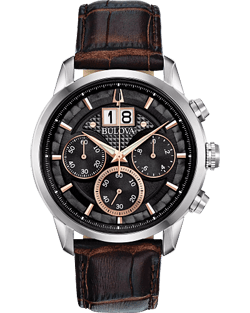 The Watches – At A Glance
Before we dive in, let's run through our most noteworthy picks.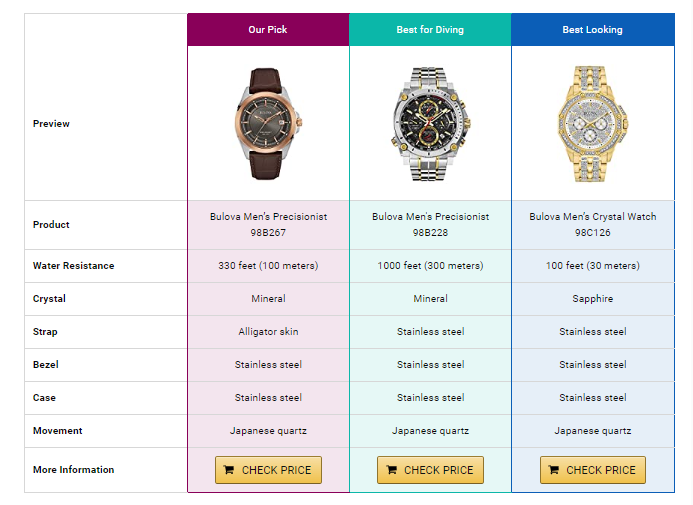 Bulova Watches – A Review
Bulova Men's Precisionist 98B267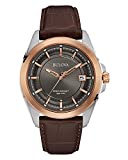 Looking for a good-looking watch that's also water-resistant? The Bulova 98267 is right up your alley. The timepiece can withstand depths of 330 feet (100 meters) underwater. You're probably wondering if you can dive with it on. Bulova strongly advises against this.
You might not even want to get it in the water. Its strap is genuine alligator leather. This means it'll soak up instantly. Unless you're a fan of soggy watches, go for it.
We have to say, the alligator skin was a nice touch, however. It just screams luxury. Then again, is this that impressive? Stuhrling offers alligator skin too, and they're a cheaper brand.
The Bulova is big. Its case is 1.69 inches (43 mm) across, so keep this in mind if you have smaller wrists.
Speaking of its case, you'll see a rose gold top ring. Bulova says that it's coated with real gold. It doesn't have much of a benefit other than making your watch look more expensive. We think it does the trick.
Not only does the timepiece look great, but it's also pretty accurate. For starters, it comes with a Japanese quartz movement and is more accurate than any automatic watch on the market. But this isn't noteworthy, there are thousands of Japanese quartz on the market. What is special is the quartz that the 98B267 has. It's the three-prong quartz crystal precisionist, with an 8-time higher frequency than standard quartz.
In terms of its crystal, you get regular mineral. Mineral is tough, but not as hard as sapphire. It's not like you'll be bashing your watch around all the time, so this might not matter.
Although it's a fashion watch, the dial is pretty functional. You get luminous hands and markers, letting you use it in the dimmest of settings. It comes with a calendar too, which is a nice touch. We would've loved it if it read the day along with the date, but we're satisfied.
We also would've loved Arabic numerals as they make the watch easier to read. This isn't much of an issue, just a personal preference, especially since Arabic numerals would have ruined its look.
What makes it special:
Its accuracy.
Bulova Men's Marine Star 98B104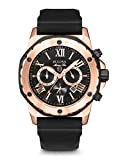 We hope you like big watches as the 98B104 is gigantic. Its case is 1.73 inches (44 mm), but it's barely bigger than the 98B267.
Unfortunately, the watch doesn't come with a leather strap. Instead, you get a rubber timepiece. This is disappointing as rubber does not feel as luxurious as leather, but Bulova made this change for good reason. The 98B104 is made for the sea. As mentioned, leather gets wet. Rubber is waterproof.
So, how far can it last underwater? Quite a bit. The timepiece can reach depths of 330 feet (100 meters) underwater. If you're wondering whether you can dive with it on, the answer is no. That being said, Bulova says that you can snorkel with it on, at most.
Like any watch fit for the seas, the 98B104 has a luminous dial. Before you get too excited, the lume is only on the hands, not the markers.
Speaking of its markers, you get large, Roman numerals. Once again, we wish Arabic numerals were in place. This time, it wouldn't have ruined the timepiece's look.
If you need Arabic numerals, know that there is an outer ring with the numerals plastered on. It marks the minutes passed, making the watch easier to read.
By its markers, you'll see 3 sub-dials. They aren't there just to spice things up, these are the watch's chronographs. They are 60 seconds, 60 minutes, and 24-hour chronographs. So, have fun timing yourself.
Did we mention that the 98B104 is Japanese quartz? Unlike its brother in the number 1 spot, it's not as accurate, unfortunately.
Take a look at its dial:
Did you notice the calendar? We didn't either. It's tucked away in the corner of the dial, at a 4-o'clock angle. We think it's very hard to read.
Not only because it's small, but due to the angle.
What makes it special:
It's a great water-resistant watch.
Bulova Men's Precisionist 98B228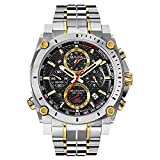 We loved the precisionist so much in the number 1 spot that we had to include another Precisionist to our review. The 98B228 comes with the same 262 kHz quartz as its brother, making it extremely accurate.
Not only is it accurate, but it's also the most water-resistant watch we'll be reviewing. It can handle a 1000 feet (300 meters) underwater. You can easily dive with it on.
It comes with a stainless-steel body too, so diving is a breeze. Water bounces off the steel, never corroding. Let's not forget that steel looks chic too, so your 98B228 is stylish and durable.
Unfortunately, the watch is really big. It'll swallow up your wrist, no matter how large your hands are. Its case is 1.85 inches (47 mm) across. If it wasn't for this, we would've ranked the 98B228 higher.
If you're fine with how big it is, know that it has a chronograph. They are 60 seconds, 60 minutes, and 24 hour chronographs.
Being able to dive such depths, it's no surprise that the timepiece comes with a rotating bezel. If you aren't aware, rotating bezels act as timers, ticking as they turn. This lets you get out of the water before your oxygen supply runs out.
Once again, there is a mineral window. Before you get disappointed, know that its mineral is stronger than the rests'. It's curved, making it difficult to bang-up.
Do you know what's not difficult? Reading its calendar. Although it's in the 4-o'clock position, it's relatively big and comes in a bold font.
The dial as a whole may be difficult to read, however. You're going to catch yourself squinting as there's so much going on. In the dark, this will leave you confused. Thankfully, luminous paint is all over its hands.
What makes it special:
It can handle 1000 feet (300 meters) underwater.
Bulova Women's Two-Toned 98P170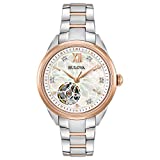 The 98P170 is a great women's watch. No surprise, it's smaller than the other timepieces on our list. Its case is 1.37 inches (35 mm) across, which frankly, isn't that small for a lady's timepiece.
It looks pristine. It comes with a two-toned bracelet that Bulova says is rose gold-plated. It brings the wow-factor, and we're here for it. Its exposed back also packs a punch, letting you watch its many gears in motion.
Its exposed back is seriously something to gawk at. The 98P170 is the first automatic watch on our list. Then again, automatics are not as accurate as quartz timepieces.
Is it the best automatic watch out there? Not really. It comes with a 40-hour power reserve, which is pretty standard.
Bulova doesn't tell us the number of jewels it comes with either. That being said, we had no issues with how smooth it was.
Although it's not a skeleton watch, the 98P170 comes with an open aperture, showing the 'heart' of the watch. Don't look too close, it's as mesmerizing as its back.
Unlike the number of jewels it has, we know what glass is on its display. You're met with sapphire, so good luck trying to dent it up. This gives it the toughest display of any watch on our list.
It's not that water-resistant, unfortunately. The 98P170 is one of the least water-resistant watches on our list, which is fine as it's a dress watch, not one made for the waters. It can withstand a 100 feet (30 meters) underwater.
If you're expecting lume on its display, it doesn't come with any. This isn't a shocker as it's a fashion watch.
Are diamonds really a girl's best friend? Whether the saying's true or not, you get 5 of them on the 98P170's display. Bulova went the extra mile, using the diamonds to mark the hours passed. The brand says that they were hand placed, making you feel like the luckiest girl in the world.
What makes it special:
Its diamond-encrusted display.
Bulova Men's Crystal Watch 98C126
To wrap up our review, we thought we'd leave the best for last. Just look at the 98C126, you'll notice how mesmerizing it is. It will grab everyone's attention, and who wouldn't want that?
The watch is encrusted with Swarovski crystals from one end to the other. The gold-toned stainless-steel amps up the luxury the watch exudes, making anyone think you spent an arm and a leg on it. This is funny as it's one of the cheaper watches on our list.
We're not kidding when we say it's blinding. Imagine how bright the 98C126 would get when in direct sunlight?
Don't expect it to be the most water-resistant, however. The timepiece can only handle a 100 feet (30 meters) underwater. Bulova says it can handle a couple of splashes, but don't be tempted to swim with it on.
It's not as big as the other watches on our list. Its case is only 1.61 inches (41.5 mm) across. This is for good reason. It makes the watch look more pristine.
Unfortunately, it's not an automatic timepiece. The 98C126 is Japanese quartz.
If you're wondering what's on its display, it's a sapphire watch again.
You probably noticed the three sub-dials on its display. No, they're not the watch's chronographs. They're its calendar features. One sub-dial reads the day of the week while the other reads the day's date. It's helpful, don't get me wrong, but can be hard to read.
We only mentioned 2 dials. So, what about the third? It reads the time in a 24-hour clock format, telling you if it's 10 in the morning or night.
What makes it special:
The 308 Swarovski crystals on its body.
Things You Should Know
Bulova knows what they're doing. Before we conclude our article, let's answer a couple of questions you may have.
Are Bulova Watches Good?
Bulova's watches are pretty good! They're known to be very high-quality. We established this in our review.
What's the Bulova Watches Reputation?
Among watch enthusiasts, Bulova is highly favoured. Heritage is important, and as mentioned, the brand has been in the game for over a century. Since their watches are well-made, they have a good reputation.
Generally, Bulova VS Seiko or even Timex, Bulova is considered a better brand. It's seen as an alternative to more premium names like Tissot.
Who Makes Bulova Watches?
Depending on how expensive your watch is, where it's made differs. If it's one of Bulova's high-end pieces, it would have been made in Switzerland. Otherwise, Japan, even Hong Kong would be its country of origin.
Is Bulova a Luxury Brand?
Yes, the brand's watches are of high quality, but they're not luxury. Luxury watches retain value, even appreciate in price. They're investments, and Bulova is not. Most importantly, Bulova watches are not that expensive.
Conclusion
If you're thinking of taking the leap, Bulova is definitely worth your time. Their watches are exquisite and watch-snob approved. From the 5 we ran through, they're all equally great, but the Bulova Men's Precisionist 98B267 was our favourite.
The Precisionist 98B267 gave it a run for its money, but it was way too big. Not many people would be able to enjoy it due to its size.