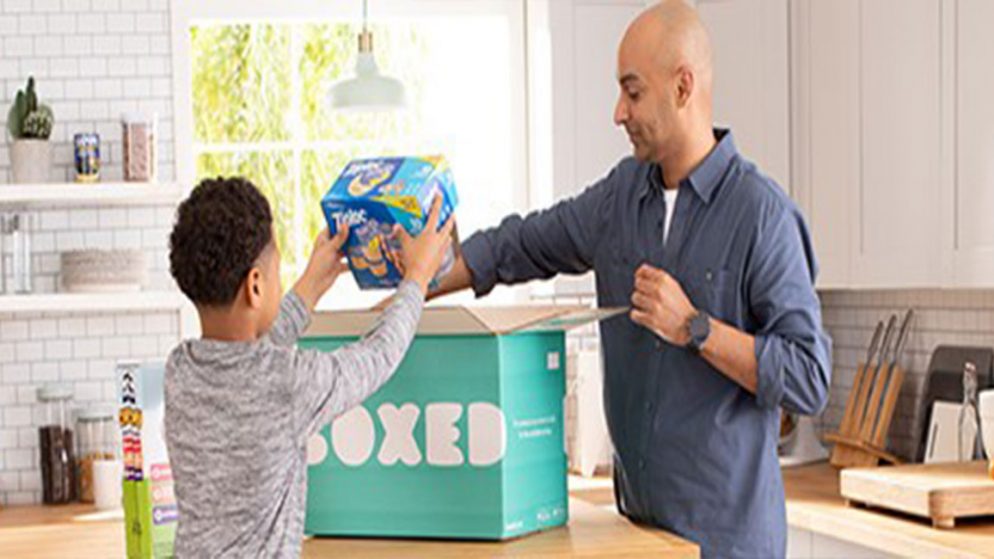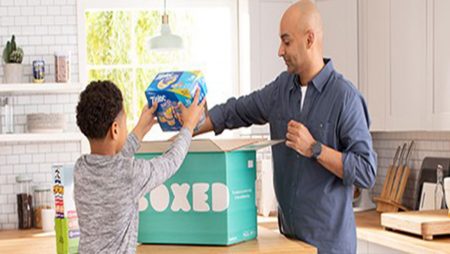 Heads up: Our content is reader-supported. This page includes affiliate links. If you click and purchase, I may receive a small commission at no extra cost to you.
Boxed offers low prices on big-sized grocery and household items with no membership fee and mostly free shipping. Clearly, Boxed is more convenient than a trip to Walmart. But can Boxed save you money, too?
What is Boxed?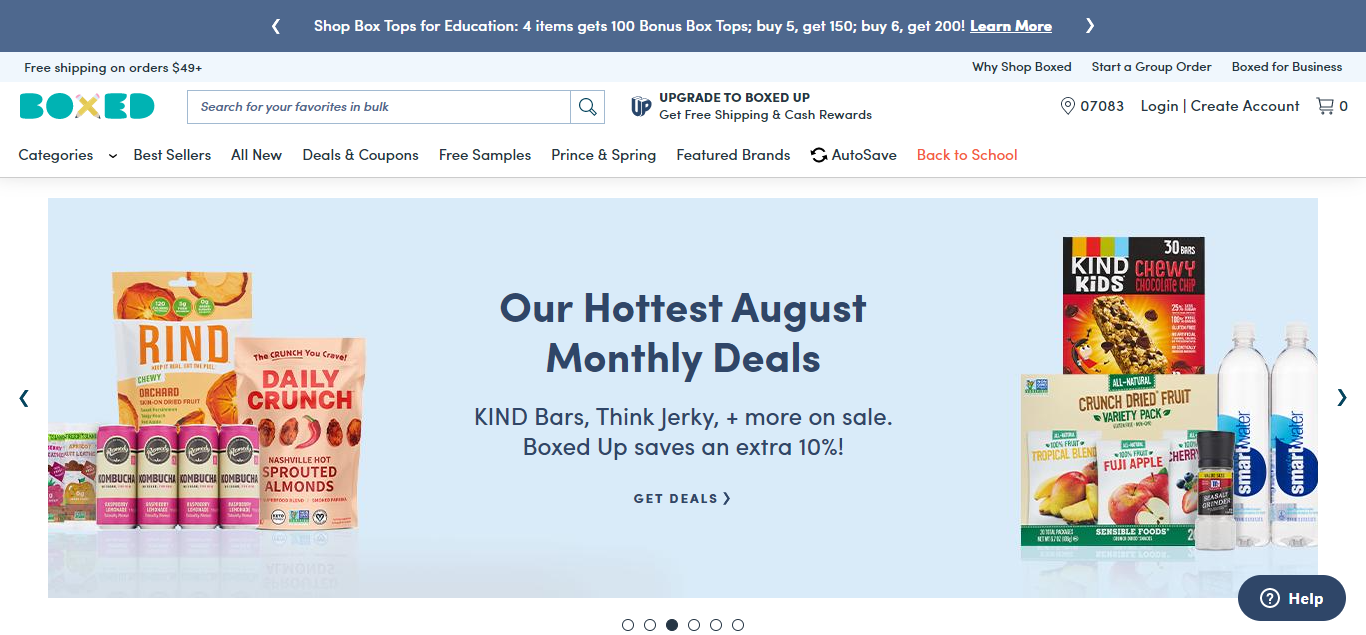 Shop Boxed Products Here
Boxed is a grocery delivery service that promises discount prices on the same items you'd buy at the grocery store. The site features a curated selection of products geared toward the company's customer base. In addition to its own brand, Boxed offers products from big names like Tide, Dole, and Pampers.
How does Boxed work?
The products from Boxed come in bigger quantities (think of membership clubs like Costco or Sam's). In addition, Boxed offers a curated selection of products. So Boxed is far from an anything-under-the-sun competitor to Amazon or your local Walmart.
Instead, Boxed offers a small selection of what they consider to be the most useful and highest-quality products.
As I said above, Boxed doesn't require a membership to use their service, so the sign-up process is ridiculously easy. It's just like any other purchase you make online.
You can create an account and then start shopping!
How much does Boxed cost?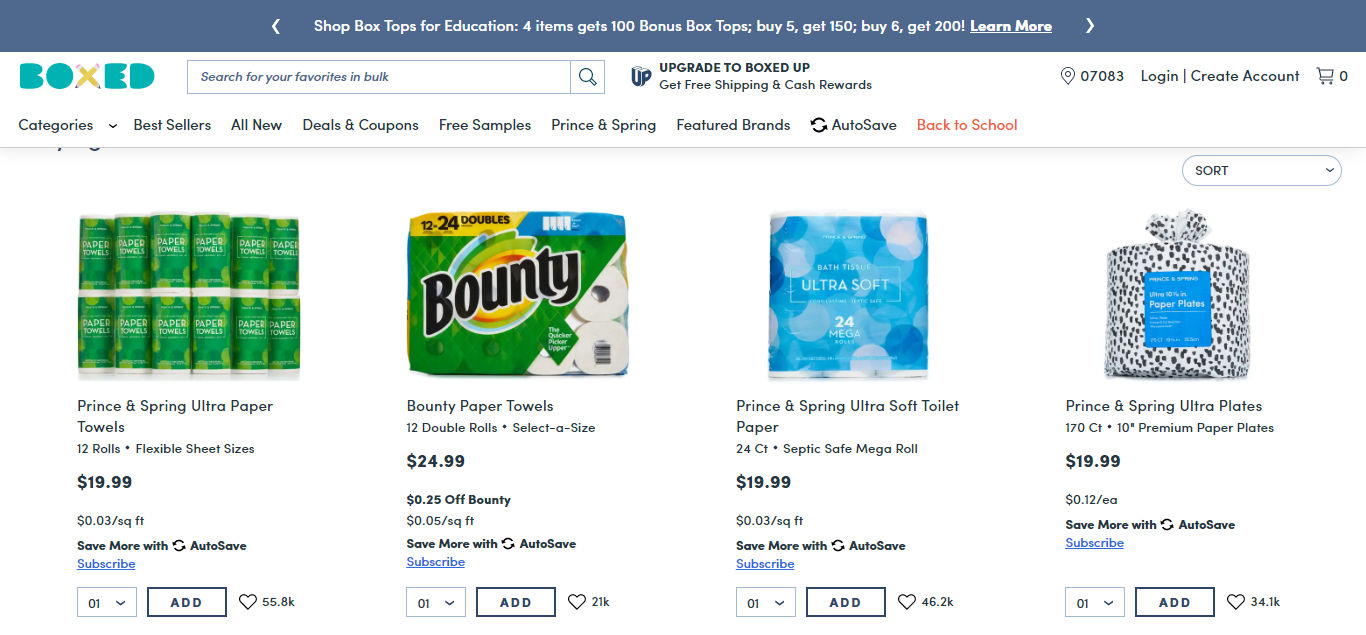 Boxed doesn't charge a membership fee for its basic plan, but you will have to pay for shipping for orders that are under $79. Since you're buying in bulk, it doesn't take much to reach $79.
For free shipping on all orders, you can upgrade to Boxed Up, which costs $39 for the first year and $49 for each year thereafter. If you plan to be a frequent shopper, this is a solid deal.
Boxed features
When it comes to online shopping, there are plenty of options. Here are a few features that make Boxed stand out.
Free shipping (most of the time)
Boxed offers free shipping on your first order and on most orders thereafter.
It has modest minimum-order requirements to get free shipping, depending on where you live. For example, it's a $50 minimum order to get free shipping in New York and a $79 minimum order in many other states.
By limiting their product selection, Boxed can also keep prices low.
Time and gas money saved
Where I live, a simple Target run is a 25-mile round trip. That's a gallon of gas (and a dollar toll), plus an hour or two out of our precious weekend.
Boxed might not replace every big shopping trip, but it could save me from going as often and shrink my list when I am there.
I also like the "less is more" approach to the curated product selection at Boxed. I do not need to choose from 65 different kinds of shampoo! Decision fatigue is a real thing. (And, I suspect, it contributes to why I get so spacey at the store.)
No impulse purchases
Can you get in and out of Target, Walmart, or a grocery store without buying something that wasn't on your list?
Four out of five times, I buy something in a store on impulse.
To me, a real advantage to shopping for most of my essentials on Boxed is avoiding the temptations lurking in retail aisles.
Real savings on products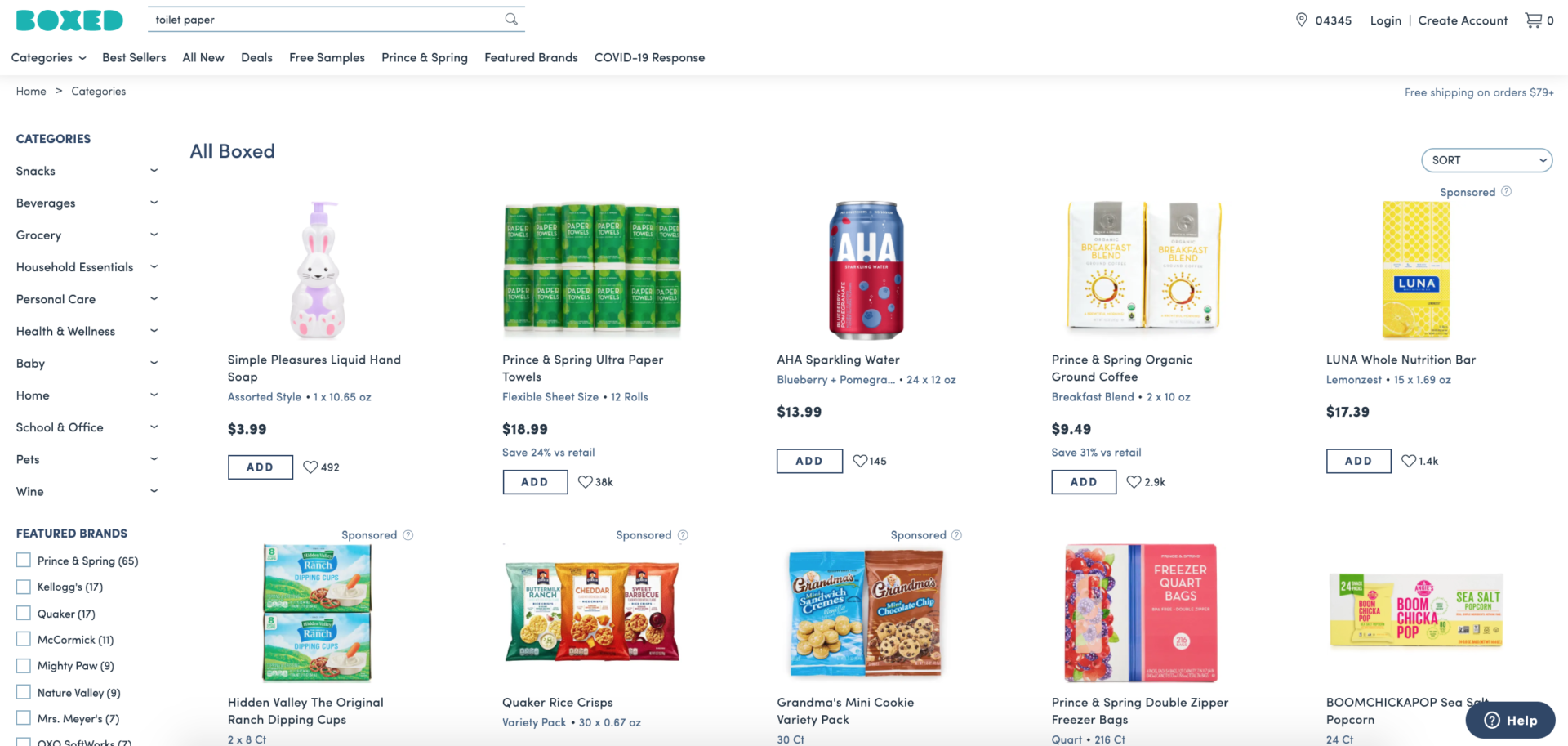 To my surprise, the savings were actually significant – at least for some items.
For example:
A 500 count of Ziploc sandwich bags were $9.79 on Boxed; the same item cost $16.84 on Amazon.
A 24-count box of Clif Energy Bars was $18.99 on Boxed compared to $29.11 on Amazon.
Honey Nut Cheerios on Boxed list for $7.49 for two 55-ounce boxes ($0.07 per ounce). That's half of Amazon's price for the same quantity. When I checked, Walmart didn't sell that size package, but a single 26 oz. box cost $4.48 ($0.17 per ounce).
One item Lauren goes through a lot of are Neutrogena Makeup Remover Pads. Boxed sells 114 for $15.49 ($0.14 each) compared to $4.31 for 25 ($0.17 each) at Walmart and Amazon.
The 28 oz. bottle of Sriracha that was included in my Boxed shipment also sells for less on Boxed ($2.39) than at Walmart ($2.98).
A 48 oz. jar of Skippy Peanut Butter was $5.99 on Boxed. Prices on Amazon ranged from $17.49 to $21.00 for a two-pack (or between $8.75 and $10.50 each). At BJ's – a local wholesale store here on the East Coast – you can get two jars for $9.99, or about $5 a jar.
Diapers – something we've used plenty of over the last few years – were more competitive. Calculating the cost per diaper to account for different packaging sizes, the prices for Pampers Swaddlers on Boxed were about what we pay at BJ's. Pampers prices for general Amazon shoppers were higher, but Amazon offers Prime Members certain deals that shave a penny off the Boxed price ($0.28 vs. $0.29 per diaper).
After checking out prices for most of the items I received, I'm quite convinced that you'll score some great deals at Boxed.
No membership fee
While the prices of some items are on par with what you can find with a paid Amazon Prime or wholesale club membership, remember, Boxed doesn't charge a membership fee, which is a nice saving all by itself.
Who is Boxed best for?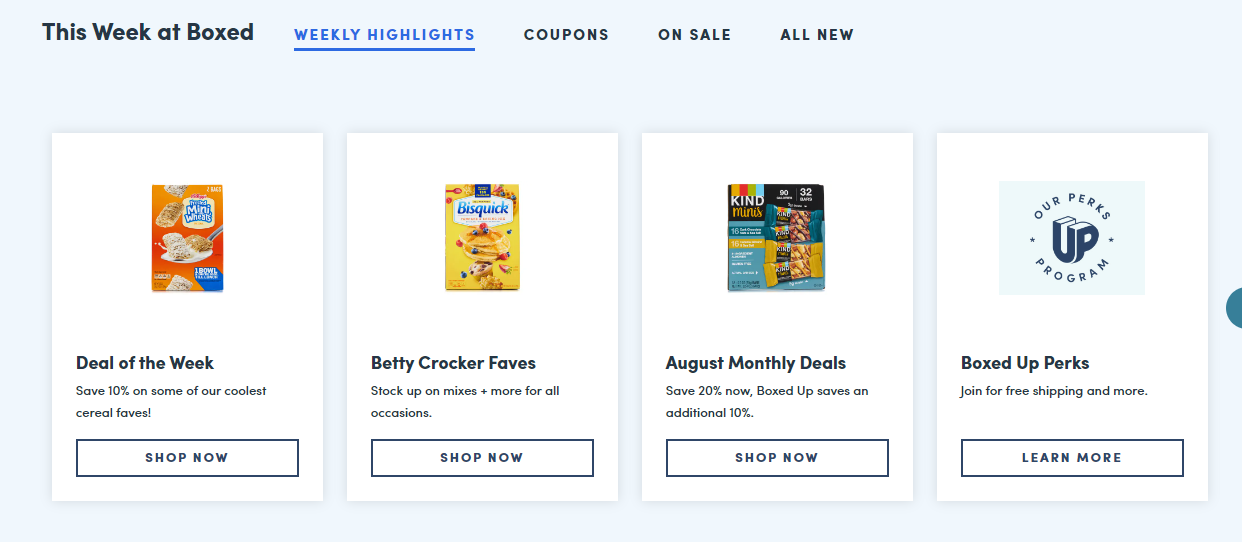 Rural residents
If you live far from a grocery store, the savings on gas, not to mention the value of your time, makes Boxed well worth it.
Shopping-averse consumers
I'm not a fan of grocery shopping. If you're like me, you'll love being able to shop from the comfort of your couch. Put an order together and soon after, a box will arrive at your door.
Time-challenged consumers
Even if an item costs a little extra, it's worth it to me to have groceries delivered. I can make fewer trips to the store and, when I do shop, I'm usually only picking up perishables and a few items Boxed doesn't carry.
Bargain shoppers
Boxed offers competitive prices, even when compared to wholesale clubs like Sam's and Costco. You'll see some of your favorite brand names, along with low-priced products from Boxed's own brand, Prince & Spring.
Who shouldn't use Boxed?
Picky shoppers
The first thing I noticed when I started shopping on Boxed is that selection is limited. There's a reason for that. Boxed keeps its prices low by carefully curating its stock. If you're open to trying new brand names and going with what's offered, Boxed will be a good fit, though.
Those who enjoy shopping
Let's face it. Shopping online doesn't replace the in-store experience. I'm not a fan, but I know many people who are. If you like to travel the aisles with a cart, buying what inspires you, you may not get enjoyment out of buying groceries online.
Those in cramped living quarters
Even if you live alone, you can benefit from buying certain items in bulk. However, if you have nowhere to store all that excess inventory, you may want to stick with buying in smaller quantities from your local grocery store or a site like Amazon.
Pros & cons

PROS
No membership cost — You'll enjoy fee-free shopping and, as long as your order totals $79 or more, free shipping.
Cost savings — Many of the products on the Boxed site are priced below what you'd pay at your local grocery store.
Easy to use — The site makes it easy to find and choose the products you need.
CONS
Order minimums — Unless you pay the annual fee for Boxed Up, your order will need to total $79 or more to qualify for free shipping.
Bulk quantities — Products on Boxed are sold in bulk, which means they'll take up more space in your cabinets and closets.
Limited product selection — Although there are plenty of products available in each category, if you're picky about brand names, you may not like Boxed.
Boxed vs. competitors
There are other options for ordering food and other groceries online. Here are some of Boxed's top competitors.
Grubhub
Grubhub is a well-known name in local restaurant delivery. Available in most major metropolitan areas of the U.S., the company works with local delivery drivers, who pick up orders from participating restaurants.
You can pay a $9.99 monthly fee for unlimited deliveries or pay a variable fee for each order you place.
Postmates
Postmates is another restaurant delivery service, but it differentiates itself from competitors by also delivering groceries. Depending on availability in your area, you can have everything from paper towels to dog toys delivered to your door in less than an hour.
You'll have the choice of a monthly $9.99 subscription or per-order delivery fee.
Summary
Boxed provides low prices on big sizes of a curated selection of everyday items (mostly groceries, household supplies, and health and beauty items) with no membership fees.
They provide fast and free shipping on your first order (and most subsequent orders ship free).
Boxed features weekly deals and regular promotions to keep things interesting.