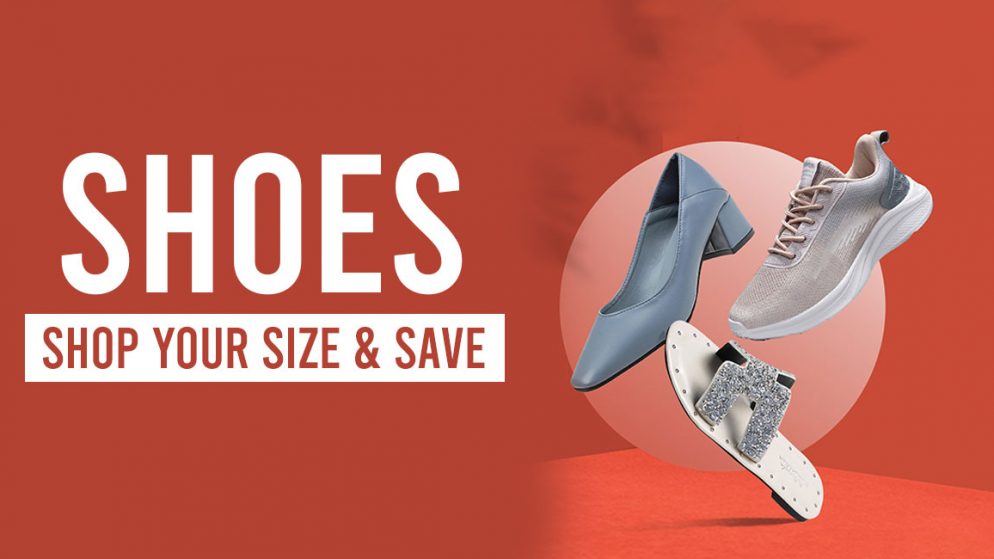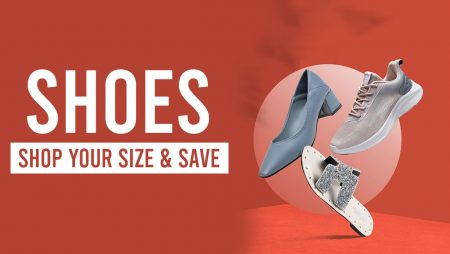 About Born Shoes
Whether walking on sunshine or dancing in the dark, the key element to keep the feet and the heart happy comes from a good pair of shoes.
Luckily, Born Shoes saves the day with comfortable, flexible, and foundational pairs of shoes, sandals, and boots ready to conquer any environment.
We'll admit, this brand doesn't seem to be quite as well known. They're not really featured online anywhere, but they do have 30.8k followers on Instagram and thousands of customer reviews to show off that loyalty they've built over the years, which is a great sign.
While we're new to the brand, this Born Shoes review is determined to break down the business through products, prices, ratings, and more to figure out whether this brand is worth giving a shot. So let's dive into the fantastic field of footwear to find that perfect pair.
Overview of Born Shoes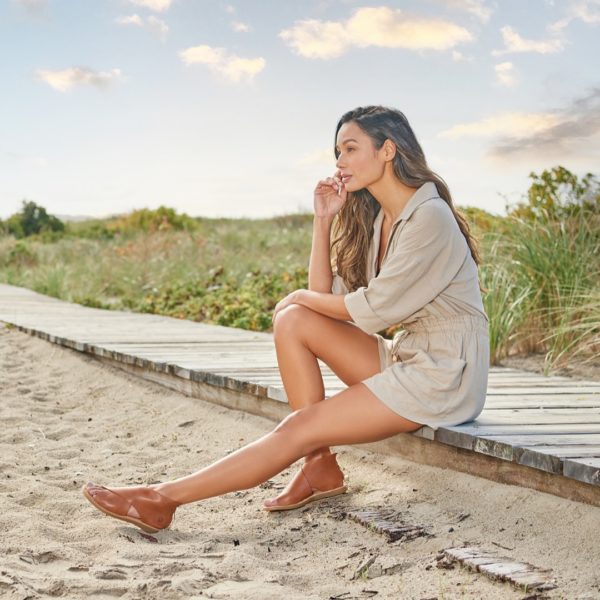 The history of this company isn't quite as clear as some. We know they're owned by the parent company H. H. Brown, who have been in business for over 130 years.
We're not quite sure when Born Shoes came to the market, but with backing from a brand in the industry for over 100 years, we imagine they know what they're doing by this point.
There are three key values to Born Shoes: style, comfort, and craftsmanship. This company takes pride in adding all three elements to each shoe that leaves their doors. High-quality is integral to all of their actions, so they take care to ensure customers get the best in every step.
Working with high quality materials such as suede and leather, Born Shoes assures soft, but durable pairs. Finished with linens, velvets, and other comfortable linings, each shoe fits like a slipper – may as well call us Cinderella when that shoe slips on perfectly.
Lightweight, simple, and stunning, these shoes flex with the foot to provide the best fit possible. Comfortable in size and cushioning, Born Shoes understands that each creation is a work of art.
Just because we spend the days on our feet doesn't mean we can't look good doing so. Stunning stitching, materials, and more all piece together detailed designer shoes ready for the spotlight.
Ready to hit the runway? Well, slow down a step while this Born Shoes review goes over just a few of this brand's most notable features:
Highlights
Offers an extensive line of men's and women's footwear
High-quality materials
Detailed stitching
Free shipping
Thousands of great customer reviews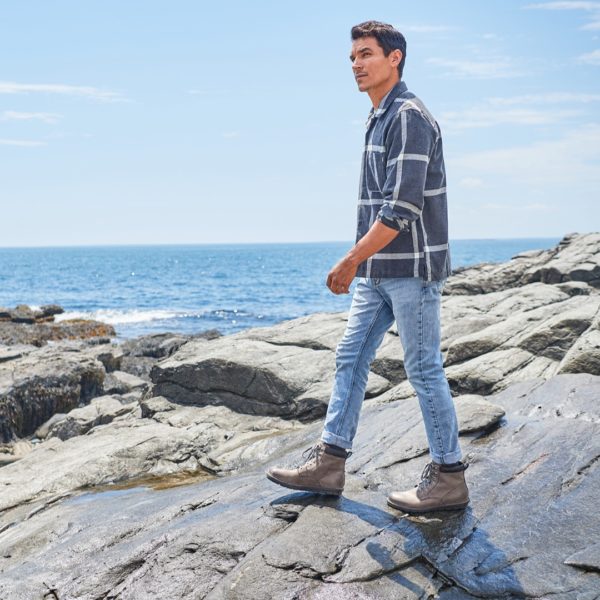 We're focusing on the footwear aspect of this brand rather than going into their line of accessories. We know that they carry additional items for both men and women, but since it's a Born Shoes review, we're keeping all attention on the second part of the name in this article.
We're not saying hold back if in need of a bag, wallet, socks, or anything else on the accessories list, but for now, let's boot it over to the shoes.
Speaking of shoes, we want to make note of sizing. Men and women's selections really differ in sizing here and in many cases, such as some standard sizes like women's 10.5 aren't available.
So, be sure to check what options are available online before getting too attached to a certain pair. Now, on with the rodeo.
Born Shoes Women's Review
Putting ladies first, we're turning to the Born Shoes Women's category to start this product review off.
From classy suede to shining leather, these items are popular pairs for more than one reason. We're looking at the best of the brand to show off just what their women's shoes have to offer.
Born Shoes Cove Siena Suede Review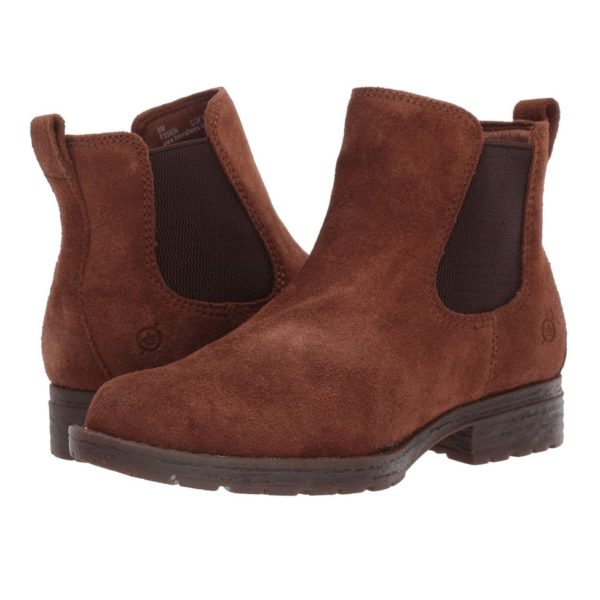 Whether kicking it back with friends or headed for a weekend hike, the Cove Siena Suede are ready to handle the weather at any altitude.
Both waterproof and water-resistant, it's safe to say that these Siena brown boots are more than prepared for a heavy storm. Working well in fall, winter, and spring, these boots are sure to battle any wet or windy weather, keeping traction with every step.
Despite their tough appearance and build, there's nothing harsh about the feel of this one. Smooth suede coats the boot, leaving easy breathing room to avoid foot sweats and suffocation.
Added foam on the inside keeps steps cushioned for any length of a walk, leaving you looking and feeling fresh at all times.
Head to Siena on the next hike for $155.
Born Shoes Saddler Taupe Distressed Review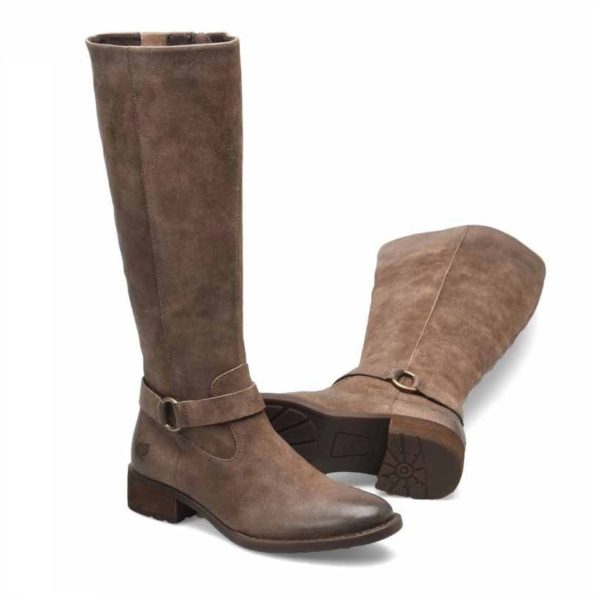 Stepping things up in size, the Saddler Taupe Distressed boots provide comfort, style, and success in all that they do.
These boots aren't for the faint of heart. Sitting 14.5 inches tall, these ones are for women who want that heightened protection against the elements. Beautiful beige and tan tones stretch across the length of this material, leaving the classic leather to shine in all circumstances.
Some of the most popular Born Shoes for women, these boots come in a hand-crafted construction, drawing our eyes to adore the detailing all the more.
Light, breathable, and oh-so-comfy, these 1 ¼ inch heels will be quick to join the crowd in cooler weather.
Ride away the night in these gorgeous $200 riding boots.
Born Shoes Cove Modern Brown Cuoio Review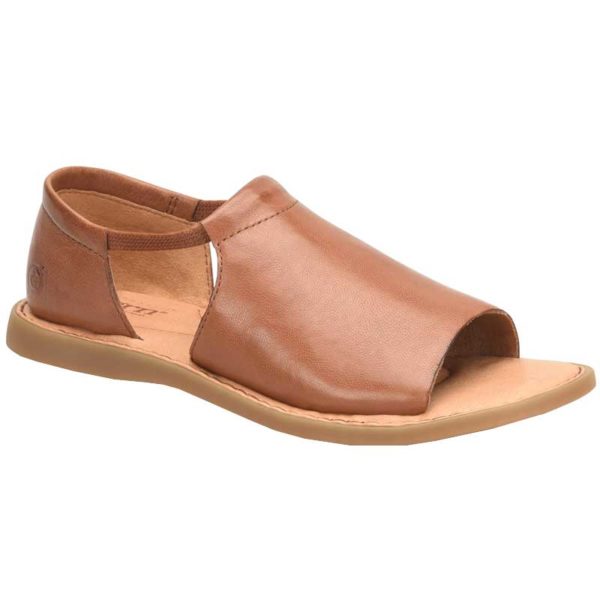 Summer style deserves from fun in the sun too, so we're welcoming the Cove Modern Brown Cuoio to the party.
This spring to summer sandal is all about a stylized modesty. Thick straps hold the foot in place, showing off that stunning leather or suede belt running across the piece. Slip the foot in and feel the material move with you as each step flexes alongside the foot for that perfect fit.
Sitting at only ½ inch tall, these sandals keep fairly flat to the ground, providing a great traction on surfaces during slippery weather.
Go for a beachside stroll without losing footing in the sand, all the while comforted by the cushioned footbed and steady arch support. Comfortable, casual, and cool through the warmest weather, these sandals are ready for their time to shine.
Get ready for the summer sun with these $100 sandals.
Born Shoes Men's Review
The Born Shoes Men's section deserves a bit of love and attention too, so it's only fair we turn to them with the spotlight for a bit. We're focusing less on the casual shoe as the best-sellers for this category tend to come in the form of boots and slippers (work hard, rest easy).
Without further ado – our favorite popular men's pairs from this brand.
Born Shoes Sean Brown Sorrel Review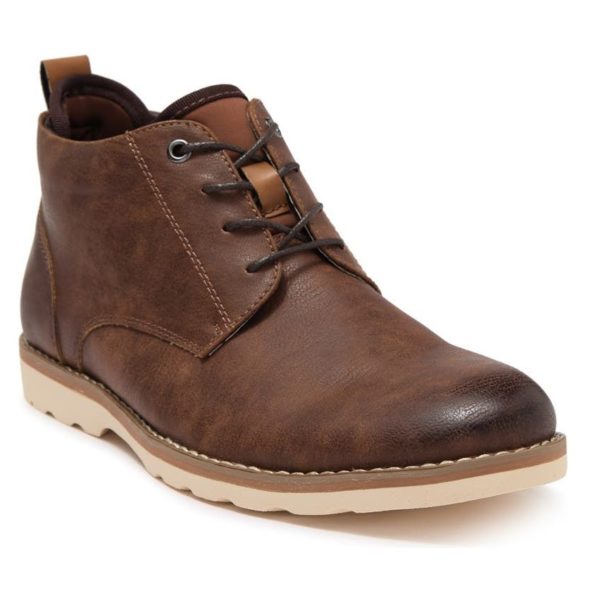 Stylish and sleek, the Sean Brown Sorrel boots seem to be a whole new brand of fashion for the working man's world.
Shining brown leather takes the limelight with the slick piecing of this pair. Detailing and a thick tread keep that rugged and rustic look intact while the material itself elevates the style into something nicer than that ratty (and comfortable) favorite pair we all have in the closet.
Traction never gets lost with this rubber tread trained to handle any type of terrain. Whether hiking in a wet world, snow-covered hillsides, or just out for a walk, these boots come in handy all times of the year.
Water-resistant, breathable, and already broken in upon buying, there's no time needed before throwing these ones on for a lengthy walk.
Get a move on with the Sean Brown Sorrel boots for $170.
Born Shoes Hemlock Charcoal Grey Review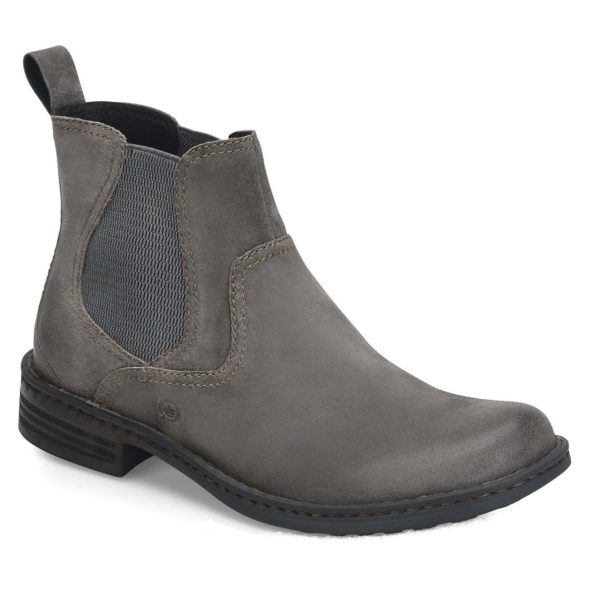 Go for a deadly design with the Hemlock Charcoal Grey boots.
Sharing a name with a dangerous, yet stunning plant, these boots are all about looks being deceiving. We'll admit it, the charcoal leather piecing looks clean cut and somewhat simple, but the devil's in the details with this one.
These boots were made for walking, and that's just what they'll do. Sitting with a 1 ¼ inch heel, this leather pair slides on and off with ease through a pull-tab (say goodbye to shoe horns and crushing fingers while working on footwear in a rush).
High traction, comfy cushioning, and detailed stitching lining the outside to make it look and feel great, there's not much we wouldn't do for a pair of these.
Go grey for $125.
Born Shoes Maxim Taupe Distressed Review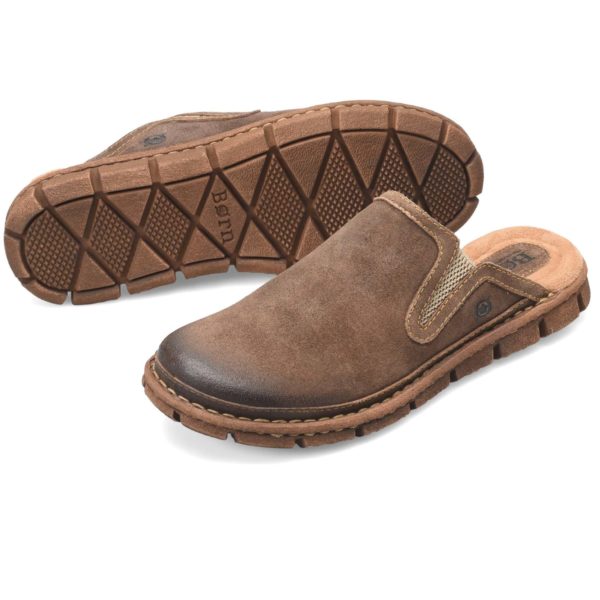 Take the journey of comfort beyond the home with the Maxim Taupe Distressed sandal.
Doesn't matter if you're looking for a beach shoe, trail shoe, or something to wear around the campfire on those cool summer nights, the Maxim is ready to fight for the cause.
This open-backed sandal is all about optimum comfort in every location. Rubber outsoles maintain traction on all grounds while the soothing suede and leather of this design keep air flowing at all times.
Natural in colors and style, this shoe is an easy one to slip on for the most menial chore outside of the home (or even inside if that's where you want to wear the comfy shoes).
Cradling the foot in a bed of soft cushioning, this 1-inch sole offers the perfect height for a comfortable wear. Moving alongside those who wear it, this shoe is down for any journey at any time.
Grab a pair on the go for $85.
Who Is Born Shoes For?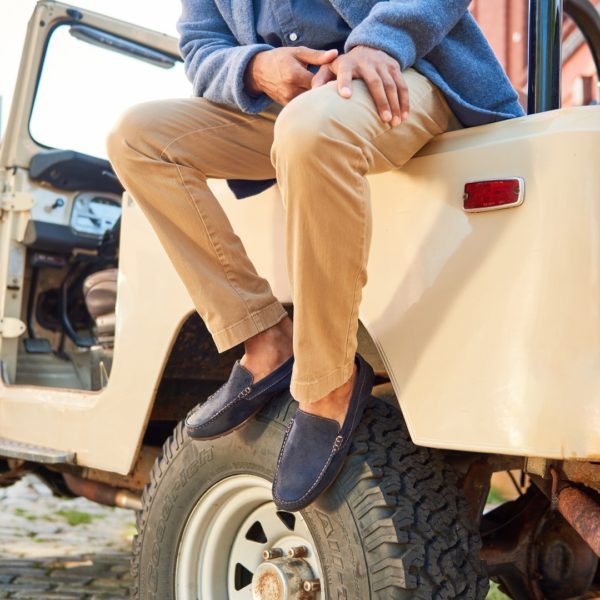 Take any walks outside the front door that require shoes? Then this brand will work for you. With a wide range in men's and women's sizes and styles, these shoes, boots, and sandals offer quality materials, builds, and detailing to provide each piece with soothing style and textures.
Each shoe comes with a bed of comfort for the foot, many complete with additional arch support as well.
Wanting the best for each step, whether for work or fun, Born Shoes maintains their values by bringing the best to market and letting customers dive in without that typical break-in period we're all so accustomed to.
Any shoe wearer above the age of a child can benefit from this one – we all need a solid foundation to take the first step towards anything.
Born Shoes Reviews: What Do Customers Think?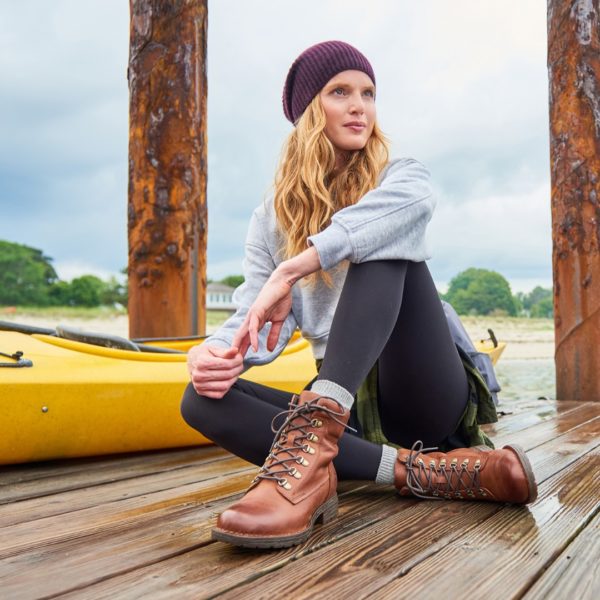 We didn't want to just throw our own opinion around in this Born Shoes review, so we've looked to others for support when it comes to claims and complaints about the brand.
Our first glance online found nothing but good things for this brand. In fact, Zappos has this business at 4.5/5 stars based on over 530 ratings.
But what exactly draws in these high numbers? Many of the ratings come down to quality. Customers adore how each design offers not only great style, but also pure comfort in each step.
One Born Shoes review even claimed, "they have a great cushioned footbed, so even 14 hour shifts on my feet are a breeze. They're so comfortable, in fact, that when I get home, I'm in no rush to take them off."
Fitting and flexing with the foot make a huge difference in the wear-time of a pair of shoes. It's no surprise to see that, due to Born Shoes making flexibility a priority, these shoes tend to provide lasting comfort throughout the day.
"They fit my feet snug and comfortable. They're not perfectly comfortable all day, but dang close. The heel is perfect if you're doing lots of walking. They go with about anything."
Zappo isn't the only place to find beauty in the build of each step. Amazon reviews for Born Shoes products rave about the quality and fit of each pair. Selling a wide supply on the platform, the Tarkiln seems to top them all with 4.5/5 stars based on over 830 ratings.
These shoes deliver in fit, style, and feel. All accounts adore the footwear, claiming they're "one of my favorite shoe/boot brands. They're well-made and comfortable," but also loving this individual product for its distinct bootie style.
Feeling as comfortable as a favorite pair of slippers, these boots keep the cut short and stylish for a stunning ankle look. Cushioned steps build up the beauty of this pair, convincing customers that comfort doesn't have to be sacrificed for style.
"I really really love these booties. Like even more in person. They are so comfortable and stylish. I'm not a heel person, so finding cute ankle boots has been tough. These are such good quality and so original looking. Not cheaply made at all."
Our Born Shoes review would be remiss to look beyond a simple pair. The fact is, Amazon has dozens of styles available, each as well-reviewed as the last.
Here's just the tip of the Born Shoes iceberg that exists online:
Brompton: 4.5/5 stars based on over 160 ratings
Sawyer: 4.3/5 stars based on over 335 ratings
Allan: 4.4/5 stars based on 140 ratings
Inlet Sandal: 4.6/5 stars based on over 120 ratings
Kerri: 4.6/5 stars based on over 430 ratings
IWA Sandal: 4.7/5 stars based on over 255 ratings
Nigel Boot: 4.5/5 stars based on over 240 ratings
While some customers have noted that sizing can run a bit small (and that the lack of a women's 10.5 size is annoying), most people find that ordering up from their standard size solves any issues and keeps things completely comfortable with even the thickest of socks.
Sizing doesn't change the fact that Redditors have noted "they are the most comfortable heels I've ever worn; I've had them for probably 6 years and still wear them."
Overall, it seems that customers are more than satisfied by this brand. With US Reviews rating them 4.6/5 stars alongside countless buyer accounts of comfort, style, and top-level service, it's easy to see how this brand's reputation has held up over the years.
Is Born Shoes Worth It?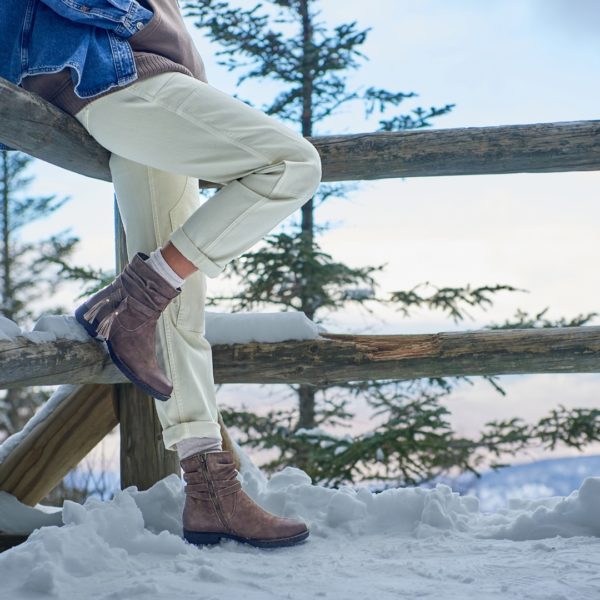 Our Born Shoes review is taking the stance that this brand is one to check out. It seems (via customer responses) that comfort is taken to the extreme here.
Less of a need to break in shoes, constant padding and aeration, plus softened suede and leather exterior – there's only so much we can ask of a brand, and they seem to deliver on each point.
We know prices can sit a bit higher with this one, but for quality suede and leather, we think it's worth the investment.
It's not just a pair of shoes for a few months, but these shoes seem to maintain quality and comfort for the duration of a few years. Walk 500 miles with confidence and conquer the terrain in all stages.
Born Shoes Promotions & Discounts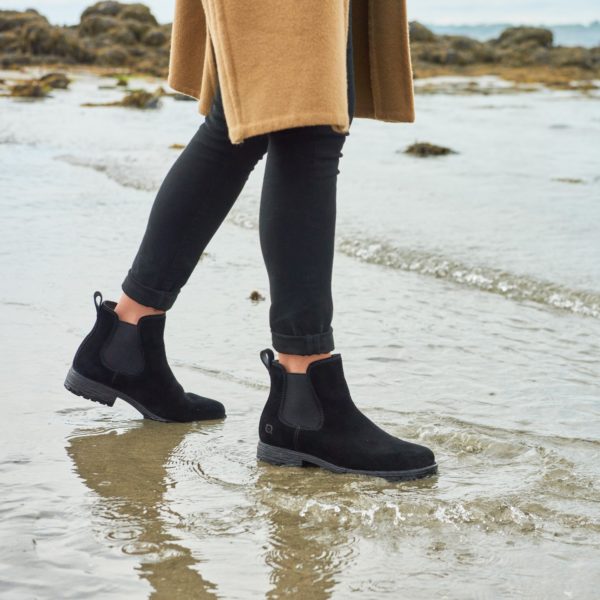 At the time of writing this article, there are no Born Shoes coupons currently available. The best way to find the latest promotions is to register for their newsletter to follow up on new developments and deals.
Where to Buy Born Shoes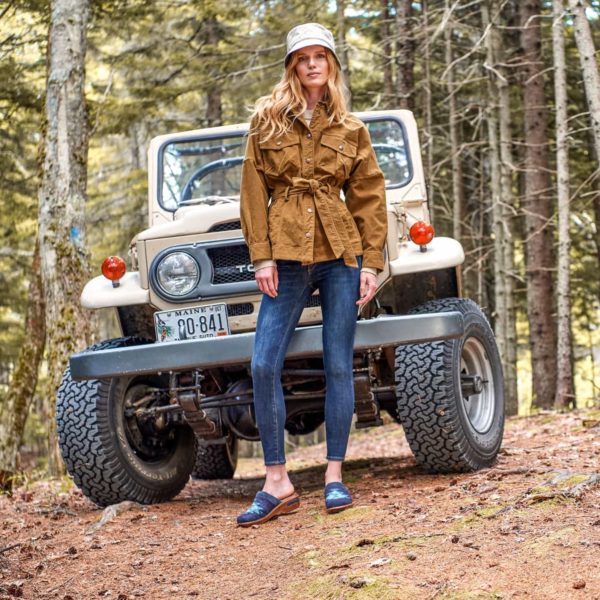 Want to look beyond bornshoes.com for different shipping and service options? Never fear, dear reader, because we've got you covered. This Born Shoes review has tracked down a few locations that offer a pretty steady supply of stock:
FAQ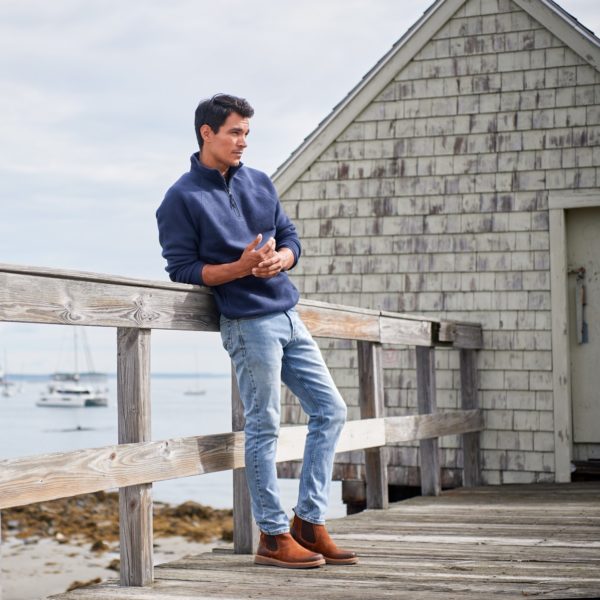 Who owns Born Shoes?
Currently, Born Shoes is owned and operated by H. H. Brown Shoe Co Inc. This parent company serves over 15 other shoe brands in the industry.
Where are Born Shoes made?
Despite being sold throughout the US, our Born Shoes review has learned that the products are made internationally. All stock originates from China, Mexico, and Vietnam.
Does Born Shoes ship internationally?
Born Shoes does not currently ship internationally. Locations are limited to the US, Columbia, and Puerto Rico.
What is Born Shoes' Shipping Policy?
We'll be honest here, this brand doesn't offer up a lot of details surrounding shipping practices and procedures. Most information seems to be short and sweet, so we'll do the same through a few quick bullet points:
Ground shipping is free
ETA depends on location, but times range from 1–6 business days
All shipments are sent from Maine
Shipping only goes to the 50 US States, Columbia, military addresses, and Puerto Rico
That's all we've been able to nail down for shipping information. Simple and straightforward – that's all this brand hopes to be.
What is Born Shoes' Return Policy?
Does the show not fit? Don't stick with dissatisfaction when the return policy in place is so simple. Customers are able to send an item back within 30 days of shipping for money back. Any later than that and complaints can only be due to defects in the products themselves.
Every order delivered comes with:
Merchandise Return Form
Return Label with instructions
In order to complete a return, customers fill out the included forms (or download new copies from the website if the originals got tossed somehow), re-package with the new label and instruction, and ship it off with UPS.
We will say that customers may have to pay the return shipping fee (around $7) once the item has been dropped off for delivery.
Refunds will take about a week once the product has been received, so give the company a bit of time to get that money back in the original account. It it's any longer than two weeks, feel free to reach out to the customer service with any questions on the process.
How to Contact Born Shoes
Ready to reach out with some questions after reading through our Born Shoes review? This brand is more than happy to answer them. They have two easy ways to get in contact at any time:
Phone: 1-866-979-2676
Email: [email protected]