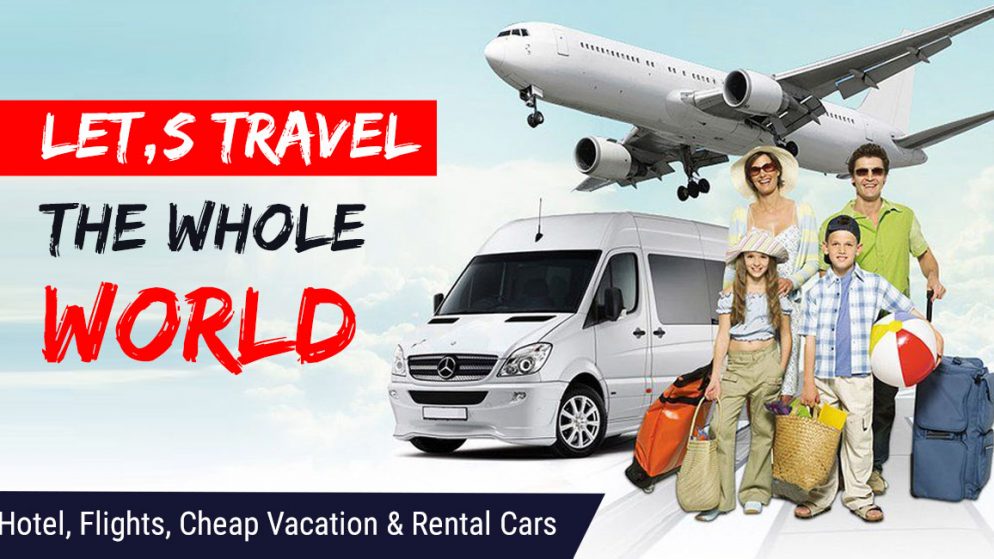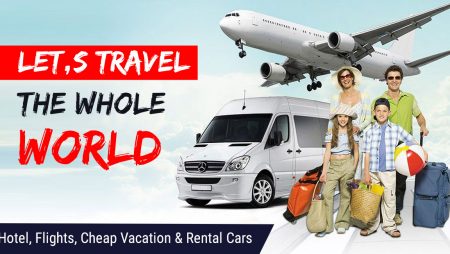 There are a ton of online travel agencies (OTAs) out there, each competing hard for your business. With such a saturated market, many of them try to offer something unique to attract customers.
For example, Priceline offers savings through simple bookings, while Amex Travel offers cardholder perks and fantastic customer service. Others, like Costco Travel, offer freebies for members. They each hope that by attracting business with specials, travelers will stay loyal to the platform for all of their travel booking needs.
What Orbitz offers is an in-house loyalty program, strong search functionality, regularly-published low prices, and occasional discounts. It also features a wide range of services, letting you book flights, hotels, vacation packages, activities, cruises, rental cars, and more.
In the grand scheme of things, Orbitz offers consistency. So if you choose to use an OTA, then they can be the best option, particularly when there isn't a specific deal for what you want being offered elsewhere.
Let's dive in and take a closer look at how to use Orbitz, how it compares to other OTAs, and cases when you might want to choose them over the competition.
Why Use an OTA?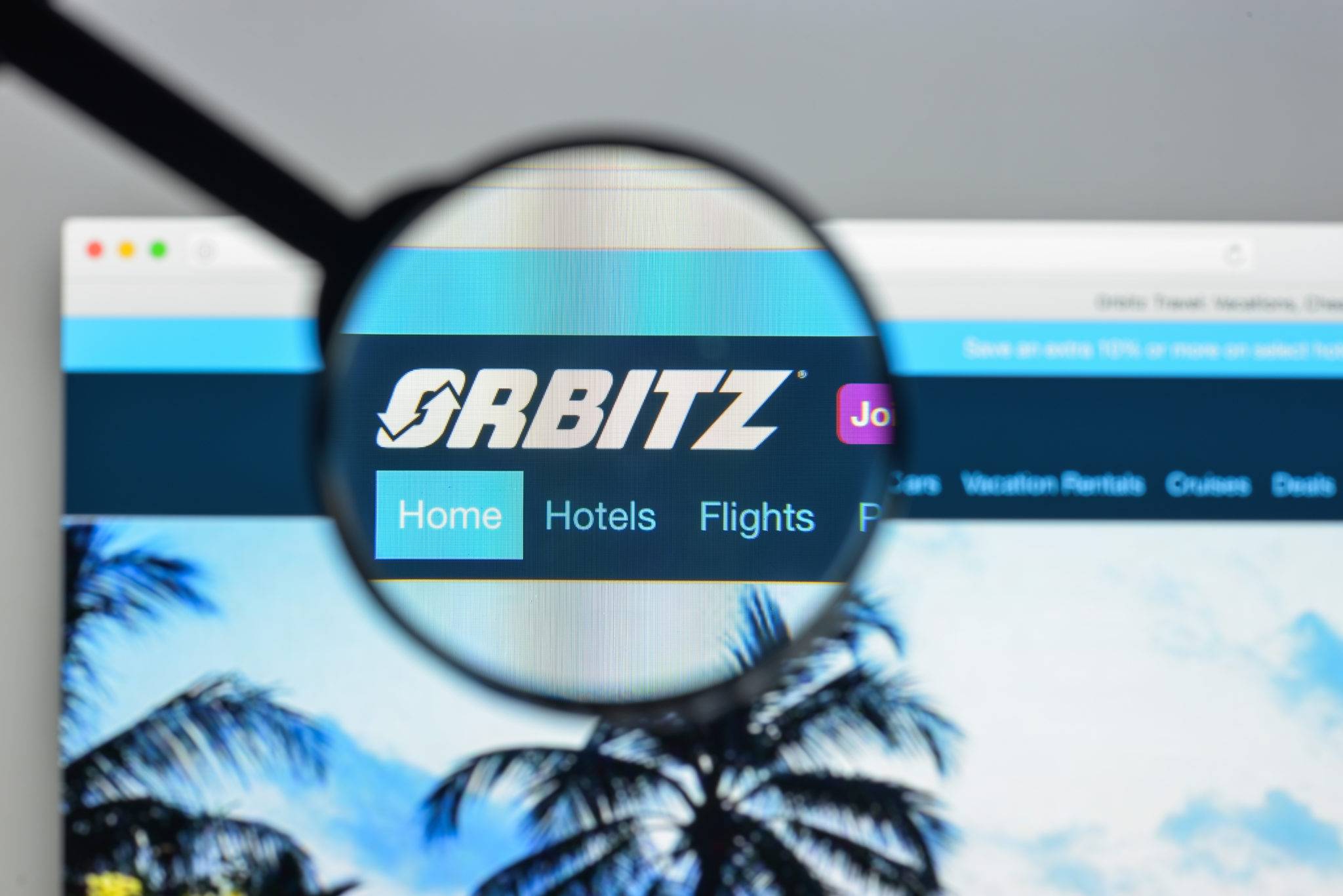 Get Best Holiday Deals At Orbitz
When you're booking travel for a particular hotel or flight, it often makes sense to book directly with the travel provider. If there are any issues such as cancellation, overbooking, or delay, dealing directly with the airline or hotel can make solving the problem easier.
When you book through an online travel agency, the actual travel provider may not be able to work with you directly to come up with a solution. Instead, you may have to go through the booking agent, which can cause some confusion when communicating back and forth.
One compelling reason to use an OTA is when you're trying to put together a more complicated itinerary, especially when you'll need to book a few different flight segments on a few different airlines.
Not all OTAs (or even airlines) make it easy to book a multi-city trip — for example, a trip where you leave New York and start in London, fly to Amsterdam, and head to Berlin before going home. This is something that Orbitz is particularly useful for, where it can help build a single itinerary with a carrier or alliance.
However, this benefit is made a little less valuable by the plethora of ultra-low-cost-carriers (LCCs) that have popped up lately. In the above example, for instance (New York-London-Amsterdam-Berlin-New York), you could pay a lot less by just booking a series of one-way segments on Norwegian Air Shuttle and Ryanair.
Rather than freely mixing and matching the lowest-priced one-way segments, Orbitz tries to stick with a single alliance where possible. Additionally, Google Flights has become a lot more capable over the past few years and makes it easy to search for and compare flights.
Orbitz Rewards, Insider Pricing, and Credit Cards
Orbitz offers its own loyalty program, meaning that you can triple-dip on rewards between Orbitz Orbucks, credit card rewards, and frequent flyer miles (you generally aren't eligible for hotel loyalty points if you book through a third party). Before booking anything through Orbitz, you should sign up for an account.
Orbitz Rewards
This rewards system is relatively simple. Each travel purchase made through the site earns Orbucks. Each Orbuck is worth $1 and can be redeemed for hotel purchases with no blackout dates.
Any time you book travel, you'll see an earning rate next to your itinerary. Typically, it's an even 1% return on airline purchases and vacation packages, and 3% back on eligible hotels (or 5% on hotels if you book through the Orbitz app). In other words, if a flight costs $650, you'll earn 6.5 Orbucks.
The next time you book a hotel through Orbitz while you're logged in, you'll have the option to apply your Orbucks balance to the purchase.
Insider Prices
Orbitz offers discounted member pricing on certain hotels, with discounts usually around 10%, but sometimes as high as 50%. When searching for hotels (more on that below), just look for the Insider Price marking.
Rewards Tiers
Orbitz offers 3 tiers of rewards with elite status benefits.
The first tier, Silver, is the most basic level and applies to everyone. You'll reach Gold status after staying 4+ nights per year in hotels booked through Orbitz and Platinum status after 12+ nights per year.
Perks for all members include access to Insider Prices, Orbucks earning, and a low price guarantee. At the Gold level, you get access to a priority customer service line and perks at certain hotels, such as free in-room premium Wi-Fi or breakfast.
At the Platinum level, you'll be eligible for upgrades at participating hotels (Orbitz Rewards VIP Hotels) and a reimbursement of $50 Orbucks if you pay for 2 or more checked bags on flights booked through Orbitz. You can also get an $85 reimbursement if you sign up for TSA PreCheck.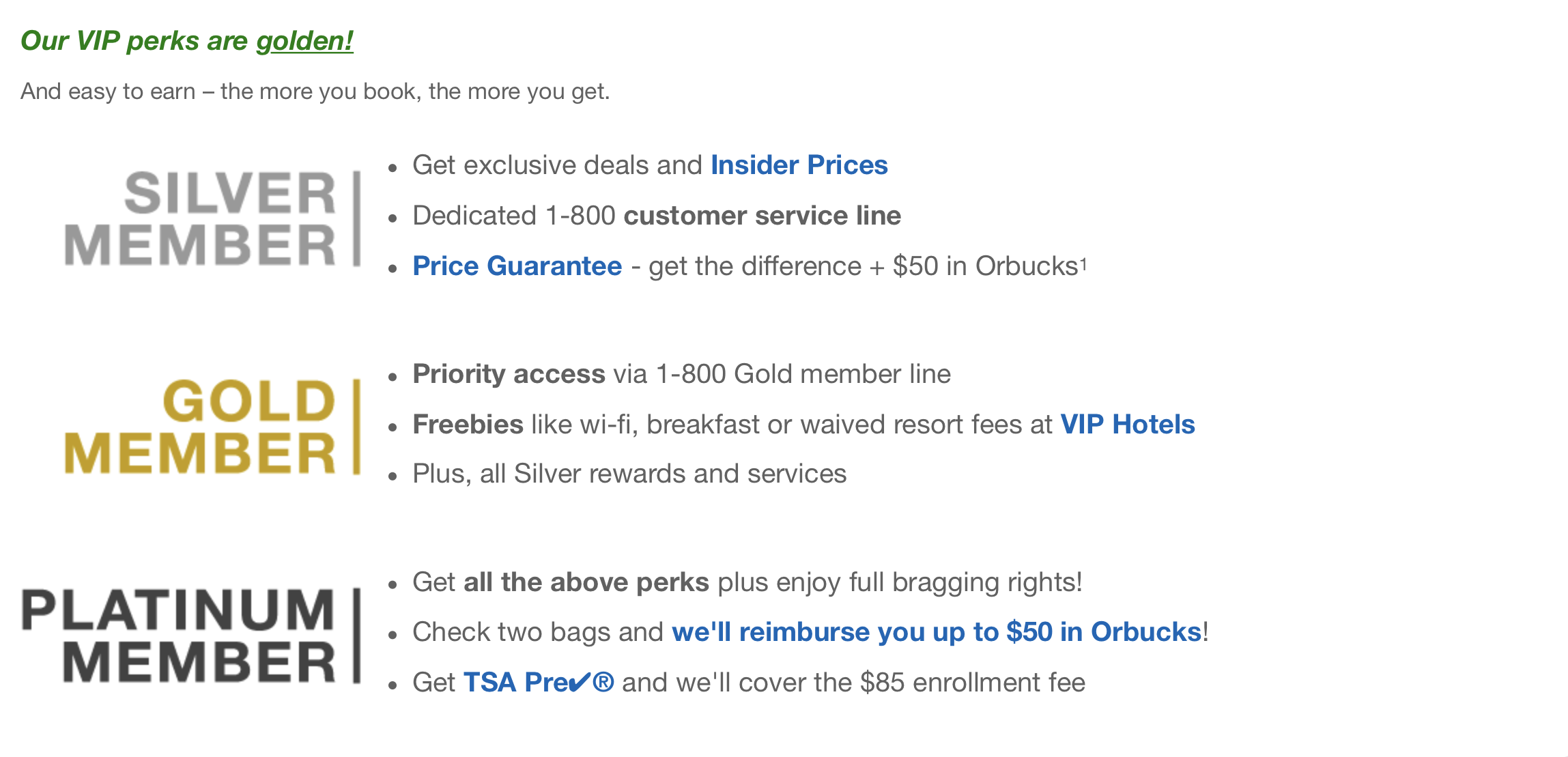 Get Best Holiday Deals At Orbitz
Just remember that you won't earn hotel loyalty points, status, or receive status benefits when you book through a third party like Orbitz. You'll have to decide whether hotel rewards or Orbitz Rewards are more valuable to you — if you are loyal to 1 hotel chain, that reward system is likely more worthwhile.
Orbitz Rewards Visa Card
Orbitz offers a branded credit card that earns rewards in the form of Orbucks.
The Orbitz Rewards Visa Card earns 8% to 10% back on hotels booked through Orbitz, 6% on flights, 5% on other Orbitz.com purchases, and 2% on everything else.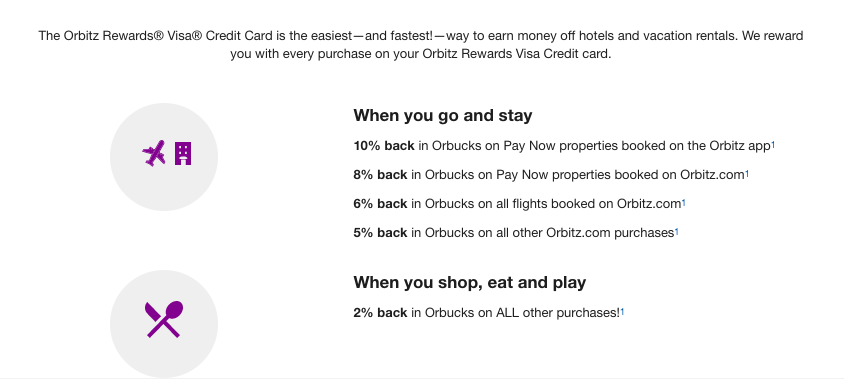 Get Best Holiday Deals At Orbitz
This is a generous card — the catch is that Orbucks can only be redeemed on hotel purchases through Orbitz. Most other rewards cards offer more flexible or more valuable points. Still, if you use Orbitz frequently, this card could make sense as a way to earn a lot of Orbucks quickly.
Orbitz Flights
Booking a flight on the platform is a fairly simple process, just like with most OTAs. Let's take a look at how to search and book, and how to build a more complex itinerary.
Searching
To search for flights from its homepage, make sure to click the Flights tab. Enter your origin and destination city/airports, dates, number of passengers, and whether you'd like to search for lower prices on nearby dates.
If you click the "Advanced Options" link, you can choose whether you'd like to restrict the search to nonstops, as well as whether you want refundable fares, if you have a preferred airline, and what class you want. Once you're ready, search and wait for results to load.
Results are typically displayed in price order, starting with the lowest. You'll only see the outbound flight, but the price represents the entire round-trip. It displays flights from most low-cost carriers, so if you're searching for a one-way or basic round-trip, chances are these flights will show up first.
Get Best Holiday Deals At Orbitz
If you have preferences for which airline you fly, the number of stops, or the time of day, you can use tools on the left side of the screen to filter results. You can also reorder the flights by departure or arrival time, duration, or highest price using a drop-down menu to the upper-right of the results.
Another great feature is that Orbitz displays amenities alongside flight results — icons to the left of the price tell you whether the flight is equipped with Wi-Fi, power outlets, or inflight entertainment (IFE).
You can also click on "Flight details and baggage fees" to learn about costs, as well as the type of plane and what meal service is available.
Keep in mind that to keep prices as low as possible, Orbitz will often book flights through the operating airline's partners — for example, in the above search for a flight from ORD to LHR, Orbitz is showing a flight operated by American Airlines but booking it through British Airways.
That's usually not an issue; just make sure to show up at the right terminal and consider this for frequent flyer mileage earning.
Making a Reservation
Once you've found an outbound flight you like, hit the pink "Select" button. The next screen shows you options for the return flight. Because the price on the first screen represented the total lowest-possible round-trip cost, most of these will show a cost of $0.00.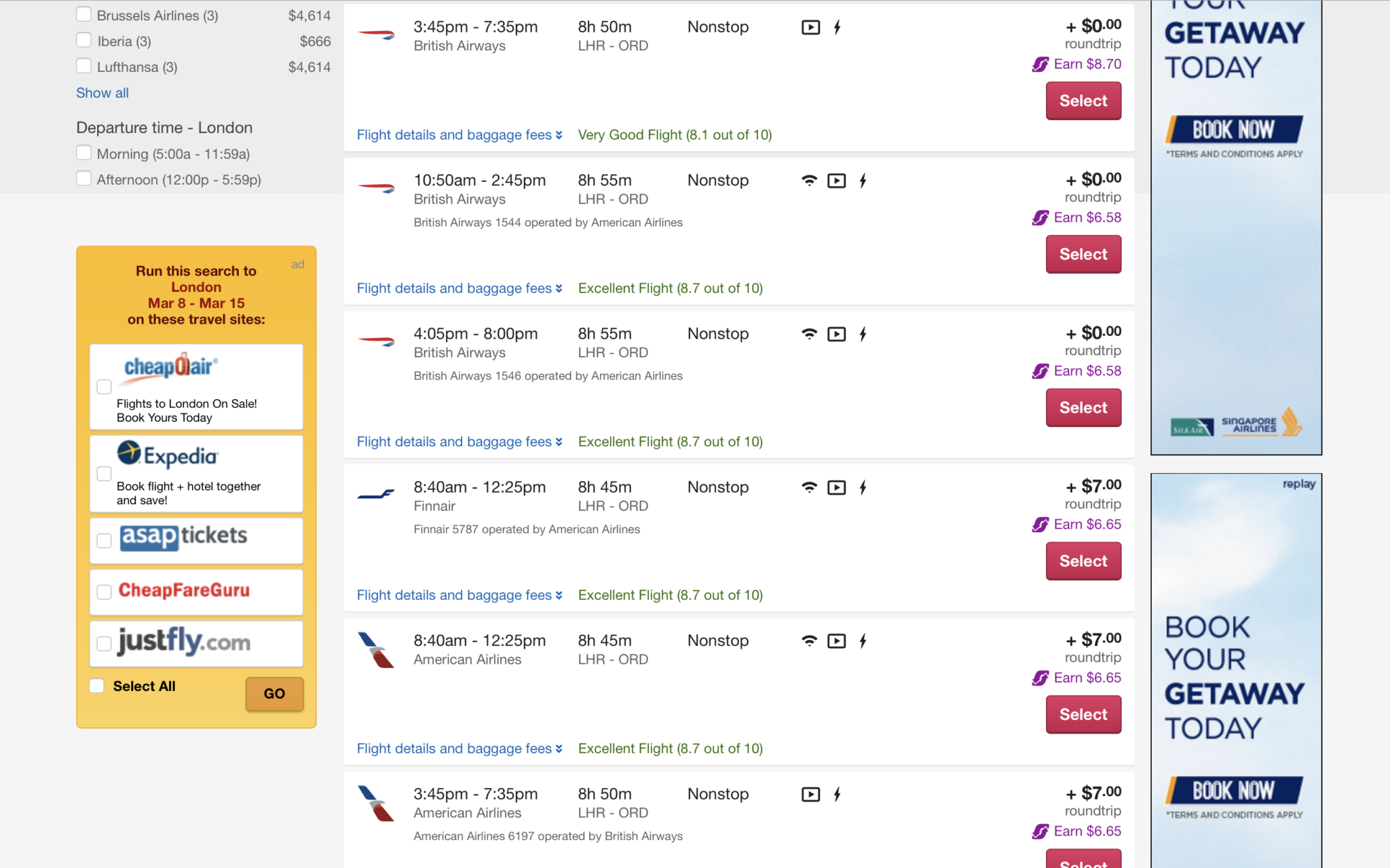 Get Best Holiday Deals At Orbitz
As you scroll down, other flights may show additional costs due to timing, capacity, or whether they're operated by a non-alliance carrier.
In this example, most return flights on Oneworld carriers are either no additional charge or just a few dollars. This is because the outbound flight was on American Airlines booked through British Airways.
However, when you scroll down, you'll see that you can book on other carriers including Star Alliance. That would require the trip to be booked as 2 expensive one-ways, which would add a punishing $3,940+ to the overall cost.
Once you select the return flight, a dialogue box pops up asking if you'd like to book a hotel simultaneously, claiming that people booking flights and hotels together save an average of $193. If you're interested in vacation packages, check out the section below.
If you don't opt to book the hotel, the next screen displays your complete flight itinerary and offers a few different fare choices, such as flexible economy and business class. Select the fare you want and click "Book."
On the next screen, enter passenger and payment details, then confirm to pay and book your flight.
Make sure that you're signed in when you pay to earn Orbucks on the flight. Also, remember that Orbitz gives you 24 hours to cancel any flight. Most airlines and travel portals have to offer this according to U.S. law, but Orbitz is known for making the process easy.
Comparing Prices
Orbitz offers a "best price guarantee" on just about everything — for flights, if you find a lower price within 24 hours of booking, it will refund the difference. Placing a claim is relatively easy, but let's see how likely it is that you'll need to use it.
We searched a few different portals and websites for the same nonstop trip from Chicago to London on the same days but didn't specify the airport, time of day, or airline. Here's what we found: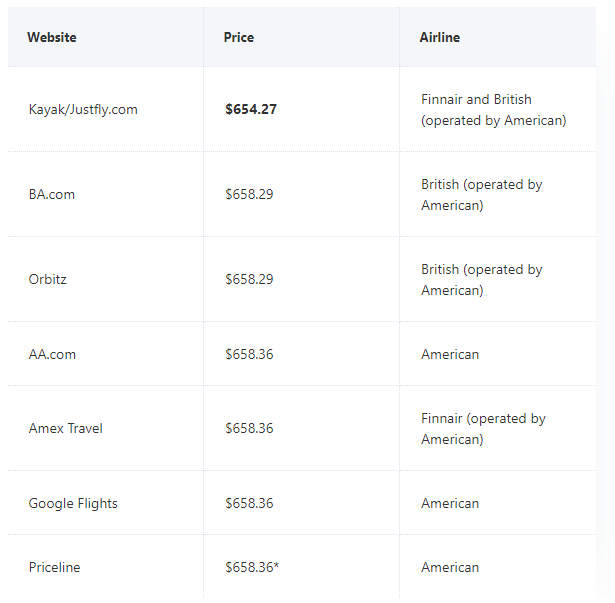 Get Best Holiday Deals At Orbitz
In this example, Priceline found virtually the least-expensive possible non-stop routing, remarkably consistent with the other online travel agencies and search engines — perhaps because this is such a busy route. When checking other routes, prices stayed consistent with the other OTAs.
Justfly.com, through Kayak, did manage to find a route that was about $4 cheaper by booking American Airlines flights through multiple Oneworld partners, though odds are good that it was either a glitch or a mistake.
We repeated the search from New York (JFK), where a few different airlines operate multiple daily flights to London, again restricting the search to nonstops. This time, prices were a little different depending on whether an OTA had access to low-cost carriers: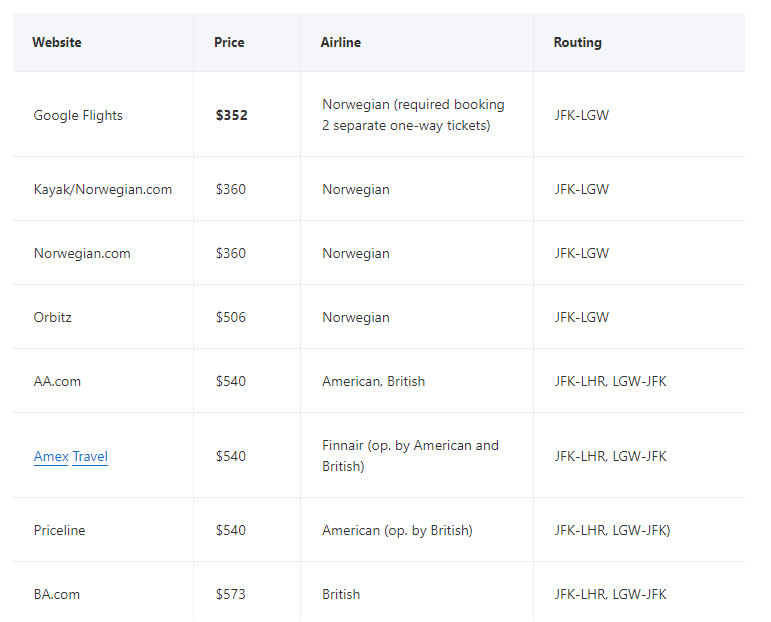 Get Best Holiday Deals At Orbitz
We can only assume that the Orbitz pricing for Norwegian was an error or glitch, as it was around $150 more than we could find that ticket anywhere else — the comparison is not only of the cheapest available options; it's looking at the same exact flights.
This could be a case where a price guarantee claim would be effective, especially since it seems to be a mistake.
Orbitz Hotels
Before searching for hotels on the platform, you should make sure to either create or log in to an Orbitz account. This is because it offers Insider Price deals on some hotels that feature savings up to 10%. Also, some Orbitz VIP hotels offer elite status perks if you book through Orbitz and have elite status with Orbitz.
Searching
After logging in, head back to the home page and click the Hotels tab. Enter your city, check-in and check-out dates, the number of people staying, and the number of rooms you need. Then, hit "Search."
By default, Orbitz sorts results in "recommended" order. You can find a breakdown of how it decides which hotels will be recommended on the website's support section.
If you want, you can change the results to sort by distance from downtown, price, customer rating, Insider Prices, best deals, and more.
You can also use tools on the left-hand side to filter results by star rating, the price per night, neighborhood, amenities, property type, proximity to popular locations, and more. You can also search for a specific property by name.

Get Best Holiday Deals At Orbitz
When browsing results, keep an eye out for a few different icons. A purple VIP circle signifies hotels where Orbitz Gold and Platinum members can get perks like room upgrades. If the price is highlighted in blue, that means it's an Insider Price.
Booking a Room
Get Best Holiday Deals At Orbitz
Click the various results to see property details. When you find one you'd like to reserve, click on the price.
Immediately, you'll see messages encouraging you to book quickly, with pop-ups reading things like "prices for your dates have been going up," or "32 people are looking at this property!" Feel free to ignore these.
Either click the "Reserve" button or simply scroll down to see available rooms and rates. Pay attention to the "Options" column — if you click the top line, a pop-up appears with terms and conditions for your rate. Click "Reserve" next to the room and rate you want.
Enter contact and payment details and you're pretty much set. Again, remember to double-check all rate terms and conditions before making the reservation to know the cancellation and refund policy. Orbitz also extends the window to submit a claim for its price guarantee up to 48 hours before check-in!
Hotel Pricing Side-by-Side
To compare prices between Orbitz and the competition, we searched for stays in London for a week in March and picked the Grosvenor Hotel, a property with an Insider Price available. Here's how the total stacked up for 7 nights in a standard double room, including all fees and taxes: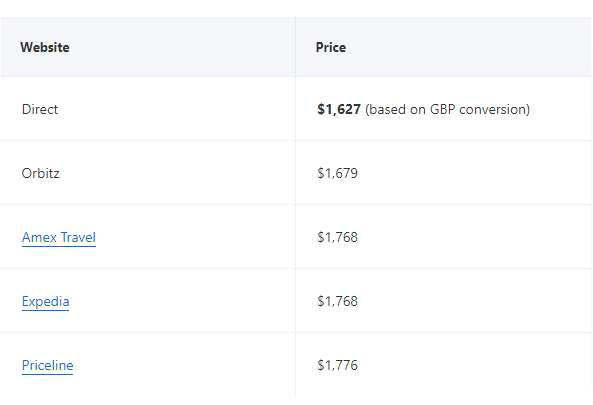 Get Best Holiday Deals At Orbitz
Ultimately, booking direct was slightly cheaper in this instance because the hotel was having a sale. However, Orbitz was clearly cheaper than any other online travel agency. In a few other searches, this was generally the case — it even beats direct booking on a few occasions, as long as it was a hotel with an Insider Price.
Hotel Rewards
Remember that whenever you book a hotel through an online travel agency, you won't collect rewards with the hotel's loyalty program. You will, however, get Orbucks.
Orbitz Vacation Packages
By booking vacation packages on Orbitz you can save even more money! Unlike the packages offered by Costco Travel, these only include a combination of flight, hotel, and rental car rather than activities or tours. One great benefit of booking a vacation package through Orbitz is that its price guarantee extends to 48 hours after booking!
Searching and Booking — Flight + Hotel
To search for a vacation package, click Vacation Packages on the home screen. Choose what you want to include in your package — flight, hotel, or rental car — and enter your departure city and destination, dates, and the number of people.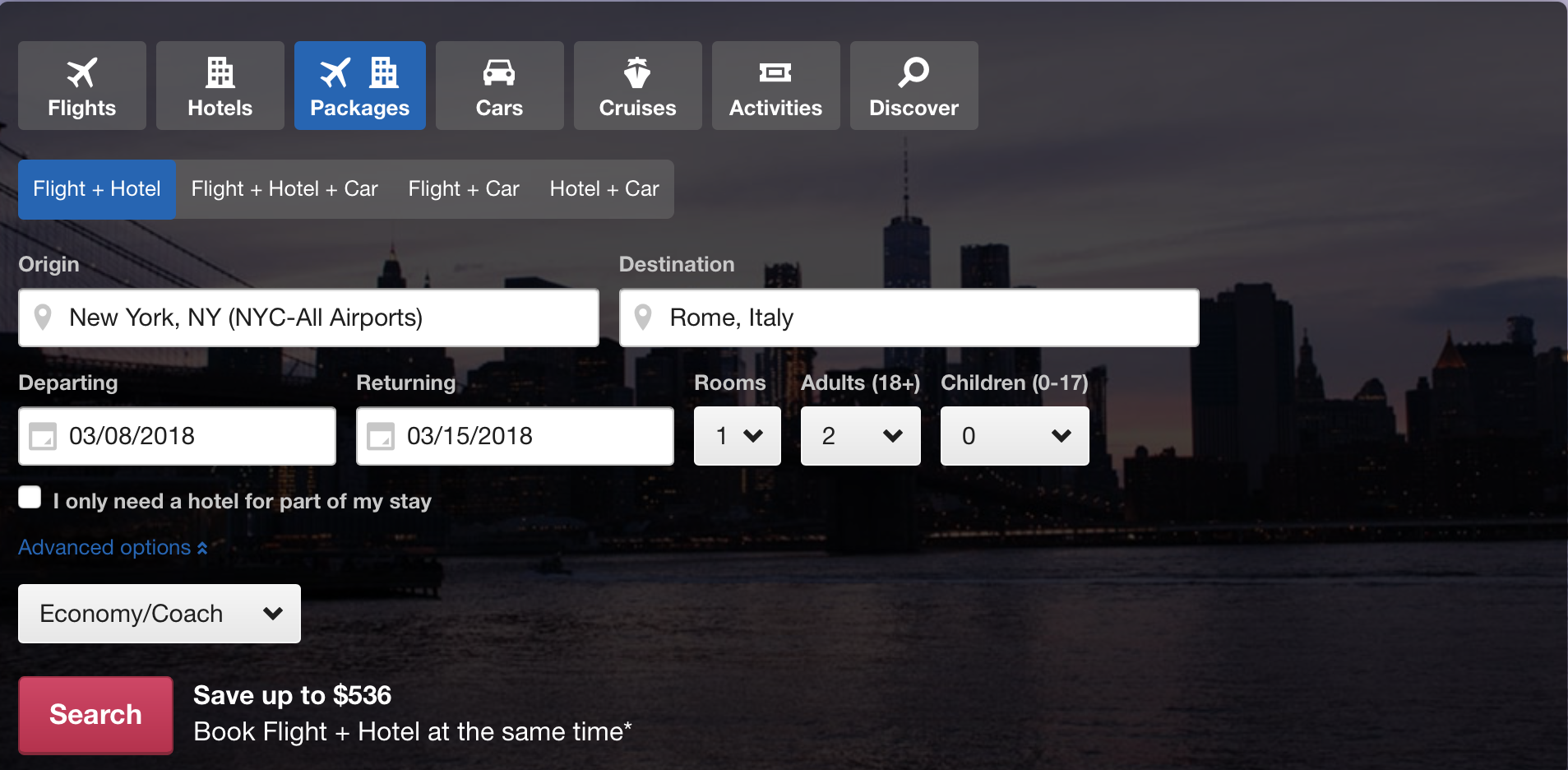 Get Best Holiday Deals At Orbitz
In this example, we looked for a Flight + Hotel package flying from New York to Rome.
Just like the results of the hotel search, Orbitz sorts vacation packages by recommendations. On the first screen, you'll see hotel options with VIP and Insider Price hotels flagged.
Click the hotel you're interested in. On the next screen, beneath the hotel's details, you can see room options. Rooms included with the package's base price say "+$0.00 per night," while upgraded rooms cost extra.
Once you pick the room, you're taken to a screen to pick outbound and return flights. The package price reflects the cheapest available "recommended" flight — in this case, a nonstop on Norwegian from Newark to Rome. Other flights might cost more, or in some cases less — these flights usually involve either more stops or inconvenient flight times.
On the next screen, you can add airport transportation and tickets to attractions, or you can proceed to payment.
Prices
In the above example, you save about $38 for booking the flight and hotel as a bundle. That's not a huge amount, obviously, but depending on destination, hotel, time of year, and many other factors, you might be able to save a lot more.
Vacation package prices tend to vary across the different online travel agencies, with each having access to different hotel deals and perks. Unless you're set on using 1 — for instance, if you value Orbucks — it would be worth checking out packages at a few different websites.
Orbitz Activities
Orbitz allows customers to search for and book entertainment in the city that you're visiting, just as you would search and book a flight. These activities can include anything from concert tickets to tours, or even food events.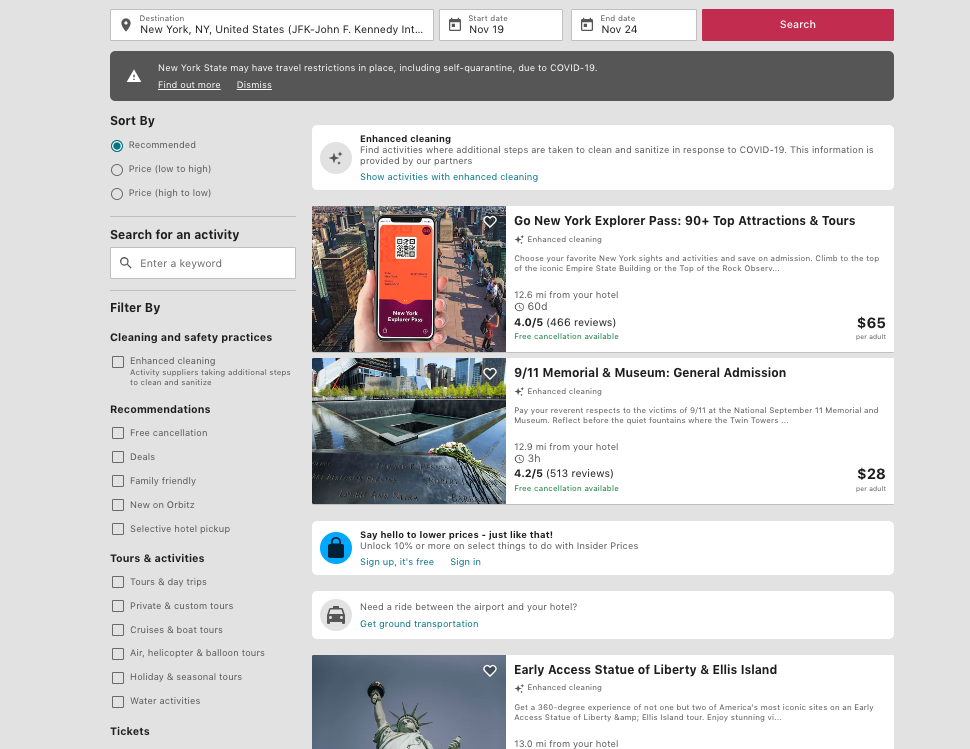 Get Best Holiday Deals At Orbitz
Searching and Booking
When looking for activities on Orbitz, simply enter the destination that you're traveling to and your dates. You'll then receive a list of all the activities happening within the city on those dates. From there you can filter by price, activity type, or enter a keyword for a specific activity you're looking for.
Once you've selected your activity you'll receive a list of available dates and times for you to choose from, along with highlights and reviews of that activity.
When you find a date and time that works well for you, simply click "Book," finalize your payment details, and you're done! Easy as that!
Orbitz Cruises
Orbitz offers perks and extras on certain cruises, like many other online travel agencies. Prices are often consistent across OTAs and booking directly, but Orbitz occasionally offers sales with modest discounts.
To search for cruises, hit the Cruise button on the home page, then select a destination region and departure month — that's it. On the results page, you can use filters to narrow down what you're looking for: departure port, length, cruise line, and even specific ship.
When you pick a cruise, you'll have a choice of extras, when available. For example, on the below cruise you can pick between a free third and fourth guest, free dinner or drinks, credits to use onboard, and more.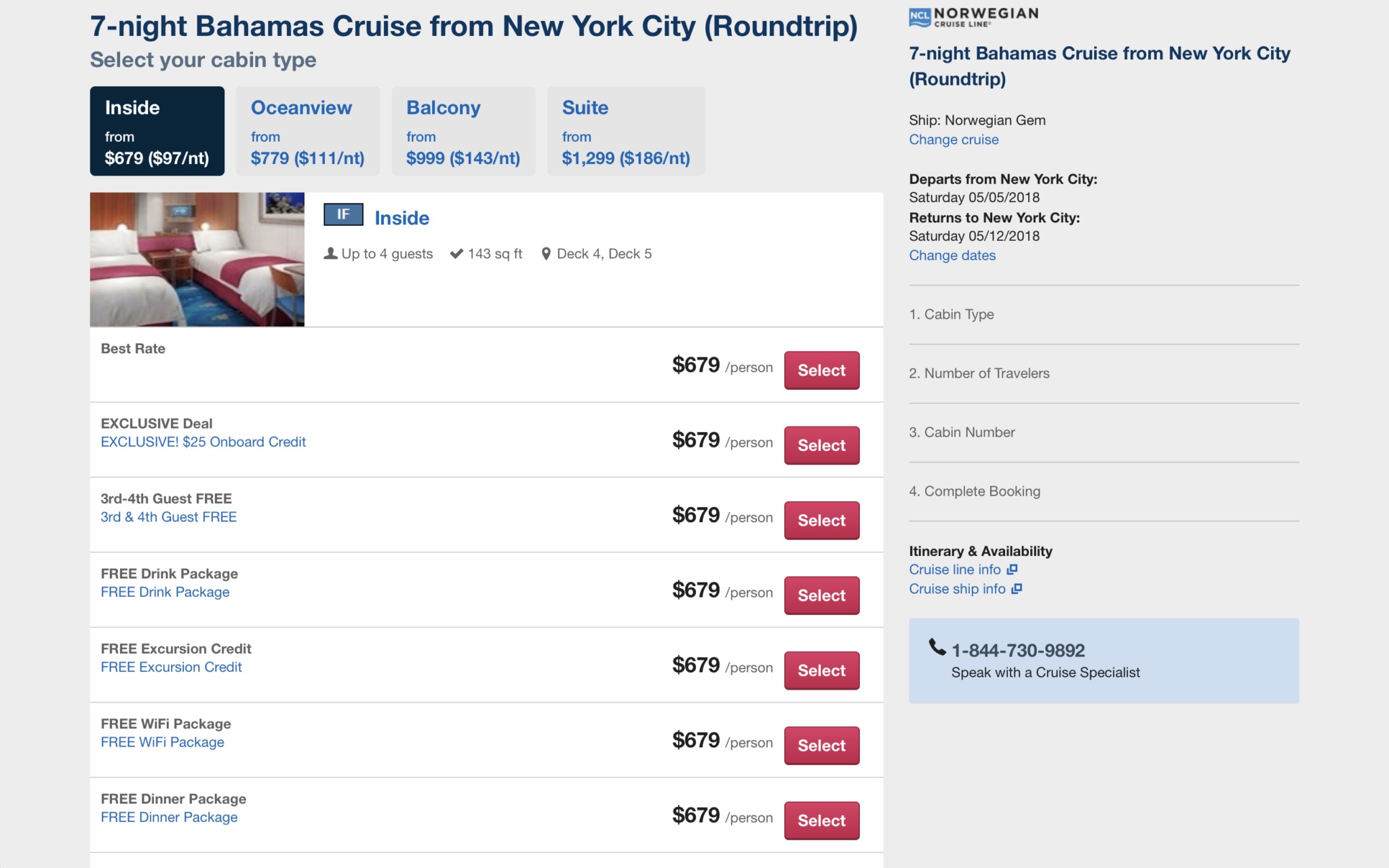 Get Best Holiday Deals At Orbitz
We compared the above cruise to other booking sites and prices were all identical — except for Orbitz, which offered $40 off. While that's a small amount compared to the $1,498 total, it's still a savings!
Orbitz Car Rentals
Orbitz's car rental options are fairly consistent with most other online travel agencies. Although most rentals are available at the same price that other OTAs offer, Insider Prices offer discounts on a few different classes of car.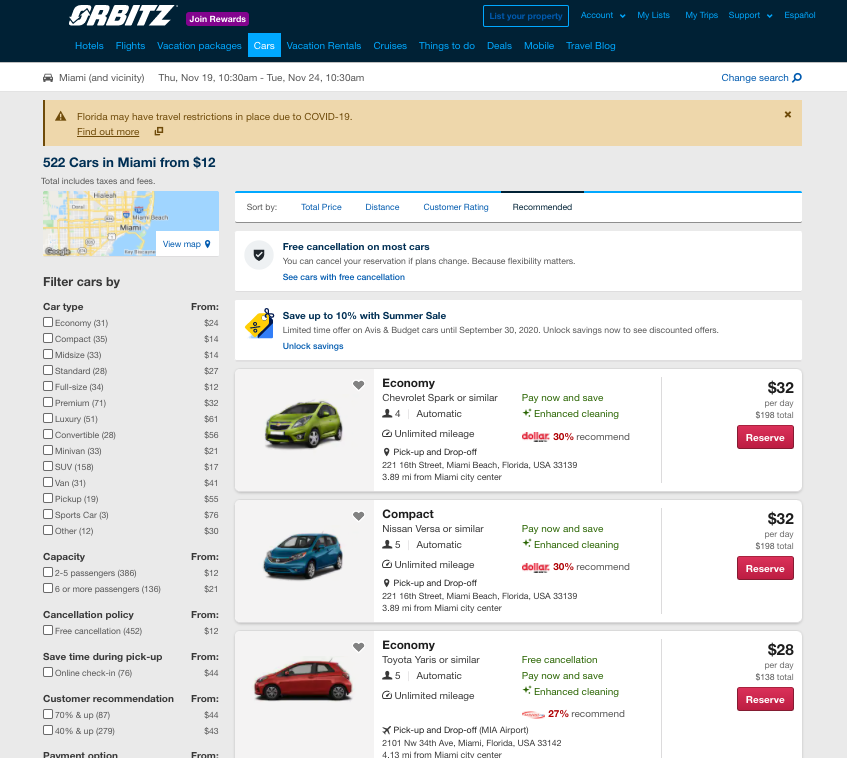 Get Best Holiday Deals At Orbitz
Searching and Booking
Enter your location, choose pick-up and drop-off dates and times, select any preferences you have, and click "Search."
Scroll through the cars, using filters on the left as needed. Orbitz offers occasional Insider Prices on rental cars, so keep an eye out for the blue highlighted prices.
Once you've found the class of car you want from the rental agency of your choice, click the price to make the reservation. On the next screen, select any add-ons or accessories you want, then click "Reserve."
Enter contact details, payment information (if prompted), and select whether you want collision protection. That's it!
Prices
Rental car prices tend to stay consistent across OTAs — the exception is Costco Travel, which has negotiated group rates and discounts (similar to AAA) and automatically applies anything available. The downside to Costco Travel is that it only included 4 rental companies.
In head-to-head comparisons, Orbitz offered the same prices as other portals like Amex Travel. The exception was at Budget, where Insider Prices were available. Across the board, rentals from Budget were $2 to $5 cheaper per day than at other OTAs.
Orbitz Mobile App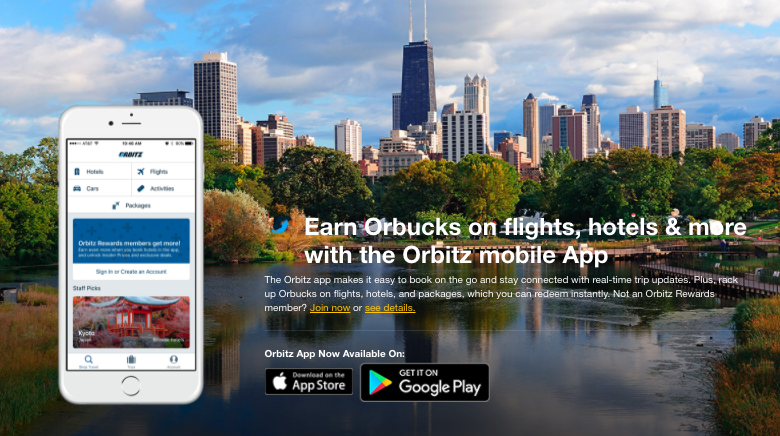 Get Best Holiday Deals At Orbitz
With the Orbitz app, you can book travel, get mobile exclusive deals, and track flights and your overall itinerary, all from your smartphone! The Orbitz travel app is available on iOS and Android.
In addition to the discounts and deals you can score through the Orbitz app, one of the best features is trip management. From the app, you can access your itinerary and receive instant trip updates, including gate changes and even baggage carousel numbers.
Final Thoughts
Orbitz offers some decent deals on travel, as well as a fairly robust rewards program and a very handy 24-hour free cancellation policy on flight bookings. Thanks to its price guarantee, you can always get the difference refunded if you find a lower price elsewhere within 24 hours of booking!
For information on alternative OTAs and metasearch engines, check out our post on the best websites for booking cheap flights.